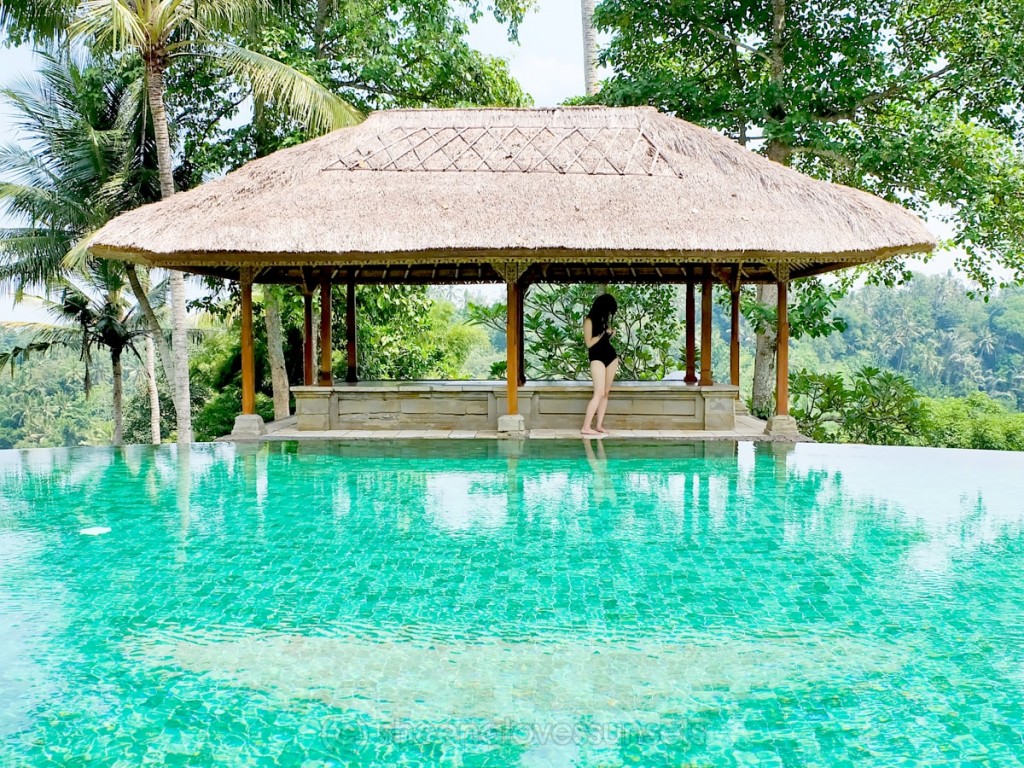 When I told people I would be going to Bali, almost everybody assumed we were going to the beach. But in fact, the reason we booked a trip to Bali was not for its beaches but for its beautiful rice paddies.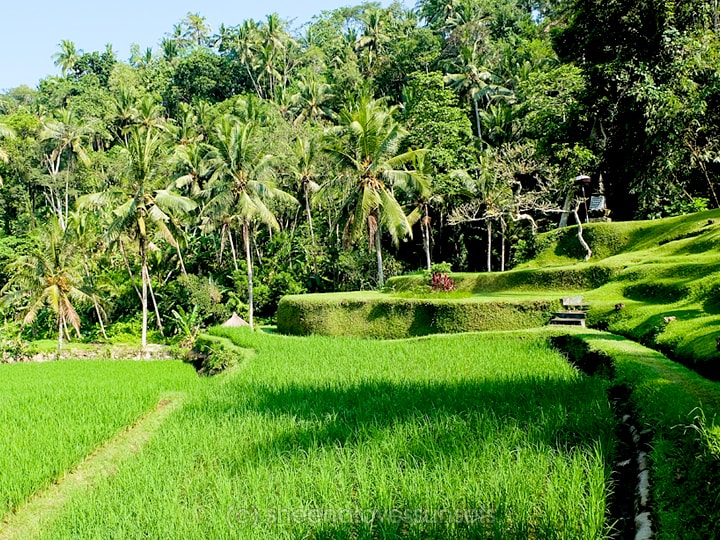 Our three days in Bali included a lot of elephants, rice fields and gorgeous villas. Here's a rundown of what we did and the places we visited. I'm definitely coming back again next time to do more exploring because we hardly left our resorts on this trip! Oops. (But you'll understand why when you see the photos…)
Note: This post is a summary of our Bali trip. For all the places mentioned, I will be writing separate articles on each of them, so keep an eye out for that!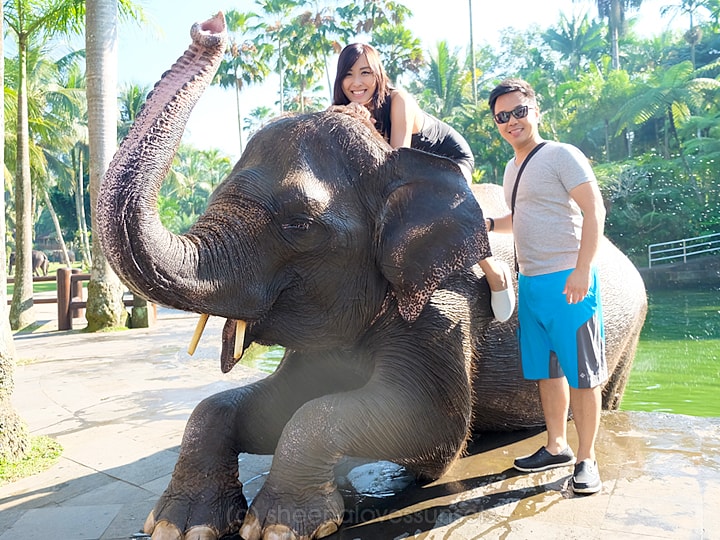 The Elephant Safari Park Lodge is Bali's only dedicated Elephant Rescue Park. The park is home to 27 Sumatran elephants who were rescued from their destroyed homes. Here, the elephants are fed well, provided spaces to swim and roam around and all of them are bathed daily.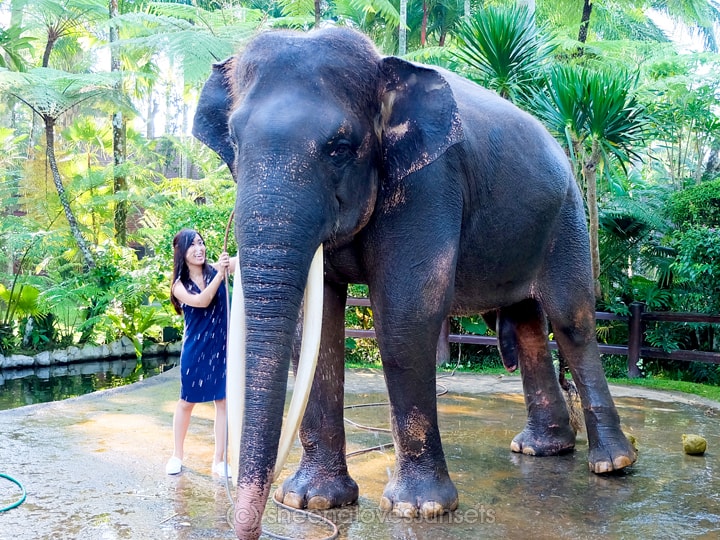 The park offers guests a lot of opportunities to interact with the elephants. You can feed them, play with them, go on a ride around the jungle and watch them perform on their very own talent show! But my absolute favorite was giving the elephants a nice bath and then swimming with them afterwards!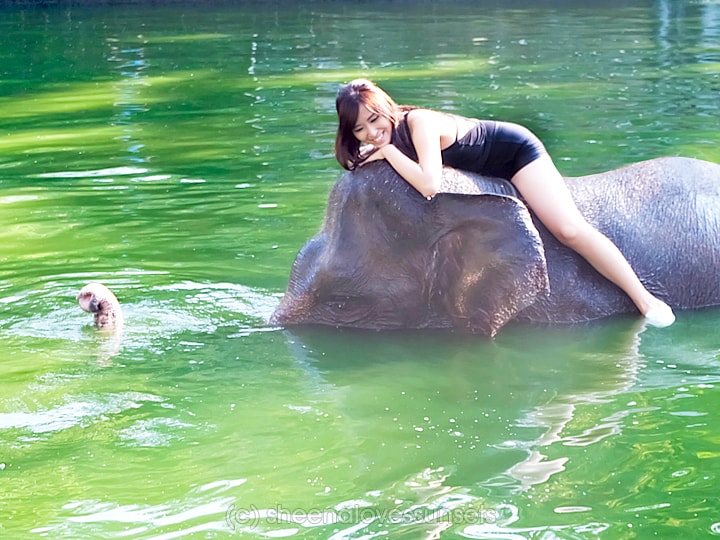 The Elephant Safari Park Lodge is also one of the few establishments in the world that do not use brutal methods but instead use a "reward and repetition" method to train the elephants. I can't wait to share with you guys more about this place in detail!
Day 1, Lunch: Rice Terrace Cafe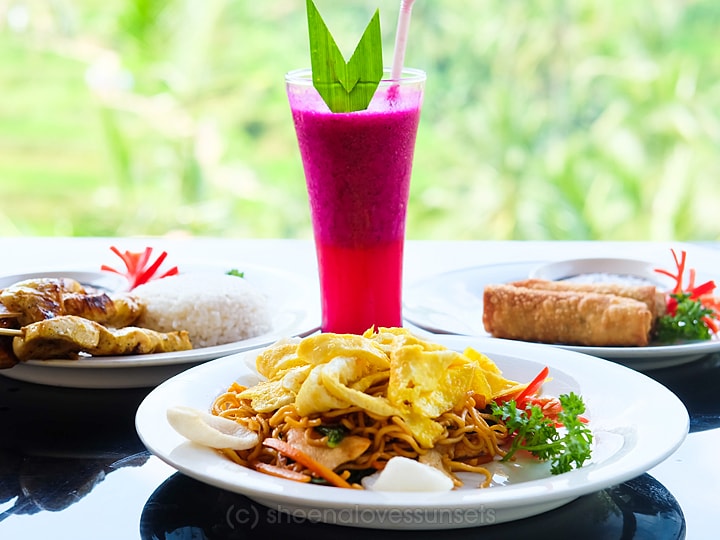 After an elephantastic morning (sorry, I might use this lame pun a lot… haha!) we checked out of the resort and had lunch at The Rice Terrace Cafe which had an amazing view of the famous Tegallalang Rice Terrace.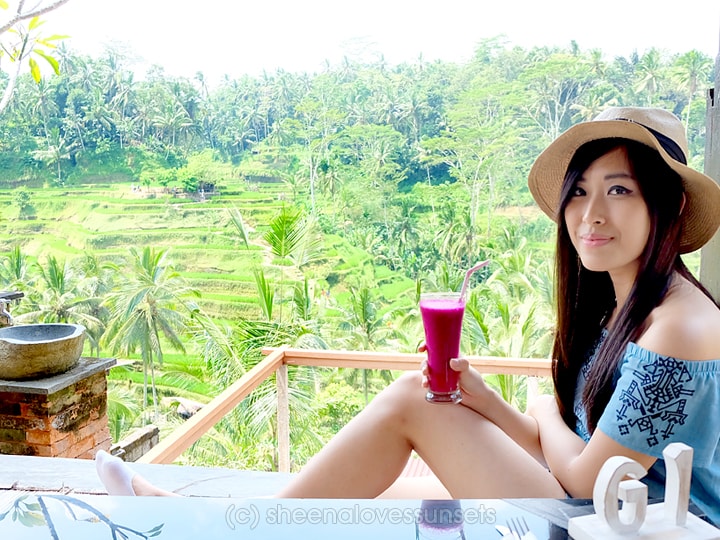 Enjoying my juice at our own private bale overlooking the rice terrace.
We meant to drop by the Tegallalang Rice Terrace itself but was pressed for time as we were checking in our next resort already at 2pm. Also, we were lugging around a big suitcase so it was impossible climb down the rice terrace with it (my dum-dum moment; I forgot about that when I was planning our itinerary!) So we just stayed at the Rice Terrace Cafe as we waited for the driver from Amandari to pick us up.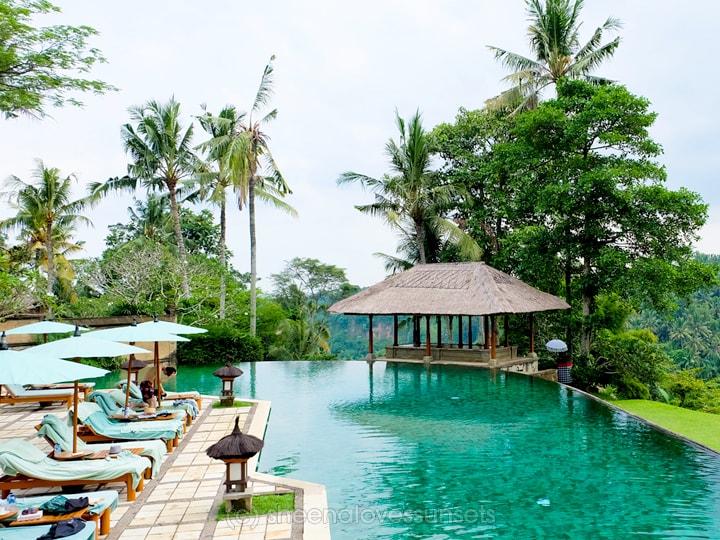 We checked in at our second resort (we went resort hopping for this trip!), Amandari, at around 2pm. It's my first time at an Aman resort and I definitely came with high expectations. In other words, I was so excited.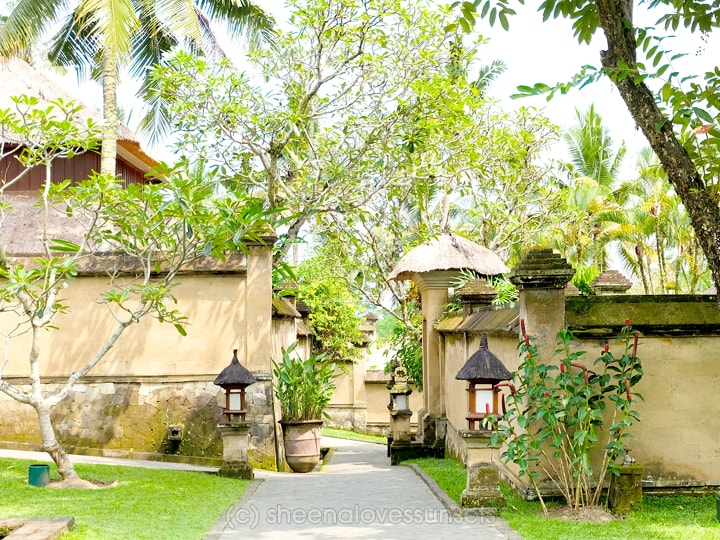 We were taken on a quick tour around the beautiful property. As expected, everything was picture perfect but nothing could have prepared me for what came next. As the staff opened the doors to our villa, our jaws dropped.
OH. MY. We have this all to ourselves?! Seriously?!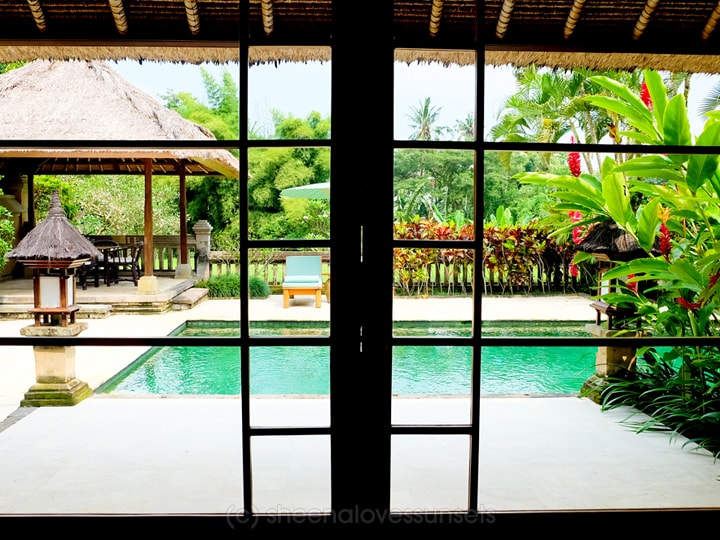 Showing you guys just a teaser photo because I want to get you guys excited for my Amandari review. Haha! (UPDATE: Link to the full Amandari review here)
This is the sliding door from our villa on the way out to our private pool. This was probably the most beautiful and photogenic villa I've ever stayed in in my entire life.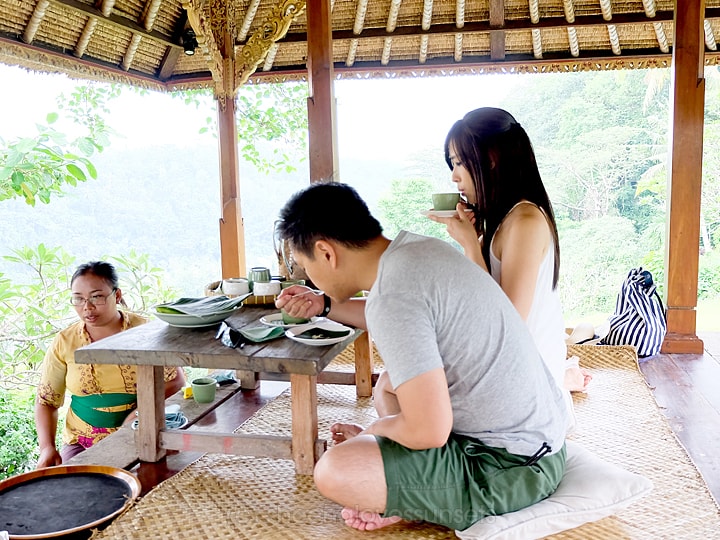 Later in the afternoon, we had afternoon tea by the poolside and enjoyed local sweets brought to Amandari by local women from the village. After that, we spent some time just lying down on the grass and enjoyed a peaceful afternoon.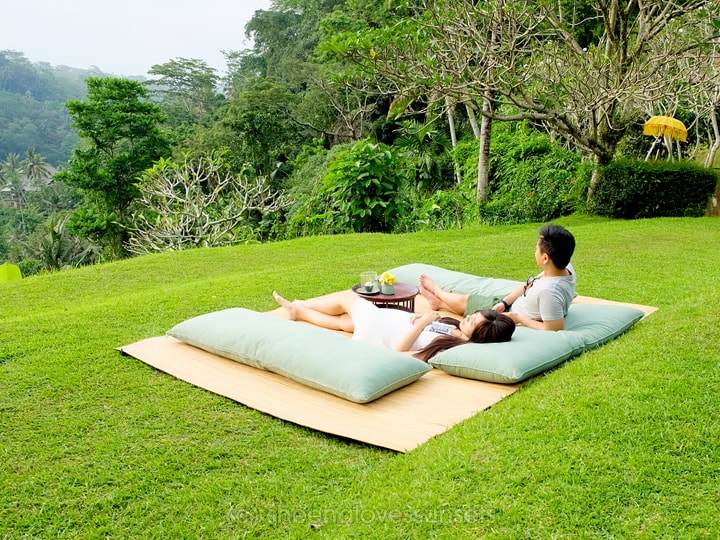 What sets Amandari apart from other resorts I've stayed in is how quiet, peaceful and private the whole experience was. It always felt as though we were the only ones there (plus just one or two other couples) and it was amazing.
Day 2, AM: Enjoying Amandari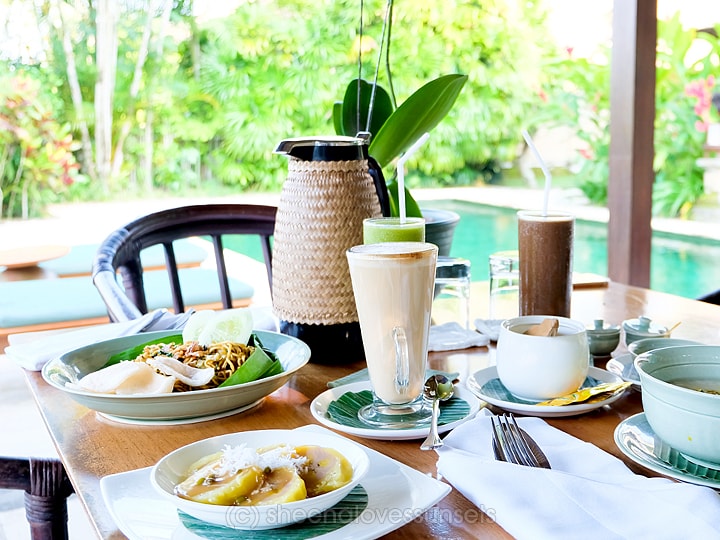 Woke up to the faint sound of crowing roosters and ordered in-room dining for breakfast. It's not everyday you have a private bale right inside your villa, after all, so we took advantage.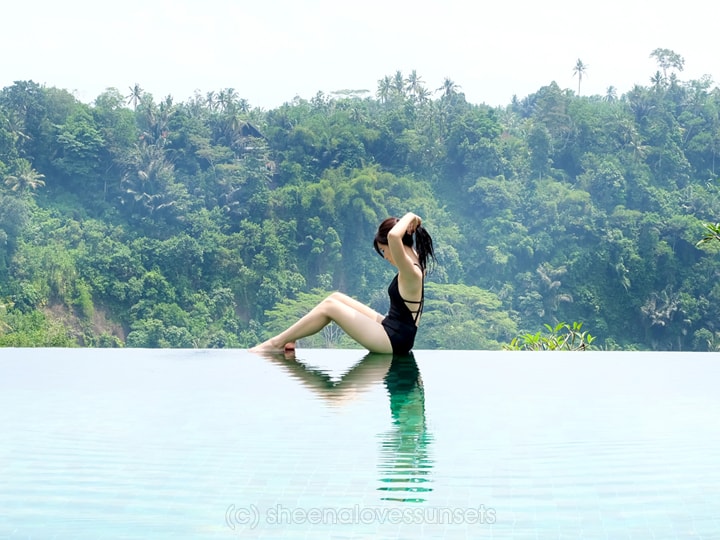 Spent the morning enjoying a luxurious outdoor bubble bath as Mor relaxed at the spa. Then I took a dip inside our private pool and as though that wasn't enough, I also swam at Amandari's gorgeous infinity pool before lunch time.
Day 2, PM: Four Seasons Resort at Sayan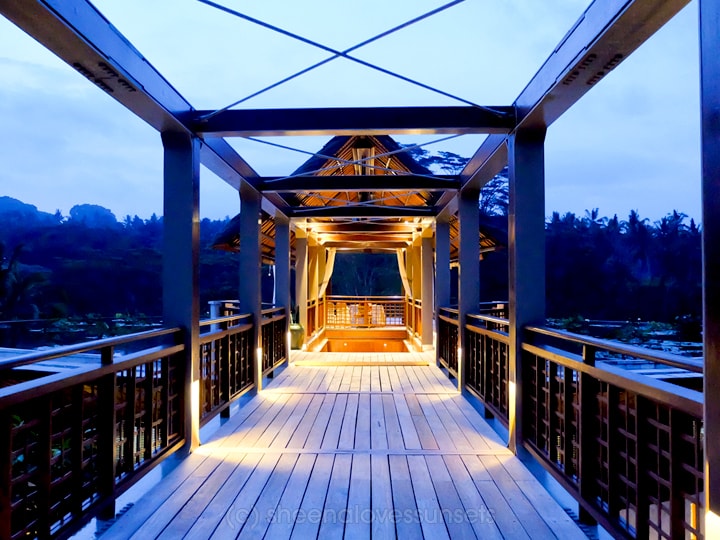 After checking out of Amandari, we were brought to our next resort which is at The Four Seasons Resorts Bali at Sayan.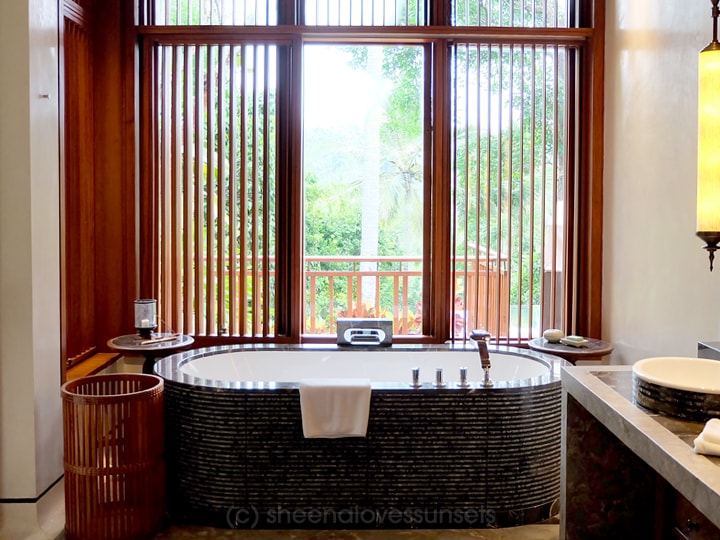 I was still in the middle of gawking at our crazy bathroom (We had a tub with a jungle view! What?!) and I didn't want to leave just yet but we were called up and invited to go on a resort tour. I couldn't say no to that! Yes, please! I want to see everything!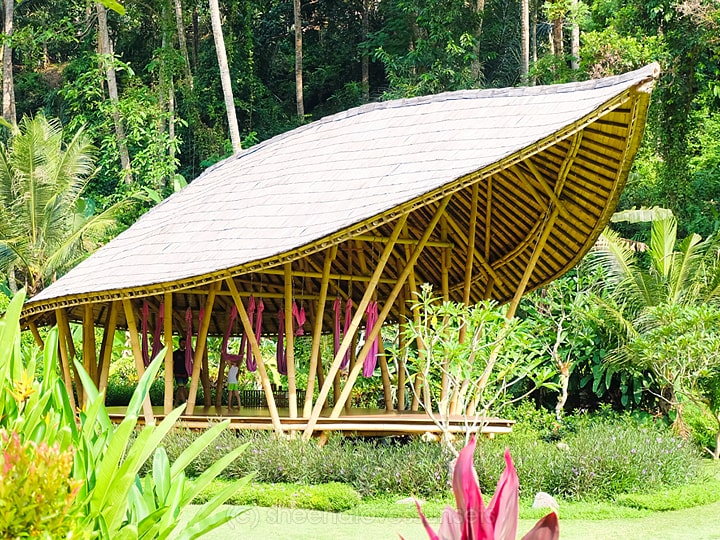 The Four Seasons Resort at Sayan property was huge. There are just so many activities to do at the resort, that's why I say it's perfect for families traveling together. There's a kids club, a spa, a beautifully designed Yoga bale, gardens and the list goes on. Something for everyone!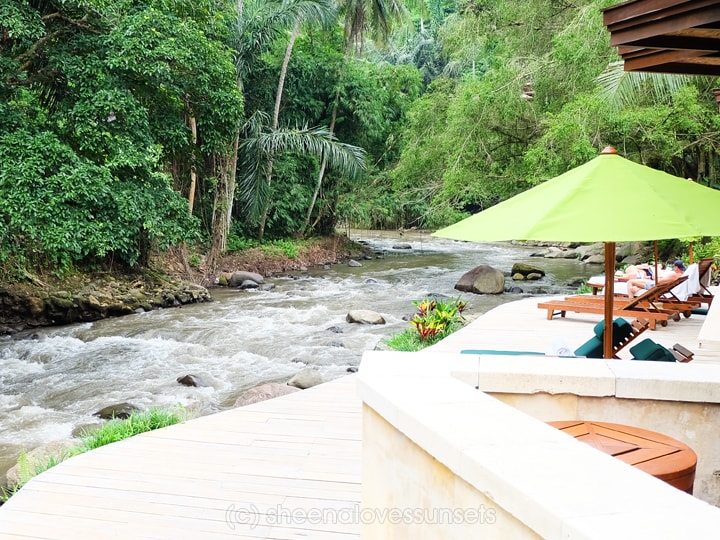 One of the things I really loved about the resort though was that they had a beautiful view of the Ayung River. You can enjoy it if you go river rafting, book a riverfront villa or even just go lounging by the poolside (Yup, you can see the river raging just by hanging out at the pool!)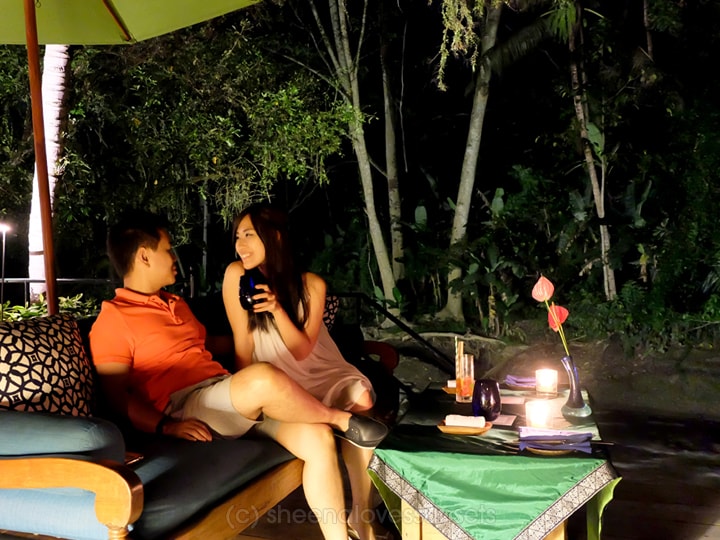 Another way to enjoy the river was to dine at the Riverside Cafe. That's what we did for dinner that night. After our delicious meal, we asked to be transferred to the outdoor area for dessert so we can enjoy looking up at the stars! We sure felt like honeymooners! Heehee.
Day 3, AM: A Day in the Life of a Balinese Farmer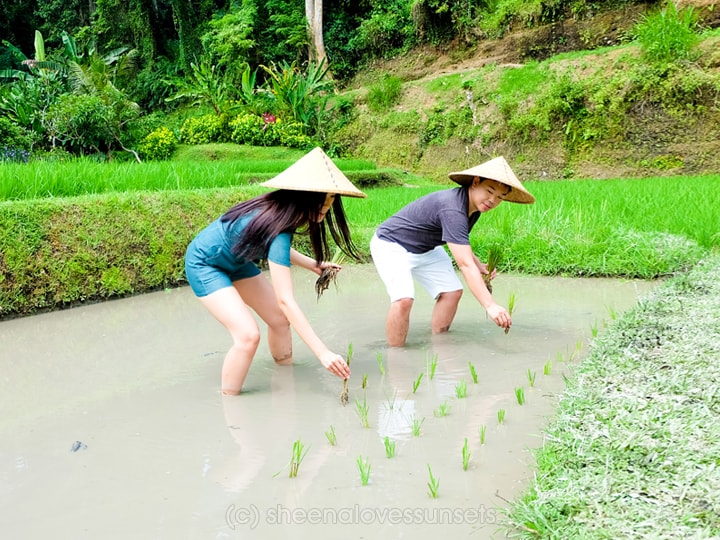 Woke up early the next morning to start a new adventure! The Four Seasons Resort at Sayan prepared an activity for us called "A Day in the Life of a Balinese Farmer" Here, we got to trek, visit local village houses and learn about rice planting.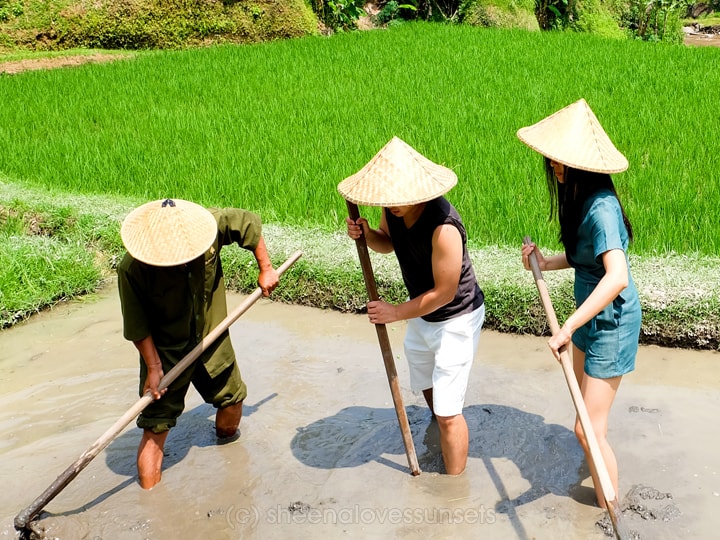 It's not as easy as you'd think! Haha. The entire excursion took us half a day and it was so much fun! We had breakfast by the river and ended with a spa session. We were spoiled farmers! Haha. Read more about our experience here.
Day 3, PM: Late Checkout at Four Seasons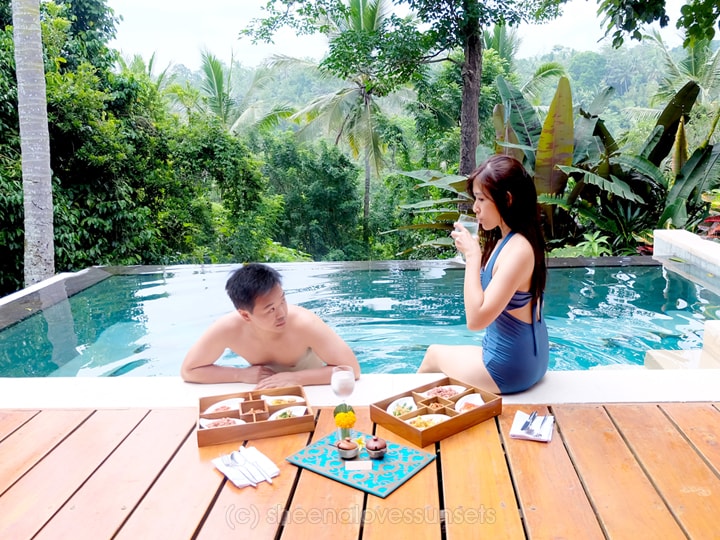 Had an extremely late lunch after our Balinese Farmer experience. We asked for our lunch to be sent to our room because I just realized that we didn't get to enjoy our private pool yet (too busy exploring the resort!) So here we are hitting two birds with one stone.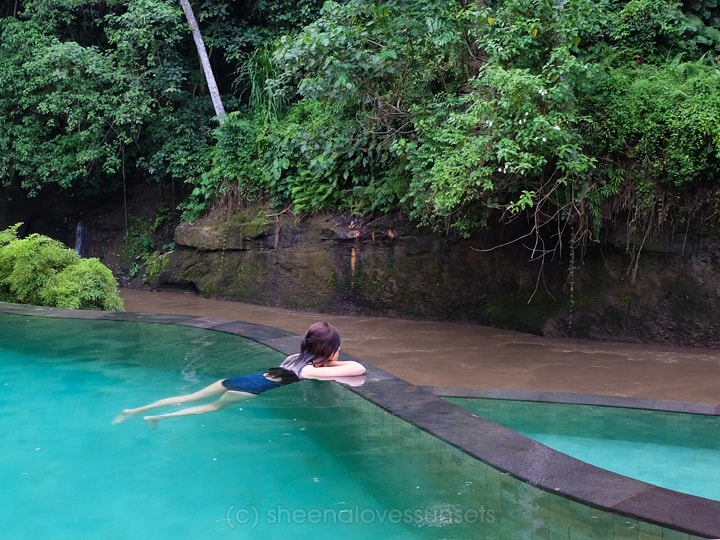 Our flight was not until midnight and thankfully, The Four Seasons at Sayan offered us a late check-out and we got to stay until 8pm! Super thoughtful, right? So we had a lot of time to enjoy the resort's other facilities.
We were supposed to go cycling that afternoon but it started raining so we decided to skip that. When the skies cleared a little, we went to take a quick dip at the infinity pool. (See how it has two levels? Pretty neat!)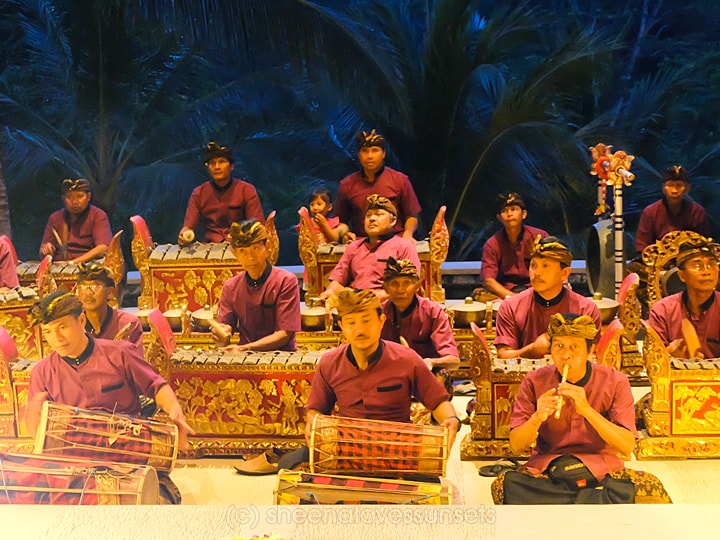 At around 6:30pm, there were traditional Balinese performers playing at the Jati Bar. We stayed for a while before going back to our room to pack our things. It was a great ending to a great stay.
Our Three Days in Bali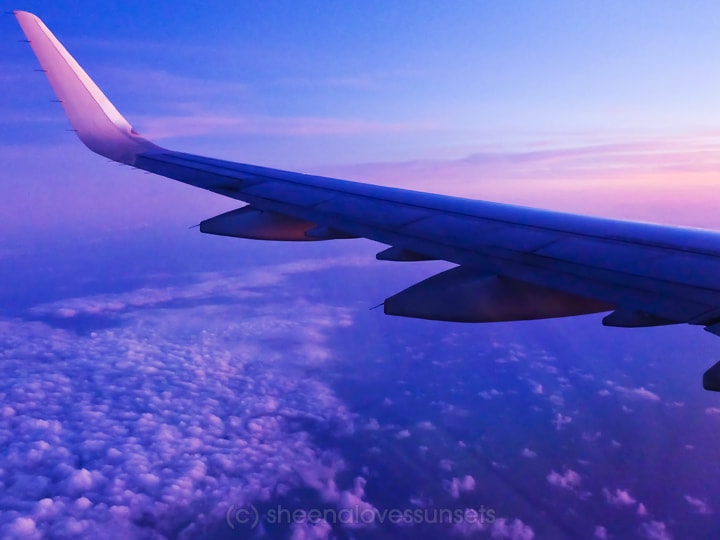 In the end, our three days in Bali proved to be too short; we didn't even have enough time to explore central Ubud. We also weren't able to explore other areas in Bali such as in Nusa Dua, Seminyak and Kuta. But such is life as parents. Haha. We already count it as such a huge blessing just to be able to take 3 days off together, at the same time! (Related post: Traveling WITHOUT Your Baby)
We'll be back, Bali. And we'll probably bring Luke with us next time so that we don't have to rush!
(NOTE: THIS POST IS ABOUT OUR EXPERIENCE LAST APRIL 2017.)