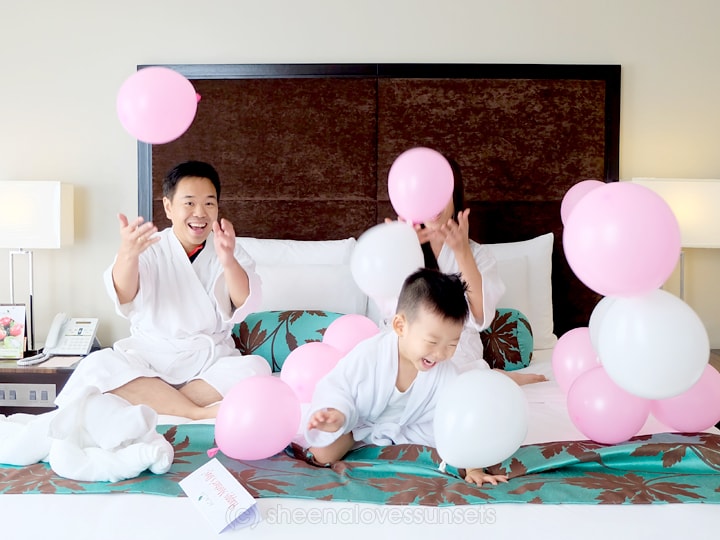 We absolutely love staycations, as you can probably tell by now, but no one looks forward to them more than Luke! Sometimes, he would even include that in his prayers ("Thank you God for hotels…")
So you can just imagine his face when I told him we were invited to stay at Acacia Hotel Manila for Mother's Day! (Hint: It looked pretty similar to his face in the photo above!)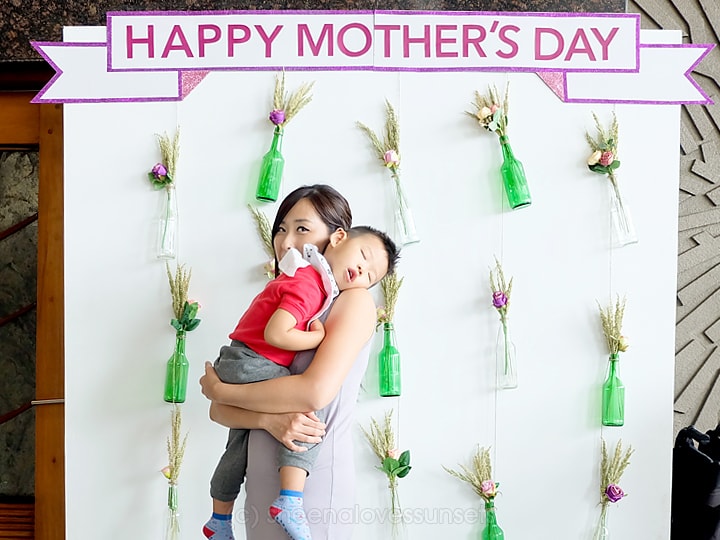 We checked-in on a Sunday and there was surprisingly no traffic going to Alabang. Luke slept in the car and continued his nap all the way through the entire check-in process.
The Warmest Welcome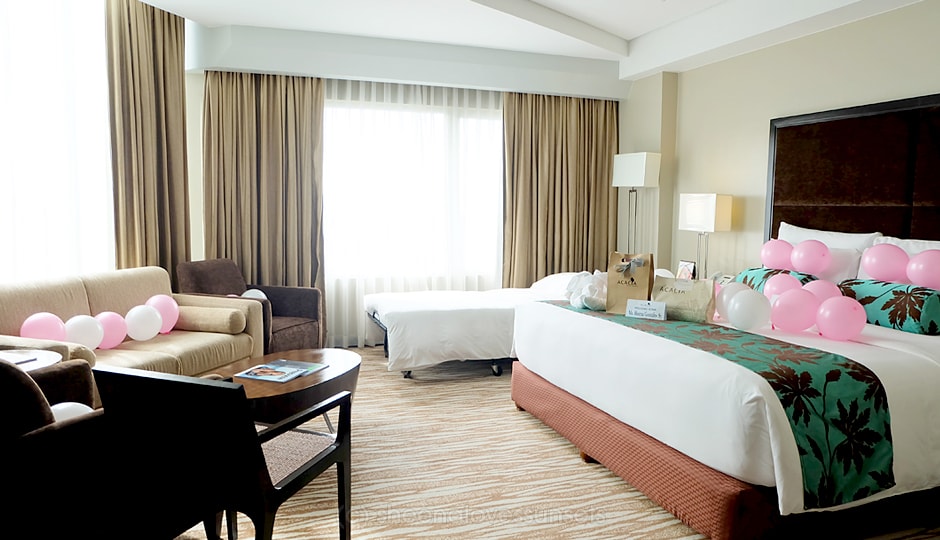 When we opened the door to our suite, SURPRISE! I wanted to shout "WOW, LUKE, BALLOONS!!!" but he was still sleeping. Haha. I think Luke felt there was something going on though because he immediately opened his eyes!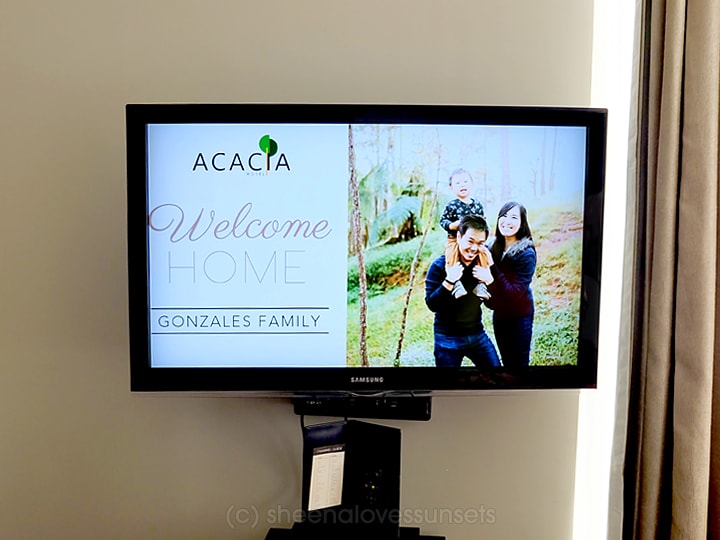 The first thing he saw was this photo of us and he said "BAGUIO!" Heehee. Yup, it's one of our photos from the photoshoot we had at Baguio!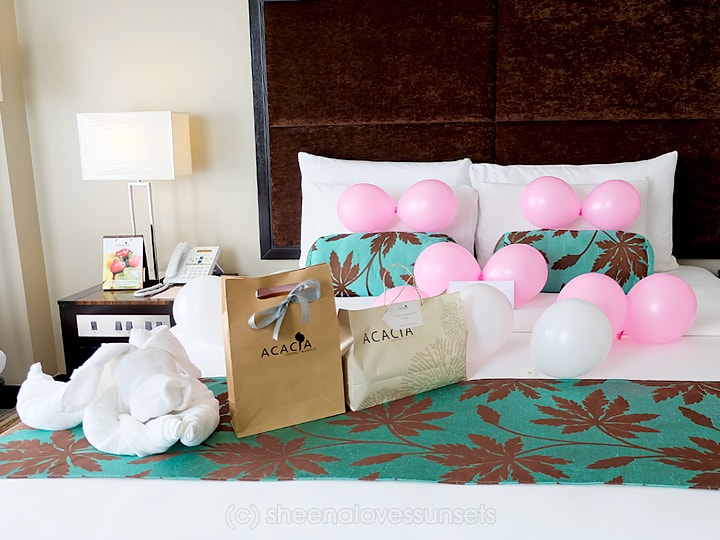 It didn't take long for Luke to notice the balloons all over the room and he was at them in no time!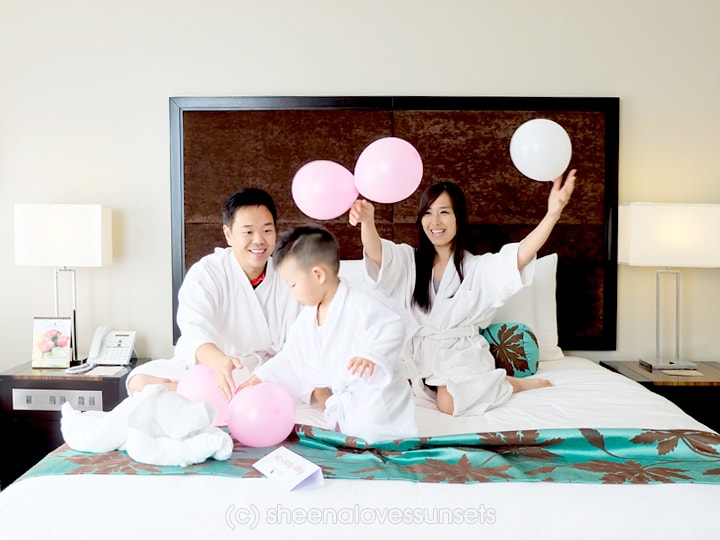 Luke was so excited to push all the balloons out of the bed. He thought that was the whole point of them being on the bed. Haha.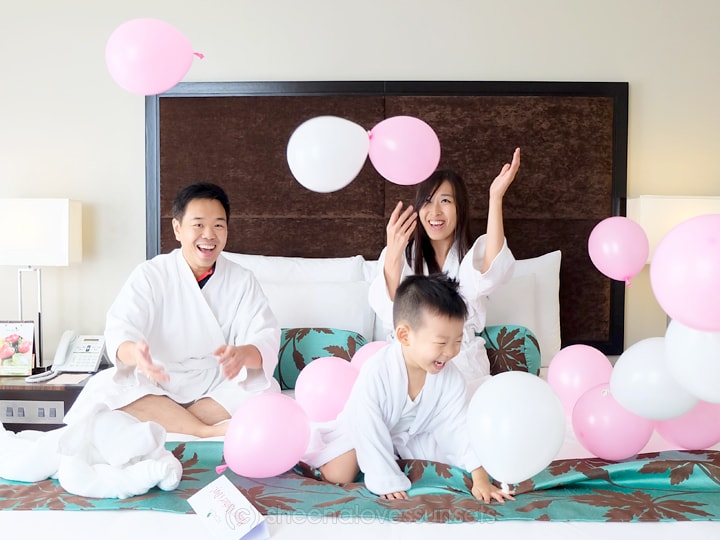 True story: One day, Mor was reading to him a book and one line said "the most wonderful place ever…" Luke then excitedly blurted "HOTEL!" (FYI, the book was actually referring to Heaven!)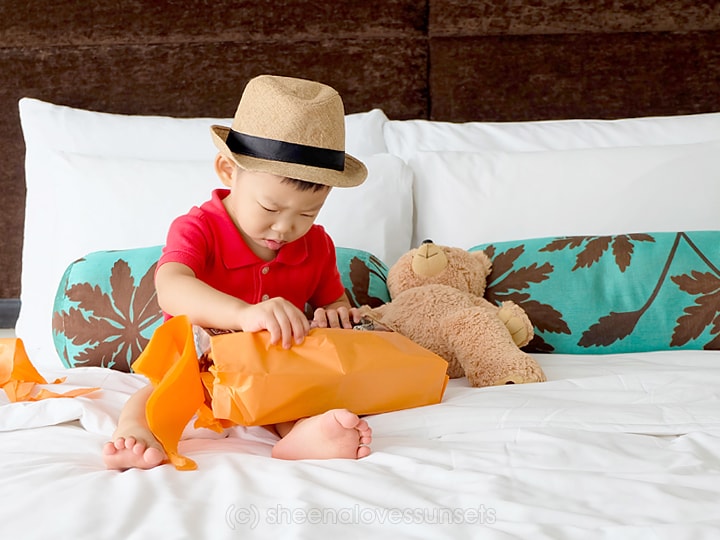 I know it's Mother's Day, but all the gifts on the bed were for Luke, not me! Haha! Not complaining though. Thank you Acacia Hotel team for your thoughtful surprises for Luke! Up until now, he's still playing with the toys!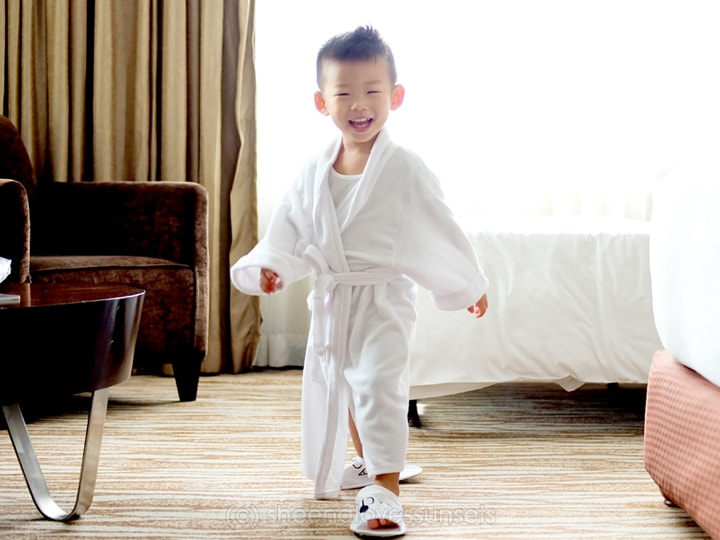 But guess what? His favorite surprise was this mini robe set complete with a pair of mini slippers! It's the first time he's ever had his own robe and hotel slippers!
Welcome Head & Shoulder Massage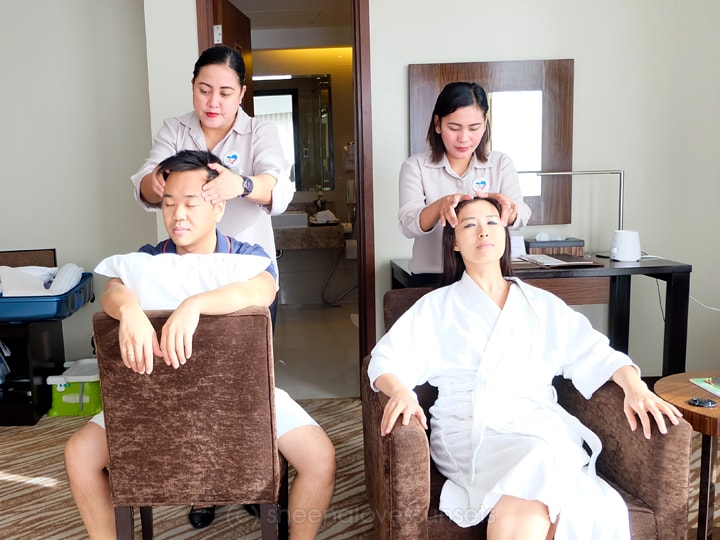 After settling in, we were given a complimentary 15-minute head and shoulder massage.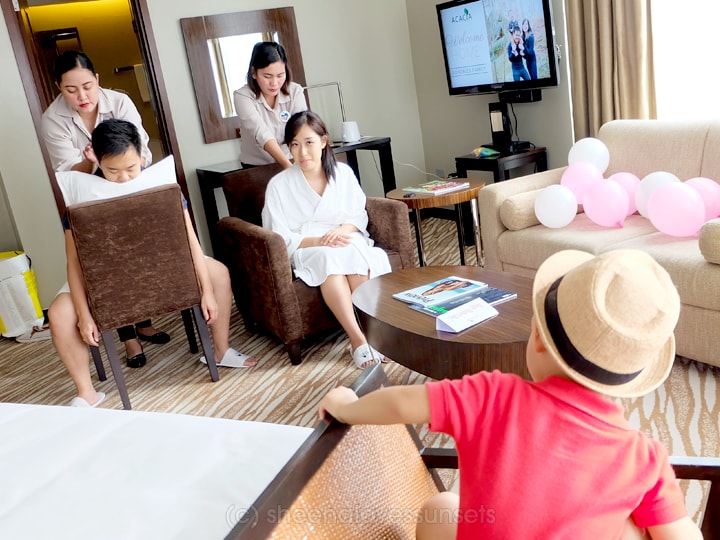 Sorry Luke, massage is only for mom and dad. Hmm… why are you watching so intently?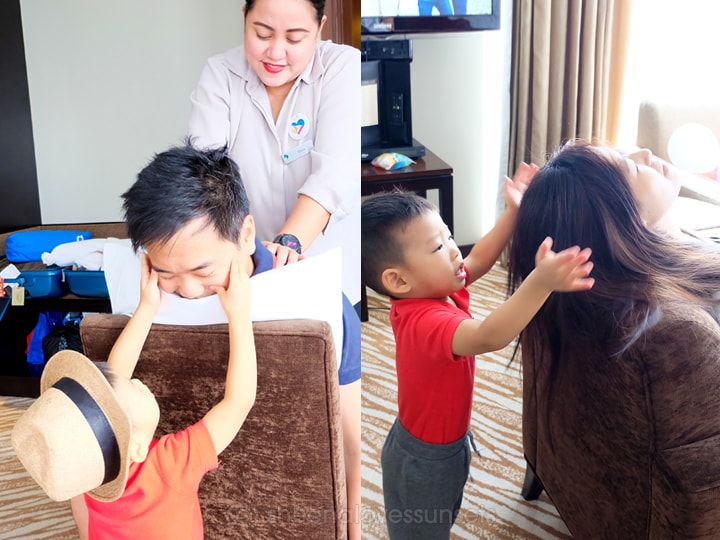 A-ha! He also wanted to do give us a massage! Haha! Good job, Lukey!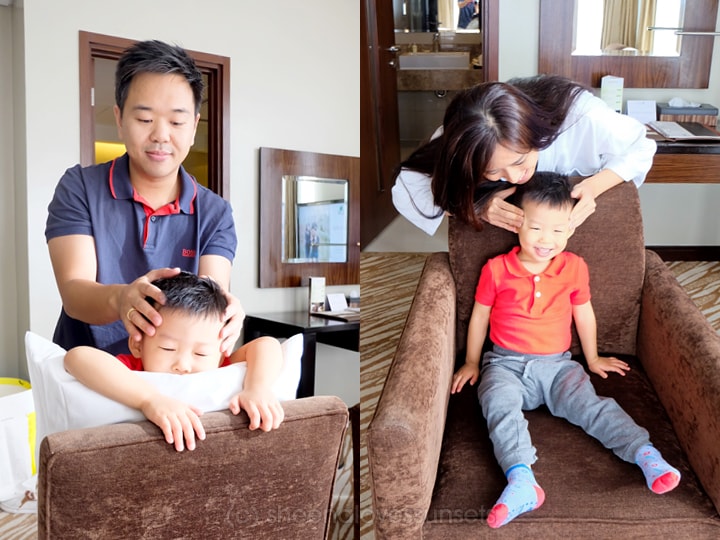 Here's your reward: your very own head and back massage too. Hehe. Looks like he's enjoying it.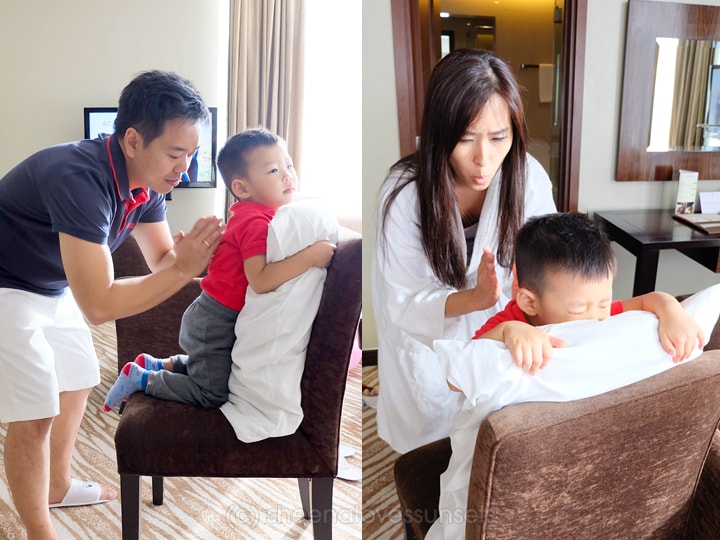 … or maybe not. Hahaha. After playing around, we decided to change and go visit the pool.
The Pool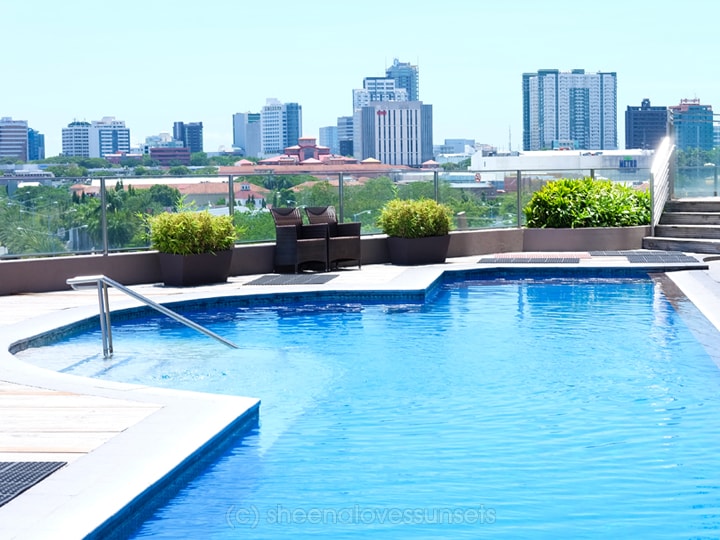 As I've mentioned before; when staycationing with kids, the pool area is a must-visit.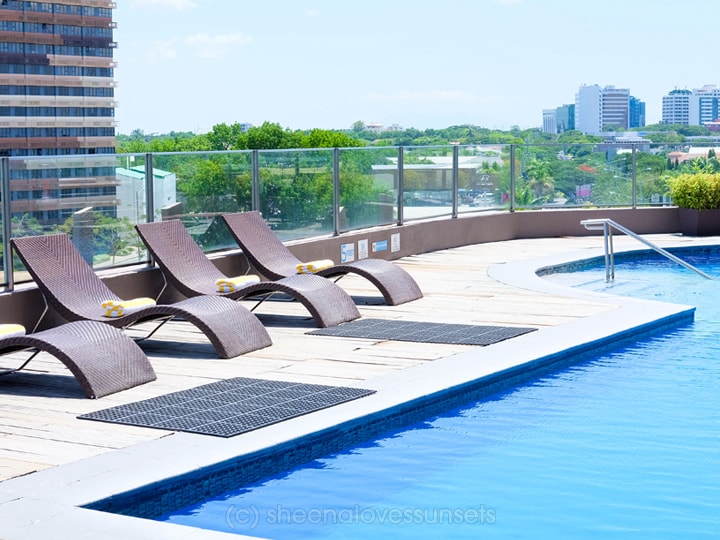 You get a nice city view of Alabang from the pool.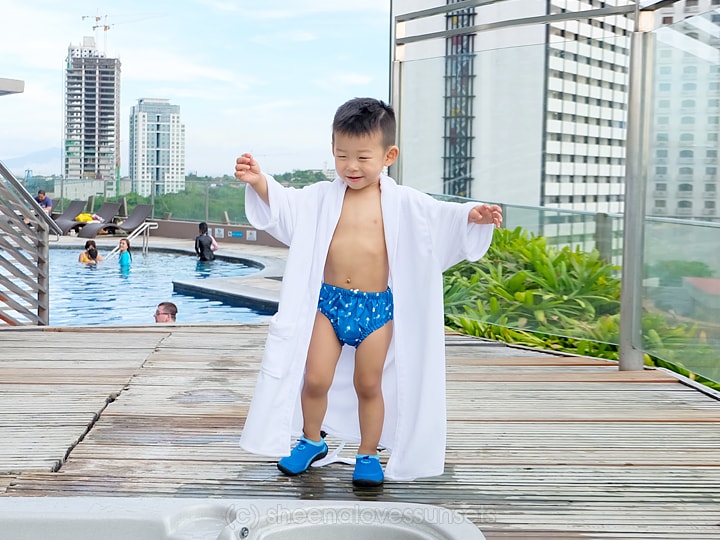 But my favorite view will forever be this bunny!  Instagram #BabyOOTD thanks to Charlie Banana and BabyMama for the swim diapers, Banz for the swim shoes and Acacia Hotel for Luke's awesome mini robe.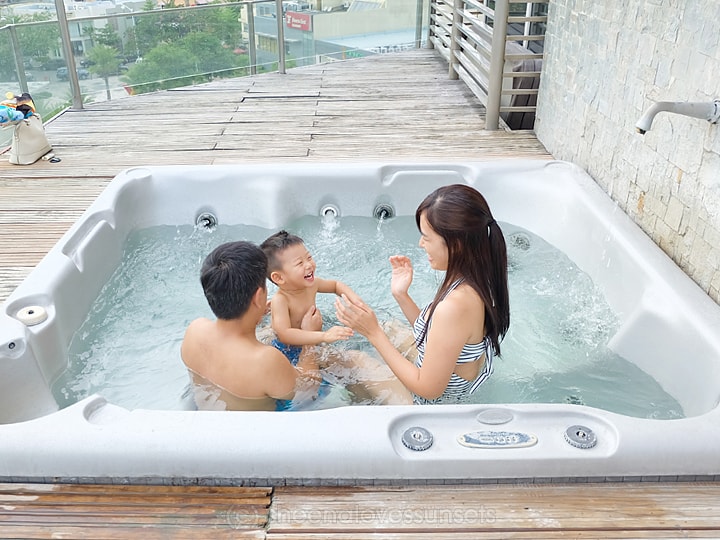 The pool water was a little cold that afternoon so we decided to go to the jacuzzi instead.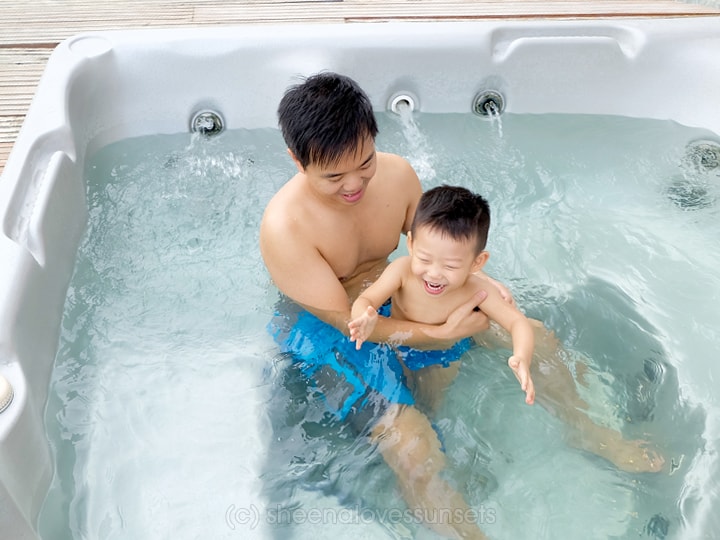 Ironically, the heater was unfortunately not working at that time. But good thing the water wasn't as cold as it was in the pool. So we went in and it was no problem; Luke loved it! In fact, it actually took us a while to convince him to go out after.
Dinner at "A Steakhouse"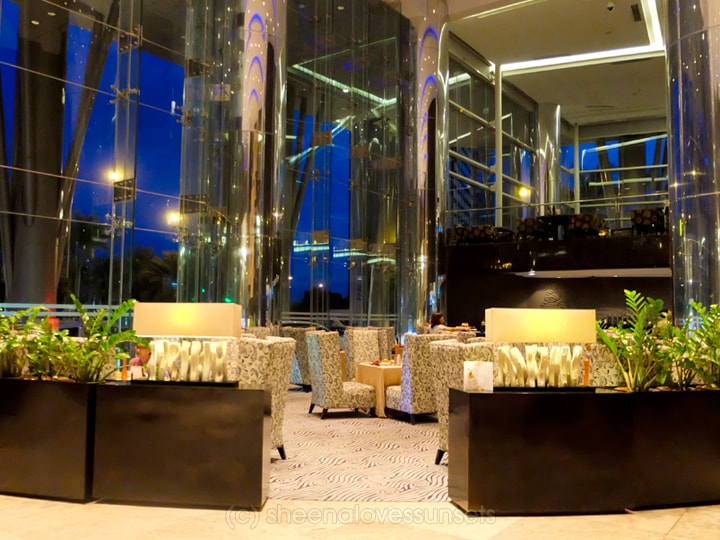 Famished from our swim session, we were more than ready to have dinner at A Steakhouse.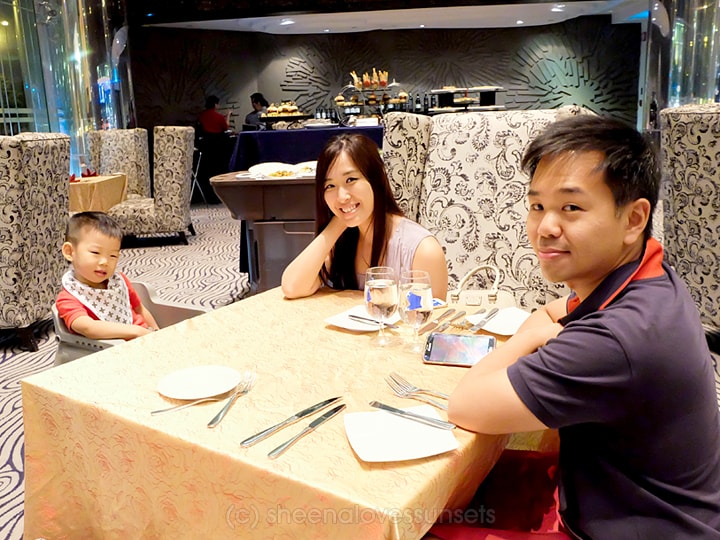 A Steakhouse is Acacia Hotel's fine dining restaurant. Excited for our gourmet meal! We were told it's gonna be Surf N' Turf tonight.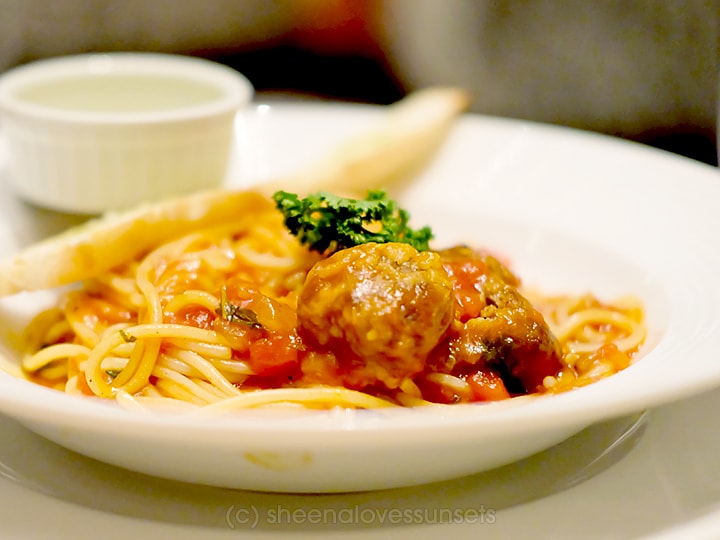 Of course or little traveler also gets his own gourmet meal: Spaghetti and Meatballs! Hehe.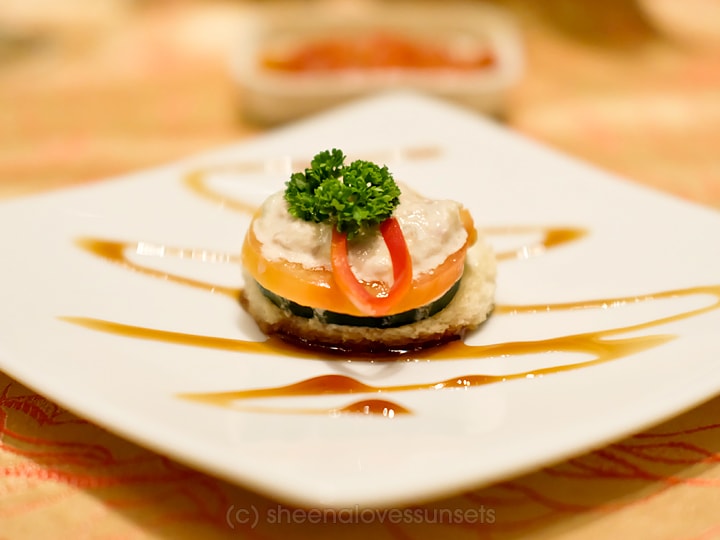 Let's begin!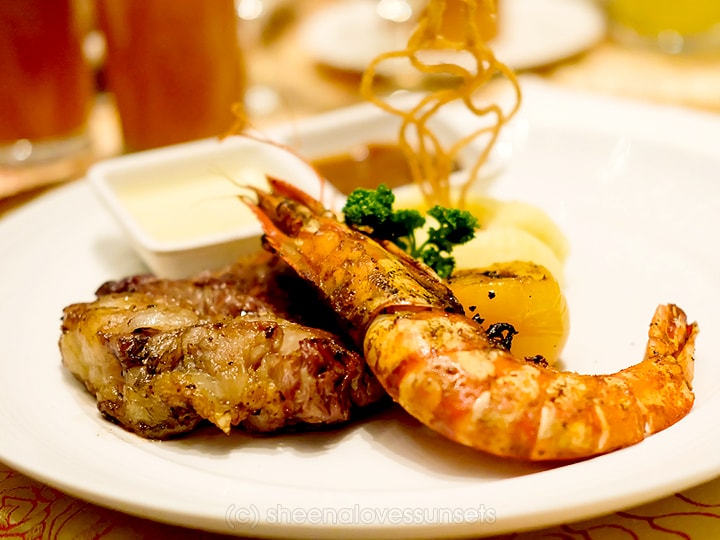 One very remarkable thing about Acacia Hotel was the food: it was REALLY good! Our Surf N' Turf meal was amazing and I enjoyed every bite.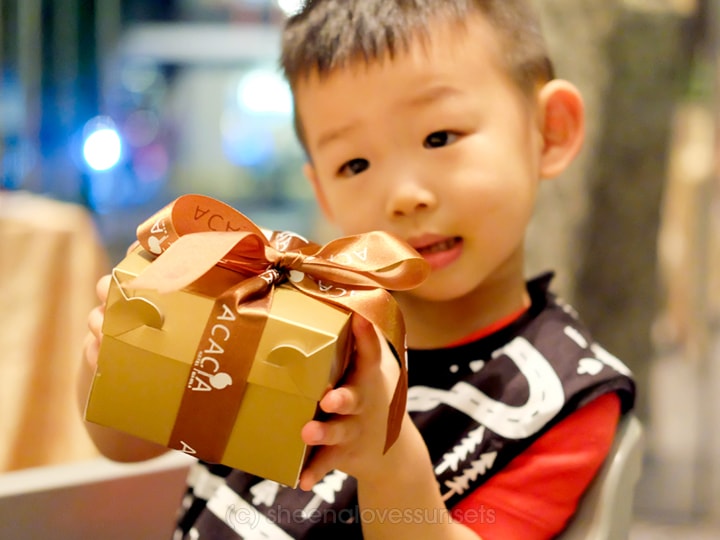 Towards the end of our meal, we were given a special box! What's inside?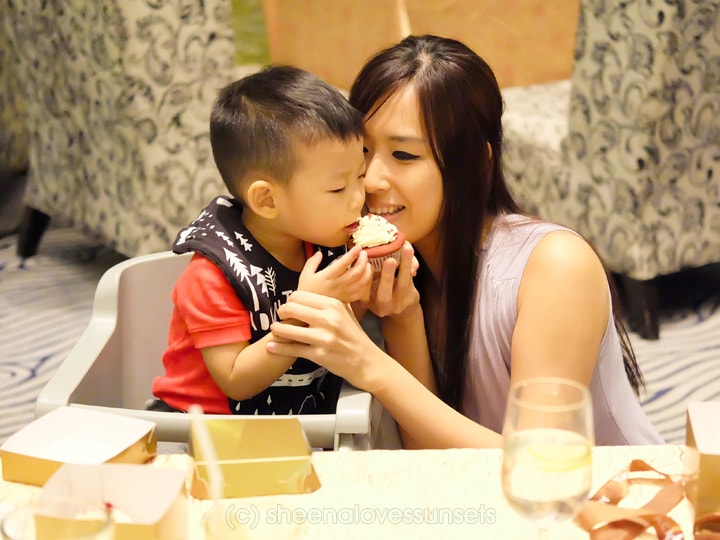 Cupcake! Fun fact about Luke: He doesn't really like sweets and cream-based food (usually, except pasta) which means, he never really liked cupcakes either. So when the whipped cream touched his lips…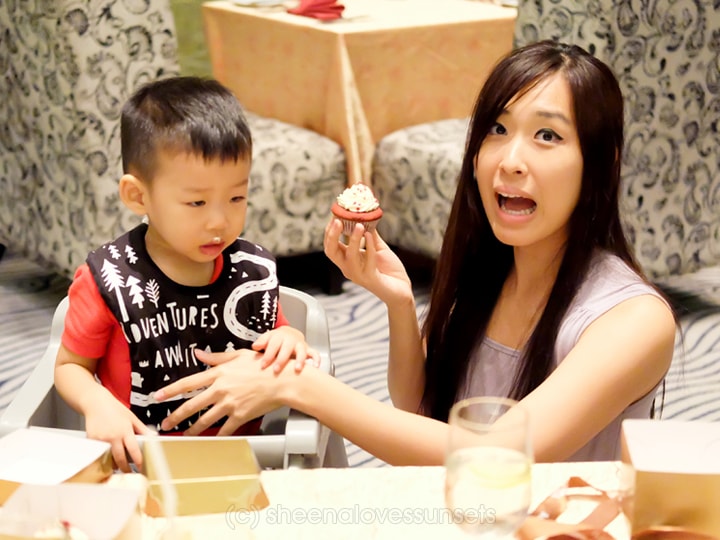 Hahaha. This was how our faces looked like literally 1 second before he barfed!!! Oh man (lol!) Good thing I was able to quickly move the cupcake out of the way. Hehe.
Mother's Day Isn't Over Yet!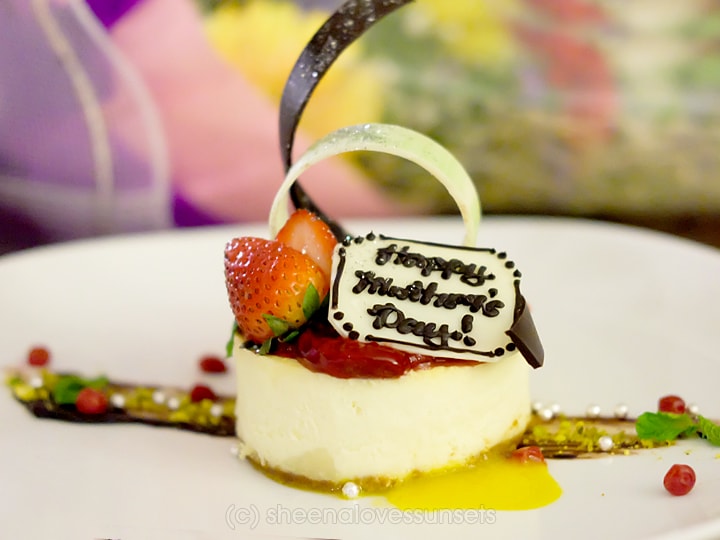 And as if all the surprises earlier today weren't enough, flowers and cheescake were waiting for us when we got back to our room!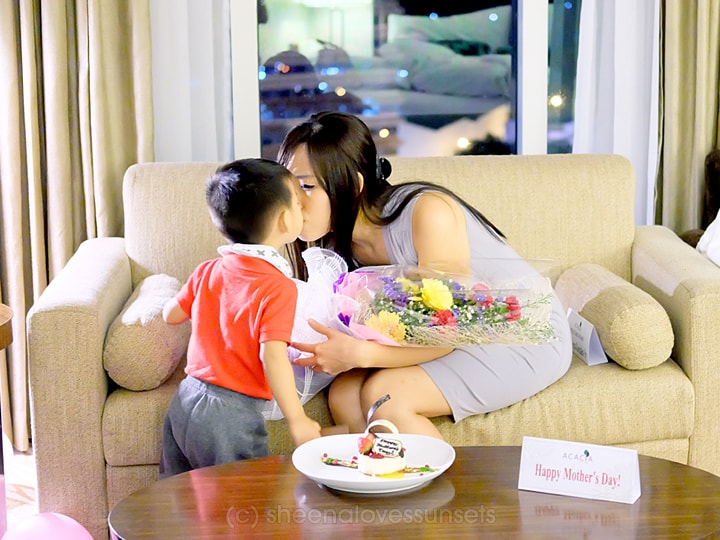 I won't be celebrating Mother's Day if not for my little bunny so thank you Luke for coming into my life. Or rather, thank You,  Jesus for giving me my Lukey!
Breakfast at Acaci Coffeeshop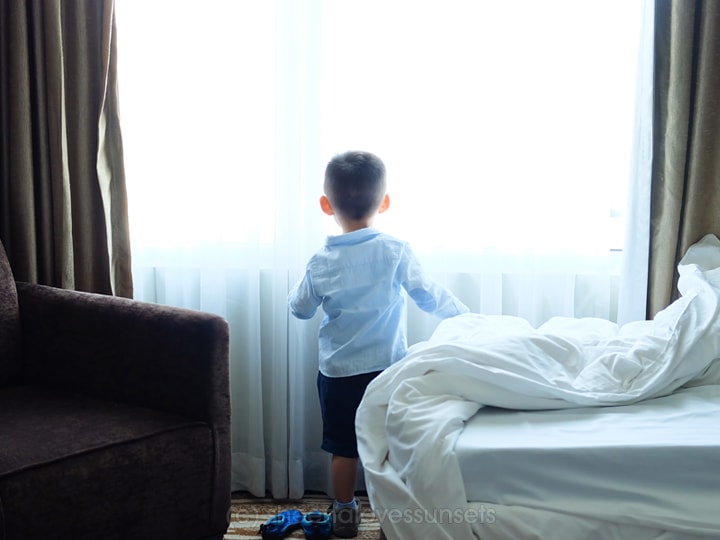 Woke up to a beautiful morning, ready to explore the rest of our home for the weekend. But first, it's time for breakfast! And a buffet spread is waiting for us at Acaci Coffeeshop.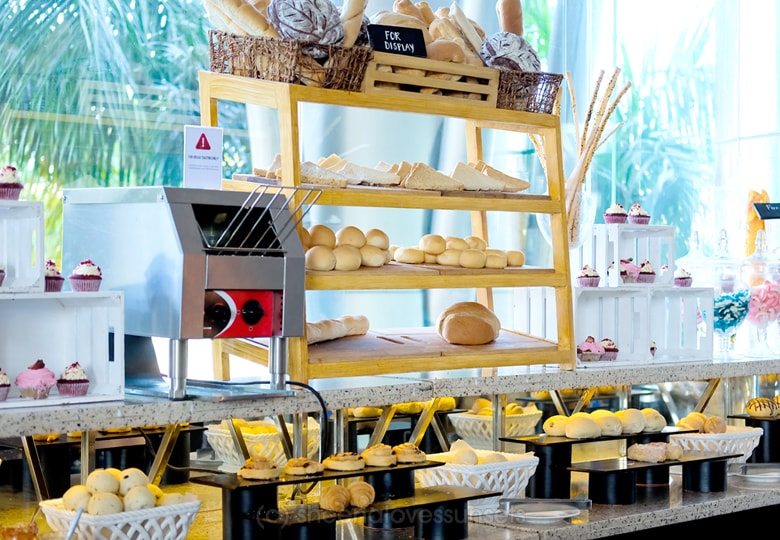 Since it was Mother's Day weekend, there were a lot of people staycationing as well. This means, breakfast was jampacked! The staff were so helpful though and they would offer to get drinks and food for us, even though it was buffet style!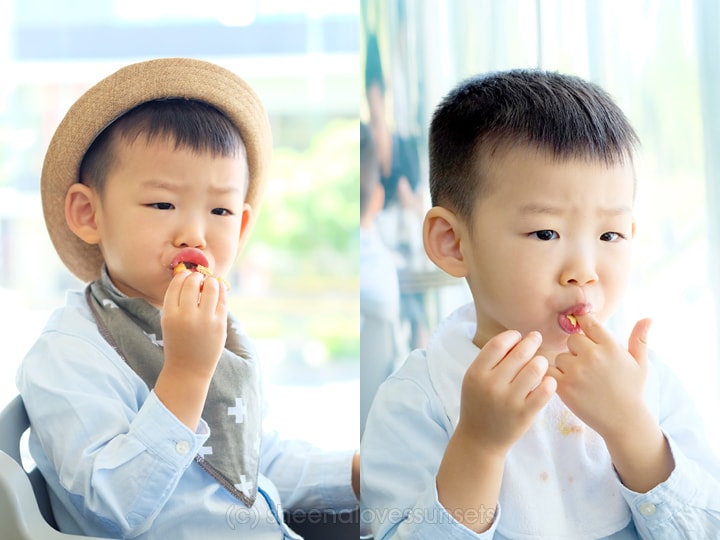 Luke always has this serious expression where he crosses his eyebrows as though thinking of something super important. He's been doing this since he was a newborn. Hmm…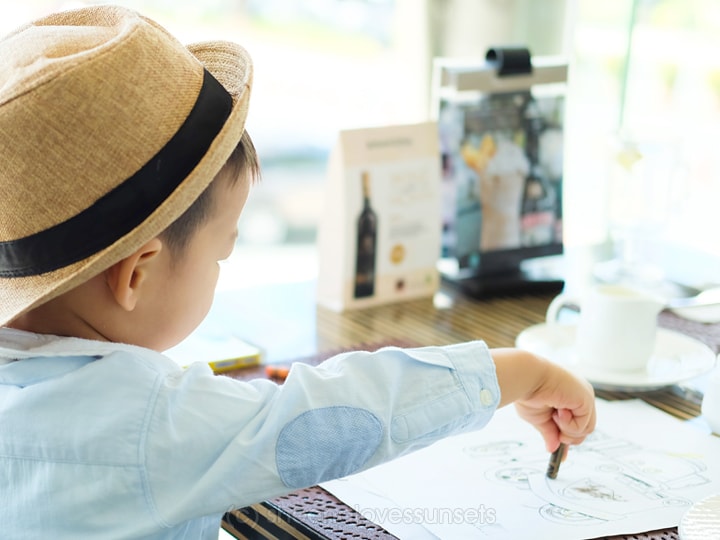 Thank you for all the coloring sheets and crayons!!
Bubble Bath Time!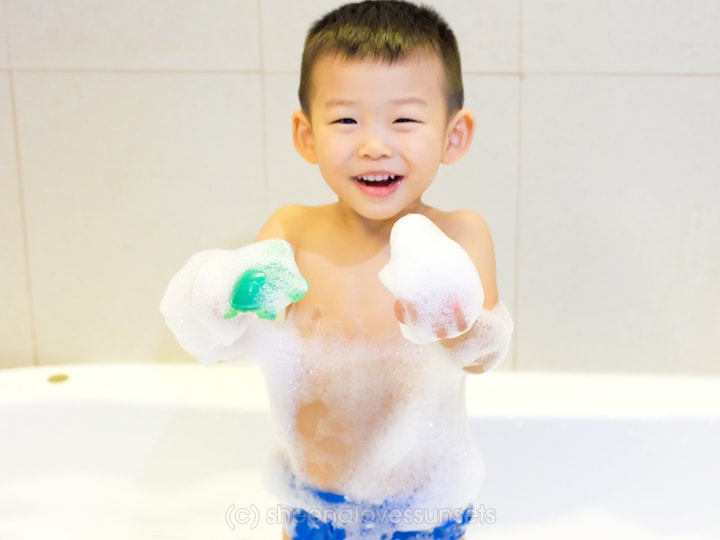 The activity Luke was looking forward to the most: BUBBLE BATH! And this time, I'll just share one photo because we've overkilled it already with too many bubble bath photos from our previous staycations. Haha!
Playtime at the Rooftop Garden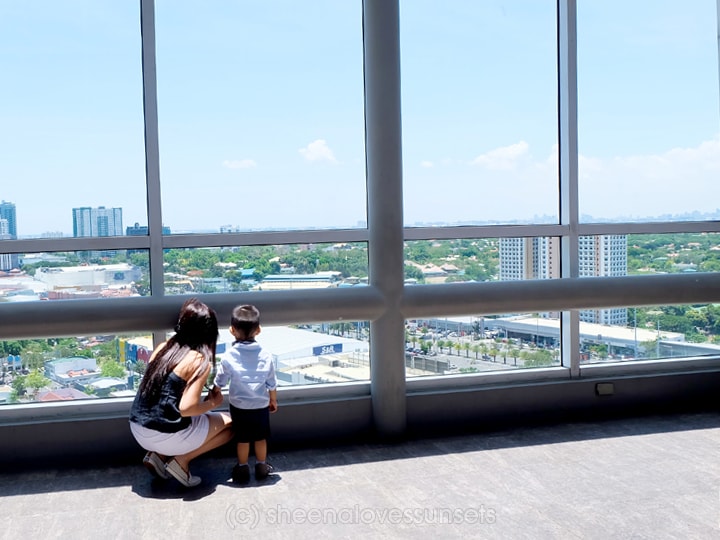 After bath time, we took a tour around the hotel. It was almost 12nn but we were still so full from breakfast that we didn't mind having late lunch.

Acacia Hotel has this rooftop garden. Did you say big, open, outdoor area? In that case, you can just leave us here for a while…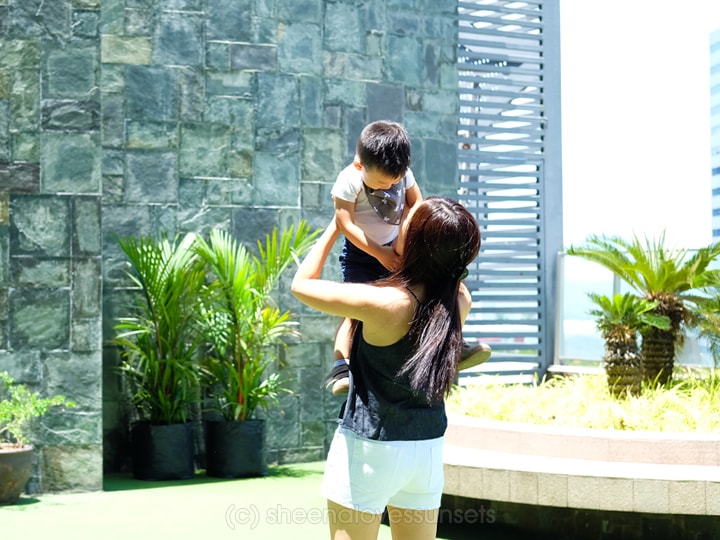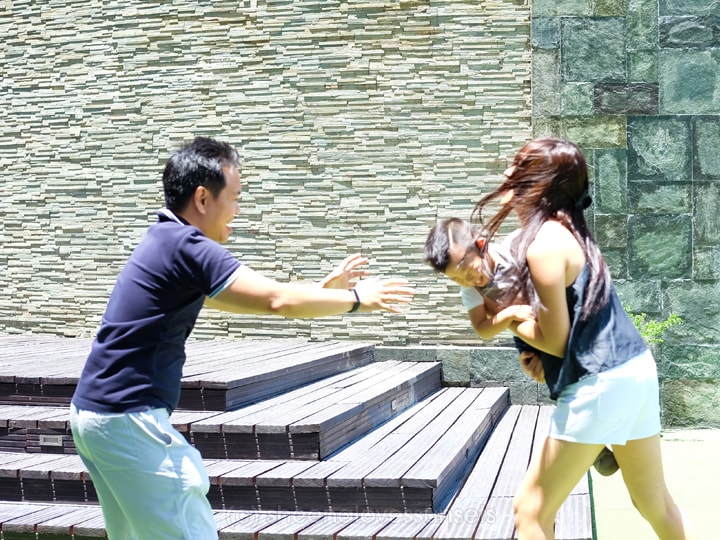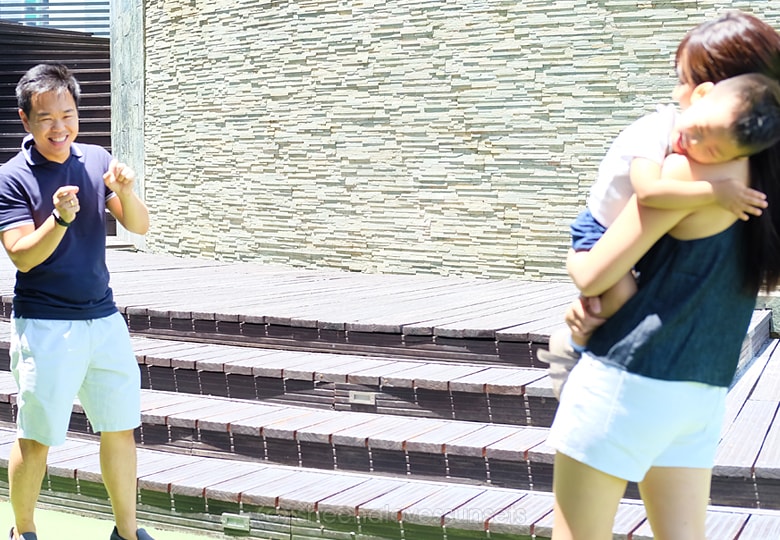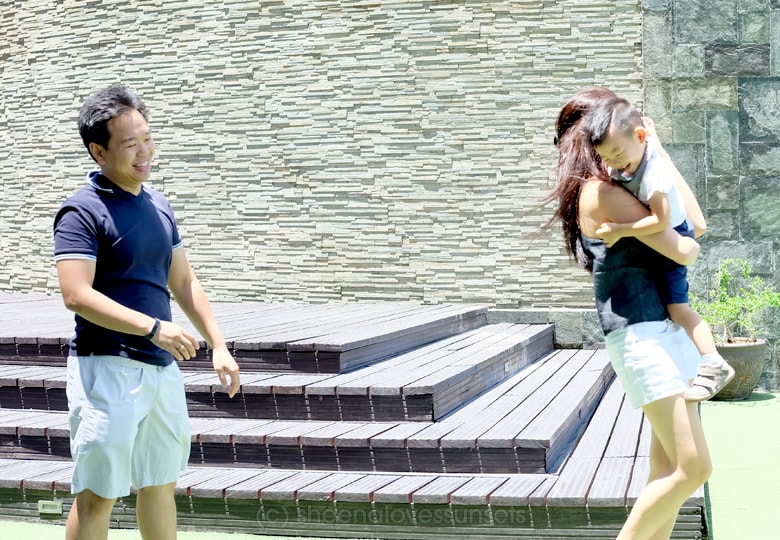 We love playing in wide open spaces! I wish we had more of these spaces in Metro Manila. (And I wish it's not always super hot either so we can enjoy more of the outdoors!)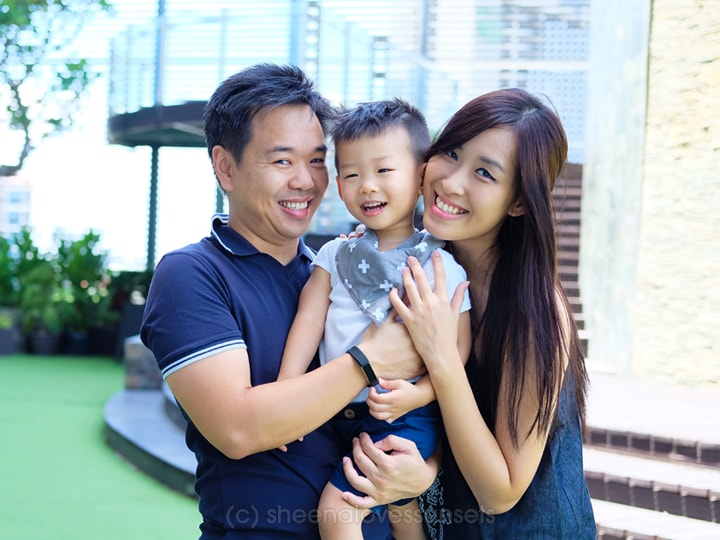 And here's Mor trying to make Luke laugh, which explains his mischievous expression. Haha.
Lunch at The Lobby

And then it was time to eat again. We are definitely enjoying #TheAcaciaLife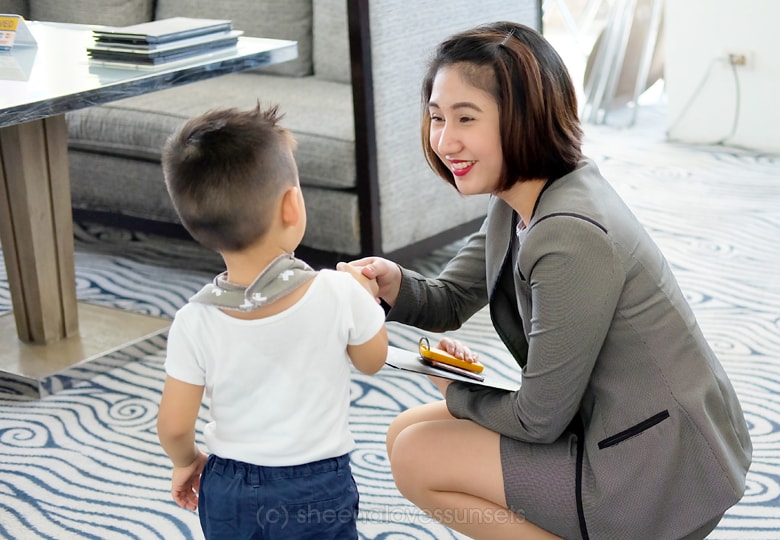 What really impressed me most with Acacia are two things: the people and the food! Everyone was so friendly with Luke, it's crazy! They were all engaging him in conversations and giving him high fives. So sweet!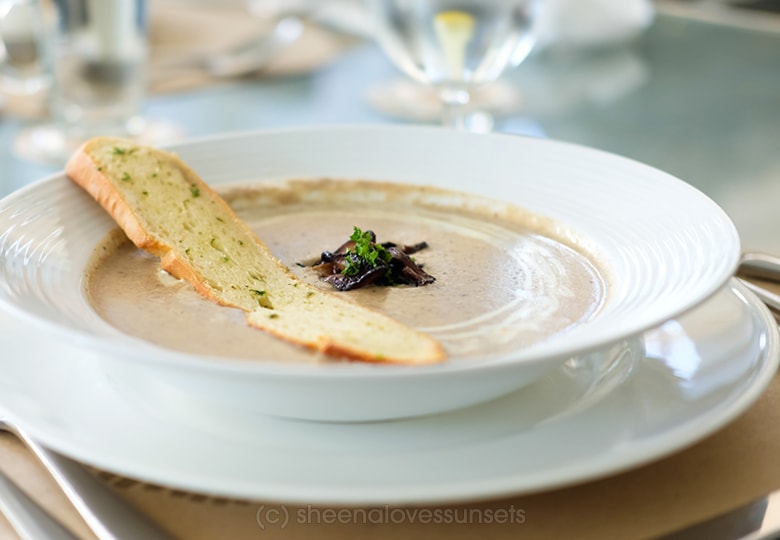 Chef's Trio of Mushroom Soup with Truffle Oil (P265) Puree of shitake, oyster and button mushrooms blended in a thick, flavorful soup. My favorite.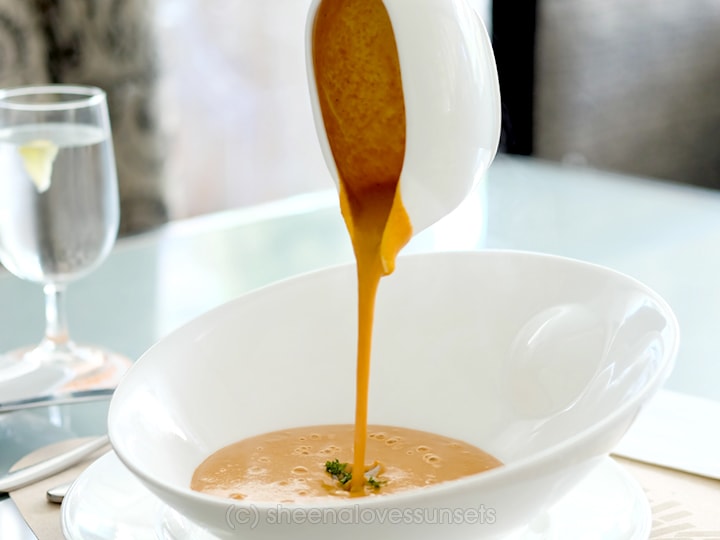 Lobster Bisque (P180) Rich, smooth and cream bisque made of fresh lobster meat. The bowl arrived with just lobster bits, without the soup. And then the server came and poured it in.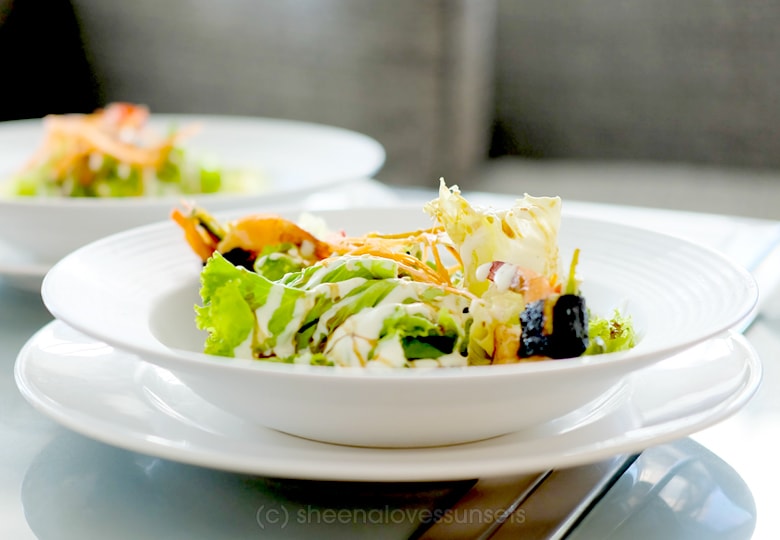 Crispy Nori Shrimp Salad with Wasabi Mayo and Shoyu Glaze (P225) We had it split in two, which is why you can see two plates here.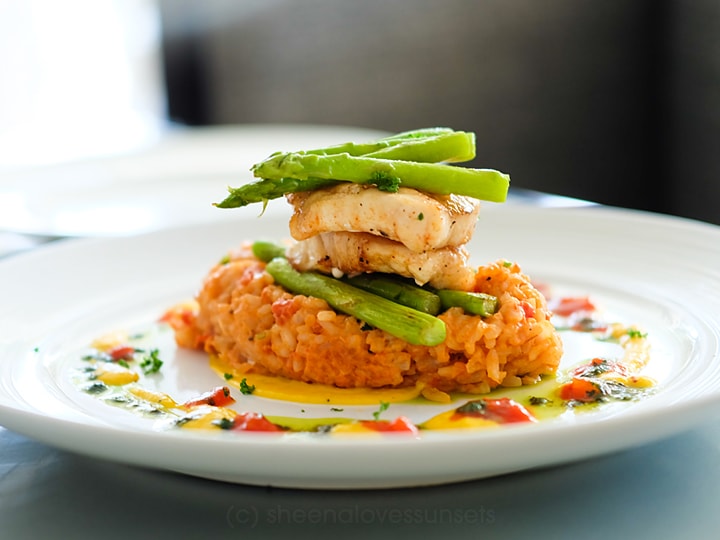 Pan Fried Snapper with Marinara Risotto (P685) served with asparagus, saffron and beurre blanc. Luke devoured the risotto like there was no tomorrow.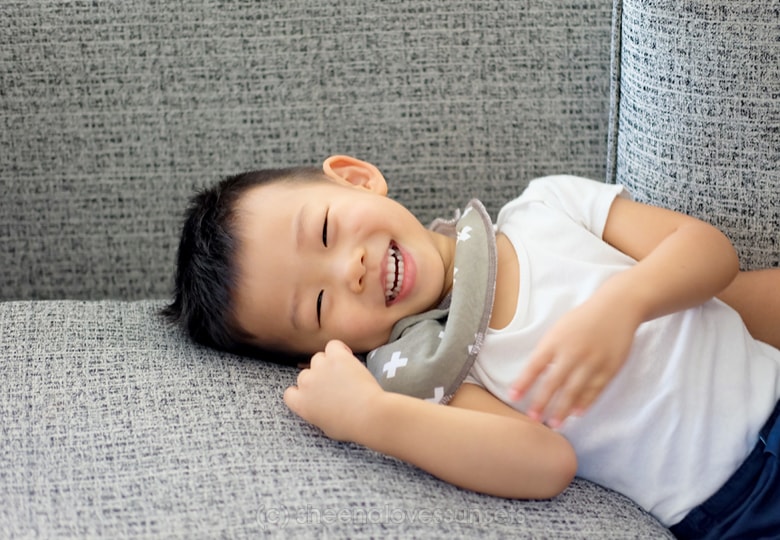 Look at this happy little boy!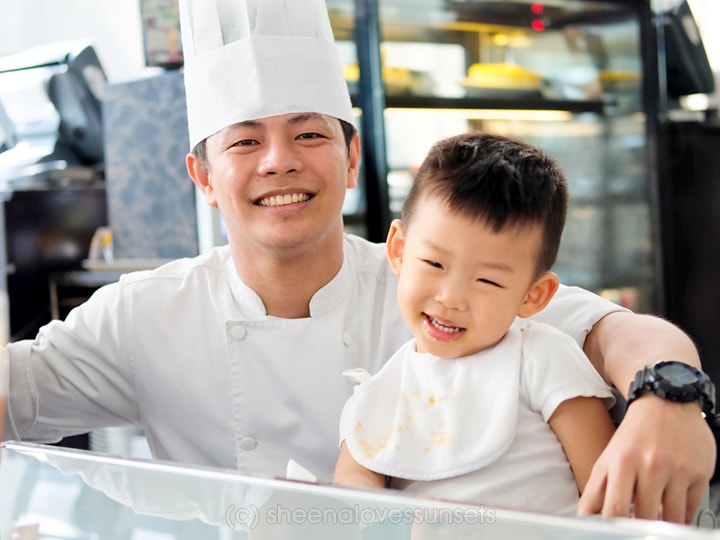 Lately, Luke has been so interested in chefs (he likes their hat!) and watching people cook. So he was a little "starstruck" when he met a real chef during lunch! Haha. And speaking of chefs…
Junior Chef Experience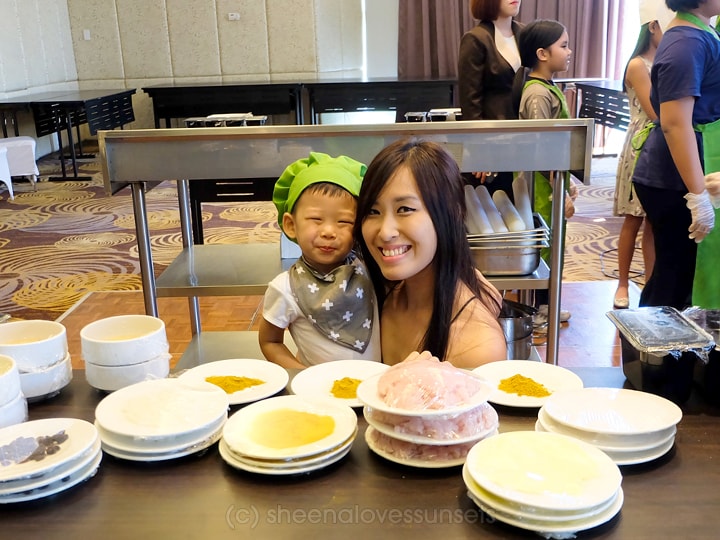 We were invited to take a peek at the Junior Chef session happening that afternoon! Luke even got to wear a chef's hat like what all the other kids were wearing!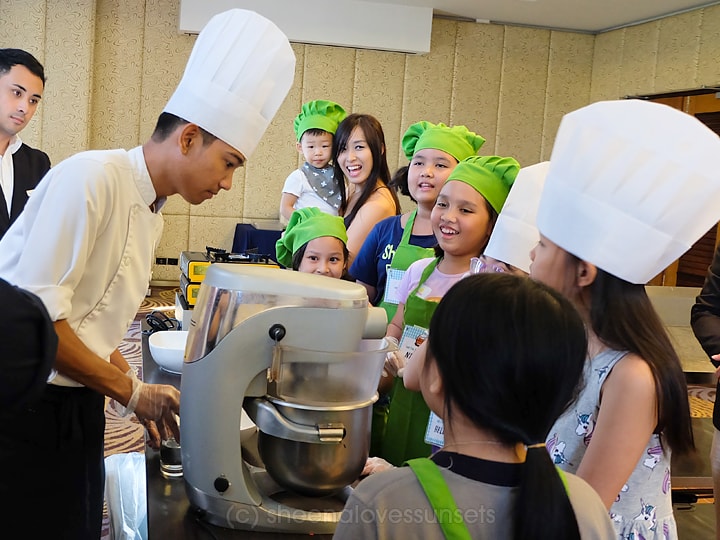 Acacia Hotel offers this program to kids during summer. (They also have a Junior Hotelier program, which I would love for Luke to do when he's older!)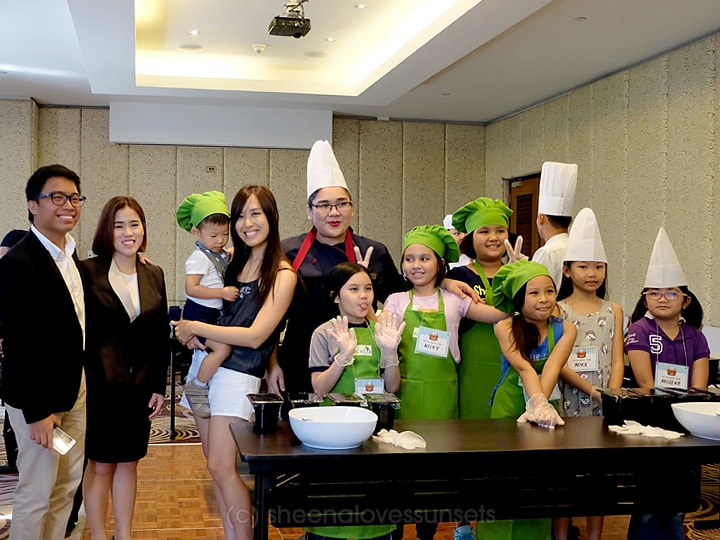 The kids were so funny, I wish I was able to record all the cute things they were saying. But the session was put on hold as the general manager called for everyone for an impormptu meeting at his office!
Executive Meeting with the General Manager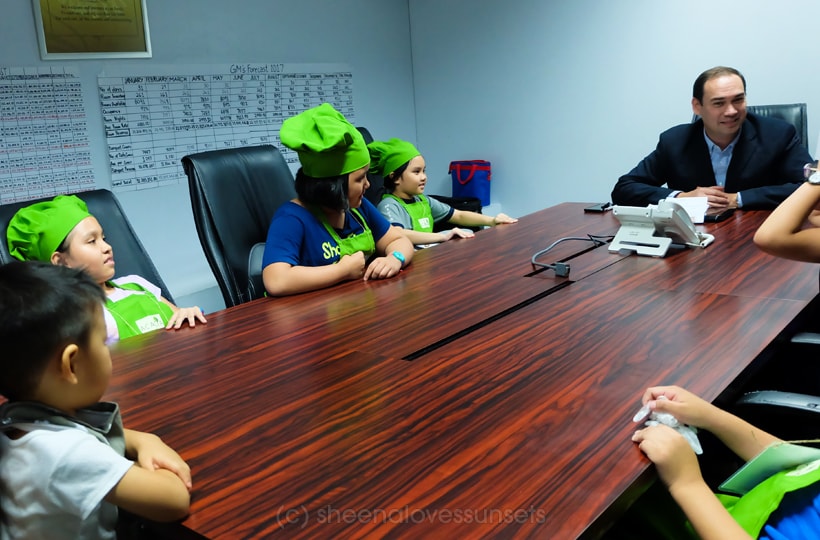 We met with Mr. Bobby Horrigan, the general manager of Acacia Hotel Manila and he led such a fun discussion with the kids about what it's like to be a hotelier! The way he told stories was so much fun that I won't be surprised if the kids were encouraged to become hoteliers in the future too!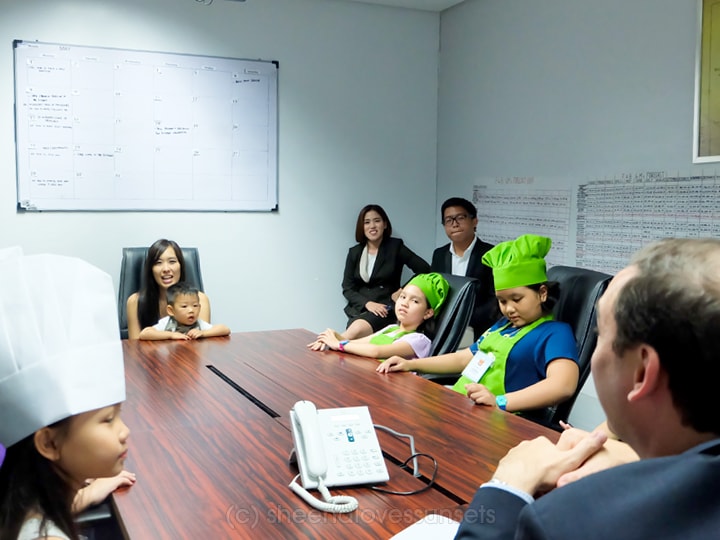 Just look at Luke's listening very intently. Could he be a little hotelier in the making?
Our Overall Acacia Experience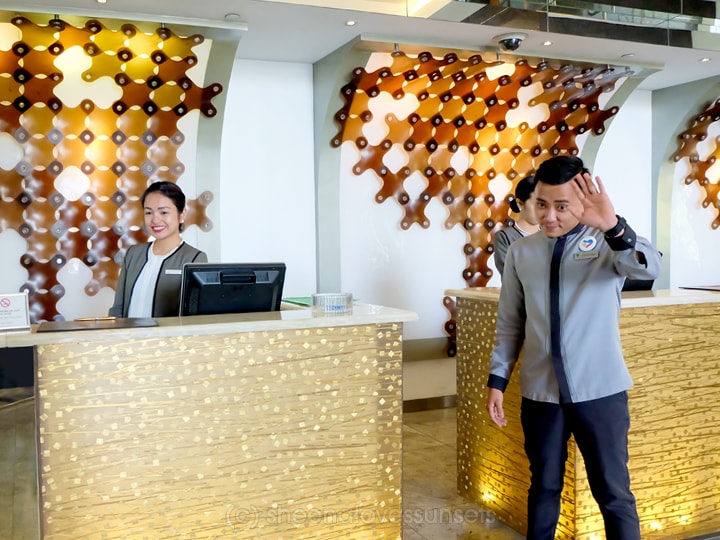 Acacia Hotel Manila prides itself as being #FilipinoLikeNoOther and they really deliver on that promise. The hospitality and service we experienced was extremely impressive. In fact, it was so much like our experience at The Four Seasons Sayan in Bali, and that's saying a lot!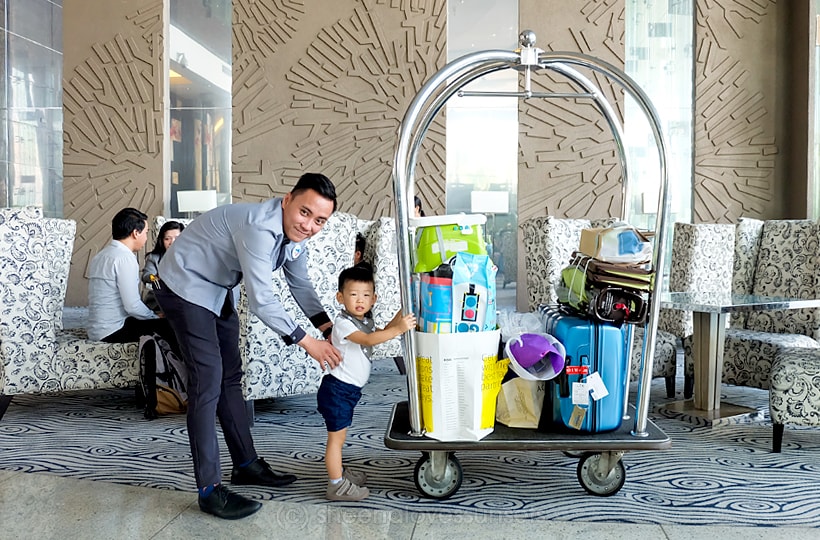 Thanks for letting Luke try his hand at being a hotel porter too! Haha!
I wish I was able to take a photo with everyone who was so kind to us, especially our server at A Steakhouse during dinner who kept Luke entertained the entire time (Hi Jessica, Luke still remembers you when we talk about our stay at Acacia!)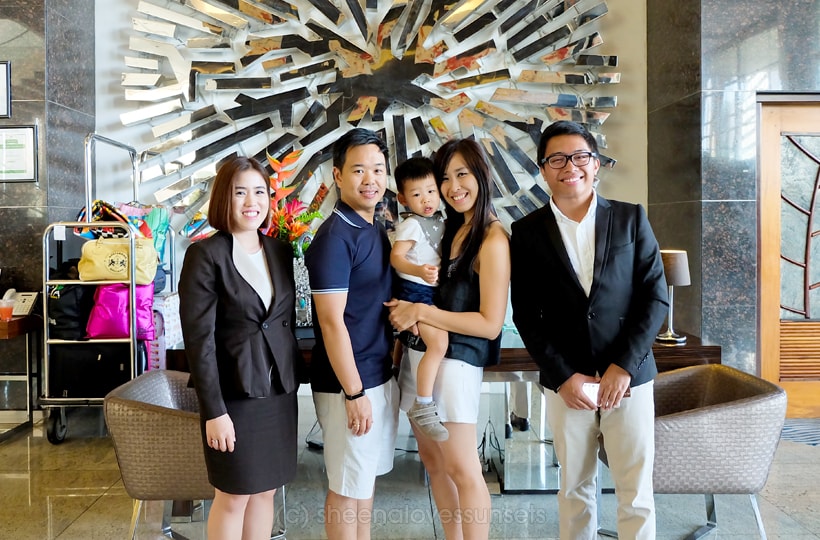 Thank you Acacia Hotel for making me feel so special this Mother's Day. Giving us an awesome staycation is already a gift in itself but the little surprises were such wonderful cherries on top!
We'll be back next time!
(NOTE: THIS POST IS ABOUT OUR EXPERIENCE LAST MAY 2017.)