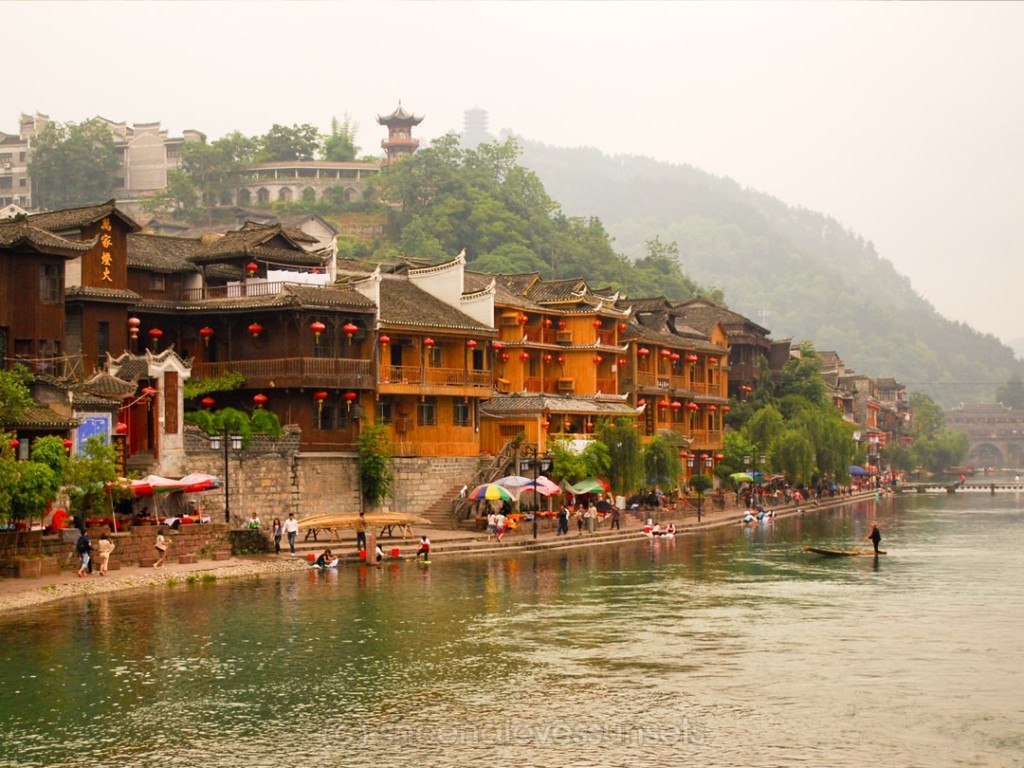 Fenghuang, also known as Phoenix Old Town, is situated at Hunan Province in China. As the name implies, it is a well-preserved old town and is geared generally to tourists, although more for local tourists. This is where I had my first ever backpacking experience and it is still by far one of the craziest, and best trips I've ever done! If you get the chance, I highly encourage you to visit!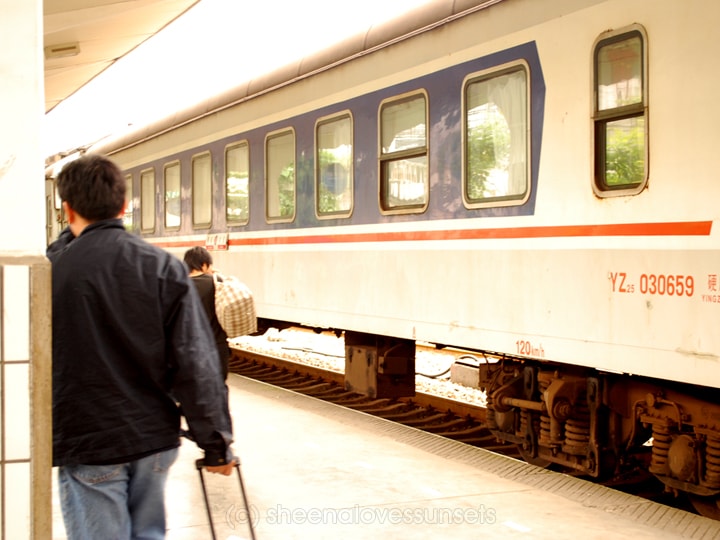 GETTING THERE:
We took a 15 hour train ride from Guangzhou to Jishou for 300 RMB. From Jishou station, we took a bus which took us all the way up to the town. The bus ride was bumpy and disgusting, or maybe I was just lucky because the lady at the seat in front of me was barfing like crazy, but it was all okay after I saw the beauty of the town.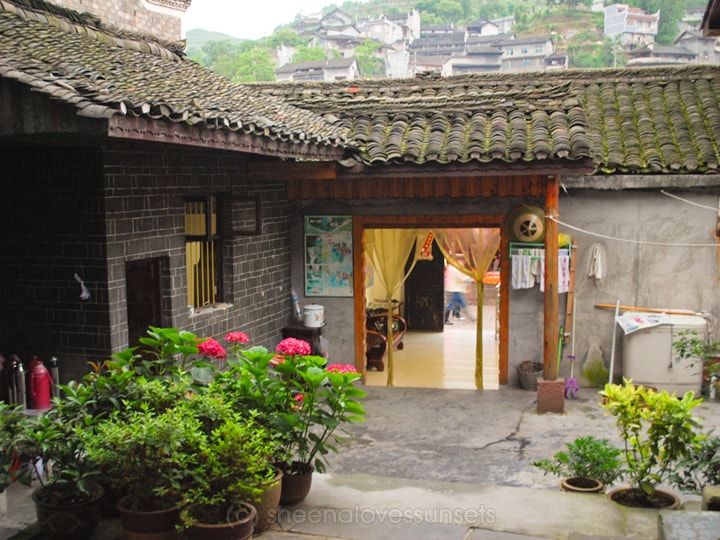 WHERE WE STAYED:
We had absolutely no itinerary, no pre-bookings and no plans when we arrived. So we walked the streets asking around for a place to stay at. Initially we were looking for hotels (more like houses) which had what they call a "western toilet", but hotels with such were too expensive for our budget so we gave up and ended up in this place.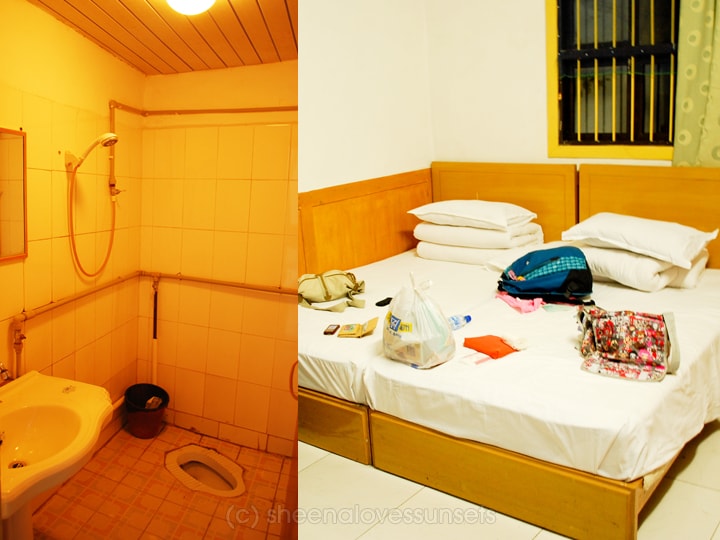 It's 135 RMB per room, which we split into 4. How cheap is that?! We just joined two beds together so that three of us can fit in it. Our other two friends stayed at a separate room for the same rate. Anyway, check out the bathroom! Yeah!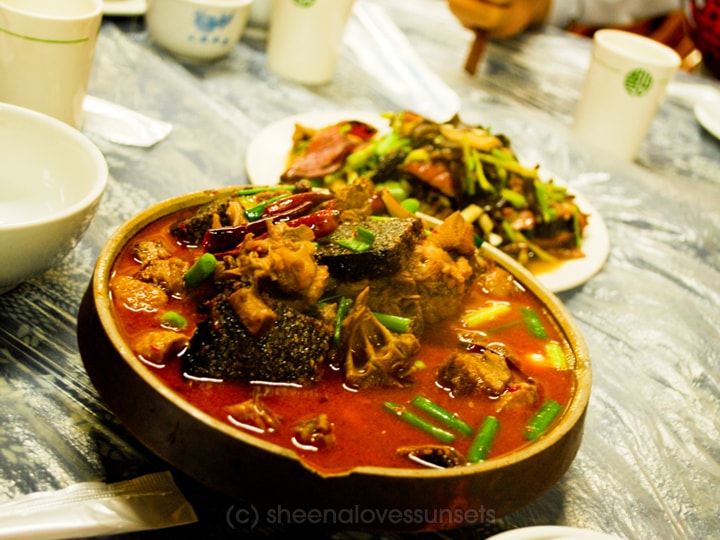 FOOD:

Spicy food at its best. I'm not even a fan of spicy food but Fenghuang's was a big, big exception. You know that a town takes its spicy food seriously when they only let you choose between "mild spicy" or "very spicy". And the number of times I used the word "spicy" just on this paragraph should give you a very good hint already. YUMMY. THE POTATOES ARE CALLING ME.
For dinner, we would usually order a lot, and I mean a lot. So the estimate of 20 RMB per person per dinner is really very cheap already.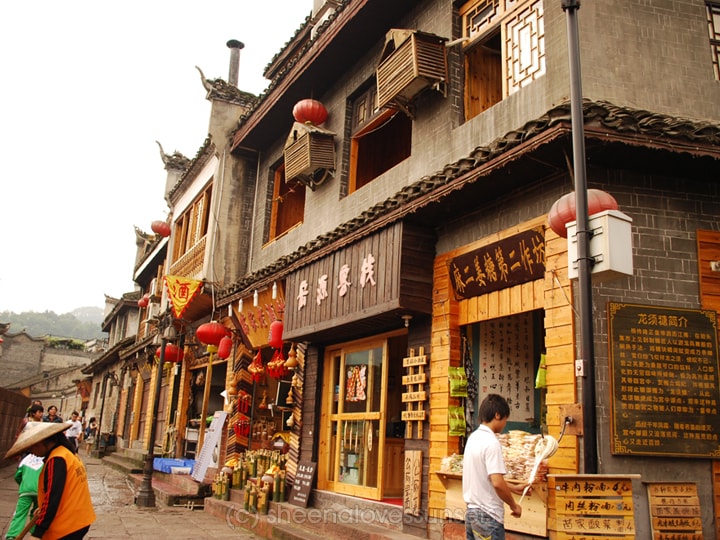 Something you shouldn't miss: the local rice wine. It was so good, the boys bought extra bottles for our next trip (we were off to Guangzhou after) but it spilled in their bags. Lesson learned: do not be greedy. Enjoy it while it's there. Or just make sure the bottles are properly sealed. An average of 8 RMB per regular sized bottle.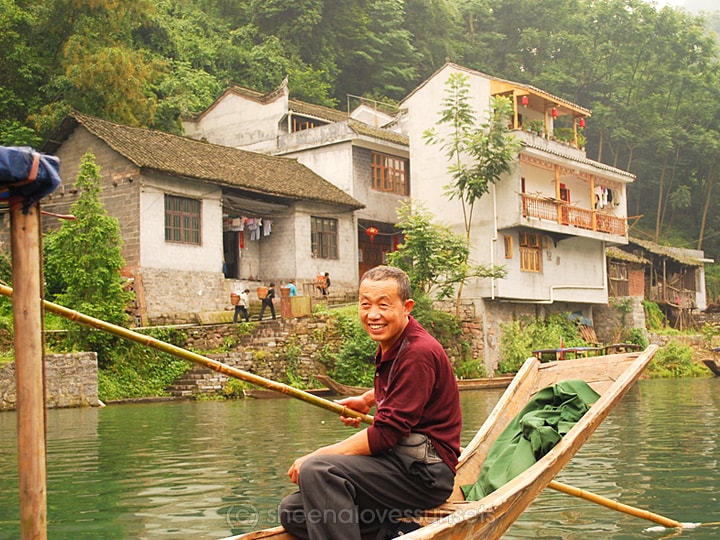 THINGS TO DO:
The town can easily be explored by foot and there's really so much to see already just by walking around the old town. But if you want to go hike mountains or go boat cruising, there are various tours being offered along the sidewalk which you could easily join. We joined two in particular: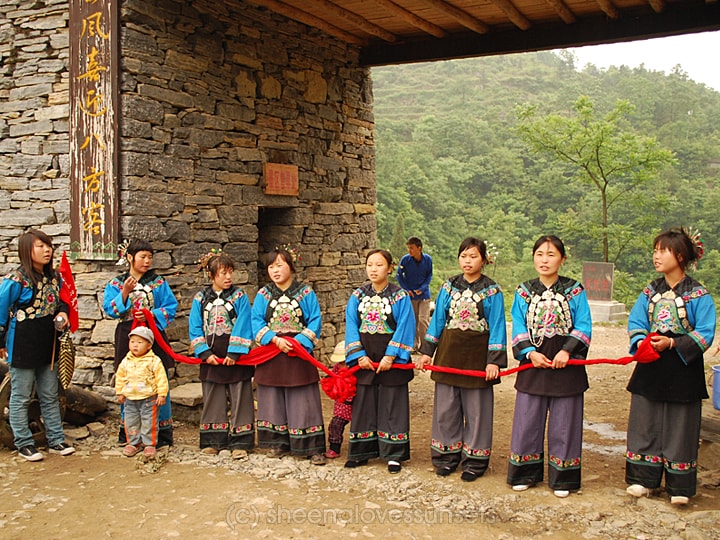 TOUR- WHITE CLOUD MOUNTAIN:

This tour took us on a hiking trip up on the White Cloud Mountain, or at least that was what they told us it was called. I've been trying to research online and I'm not so sure now about the accuracy of the name. Oh well. Say hello to the Miao people!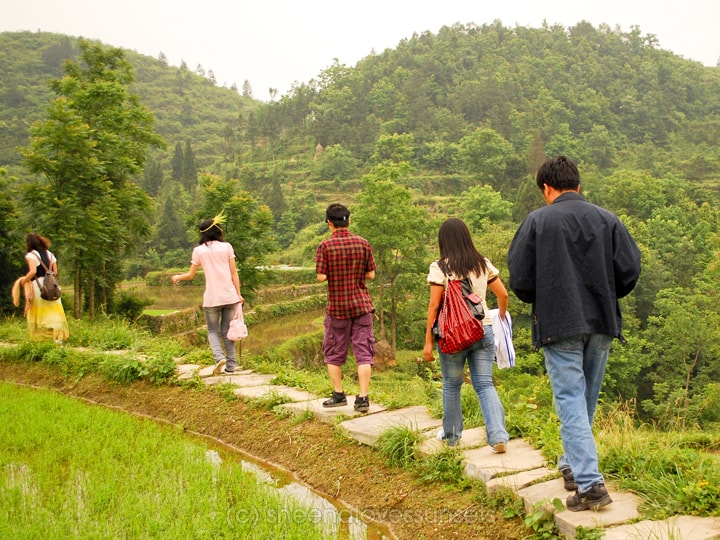 It was a tiring hike but I survived, so I'm pretty sure you will too (I'm not exactly the fittest person around!) According to my journal, we paid 100 RMB for this tour. What I'm not sure about is if this is 100 RMB per person or already for the 6 of us. They sure fooled us if it's per person, because everything in Fenghuang is crazy cheap! Haha!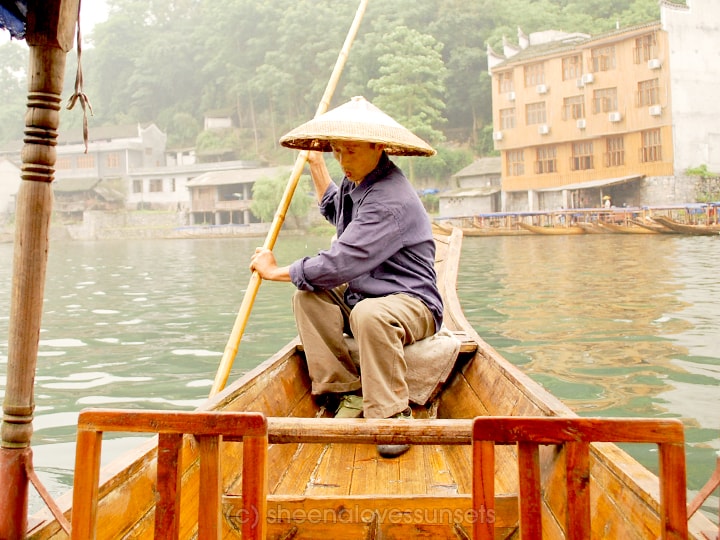 TOUR-RIVER BOAT CRUISE:
A relaxing river boat ride around the Old Town's river. This nice man paddled all the way and even sang us songs as he did. It was cool to see the town from a different angle.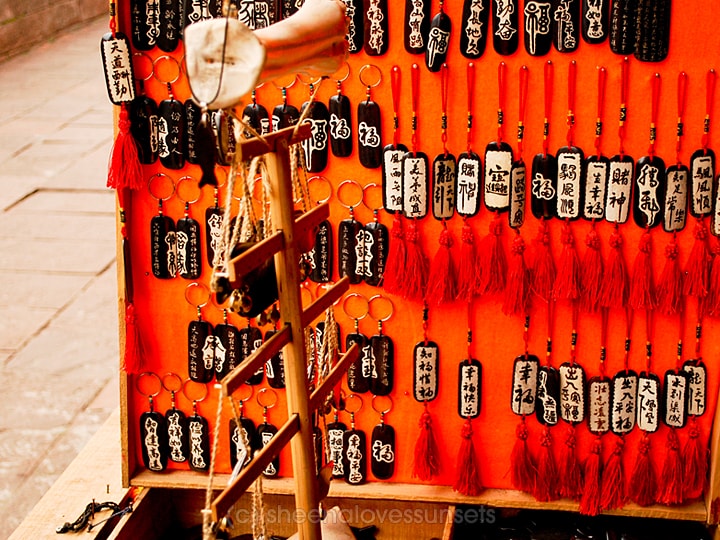 THINGS TO BUY:

If you're into handicraft items, you'll love this place. Shops are lined up and each of them selling different quaint items. Woodcarving keychains like these are around 4-6 RMB, depending on how big or if you want it on both sides. I had a quote from my favorite Chinese author/illustrator, Jimmy Liao, written on a keychain. One of my favorites!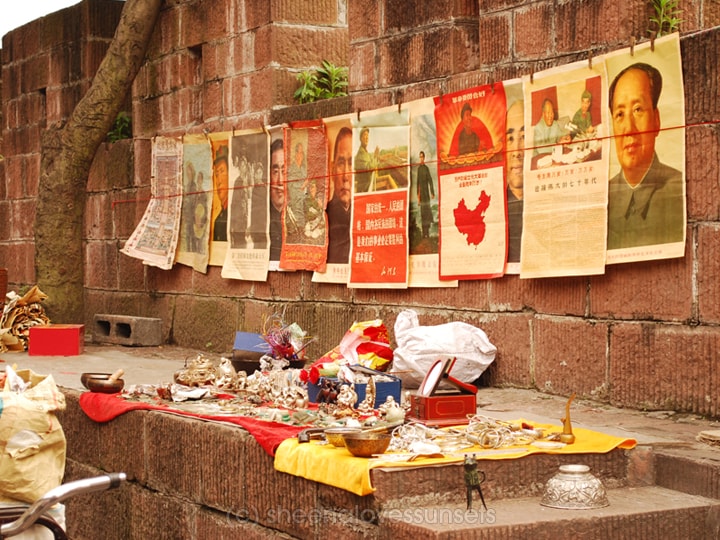 Loads of colorful textiles and trinkets. 10 RMB for three small fish pouches. 25 RMB for 6 of the big ones.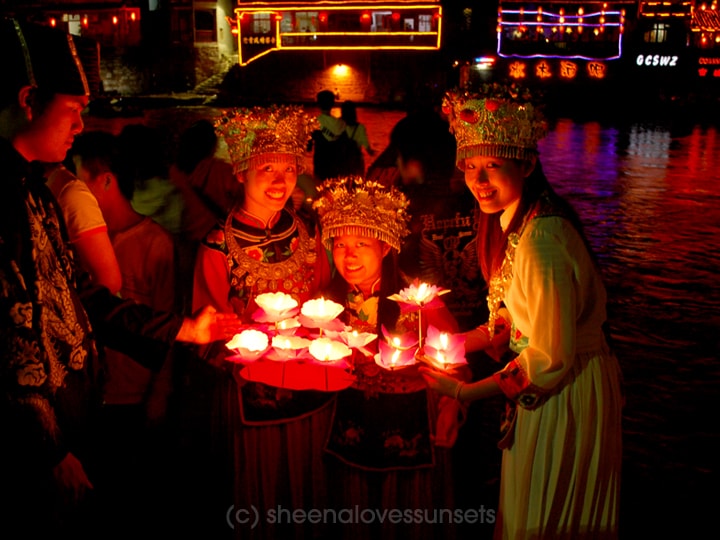 JUST FOR FUN:
We wanted to do something silly so we rented some costumes and joined in a local tradition that they do every night; have paper flowers and candles float along the river as you make a wish! 5 RMB for the costume per person (haha so cheap!) and 6 RMB for all of our paper flowers already.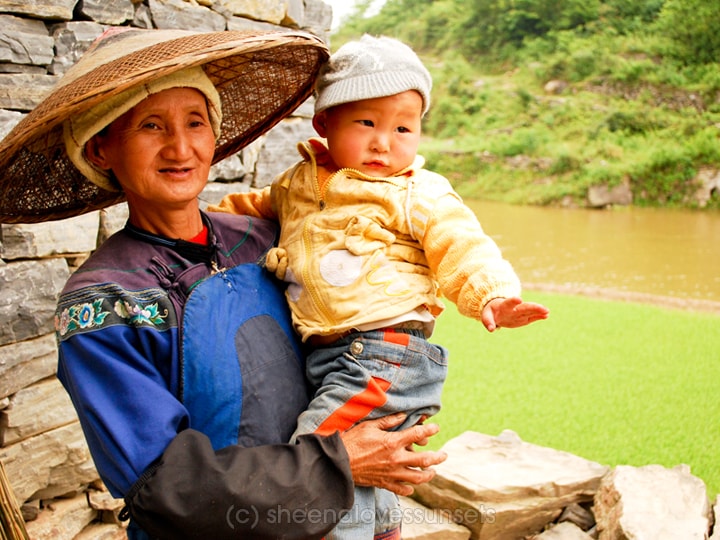 SOME FINAL TIPS:
Hardly anyone speaks English. So brush up on your Mandarin!
It was really cold when we were there in May and we weren't really prepared (hence the shorts and t-shirts!) because the rest of China was already really hot. So just be prepared.
Definitely bring home packs of dried kiwi. I'm still craving for them three years later. Someone please bring me some…
This is so cliche, but seriously, just enjoy. Try to do as many things as you can, no matter how silly or tourist-y!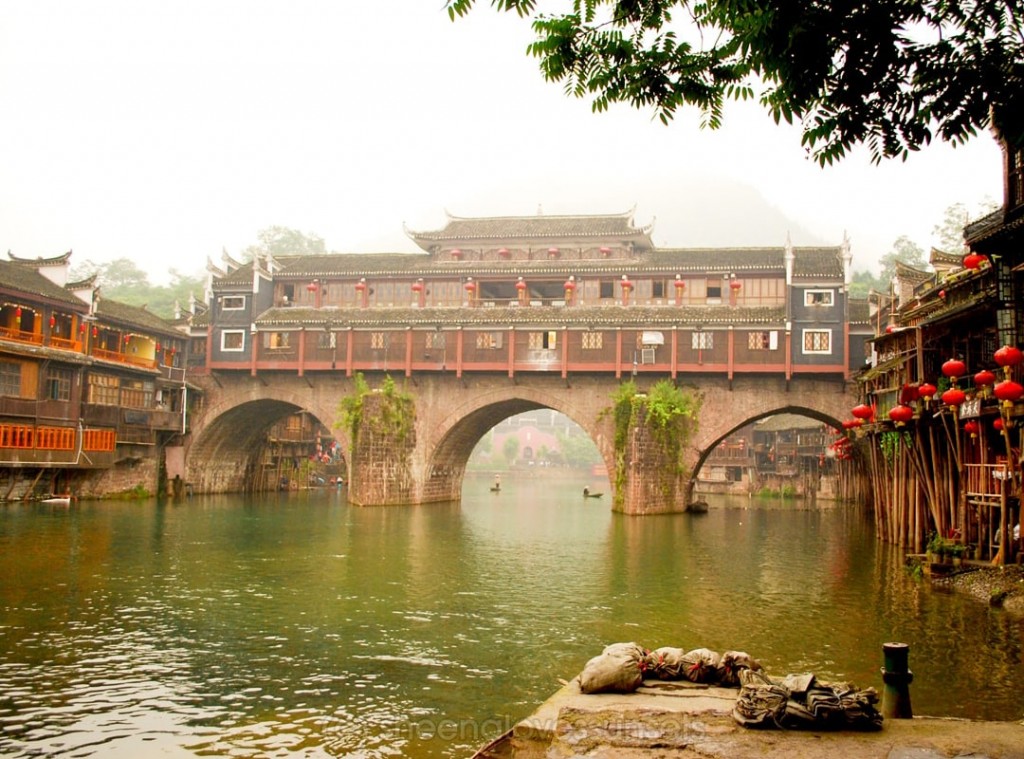 Fenghuang is one of the best places to go backpacking is in China because you can get to a lot of different places just by train and everything is really extremely cheap compared to backpacking in other countries. Also, China is so big that cultures are so different in each province (compare Inner Mongolia to Shanghai!) so it's always gonna be a surprise each time!
(NOTE: THIS POST IS ABOUT OUR EXPERIENCE LAST MAY 2009.)