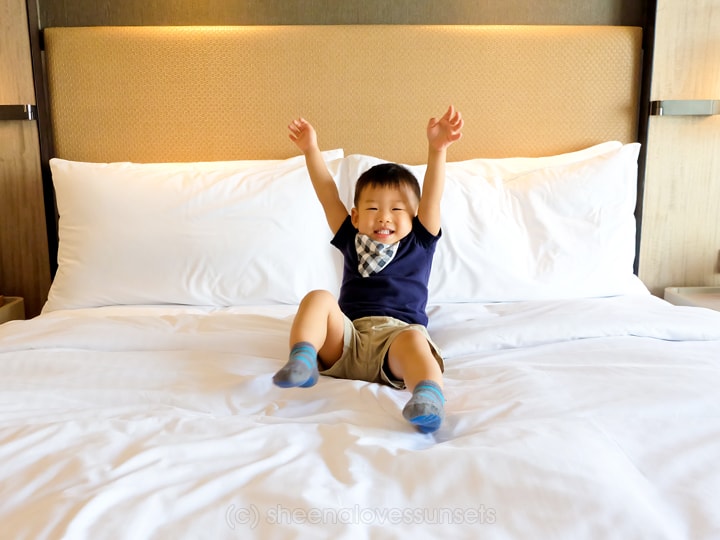 To celebrate the holidays (and the fact that my very hardworking husband had time to spend with us on a vacation because of the break!), we booked an overnight stay at the newly opened Conrad Hotel.
However, we were left with very mixed feelings about our experience and I'd like to share with you all why.
The Conrad Manila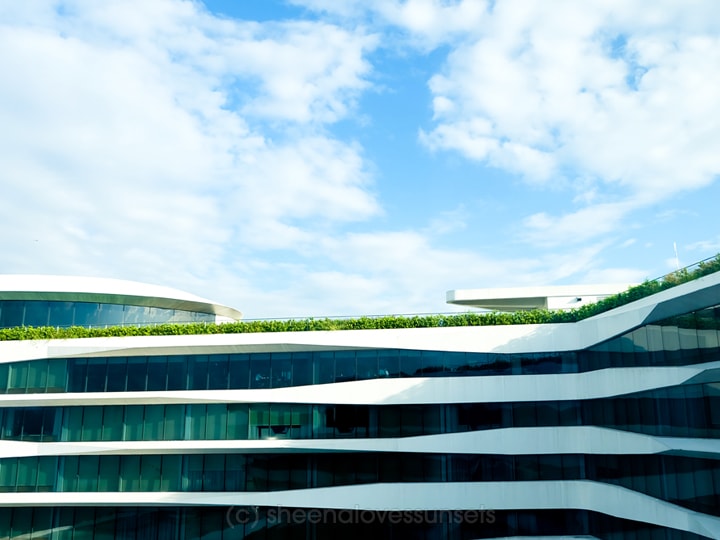 A friend of a friend of mine offered us a really good deal for an overnight stay so we quickly grabbed the opportunity! The Conrad is one of the newest hotels in Manila and we were excited to try it out.
I love the modern design of the building both outside and inside.
The Room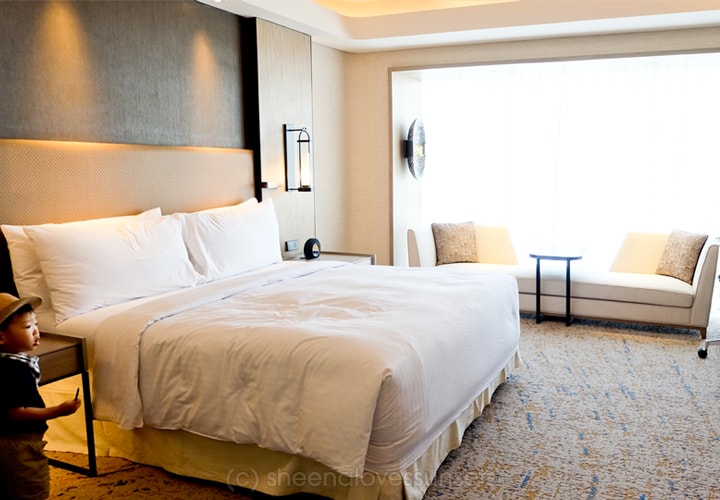 Spot the hidden Lukey!
We booked a City View room but by God's grace, we were upgraded to a King Deluxe Bay View Room! When we first entered, I thought Luke was going to run for the bed and jump. But instead, he quickly ran to the nearest bedside table and shouted "DRAW DRAW!!!"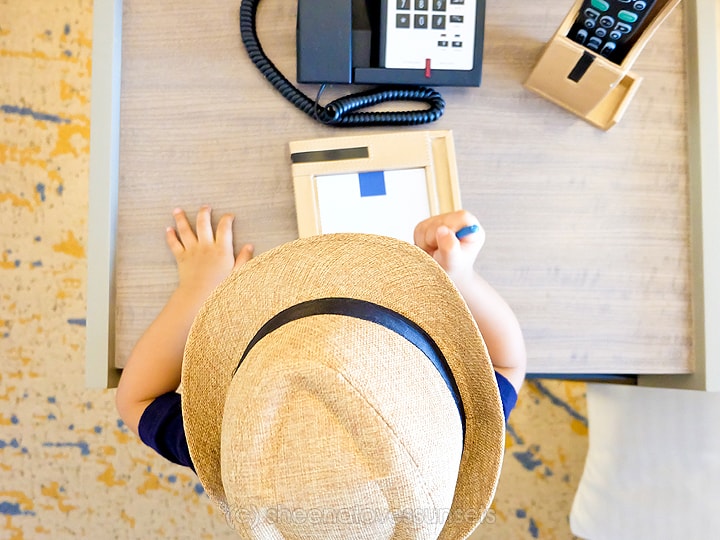 Seriously, this was him just a minute after we entered. Haha. He's definitely my son! 😉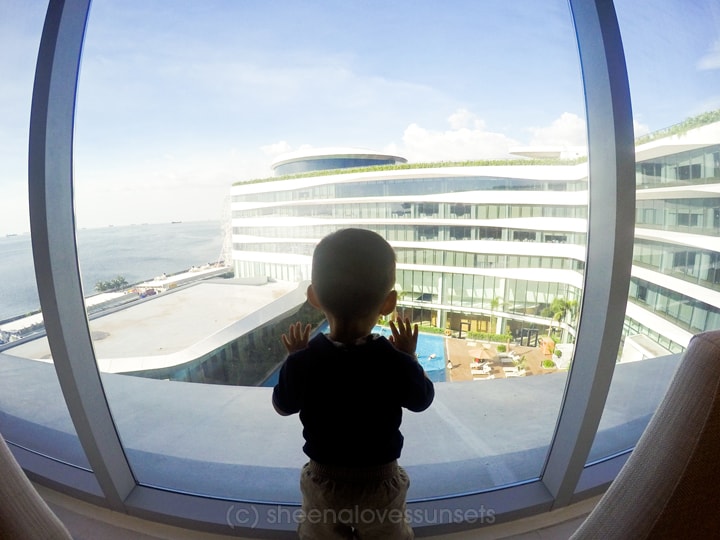 Later on, he began to appreciate the view.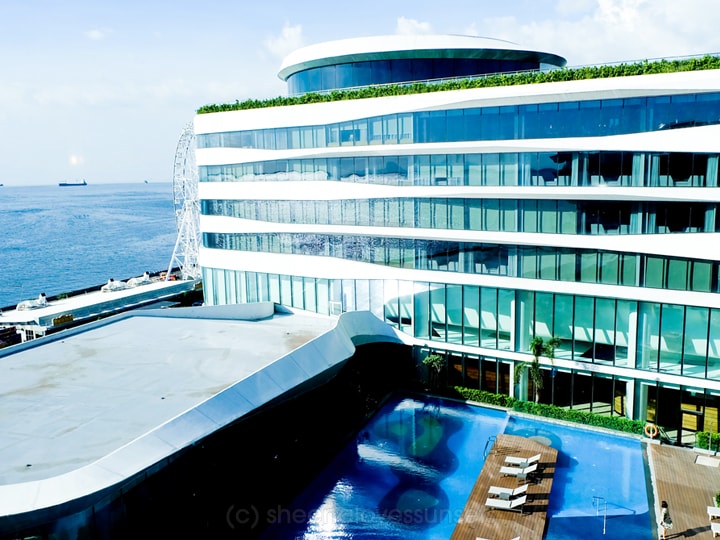 We expected the "Bay View" to literally be a full view of the bay, but this part bay view and part swimming pool view was okay too. Haha. At least we could tell if it was a good time to go down the pool area or not.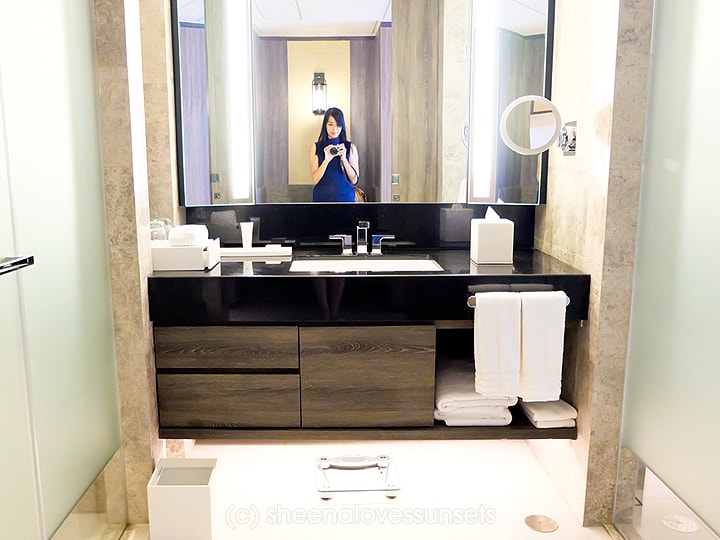 The bathroom. Left is the toilet and right was the shower. We had a mishap here, but more details later on below.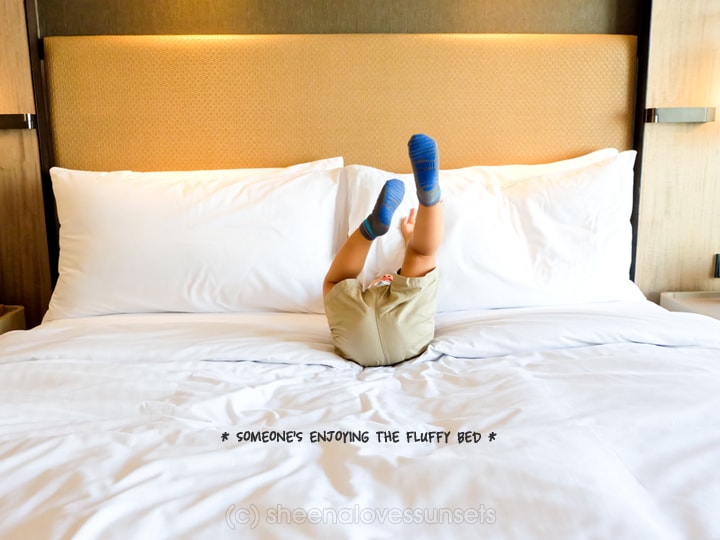 The Pool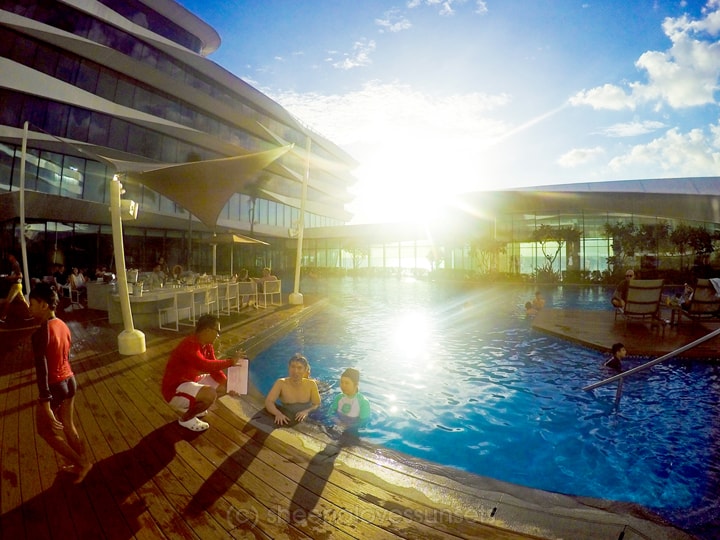 When you're on a staycation with a toddler, the pool is definitely the highlight! So after settling down, we headed to the pool.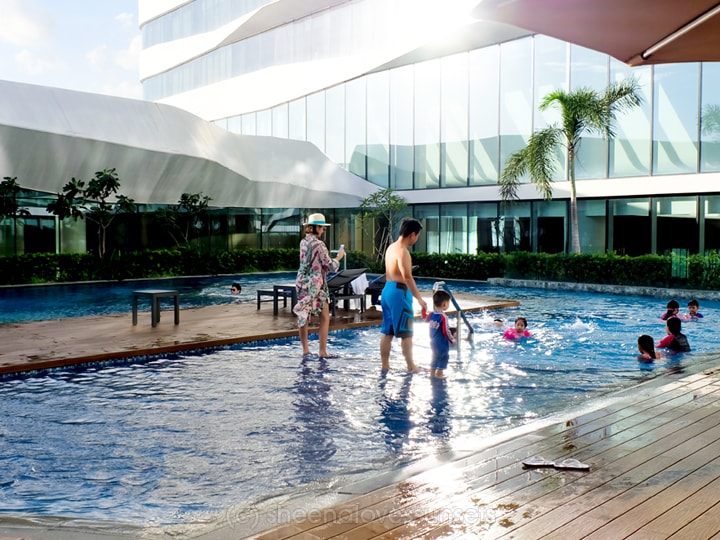 Luke was so happy they had a wading area! He could stand up, yay!
The pool area was beautiful but the water was really cold! In fairness, it was December and the wind was blowing particularly strong that afternoon. But fortune favors the bold, right? So we braved the cold waters and swam!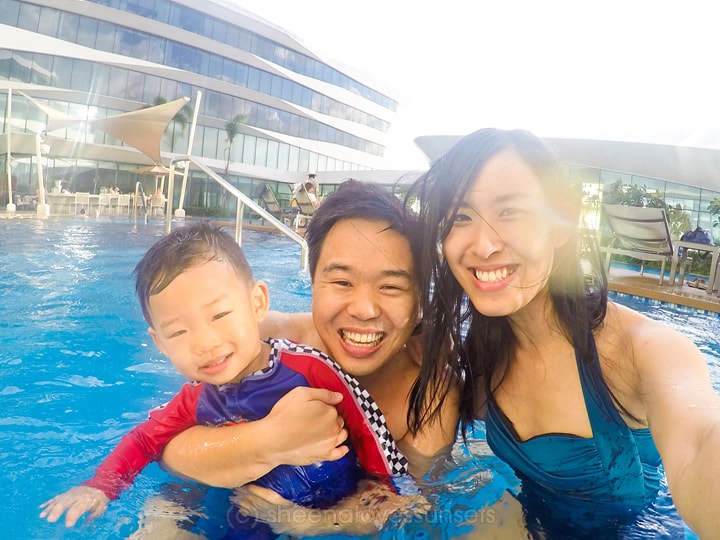 As mentioned in my previous post, yup, this was our one and only family photo during the entire stay. I'm pretty annoyed that it was just a selfie! Was so busy taking care of Luke, I forgot to take pictures. Haha.
Our Mishap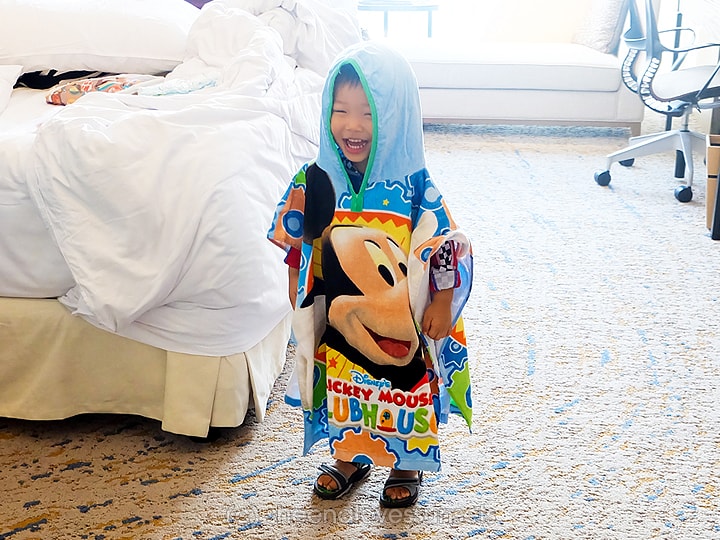 We went back to the room to give Luke a warm bath. Just as he stepped inside the shower, he slipped and his head hit the floor! Huhu my cutiepie.

We were so scared but it was a good thing Mor and I were both standing beside him so the fall was slow. We just failed to catch him in time because he slipped so fast. He cried a bit but was up in no time and we just praised God that nothing serious happened.
We called housekeeping for a rubber mat but it never came. Our fault for not following it up before we let Luke in the shower. But very disappointed at the service nonetheless since our request was not attended to (They said they had rubber mats, by the way. It's just that no one brought it to our room.)
Hay.
The Executive Lounge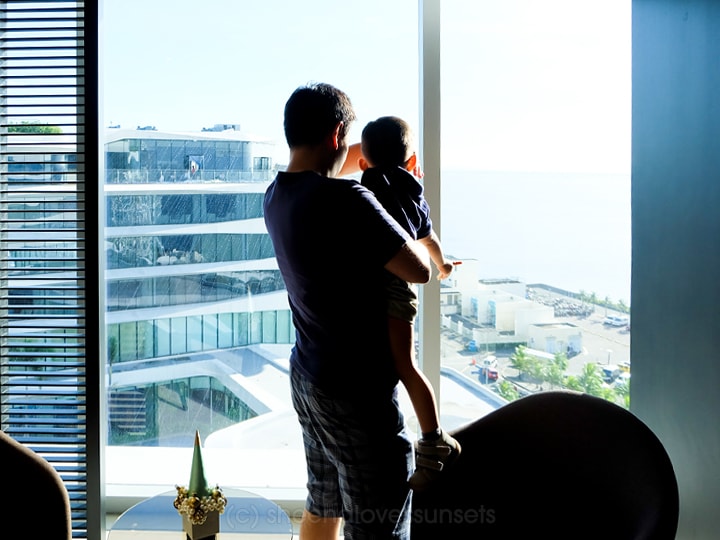 After all the fuss, we decided to visit the executive lounge to catch the sunset. The lounge was beautiful with ceiling to floor glass windows that's perfect for sunset watching.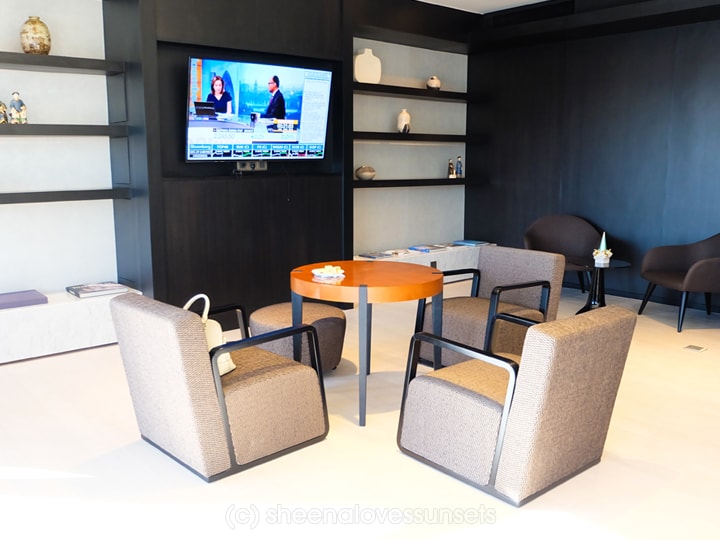 We found a quiet spot at the back of the lounge. Upon settling down, I asked one of the staff for a highchair so Luke can sit still (and securely) but I was informed that there was no highchair available. This puzzled me at first but I let it go.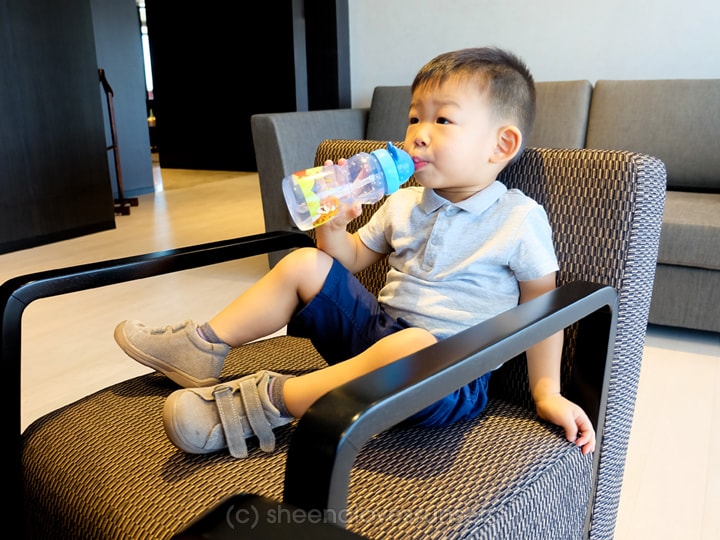 Luke is generally a good boy in public places, it's just that he likes to explore his surroundings so it can get tiresome for us to keep chasing him. That's why I want a high chair. Haha.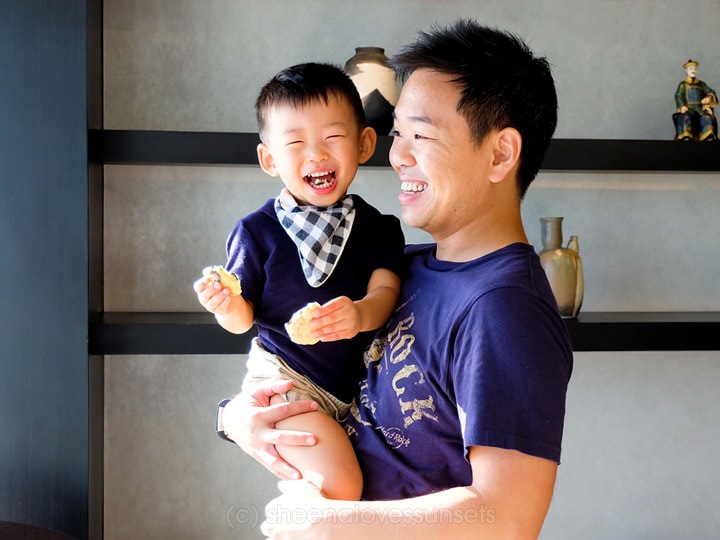 So because he wasn't tied to a chair, Luke began to move around a lot and won't sit still (ugh, toddler moment) I asked if it would be possible to borrow a high chair from the other restaurant but was told no (again) and that actually, "kids are discouraged from entering the lounge." Whaaat…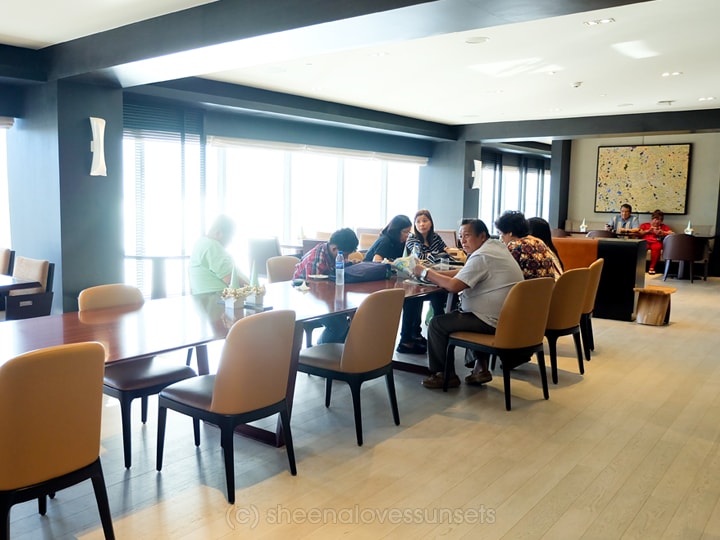 No one informed us about this "rule" beforehand. So families with kids, be forewarned! Just a note though, if we had a highchair, Luke would have been easier to handle and more behaved.
Just something to consider maybe next time, Conrad.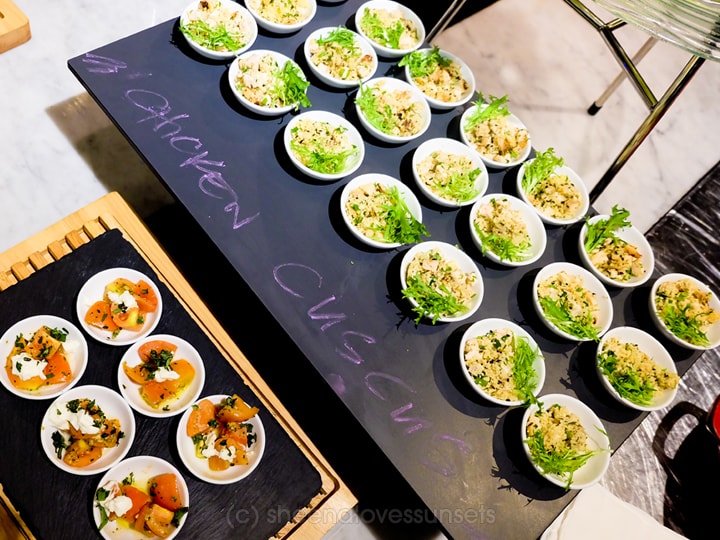 So anyway, when Luke got really settled down, Mor and I took turns getting food. Food at the lounge: cocktails, pastries and drinks. It varies depending on what time you visit.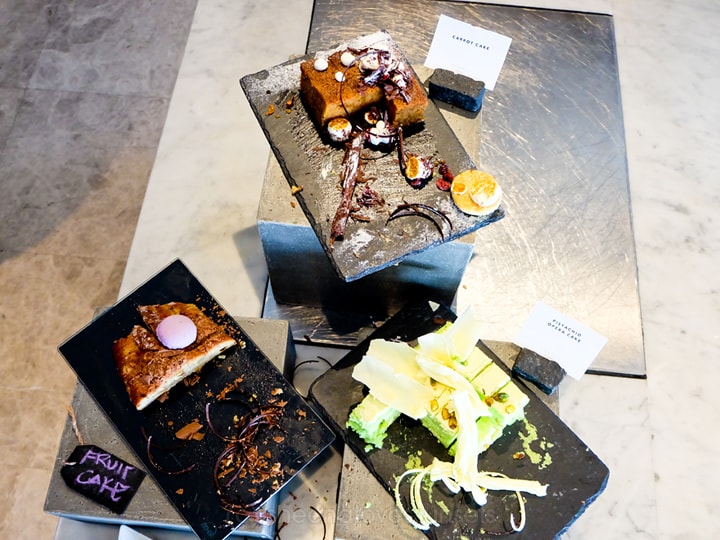 Yummy cakes perfect for an afternoon tea!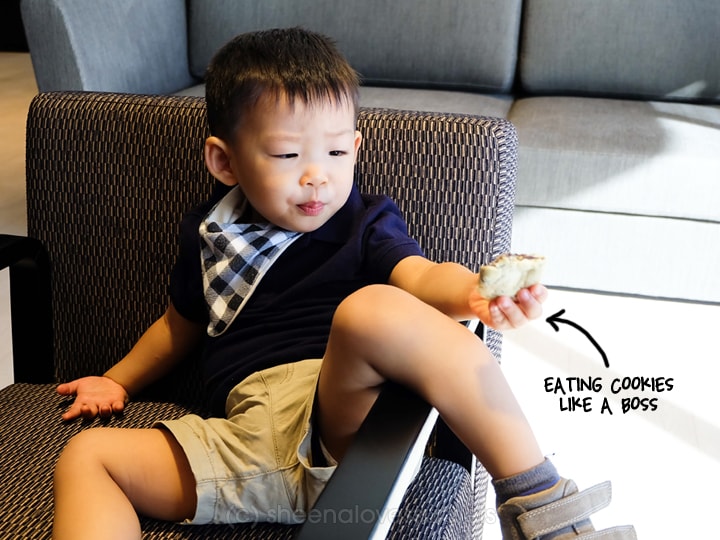 This boy enjoyed the cookies so much. Actually, Mor and I loved them too. The choco chip cookies were really good. And I agreed to cookies because this is the only way he would agree to sit still for a few minutes. Grrr…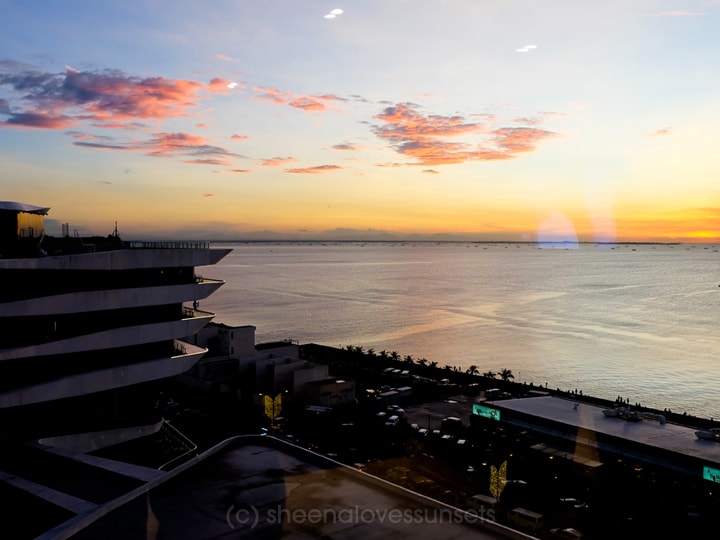 The beautiful Manila sunset as see from the window.
Sleep: MAKE OR BREAK!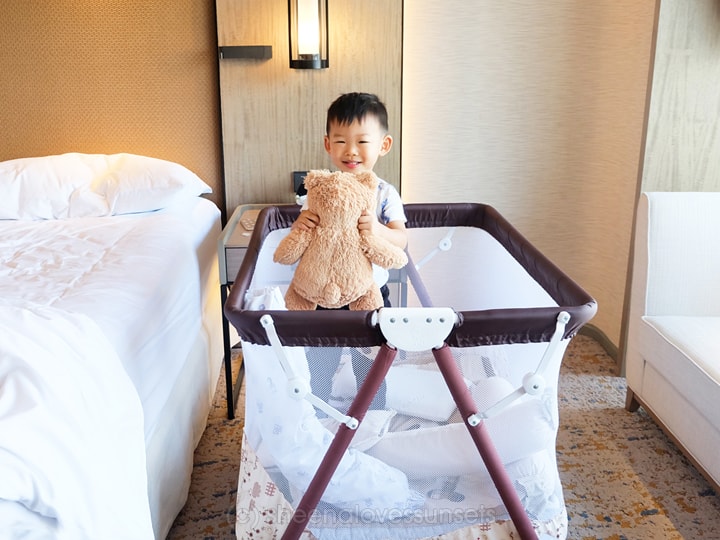 Luke: Slept surprisingly so well, praise God! We prayed for this for a week haha! He slept through the night and woke up around 7:30am. Yahoo.
Me: Took a while to sleep because I didn't like the pillows. Mor told me the next day that Conrad had a pillow menu where you can choose! I didn't know. Grrr too late!!
Mor: Had a really terrible night because he kept waking up to construction sounds on the ceiling (hammer pounding!!) and that's not all! The aircon was also making very loud ticking sounds.
He recorded the sound and let management hear it. They suggested that they'll bring up an engineer to the room but Mor said "What?? It's 3am! My wife and baby are asleep." So, in the end, no resolution. He just tried his best to sleep. (If you're wondering how Luke and I didn't wake up, we were probably just super tired)
This is strike three, Conrad. Huhu. You have to believe me, I really wanted to love you.

Breakfast

After a good sleep (at least, for me and Luke), we headed for breakfast. Luke eats free, yay. He just ate congee anyway. Haha. My Chinese boy loves congee and doesn't like croissant.

The restaurant was beautifully designed. I kept thinking how I felt like I was in a cruise ship. Just as I was thinking this, Mor then says that he read about how the Conrad's design was meant to make you feel like you're in a cruise ship! Ding ding ding! Congrats, Conrad, on a successful design!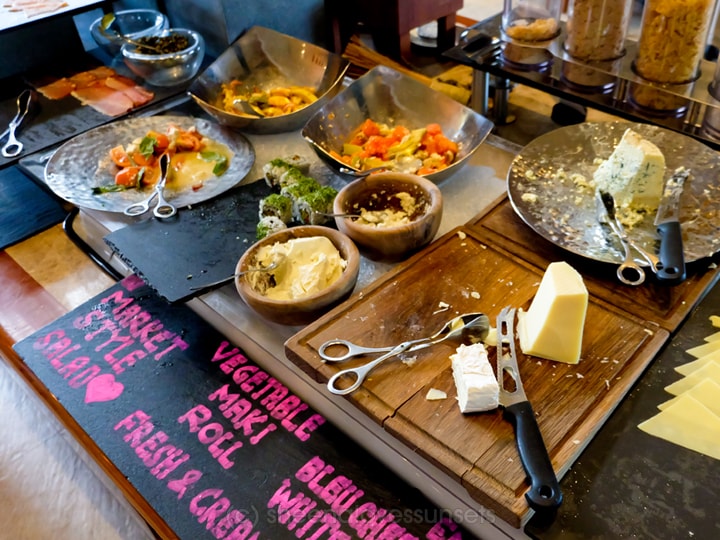 Wonderful choices. Thank you for giving me cheese and salmon for breakfast. Pure love.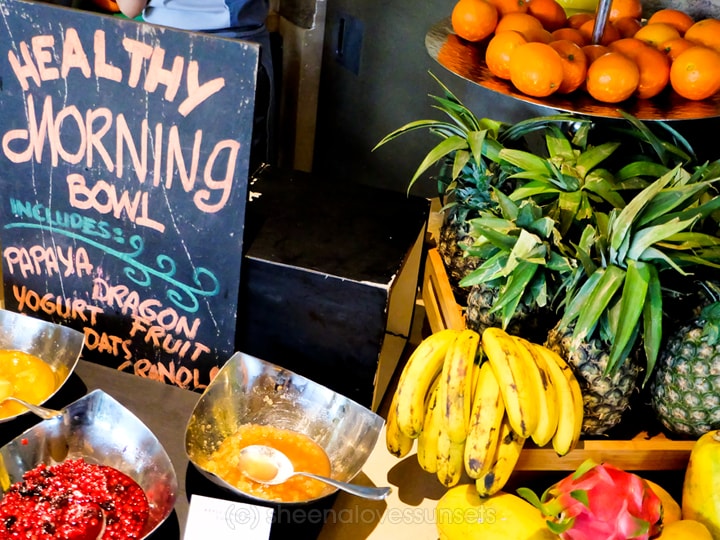 And I loved all the healthy options! As I've mentioned before, one of my main problems when I travel was that I don't keep myself healthy. So this was great. At home, we always drink fresh juices every morning. I was able to keep up with the habit here at Conrad during our staycation.

The outdoor area was beautiful but not ideal for toddlers! So we just looked around and then left.
The Verdict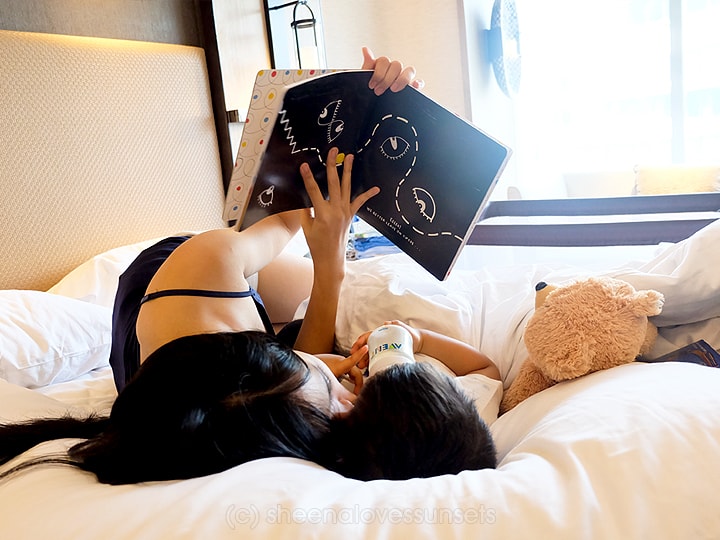 This is the first time I've had conflicting thoughts about whether something is baby-friendly or not. Here's why:
What We Liked:
Spacious room, carpeted floors: Good for kids to roam around in
Provided us with a cot for Luke
Most of the furniture had rounded corners (super big plus detail for us, see photo below)
Beautifully designed rooms and facilities. The pool was beautiful!
Staff was very nice to us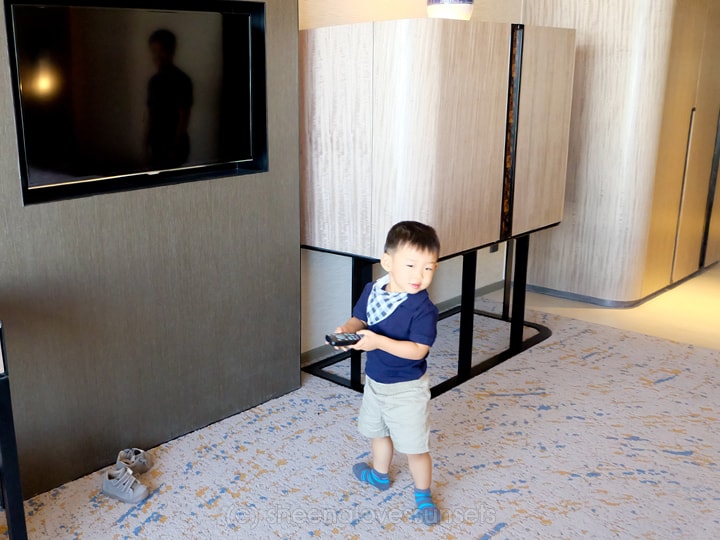 What We Didn't Like:
Rubber mats didn't come as requested: made it unsafe for baby
Executive lounge had no high chairs: and the fact that "kids are not encouraged to come inside"
Construction sounds at night, no resolution
Horrible paint smell at the floor where the lounge was
I guess most of its failings can be attributed to the fact that they're a fairly new hotel. Although, you would expect better given the Conrad brand. So in summary, gorgeous place but a lot of the details, plus the service, can definitely be improved.
–
Footnote: After our stay, we sent an email to the manager explaining everything that happened. We immediately received an apology and an assurance that steps are being done so this will not happen again.
(NOTE: THIS POST IS ABOUT OUR EXPERIENCE LAST DECEMBER 2016.)