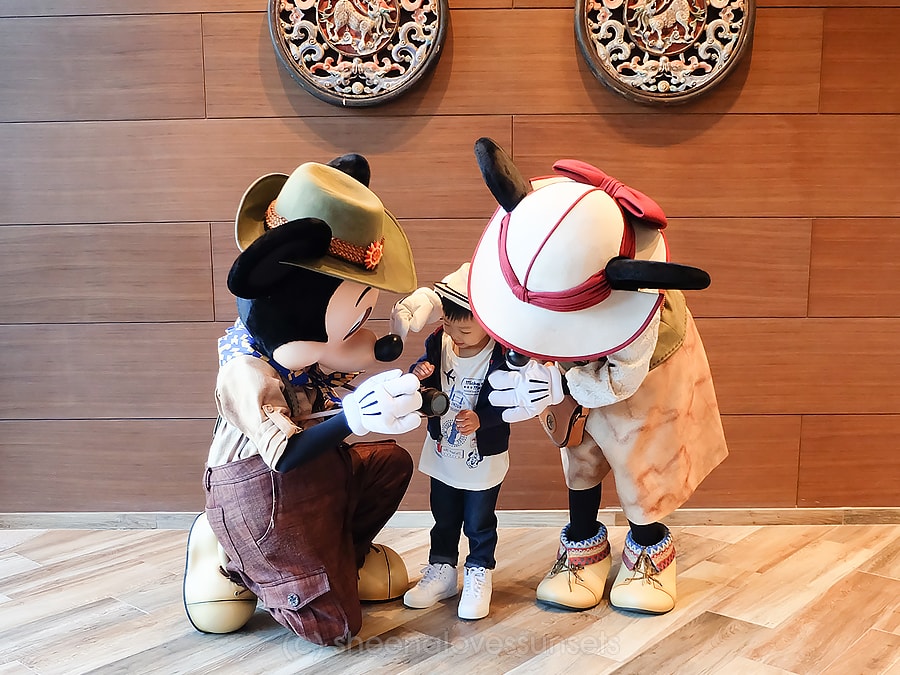 We stayed here for one night simply to have the chance to eat breakfast with Mickey and Minnie. Was it worth it? Here's my The Disney Explorer's Lodge review. Find out how our stay at Hong Kong Disneyland's latest hotel went!
Explorer Themed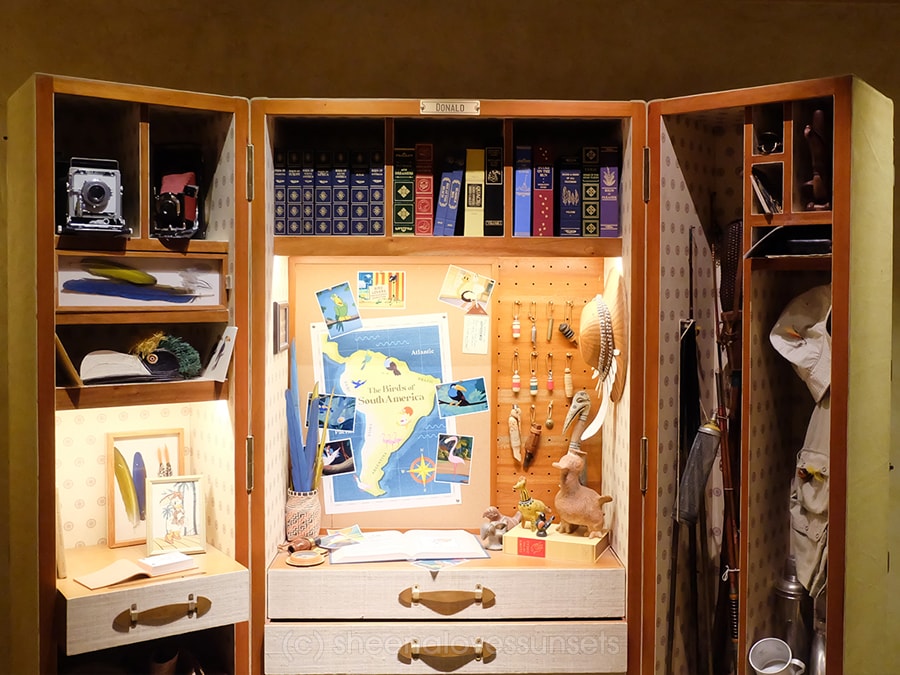 The Disney Explorer's Lodge is the latest hotel to open up in Hong Kong Disneyland. It's heavy on its explorer themed interior and decor, which is executed beautifully.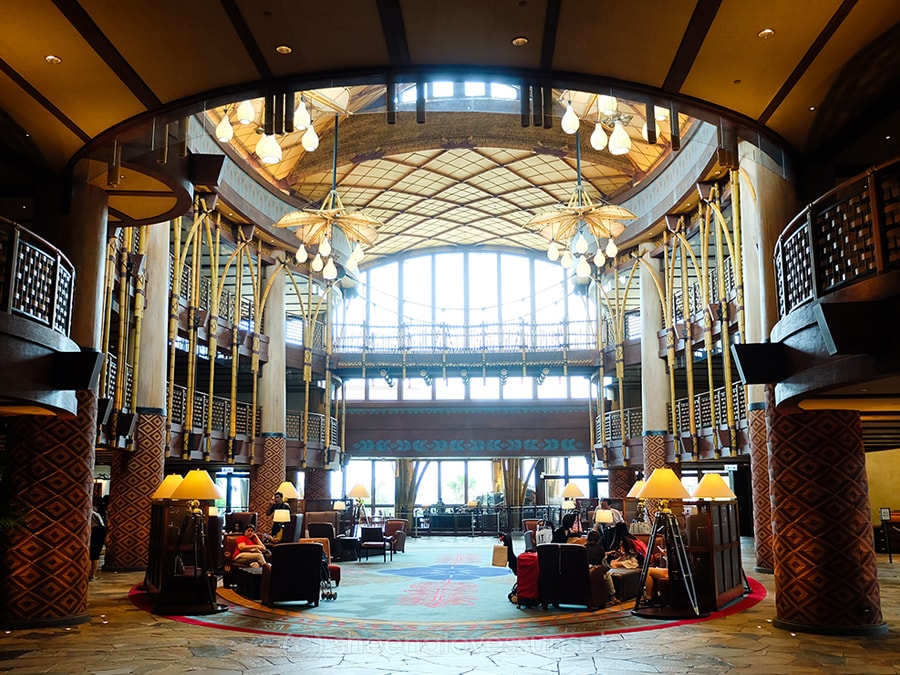 The main lobby of Disney's Explorer's Lodge by daytime.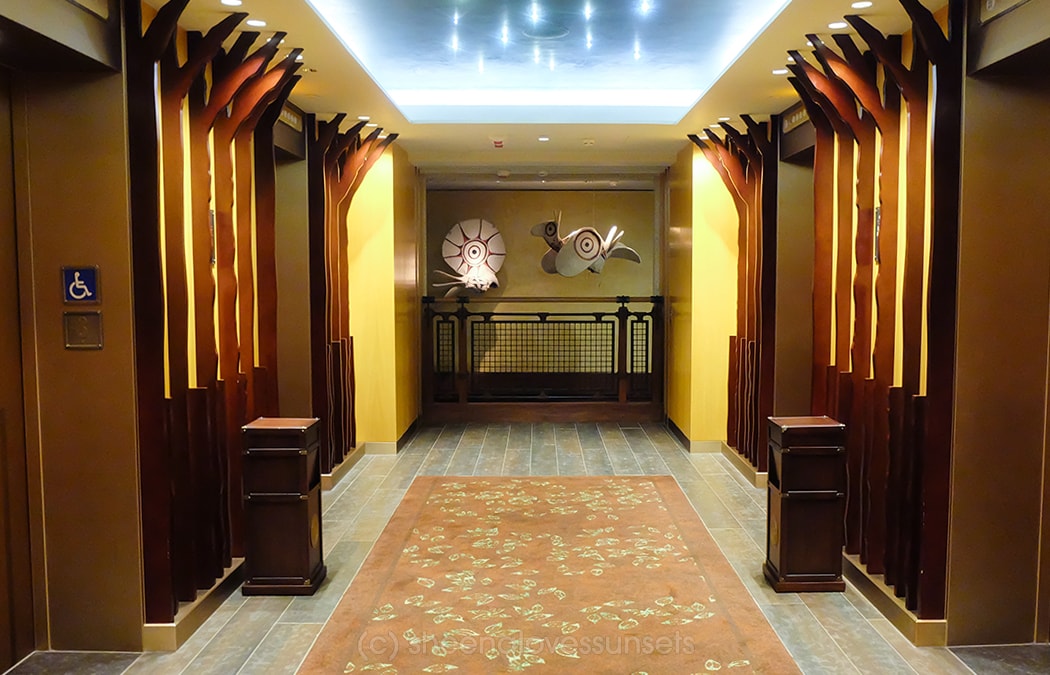 If you noticed, the hotel is more "explorer" than "Mickey." Adults will appreciate how the theme was tastefully executed. But kids might notice the lack of Mickey Mouse references around the hotel.
Our XL Deluxe Room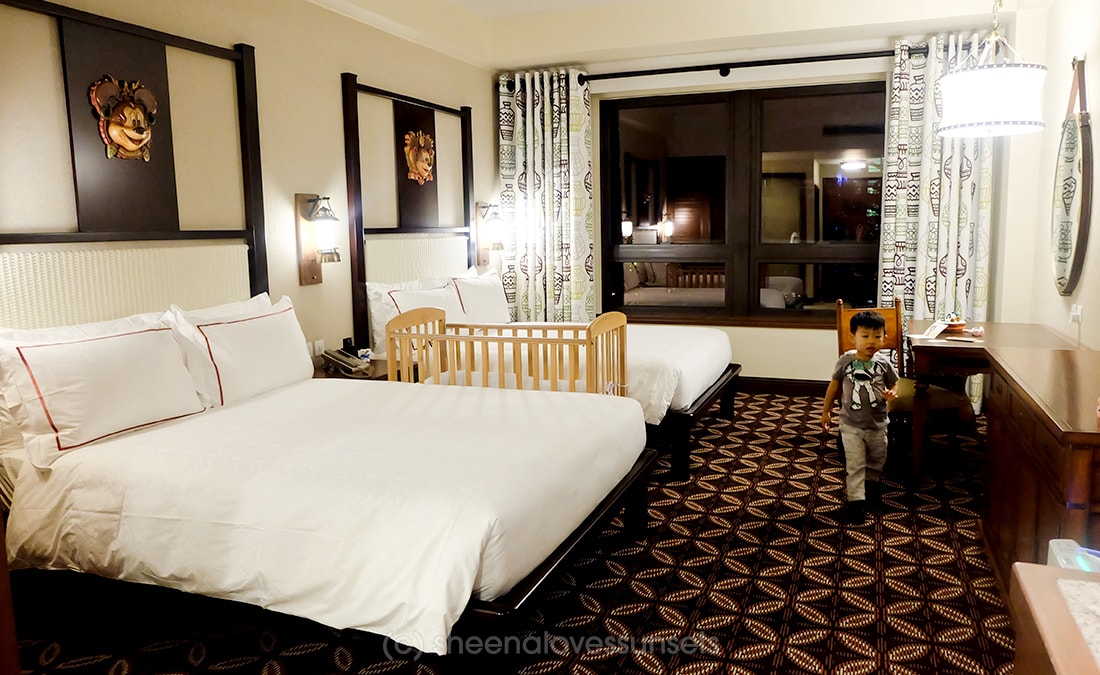 We originally booked a regular deluxe room but was upgraded upon arrival. What I love about Disney hotels is that the beds are usually big. True enough, we got two big beds. We requested for a crib for Luke (hoping they would give a playpen) but he couldn't fit in the crib they set up so we requested for them to change it into bed rails instead.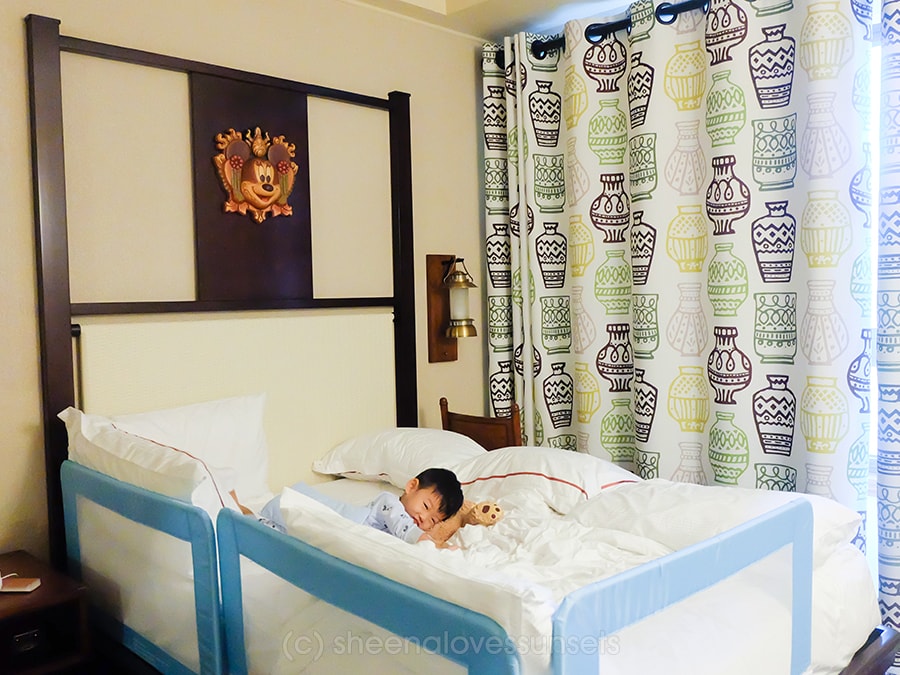 Requested for three bed rails so we can turn the bed into a giant playpen instead. This is how Luke's sleeping situation turned out.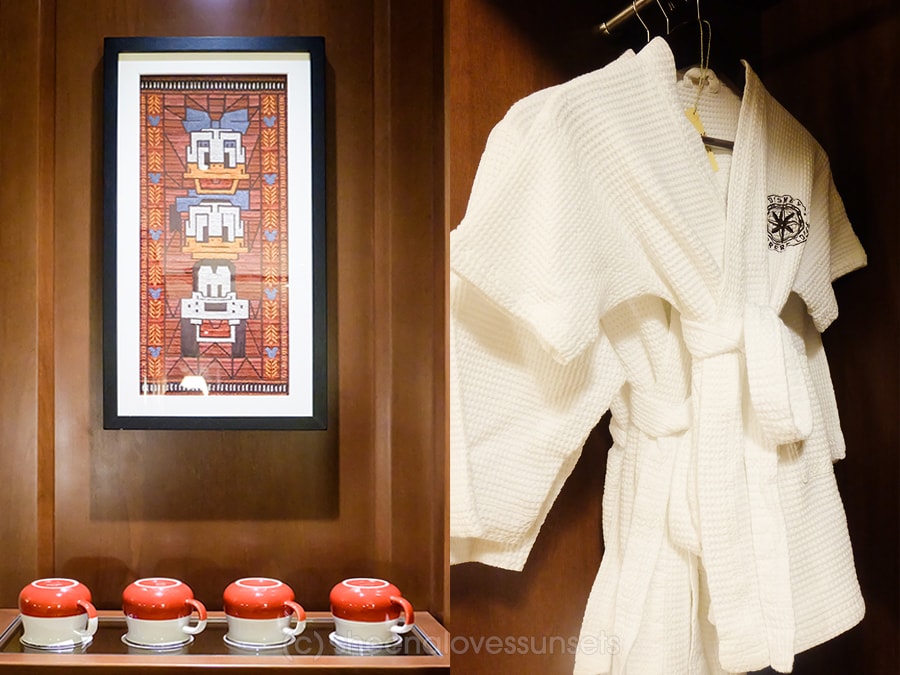 Just subtle touches of Mickey like this artwork and the character headboards. Love the cute explorer-themed robes!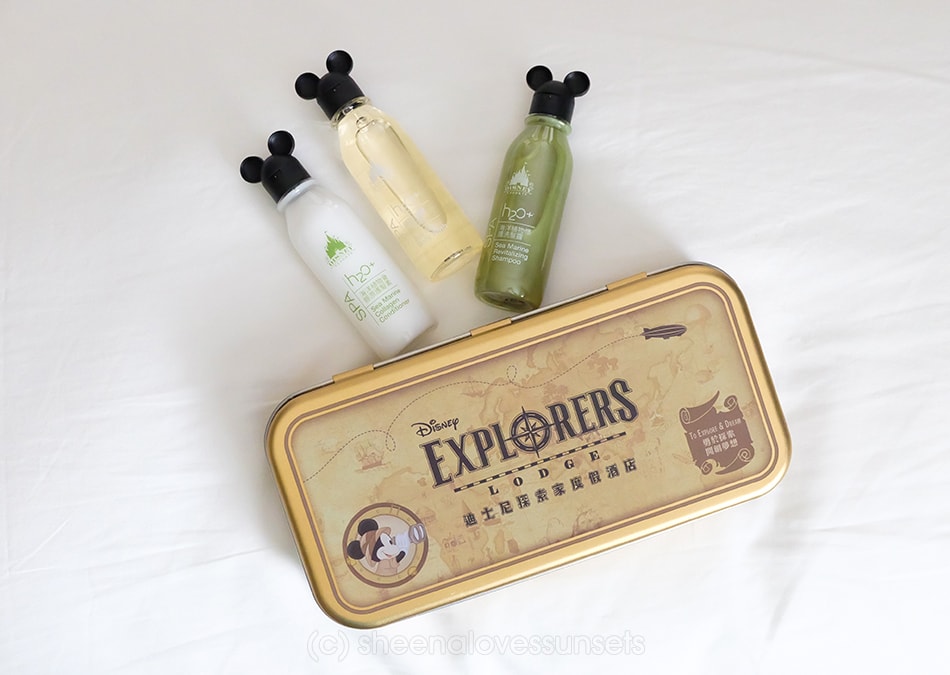 And speaking of themes, these are the amenities they provided. Inside the tin were blue and pink Mickey and Minnie toothbrushes for kids. You get to keep the tin can, yay!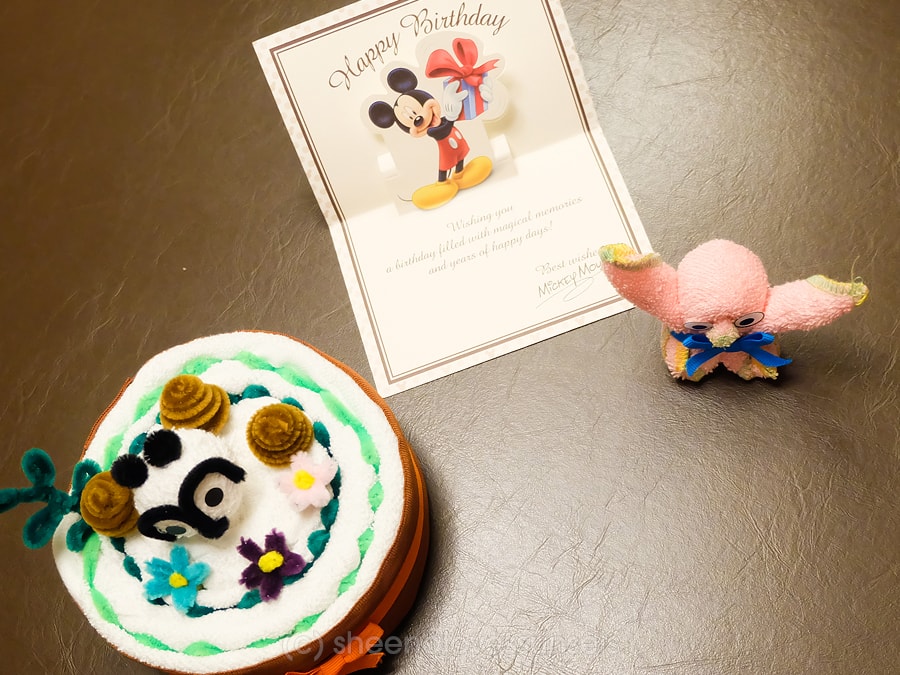 Our original trip was supposed to be on July to celebrate my birthday but we had to move it to September at the last minute. Thank you for this belated birthday surprise!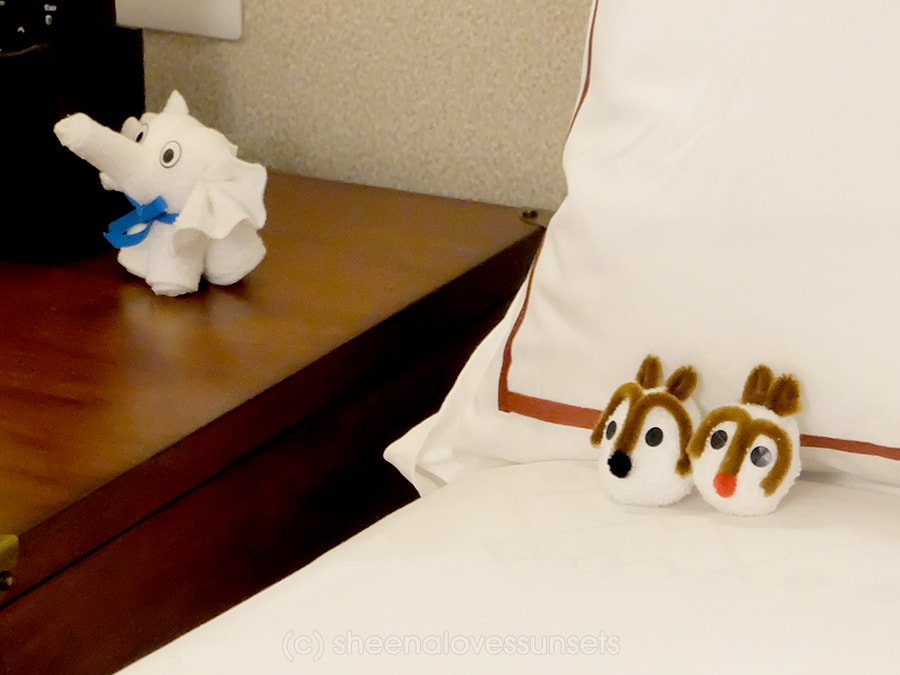 And these cute towel animals are all around the room. These are our favorites: the Chip and Dale ones on our bed!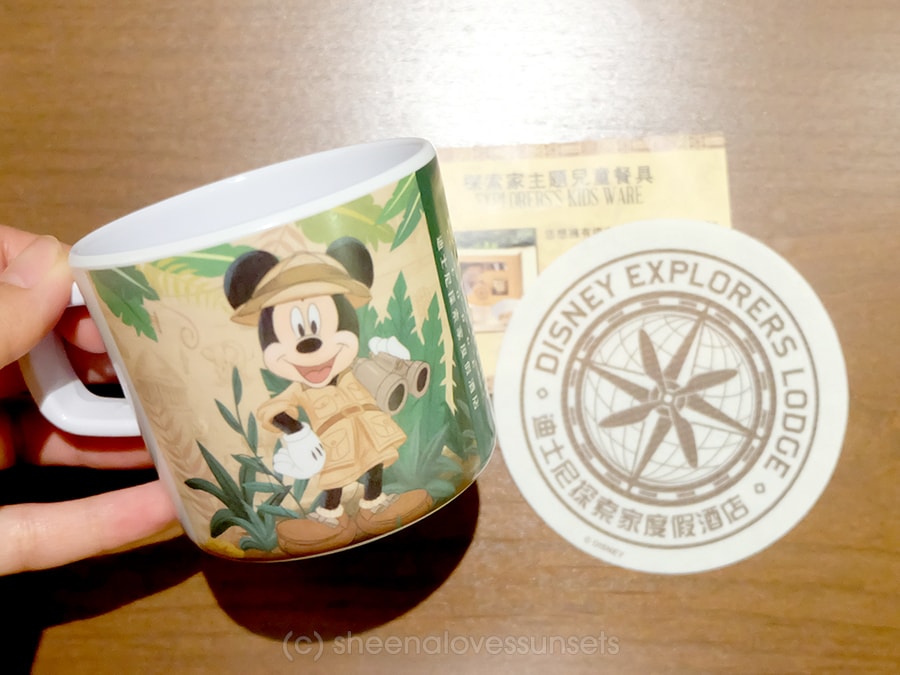 A Mickey cup you can use in the room but NOT to take home. Haha.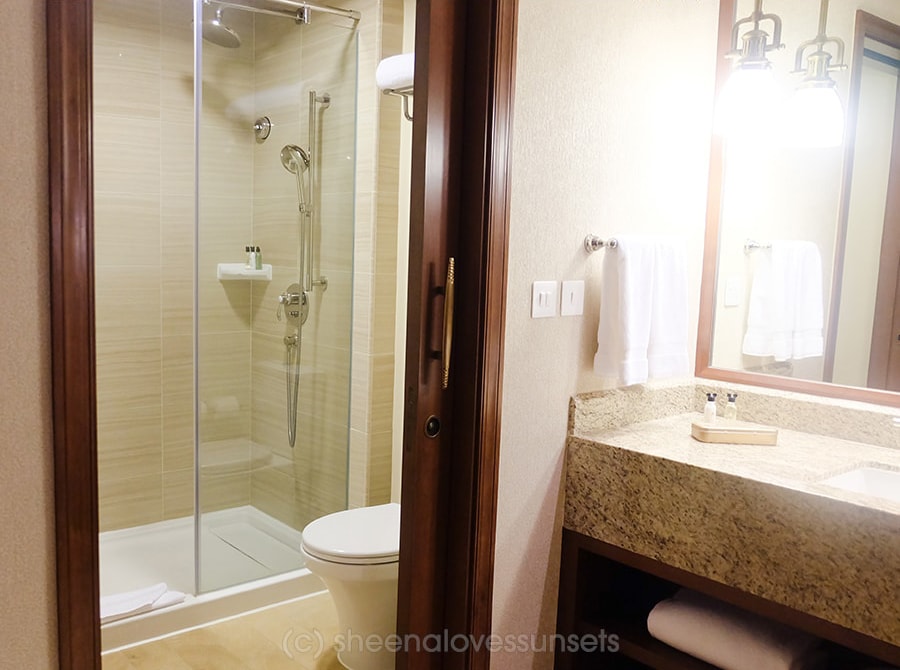 As for the bathroom: The sink was situated outside the bathroom itself, which was convenient in a way because someone could simultaneously use the sink while another was at the shower. But I personally would have preferred a division between the bedroom and the sink (there wasn't any!)
Because there was no divider, I would always worry about Luke waking up from the sound of the water gushing out of the sink (not to mention the glasses clanging and other noises as we were fixing up.) You would think Disney would have thought about that. Or I don't know, maybe that's just me.
Character Dining at Dragon Wind Restaurant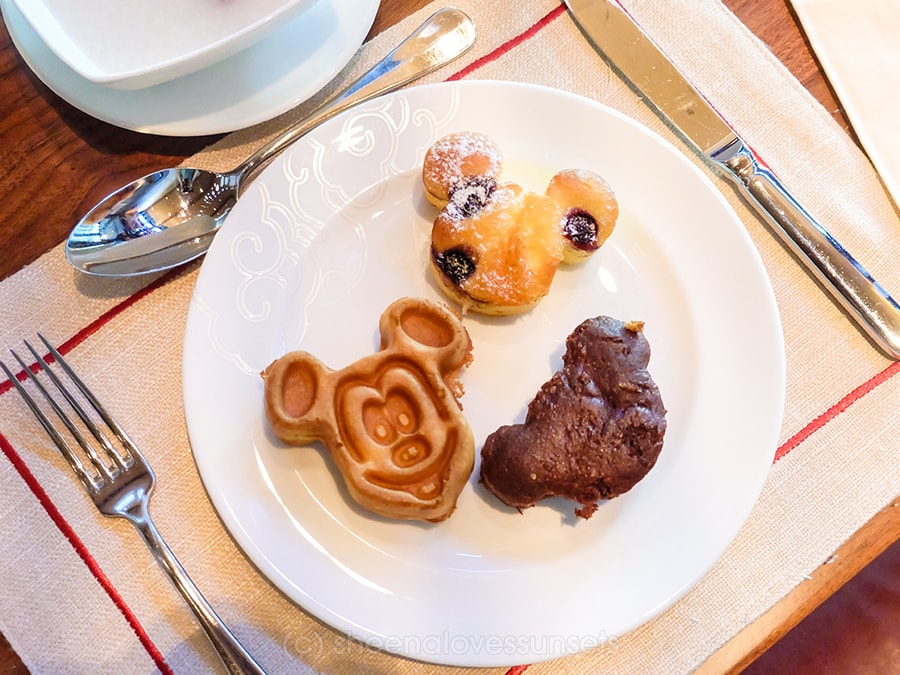 Ok, so like I said, the real reason we stayed at this hotel was so that we could have breakfast with Mickey. This served a double purpose. First, we wanted Luke to have the experience of having breakfast with his favorite characters and second, we didn't wanna line up under the sun at Disneyland (we were told, it could take up to an hour!)
But be warned: magic always comes with a price. Literally.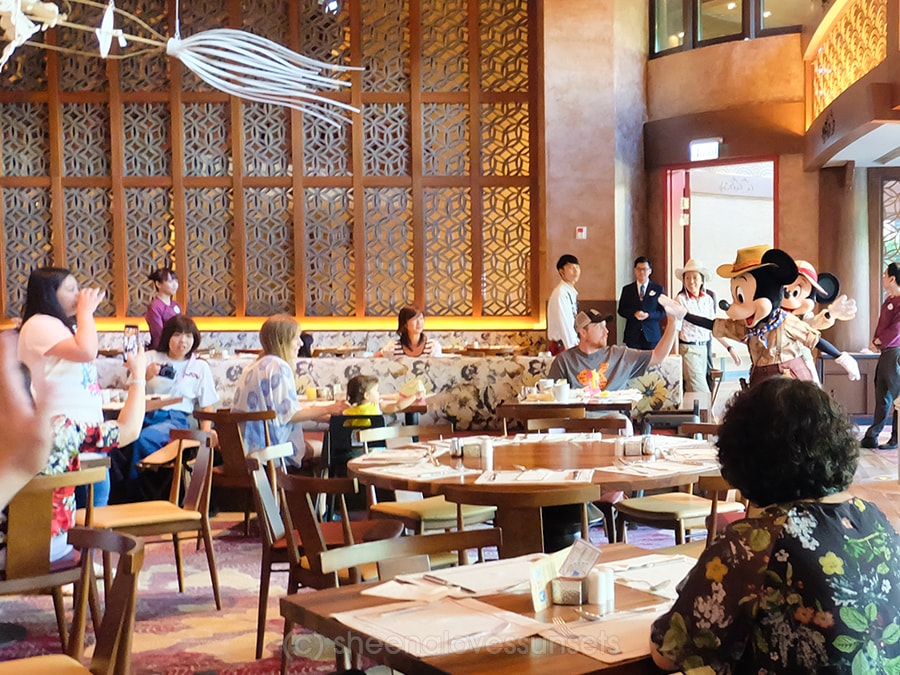 You CANNOT eat here for breakfast if you are not a staying guest. So first, you have to book a night.
Next, breakfast is NOT included in your stay; you have to pay for the character breakfast separately. It's $298 HKD for an Adult and $188 HKD for a Child. Luke was still free because he was under three.
Lastly, you cannot just go inside this room without having the buffet breakfast (even if you are accompanying paying guests) There are no ala carte options so everyone in this room has to pay the full breakfast buffet amount.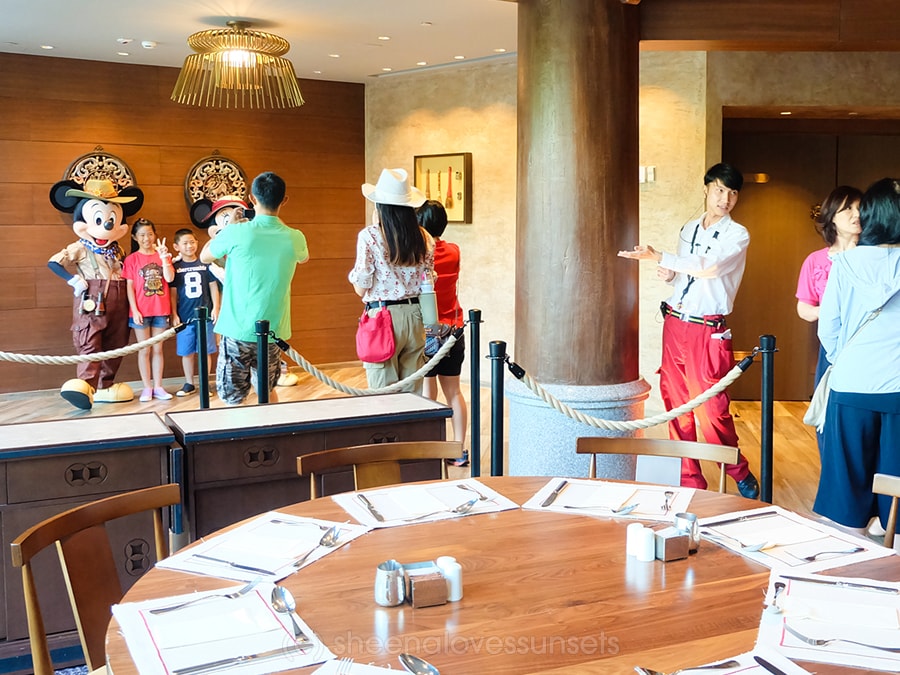 We paid good money for this so we expected a lot.
At first, we were disappointed to find out that it was only Mickey and Minnie coming (we expected Goofy, Donald and Pluto too because that's what we saw at a YouTube video, but maybe they've changed it.) Next, we were doubly disappointed to find out they weren't gonna go around the tables, like how character dinings should be. Instead, they were just gonna stand at a corner of the room for photos.
Whaaat?! I felt so cheated. Well, at least, initially. But then…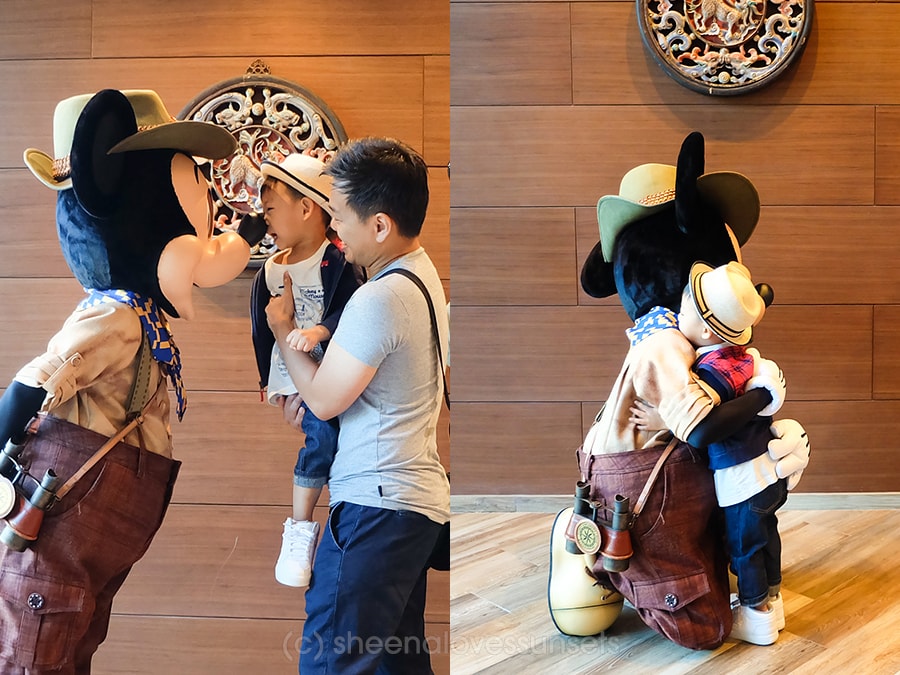 When it was our turn, Mickey and Minnie really took their time interacting with Luke. They spent time talking about (well, more like pointing at) his Mickey Minnie shirt, they each gave him big hugs and a "nose-to-nose" and we even got a big family hug!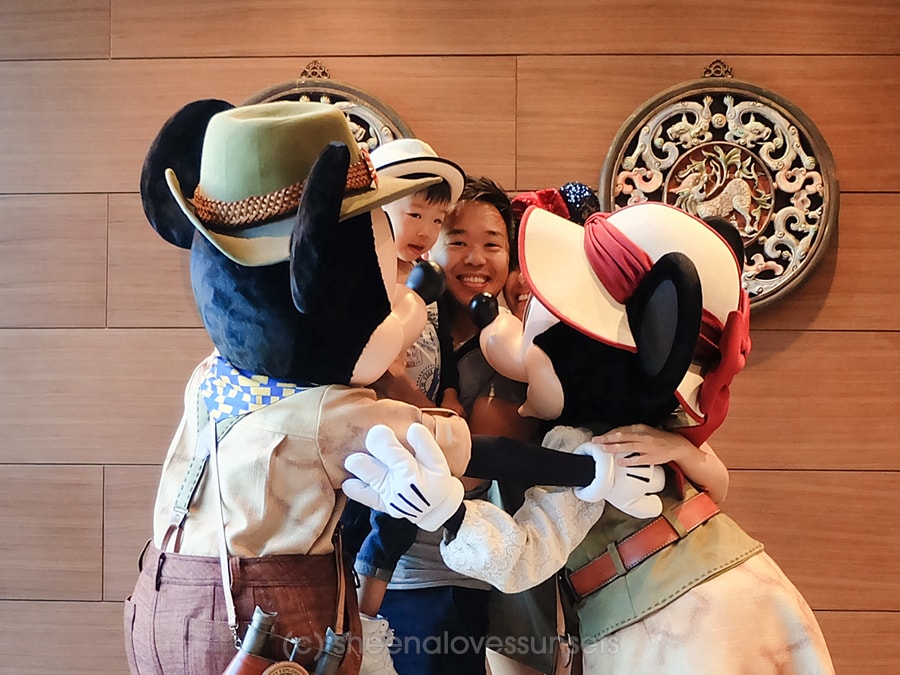 The line wasn't long at all because the good thing about this set-up was it was from 7:30am-11am and Mickey and Minnie would be there the entire time (with breaks in between) so people can come have their photos anytime.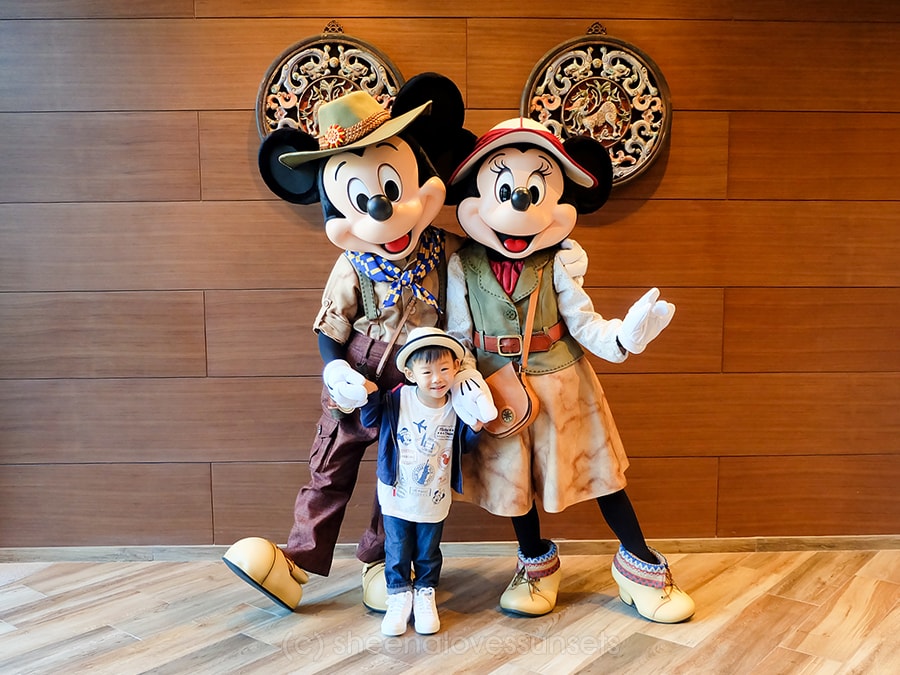 One happy boy! So in the end… ok fine. It was a great experience. I would like to say it was worth it, but it was so expensive that I can't really say if it WAS worth all that money. Haha.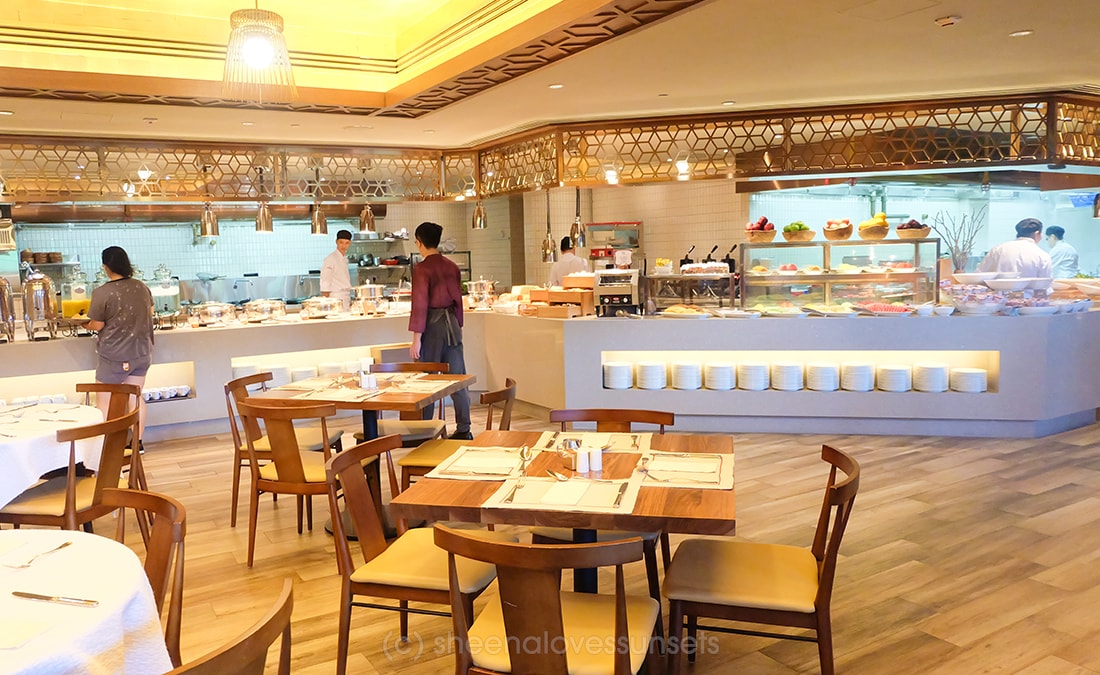 So now that meeting Mickey and Minnie was over, it was time to enjoy our food for real. How was the $298 HKD buffet breakfast, you ask? Well, not worth the $298 HKD because let's be honest, that price was really just for seeing Mickey and Minnie. Grrr…. Haha :p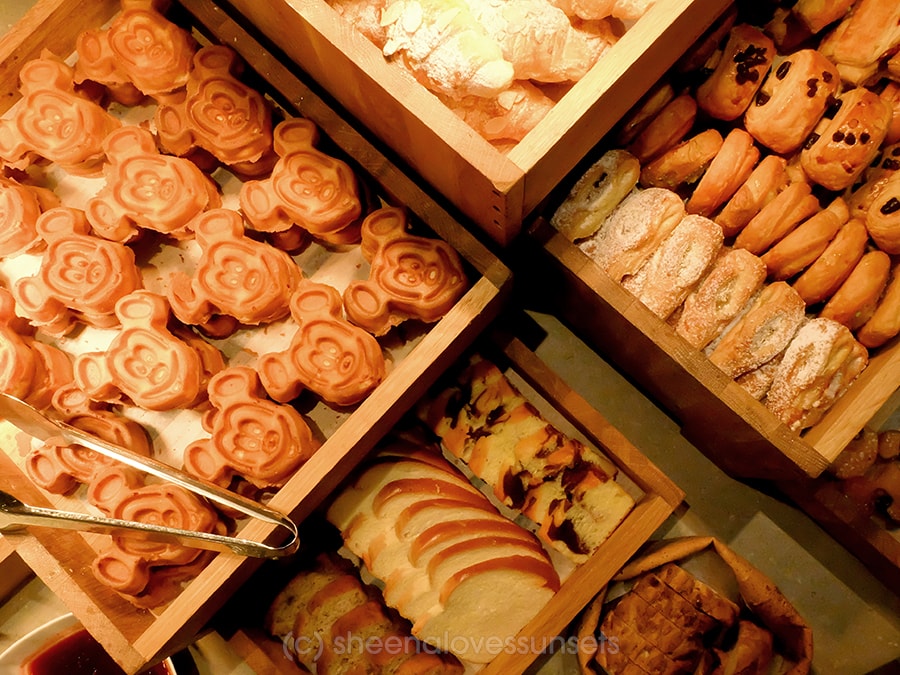 But still, it was a good enough breakfast buffet. There are a number of Mickey-themed items, which was great because Luke has been wanting to try the Mickey waffles after he saw them at the commercial playing on the Disneyland bus (Wow, those ads really work, apparently!)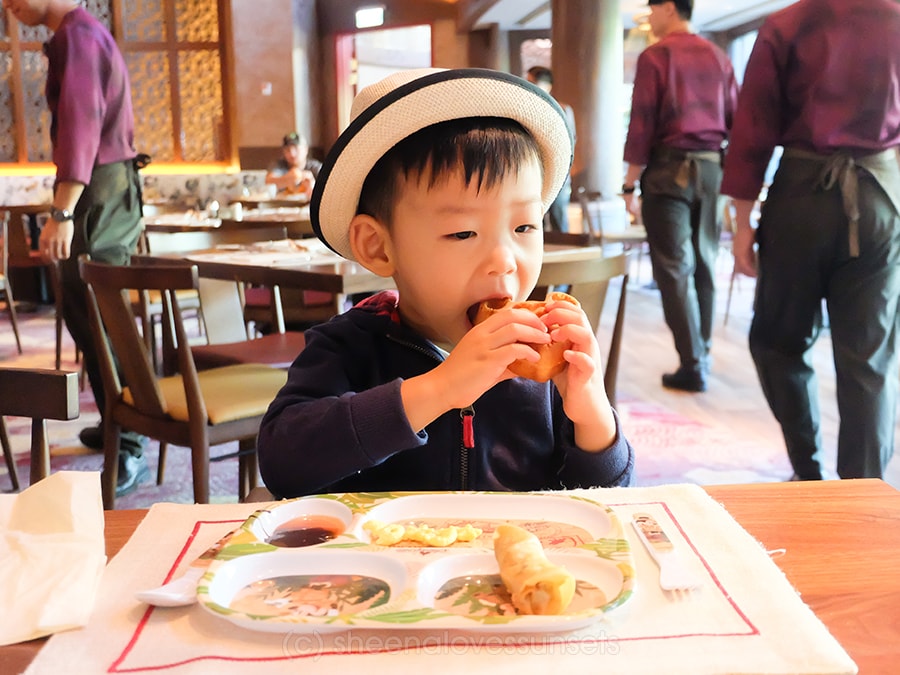 * FYI, he took a bite of the waffles and said "Don't like! It's hard." So, that's that! Haha. He was given a cute Disney Explorer's Lodge dining set to use for the breakfast. Cute touch!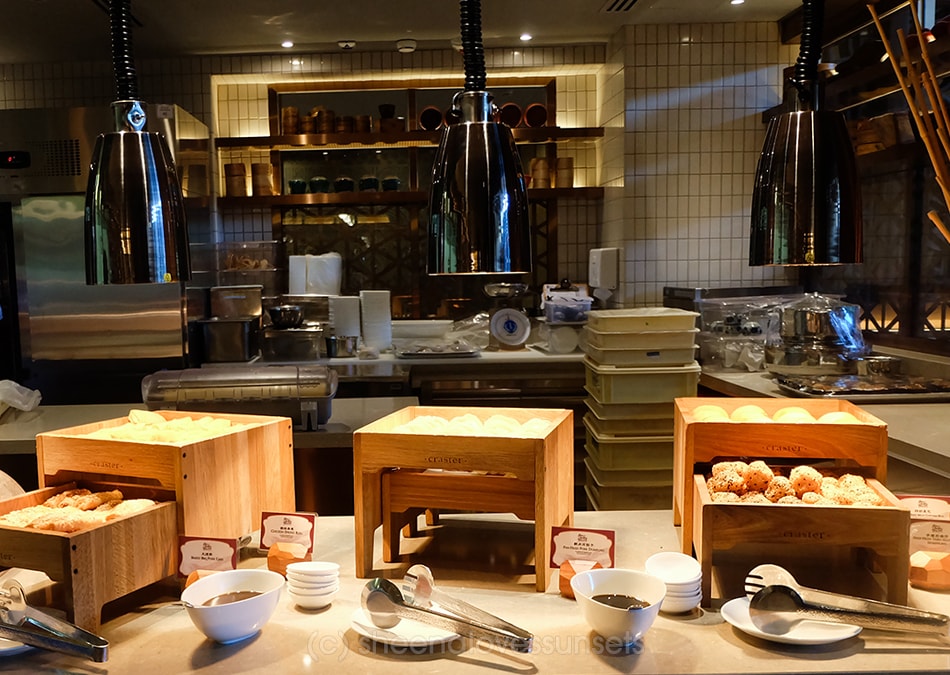 My personal favorite though was the Chinese section because you can't go wrong with Chinese food! They had the usual spring rolls, dimsum and barbecue pork rolls. I loved their salted egg custard buns too!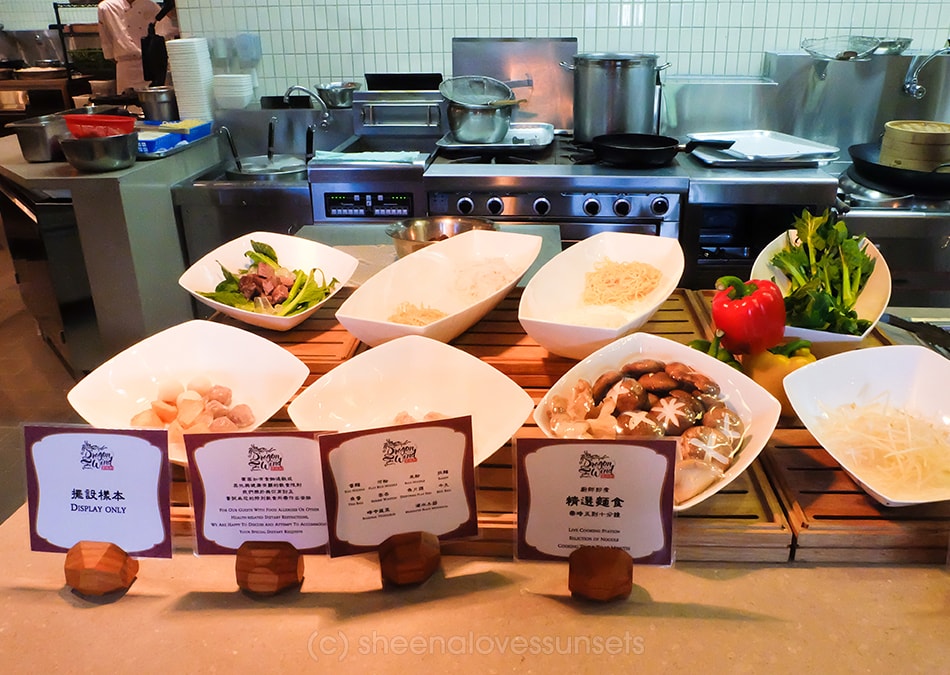 They also had this noodle station. Luke loved this!
The Gardens
After breakfast, it was still pretty early to go to Disneyland (they open at 10:30!) So we decided to go around and explore the resort. There are different themed gardens around the property.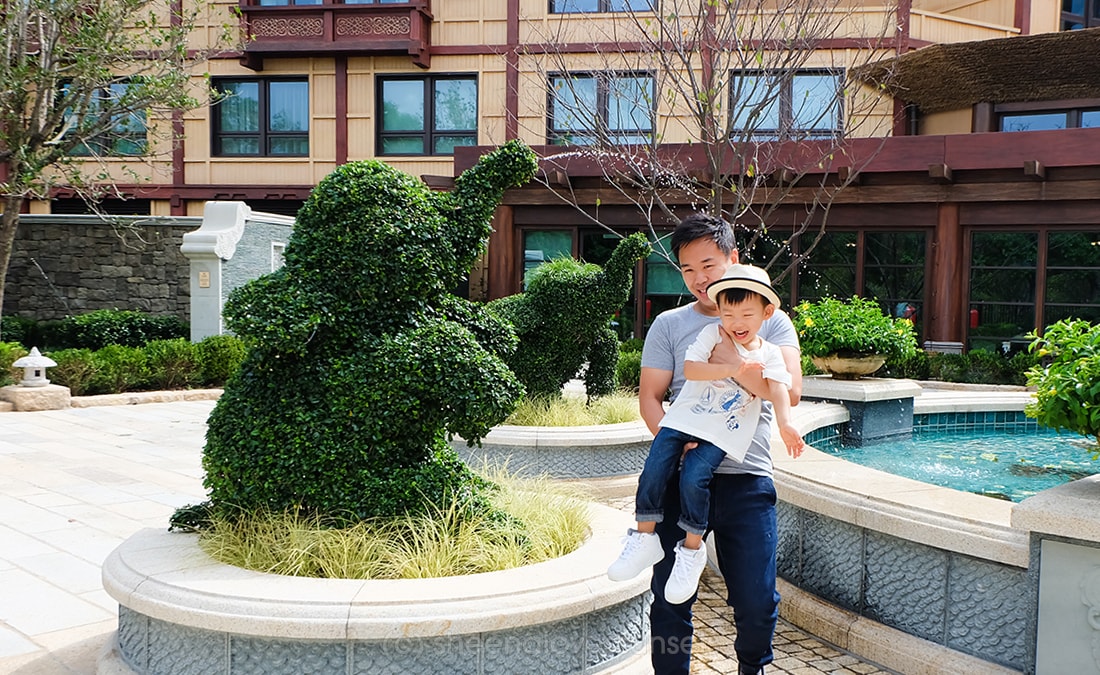 We explored the gardens near the Dragon Wind restaurant but it was cut short and Luke announced that he had to use the potty. So up to the room we went!
Trading Post: The Disney Explorer's Lodge Shop
There's a Disney souvenir shop inside the Disney Explorer's Lodge hotel called the Trading Post. They sell a lot of exclusive explorer-themed merchandise you won't find anywhere else.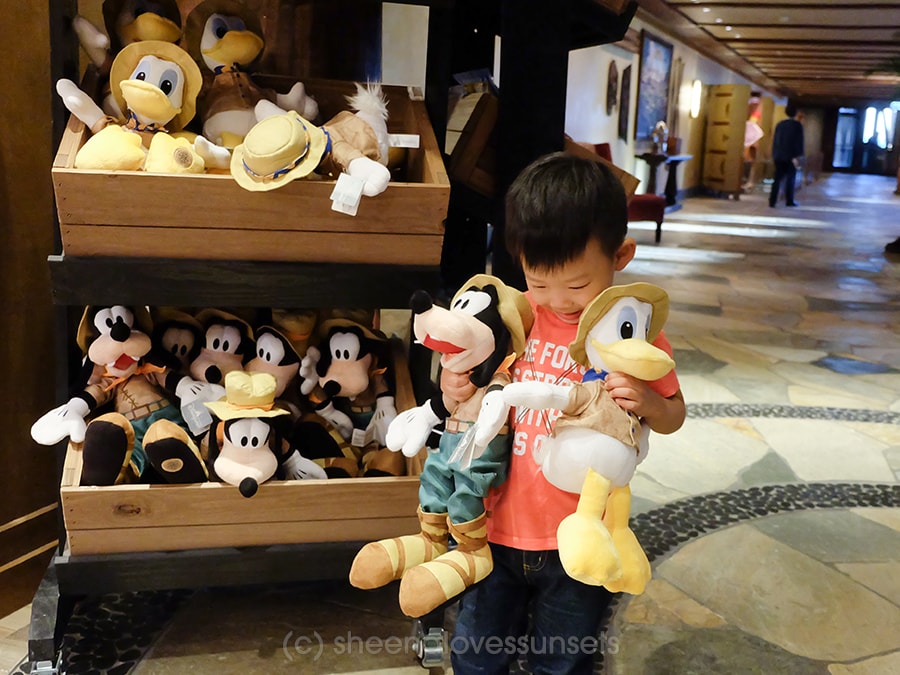 Luke quickly warmed up to these Explorer Goofy and Donald plushes!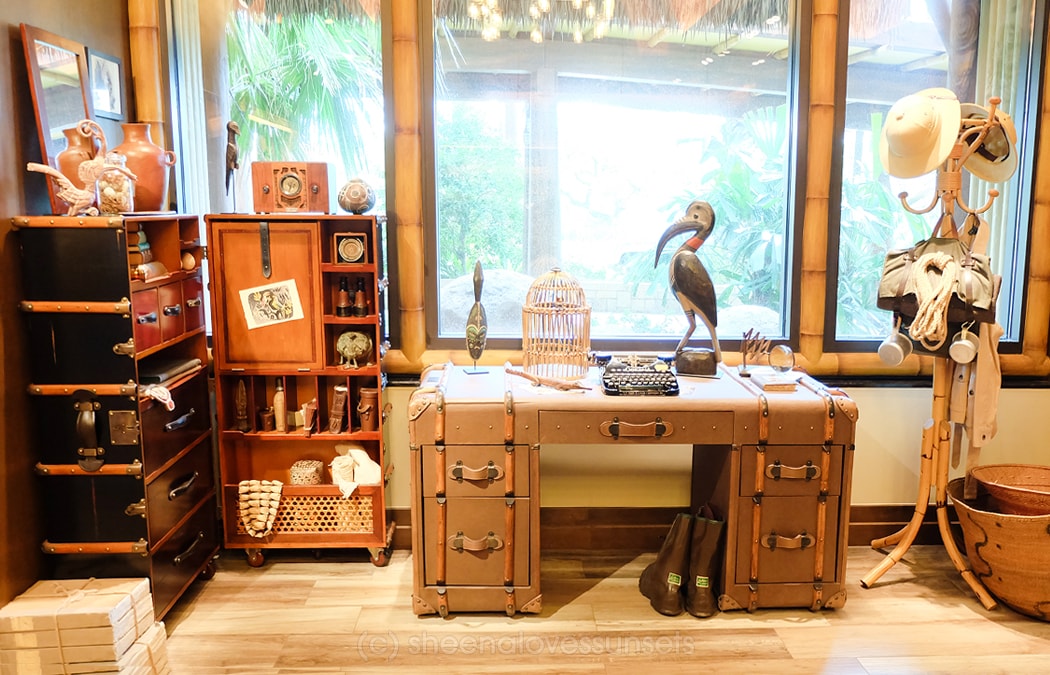 Nothing for sale in this section! Just a beautifully curated and styled section of the store.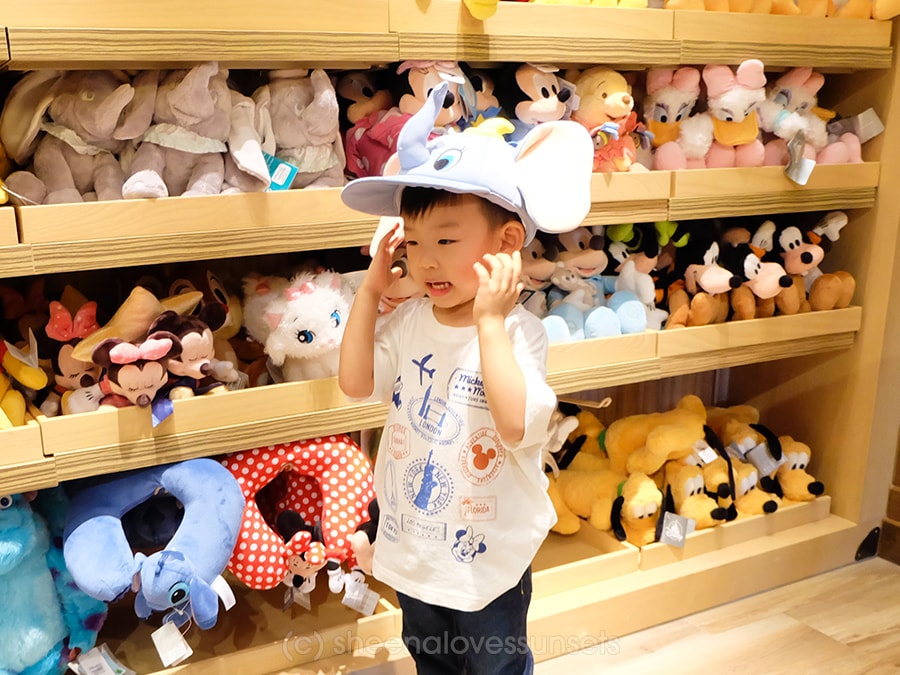 Aside from the explorer-themed merchandise, they also sell a lot of Disney merchandise from the parks. So in case you wanna make some last minute purchases, you can get them here. You don't have to worry either because the prices are exactly the same as the stores inside Disneyland.
Shuttle Going to Disneyland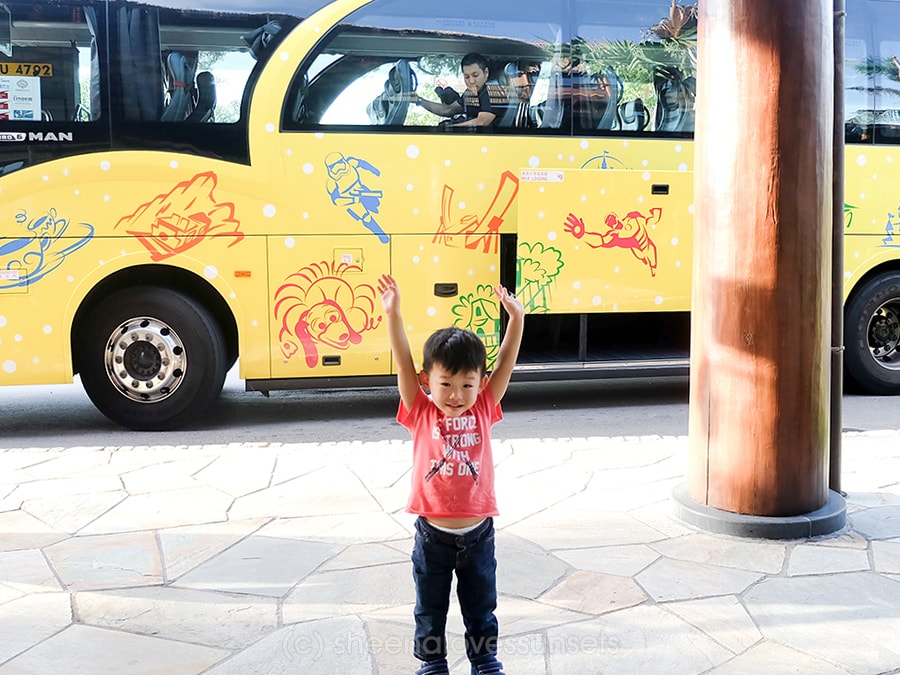 Undoubtedly one of the best things about staying at a Disneyland hotel was the convenience of going inside the park. They had a shuttle that came in every 10 minutes or so that would take you to the entrance of the park.
From the blogs I read, I had the assumption that there was a special entrance at the back of the park where you can enter as a staying hotel guest. Unfortunately, there was nothing of that sort when we went (so either I read wrongly or they changed it.) But there WAS a designated section at the entrance which you can enter if you show your hotel key card. This will definitely save you time if you're coming in at peak season.
Overall Verdict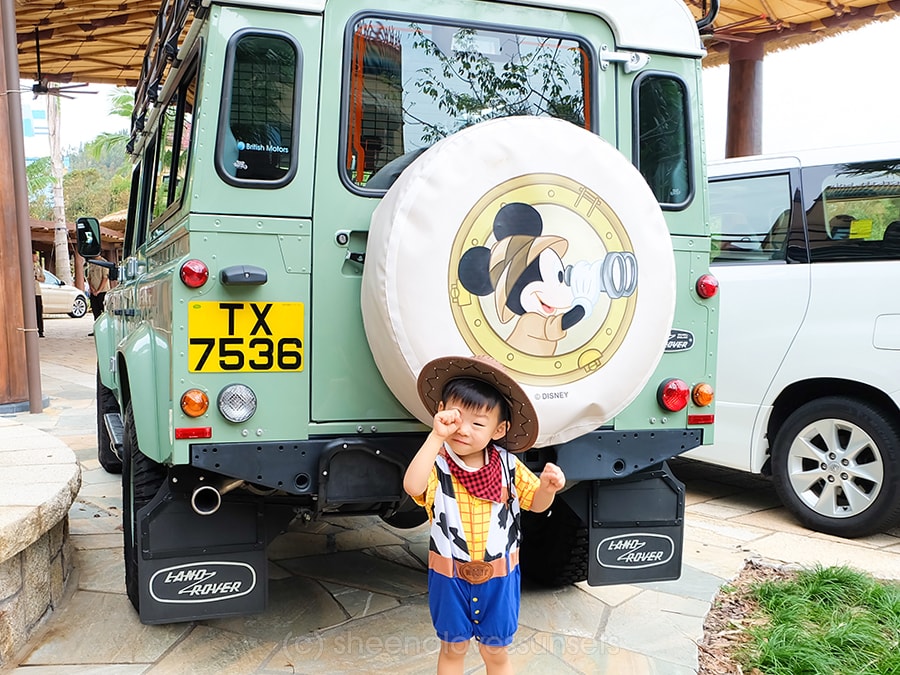 Let's be honest. Everything is overpriced at Disneyland; that includes the hotels. If you're willing to spend a lot for the total Disneyland experience, go for it.
For the price guests pay for a night, I expected a few more extra touches. It's a nice hotel though so objectively, no complaints!
Stay at a Disney hotel if you plan on spending 2 days at the park. You can leave late at night on the first day and arrive super early the second day. This is what we did!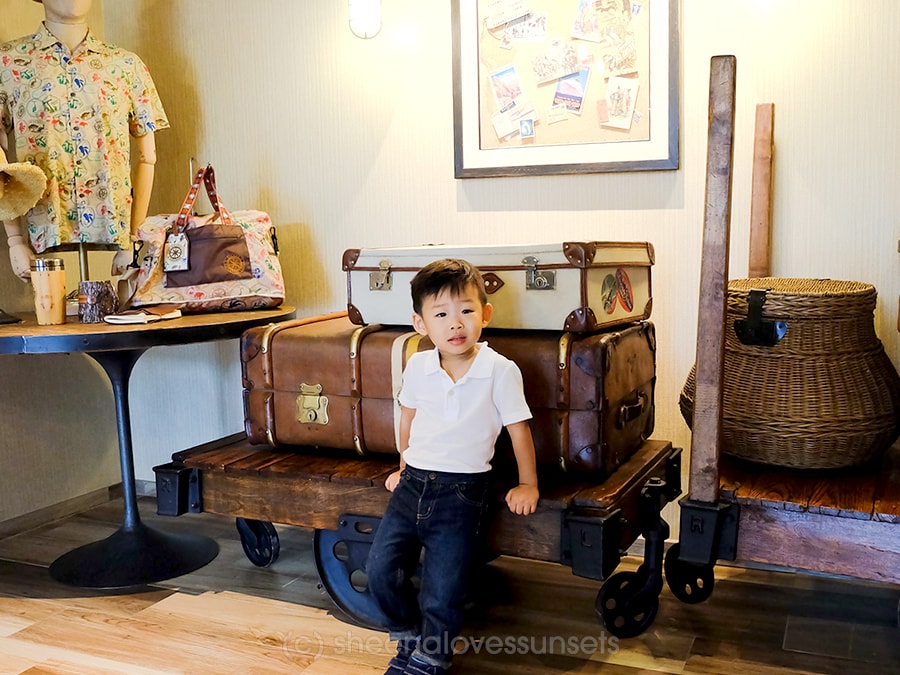 Find out more about Disney Explorer's Lodge at their main website here. (Although, they don't provide a LOT of info there so you're better off reading blog reviews like this. Haha!)
(NOTE: THIS POST IS ABOUT OUR EXPERIENCE LAST SEPTEMBER 2017.)