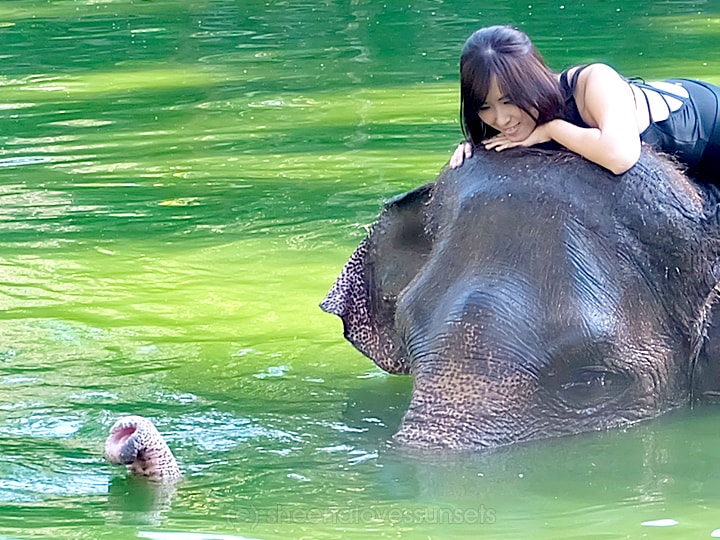 If giving elephants a scrub and then swimming with them after sounds wonderful to you, then you'll definitely enjoy staying at The Elephant Safari Park Lodge in Bali.
Choosing Elephant Safari Park Lodge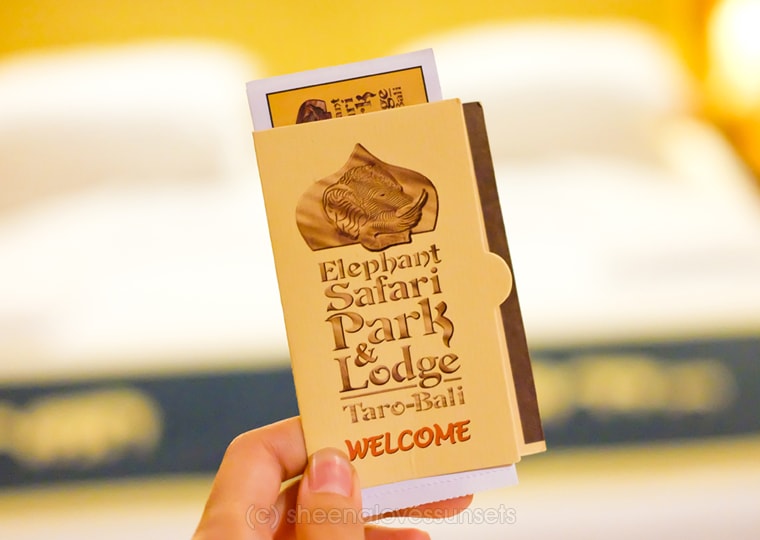 The Elephant Safari Park Lodge is Bali's only dedicated elephant rescue park. It is home to 27 Sumatran elephants that were rescued from their destroyed homes. These elephants were being hunted because they were considered as "pests" by the locals and were being put in "elephant camps."
I chose to stay at the Elephant Safari Park Lodge because of their impressive history and commitment to conservation.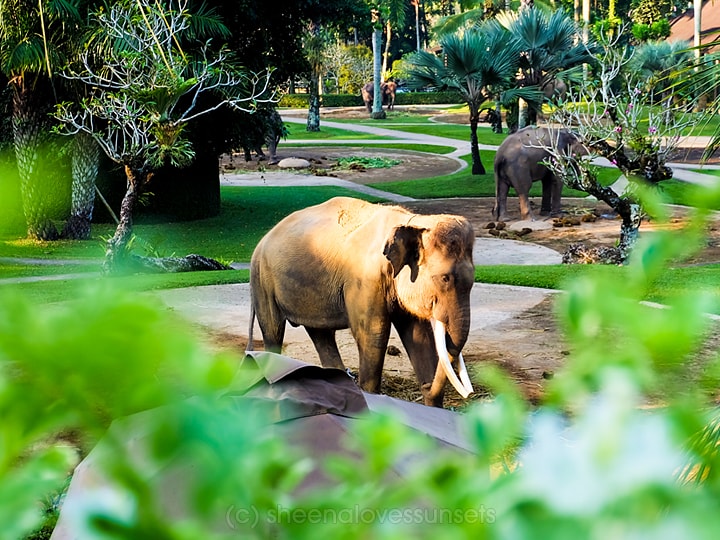 As I researched about the park, here are other facts I learned:
The elephants are fed well; they have an abundance of food
The elephants are provided ample spaces to swim and roam around in
The elephants are bathed daily and their surroundings are well-maintained
They do not use brutal methods but instead use a "reward and repetition" method to train
They are closely monitored by the Indonesian Government
It should be noted though that The Elephant Safari Park Lodge is NOT a zoo, but neither does it claim to be a "sanctuary" as defined by the Indonesian Legal System. They are, and I quote: "a privately owned and operated "park," in the context of a controlled environment with sustainable management plan that prioritizes in the protection and well-being of the Sumatran Elephants." You can read more about their story at their website (link)
Now, let me share with you all about our experience!
Our Late Night Arrival

Our flight had the worst schedule so we got to Bali already after midnight.
Elephant Safari Park & Lodge didn't provide complimentary transfers from the airport so we booked a local driver referred to us by a friend to take us from the airport to the hotel. His name is Uncle Nyoman and if you ever need a driver to take you around Bali, get him! You can contact him via WhatsApp at (+62-812-3973-765)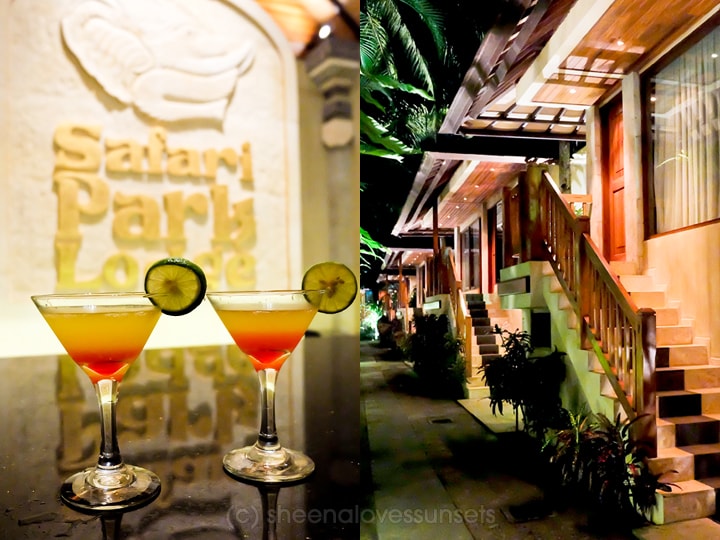 Elephant Safari Park Lodge is around an hour and a half away from Denpasar Airport. Arriving super tired and sleepy at around 3am, we were welcomed with welcome drinks (that I was still more than happy to take. Haha!) and proceeded straight to our room.
Park View Room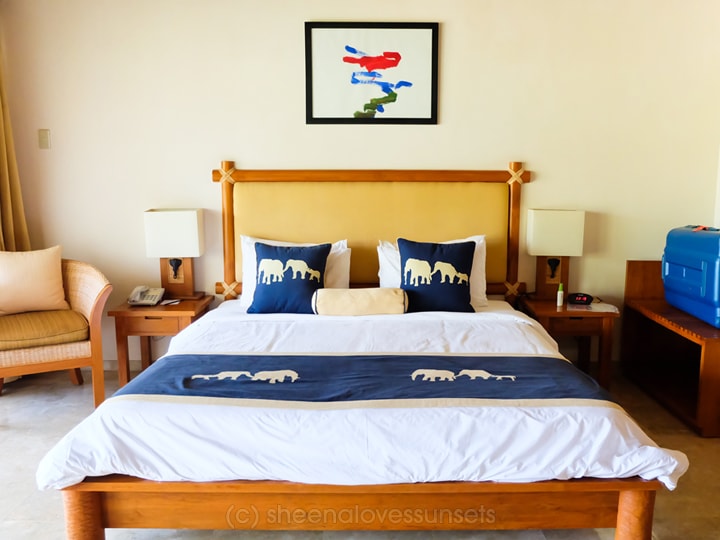 We stayed at a Park View Room where you can see the elephants from outside. In fact, I woke up to the sound of the elephants trumpeting! Seriously! It scared me crazy. Haha.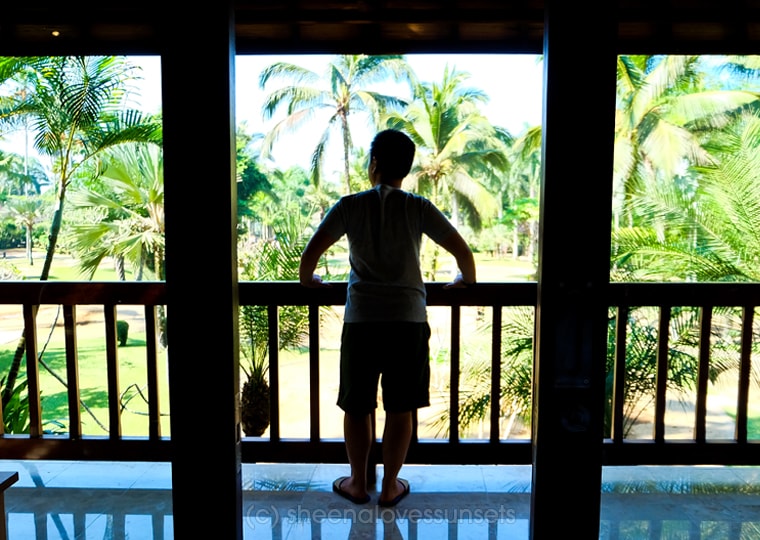 Good morning! From our balcony, you can see the elephants starting their day.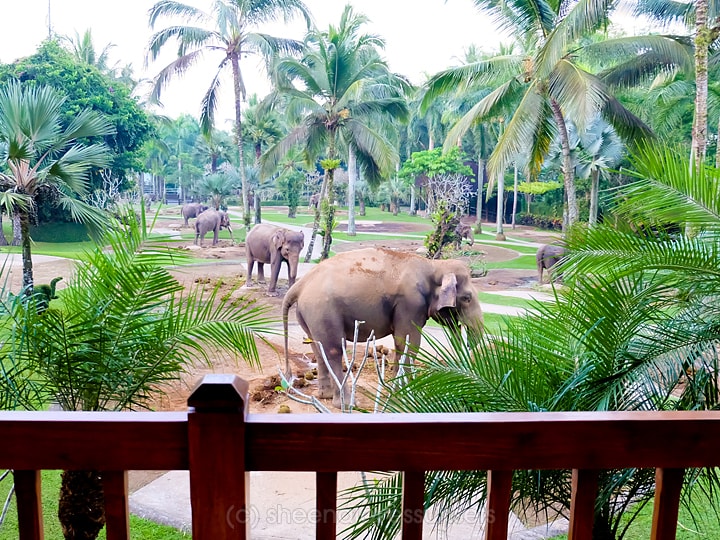 Not all rooms have a view of the elephants so book the Park View Room if this is what you want.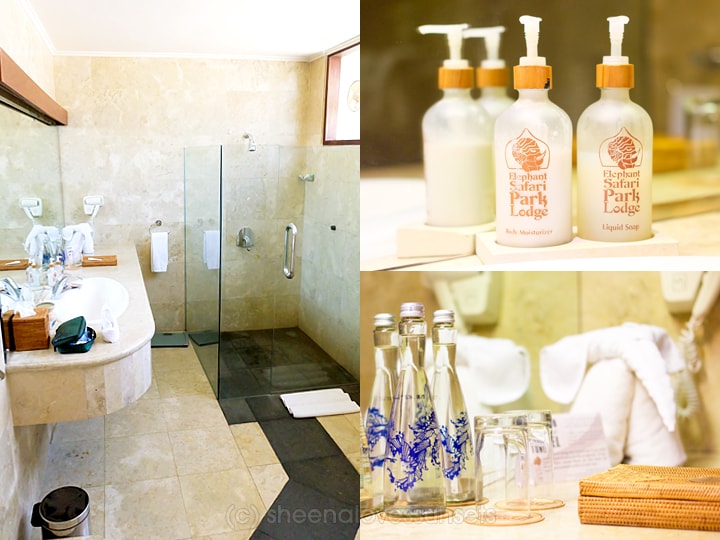 All the rooms have an African safari theme to it. There were even brown robes that you can use to complete your safari look! Elephant Safari Park & Lodge is a 5-star resort; even the bathroom was very spacious. And just look at that fancy water bottle!
(Also, sorry I don't have a better photo of the bathroom without our toiletries kits. Oops. Hehe.)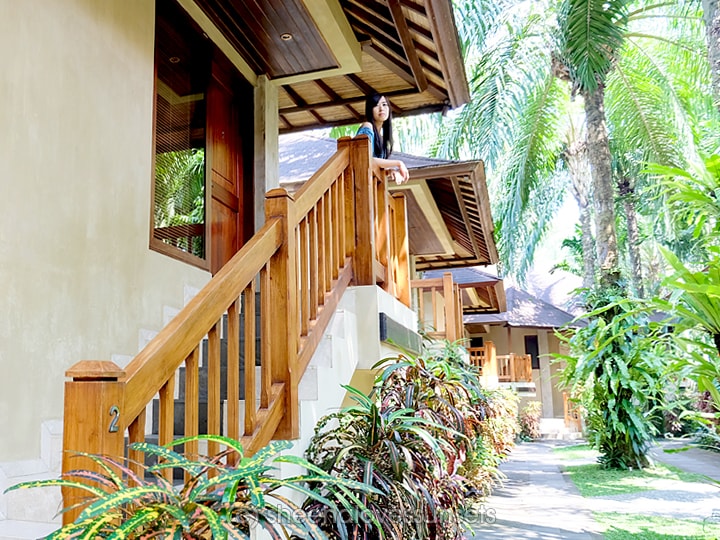 The rooms are also not set up like a traditional hotel but are instead spaced out like villas! Nice, right? I love the design of the place.
Breakfast with a View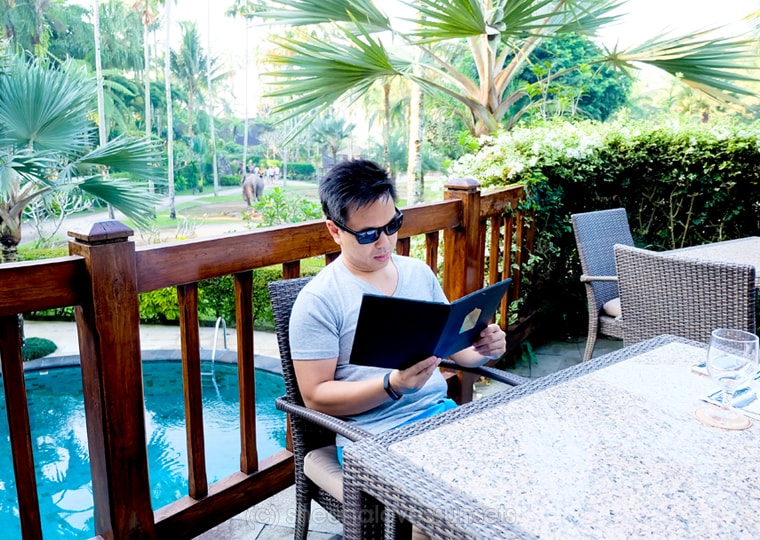 We had breakfast at the Mammoth's Head Terrace Bar & Lounge where you can see the elephants from afar.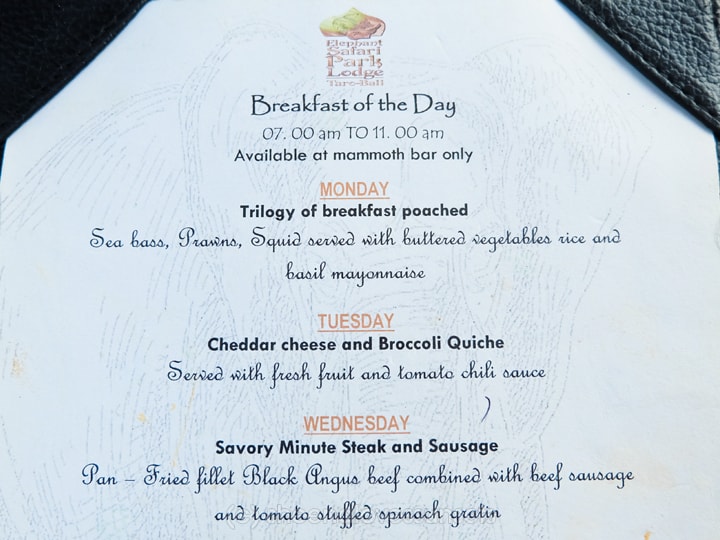 Good thing it was Monday when we came! I want my Sea Bass! Although Wednesday doesn't sound too bad either with Black Angus Beef! Mmm…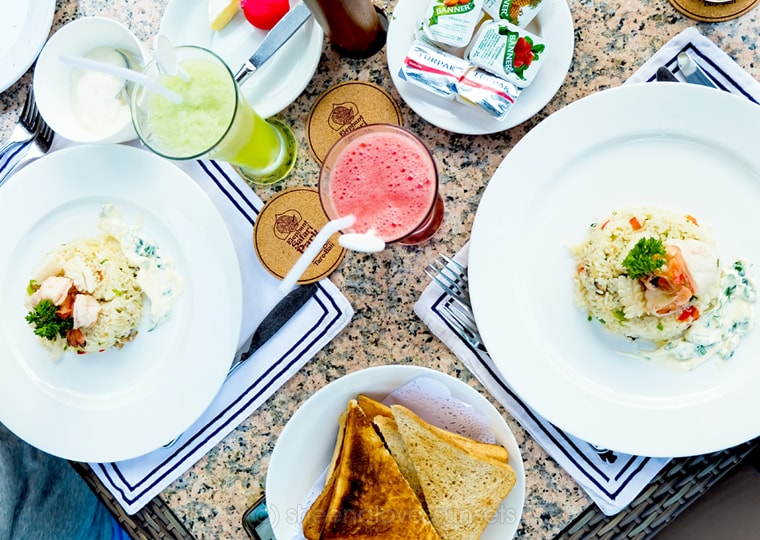 We also had cheese and toast together with our meal and a couple of juices. Yummy!
Bathing the Elephants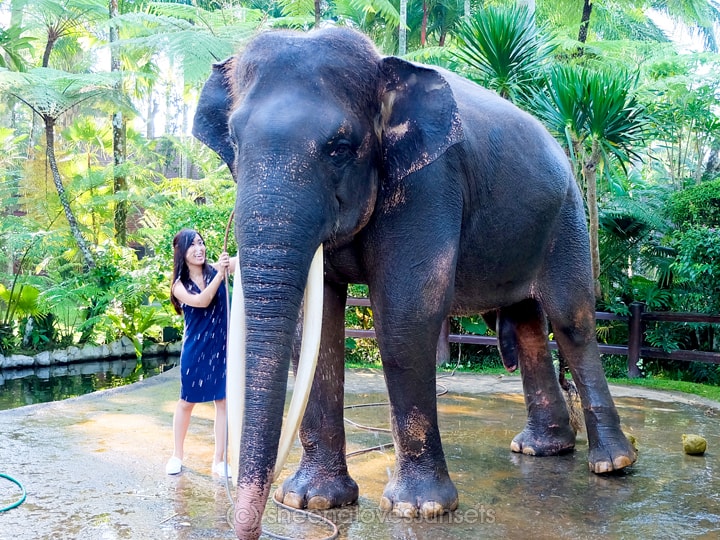 Now it's time to experience being a mahout for a day! Time to give my new elephant friend a scrub! I'm not super sure if I'm doing it well though!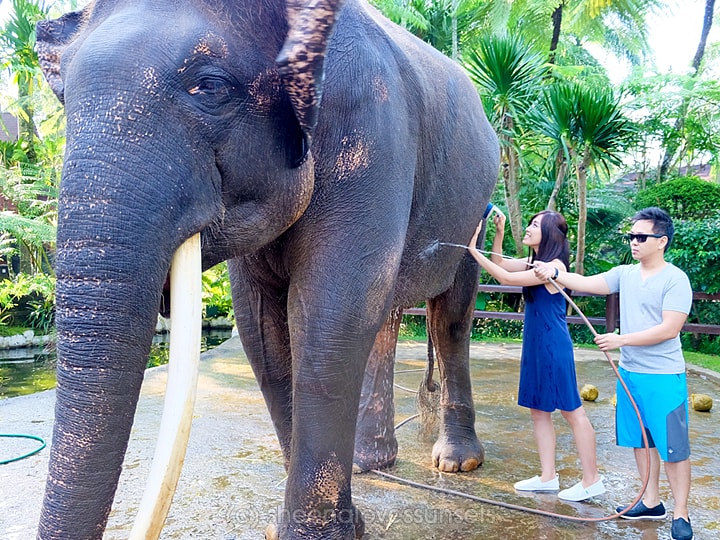 Someone doesn't look too thrilled… just kidding! Between the two of us, Mor is a bit more cautious when it comes to animal encounters. Hehe. After giving him what we thought was a good enough scrub, it was time to go swimming with them!
Swimming with the Elephants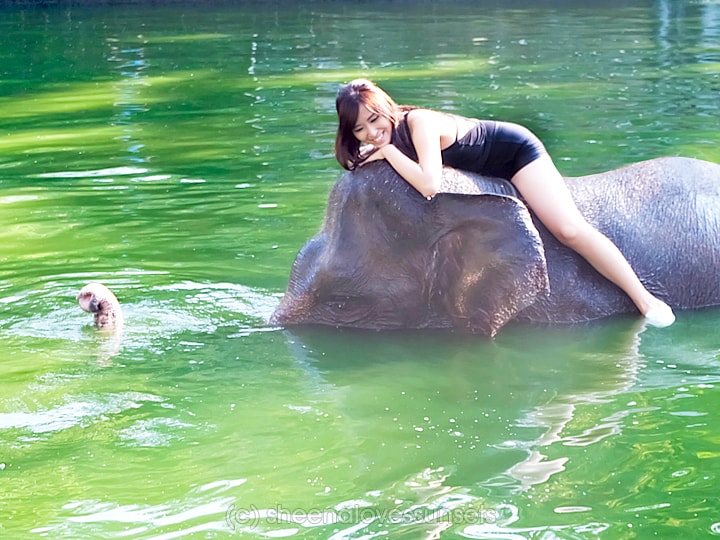 I wrote a list of 28 of my favorite travel experiences last year and if I were to add another one for this year it will definitely be this: swimming with the elephants! So much fun!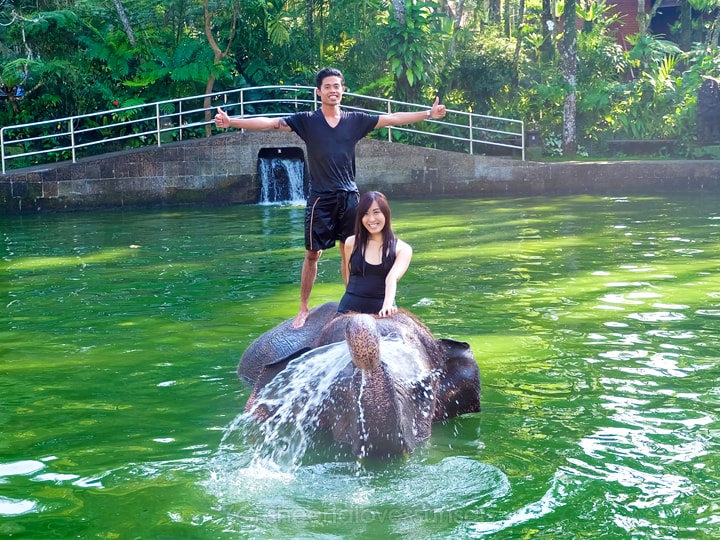 Mor didn't wanna ride the elephants (his said he has to take my photos… hmmm, excuses!) so it was just me! Every rider has to ride with a mahout.
The mahout of my elephant was really nice! He talked about the park, the elephants and how I was lucky that I was the only one in the water at that time! No other guests swimming as I was swimming, so it was nice for the photos!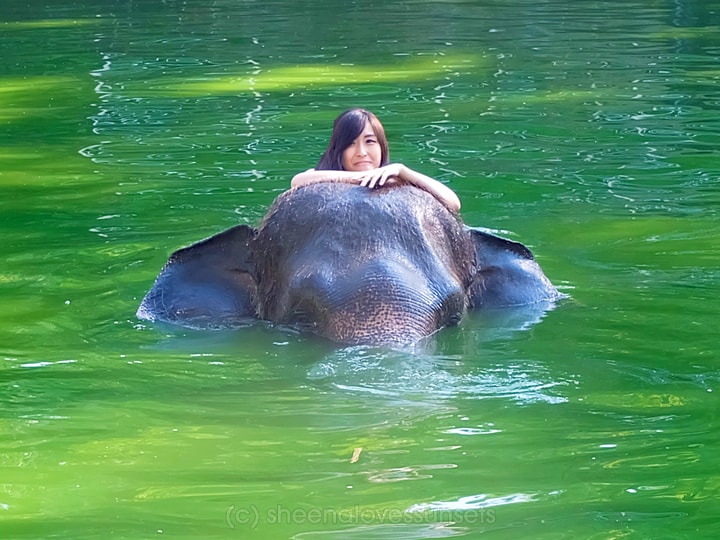 I know I look kindda worried at the photo but that's only because my elephant took a sudden dip and the water was cold! Haha. It was so surreal to ride on its bareback! And to be able to swim around and take dips felt amazing.
Outfit Tips for Elephant Bathing & Swimming: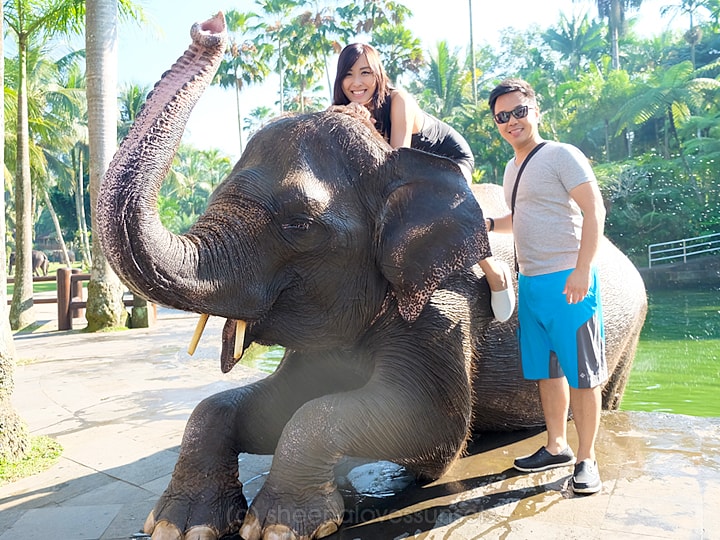 Swimwear: I really wanted to wear just my black one-piece swimwear (from Cesa!) for swimming but in the end, I was still too conservative (hehe don't laugh!) so I wore black swim shorts on top of it. I saw some guest photos and some went wearing bikinis while others simply wore shirt and shorts.
I don't think there's a dress code so I recommend you go wear swimwear you're comfortable in, whatever it is! Just remember you could actually slip so, consider possible wardrobe malfunction scenarios!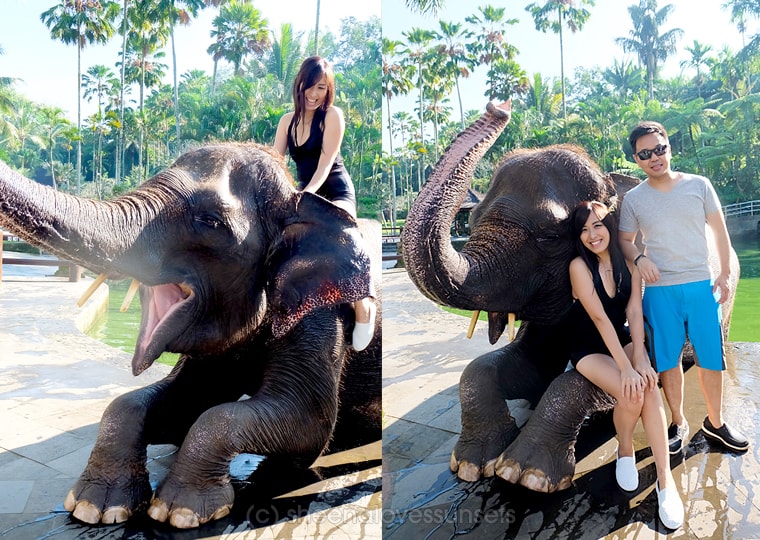 Footwear: Also, if you notice, I was wearing shoes the entire time. You can go barefoot if you want. I wore my waterproof shoes from Native because I prefer to have something on my feet to make sure I don't step on anything sharp or disgusting. Haha. Wear something similar if you decide to go so that your shoes don't get ruined if you accidentally step on elephant dung and so you can clean up easily.
Tall Trees & Gardens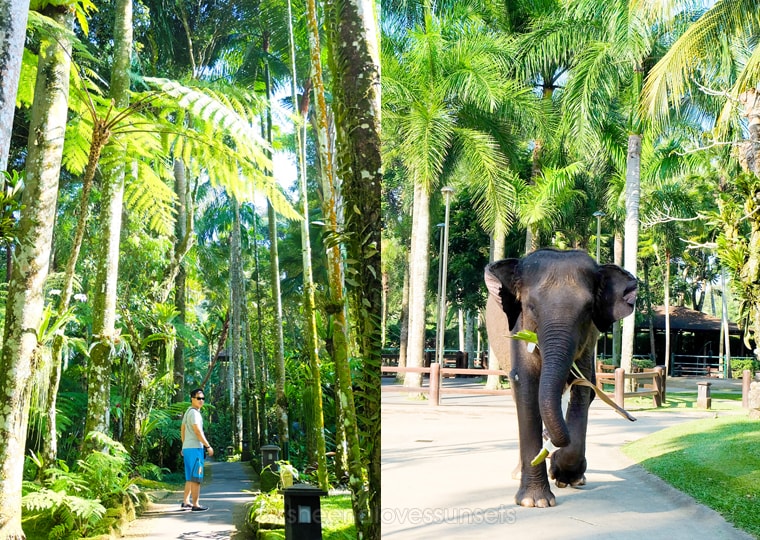 Went back to our room to change after an eventful early morning. The way back to our villa was beautiful; lined up with beautiful trees and gardens.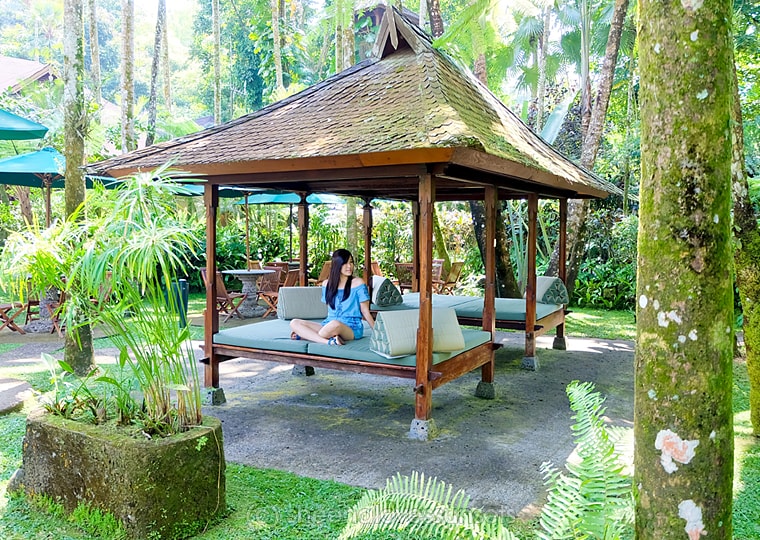 At one of the lounging areas. A great place to read a book, don't you think?
It's Play Time!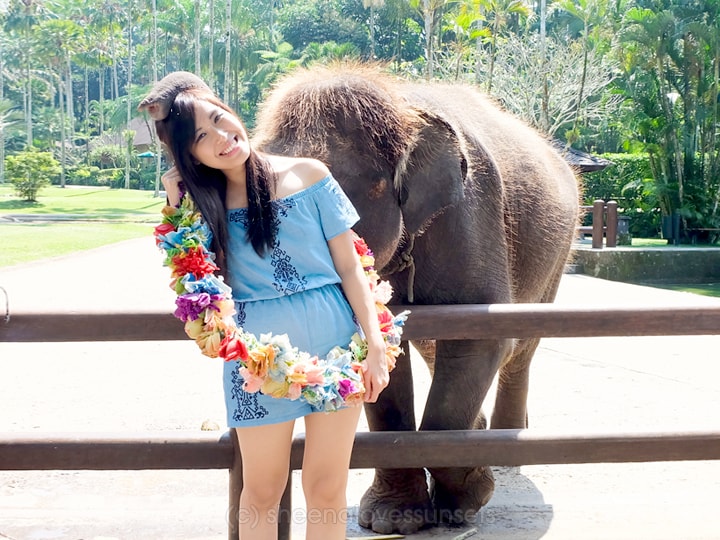 Dropped by to see the baby elephants and played with them for a little while.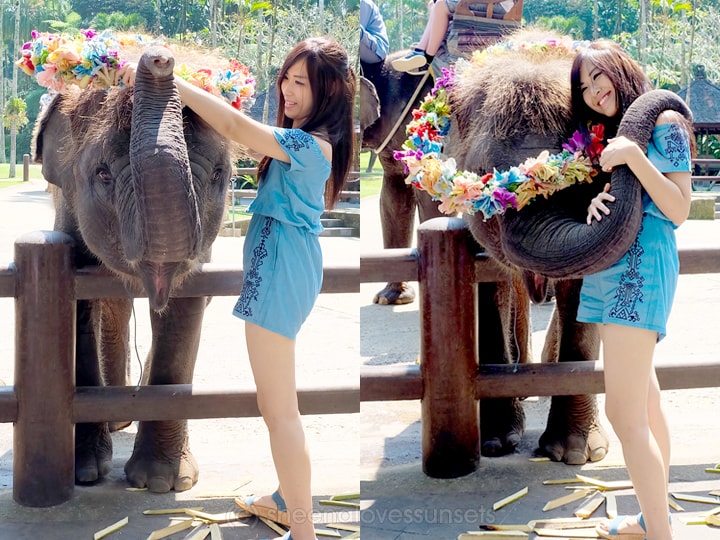 Cutiepie elephant, my bff for 5 minutes. Haha. Did you know that elephants are some of the smartest creatures? They are also unique because they are able to feel and express grief, compassion and even altruism!
Other Attractions & Experiences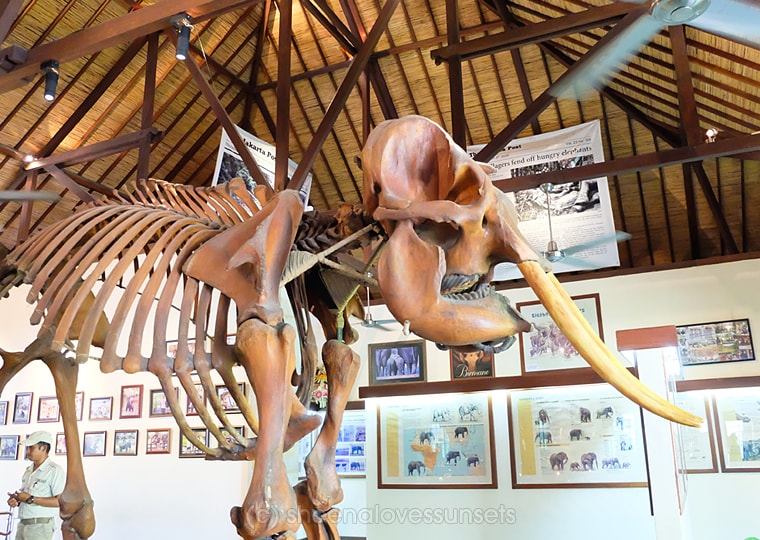 It was too bad we had to leave by lunch time as we've already made plans for our next stop. There are so many other things to do at the park such as feeding the baby elephants at the nursery and strolling around the gardens. There is also an Elephant Art Gallery and an Elephant Museum if you want to learn more about these gentle giants.
If you plan on staying as a guest, you can also do a lot of other activities. Visit the official website of Elephant Safari Park Lodge for more information.
Overall Experience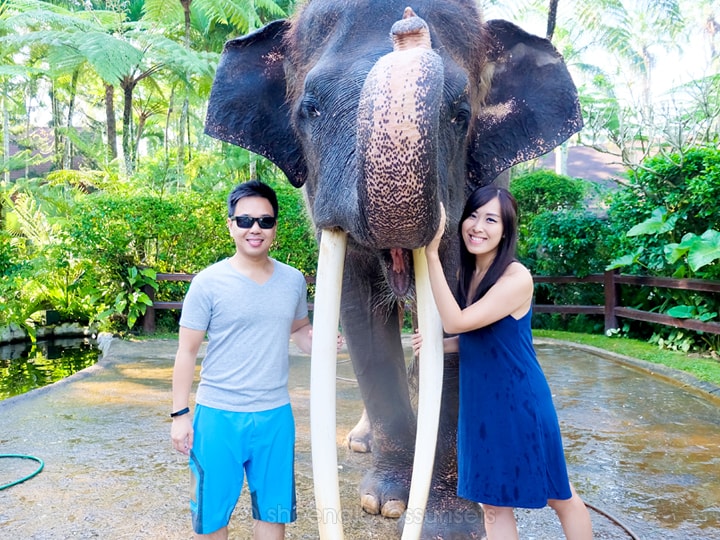 Overall, we had a great stay. I love that the elephants are cared for and that conservation is one of their top priorities. Obviously, the attractions are wonderful with all the elephant interactions.
However, it's also notable that the resort itself offers wonderful 5-star service. So if you're coming here and you're not really super keen on the elephants (like if you're just going with your wife who is haha!), I'm pretty sure you will still have an enjoyable experience!
—
(NOTE: THIS POST IS ABOUT OUR EXPERIENCE LAST APRIL 2017.)