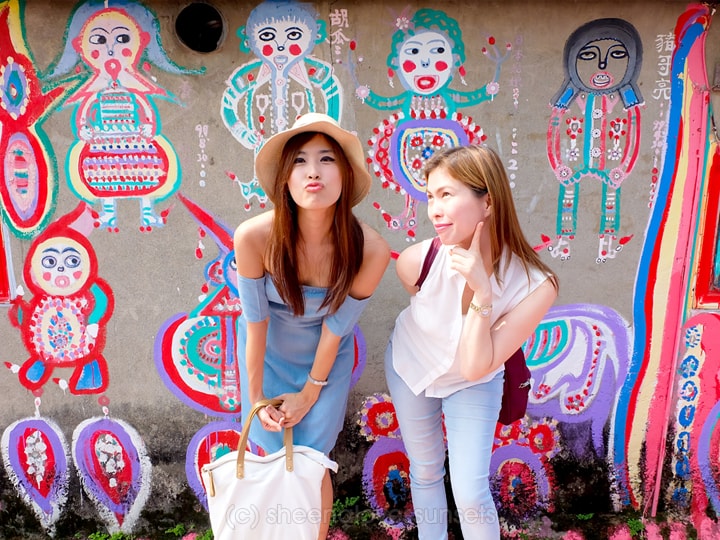 Last weekend, I visited Taiwan for the first time.
I traveled with the wives of Mor's good friends (we all turned out to be really great friends!) This was our "Moms' Getaway," an all-girls trip without our husbands and kids! Haha. Of course, a big thank you to the best husbands in the world for taking care of the house and kids for a few days!
Anyway, Taiwan really surprised me in the best way! I'm so excited to write about each of these places in detail (those posts are coming up next!) But for now, here's an overview of our trip! It was definitely "Fun Taiwan" for us!
Day 1: Taipei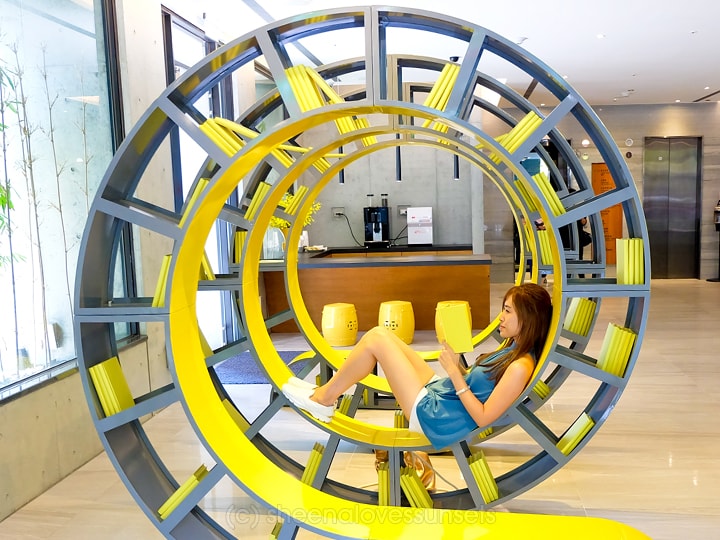 Hotel: City Inn Hotel Plus
Arrived before lunch so we headed straight first to our hotel to drop off our luggage. We stayed at City Inn Hotel Plus at Fuxing Road and it was so cute! (Detailed review here) Thank you City Inn for partnering with us on this trip.
After that, we asked the front desk to call Mala Hot Pot where we wanted to eat and to reserve for us. They did and we got a slot for 1:30pm.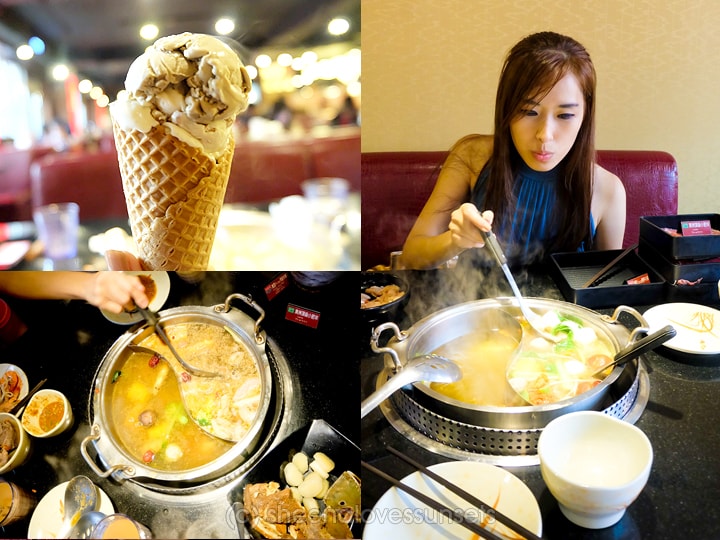 Mala Hot Pot
Late lunch at this hot pot buffet place, famous also for their unlimited Häagen-Dazs ice cream! Stuffed ourselves with all good things and ended the meal by trying all the different ice cream flavors. Yum!!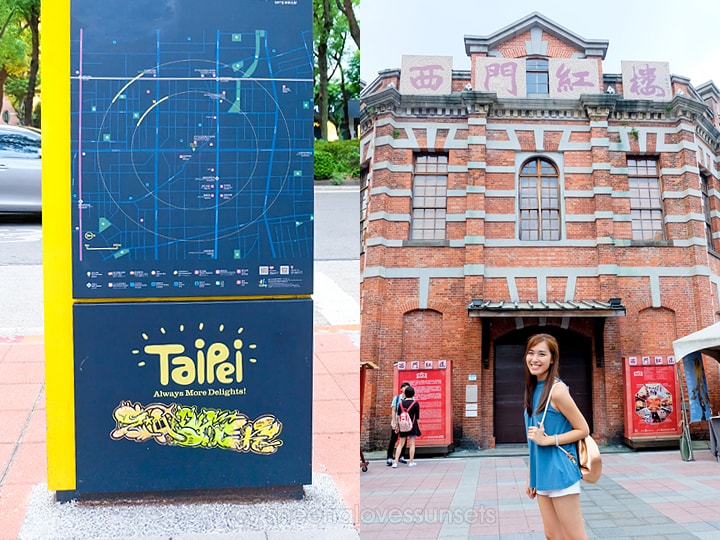 Ximending Art Market
Dropped by the famous red house at Ximending but it was under construction! Good thing we visited on a weekend so there was an art market set up just beside the red house.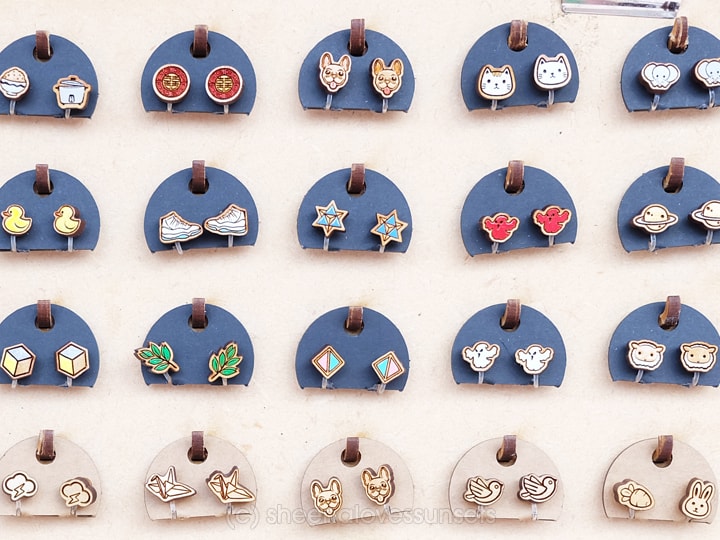 So many cute things, like these earrings! I thought of buying these but then remembered that I had a very active toddler who would most probably pull it from my ear if he sees it, so nevermind. Haha.
Rest of the day
After that, we visited Eslite Bookshop to buy some books for our kids (#momlife!) We were supposed to visit the flagship store with 10 floors but got confused and ended up visiting another branch. Then we had dinner at Kao Chi at Yong Kang St., which was really really good! Big servings too and we ended up not finishing what we ordered because we were so full!
Day 2: Yehliu & Jiufen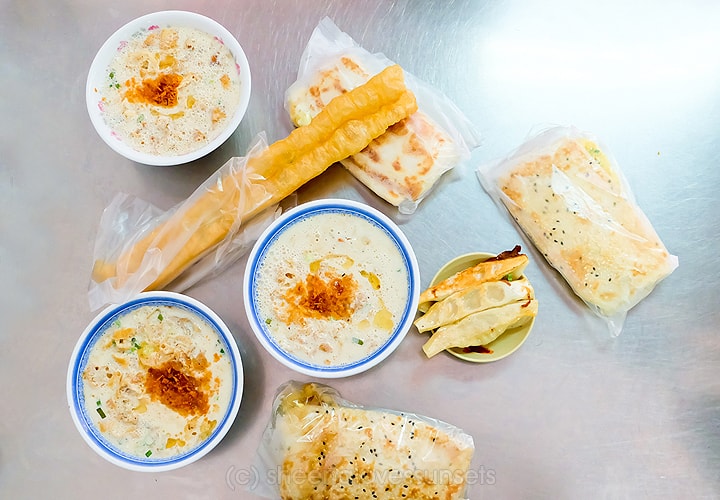 But first, breakfast!
Before going on our daytrip, we had a traditional Taiwanese breakfast at a local place that our hotel front desk staff recommended! I didn't like the salty soybean but that's just me (maybe not my taste; I like my soy sweet hehe) because the other girls liked it!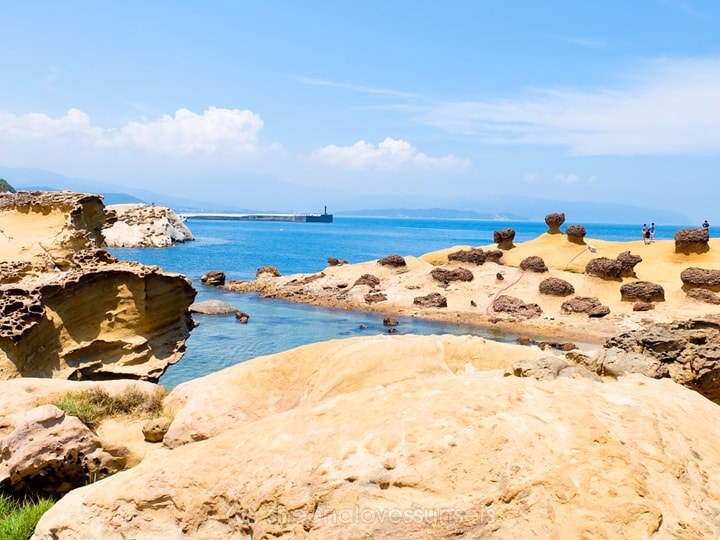 Then we were off to our first excursion! The first time I found out about Yehliu was from my parents, when they took a tour to Taiwan years ago. Saw that it was beautiful so decided to include this in our itinerary especially because it's just a short drive away from Taipei. No regrets. It was a beautiful place!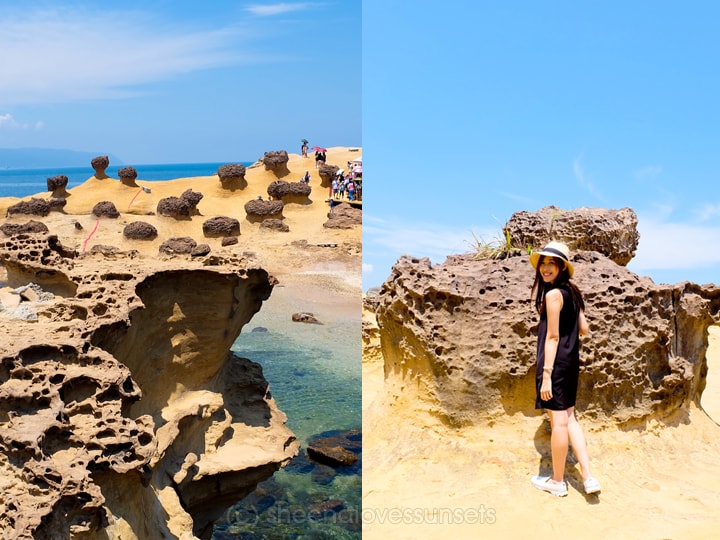 Everything at Yehliu was so pretty! Having the sun up though had its pros and cons; of course it was good thing it wasn't raining (forecast was rain, but praise God it didn't!), but it was also extremely hot! Smiling in the picture but sweating like crazy. Haha!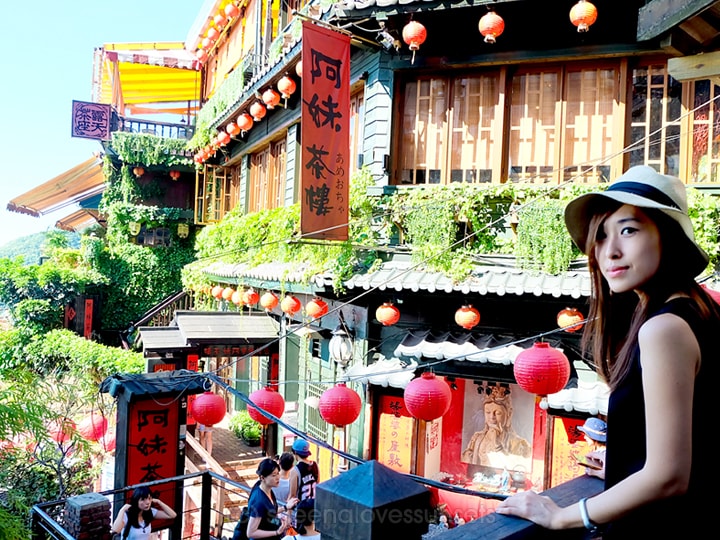 Initially wanted to visit just to see the teahouse that the setting for the award-winning animated movie "Spirited Away" was based on, but we stayed longer than expected because we had so much fun eating and trying out the different street food and drinks in Jiufen Old Street.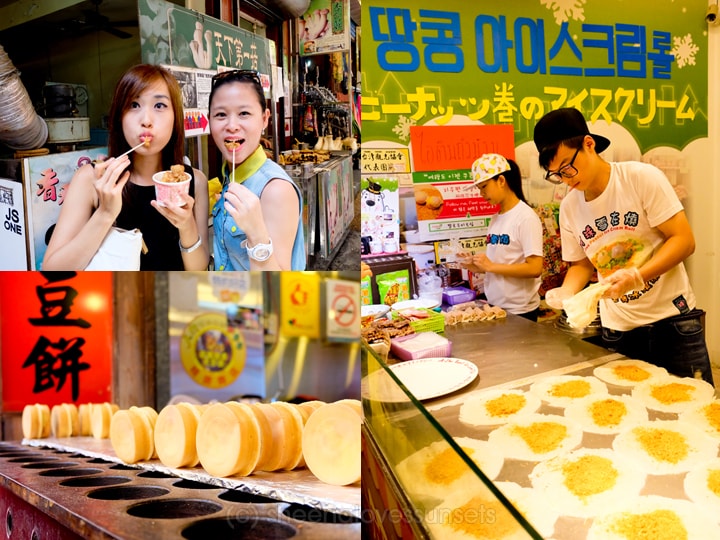 Almond drink, fried mushroom, squid, ice cream with peanut that I can't explain and more! My tummy was very, very happy! Had the fried squid twice because it was so good!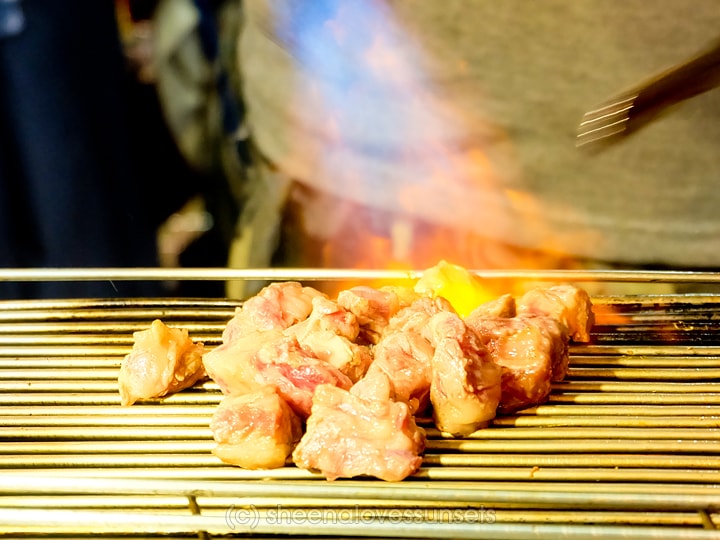 Shilin Night Market
And as if all the eating at Jiufen wasn't enough, we went back to Taipei and visited the famous Shilin Night Market. This was my favorite bite from everything that we tried: Lemon Salt Steak! So good!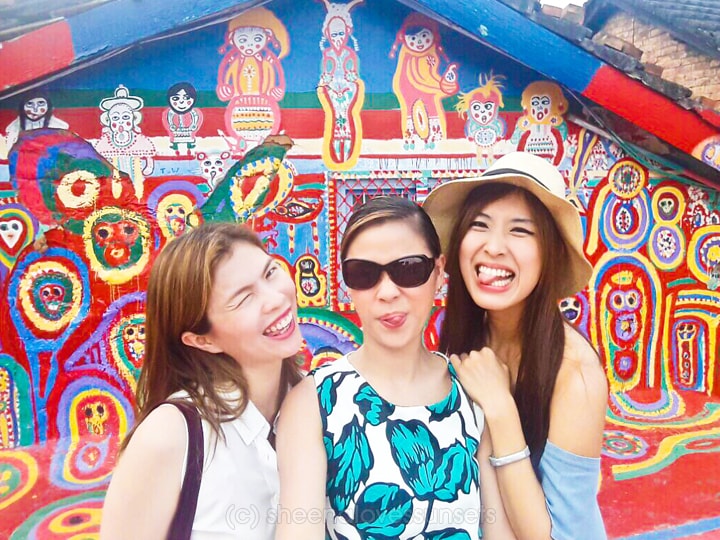 And this is the day I'm most excited about to share because we visited so many noteworthy places: Rainbow Village, Zhong She Flower Market, Mushroom Village, Lavender Cottage and Feng Jia Night Market. Our driver wanted to take us to more places but we were the ones who gave up. Haha!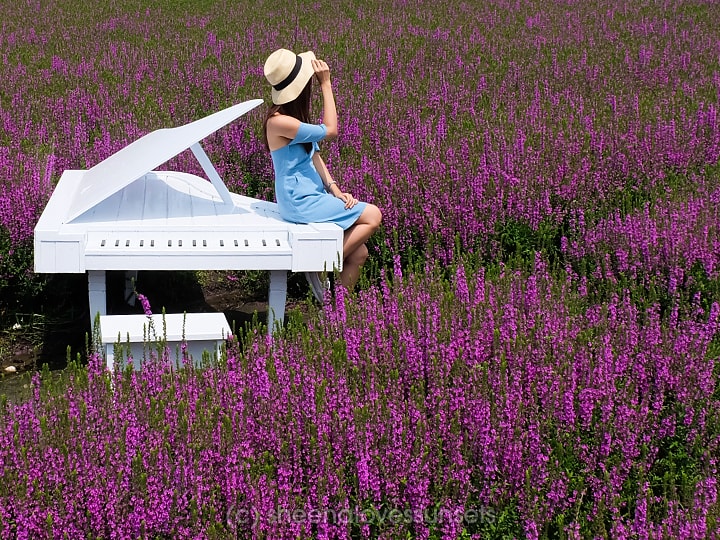 Can you believe this is in Taiwan? Check out all of our photos from this gorgeous flower garden here! Suffice to say that this is my favorite day from our entire trip and if you ask me, I highly recommend you guys not to miss Taichung when you visit Taiwan next time!
Day 4: Taipei, again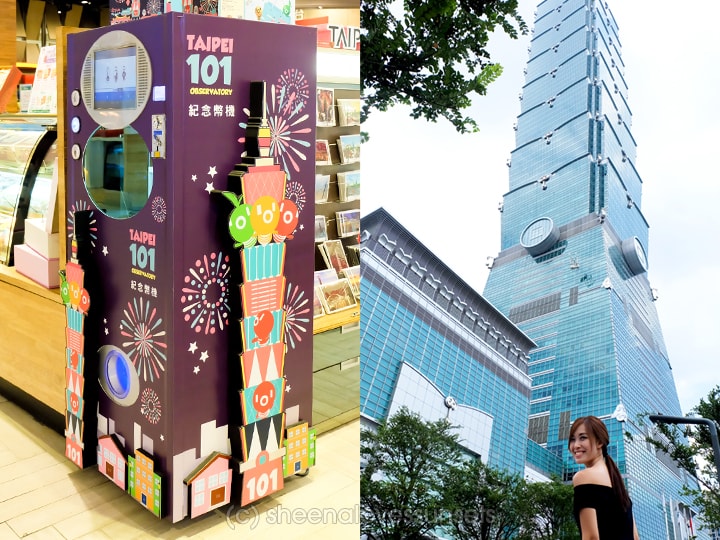 We booked the last flight out back to Manila so we had a full day on our last day in Taiwan. Initially, we planned on visiting Yangmingshan or Beitou Hot Springs but in the end, we opted to take it easy and just go to the places we weren't able to visit on our first day (and go back to some that we did! Haha!)
We visited Taipei 101, ate at Din Tai Fung, had a snack at Yu's Almond and just went around to shop for a while before our evening flight. Chill day!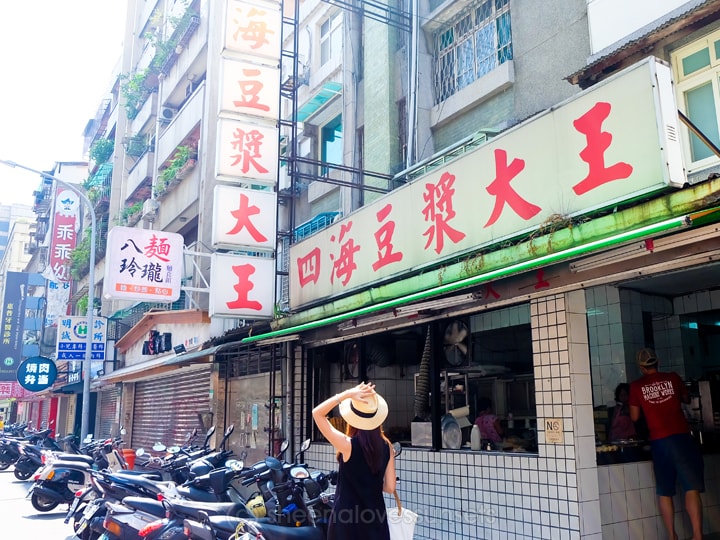 So that's my very quick preview of our trip! All the photos are just teasers, ok? Hehe. Now it's time to write full blog entries about each of the places! Watch out for my next few posts (or subscribe for updates) if you want to see more of our Taiwan trip!
(NOTE: THIS POST IS ABOUT OUR EXPERIENCE LAST AUGUST 2016.)