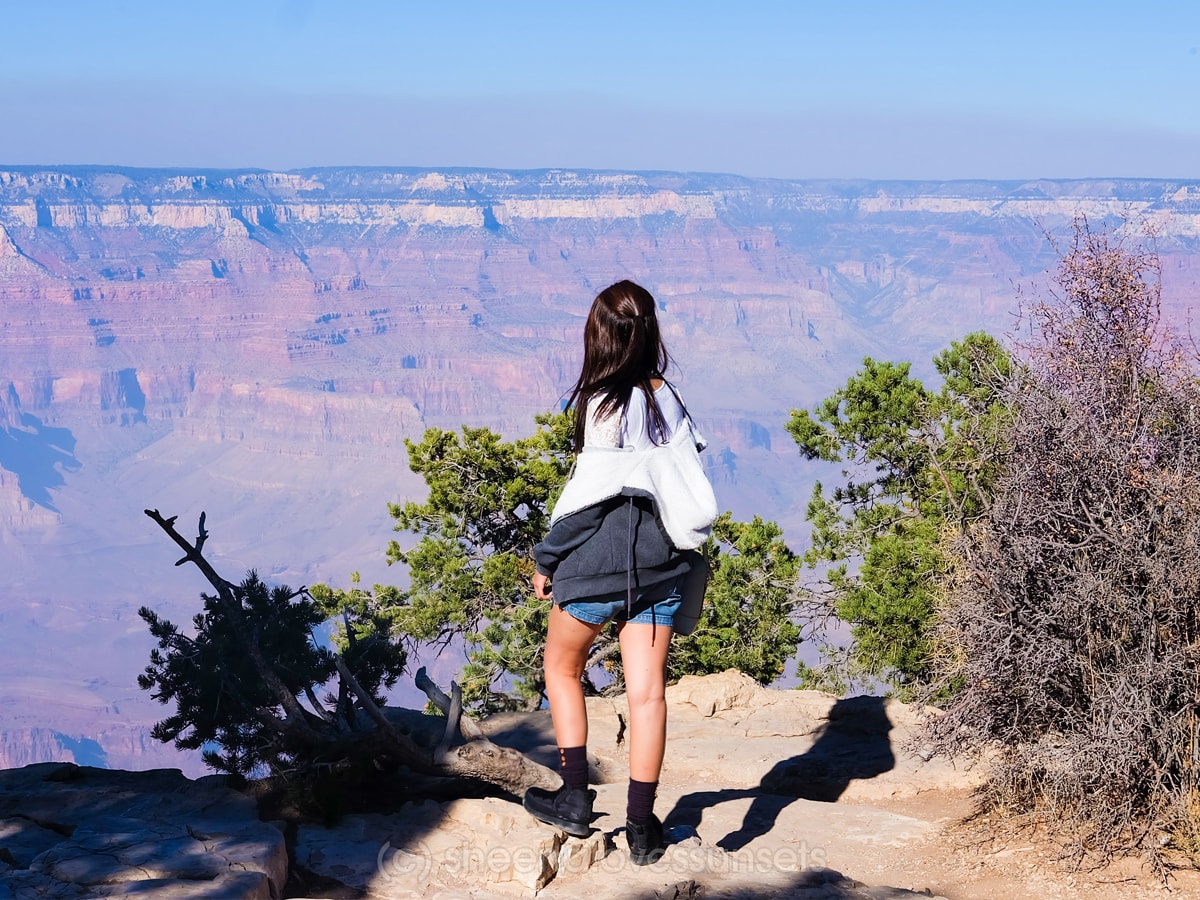 If you want to escape the crazy Vegas scene, then a day trip to The Grand Canyon might just be what you need.
I know that's exactly what I needed so I booked a day tour with KKDay to the Grand Canyon's South Rim and here's how it went!
First: The Facts and FAQ's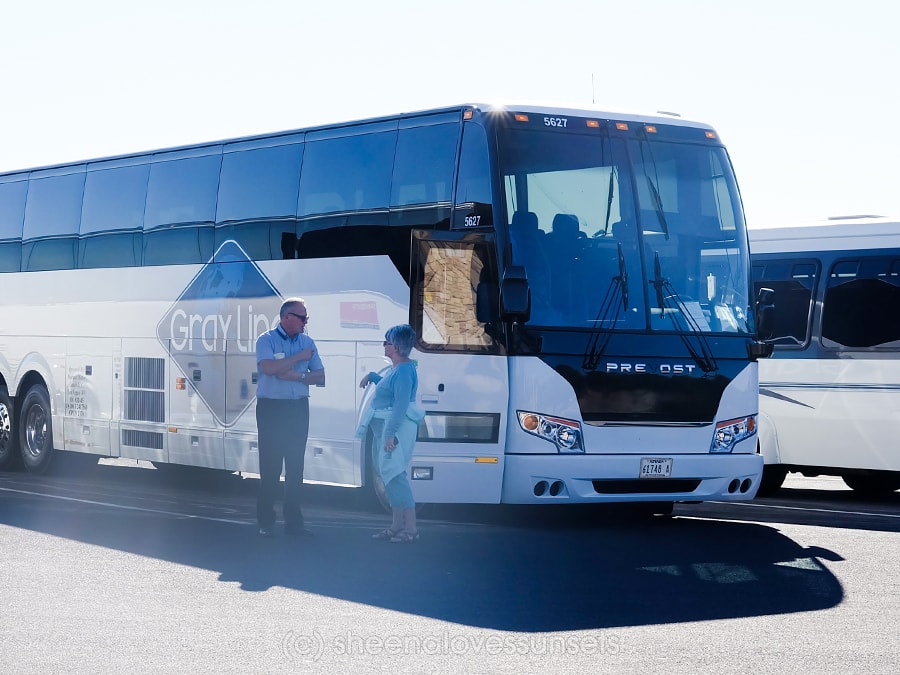 1. Which tour did you take, with whom and how did you book it?
I booked the "Day Tour from Las Vegas: Grand Canyon South Rim" with KKDay. You can book online on their website. Our tour costs 4521php per person, which converted in US Dollars is roughly $89. A pretty good deal because this exact tour costs $100 up on other sites!
2. What is KKDay?
KKDay is an online platform where you can book local tours on different countries. KKDay partners with different tour providers. For our South Rim tour, they partnered with Gray Line, which is a highly recognized tour operator in the USA. KKDay also offers special discounts you won't get at other sites.
3. Why South Rim?
To put it simply, the South Rim has the most spectacular views of The Grand Canyon.
Like most visitors, I was debating between the South and the West Rim. The West Rim was nearer from Vegas and it had the beautiful Sky Walk. However, if you're after Instagrammable photos (like me, haha!) be warned; they don't let cameras inside the Sky Walk!
In the end, I decided on the South and had no regrets. Here's how it all went!
Grand Canyon South Rim Day Trip from Las Vegas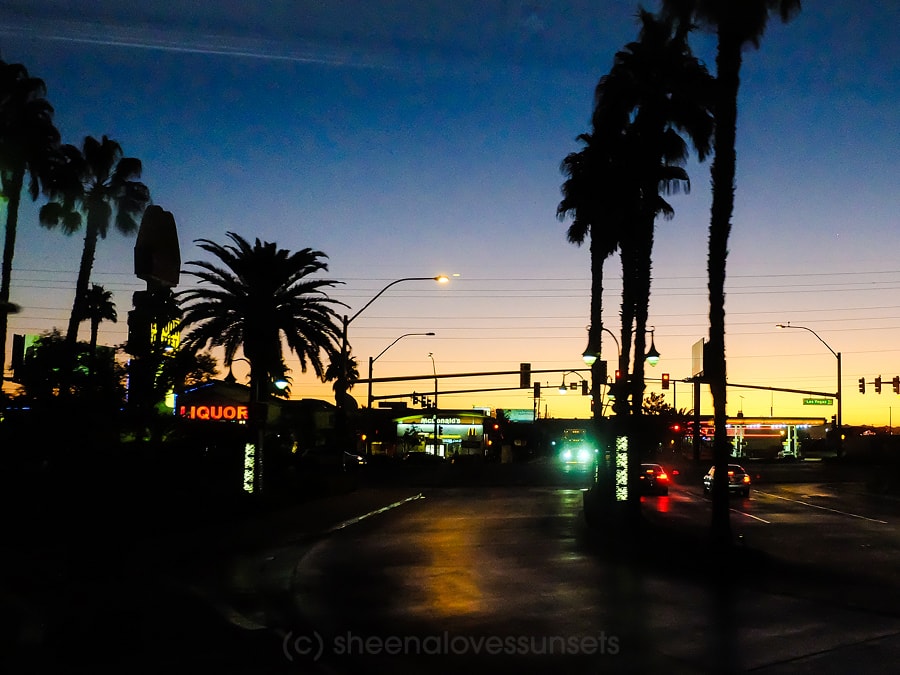 We begin with an early morning pick-up.
The nearest pick-up point from where we were staying was at South Point Hotel and Casino, which was just a 5 minute walk from us. The problem though was that we were scheduled as the first pick-up stop so our call time was at 5:40am. So eaaarly!!! Haha but that's okay. We had to start early because we had a long drive ahead.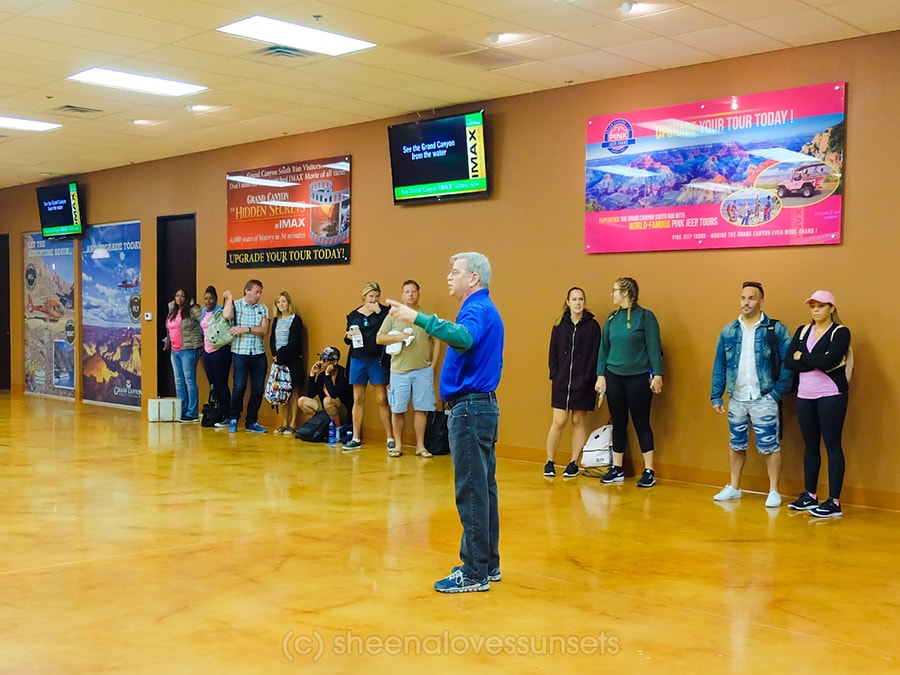 After our bus picked up passengers from different hotels, we were dropped off at the Gray Line station where we were given a quick brief about the tour we were about to take. We were also given time to buy a few snacks for the journey.
TIP: Bring your own food and water so you don't have to line up here anymore! The bus seating is first come first serve too, so best to board the bus early after! Don't waste time lining up and buying food.
The Long Drive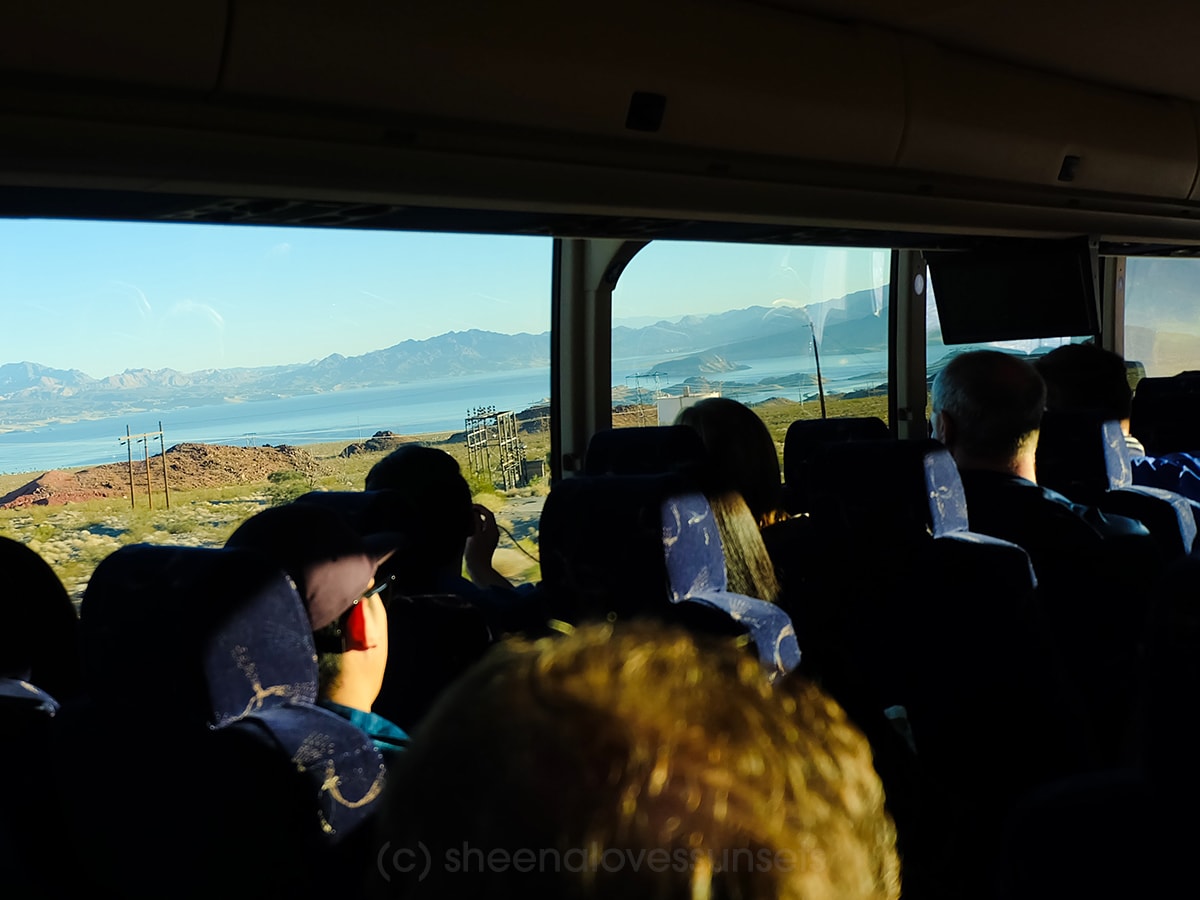 After the quick stop, it was time to drive! The driver also served as our tour guide, together with the automatic audio tour guide he was playing on the speakers (which I found pretty cool!) The scenery was nice and our driver was playing 90's movies all the way (haha) so I was entertained most of the time.
It was also the perfect opportunity to catch up on my work back home. The bus offered wifi, but you had to pay a fee. Good thing I brought my own; my favorite, ever-reliable pocket wifi, RoamBuddy.
Stop at Hoover Dam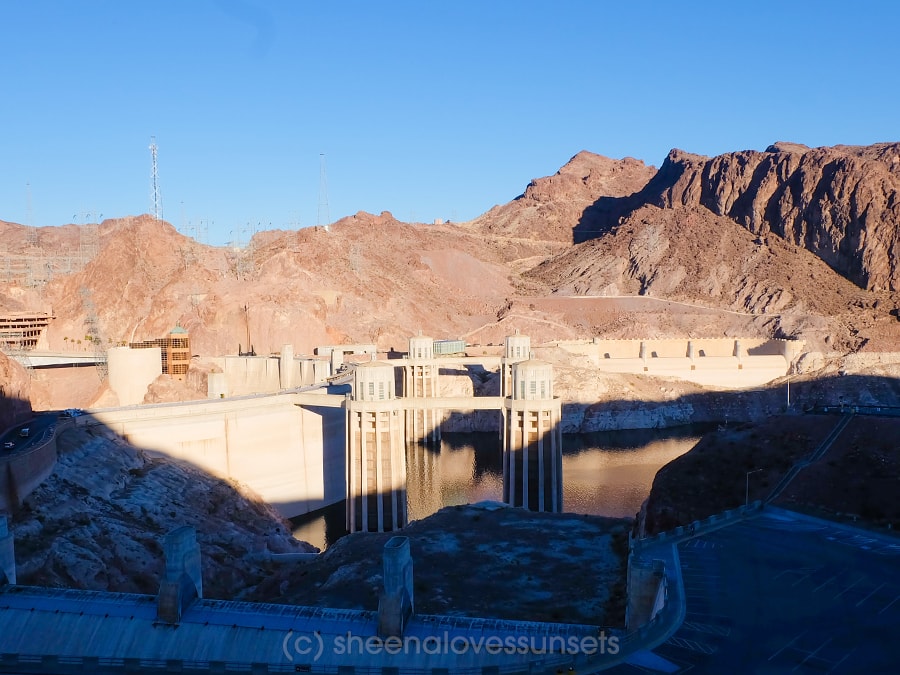 We had a quick stopover at Hoover Dam, which is also a popular tourist attraction near Las Vegas. To be honest, I didn't think I would find anything interesting here, but it was actually pretty amazing to see the magnitude and scale of this dam.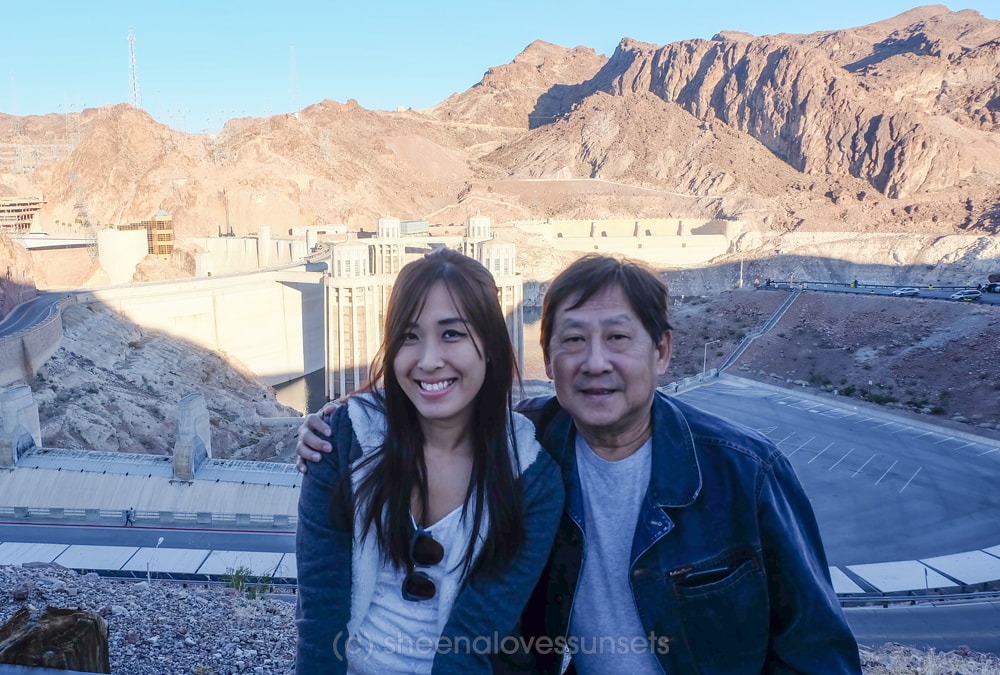 With my Dad! I think we look okay considering we had hardly any sleep. Haha! The driver gave us time to take photos for a few minutes and then we were back on the road.
National Geographic Center for Lunch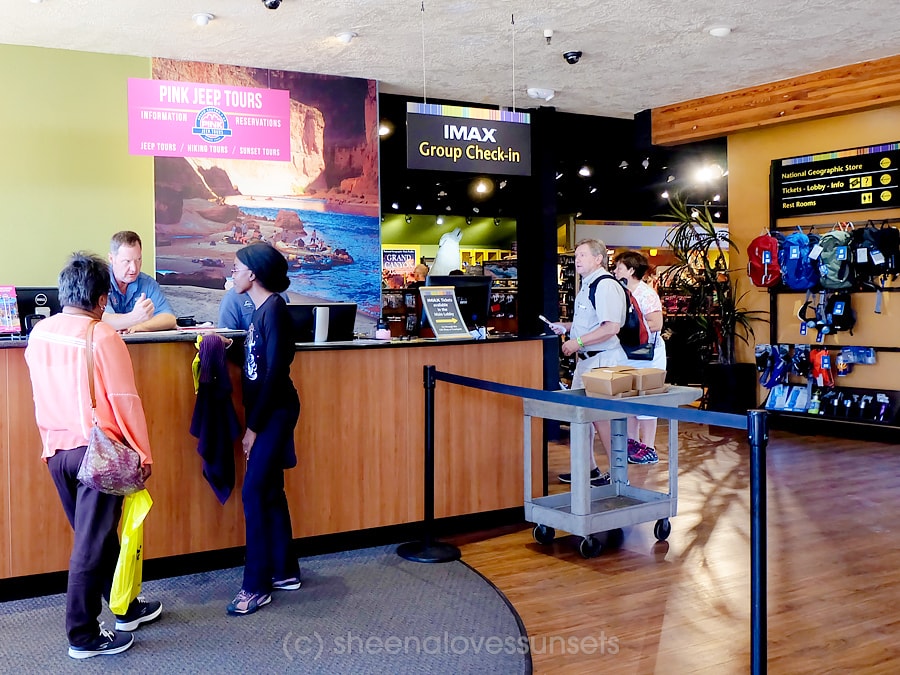 We arrived at the National Geographic Center for lunch. This was also the place where you can book tickets and watch the IMAX movie "Grand Canyon: The Hidden Secrets" , but you had to squeeze this in the lunch time that the tour provided.
We didn't watch the IMAX movie anymore so we just enjoyed our lunch and spent the rest of the time looking around the gift shop. Hehe.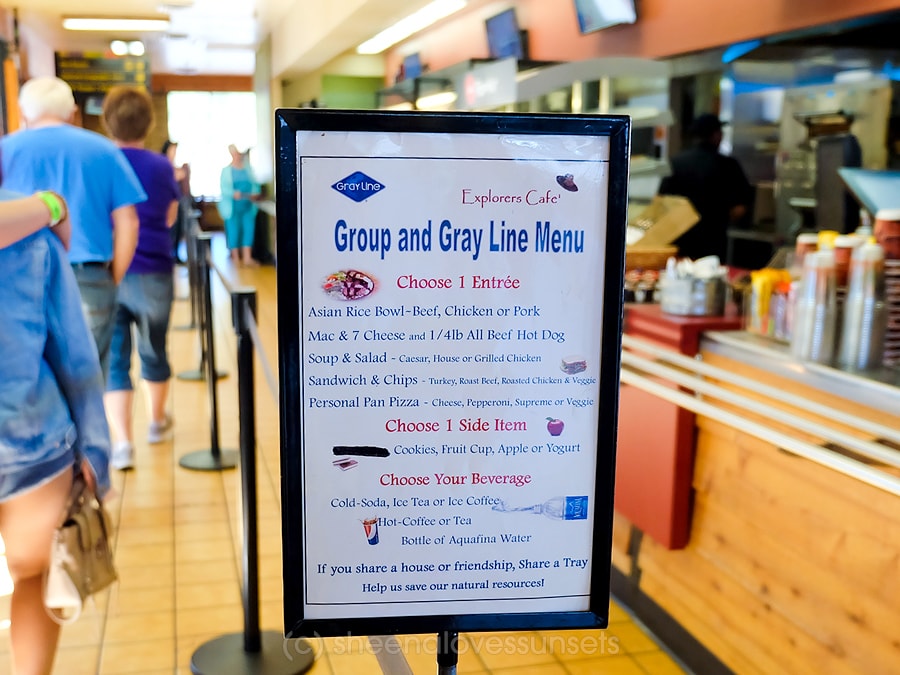 They were definitely ready for our arrival! I chose the Asian Rice Bowl. Although now that I look at it I should have gotten something else instead. The rice bowl was just so-so. Pizza Hut might have been a better option.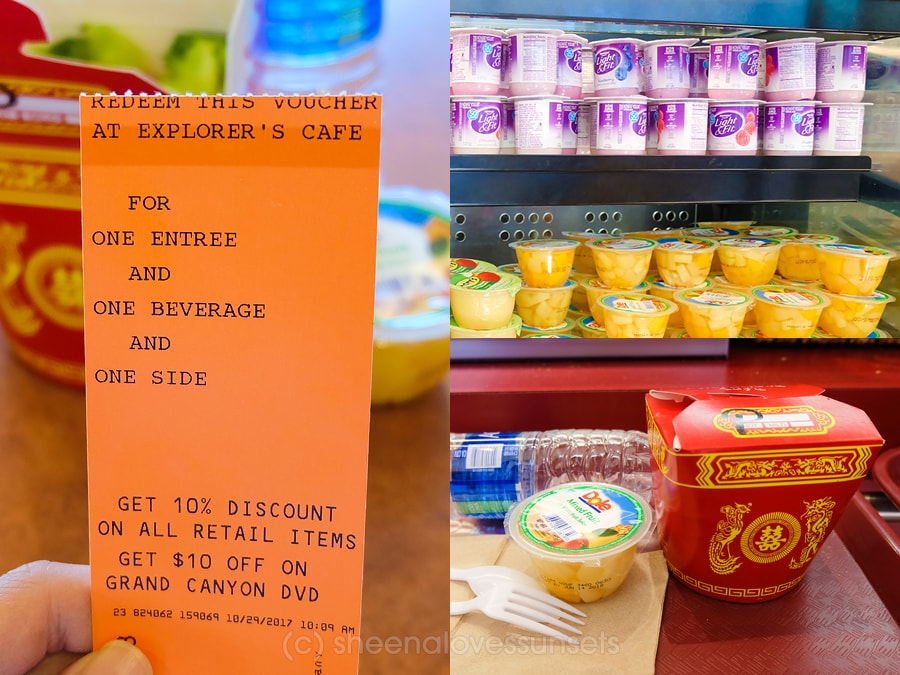 I used the discount when we bought stuff at the gift shop! Then, it was time to move on again. Not to worry though because this time it was just a quick drive and the next stop was the actual Grand Canyon itself already!
Grand Canyon National Park: Mather Point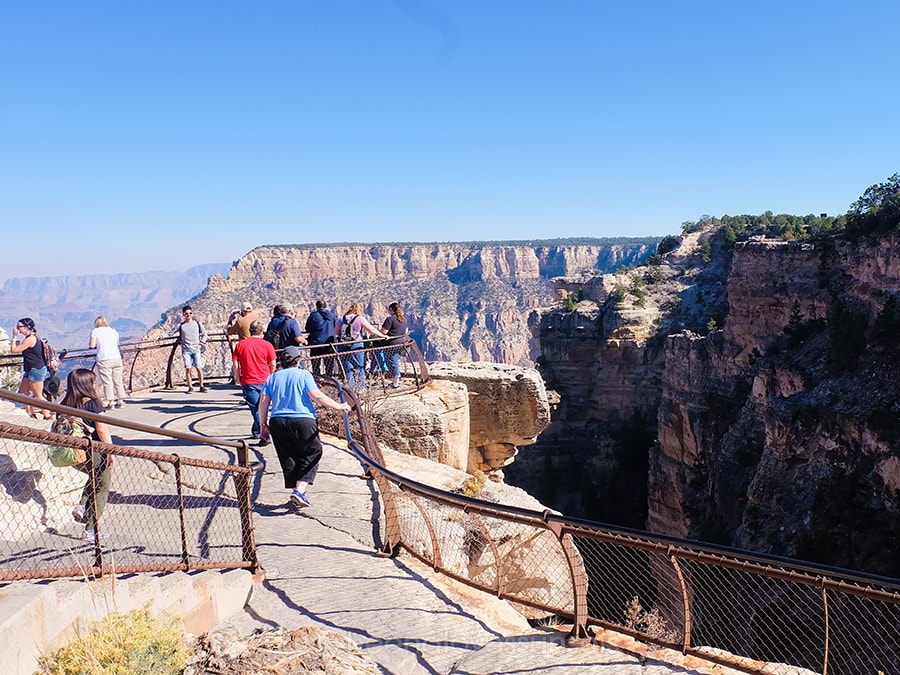 Ta-da! We arrive at The Grand Canyon. First stop is at Mather Point, just close to the visitor center.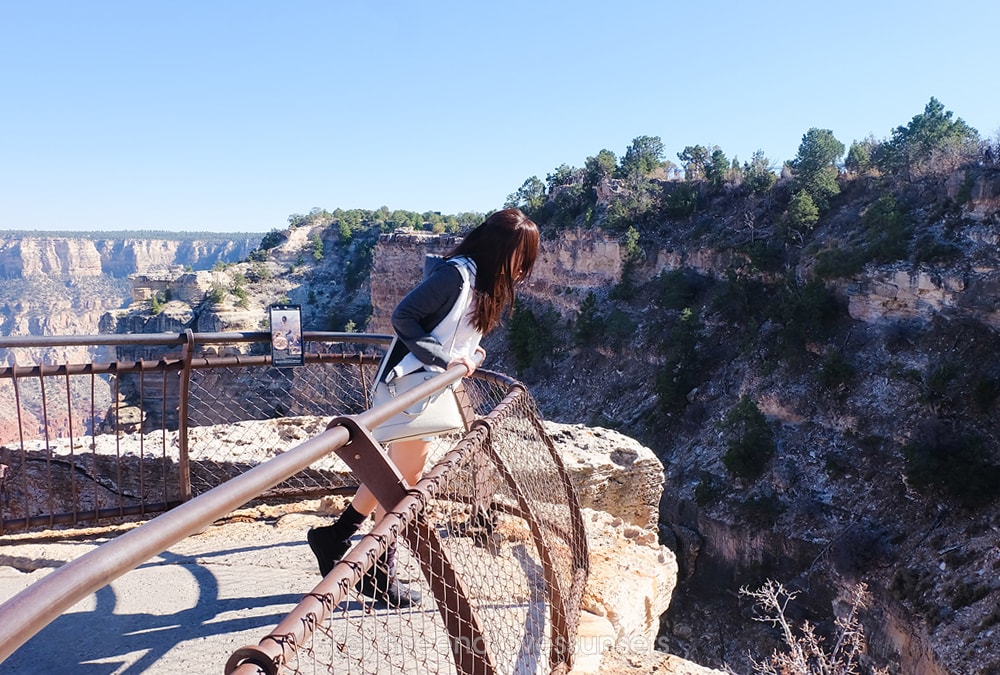 First impressions: Why are there so many people and why are there rails? Where do people take their gorgeous Instagram photos (#whatreallymatters #jk) But after I made my way through and got a good view…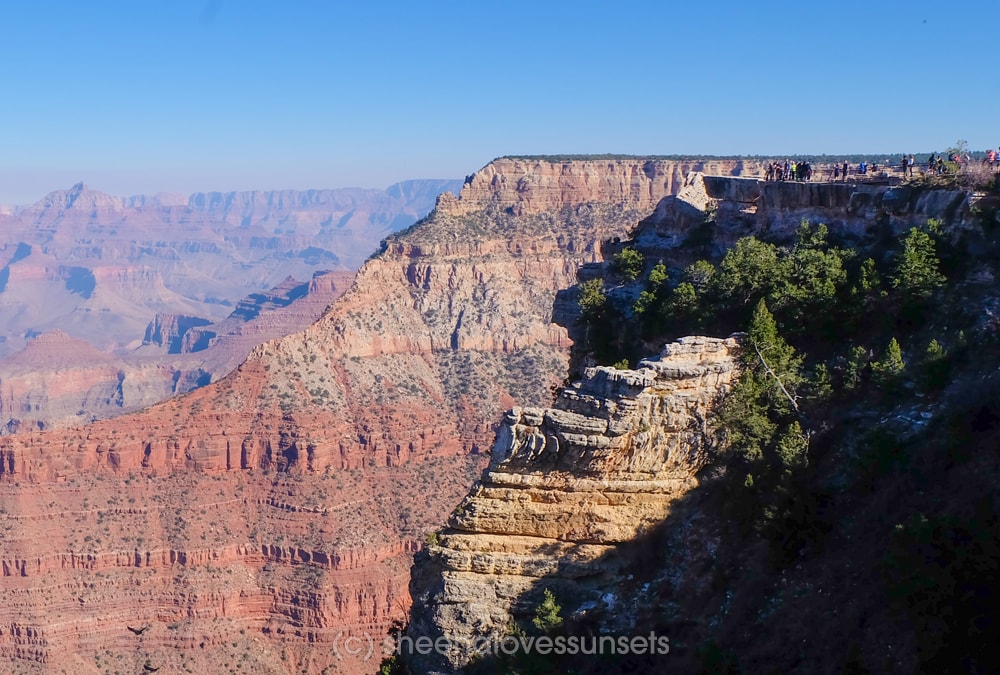 … my, what a view! Now I understand why they call it the GRAND Canyon. Formed by the Colorado River, it is huge and unbelievable. Definitely something you have to see in person. The photos don't do it justice.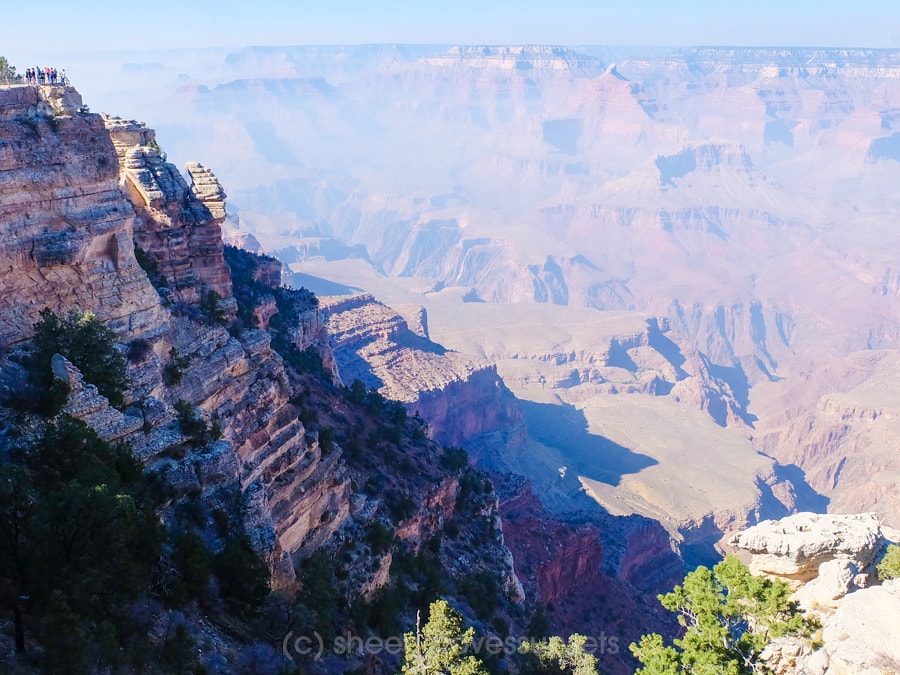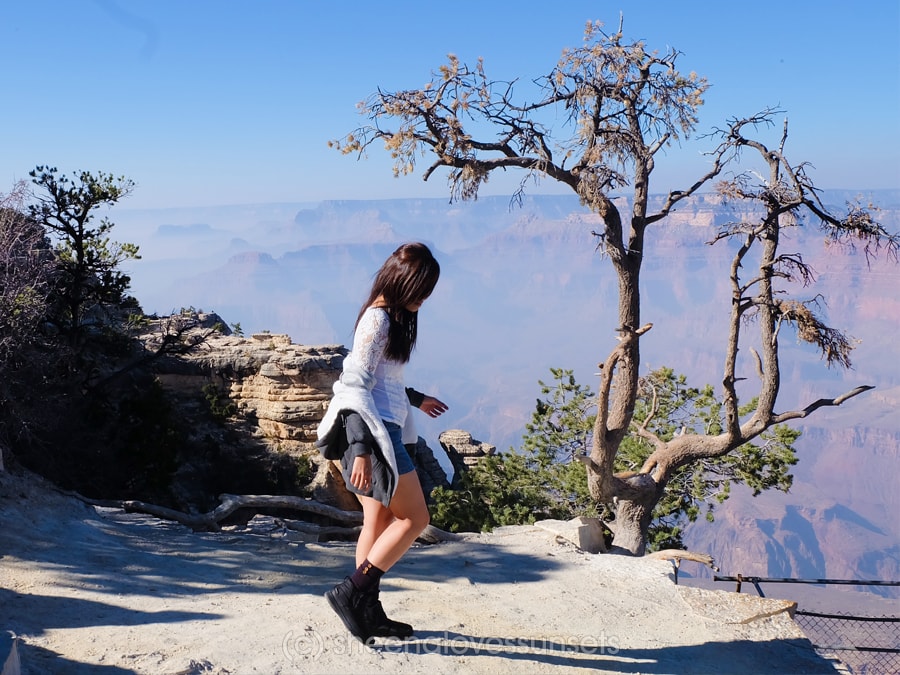 The view from this spot was wonderful but I was looking for a place with unobstructed views. So we set off to look for other spots.
Quest for a better view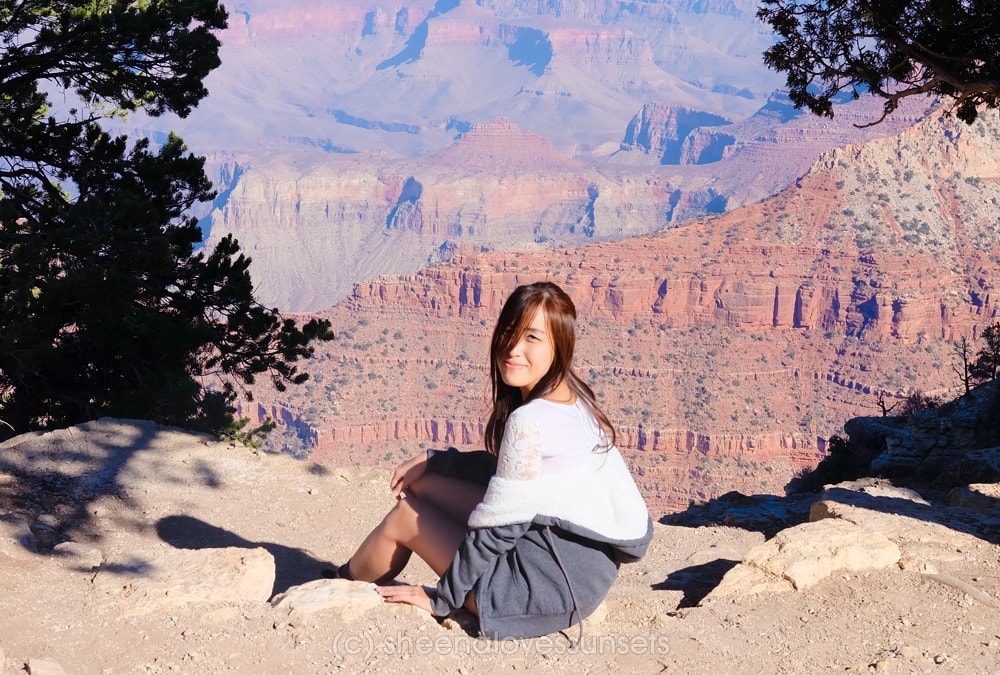 Our guide said we had to be back at the bus after around an hour so we didn't venture out too far. No worries though because just a short walk away from Mather's Point, you'll get amazing views of the Grand Canyon. Just follow the hiking trail so you won't get lost on your way back.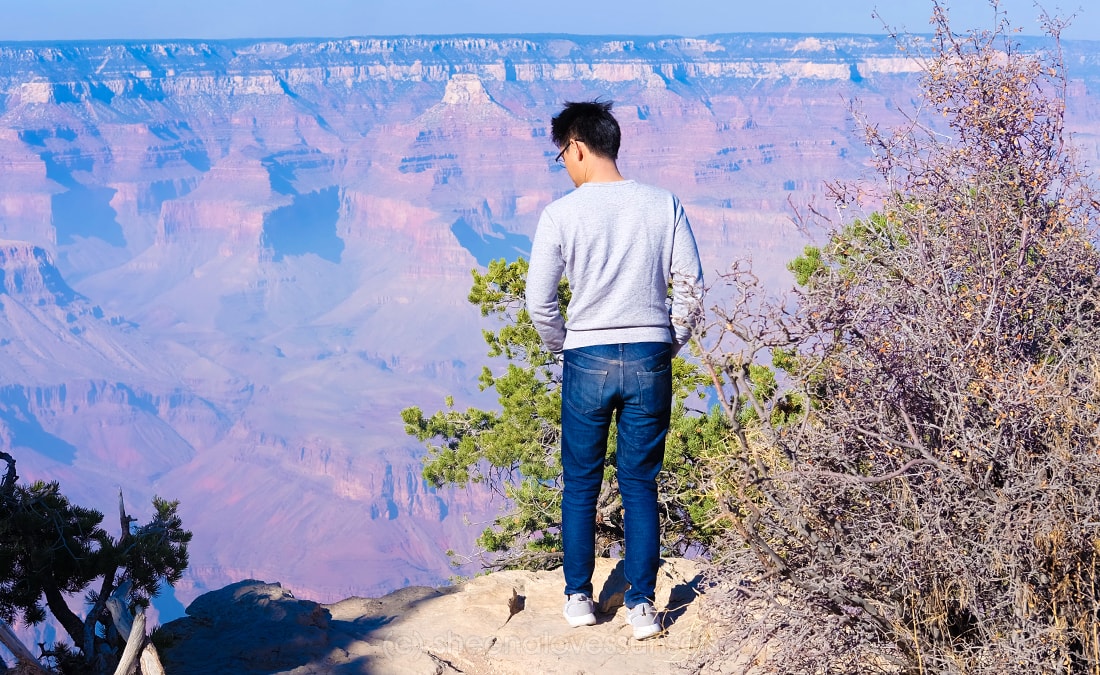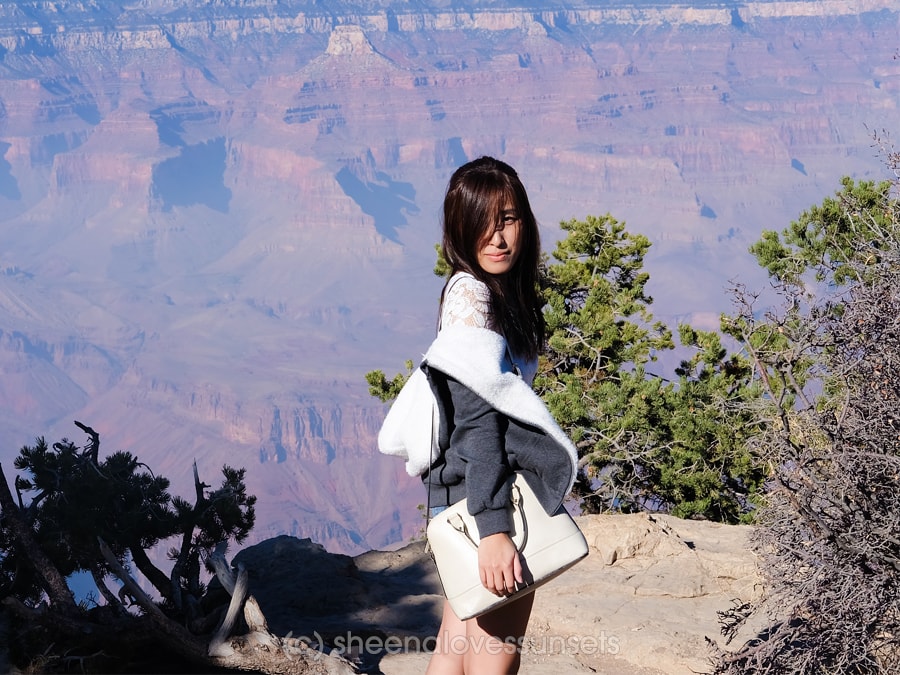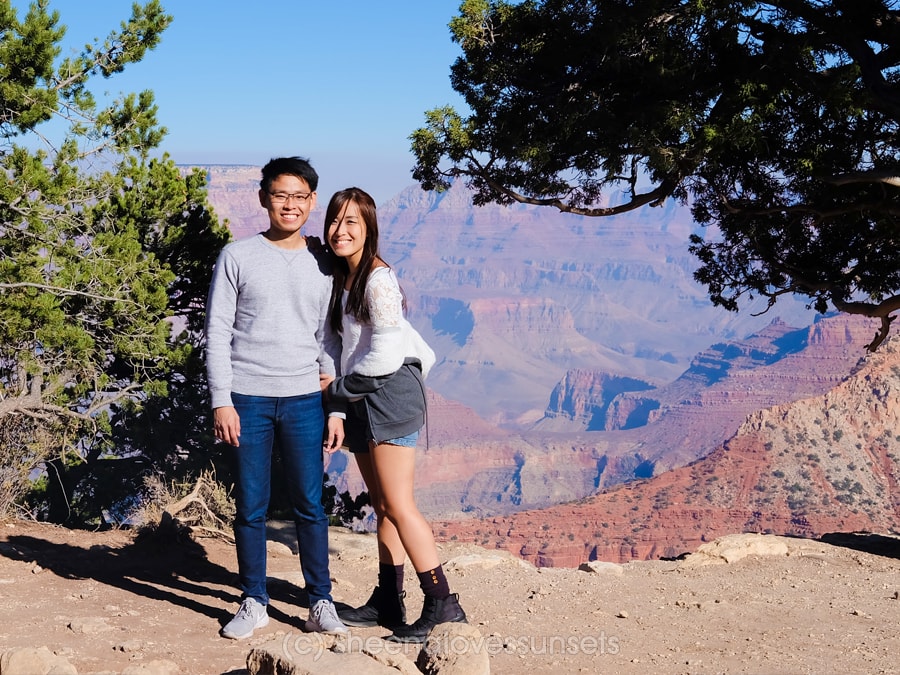 Now, I'm happy because I found a great spot to take photos in. 😉 Hehe.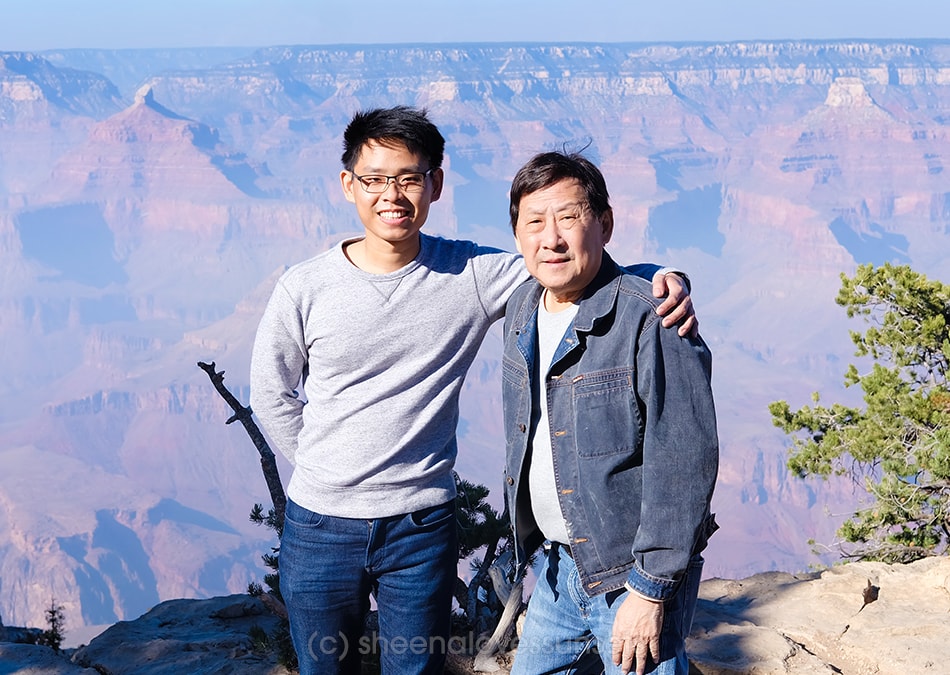 I was traveling with my brother, dad and aunt.
So here's the deal if you're planning to go to The South Rim of The Grand Canyon with older people, a.k.a. seniors (sorry dad); you can make it with not a lot of walking so if you're with people who aren't ready to hike or anything, this is a great tour to bring them in.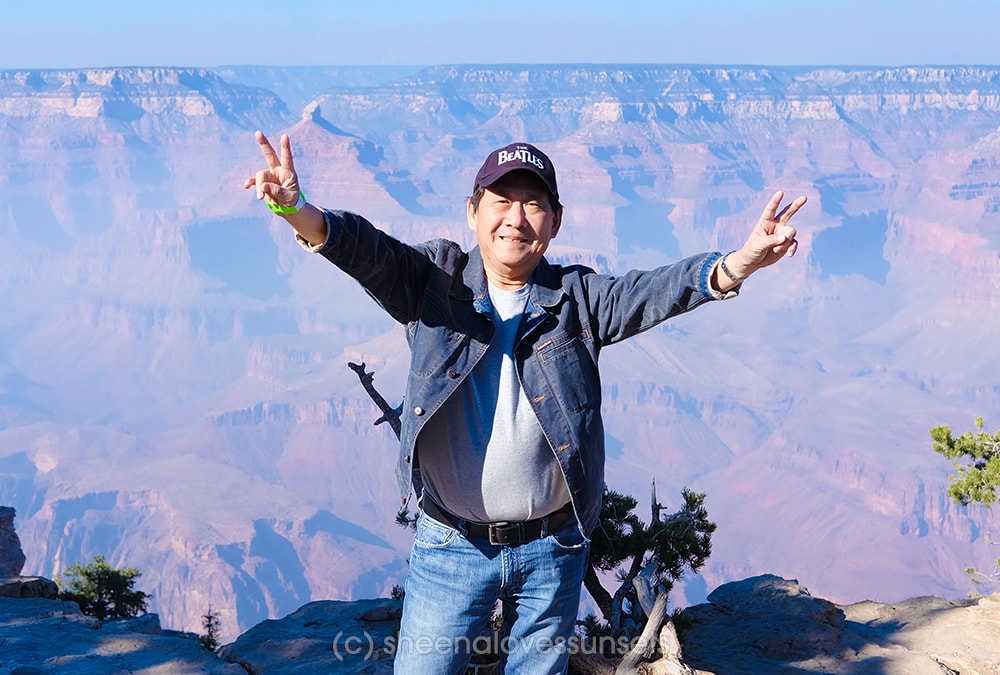 And if they are anything like my dad, a sightseeing day trip like this one would be more than enough adventure. He's just happy to have his souvenir photo. Haha. 😉
Bright Angel Lodge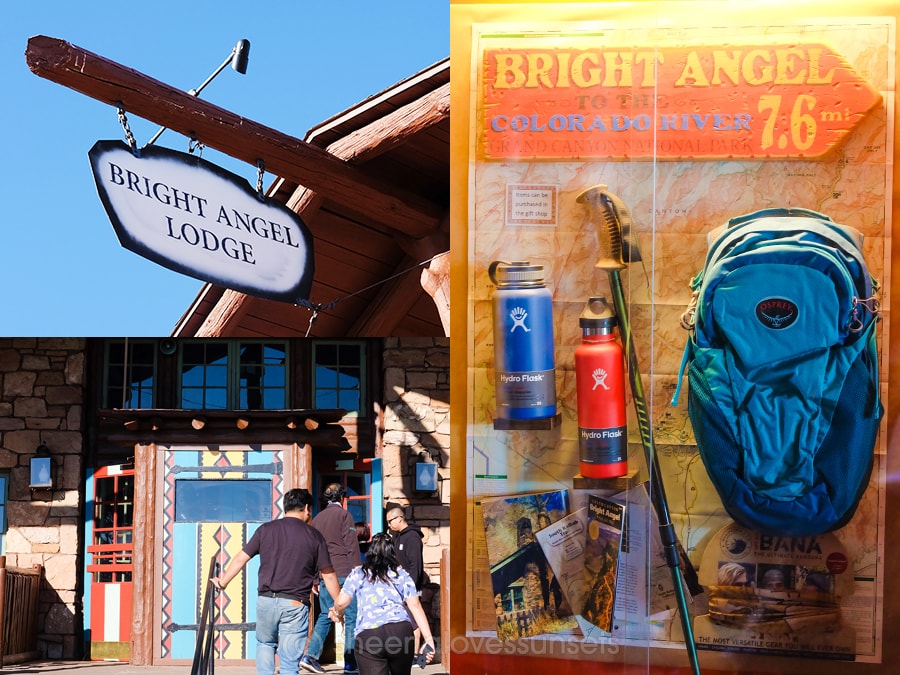 We boarded our bus to travel to the next point (told you it was senior friendly hehe,) which was Bright Angel Lodge. Bright Angel Lodge was designed in 1935 first as a hotel, until it underwent different renovations to become what it is now; a lodge where visitors can spend the night in.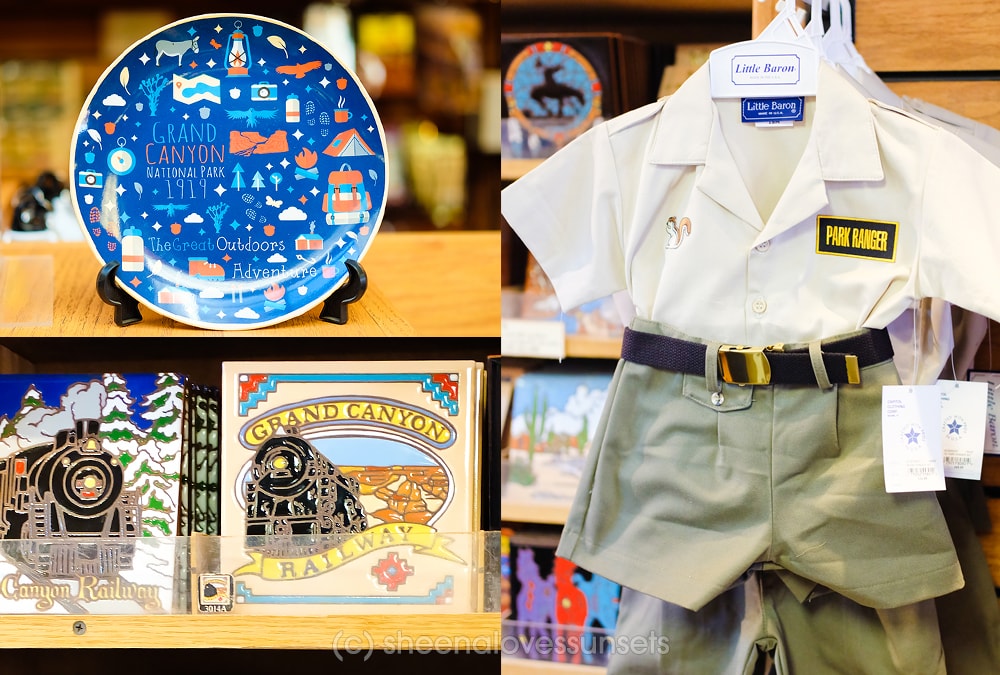 We didn't come here to stay though but instead came for the view and rest stop! Couldn't resist the gift shop and just had to grab something. Haha. I collect children's books and vintage travel postcards whenever I travel so I got some of those to bring home.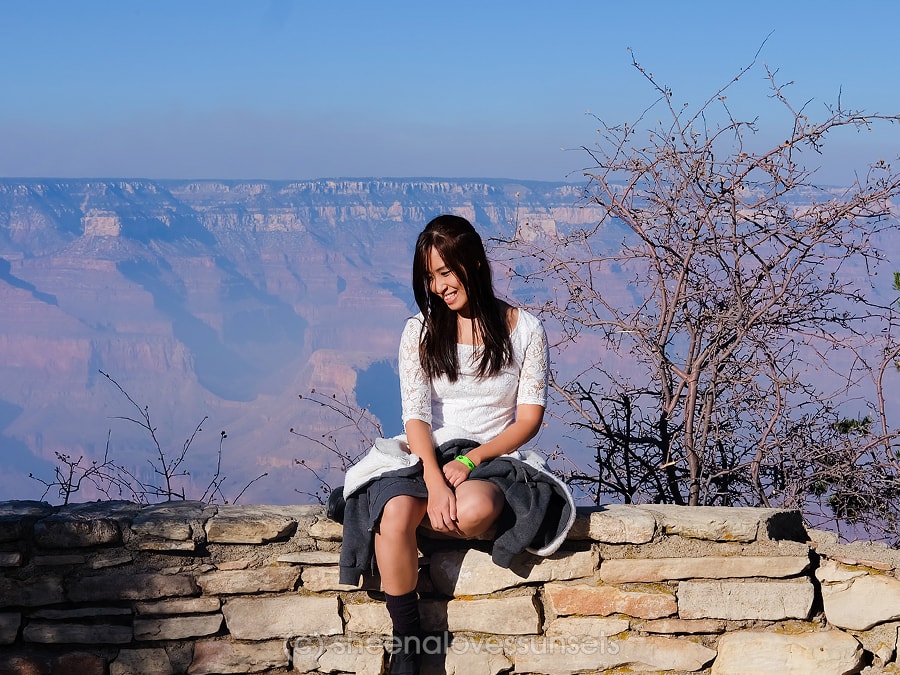 Took this photo just outside the gift shop and before you venture out to the lookout point.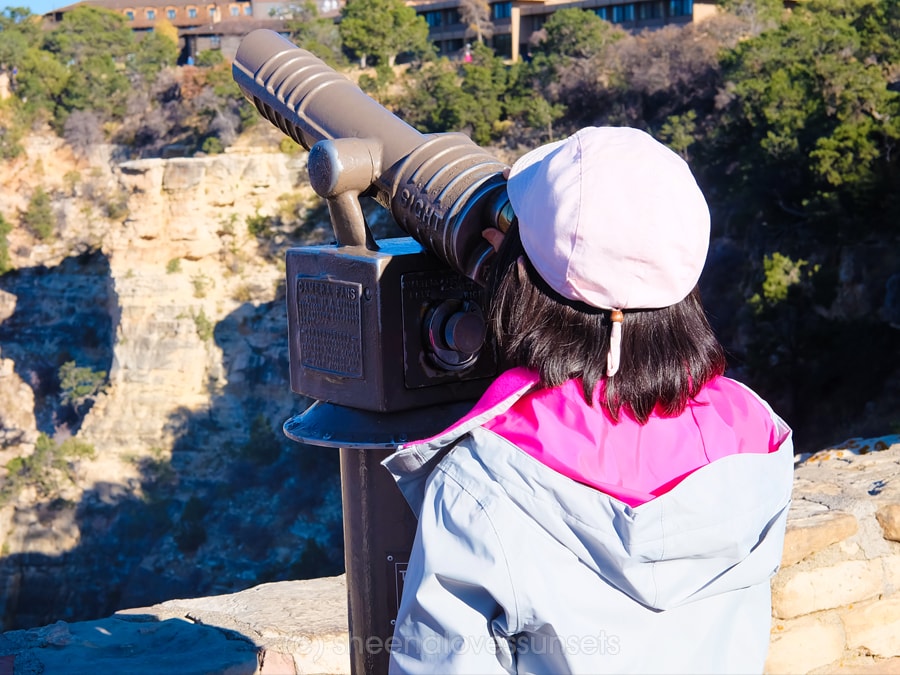 You can also take a closer look at The Grand Canyon if you like!
From the Lookout Point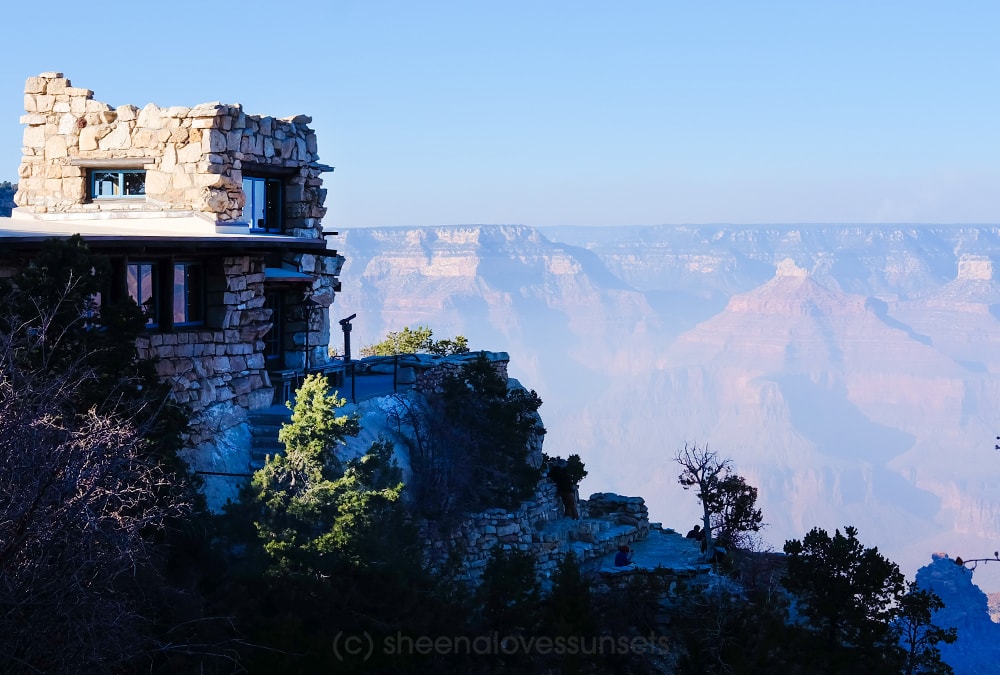 This beautiful lookout point is at Bright Angel Lodge and it was definitely much less crowded than the one at Mather's Point.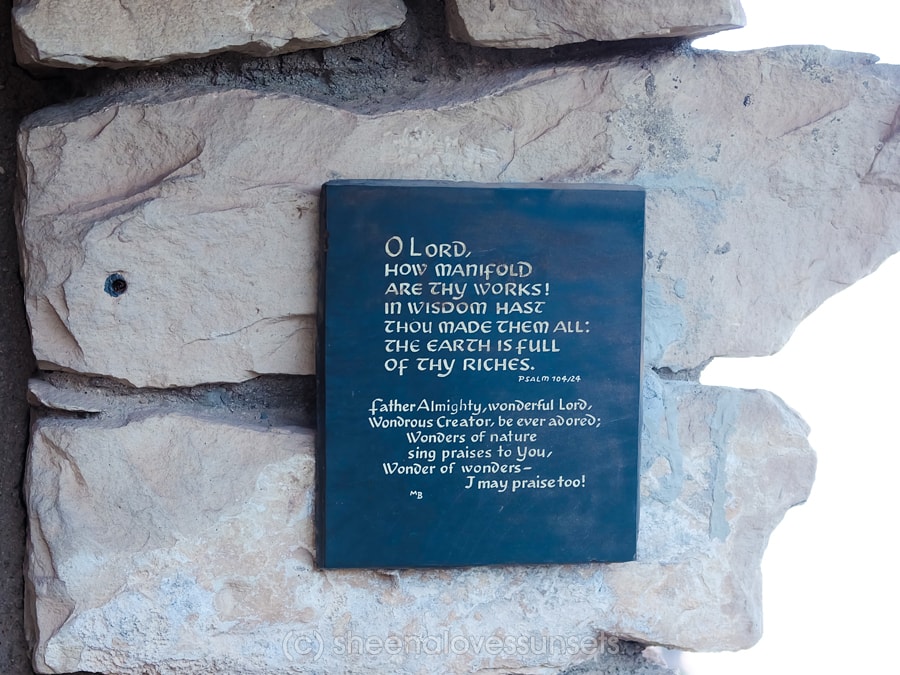 Probably my favorite surprise during this trip was seeing this at the entrance. It really captures what I was feeling as I was looking at The Grand Canyon. How amazing are the works of our God? Nothing compares!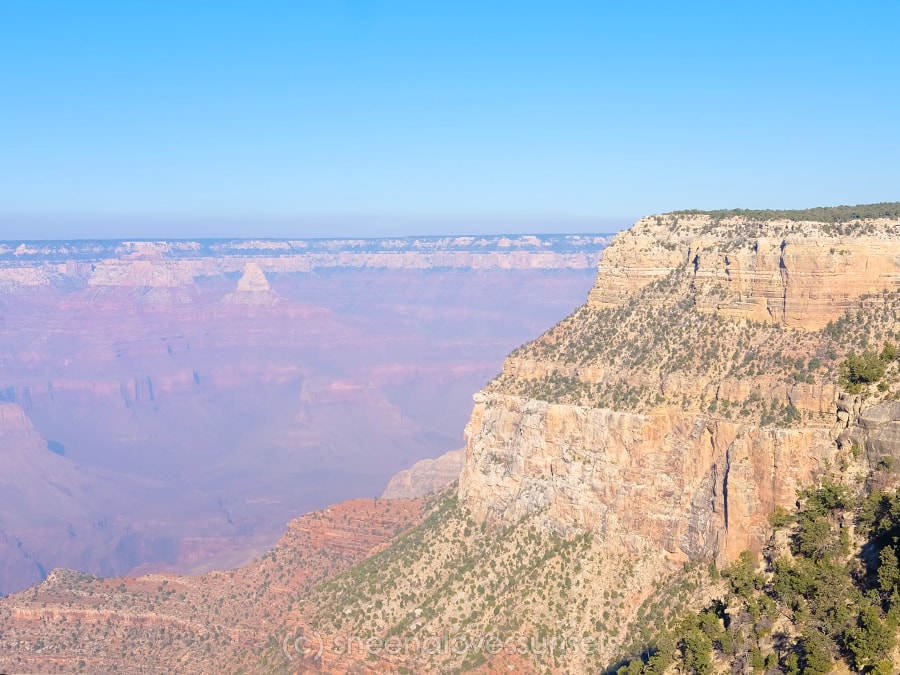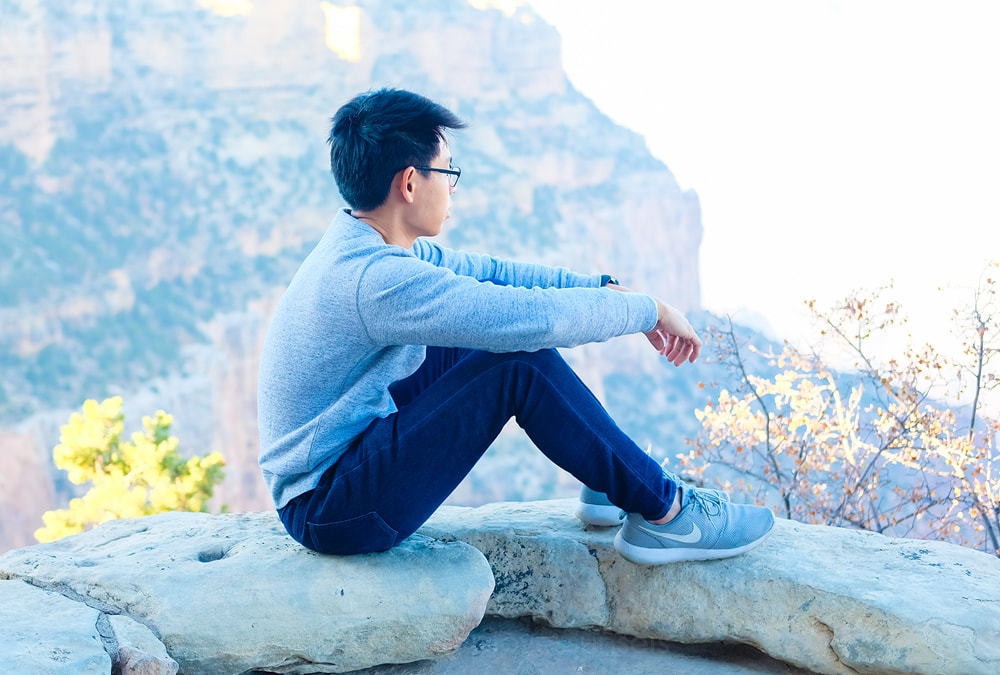 And that concludes our trip! It was a long day but definitely worthwhile to come. A good change from the busy scene at Vegas!
Few things to note:
Our total travel time from the time they picked us up to the time we were dropped back at South Point was around 16 hours! Again though, we were literally the first to be picked up so we really had an early start. Just be aware of that.
If you're looking at really experiencing the Grand Canyon and surrounding areas in Arizona, you're better off taking a trip on your own OR joining a 2-3 day tour. But if all you want is to get a glimpse of The Grand Canyon or if you can't commit to more than a day, then this Grand Canyon South Rim day trip from Las Vegas is perfect for you.
If you are interested to book the same exact tour I got, you can find this tour here at KKDay's website. Have fun!
(NOTE: THIS POST IS ABOUT OUR EXPERIENCE LAST OCTOBER 2017.)