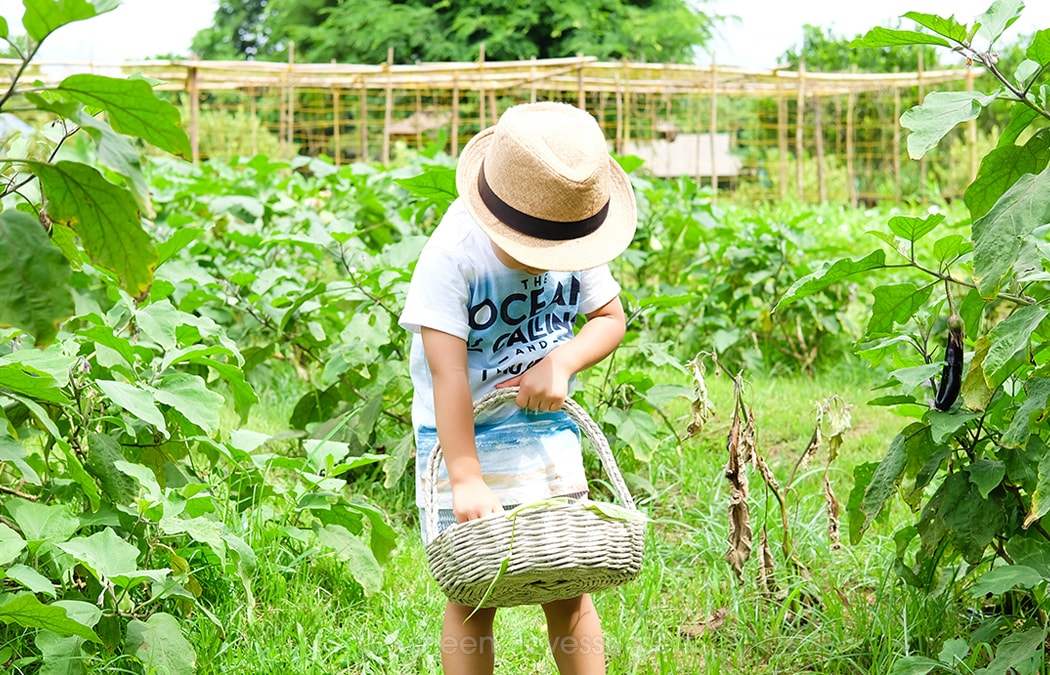 I'm a city girl in general but the city can get a little too busy, even for me. A weekend out of it is always a welcome change. Nuvali may only be an hour away from where we live, but with all this nature, it sure feels like a foreign place!
Here are the highlights of our nature-filled family weekend vacation at Nuvali!
Where We Stayed: Seda Nuvali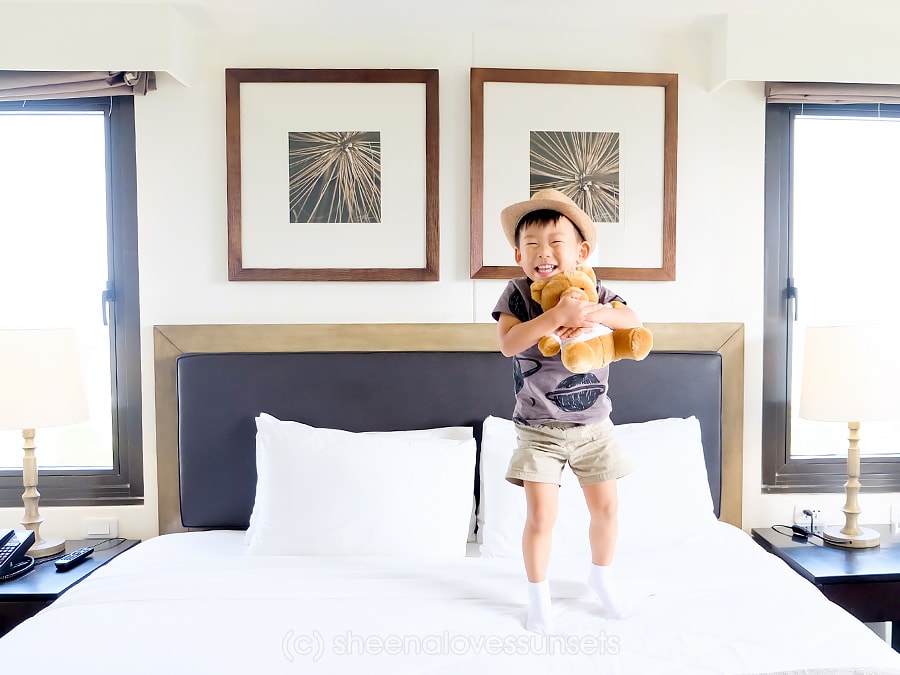 We stayed for 2 nights at Seda Nuvali and it was really the perfect place to stay in for our weekend vacation. It's situated at a great location; just near all the places we visited. Not to mention, they even offer free shuttle services to nearby places like Solenad, where the fish feeding and boating area were.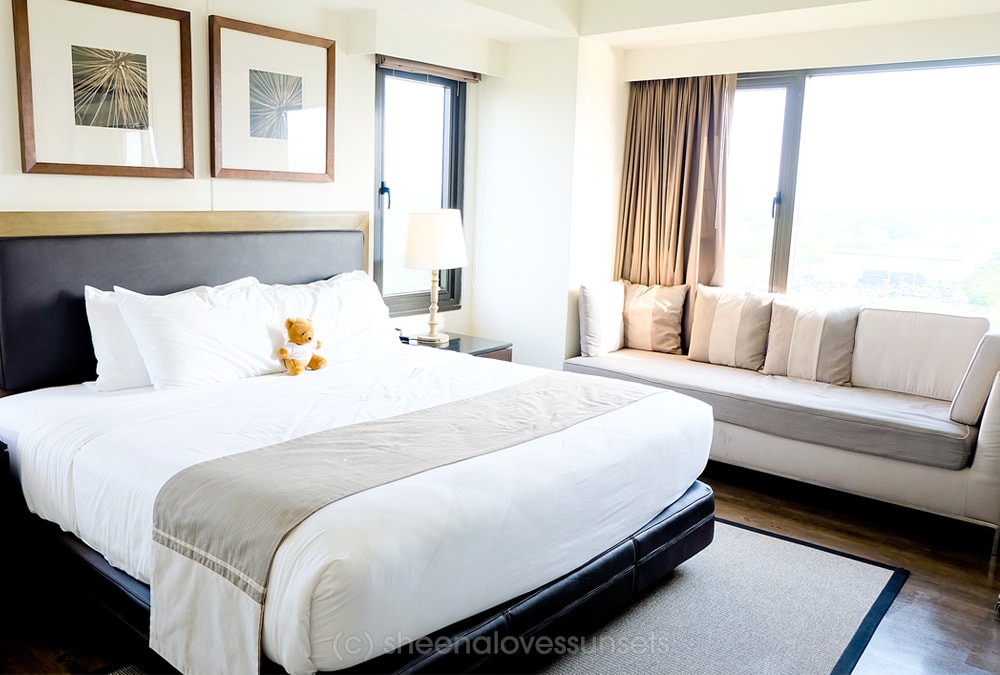 The room was spacious as well; big enough for Luke's playard to fit and the couch could even comfortably accommodate an extra person (or you could just request for an extra bed, as there's space enough for that as well!)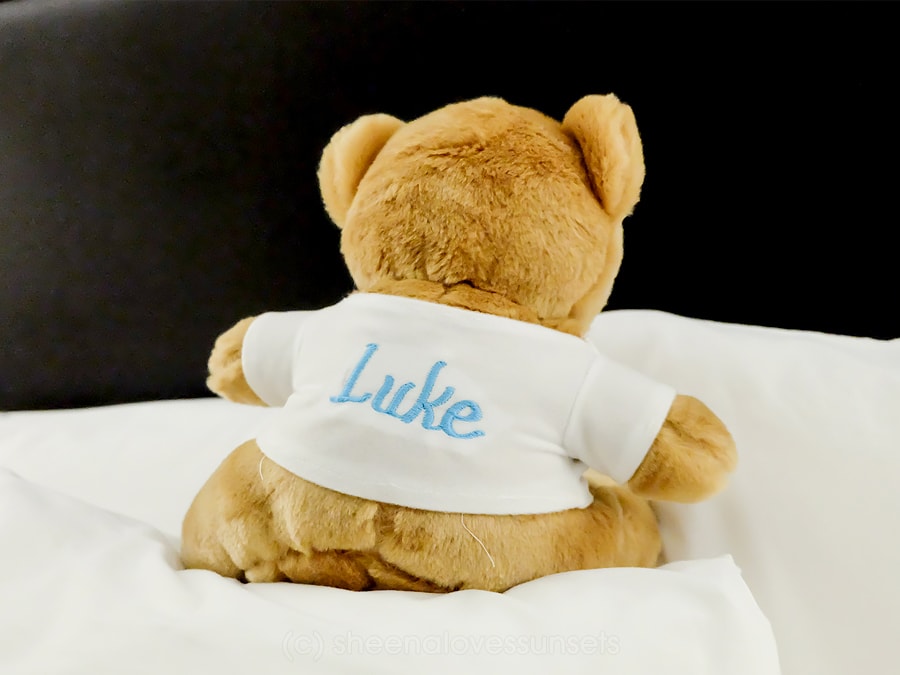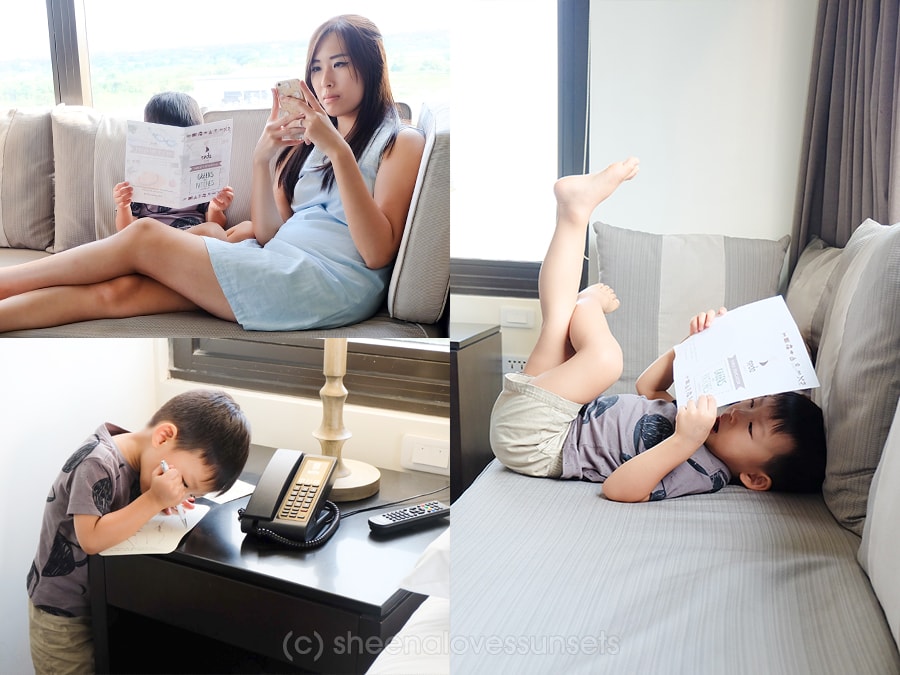 As you can tell, we settled in quite nicely pretty quick. Here he is reading our itinerary. Hehe. One of the things Luke loves doing whenever we're at hotels is to "write a letter to the hotel" to say "Thank you." 😉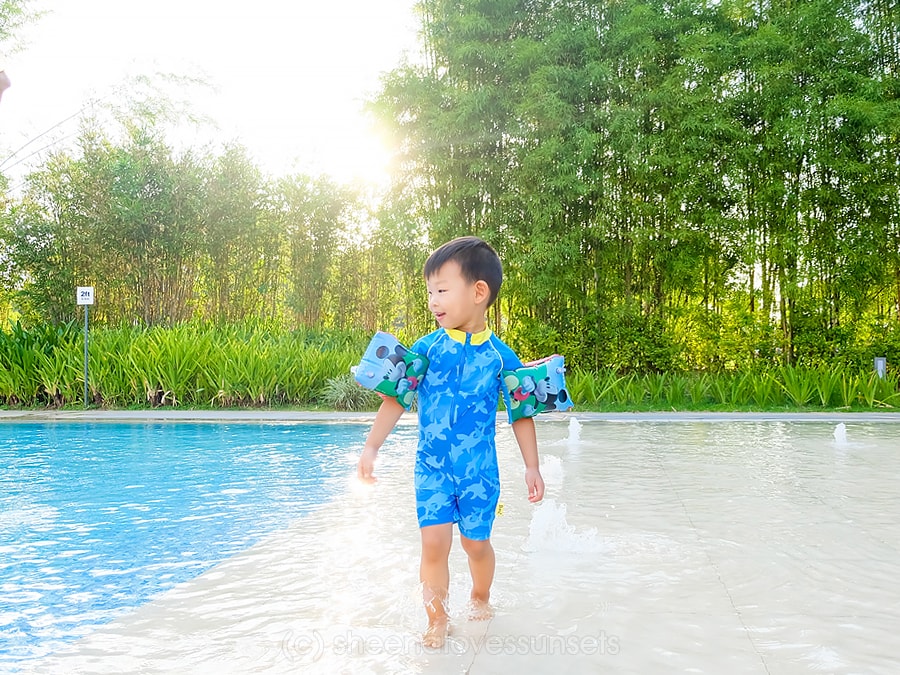 Staycations are really a time for relaxing and just chilling, so that's exactly what we did. We spent an afternoon enjoying Seda Nuvali's pool. Luke enjoyed this area where he could walk amongst the "mini fountains!"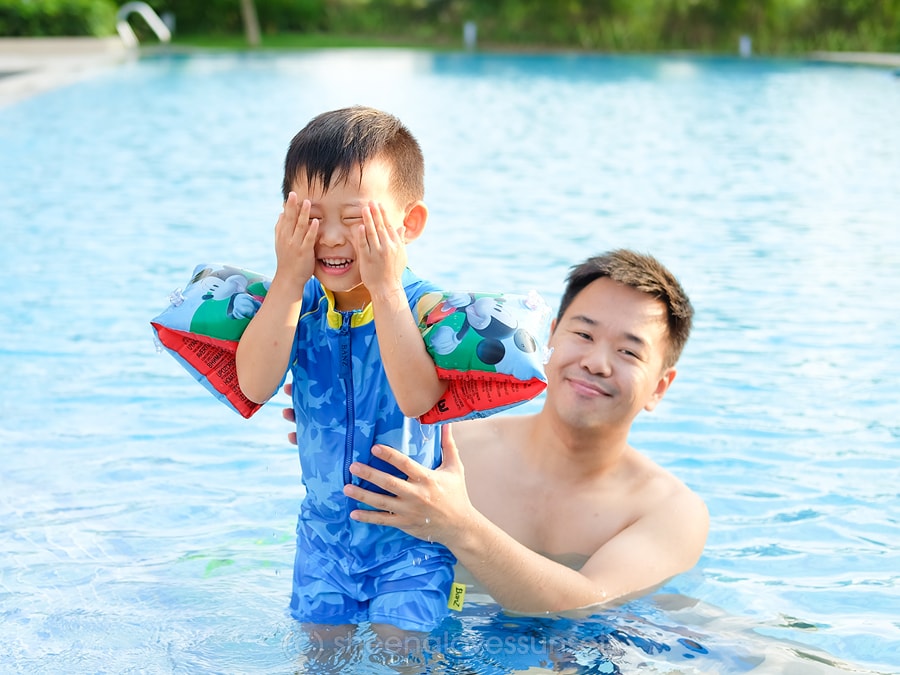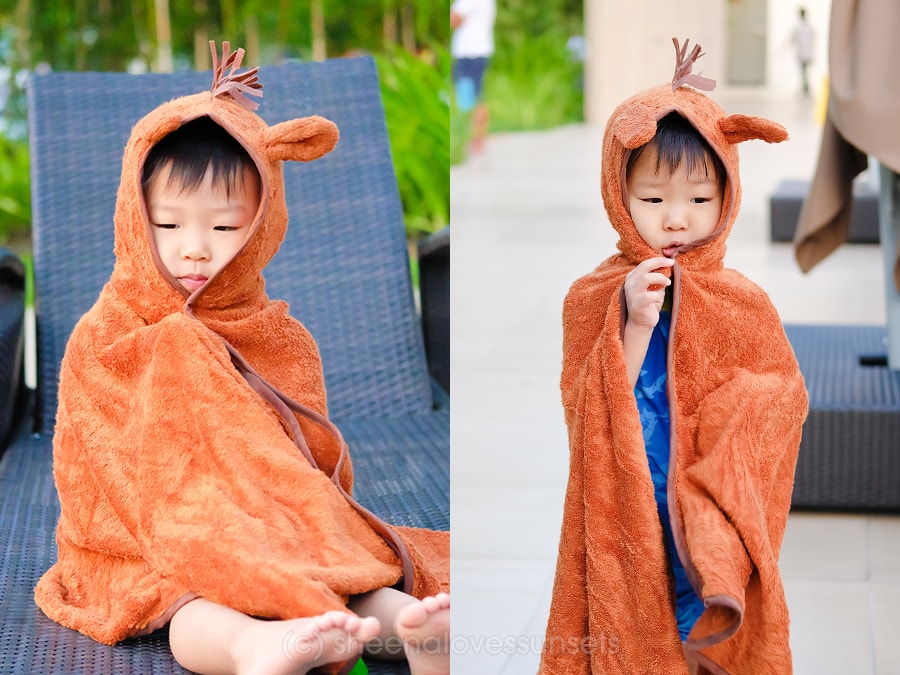 And when it was time to dry up, Luke turned into a horse! Just kidding…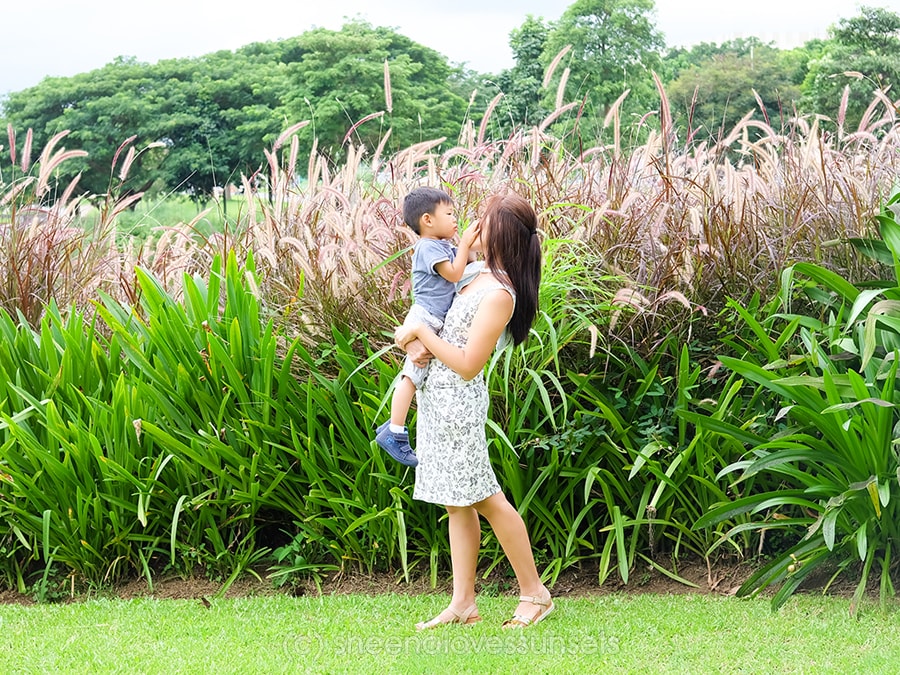 Seda Nuvali was built with lots of greens in mind. It was so refreshing all around and as Luke would attest, it was the perfect setting for…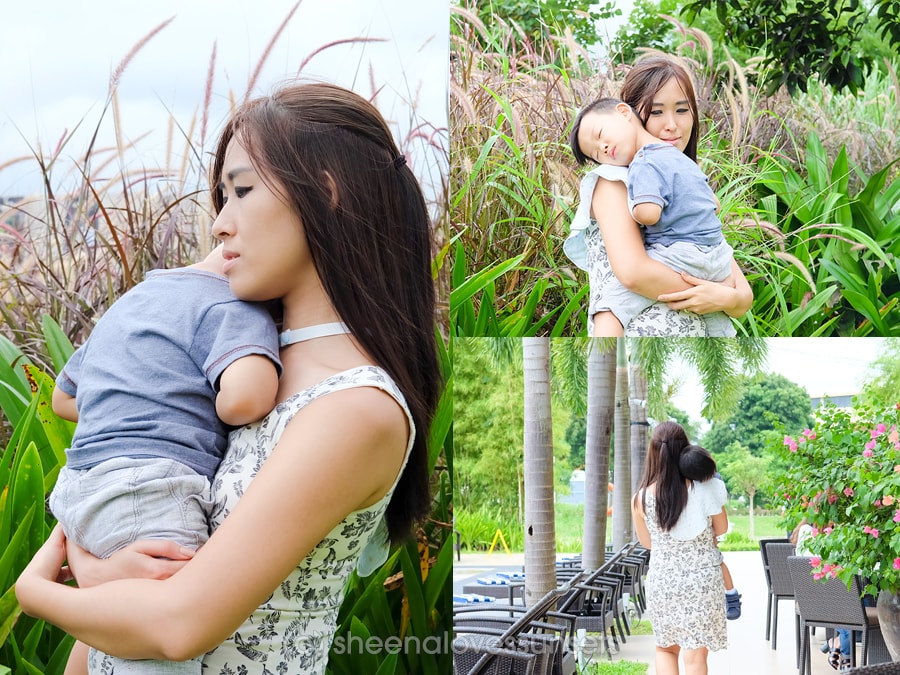 … naptime. Hehe. True story: couldn't make him fall asleep in the room because he kept wanting to play on the bed so I brought him down at the pool area and, whoosh. Asleep in no time!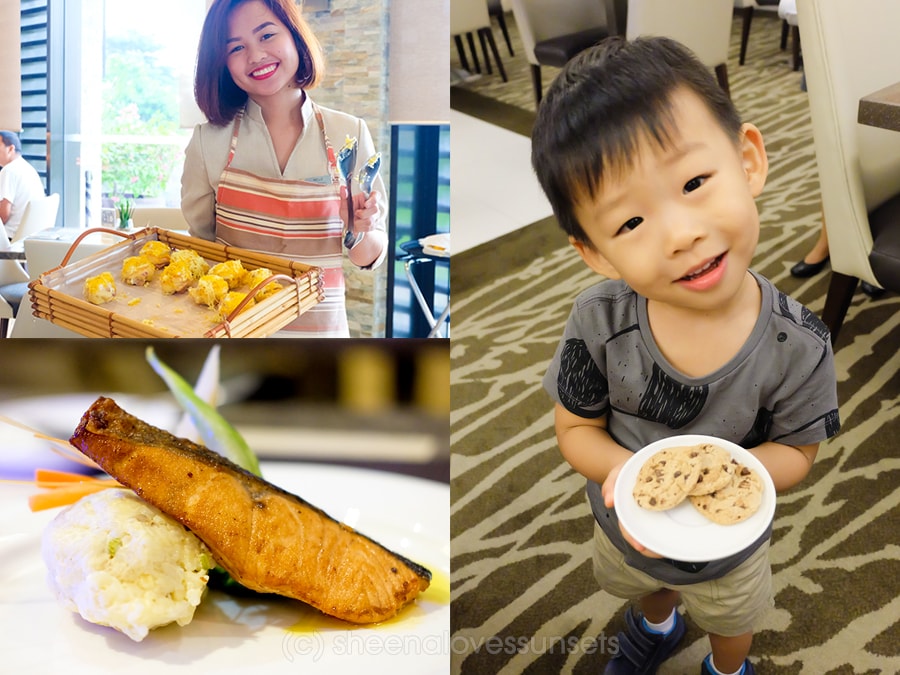 And as with any staycation, we ate and ate and ate our heart out. Breakfast was made delightful with freshly baked ensaymadas, we enjoyed lunches and dinners with beautifully done dishes that both look and taste perfect and Luke was extra happy with these special cookies that the staff handed him when we dropped by the club lounge. Hehe.
Picking Vegetables at Greens and Patches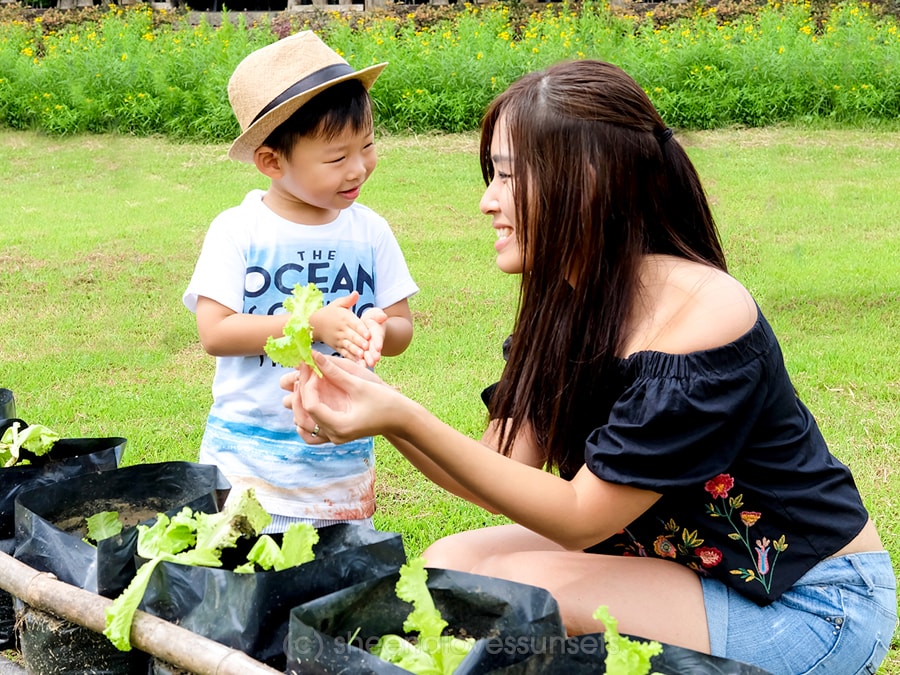 One of the best things we did during our stay was our Greens and Patches experience! Greens & Patches is a 3-hectare tree nursery and demo farm in Nuvali. You can learn about planting vegetables and fruits, pick them yourselves and even go fishing!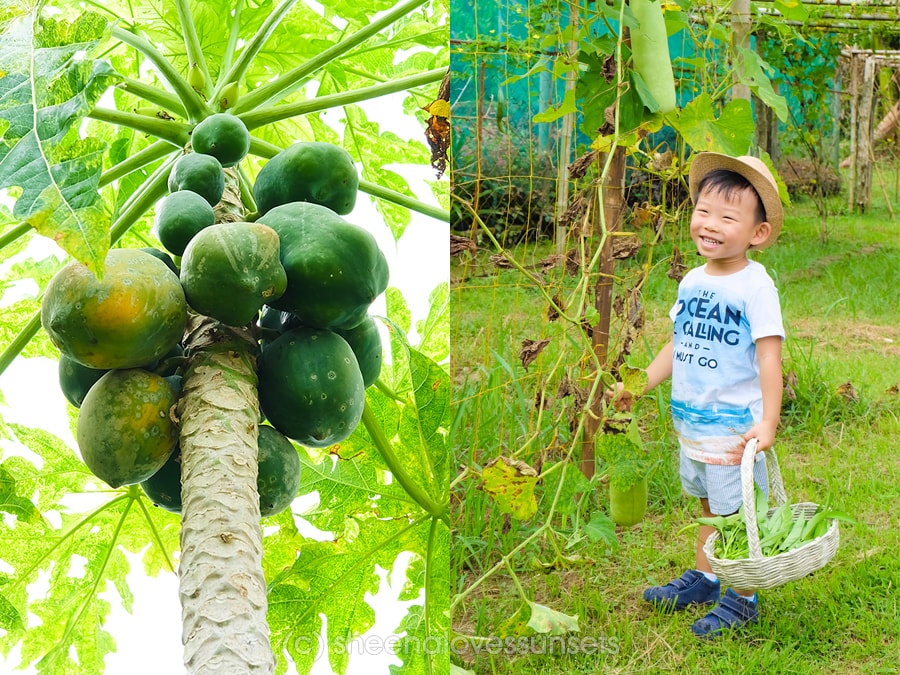 It was Luke's first time to pick his own vegetables and the little farmer had a lot of fun! Here he is laughing because he couldn't pull that giant upo out. Haha!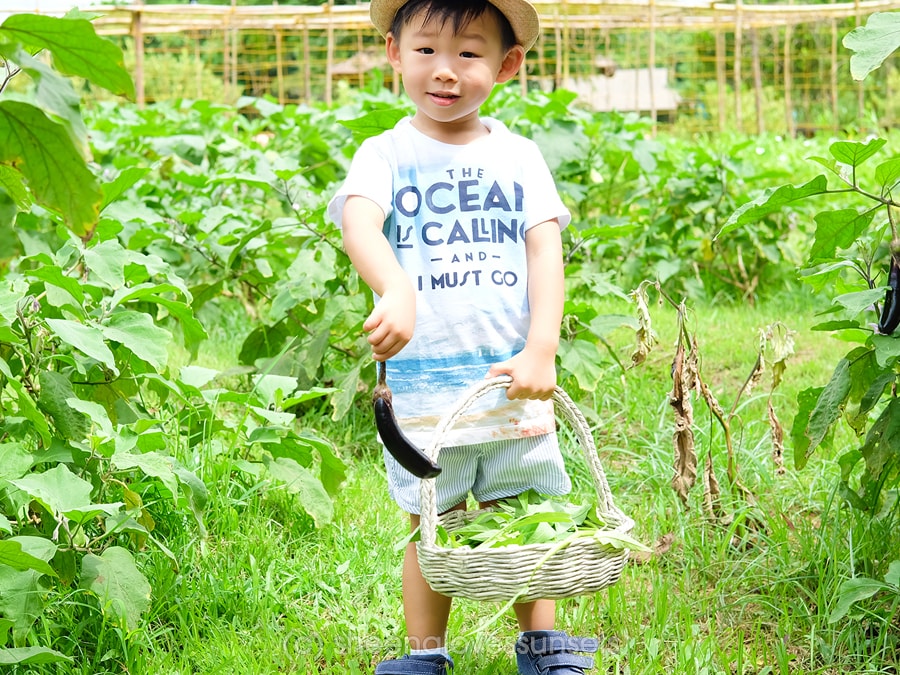 Our guide said almost all the vegetables mentioned in the song Bahay Kubo are here! It was a fun way to learn and see where his food comes from (and even, what they look like before they're cooked!)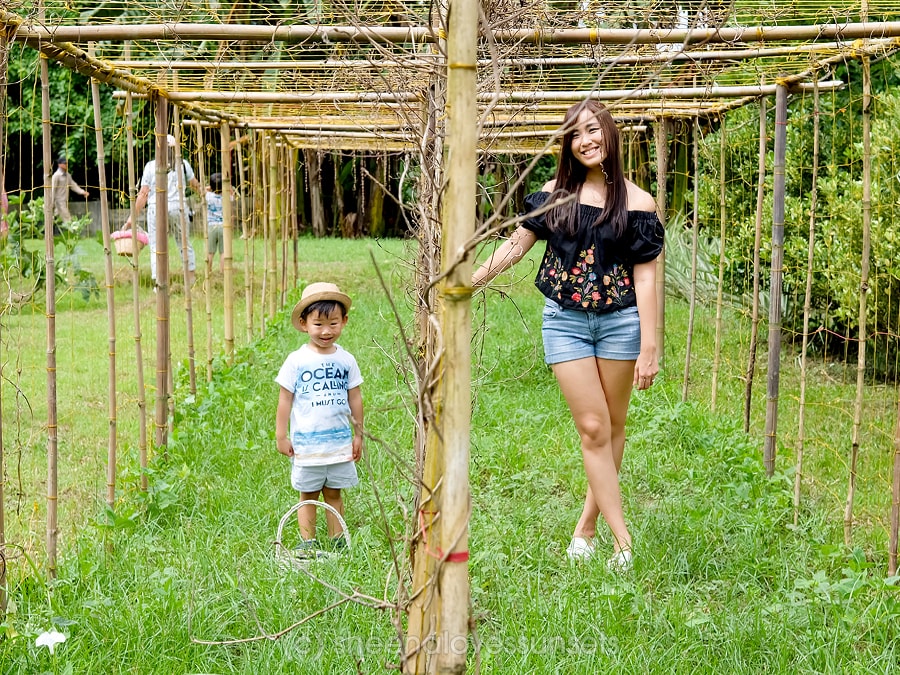 If you're doing Greens and Patches with kids, make sure you bring a hat and lots of water. Don't forget your sunblock too because it can get really hot!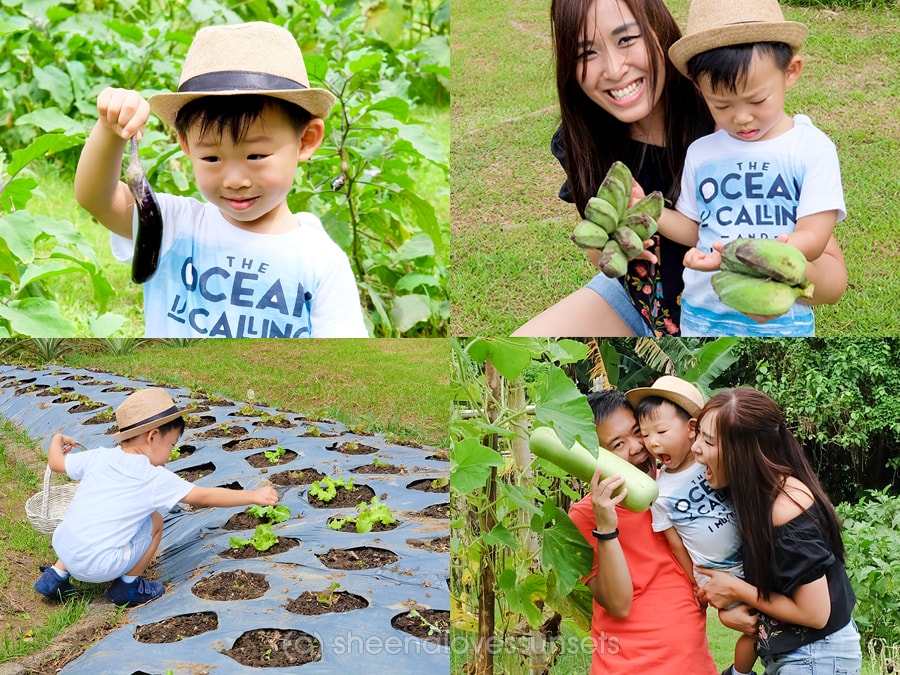 It was such a treat to experience something like this first-hand. Luke had a great time walking around and seeing all the different plants, fruits and vegetables.
(Explanation for his expression on the photo where he was holding the saba banana: he was so annoyed that it was sticky. Haha!)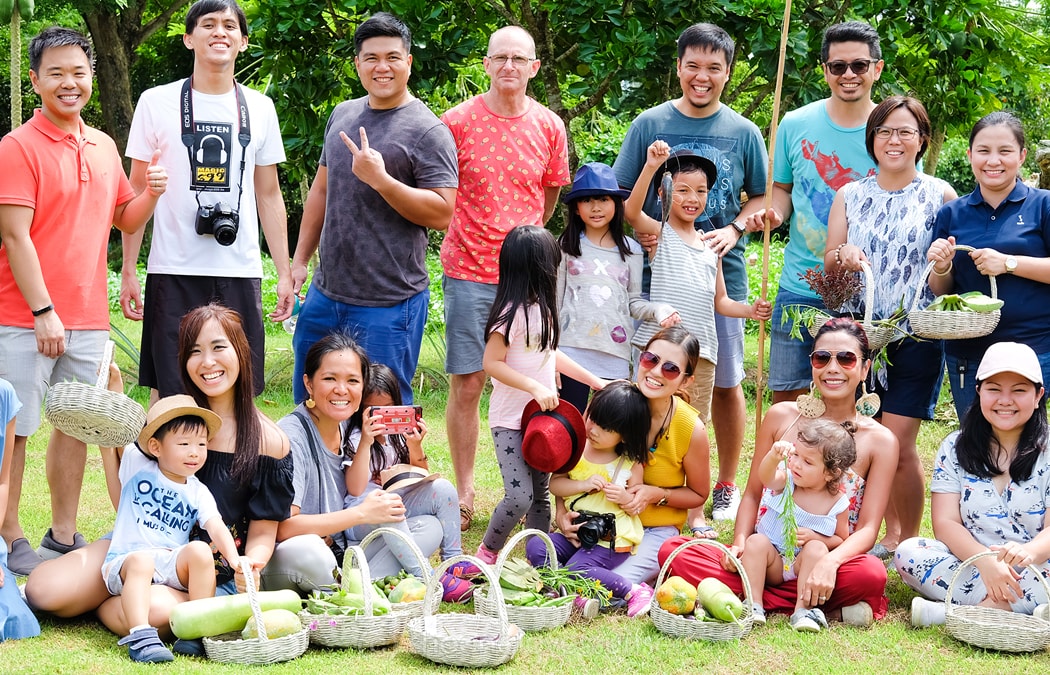 Here we are with the rest of the crew; fellow bloggers and their beautiful families. I had my 35mm lens locked in when I gave my camera to our awesome Instagram yaya (hehe) so she wasn't able to get everyone in the shot. Huhu. So sorry.

As a bonus, we came home with all the vegetables we picked. Yay!
"Pretend Fishing" at Greens & Patches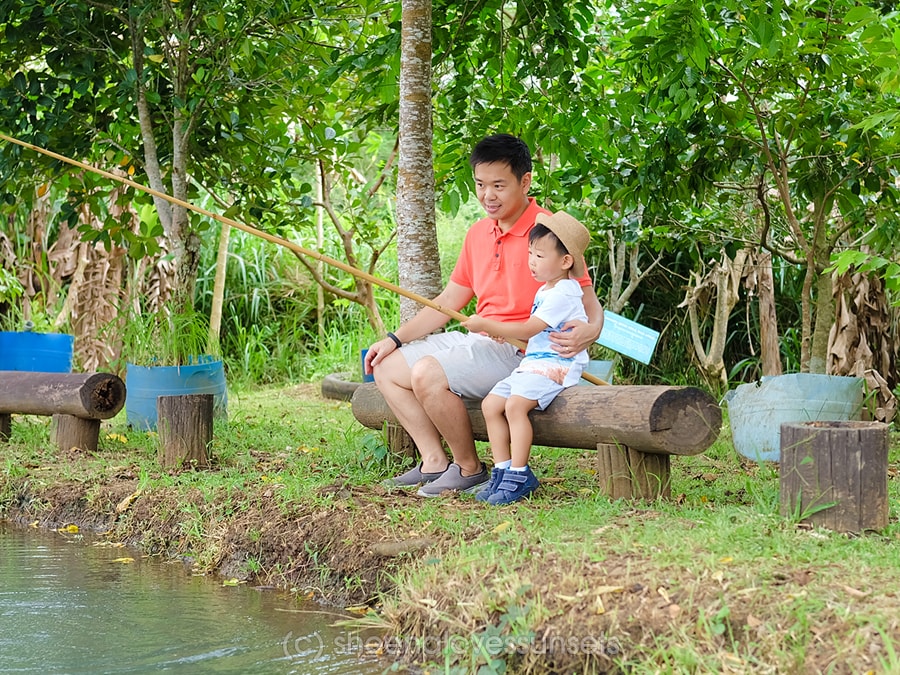 Greens and Patches also had a space where you can try to fish. So in true countryside fashion, we tried fishing with a fishing rod! (Mor absolutely loves this father and son photo of him and Luke, which is why I'm sharing it. Hehehe.)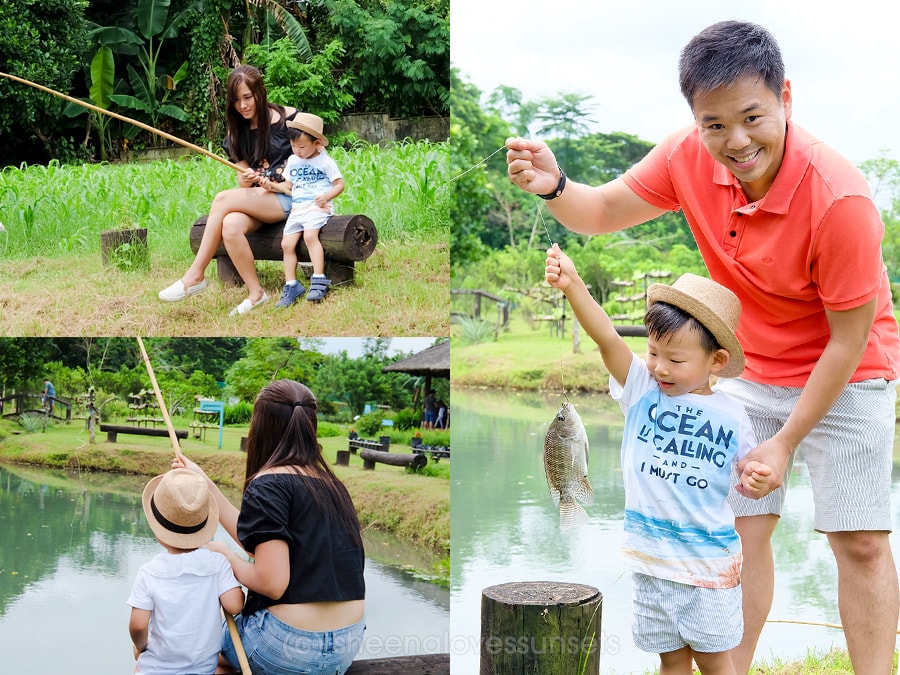 And after a few minutes of waiting… TA-DA! Look at that fish! Haha but just kidding. He didn't really catch that. One of the other kids did and we just borrowed the fish for photo purposes. 😉
Fish Feeding & Boating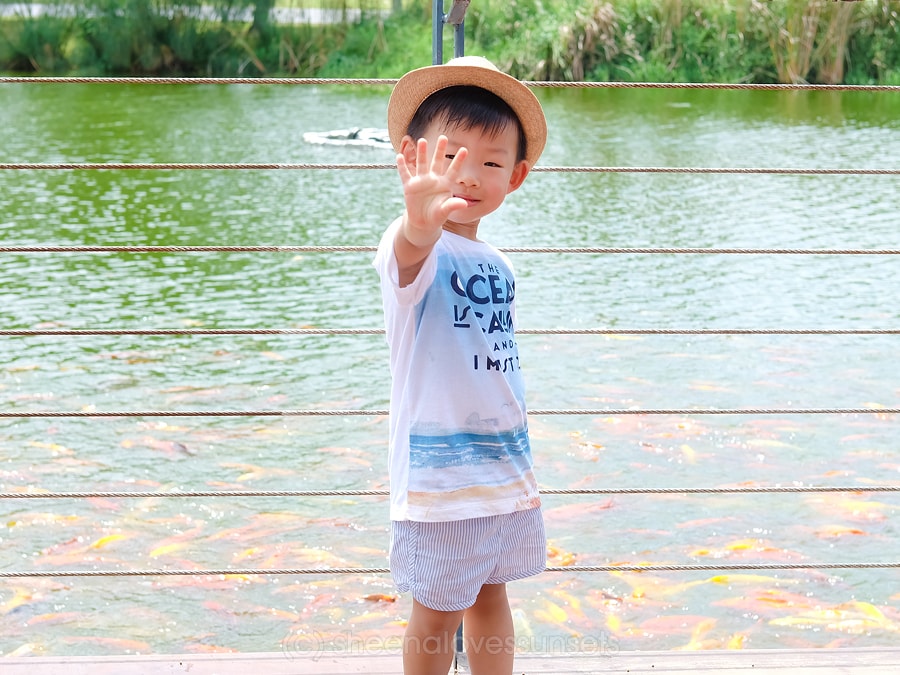 If you've ever been to Nuvali, you know that fish feeding and boating are two of the must-do's in this area. We've done this already before but Luke was still younger then and I don't think he remembers. But this time, boy, was he so excited about the whole thing.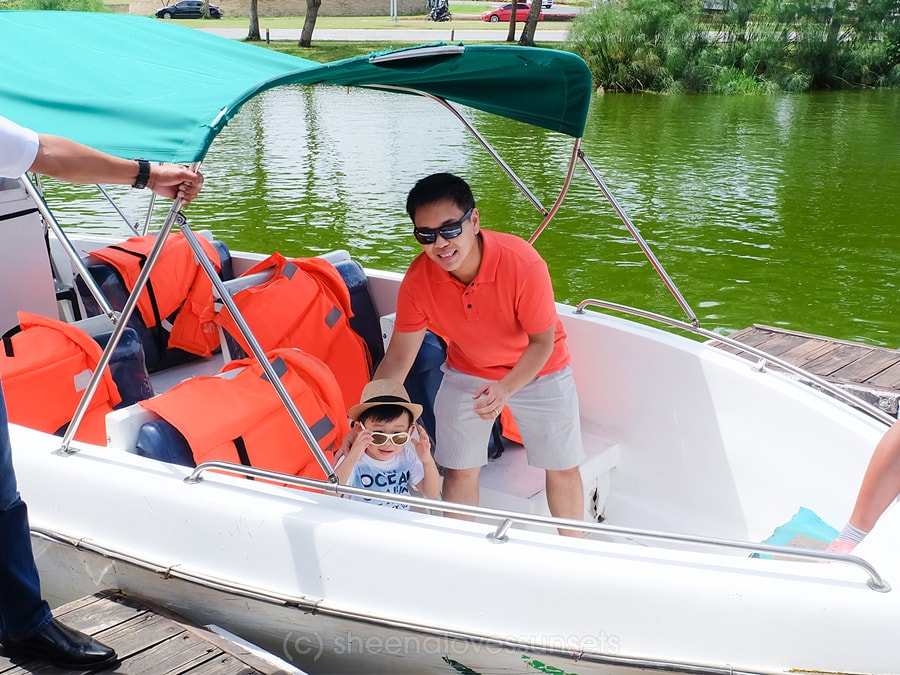 Ready! It was noon and so by this time, it was scorching hot. But Luke didn't care. He was doing fine with his hat and shades on. 😉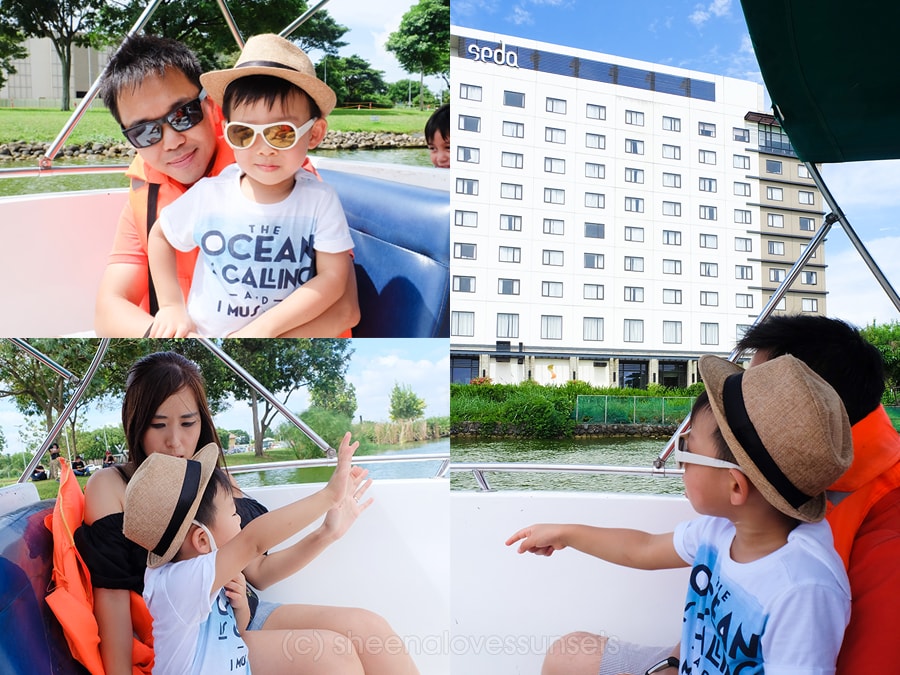 I love the spaces in Nuvali were designed with nature in mind; something that's really missing in Manila. I wish we had more parks, open spaces and greens!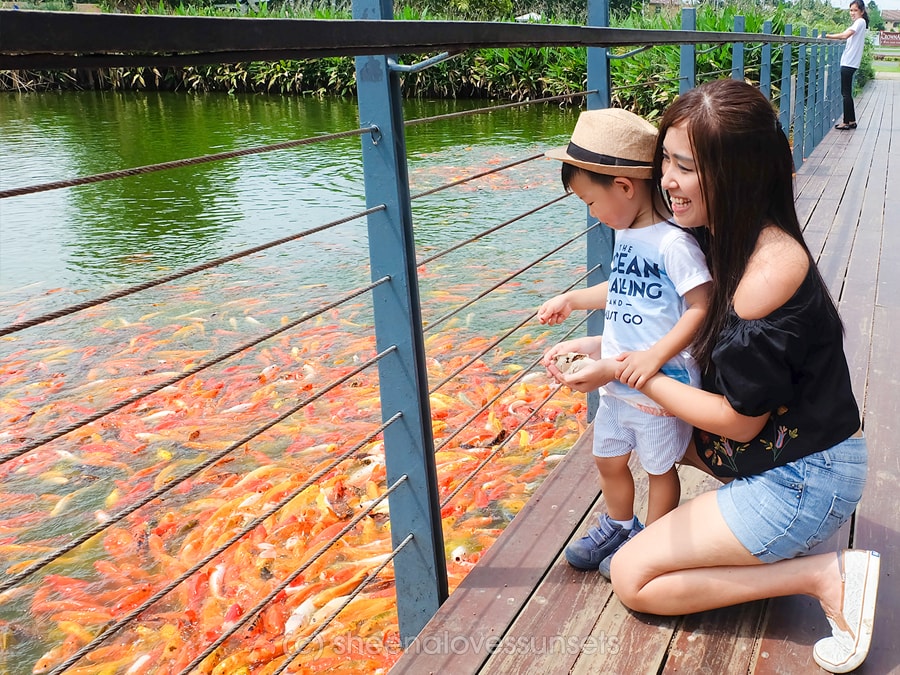 After our boat ride, we went to visit our Koi friends. We made up stories as we fed them too. "It's lunch time for these fishies and they want to eat… AVOCADO! Malunggay! Chicken!" *throws fish food as all the Koi's swarmed like crazy
 Salad Making Showdown (Haha)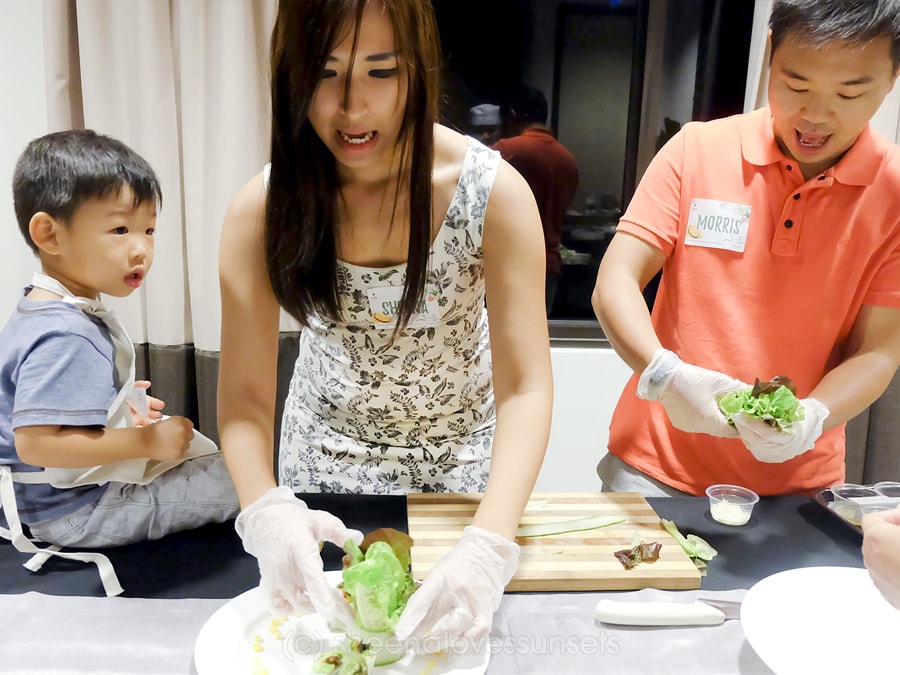 On our last night, we had a salad making showdown organized by Seda Nuvali! For those of you who know me, you know that I am the worst in the kitchen. So it was up to Mor to carry us both through this contest! Hahaha.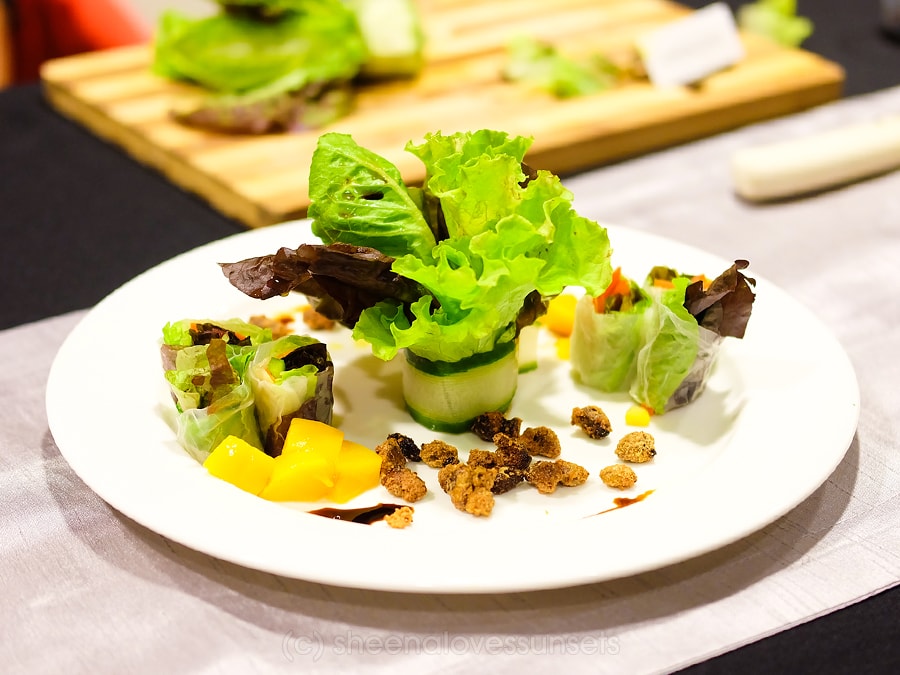 And boy, did he put his Masterchef hat on! Haha! This is our final plate which won best in presentation! Yahoo!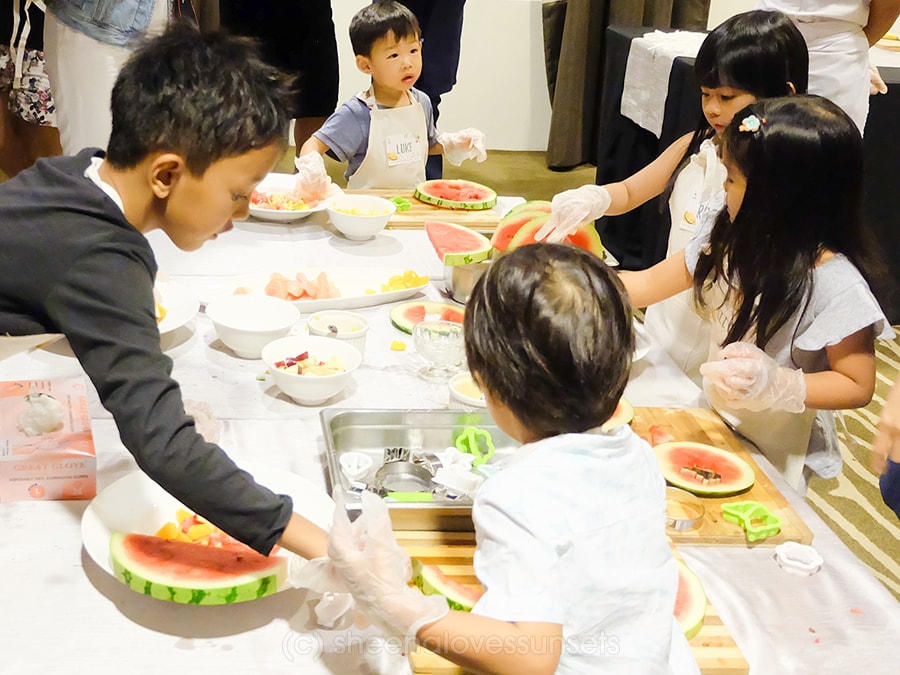 The kids had their own salad-making activity, but was much less competitive. Haha. Look at all these cuties with their adorable cookie cutters and oversized gloves.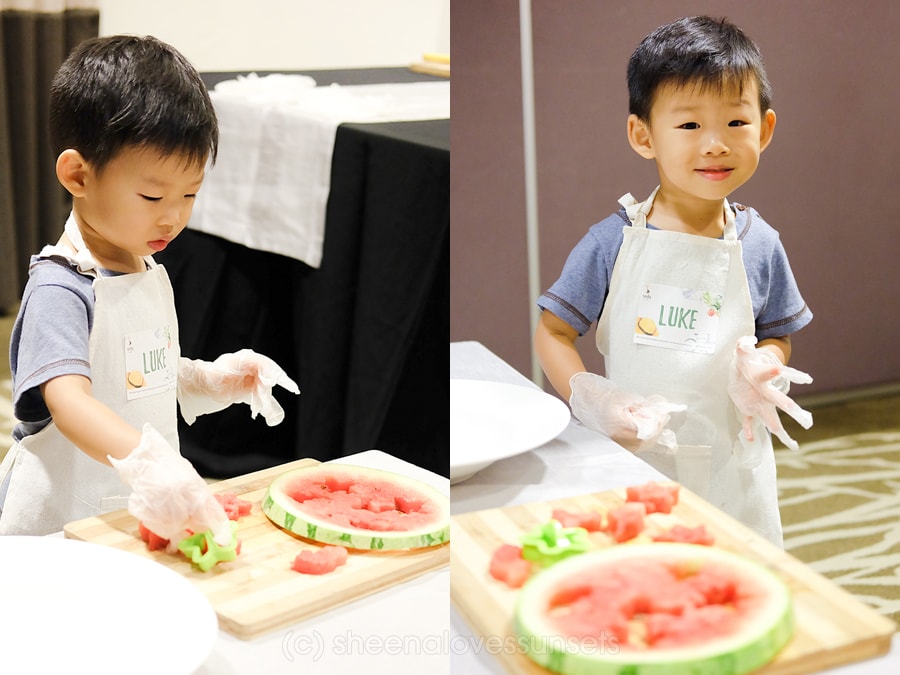 Yaaay! Good job Lukey! He made watermelon stars for his salad. Hehe.
Final Thoughts & Recommendations: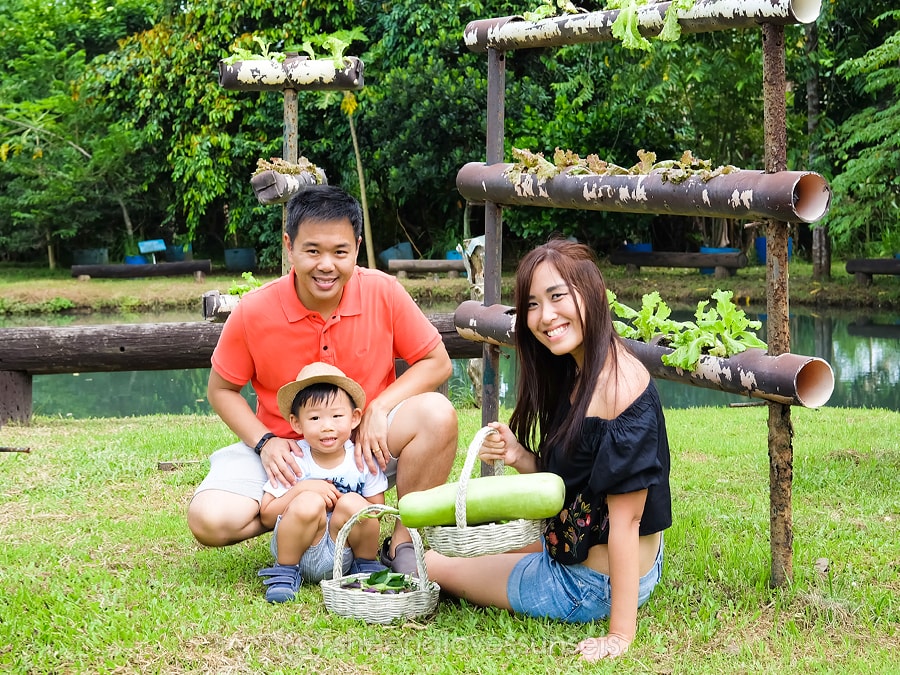 As you can tell from our photos, we had a great time in Nuvali. It's nice to know that there's a place like this that we can visit whenever we need a break from the city life. Some final tips:
Stay at Seda Nuvali as its location is perfect and it was just a wonderful hotel all throughout. They can also help you prepare lots of fun activities (like our salad making contest haha!) if you're going with a big group.
Prepare yourself for lots of outdoor activities. We just scratched the surface during this weekend vacation but there are so many more outdoorsy things to do in the area!
Spend 2 nights if possible so you'll have plenty of time to cover everything and still enjoy a relaxing stay.
Hope you enjoyed my blog review about our Nuvali vacation and our stay at Seda Nuvali. We'll be back again soon for sure and I hope to write a more comprehensive list about what to do in Nuvali with kids next time!

(NOTE: THIS POST IS ABOUT OUR EXPERIENCE LAST OCTOBER 2017.)