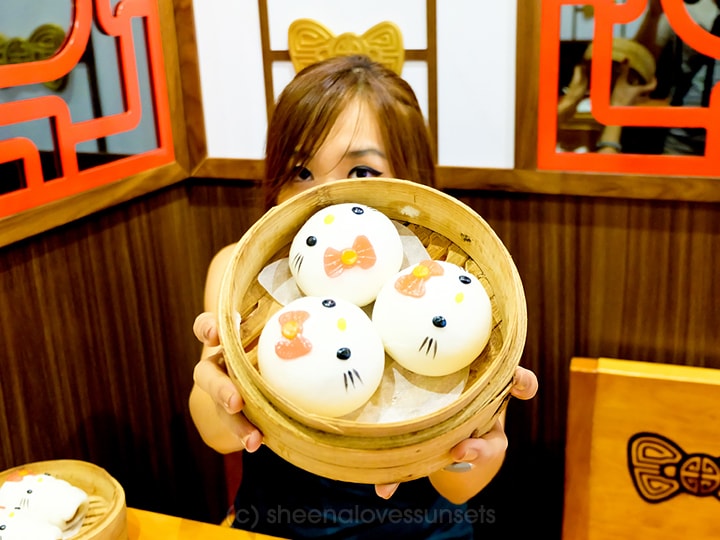 How do you feel about eating Hello Kitty's face? Well, that's exactly what I did when I visited the world's first Hello Kitty themed Chinese restaurant. Say hello to Hello Kitty dimsum, buns, crackers and even pudding!
On this trip to Hong Kong, I sat down with Mr. Man Kwong, the man behind Hello Kitty Chinese Cuisine, and we talked about his inspiration for this place and what he hopes to give his customers.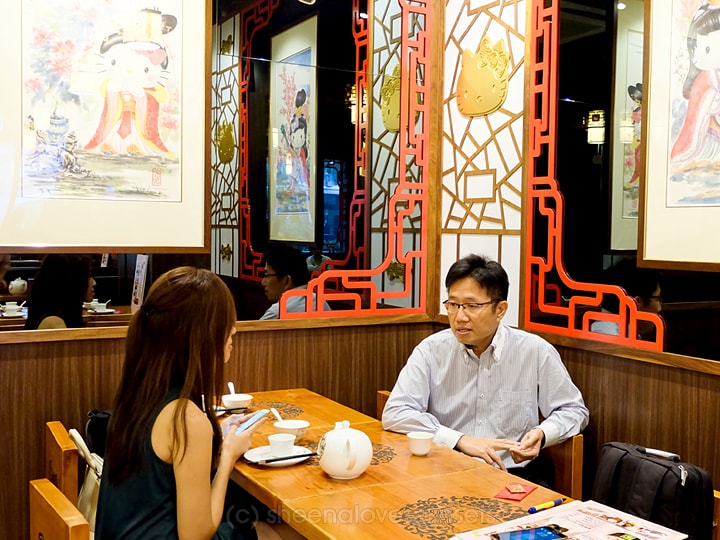 The Story Behind the Restaurant
Before Hello Kitty Chinese Cuisine, this place used to be a hot pot restaurant that eventually closed. Having a share in the business, Mr. Kwong wanted to revamp the place and make it work so he thought of opening a Chinese Cuisine restaurant with a unique theme to draw more people to come.
"Why Hello Kitty?" I asked. "Because Hello Kitty is famous all over the world!" He said. And that is so true. The unique novelty of this restaurant has attracted the attention of many prestigious foreign press such as Time and CNN.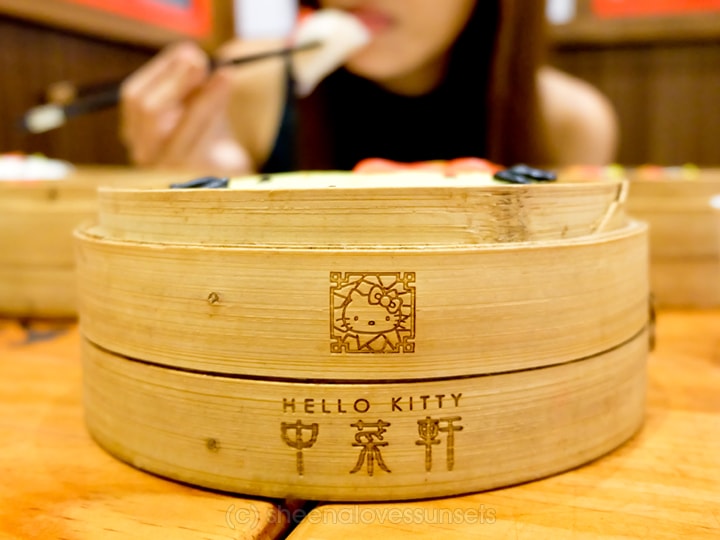 Mr. Kwong also owns a health magazine and he says this inspired him to create a restaurant where he can serve food with healthy ingredients. You'll be surprised to find out that Hello Kitty's face is made of beets, corns, beans and other natural ingredients.
"When people are healthy, they are happy." He says. And ultimately, Mr. Kwong says he simply wants to serve food that will make people smile.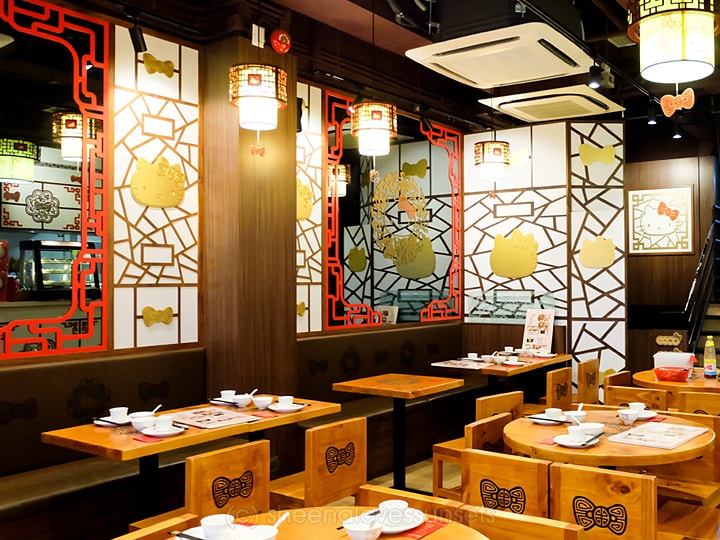 Interiors & Decor
There are a lot of Hello Kitty cafes in the world but none can compare to the style and attention to detail that this place has.  According to Mr. Kwong, these were all locally designed in Hong Kong and created in China.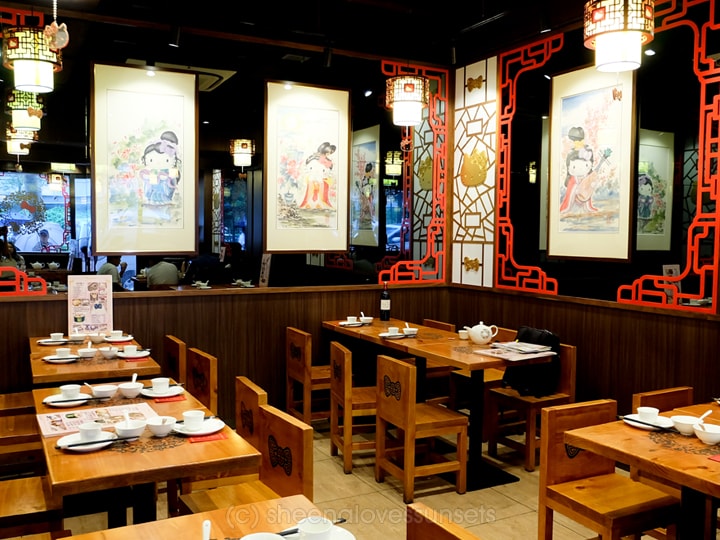 Free from the cliche pinks, hearts and flowers, the place has a modern Chinese vibe. You'll easily mistake it for a really high-end Chinese restaurant if not for all the Hello Kitty references.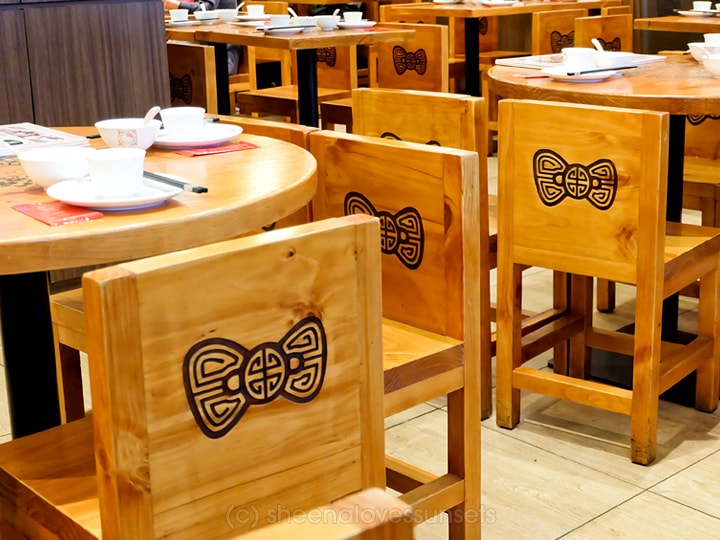 And Hello Kitty references are well, everywhere. Everything from the chairs, tables, mirrors and even the lamps are marked with either Hello Kitty's face or her signature bow (given a Chinese twist!)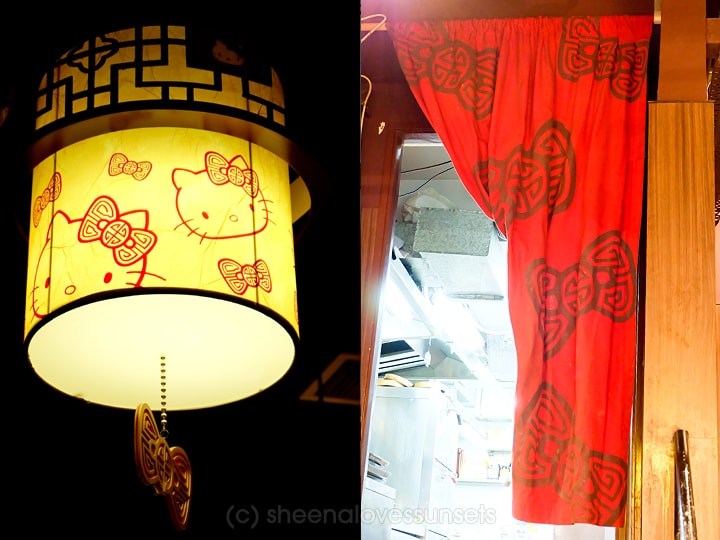 No corner is left untouched. Even the kitchens can't escape Hello Kitty's bows!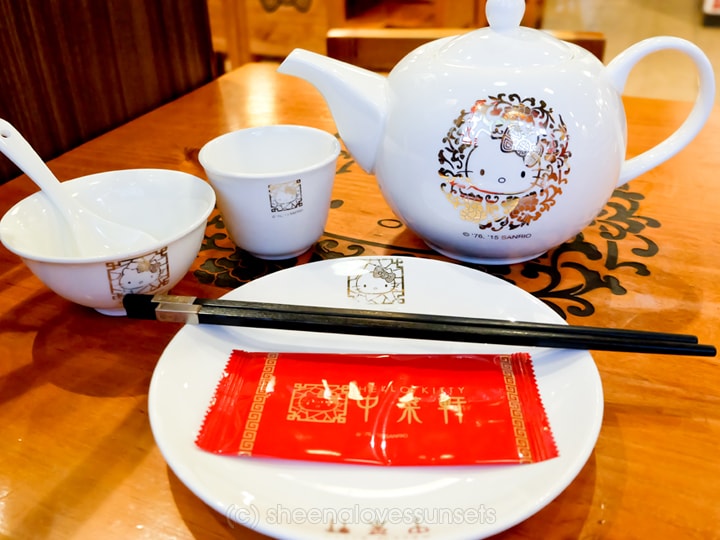 Don't forget the tea set! I love that it's white and gold and that the patterns are all oriental to match the theme and cuisine.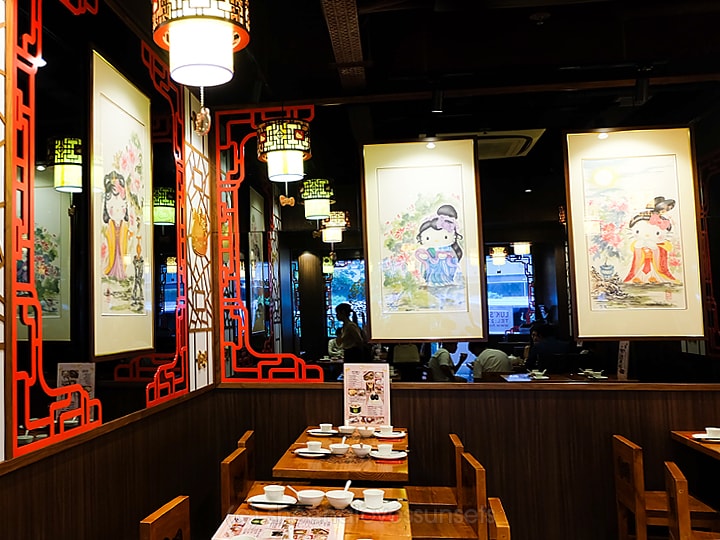 The walls of the VIP area are adorned with Hello Kitty paintings in traditional Chinese style. Here, Hello Kitty is portrayed as the four characters from Chinese mythology.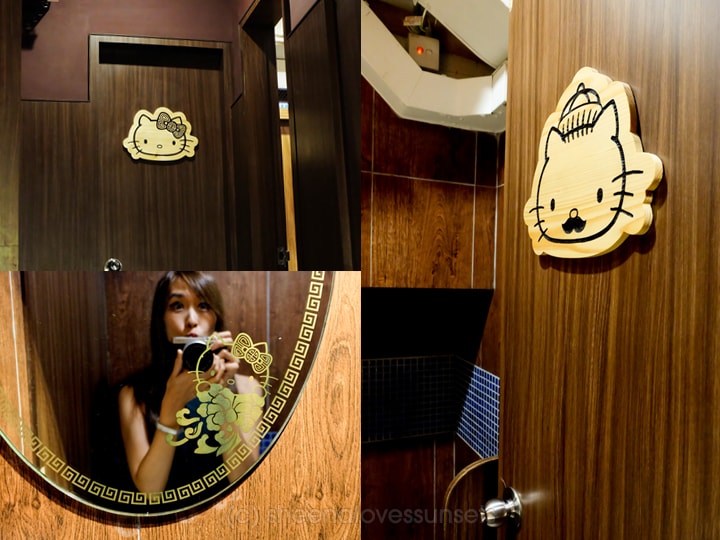 And yup, even in the restrooms, Hello Kitty will follow you there (or at least, Dear Daniel for the men!)
Food
Ok, enough about the decor (sorry, the designer in me got really excited!) Let's talk about the main reason why we came, to try out the food!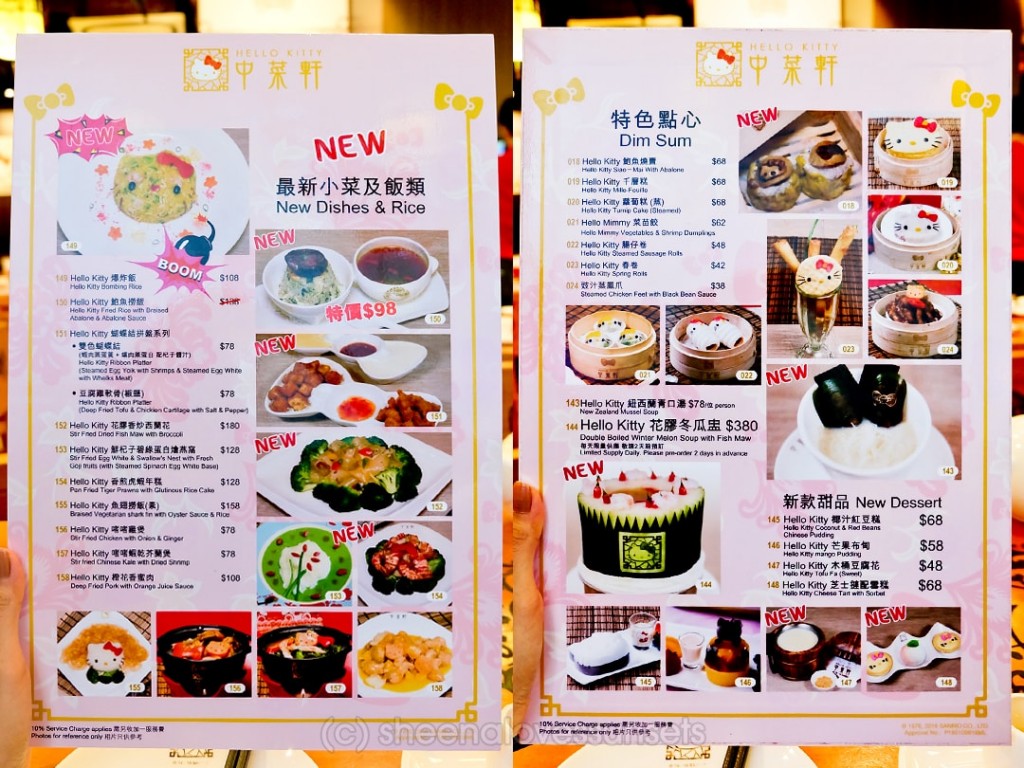 English menus are not available on the official website but they have English menus on the restaurant itself. I took a photo of it and you can click on the photo to zoom in.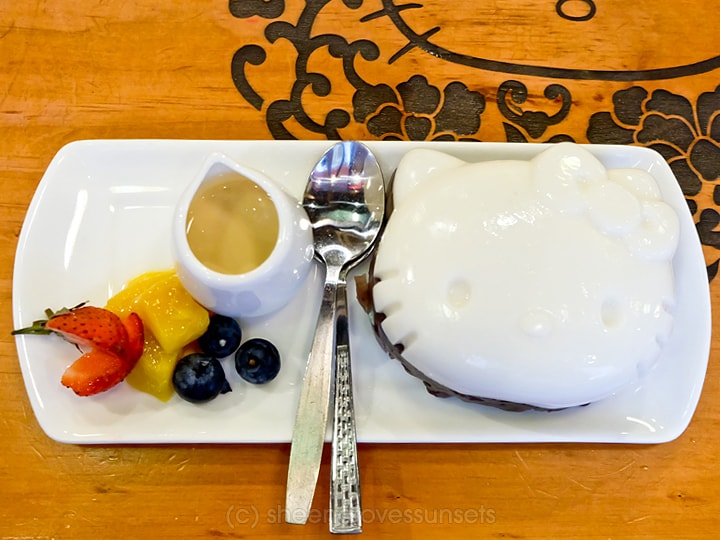 Mor and I just had a really heavy lunch before coming here and decided to order just one item from the dessert menu. We ordered the Coconut with Red Bean Chinese Pudding to share. It was light, but not bland and in my opinion, just right.
After we finished, Mr. Kwong saw us and insisted we try the dimsum. We said we were so full but he kept saying "You have to try!!" And after going back and forth, in true Chinese fashion, we obliged! He asked us to wait at the gorgeous VIP area. And then after a few minutes…
…this was the surprise that awaited us.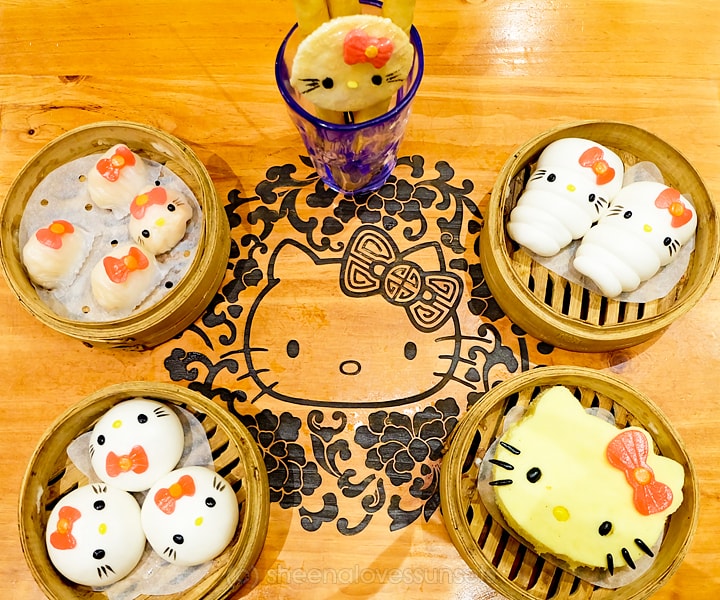 It's a Hello Kitty dimsum feast!!! Boy, am I glad we said yes in the end! Haha! And now the problem is how to finish everything! Let's begin.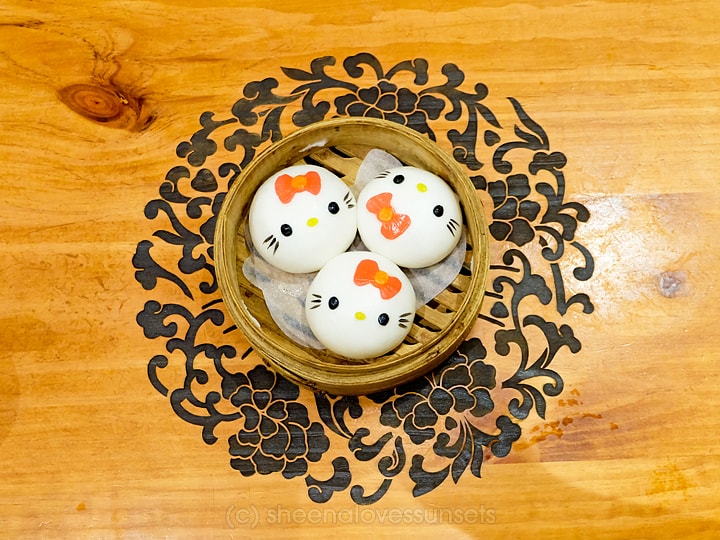 The first thing we tried were these Hello Kitty Custard Buns ($62) and they were surprisingly really delicious! You know how you'd think that they probably only look good and taste mediocre, but these custard buns are an exception. It was really runny (in the right way) and creamy and the salted egg flavor really came out. And who doesn't love salted egg?!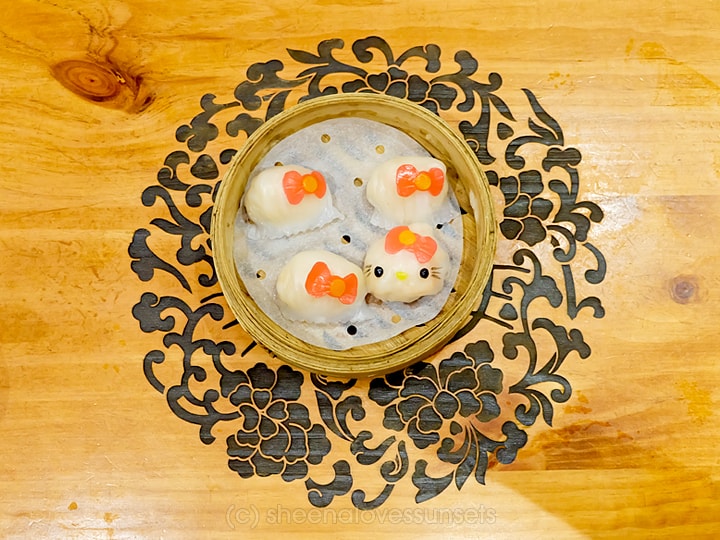 Next we tried the "Ha Gao" or Hello Kitty Shrimp Dumplings ($68). Only one dumpling had Kitty's face here, but that's not a problem because these ha gaos are as good as the ha gaos in other dimsum places. Nothing fancy, but it was yummy!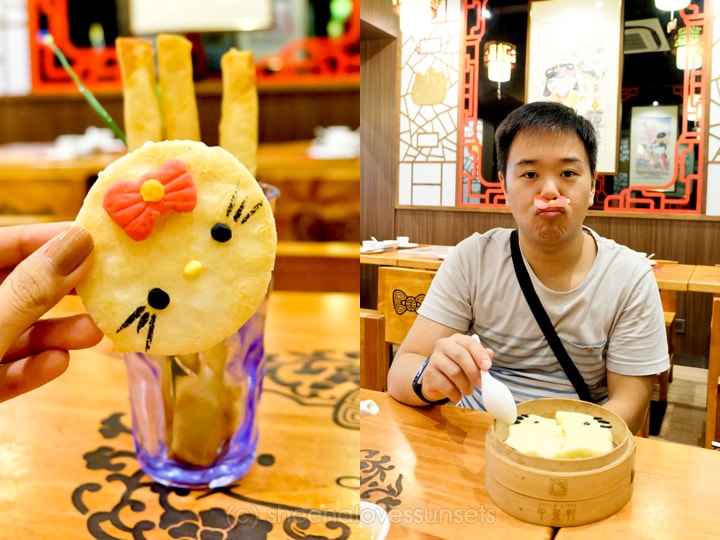 In between trying out the other dimsum dishes, we snacked on Hello Kitty Spring Rolls ($42). And because you can't really put Hello Kitty's face on spring rolls, you get a rice cracker Kitty instead! These spring rolls were surprisingly really tasty. This and the custard buns are my favorites.
And girls, just look at my husband; the boys will secretly enjoy too, don't worry. Hehe.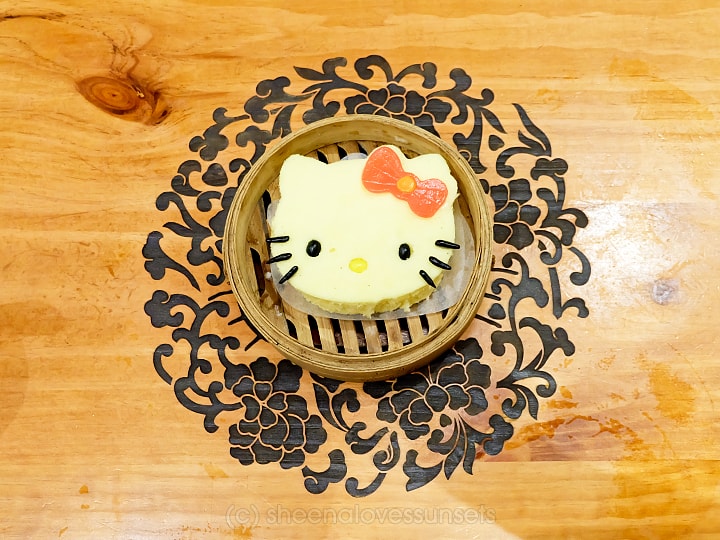 Next, the Hello Kitty Cantonese Sponge Cake ($48). I wasn't able to try this anymore because I was so full from trying the others out so instead, Mor was the one who took the honors of taste-testing. According to him, it was light, fluffy and a little different because he was expecting the traditional Ma La Gao cake but there was custard in between which made it taste a little like caramel cake.
He's not that fond of caramel cake, but I'm guessing this would be a hit with others!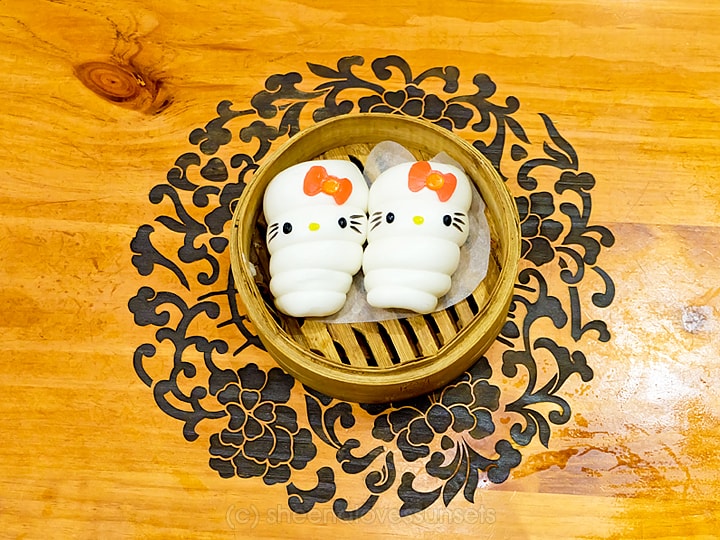 And then we tried the Hello Kitty Steamed Sausage Rolls ($48). Of all the dishes we tried, this one is the one I liked least. But then again, since I tried this last, it might also be because I've already had too much to eat by then. Haha.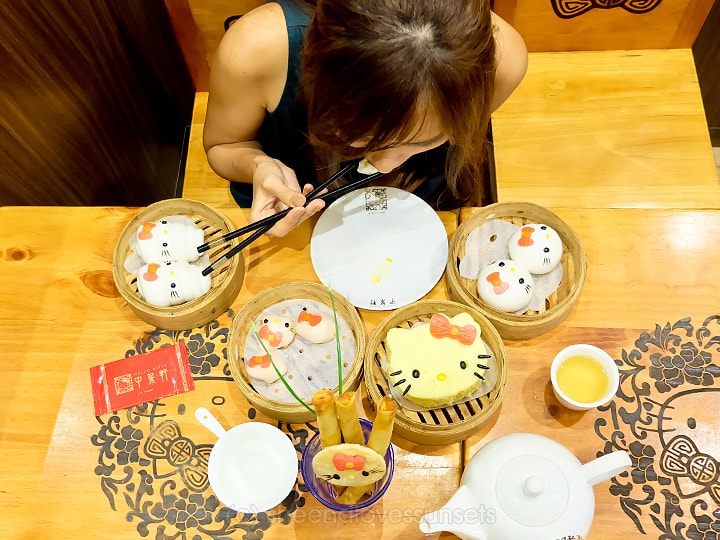 The Verdict
Design: Very impressed with the interiors and decor. I love that the colors revolved only on red, gold and white. It fits the Chinese theme perfectly and you can't help but take photos of everything in the restaurant.
Food: Custard buns with salted egg fillings were amazing. Everything else was much like what you would expect from your regular dimsum restaurant, which isn't necessarily a bad thing.
Price: Let's just put it this way, you're paying a premium to have Hello Kitty in everything.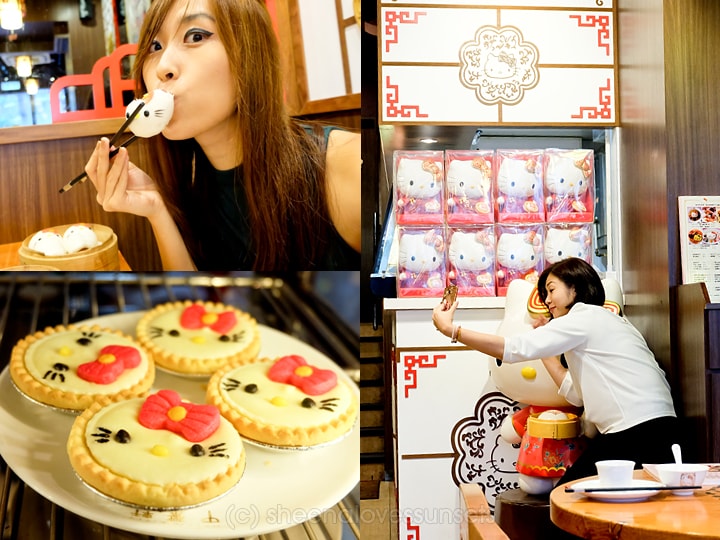 Of course, who are we kidding? People come here for selfies and photos. But what's great about this restaurant is the food is on par with other dimsum restaurants. Again, nothing spectacular in terms of taste, but it's a wonderful experience for people like me who appreciate cutesy places like this and I'm sure it's heaven to Hello Kitty fans.

How To Get Here
Take the MTR to Austin Station. Exit F via Bowring Street. When you get out, this is what you'll see. Just go straight and it's on the right side.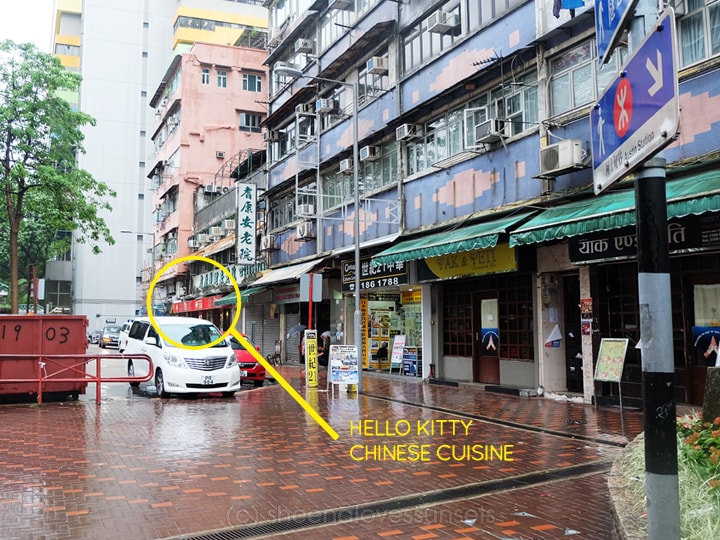 You can also get here from either the Jordan MTR Station (Exit C2).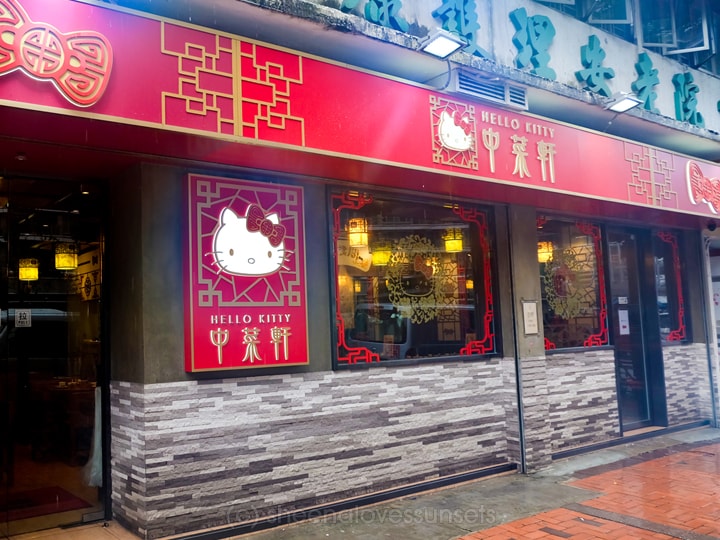 Address: Shop A-C, G/F 

Lee Loy Mansion, 332-338 Canton Rd, Kowloon, Hong Kong

Opening hours: 11am-3:30pm, 6pm-11pm. (Important to take note of this: you can't just drop by for an afternoon snack!)
(NOTE: THIS POST IS ABOUT OUR EXPERIENCE LAST SEPTEMBER 2016.)