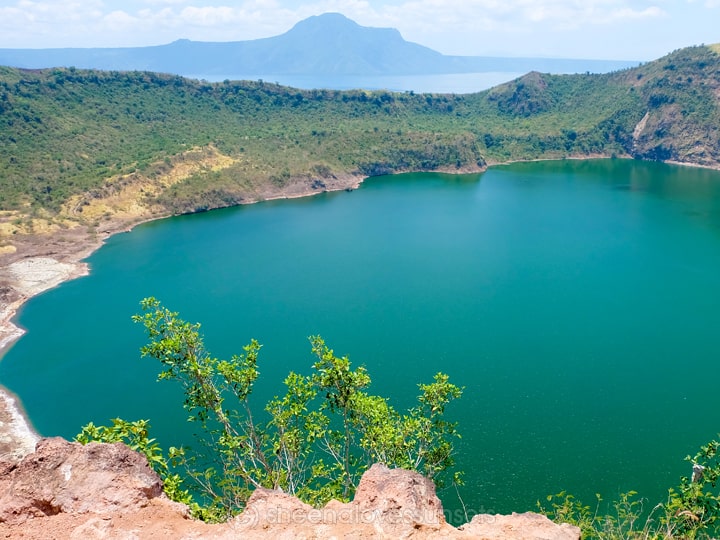 It's shameful to admit that I've traveled to a lot of places but haven't explored my own country as much. So in an effort to change that, I organized a hiking excursion with our friends! And because I'm really NOT fit at all, I chose what people said was the "easiest" to hike: Taal Volcano.
Well, guess what? Because we did it at the peak of summer, it was most definitely not easy fo' me!
TOUR DETAILS:
I researched online for the best Taal Volcano tours available but found that the one offered by Taal Yacht Club had the best value for money so that's where I booked. Here are the basics:
When: April 2016
No. of Participants: 10 pax; 2 bancas (max of 5 per banca)
Tour Operator: Taal Yacht Club
Trail: Regular tourist trail with no horses
Price: P590 per person. (Pretty good deal because I saw others charging P1500/pax!)
With Taal Yacht Club, you had to pay beforehand via bank deposit and bring the deposit slip on the day of your hike, which serves as your ticket. No need to reserve beforehand unless you plan on coming in very early, before 8 am (which I wish we did, but we didn't!)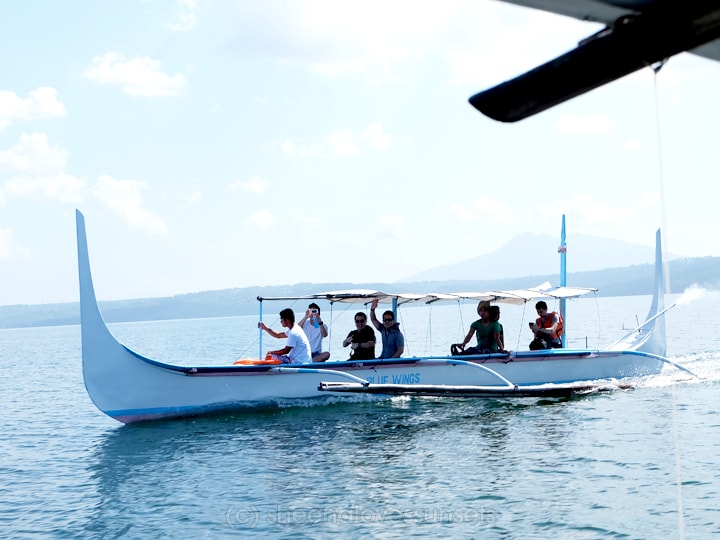 We left Manila around 6:30am and arrived at the Taal Yacht Club a little past 8. You have to ride these bancas before the hike starts. We took a detour because we dropped by one of the other islands (not included in the tour) so we started our hike officially at 9:30am. By this time it was already really hot!
So lesson #1: Start your hike early!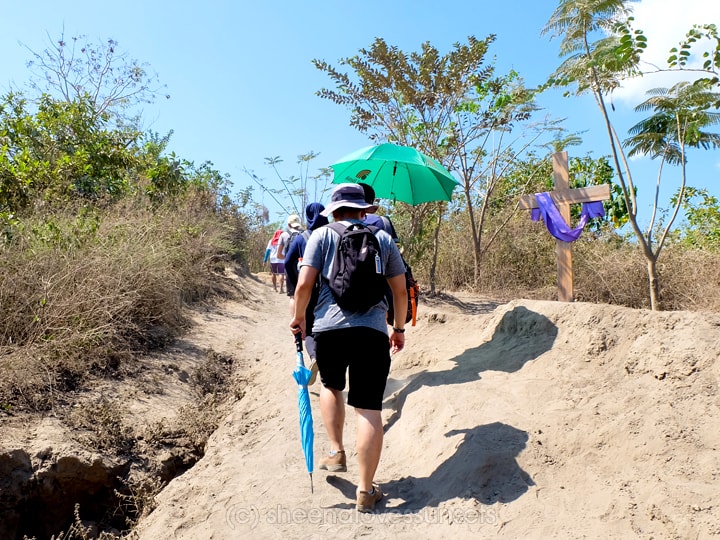 Before the hike, Mor said we should all bring umbrellas going up but nobody really took him seriously because who hikes with umbrellas, right? Since nobody wanted to bring, he decided to bring 5 umbrellas by himself.
When the hike started, surprise, surprise; everybody wanted an umbrella!! Haha! It was sooo hot; the sun was burning and there was no shaded areas (no trees or anything!) At the same time, the long umbrellas also served as walking sticks when it got really steep! So they were pretty useful!
Lesson #2: Always submit to your husband. Haha!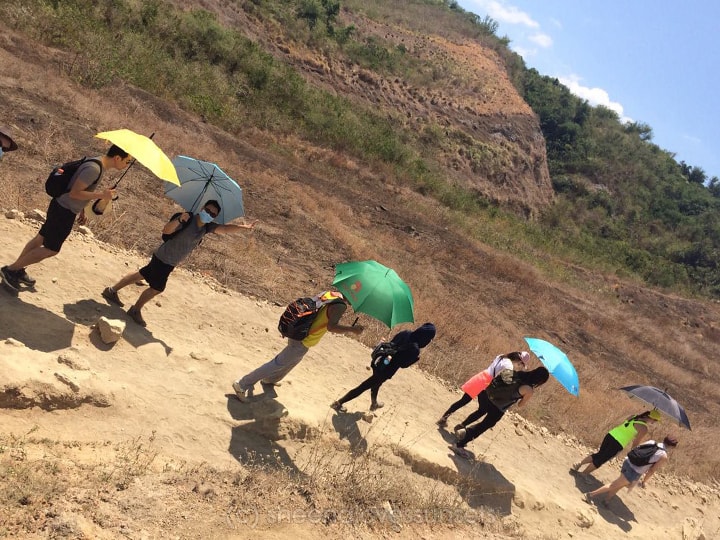 We may have looked silly and like absolute amateurs (who are we kidding, we ARE amateurs!) but I don't mind; at least it was one discomfort addressed! Thank you God, for giving my husband wisdom!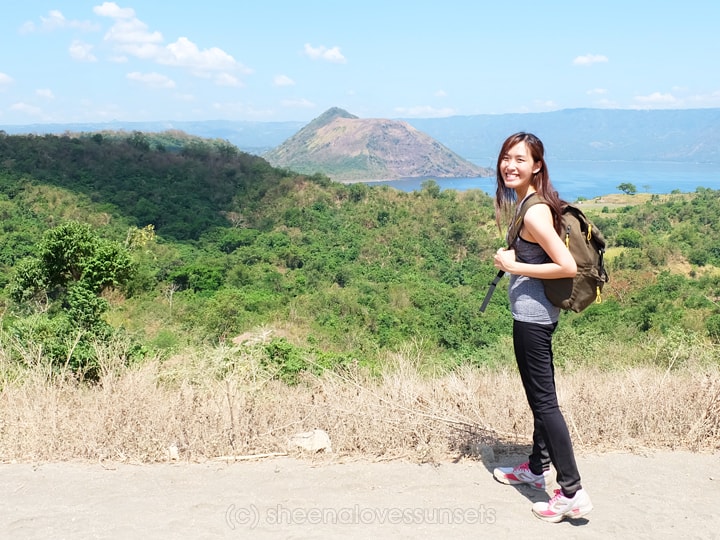 Mostly because of the scorching sun and extreme heat, it was a pretty tough hike for me! My balance has never been great either so I always felt like I was going to fall or trip somewhere (thank God, I didn't!)
At the same time, it was so dusty and dirty. A friend tipped us to bring masks and I'm glad we listened! By the middle of our hike, I was already really looking forward to taking a long shower!
Lesson #3: Listen to travel tips! (For my own tips, read below!)
There are rest stops along the way and we definitely took advantage of that. Before hiking, Mor insisted we bring coco water (he packed 4 packs in his backpack, on top of the water bottles we brought) and again, my husband was right! Because, as you can see in the photo, there I was gulping away happily. Mor and I finished all 4 packs and he even bought fresh buko on the way down.
Ok. So after an hour and a half of hiking… tundundundun!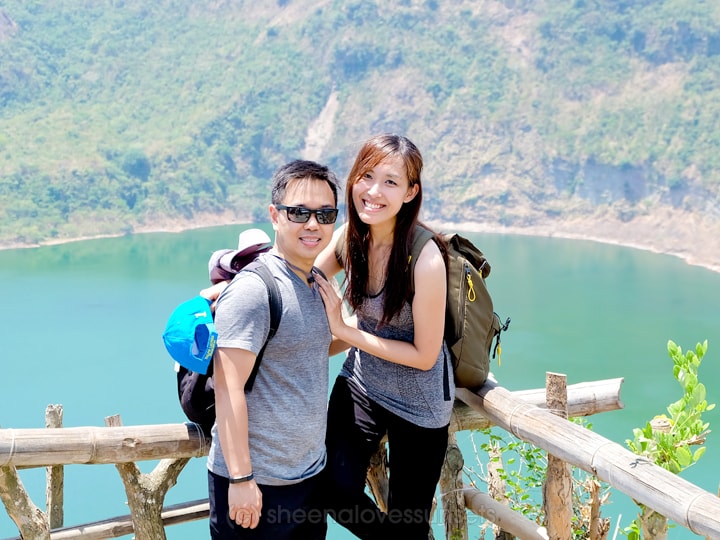 We finally reached the crater lake at 11am!! Yes, it was beautiful! But it was noon already so we were really melting by this time!
I have to admit though, at first look, I was initially disappointed. Not at the lake, but at the wooden structures barring the view! I thought about the Instagram pictures I saw of Taal and wondered how they were able to sit on the rocks with the lake as their backdrop. That's the view I was expecting.
And then, I saw the sign…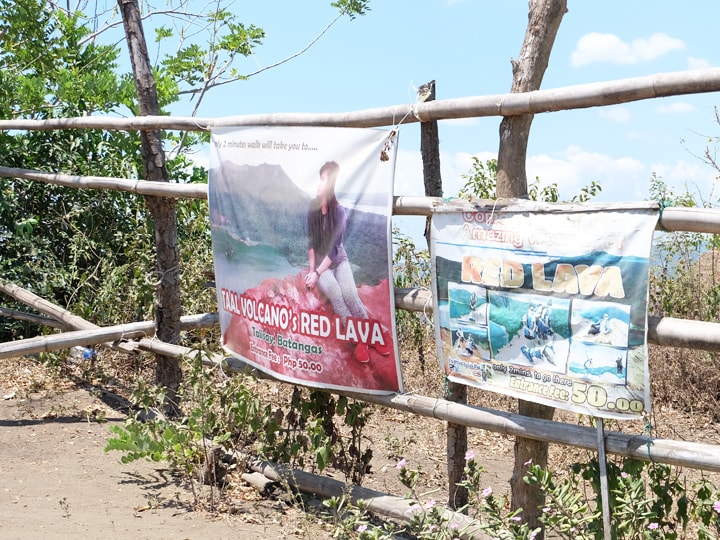 Oh.
So apparently, you had to pay an additional P50 to get to the "red lava" section. I wanted to go see the red rocks and because I will most probably never hike Taal again, I thought, what the heck, let's do this!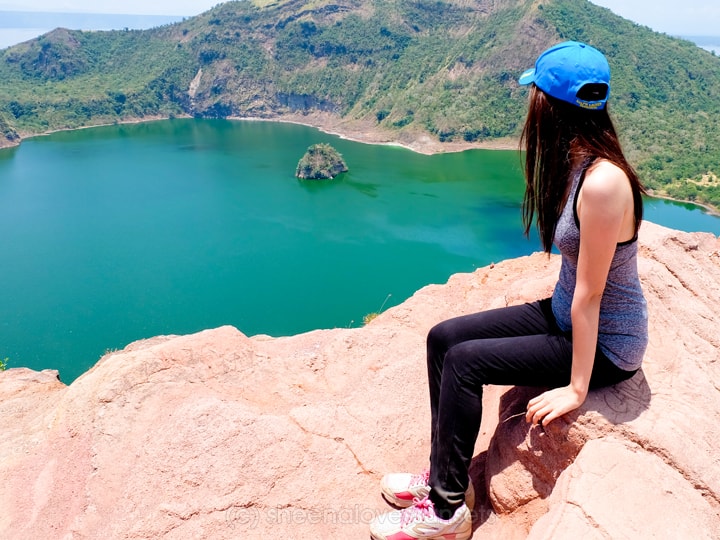 So here is my Instagram-moment at the red lava area. Haha!
After taking our photos here, we decided to climb down already since it was getting crazy hot! Thankfully, the way down was so much easier than the way up. If it took us around an hour and a half to hike up, we made it back down in 30 minutes. Hooray! A good tip from my friend while hiking down: heel first, not toes!

At the end of the hike, we realized that around 4-5 of us ruined our shoes!! We were pretty shocked and I really didn't expect this at all but our guide said it must have been because of the heat and rocks. And because I wore my running shoes to this hike (since I didn't have hiking shoes), I now have to buy a new pair of running shoes too. Aww man!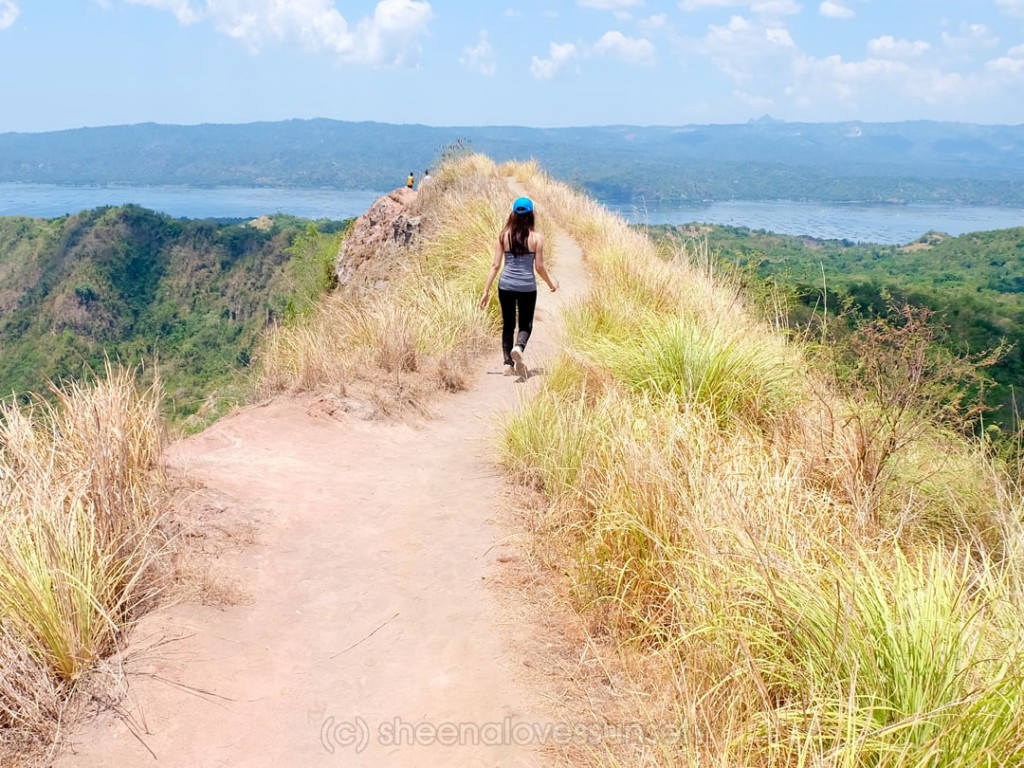 TIPS (ESPECIALLY IF YOU'RE HIKING DURING SUMMER)
Start hiking early in the morning.
Bring masks. It gets really dusty.
Bring coco water. You need electrolytes!
Bring umbrellas (a laughable tip, maybe, but you won't regret it!)
Don't wear your expensive running shoes.
Don't hike during the summer. 😐
I'm curious to know how it's like to hike taal when it's NOT summer. Let me know if you've done that! Feel free to share your experiences below!
(NOTE: THIS POST IS ABOUT OUR EXPERIENCE LAST APRIL 2016.)