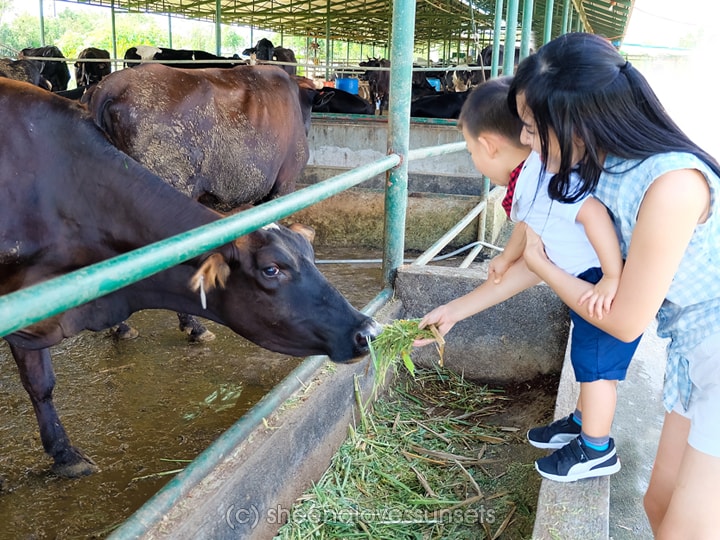 One sunny Saturday morning, we drove to Laguna to visit Real Fresh Dairy Farms; the farm where Luke's favorite milk comes from.
Luke is obsessed with Holly's Milk and has been fondly calling it his "Yum-Yum Milk" since he was just a year and 5 months old! But for today, the highlight for him wasn't just drinking his favorite milk but seeing actual cows for the first time! As Luke would say, "Moo Moo, come!"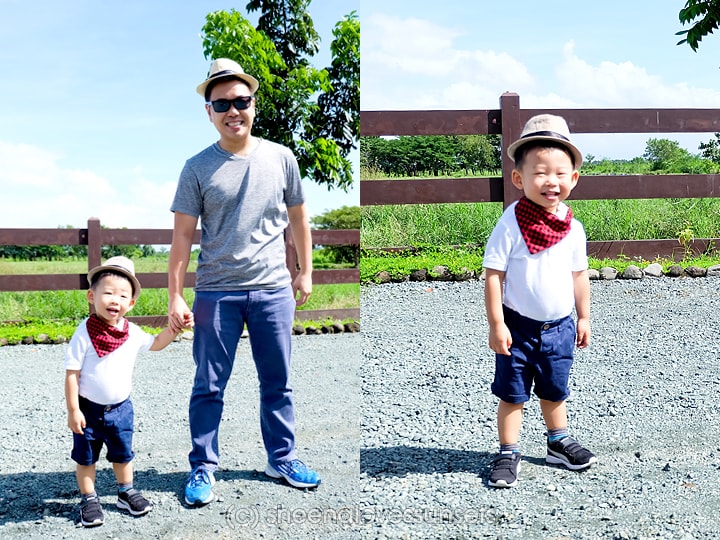 But first, what do you guys think of their Farm-themed OOTDs? Yes, Mor borrowed one of Luke's hats to get a more farm-y feel, which explains why it's so small. Haha. I forgot to take an OOTD shot of my outfit because I was too excited to take Luke's pictures.
Luke's History with Holly's Milk
I breastfed Luke purely for his first year up to a few more months after that. But then he decided he no longer wanted to direct feed (he weaned by himself!) which caused my milk supply to lessen. I decided to supplement him with fresh whole milk together with my expressed milk.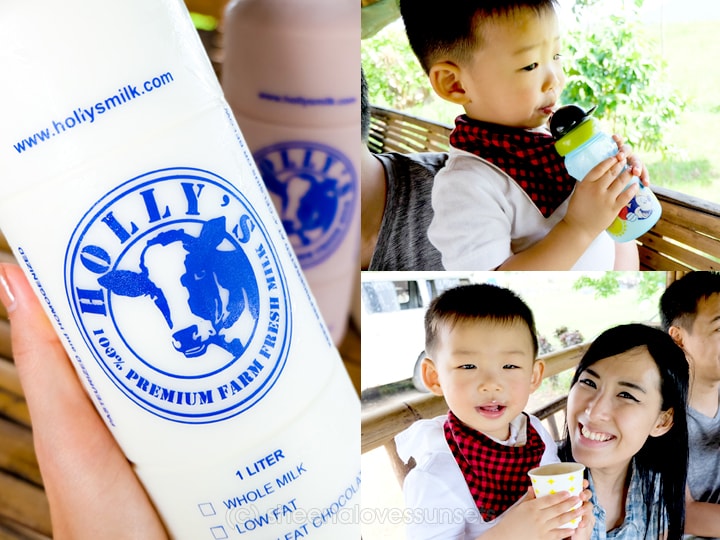 Before I discovered Holly's, we tried ordering milk from another farm but Luke never took a liking to it. And then I discovered Holly's and the rest was history! To date, he has been drinking Holly's for almost 5 months now, and still loving it.
Luke could really be the poster boy for Holly's. Haha! Here he is drinking the milk we brought with us to the farm. The other photo is of him trying Holly's chocolate milk for the first time. Guess which one he liked more? Hint: Check out the smile!
Holly's Milk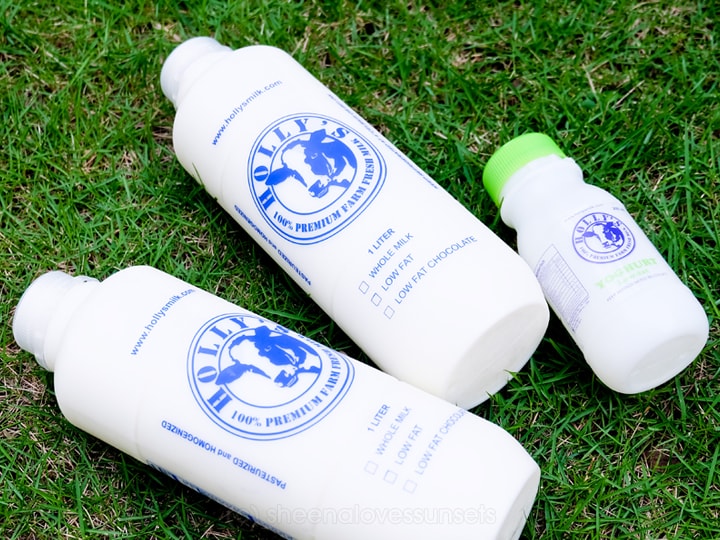 The company started with their famous fresh whole milk but it soon expanded to other dairy products. Now they have low fat milk, chocolate milk, yoghurt and cheese. If you're familiar with Carmen's Best ice cream, yes, they're also the people behind that brand. They use only fresh milk for all their ice cream products.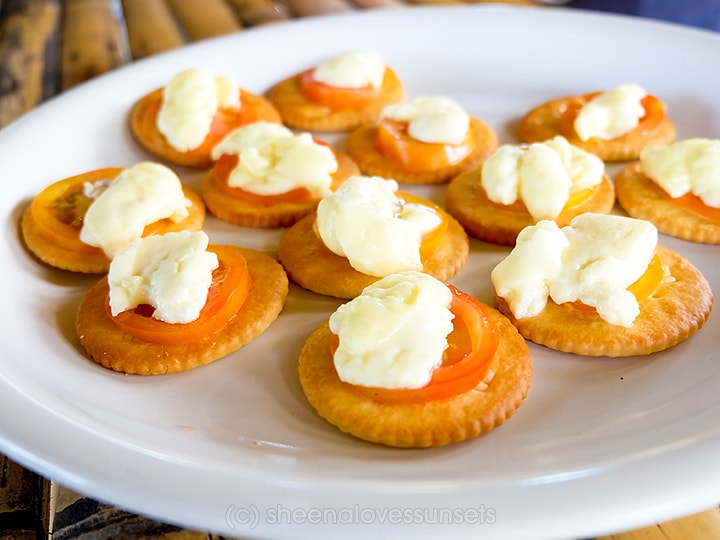 It was our first time to try Holly's White Cheese, also known as Quesong Puti. I think I'm gonna include this on my next order! Sooo good.
Real Fresh Dairy Farms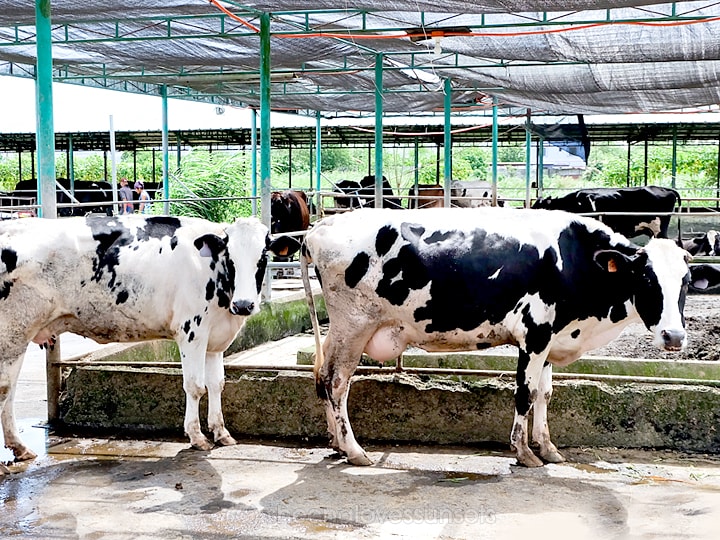 Real Fresh Dairy Farms began in 2008 with the goal of creating economic opportunities in the countryside. Currently, the 27-hectare farm supports the livelihood of around 60 families. I find that really amazing! I hope more businesses follow suit and develop our countryside more!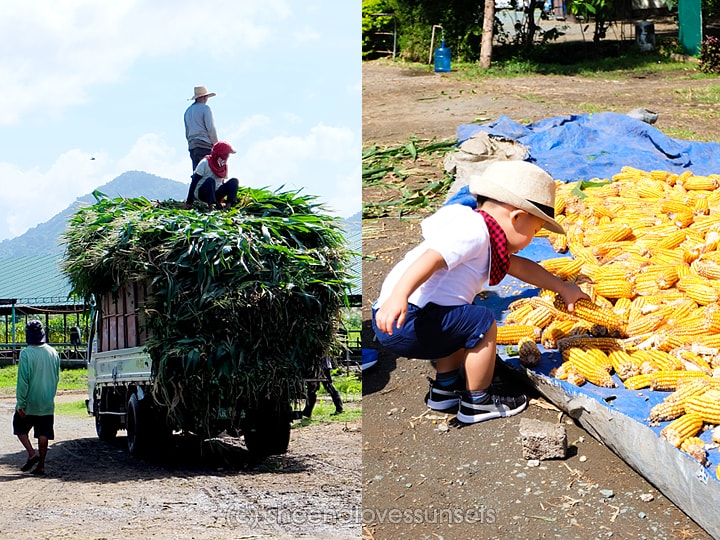 The company also saw that there was a need to provide quality dairy products to Filipinos. Did you know that the Philippines' dairy industry only provides 1% of our requirements? Learned that only here! Apparently, most of the milk we have in the groceries are imported.
And what's more, despite the labels on the boxes, they aren't really "fresh" milk! Milk in tetra-packs have already been processed to make sure they last longer on the shelves. So don't be fooled; there's a difference between getting your milk fresh from the farm!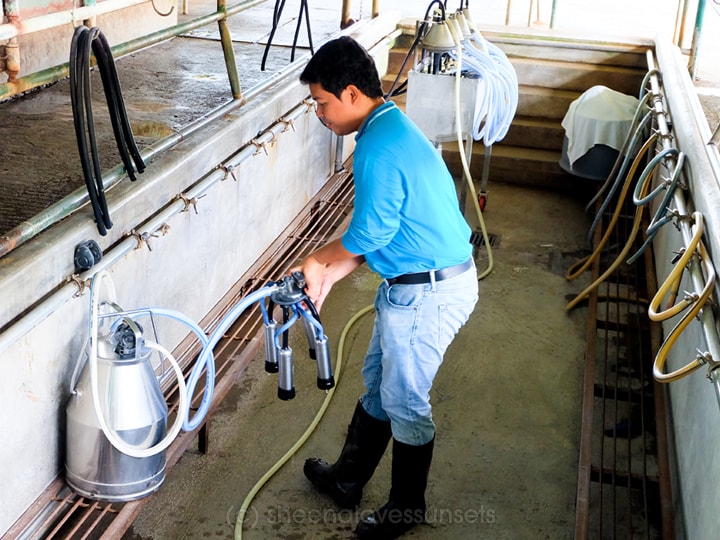 They toured us around the farm and brought us to the milking parlor. I found this section so fascinating because I can so relate to the cows (Hello, breastfeeding moms! Haha!) Here is where the cows are milked using machines that are like giant pumps.
Some fun trivia: only female staff work with the cows here because they are deemed more sympathetic to nursing cows (I empathize with you, cows!) Also, the cows listen to classical music while being milked so they're more relaxed. Hmm… I should have done this during my pumping days too! Hehe.
The Cows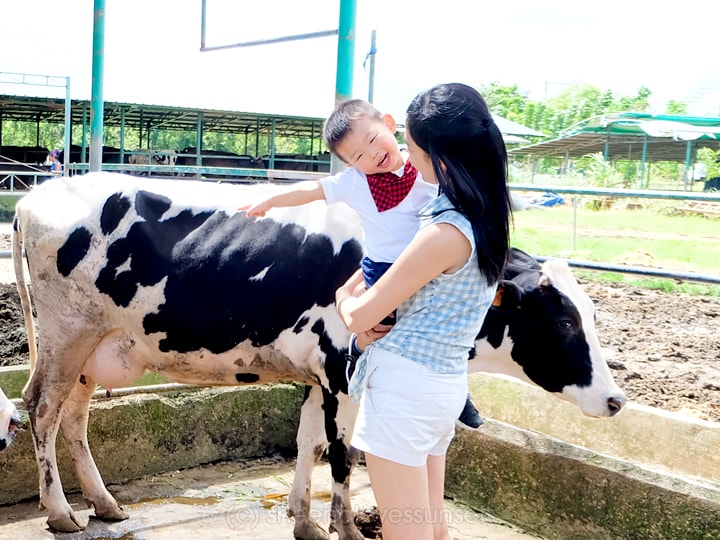 At the time of our visit, the farm had a total of 261 cows, to the sheer delight of Luke. Haha!
The first cows that arrived in the farm were from New Zealand but most of the cows now are all island born. They are hybrid cows, which means their breed is a cross between a tropical and a temperate breed of cattle. This allows them to tolerate the kind of climate we have in the Philippines and to produce more milk than our average cows here.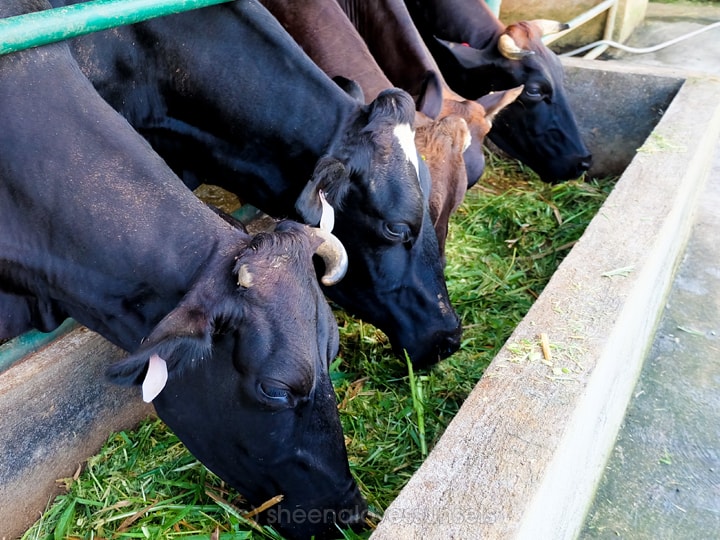 We were able to feed the cows with grass, which Luke enjoyed extremely. At first, he was hesitant to reach out his hand (because Mor was hesitant, haha!) but after he saw me feed the cows, he slowly gathered courage to try it too. He then kept saying "Moo Moo, come! Chia-chia!" (which is eat, in Chinese) So proud of my baby!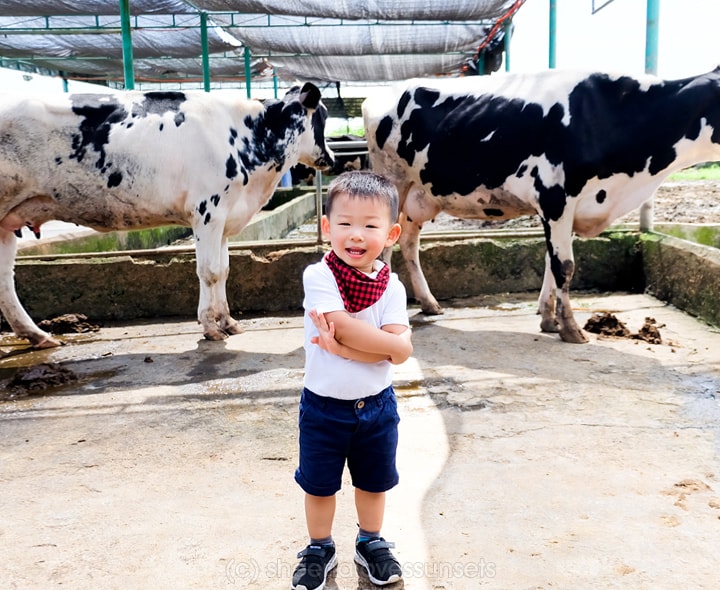 Each Holly's Milk bottle is 100% pure cow's milk. No added fat, sugar or water.
I think Luke got his love for milk from me. Whenever Mor and I are in Canada, one of the first things I buy is a big bottle of pure fresh milk! Now we have Holly's here so I don't need to wait for my Canada trips to get my own yum-yum milk!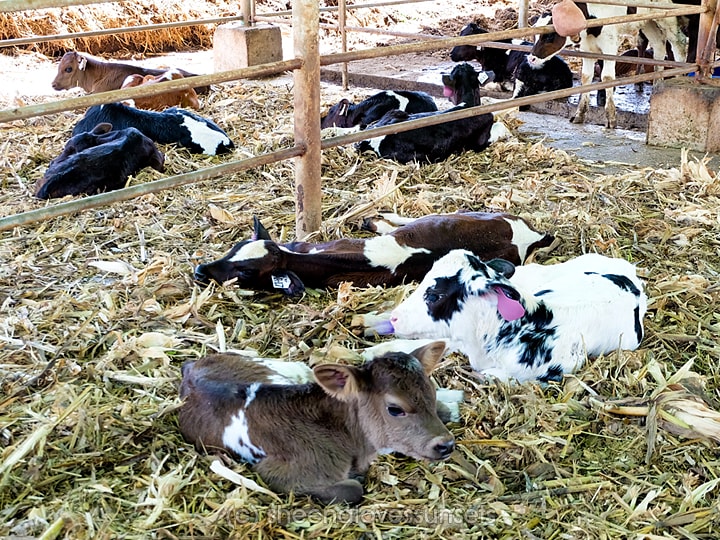 We got to visit the calves too (a.k.a. baby cows!) How cute are these days old babies? Luke couldn't resist and he just had to give one a gentle pat. Don't worry, it was approved by the operations supervisor of Holly's Milk. Hehe.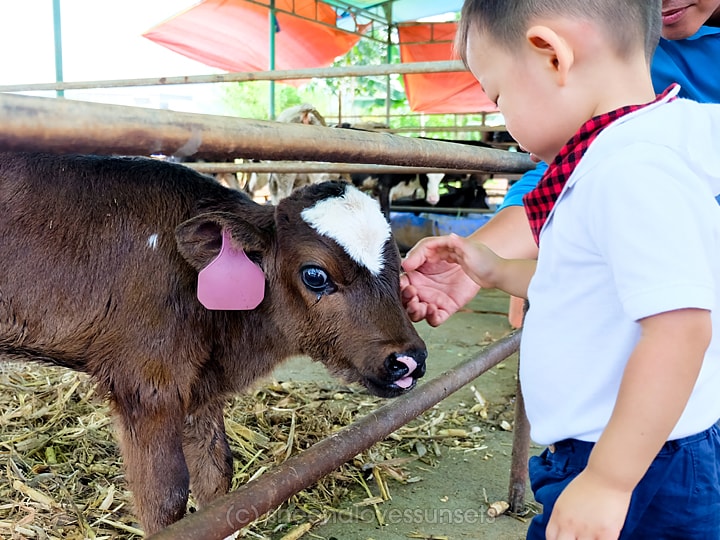 Before this, Luke only saw cows in his books. At the farm, Luke was able to touch the cows, feed them grass and see what they're like up close! Had he been a bit older, I'm sure he would have learned so much more (such as how farms work and how cows are milked) but I'm very happy with this experience for him at his age!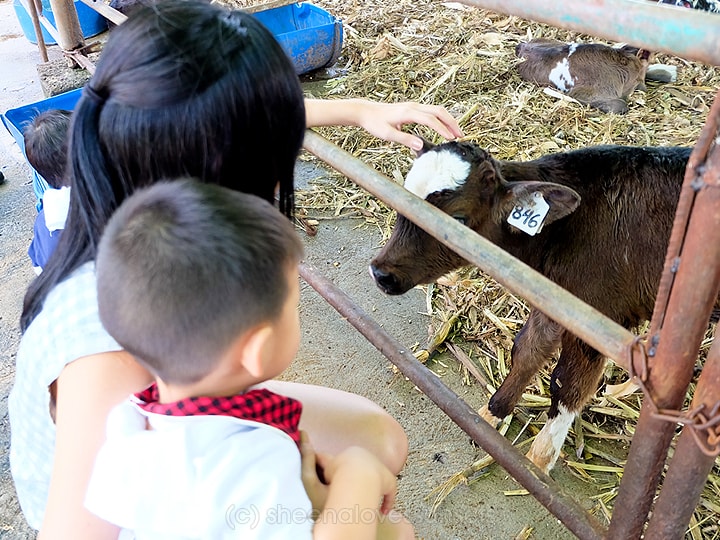 A little off topic, but I recently came across the term "worldschooling," which is all about learning through experiencing the world. I realized that this was what I have always had in mind for Luke (and God-willing, our future kids) and I'm so excited to explore this new aspect of traveling and homeschooling.
A whole different topic for a different day though! Yes, this is what happens when a travel blogger becomes a mom. Haha!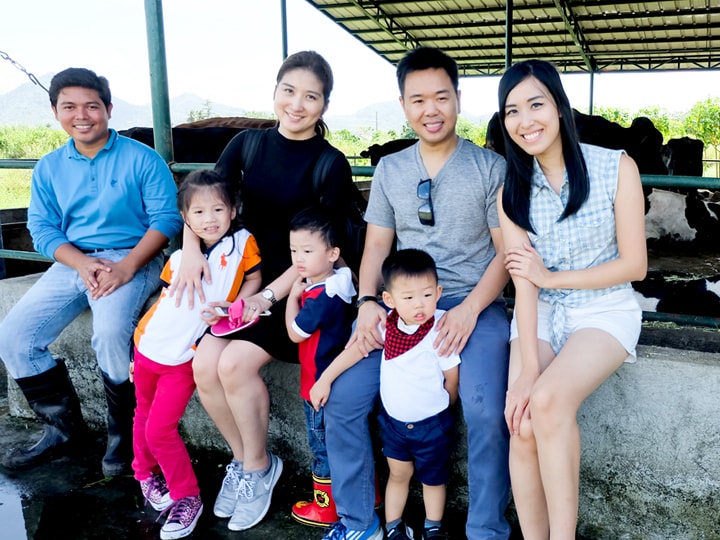 For now, I'm just so happy he was able to have this opportunity. His favorite "Farm" book has come to life for him. At the same time, I was able to see and learn new things as well about the dairy products I buy and about the industry.
Thanks again, Holly's Milk, for making it possible! And a special thanks to Mr. Jake Borja for touring us around and being patient with all our questions (and with the kids!)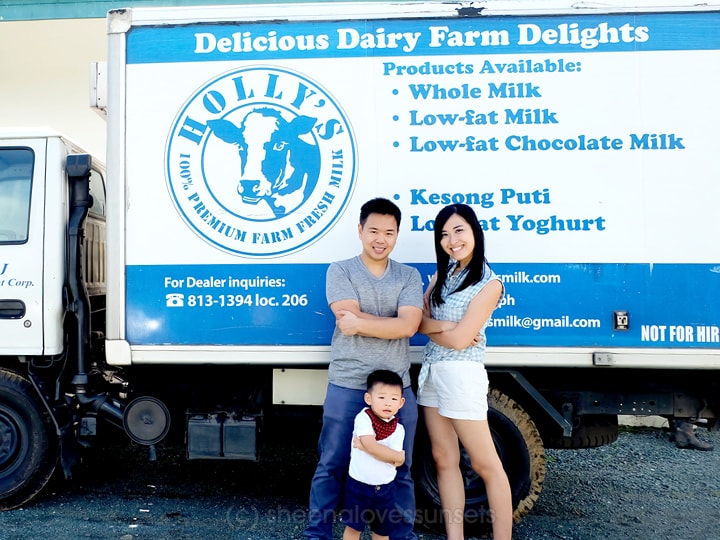 We order around 5 bottles every week for Luke and we get them from a dealer just a few minutes away from our home. If you wanna try Holly's Milk, look for a dealer near your area!
(NOTE: THIS POST IS ABOUT OUR EXPERIENCE LAST NOVEMBER 2016.)