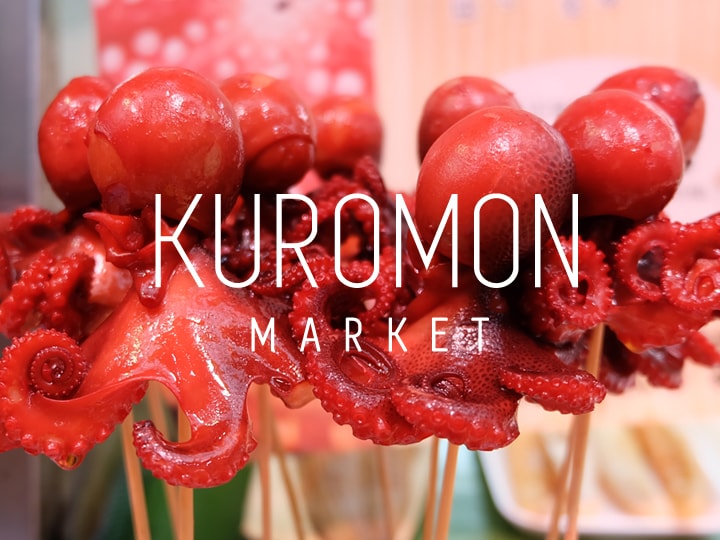 As I always say, I may not be a foodie but I enjoy good food!
And there was definitely no shortage of good food at The Kuromon Market in Osaka! Actually, our problem was how we were going to get out of the place without getting broke because everything looked absolutely delicious!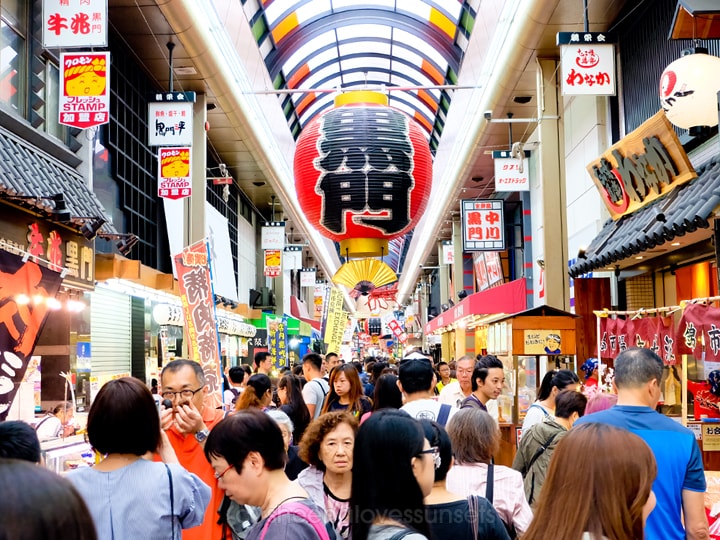 Kuromon Ichiba Market is a long stretch with different kinds of food shops, mostly (but not all) selling seafood and meat. You can get to Kuromon Market just by walking from Nippombashi Station.
Not sure if it's the same on weekdays but we visited on a weekend and it was packed!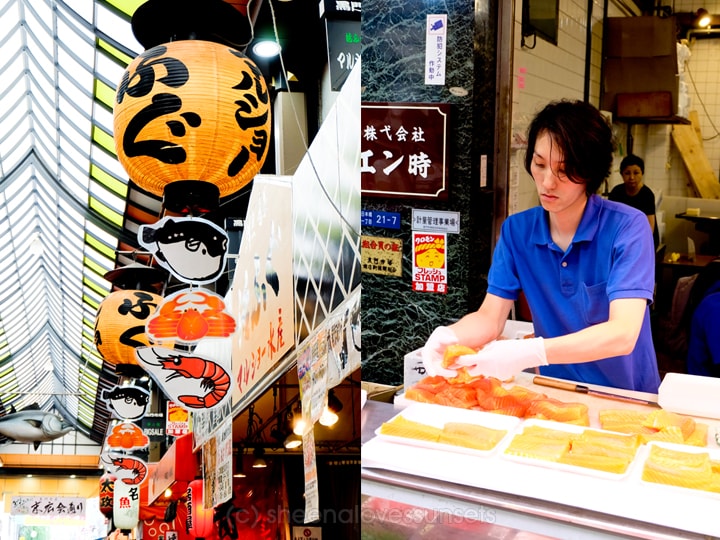 If you want fresh sushis and sashimis in Japan, this is the place to go! I want to say more, but I will spare you my feeling-food-blogger-but-not-really comments and just show you photos instead!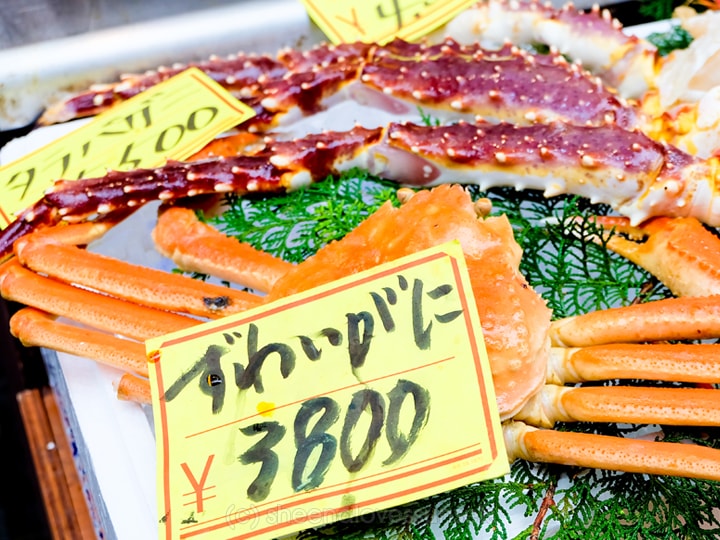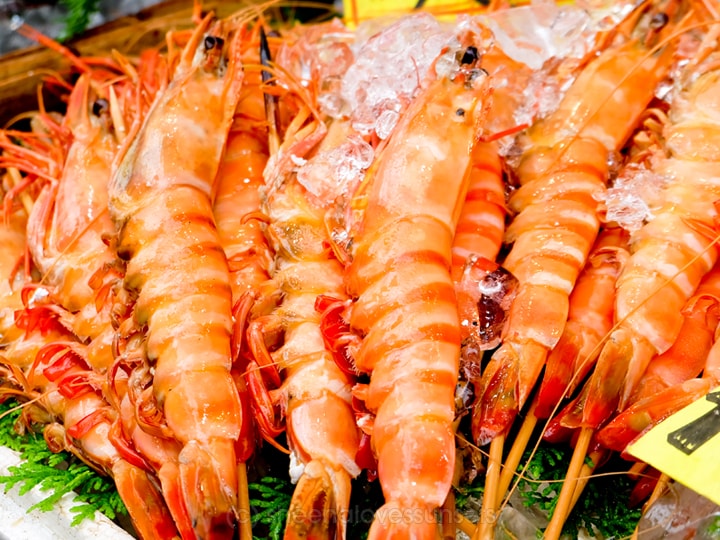 Fresh shrimp!
Baby octopus with quail egg! So weird that I didn't dare try it!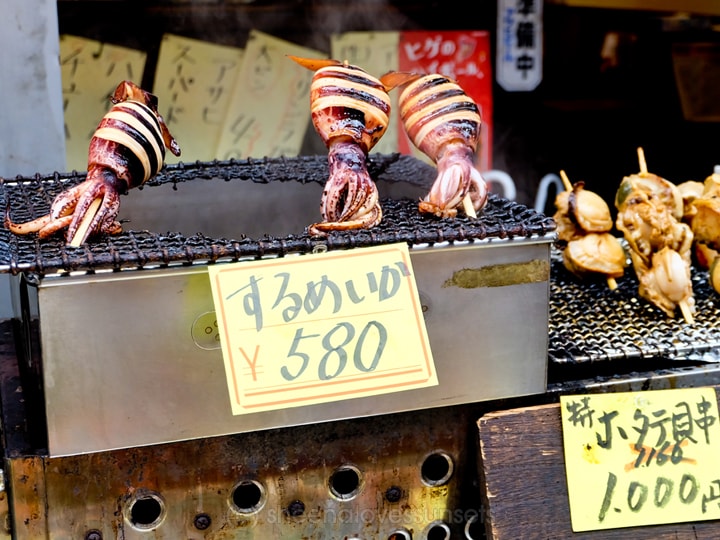 This is grilled squid! Looks good but pretty pricey for one piece of squid! Actually, because the food here isn't cheap, we all agreed to split most of the food so that we can taste everything!.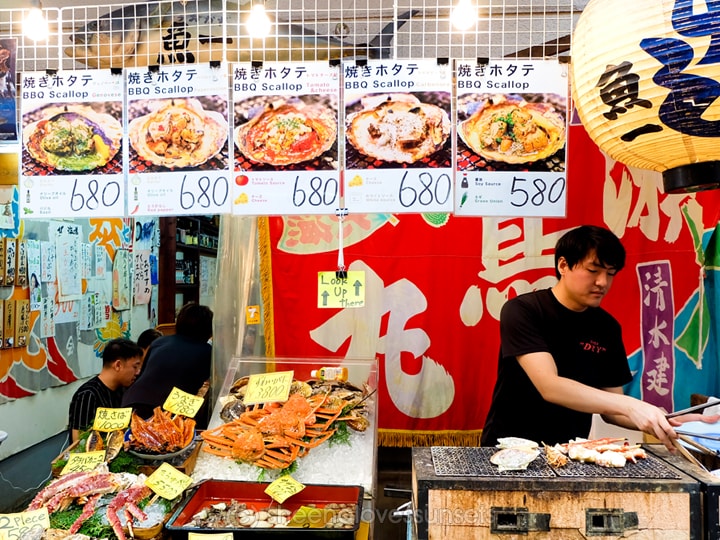 Grilled Scallop
This is the first stall we decided to order from. These are grilled scallops cooked in different flavors! This particular stall had a lot of seating available so we were able to sit down and enjoy our scallops!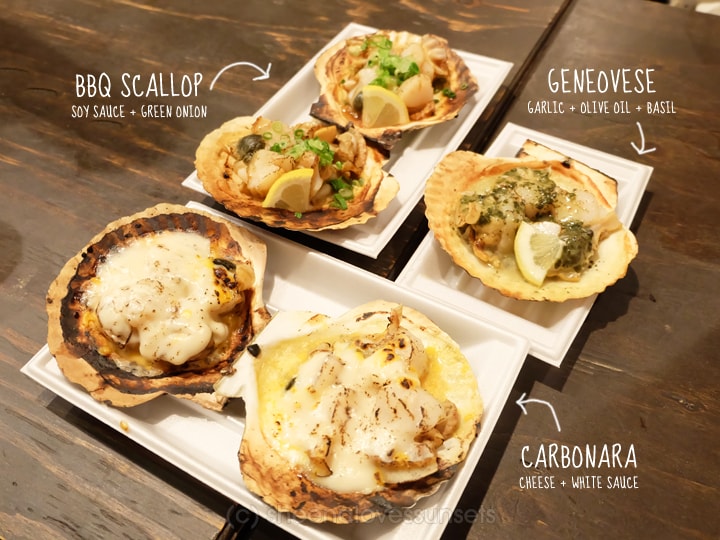 I love white sauce and cheese so it was a no-brainer for me to get the Carbonara one! I loved it! These are what my other friends got. Everyone liked what they got, so yay!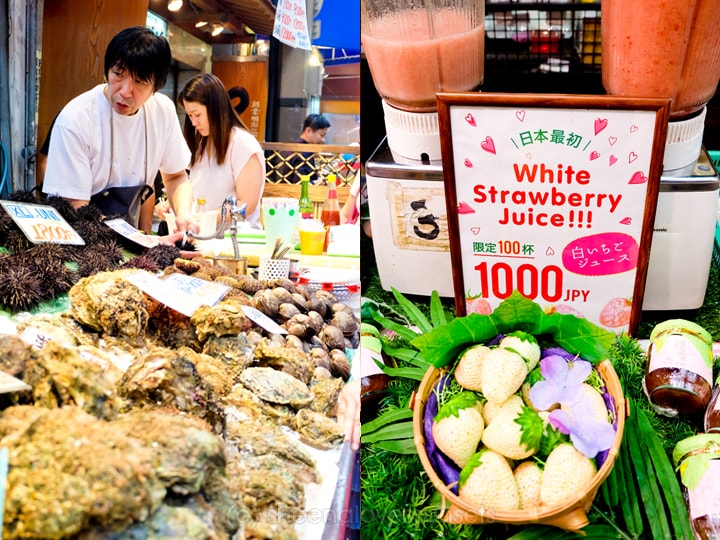 Uni (Sea Urchin)
Next, we wanted to try the uni! I've always loved eating uni!
While waiting for them to prepare our order I noticed that the stall beside us was selling White Strawberry Juice! Looks so good but again, so expensive and so I just took a photo!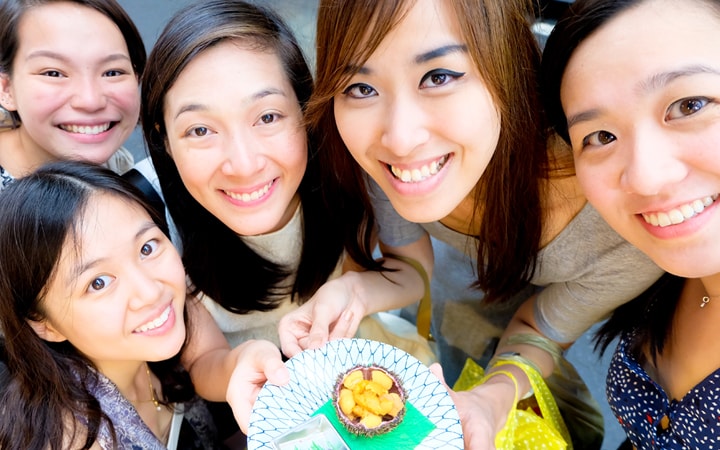 Here's our Uni! Yes, all 5 of us shared this small Uni! Haha! It was really delicious.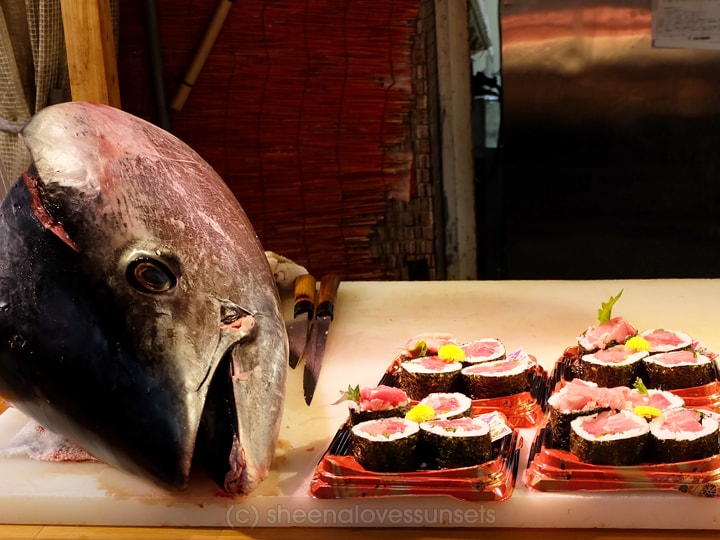 Sashimi
Then we decided to try sashimi. Can't get any more legit than a stall with a giant fish head on the table! They had seating for around 3-4 people at a time but since there were 5 of us, we just stood at the back of the stall and took turns eating our share!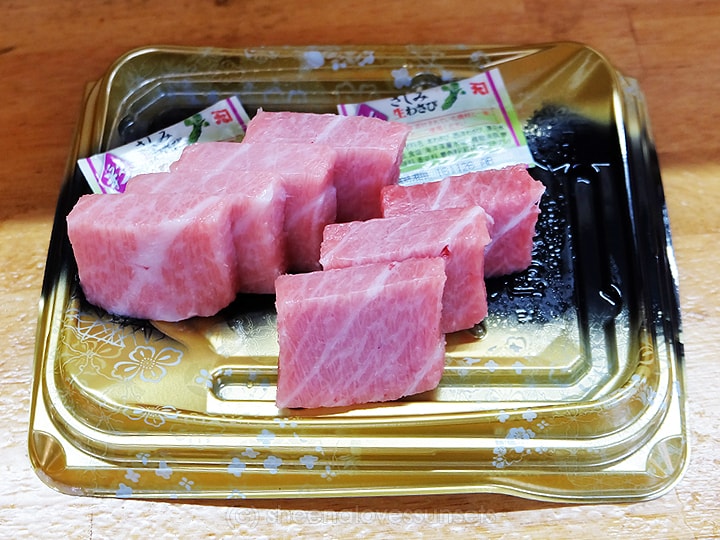 We ordered tuna belly sashimi. This is what we got and yup, to share! After taking this photo, we asked them to slice it into more parts so we can split it between the 5 of us. They were laughing at us (kindly!)
The sashimi was yummy and juicy and I don't know how else to describe it but it was really good!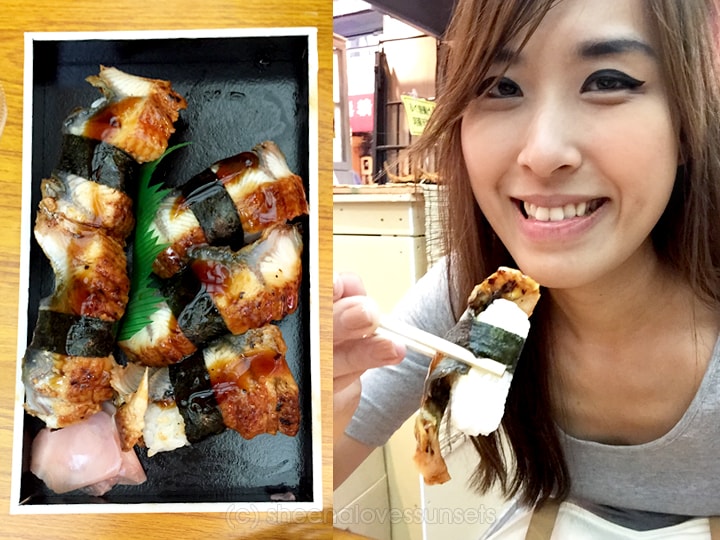 Unagi
And finally, we ordered Unagi (eel) to cap off our eating spree in Kuromon. Whatever empty space I had in my tummy was completely filled by this time.
On a side note, I order a cup of soy milk but it was, I guess, a really really fresh and natural kind of soy milk because it had no taste! I was expecting a sweeter kind of soy milk (like what we have in Manila I guess, even though I know that's super sweetened!) We didn't really like it; nobody wanted to finish the cup. Oh and I forgot to take a photo of it too. Oops.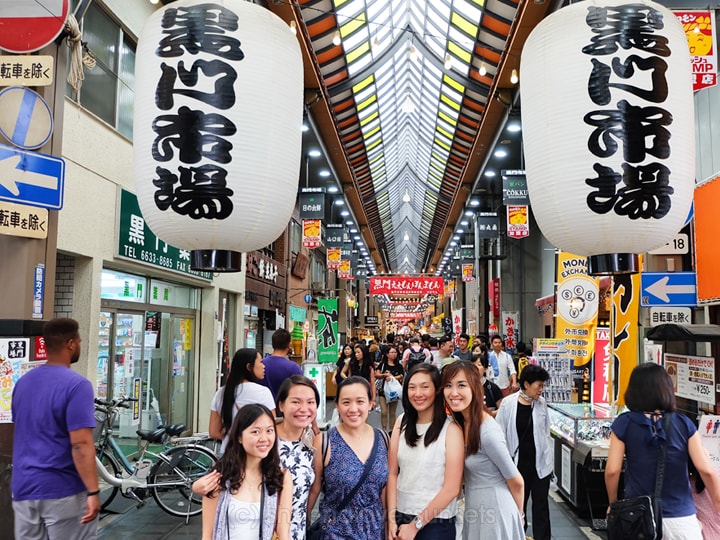 In conclusion, I really enjoyed trying out the different food here at Kuromon Market. The food was not cheap though so I restrained myself from eating everything that I wanted to try. Nevertheless, all the food we DID try were really good so I was very happy.
Read more about our trip to Osaka here!
(NOTE: THIS POST IS ABOUT OUR EXPERIENCE LAST JULY 2016.)