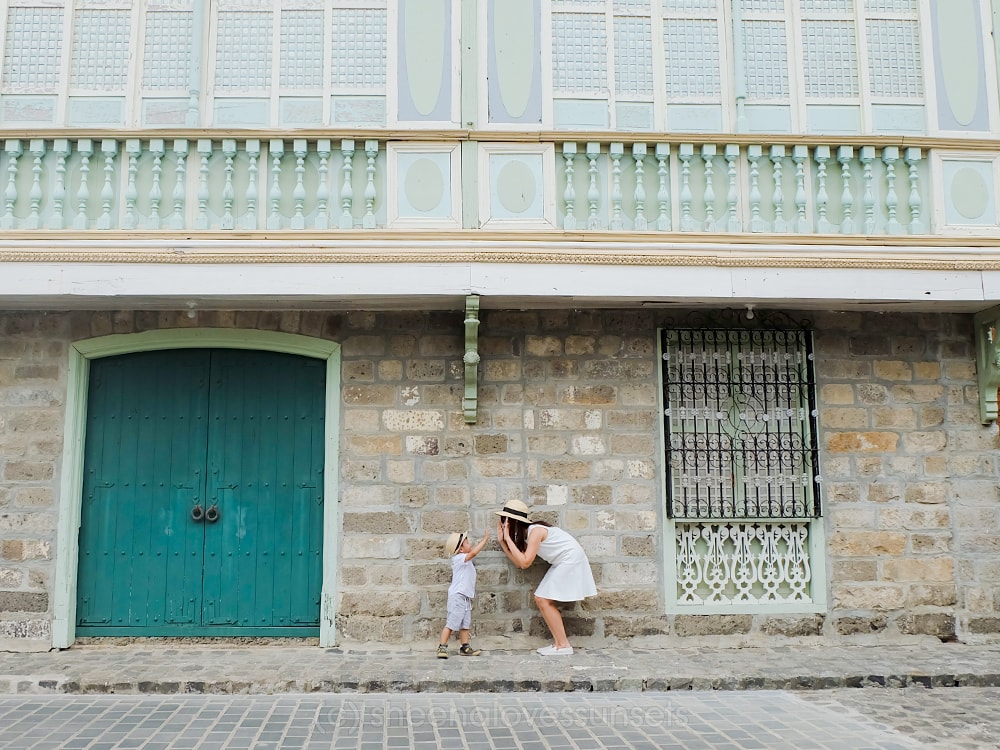 Surprisingly, there's so much to do here in Las Casas Filipinas de Acuzar with kids! However, not everything went absolutely smooth during our visit! Find out why I would still go back but probably not stay the night the next time!
Las Casas Filipinas de Acuzar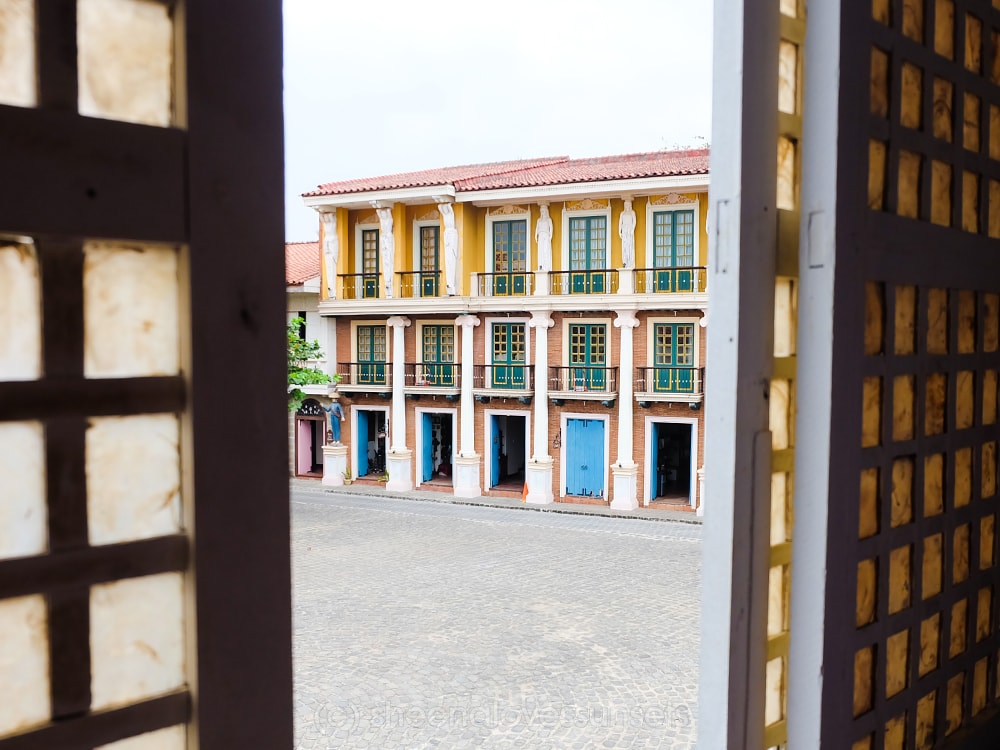 One of the first words people blurt out when I tell them about Las Casas Filipinas de Acuzar is "creepy" and I don't blame them! There's something about old Filipino houses that remind us of… never mind! Haha. But don't be put off by that! The truth is, Las Casas is beautiful. It's like traveling back to the past.
Dubbed a "heritage resort," Las Casas Filipinas de Acuzar is home to Jose Acuzar's collection of restored Spanish-Filipino houses. Each house is different and has its own stories to tell. Visiting this place is a great way to appreciate the rich history of Filipino culture and get a feel of what life must have been like in Old Manila.
Details of our Visit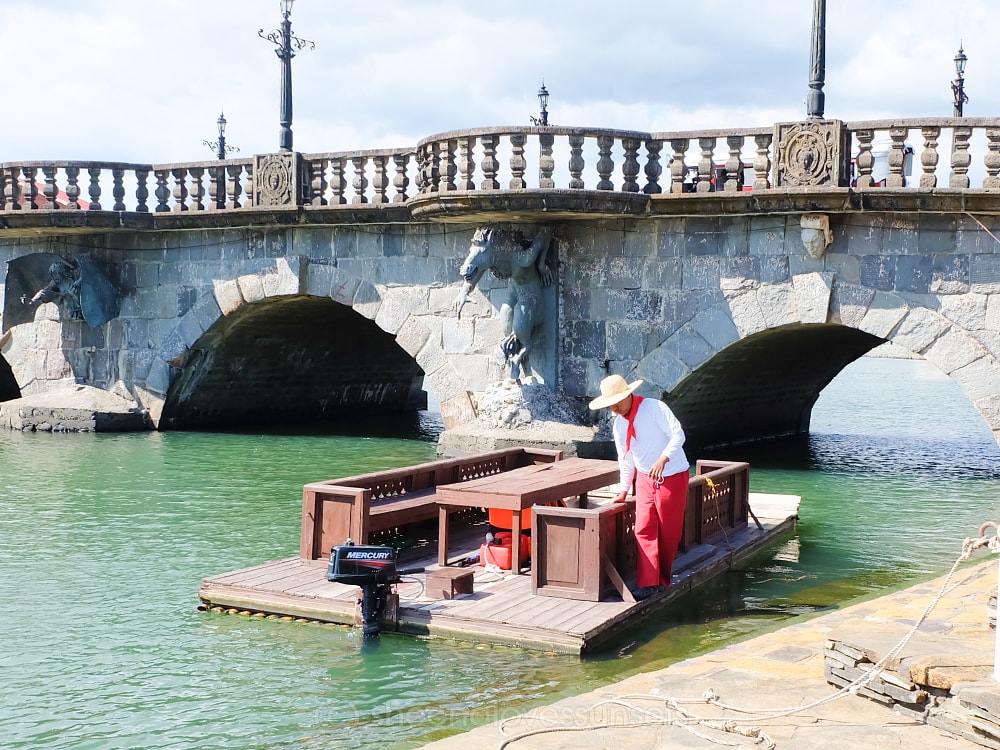 Booking: We booked via Deal Grocer and got their "Bataan Escape for 4 (Sun-Thurs)," which costs P7,000 (originally P9,100,) because we'll be staying with Luke's yaya in the room as well. Technically, Luke was free but I still booked the package for 4 because it's still cheaper than if we get the promo for 2 pax and added an extra bed.
We stayed at their Large Superior Deluxe Room. This rate included breakfast for 4.
Driver's Quarters: We also booked a room at their driver's quarters for our driver for P1500. (Tip: Ask your driver to bring a towel; they didn't provide them with towels.) This amount included breakfast already as well. As for their other meals, Mor said he was able to purchase vouchers at the reception. He forgot the details already though so best to inquire to be sure!
Getting there: We left Manila at 8:30am. Just follow Waze! Then we had a coffee stopover at Cafe Amazon in Lubao (haha,) and another stopover for lunch. We eventually arrived around 1pm, just in time to settle in and join the 1:30pm Heritage Tour. If you were to drive straight, I think you can get there in just 3.5 hours or less.
10 Things to Do at Las Casas Filipinas de Acuzar with Kids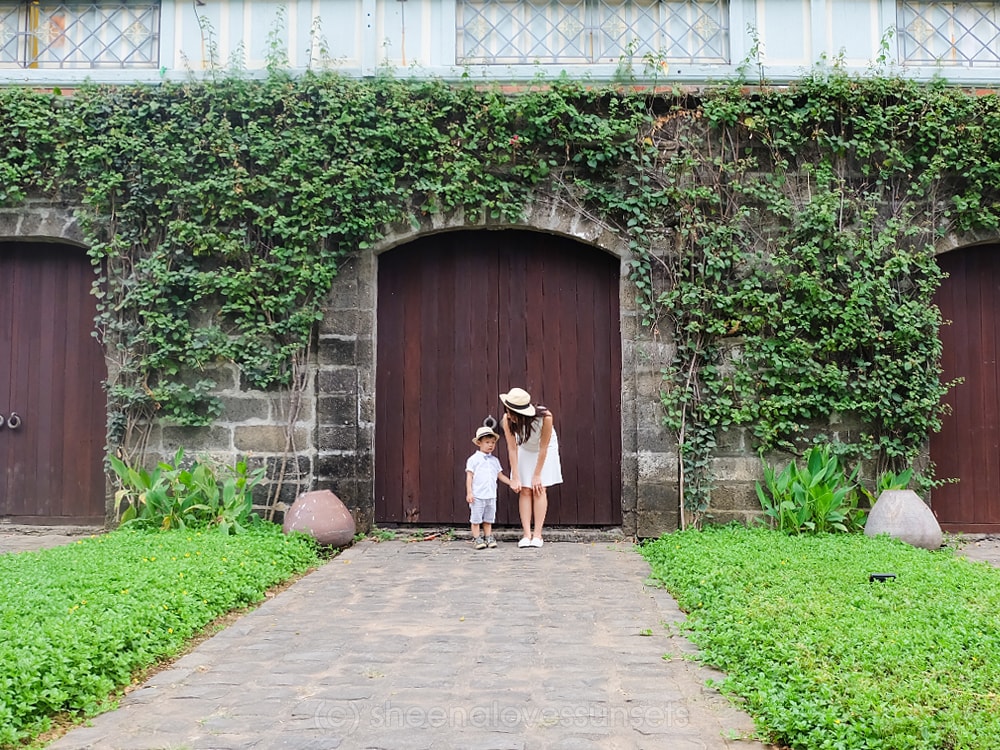 Like I said, it was actually surprising to learn that there are so many things to do in Las Casas with kids. We were traveling with friends who had 2 kids; one was 5 and the other was turning 3. Together with Luke, the three of them had a lot of fun!
1. Go on the Heritage Tour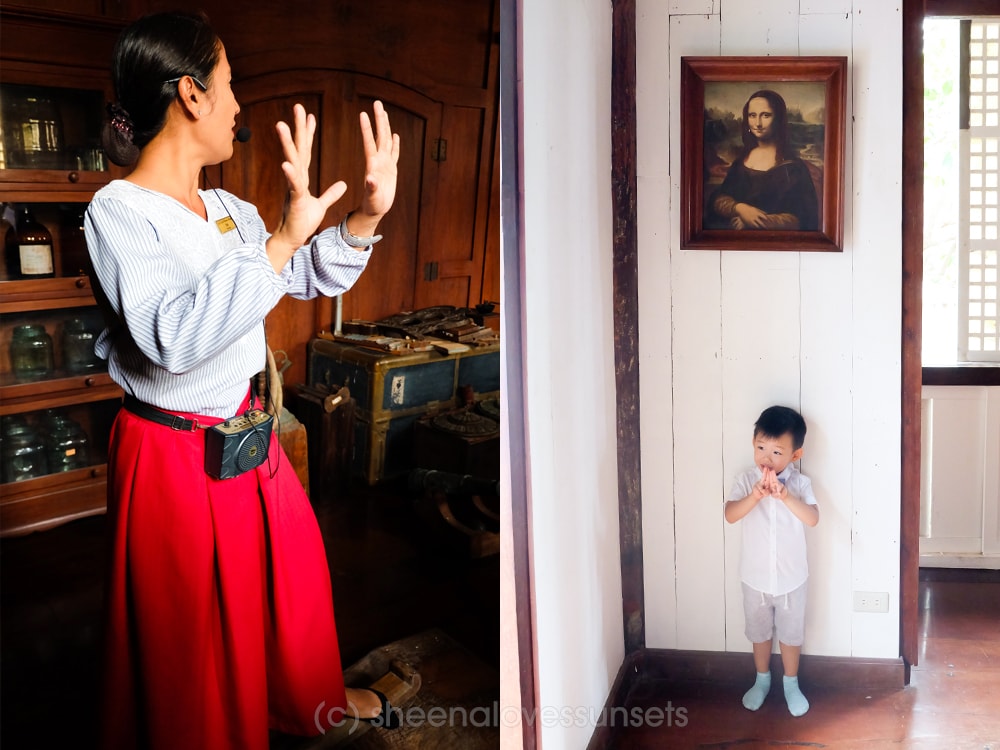 The first thing we did upon arrival, even before checking-in, was join their heritage tour.
You can marvel at the beautiful restored houses and take a peek inside some of the houses. Learn about history and how things were done centuries ago. (Random funny story: Luke pulled me into this room to show me this painting. He excitedly said "Mommy, It's MAN-GO!" He meant Van Gogh. Hahaha. For him, all paintings are by Van Gogh.)
Tip: Wear socks! You'll be asked to take off your shoes every time you enter each house and let's just say, those floors aren't squeaky clean!
2. Watch the Carabao Parade and Race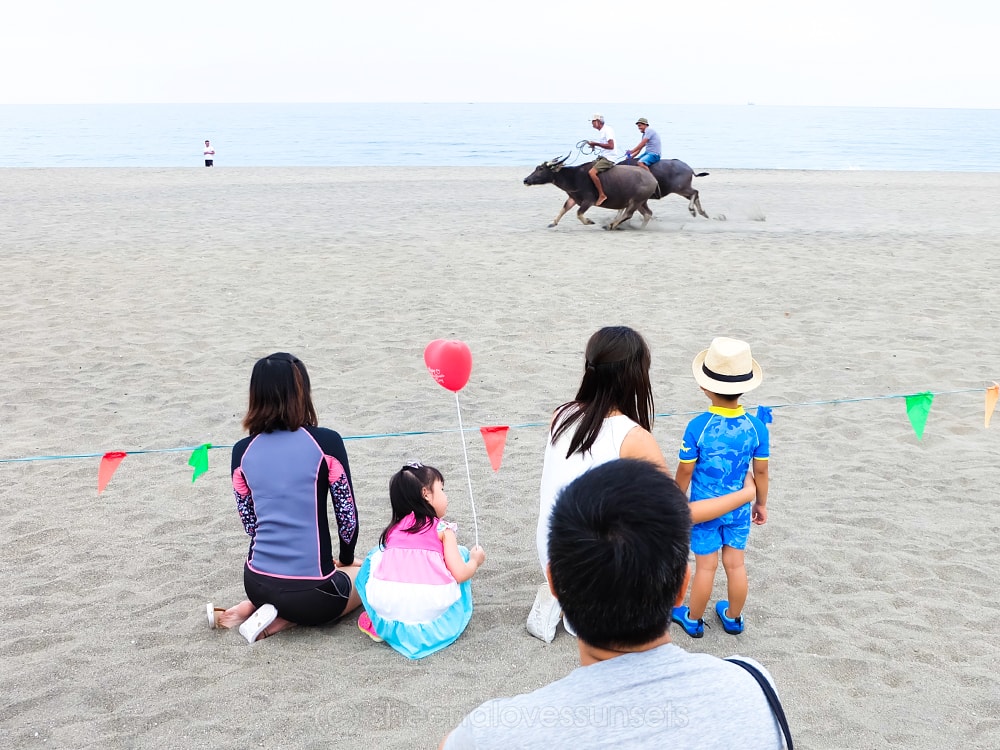 Something you don't get to see everyday! Held every Saturday and Sunday, watch carabaos race by the beach. And then, go straight to the beach right after the show!
TIP: Better check with the staff about the time. It says 4pm on the website but when we got there, they said it was 4:30pm.
3. Spend time at the Beach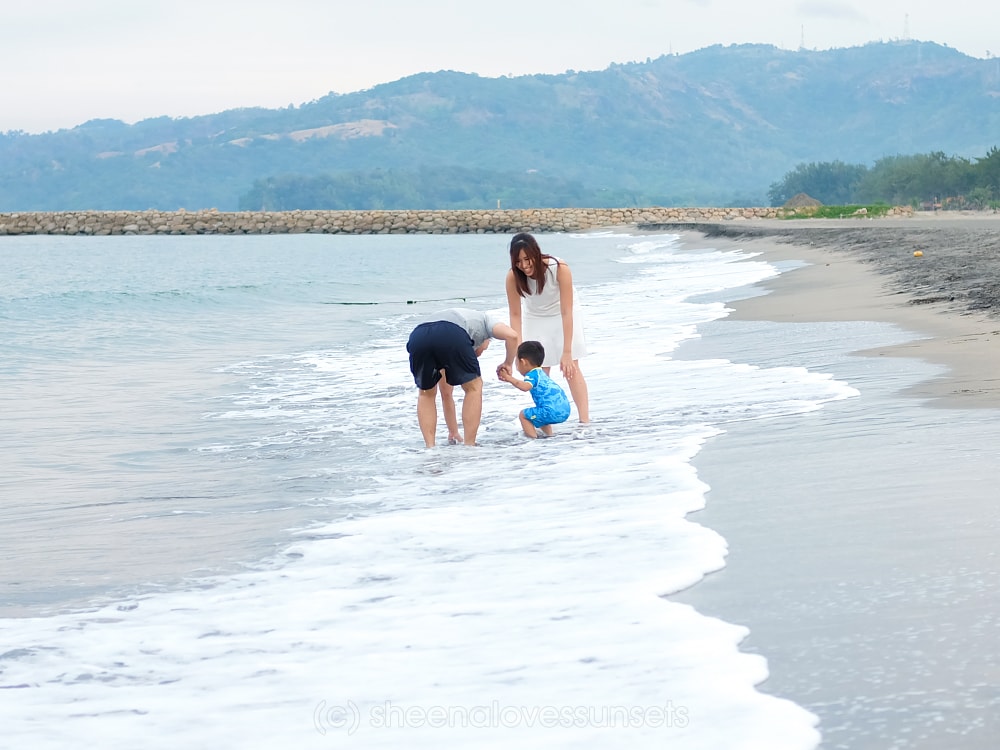 Surprise! There's also a beach! Something that people usually forget to mention about Las Casas is the fact that they have a beautiful beachfront. After all the tours and performances, we ended the day at the beach.
4. Go fish feeding (with a view!)

Drop by Casa Lubao and pay P50 to go fish feeding. You'll be provided with a plastic bag full of bread that you can feed the fish with. I have to say though, It was such a picturesque place for fish feeding! Also, this was arguably the kids' favorite activity. Luke cried buckets when we said we had to stop feeding the fish already. Haha.
5. Ride a kalesa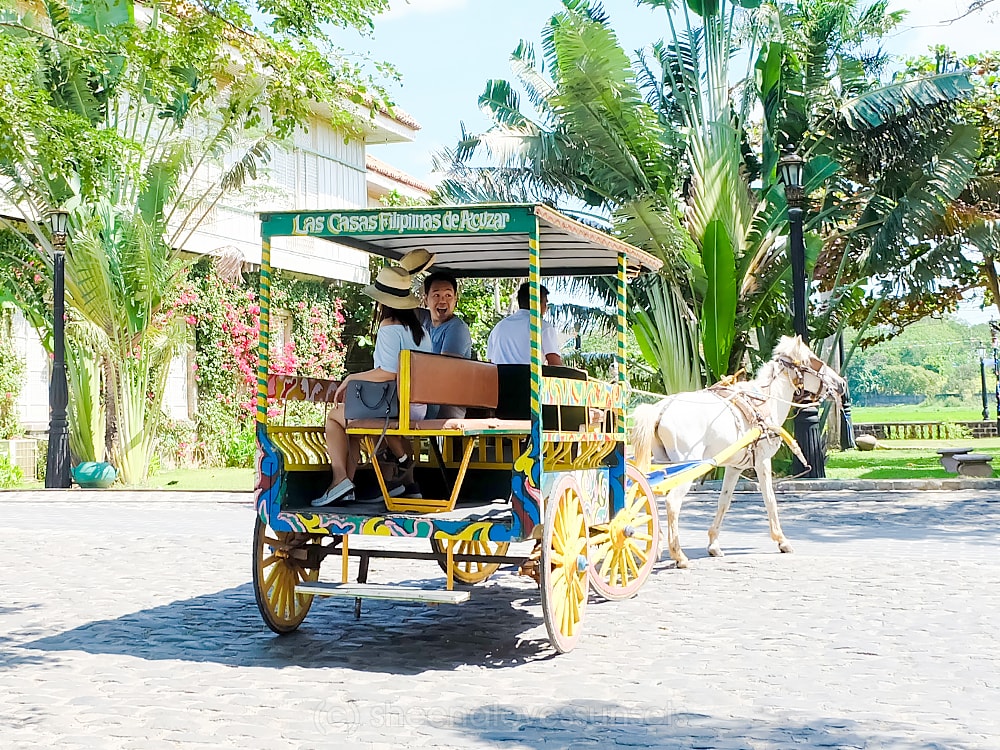 Just like the good ol' days! Ride a kalesa and let your kids experience how people used to go around places in horse-drawn carriages like these. Get a stub for your kalesa ride at the conceirge for P75 per person. Kids below 4, if I'm not mistaken, are free.  (Related post: Take them to Intramuros for a kalesa ride!)
6. Take the tram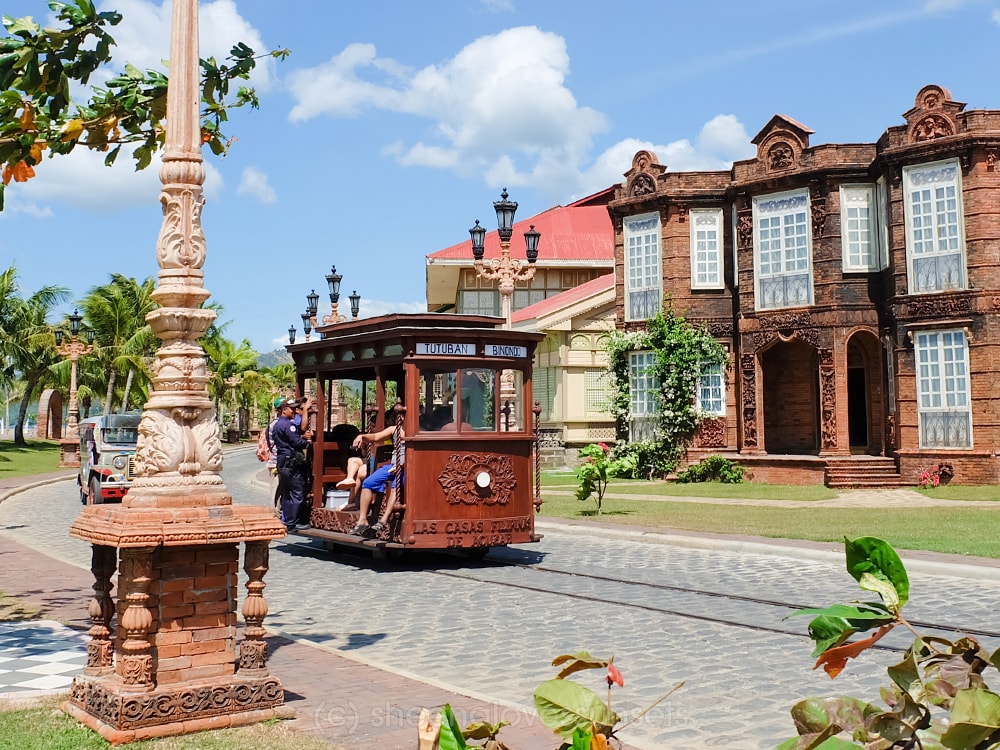 You better believe it; this tram was actually operational! I personally wasn't able to try it but our friends did and I'm sure it was a treat for the kids!
7. Ride on a "Balsa"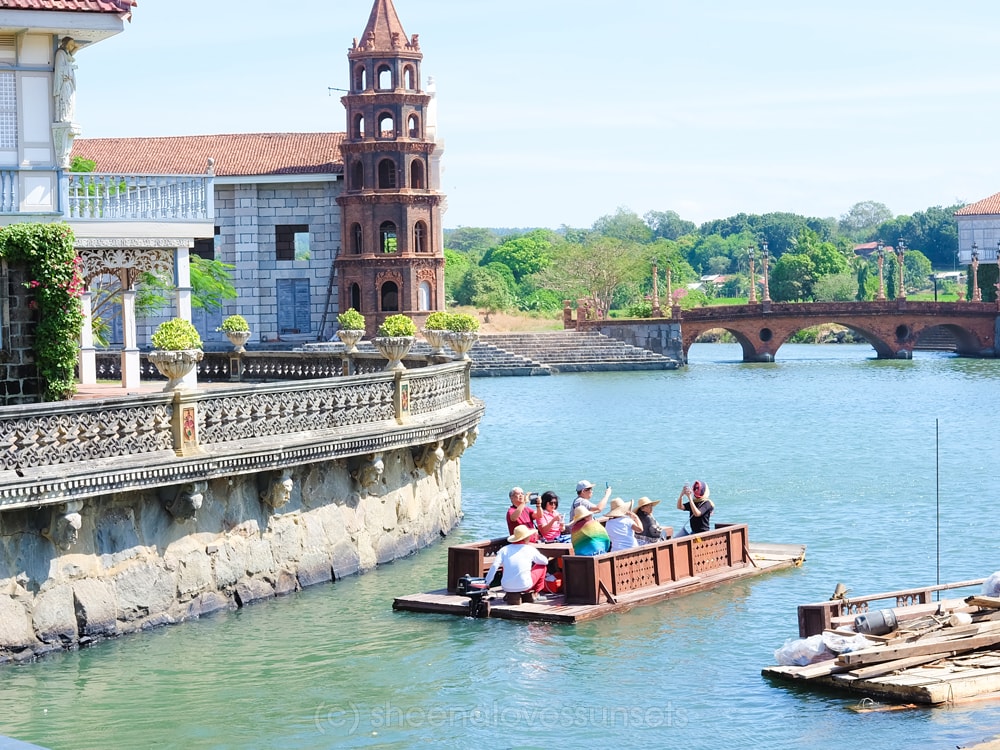 Go on a boat ride along the canals of what they call Estero de Binondo buildings in a balsa: a native raft used during the Spanish times. Looks wonderful, although, I wasn't able to try it either because it costs P500 per person. We didn't feel like spending P1500 for a boat ride that day!
8. Take photos wearing traditional Filipino costumes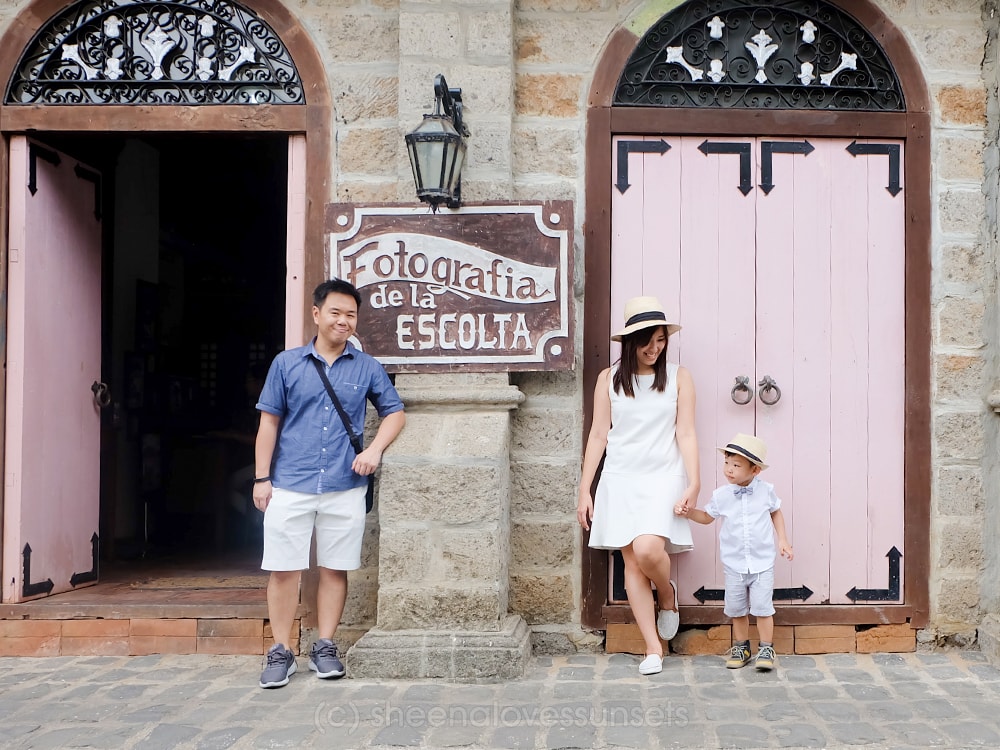 Also something that we weren't able to try anymore because of time constraints, but would have been absolutely nice, was taking photos in traditional Filipino costumes at Fotografia de la Escolta. Would've made an awesome souvenir!
9. Explore the houses on your own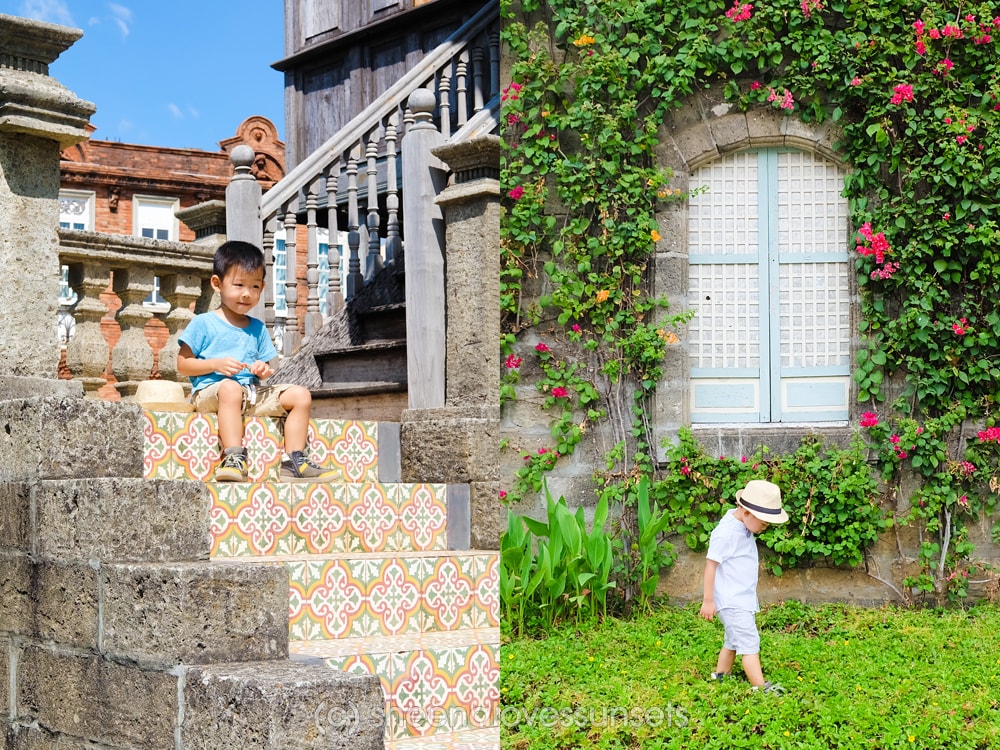 There are houses that are open for exploring if you wanna take a look at them on your own. So many beautiful restored houses that's great for picture taking! Which brings me to my last item on the list:
10. Take photos EVERYWHERE!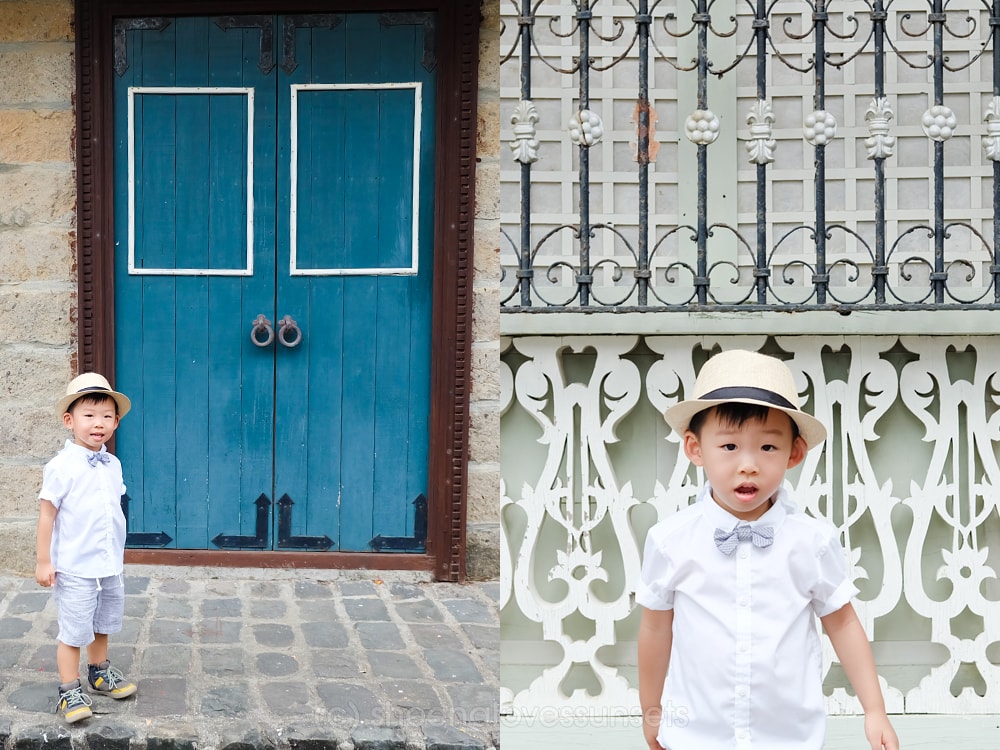 It's all Instagrammable, almost everywhere you look! There are so many brightly colored doors, intricate details on the walls and beautiful tiled floors. Definitely great for photoshoot or just snapping cute photos of the kids.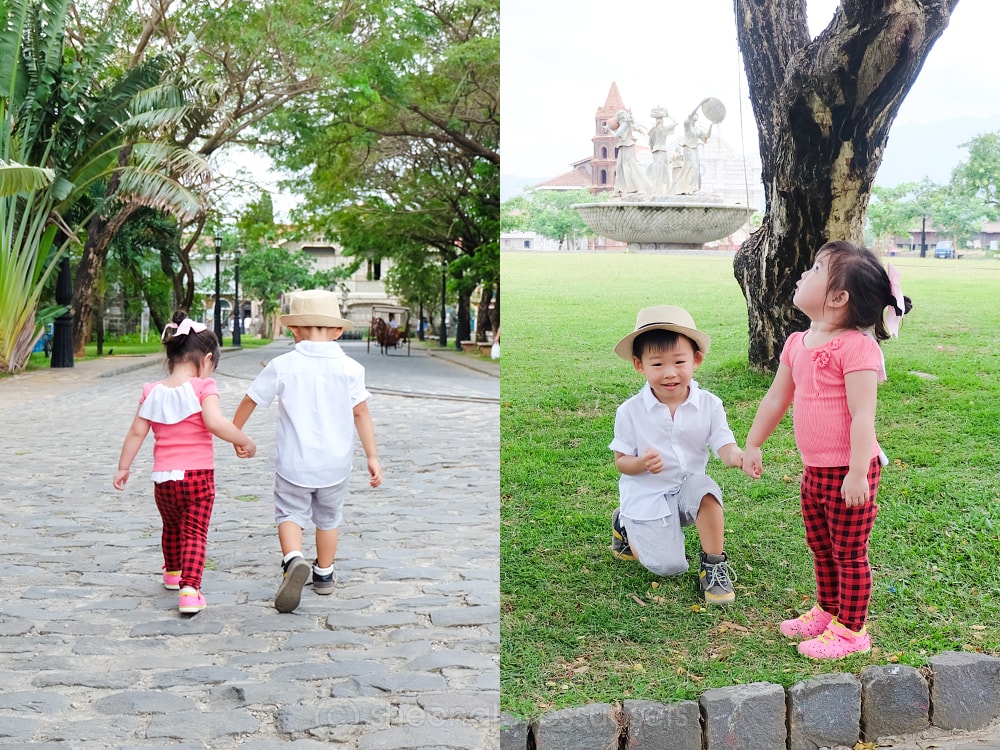 In fact, the place was so beautiful, it prompted Luke to propose on the spot! What?! Haha! I seriously have no idea why he bent down on one knee, but he really did, out of the blue!!! Is that a natural reflex? Instinct when you see a pretty girl? No, Luke! I'm not ready for this yet, okay? Hahaha.
IMPORTANT: Should you stay for the night?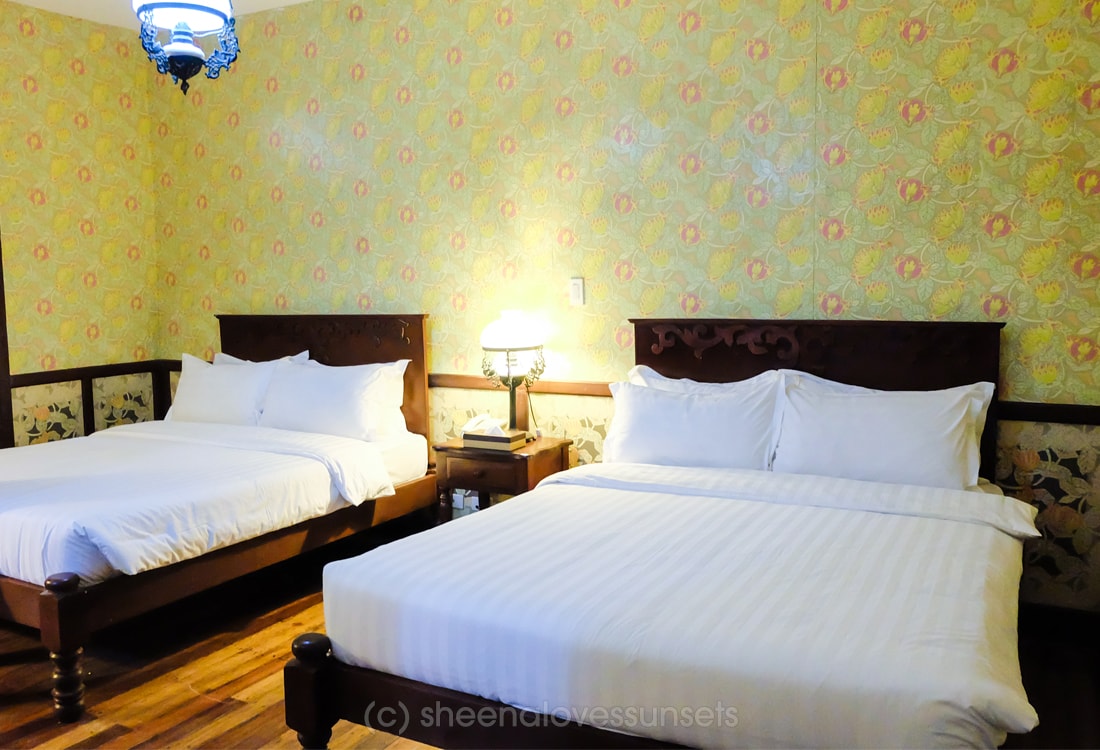 We booked a one night stay at Las Casas Filipinas de Acuzar in a Large Superior Deluxe Room.
The rooms had an old world feel, which I didn't mind personally. It matches the theme of the place for sure. Not my husband's thing though. So he was a little put off that it didn't look modern (haha) but still he was willing to give it a shot.
Then we saw that there were dusty tables, dirty floorboards and some parts of the room that just didn't seem well-kept. There were a few insects too like spiders near our beds (eep!)
Bathroom was spacious. There's a bathtub on the right (not in the photo, but it's there!) No complaints about the bathroom.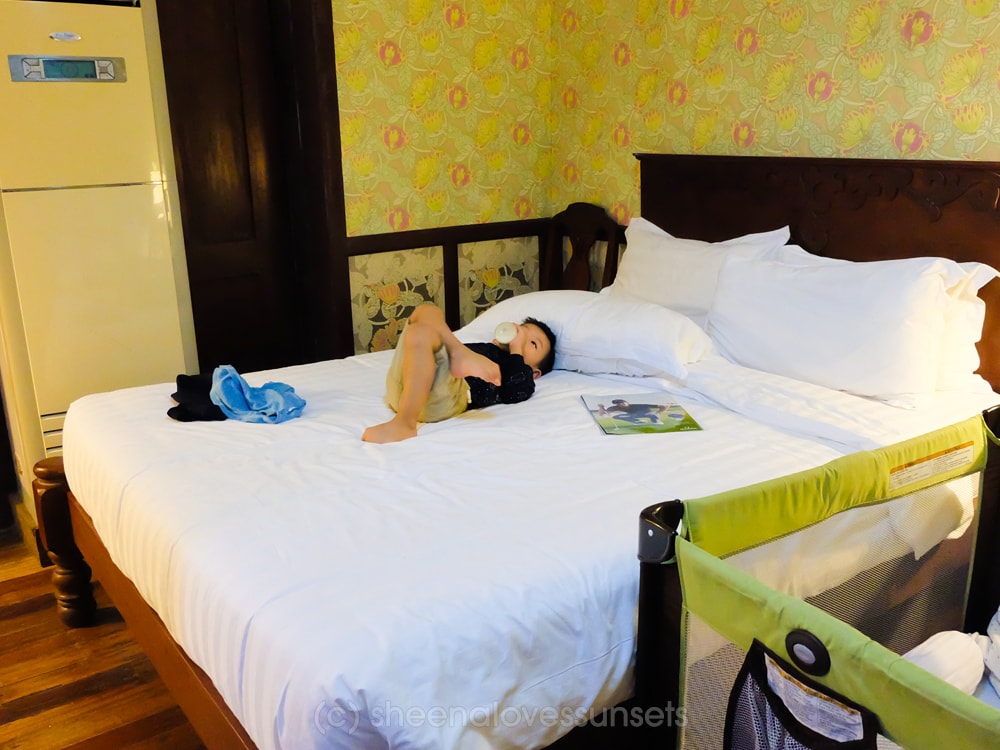 We brought our own playpen, as we usually do whenever we go on roadtrips, to make sure that Luke's sleeping area is clean. (I mention that now because it's an important tidbit for later on!)
That night, I wasn't able to sleep well because the air from the aircon was blowing on my head. (See aircon on photo) Whenever I would adjust it, it would blow to where Luke's playpen was. There was no "in-between," believe me, I tried. So, I just silently suffered all night. Huhu. (Unsolicited tip for management: Install a deflector like AirEasy so that cold air drafts don't blow on unwanted places, like the beds!)
Also, there was a stained glass window on top of the aircon and the light from outside shone brightly inside our room. It was a little hard for me to sleep because of the light because I'm used to sleeping in total darkness.
That could just be me though, because it seems like everyone else slept fine…
Our Horror Story: Insect Bites!!!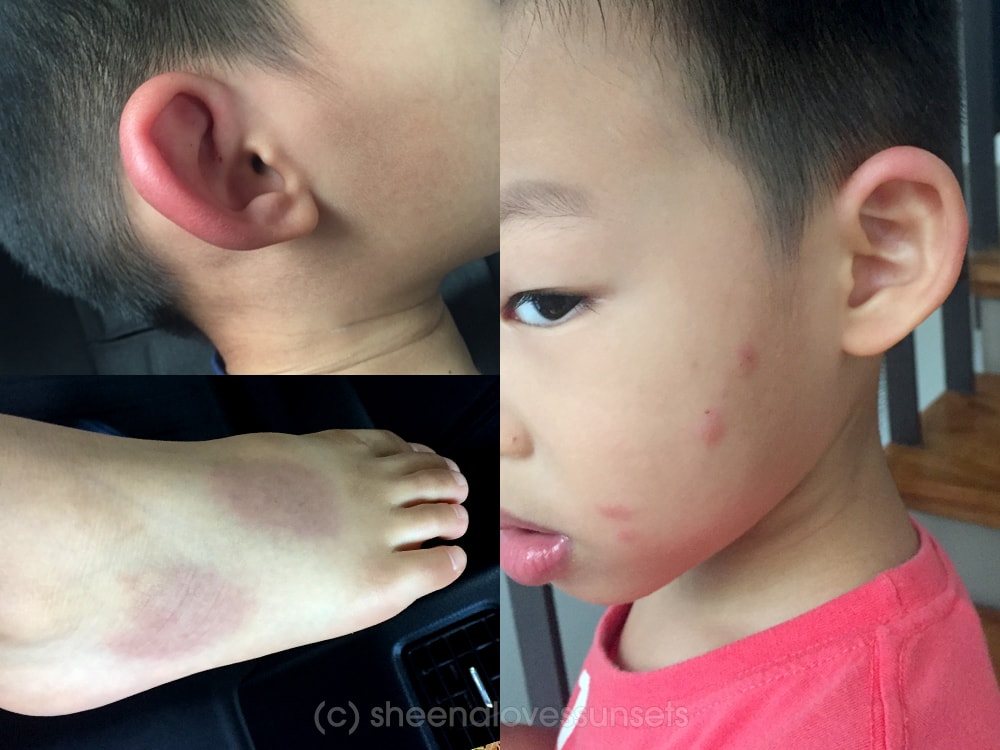 … or so I thought!! To our horror, Luke woke up with swollen ears (yes, both ears,) 4 red marks on his left cheek, around 2 on his right and his right foot was really swollen! Good thing I always bring a first-aid kit for travel so we immediately applied bite creams. HUHU. My poor baby.

We went to Luke's derma pedia immediately the day after and she said that it was from insect bites. Because Luke was in his playpen, he was closest to the floor out of all of us. Those insects probably jumped from the floor into Luke's playpen. The doctor gave us creams to apply to his face. He eventually got better after 2 weeks.
Informing Management
I sent a message to Las Casas Filipinas de Acuzar about our experience and they recommended I go see their partner doctor here in Manila. I told them I had already seen Luke's doctor and would just like to ask them if they could investigate what happened and inform me what steps they are taking to address this concern. Did they check the room out? Did they already have the room disinfected?
I wanted to know because friends were asking and because I wanted to know their explanation so I can give a fair report here on my blog. Anyway, I didn't get any reply after that. So I sent them an email on Feb 22, 2018 and as of the posting of this entry, I have yet to receive a reply.
I'll update this section once I receive a response.
UPDATE FEB 28, 2018: They sent me an email the day after this article was posted. Here is part of their message:
"We have always ensured that our rooms are cleaned properly and all pests including insects are terminated especially inside our confines. We have an in-house team of pest controllers and public area cleaners 24/7. As much as we want to eliminate all insects in the resort we regret to inform you that due to the nature of our location some might still be able to penetrate our public areas. We regularly maintain our rooms and beddings every time we change guests and even air out vacant rooms."
Other things to note: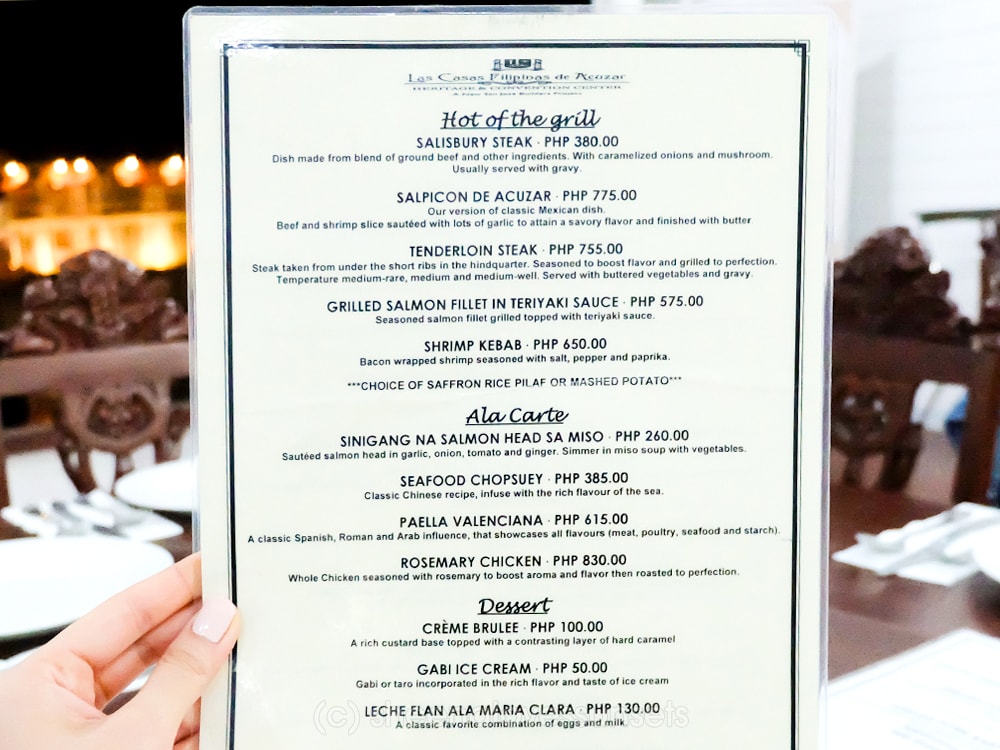 DINING: You have nowhere else to eat except inside this resort. They have around 6 restaurants although we were only able to try Café Marivent at Casa New Manila. Food prices are a bit on the high side (except for that P50 ice cream!) considering the serving size. In terms of taste, honestly, it was alright. Not bad, but nothing great either. Breakfast at Hotel de Oriente was also nothing particularly special.
GETTING AROUND: You get around via Jeepney and it's a pretty efficient system! You can call for one in your room but they usually have some roving regularly that we never really needed to call.
The Verdict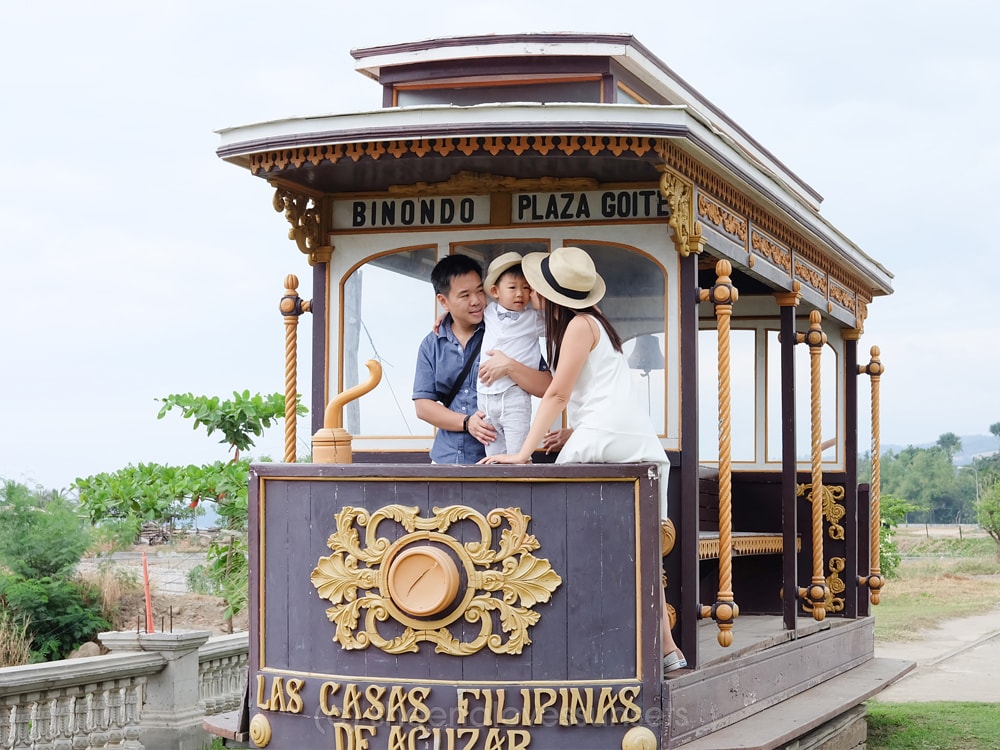 Las Casas Filipinas de Acuzar is a great place to visit with your family. Beautiful place, so many things to do and so much potential. I'm sure they will come up with greater things as they expand. Go and visit!
However, I cannot recommend staying the night because of our experience. No doubt, this place is highly rated on Trip Advisor and I've had friends tell me they had no problems when they stayed here. So maybe our experience was just a fluke! But well, that's what happened and so, that's my personal recommendation!
You can take day tours to Las Casas although admittedly, you'll have to come back again because you won't be able to do all the fun things in just a day.
–
Our weekend in Bataan covered two things: Las Casas Filipinas de Acuzar and releasing baby turtles at The Pawikan Conservation Center. We love going on weekend road trips and are always on the lookout for great places!
(NOTE: THIS POST IS ABOUT OUR EXPERIENCE LAST FEBRUARY 2018.)