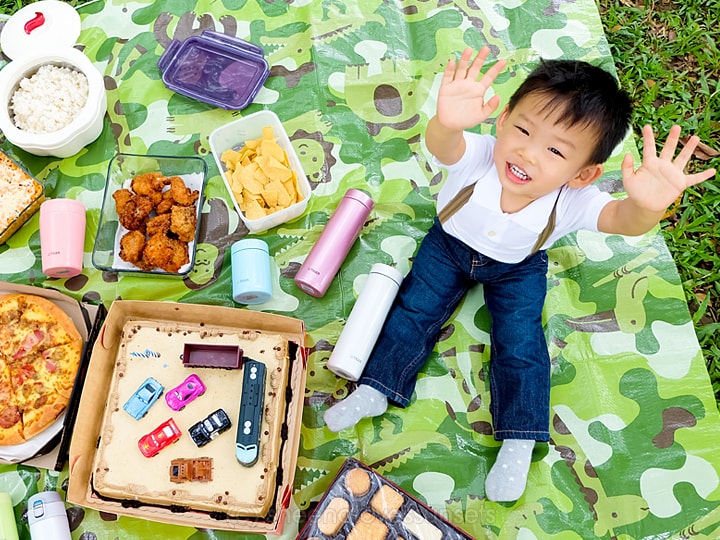 Luke wanted to have a picnic at Central Park for his birthday (he got that from one of his books about New York, haha!) But we don't live in New York, so he got a picnic at Ayala Triangle Gardens instead! Close enough!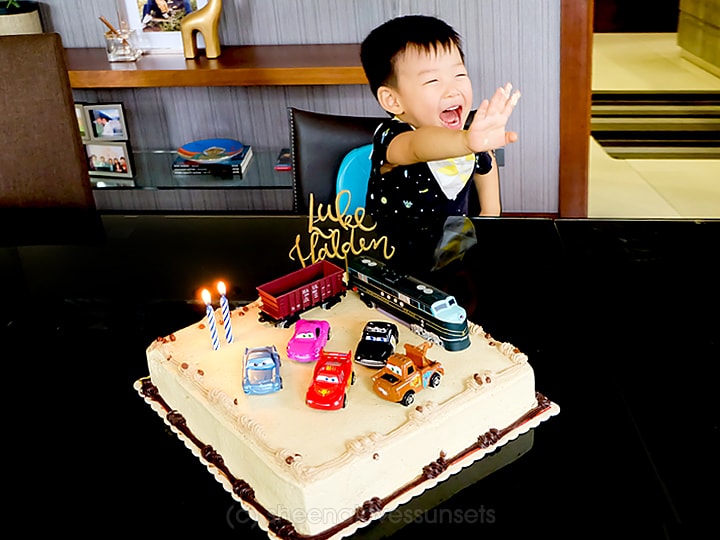 But wait, before our picnic, we had him blow his birthday cake first!
Days before his birthday, we would ask him what kind of cake he wanted. He would go from "Choo-Choo Train" to "Lightning McQueen" and back to "Choo-Choo Train" again. And because he couldn't decide, we got him a Train + Lightning McQueen cake instead!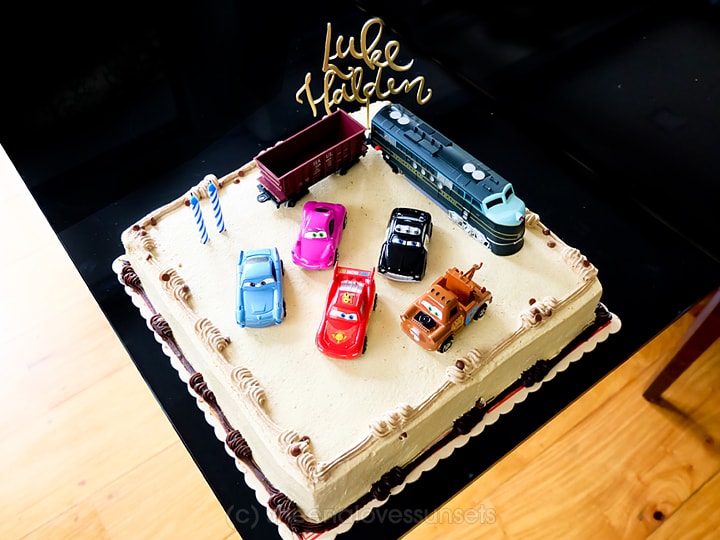 My mom-in-law brought a giant mocha cake and we just placed Luke's favorite train and car toys on top. We also reused the cake topper we used for his 1st birthday last year! He obviously loved this idea! A proof that little kids don't need expensive things to be happy!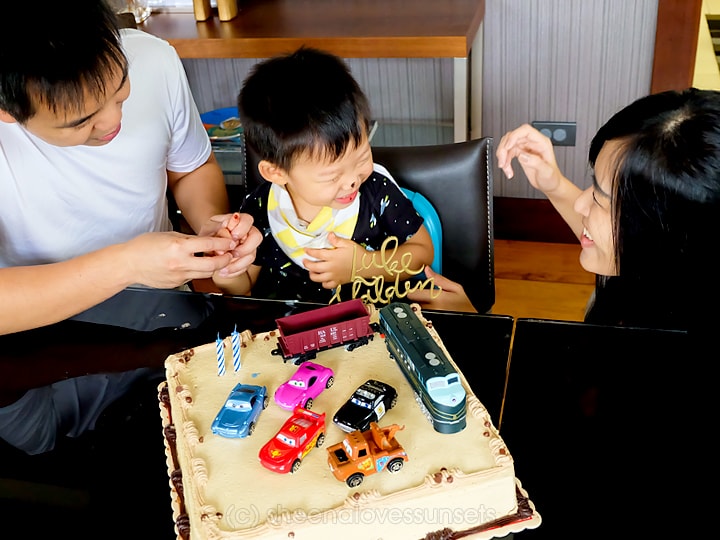 Putting icing on his nose! Hehe. How time flies! *sigh* I can't believe my baby bunny is now 2 . It feels like only yesterday that we were celebrating his birth and then his 1st birthday! Now he's 2 and what a funny boy he turned out to be! He's chatty, sometimes naughty and jokes around a lot.
I can't wait to see you grow and know more about you, Lukey!
Ayala Triangle Gardens: Picnic Time!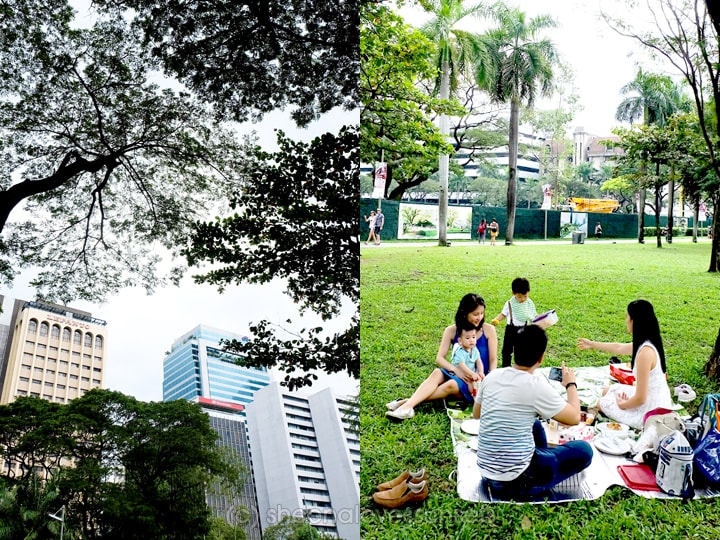 Having a picnic in Manila isn't as easy as it is say, in Canada. First, it's hard to find pockets of green here in this city. Second, it's usually excruciatingly hot! But thankfully, Luke's birthday falls on January and the weather was perfect.
We asked one of the guards where we could have our picnic and he pointed us to this spot under the tree where he said it was cooler. Thanks, Kuya Guard!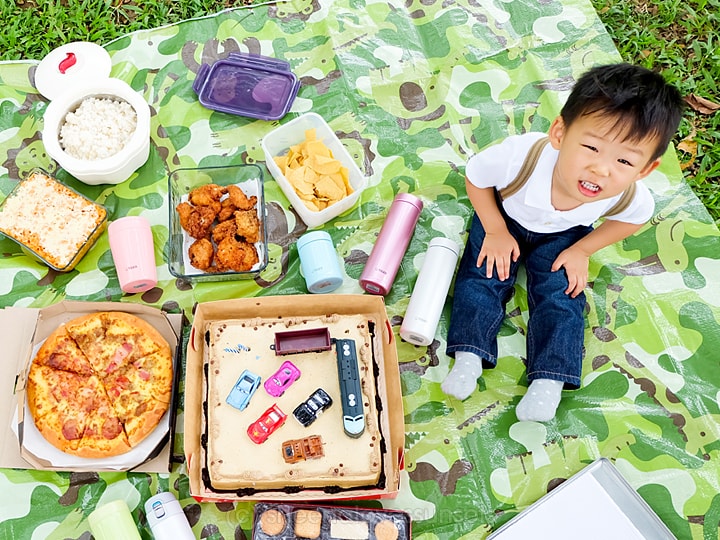 Brought easy-to-eat food to avoid unnecessary mess. Hehe. Macaroni, pizza, garlic rice, fried chicken and of course, Luke's favorite, nachos!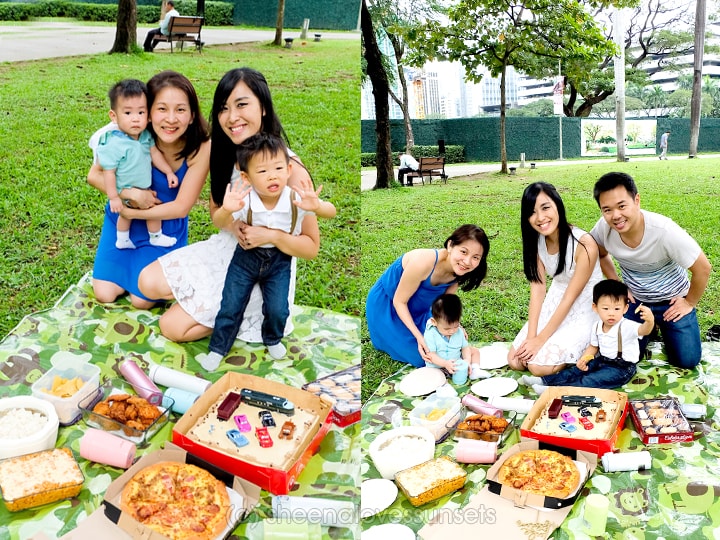 One of my closest friends, Angeli, and her baby, Mati, joined us for the picnic.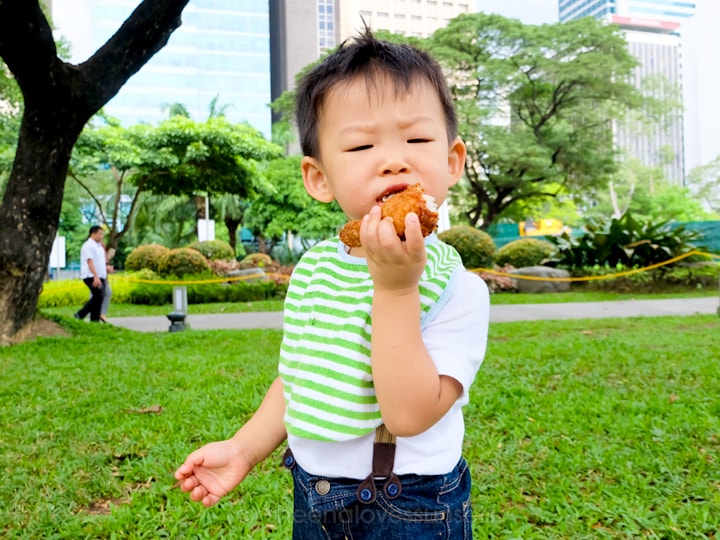 Seriously munching his chicken like there's no tomorrow. He kept saying "crunchy, crunchy!"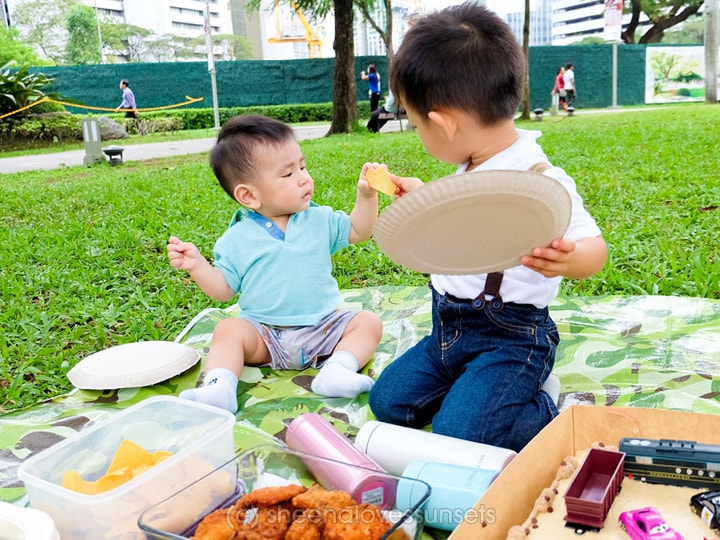 Luke loves Mati. He usually doesn't like sharing (something we need to work on!) but he didn't mind sharing his nacho chips with Mati. Aww.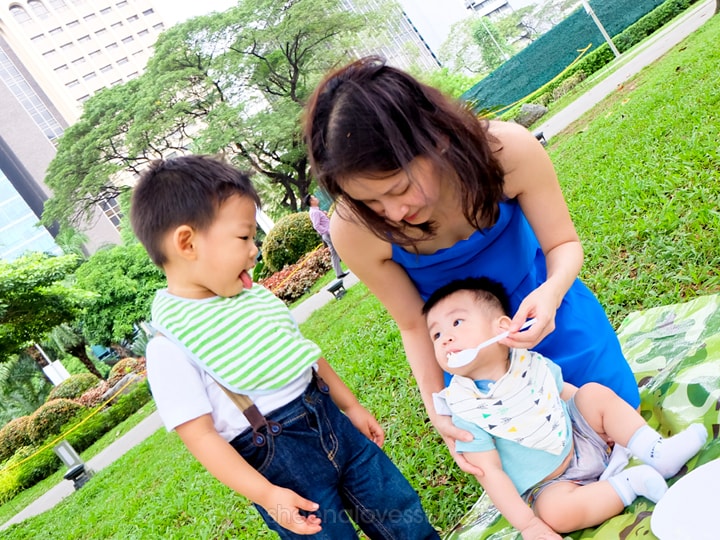 Teaching Mati to open his mouth when he eats. Haha. Luke is now an ahia (big brother!)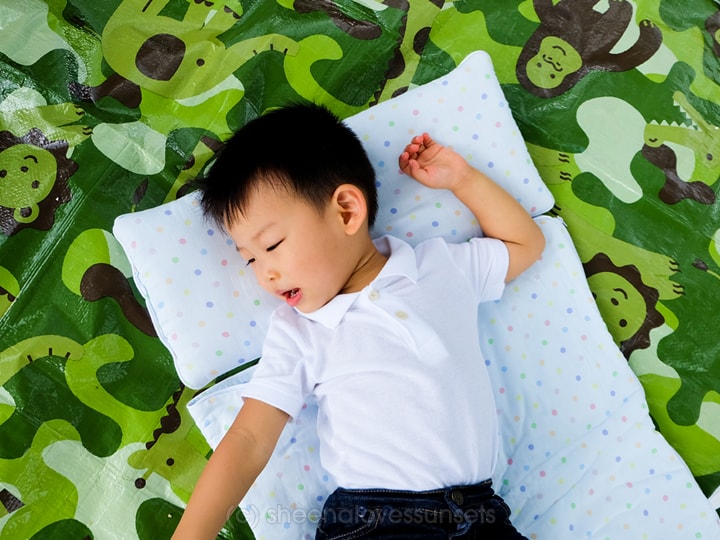 After our yummy meal, it was time to lounge and be lazy. Haha. Good thing I brought Luke's iFlin foldable sleeping bag. He was so relaxed that he asked for his milk and that I lie down beside him for a story. This is something we do everyday at home. <3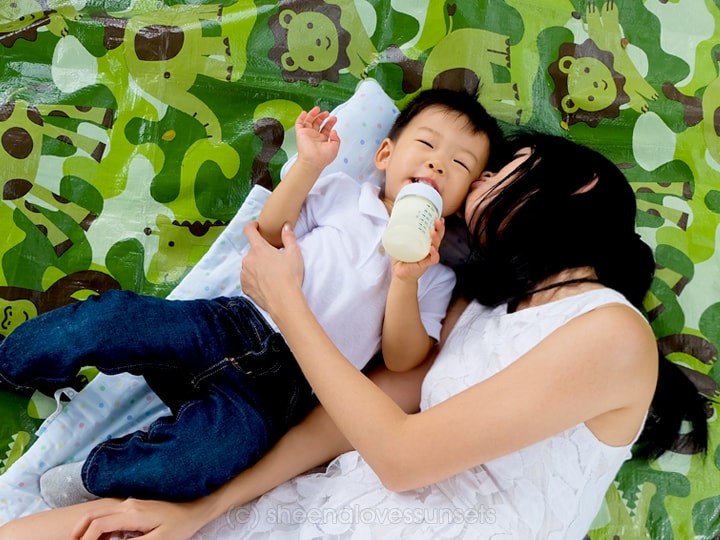 My happy bunny drinking his milk. Aww. But our chill time was cut short because it started to drizzle! So we quickly packed up our things and ran back to the car. Once we got into the car, it poured like crazy!! Oh my!!
We really thank God for giving us favorable conditions when we were having our picnic! Only by His grace. Thank You, Jesus, for this birthday gift for Luke!
Things to Bring on a Picnic: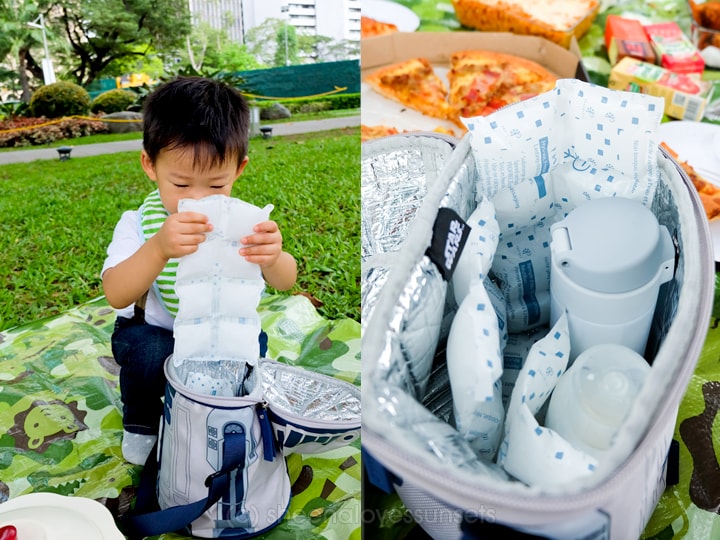 If you wanna have a picnic too, we suggest you bring the following:
Waterproof Mat: Protection from the damp grass. Got mine from a dept store in Osaka.
Easy-to-eat food: Preferably food that doesn't require utensils, like pizza!
Insulated food container: Like our Tiger containers, to keep baby food warm
Ice packs: We use Profreeze packs (you can cut them into any size you want) to keep your drinks cool
Small pillows or sleeping mat: Optional, but nice to bring soft pillows or a sleeping mat, like our iFlin sleeping bag, so you can relax and lounge!
Tissue and a lot of wet wipes!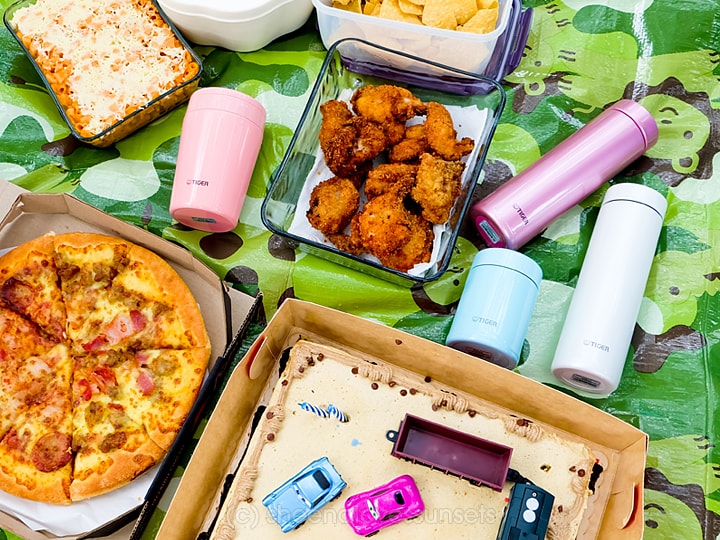 Tips When Having a Picnic in Manila:
Schedule it when the weather is cooler, like in December or January
Use reusable containers if possible and save the environment!
Make sure everything can be easily stored so that if it suddenly rains, you can pack up fast!
Bring an umbrella and be prepared for sudden weather changes!
(NOTE: THIS POST IS ABOUT OUR EXPERIENCE LAST JANUARY 2017.)