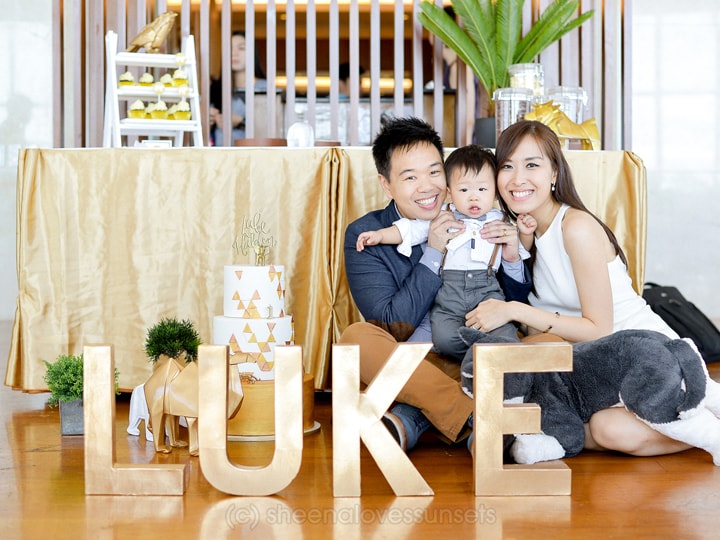 Luke just turned 1, and I can hardly believe it! The year came and went so fast for us but it was a year full of wonderful moments, all by God's grace! Our little bunny isn't so little anymore and he's now a toddler! (A very active toddler at that, too!)
To mark this milestone, Mor and I officially dedicated Luke to God in front of our family and friends during his first birthday party last January.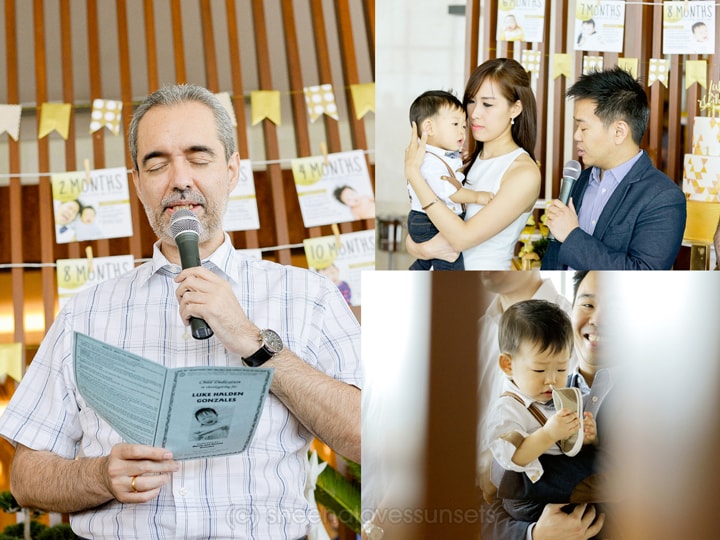 "For this boy I prayed, and the LORD has given me my petition which I asked of Him." (1 Samuel 2:7)
Luke is one of God's greatest blessings to me and Mor and it was important for us to dedicate him back to God. Pastor Ricky Sarthou was the one who officiated our wedding almost four years ago and it was a blessing to have him officiate Luke's dedication this time!
Useless insert: I was joking with Mor that I wanted to have a Lion King moment where Luke would be raised high ala Simba in Pride Rock and people would be singing Circle of Life in the background! Hahaha! (But that will only happen in my head.) 😀 ANYWAY.
After his dedication, it was time to celebrate!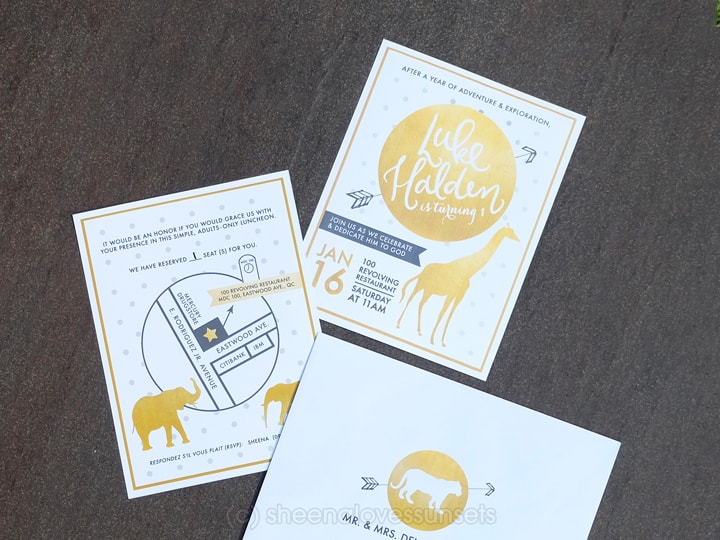 First birthday parties these days have taken a whole new level! I've seen so many crazy over-the-top kids parties lately and although I love seeing how they put up such beautiful events, it's not really very "us" (Mor and I). So we opted for a simple adults-only luncheon with nothing more than good food and good friends!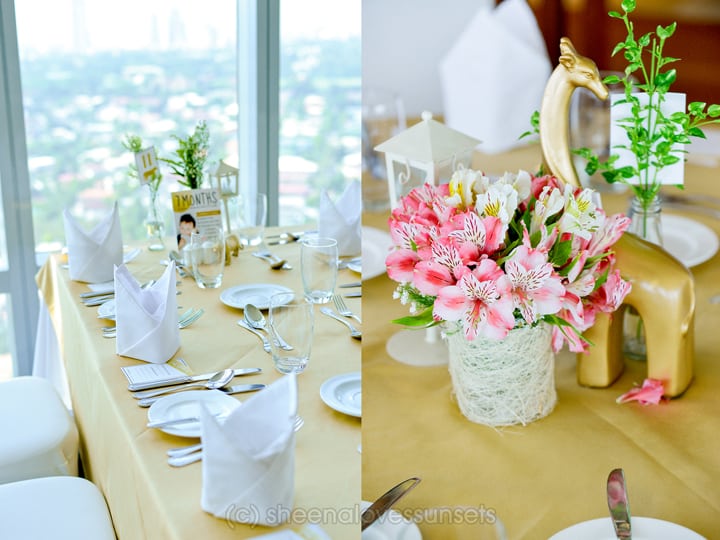 Being the feeling DIY-er that I am, I decided to do Luke's party styling myself; from the invites to the centerpieces, I tried my best to make sure that every detail was carefully curated to fit the theme "A Golden Geometric Safari" 
I chose this theme because of three things. First, Luke is crazy about animals! Second, I love anything gold. And lastly, both Mor and I wanted something simple and elegant. So I thought this was the perfect theme for Mr. Luke Halden's lunch party!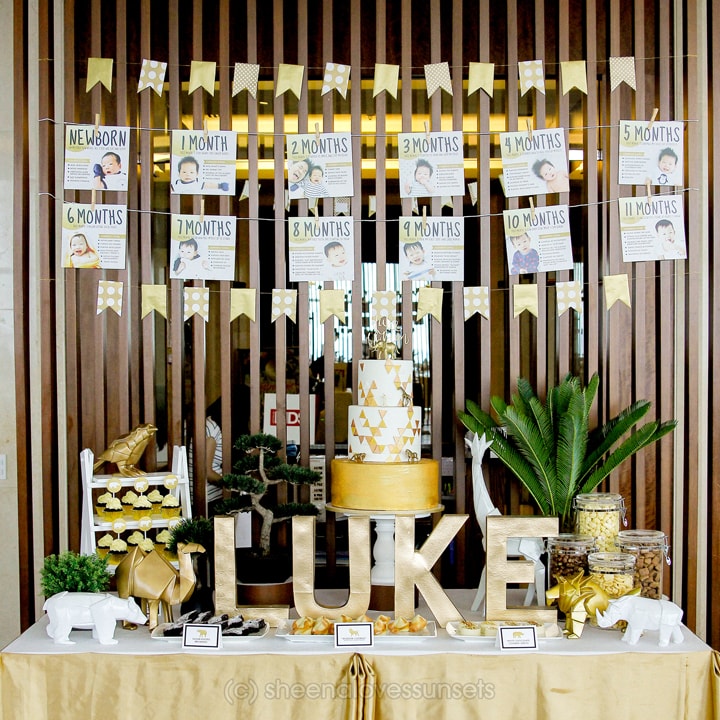 We didn't have a stage (since like I said, we wanted to make it as low-key as possible) so this cake table was the highlight, decor wise. We spraypainted Luke's name in gold and placed some origami animal displays to give it the geometric feel that I was going for!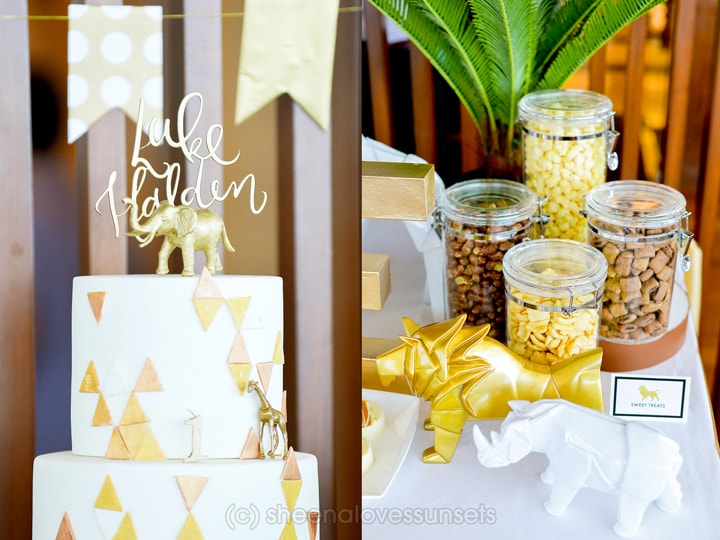 Did you notice the cake? How gorgeous is this cake from Wynne Cakes?
When Luke was born, my friend Crae of Craelligraphy gave Luke a personalized calligraphy artwork of his name. Because it was so pretty, I decided to use it for Luke's party (see the invites!). We also wanted to use the design for the cake, so my friend Celine made a special cake topper out of it (Thanks Cel for your super special gift for Luke!)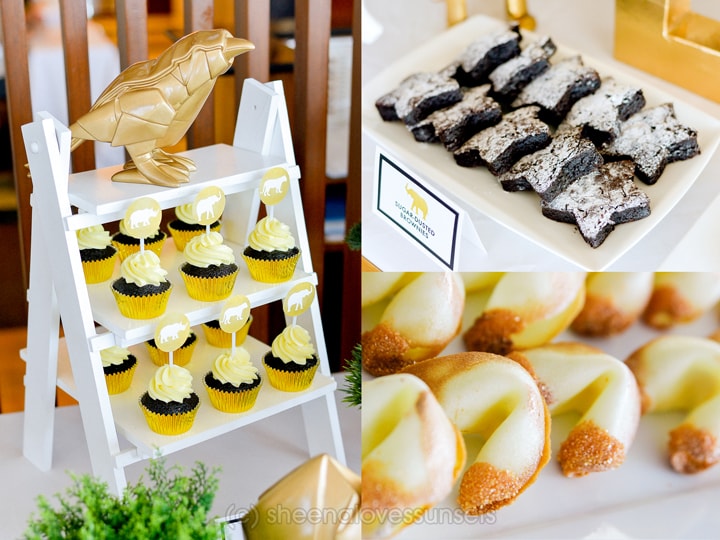 And of course the pastries had to match the theme too!
I made a special request to have golden fortune cookies which we labelled "Wisdom Cookies" (Haha, I'm corny sometimes, I'm sorry) because instead of the usual fortunes, we placed hopeful messages from the Bible inside!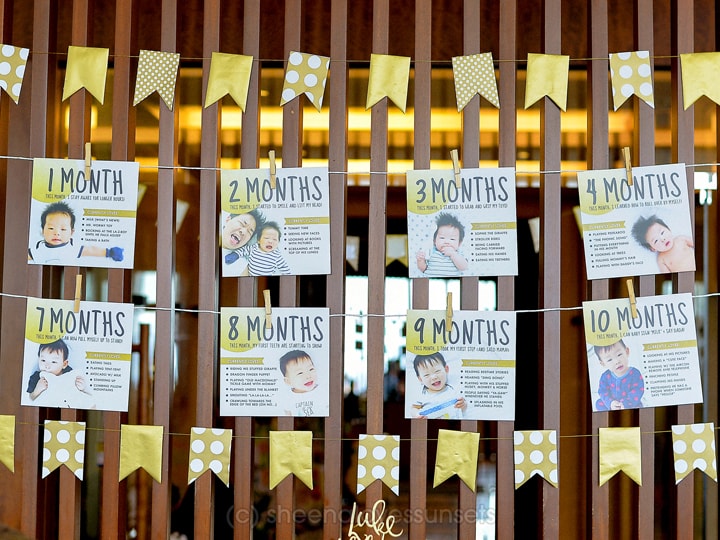 Every month, I take pictures of Luke and write down what he loves and what he's learned for that month. I made it initially for his first year photobook but then I decided to use the same pictures for the party so that our guests can know Luke a little bit more!
I hung the pictures on top of his cake table and made some golden banderitas (Yes, I personally cut and taped all those myself also! Ultimate DIY!)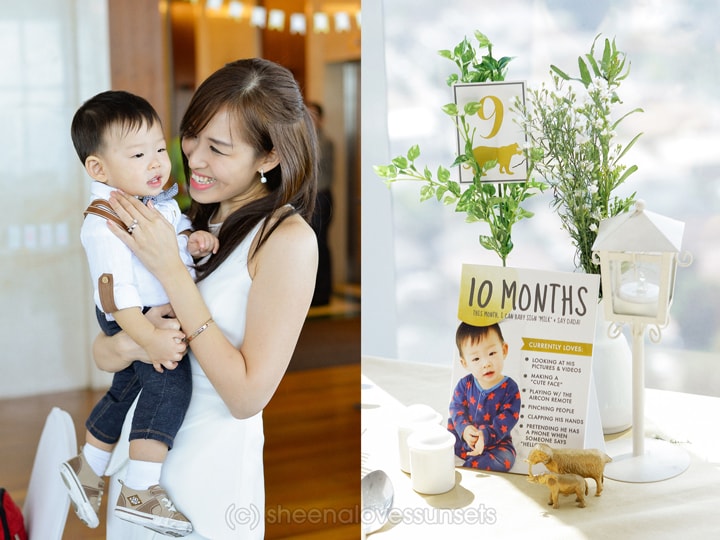 I also used the same concept for the centerpieces. And I added some golden little animal toys beside each photo!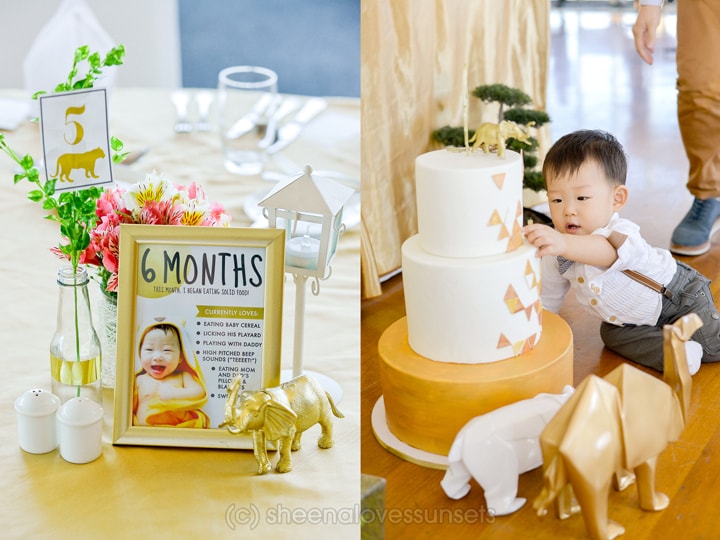 (Looks like someone's enjoying the details… haha!)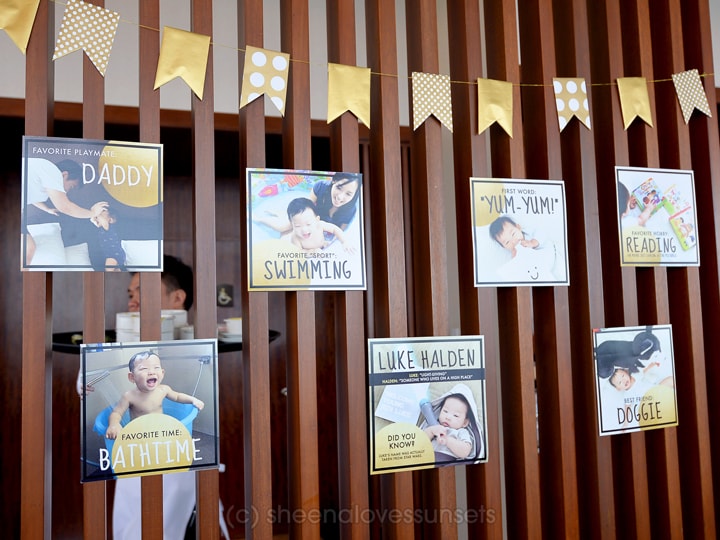 On another section of the venue, I placed more photos of Luke and some trivia! Like what his first words were ("Yum-yum!"), who his best friend is (his stuffed husky, "Doggie") and who his favorite playmate is (that's daddy, all the way!)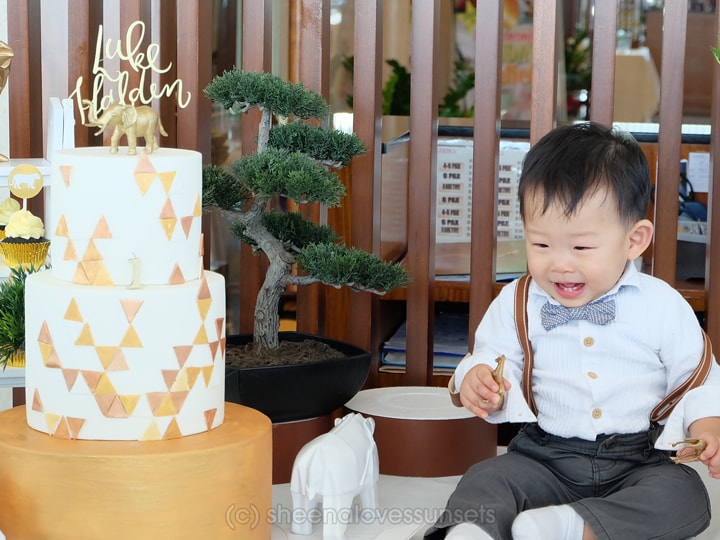 The star of the day had to look dapper, of course! Bowtie and suspenders for this little gentleman!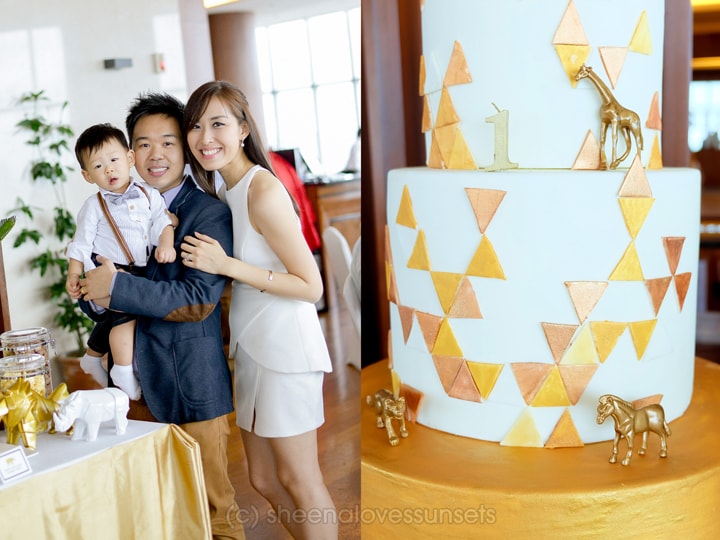 And I love color coordinating but I'm really not a fan of making everyone wear the same matchy-matchy colors so this is what we wore. I love wearing white so I insisted on white and chose the most origami-inspired dress that I can find, to match the theme. Yes, I don't like matching colors but I like matching my clothes to the theme (sometimes I do this also when I travel, but that's another story haha!)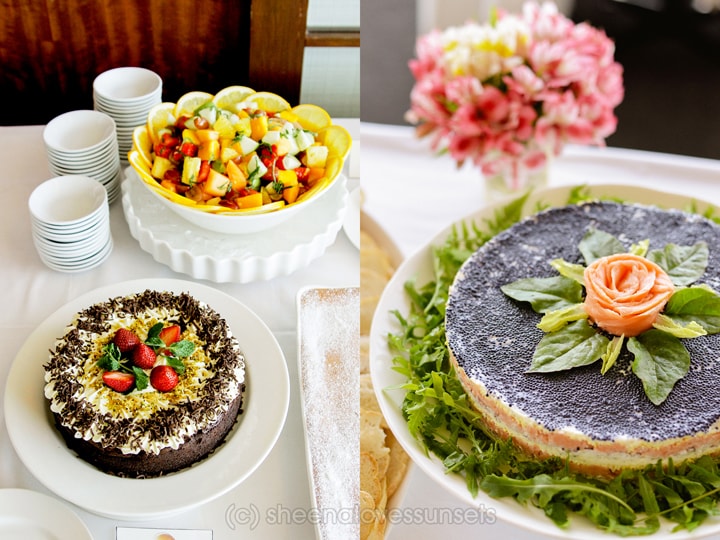 My foodie husband chose 100 Revolving Restaurant for our venue because of the food and Chef Jessie certainly didn't disappoint!
But like they say, you don't really eat during your own event and that is so true! I didn't even get to try this salmon caviar pie, which everyone said was delicious (HUHU!)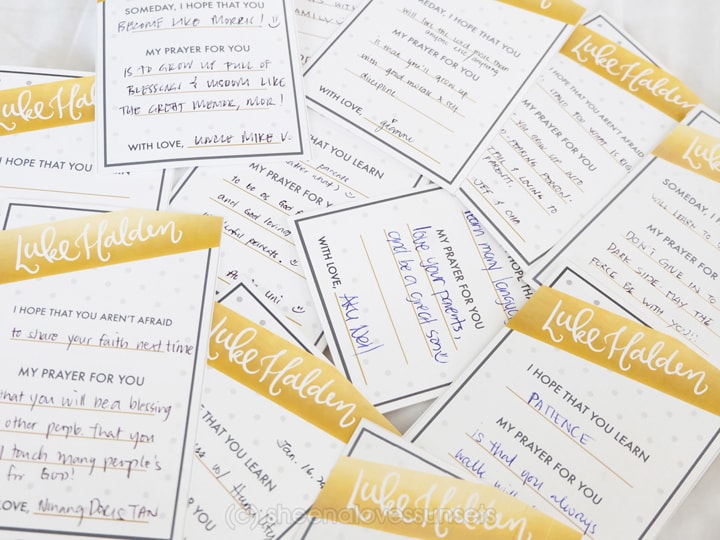 And since we didn't want to have a typical children's party, we didn't really have a program for the event either (no magicians, no clowns)
This is the only "activity" we had. On each seat, I placed a card for the guests to fill up for Luke. Each card had a line which said either "I hope you aren't afraid…", "I hope that you learn…", "Someday, I hope that you…" and "I hope that you become…" and then they would write their prayers for Luke.
Many people hope he'd be many things; from a jedi to a musician (haha!) Let's see what Luke chooses to do in the future! I can't wait to let Luke read it himself next time!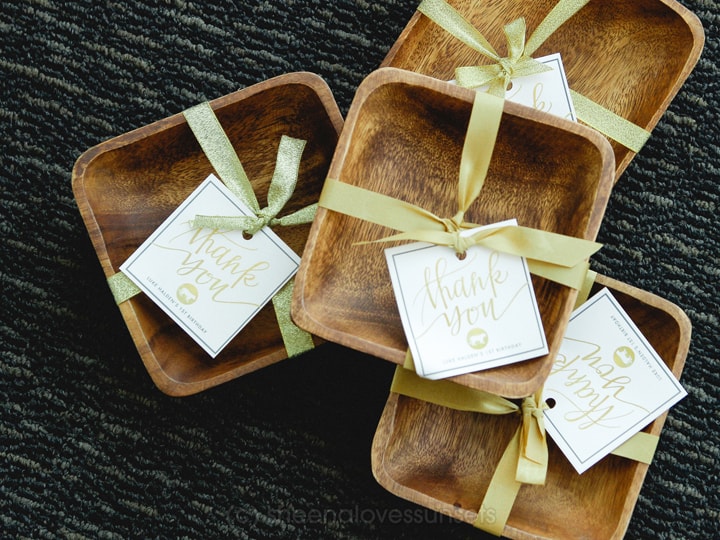 And lastly, these are our giveaways; wooden bowls from Halden Home. I personally tied a hundred of these. Yep, 100, or possibly more. I think I used up 3 rolls of ribbons. Haha.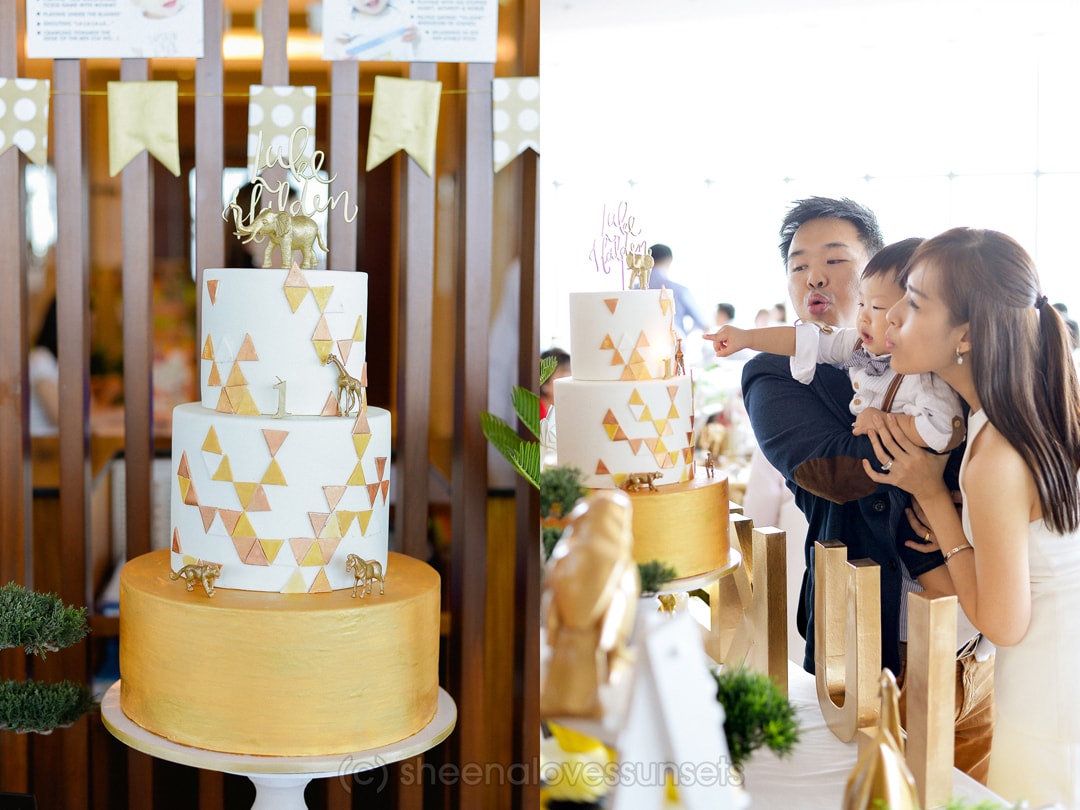 To my Luke,
Many people wish for many things for you and so do I.
I wish that you would see great things in your lifetime, spend time with fascinating people, explore places you never thought you'd visit. I wish that you would have many adventures, conquer your fears and that you would make daring plans and succeed in them. I wish that you would always look at the world with optimism, that your life would  be filled with laughter and that whenever you look back, you will smile and dwell on no regrets.
But if I could make only one wish for you, know that this is it: that you grow up to be a man after God's own heart. Everyday, your dad and I pray that you will someday have such a deep relationship with your Father in heaven, that no matter what happens in life, you will always be anchored in His love. I pray that you experience His overwhelming grace in your life and that all your days, you will praise and worship His name.
We love you with all our hearts, Luke, but no one loves you more than God. We love you so much that we would die for you. But always remember, Jesus already did that for you.
Mommy