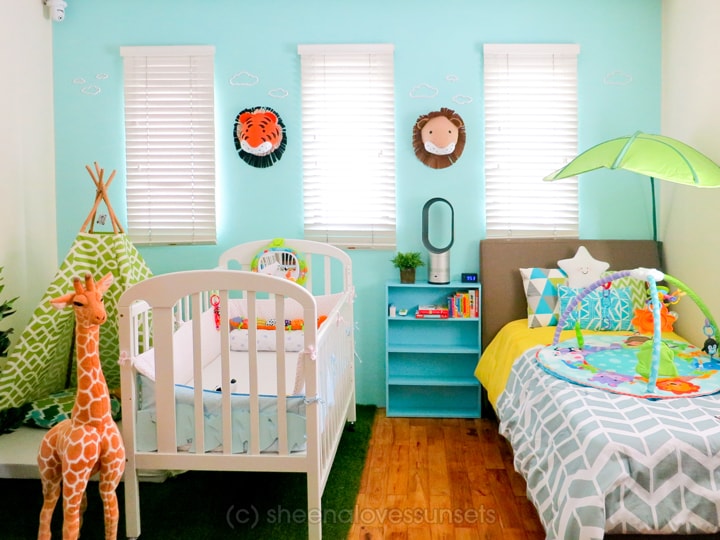 One of my other lesser known hobbies and joys in life is designing rooms with a theme and kids rooms in particular are my favorite. If I could change the theme of Luke's room every quarter, I might actually just do it (if I had unlimited budget) and if I could do this as a part-time gig, I would be the happiest!
So you can just imagine my dilemma when I was still pregnant: what theme should my baby's room have? I debated long and hard (with no one else but myself haha!) and after considering about around a hundred different themes, I narrowed it down to three: safari adventure, outer space or Star Wars.
Eventually, I decided on "Safari Adventure" first and promised myself that I would renovate it into an outer space or Star Wars themed room when he grows up and becomes a Star Wars fan himself (it's inevitable) so that he can appreciate it better. Win-win, if you ask me. 😉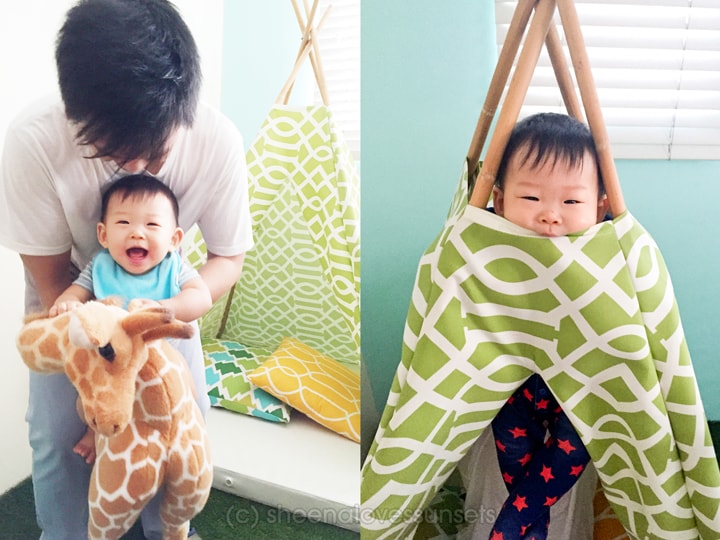 Initial accessories that I wanted to create for Luke's Safari Adventure Room:grass, a teepee and a giant giraffe. I would have gotten a bigger giraffe if only Mor hadn't stopped me (he said it's too freaky to have a toy giraffe taller than me on Luke's room! Haha!) But look at the joy on his face!!!
As a kid, I always made make-shift tents so giving Luke a teepee was a MUST.When I was designing the room, I didn't know anyone who sold teepees so I made one myself. 
By "made one myself", I really mean this: I pinterest-ed for instructions, bought the cloth, asked our driver to cut bamboo from our mini garden/backyard, gave him the instructions from pinterest on how to set up the base and frame, asked a seamstress to sew the cloth, had a mattress custom made and voila! Haha! (Okay, so I didn't really make it myself; I just directed the whole production…)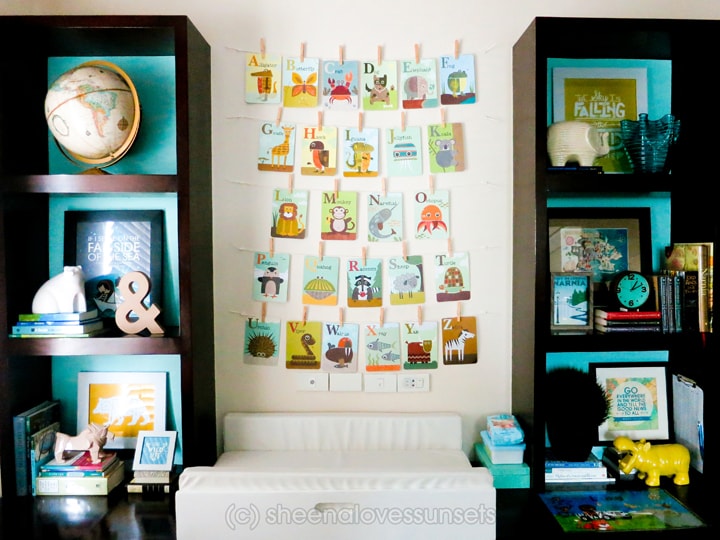 One of the things that I believe is important in designing a room is to follow the color scheme and in picking a color scheme, sticking to 3-4 colors. For Luke's room, I decided on light blue, green, yellow and tinges of orange. Even when I buy big toys or kids furniture (like playpens, rockers and mats) I try to pick designs that match the color scheme.
As you can tell, I'm extremely happy with these flashcards that I got because they match perfectly!
I also noticed that something most people take for granted is styling the shelves and book cases. Thank you again Pinterest for opening my eyes. So I placed a mix of frames, books and decor, displayed them in different heights and made sure that once again, everything matches the color scheme.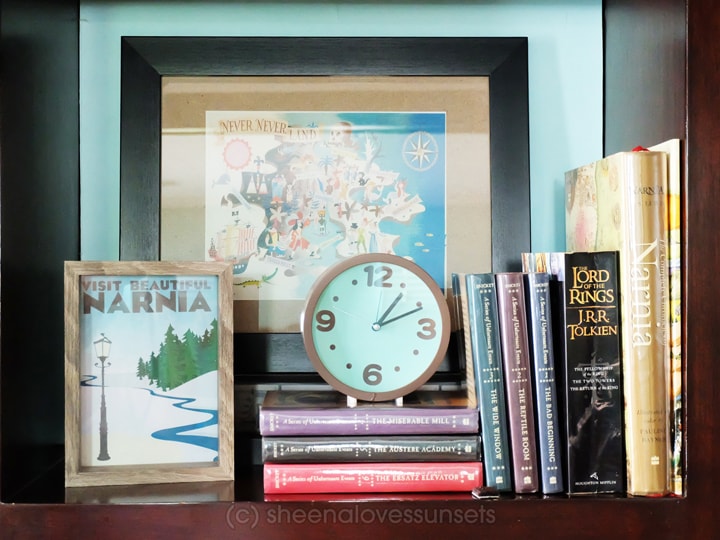 I also tried to match not only the colors, but also the theme "Safari Adventure" so the displays are mostly animals, plants and adventure themed books. All the books I collected since I was a teenager have now found a new home and purpose. Hooray, they now feel like a worthy investment after all!
Mor gave me a free reign to do whatever I wanted (yay!) and his only request was to put a nice big Bible verse artwork and it was a request I was happy to do! I tried to look for the most adventure-y verse I could find. Joshua 1:9 was perfect so I designed a simple artwork and framed it.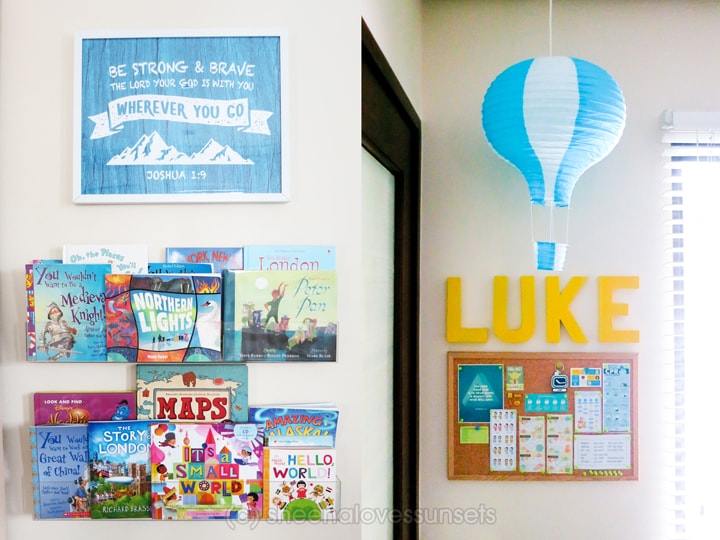 Similar to what I did to the travel photobooks at our den, I also placed acrylic shelves on this room so I could display children's books; mostly the ones I've collected from my travels. Also travel-adventure themed! Hehe.
On the other end of the room, I placed a paper hot air balloon lantern and attached a ceiling light fixture from Ikea so that it lights up. You can't see it from the photo though, sorry!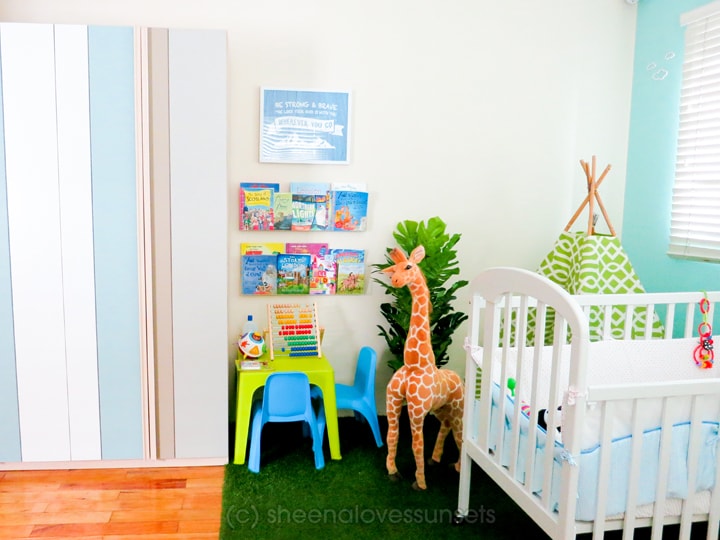 As he grows, we change his room according to his needs. This is why the post comes with a "v.1 or version 1? title. His room now has already evolved in quite a few ways as compared to when he first arrived 8 months ago.
Currently, we're planning to add gates to his play area and we might transfer his tent to my studio/future-homeschool room temporarily (because the wooden base might be dangerous for him) I'm still thinking of what to replace it with. I want something he can explore and move around freely in without me worrying that he might hurt himself. I was initially thinking of a wall climbing area but that doesn't sound very safe either. Haha.
Wait for version 2 in the coming months after I sort it out! 😉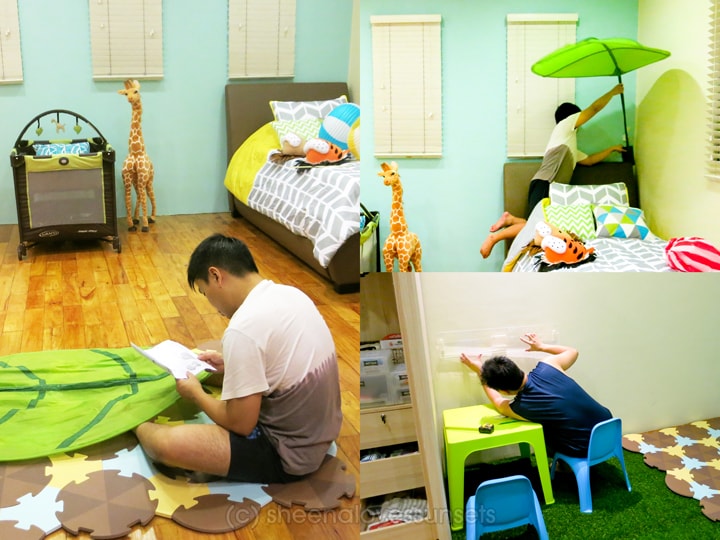 Special mention to my hardworking and very OC husband for being the executor of all my crazy plans for this room; from setting up the giant leaf, sticking the animal heads on the wall, assembling the playard and making sure that the spaces on each flashcard are all equal (that's his OC idea, not mine), you are the absolute best!!
Luke is very blessed to have you as his dad and I'm printing all these photos of you in action for his album so that he will never forget it!