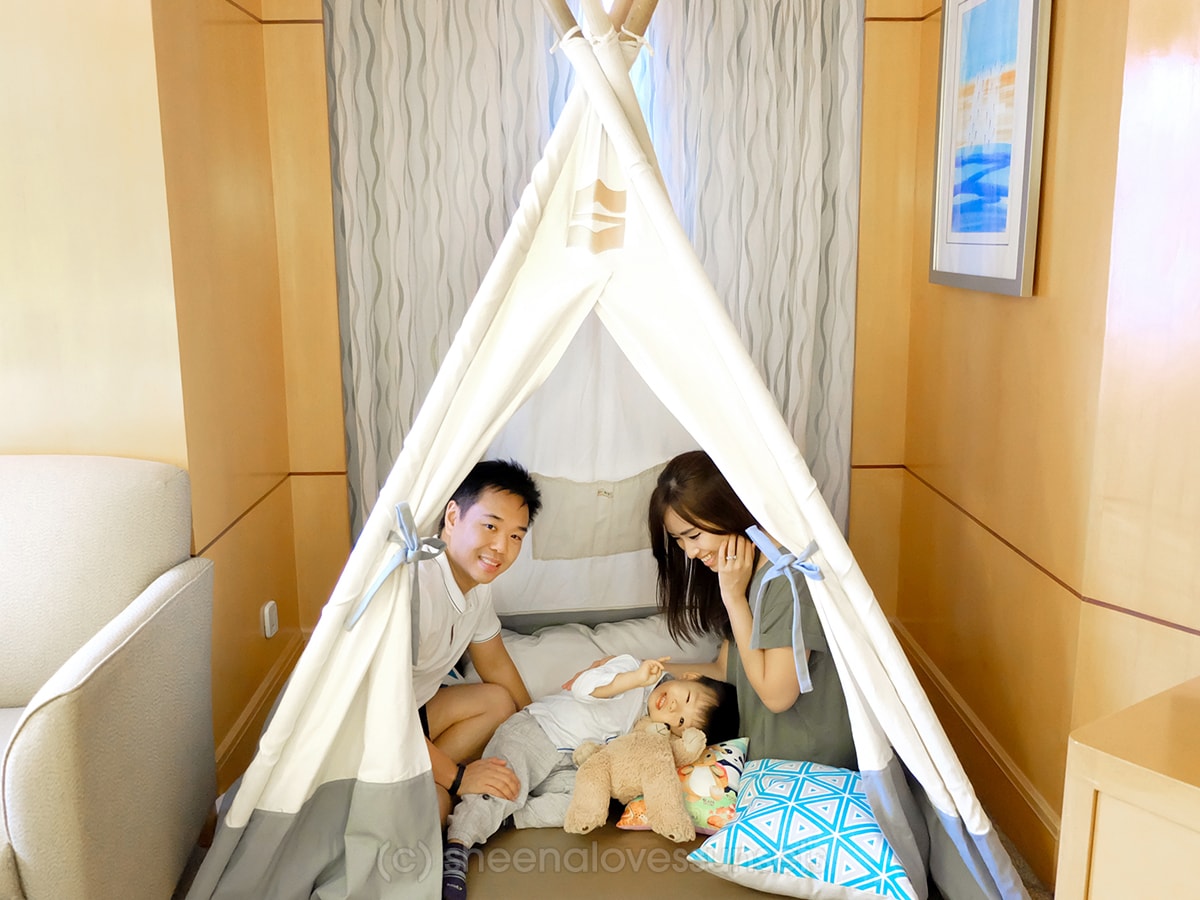 We had a belated birthday staycation celebration at Makati Shangri-La and though it was for my birthday, it sure felt like Luke's! Haha. Here are 10 things that made our stay absolutely wonderful. And I'm sure that, just like Luke, you and your kids will definitely have a wonderful weekend at Makati Shangri-La too!
1. Yup, there's a teepee tent in the room!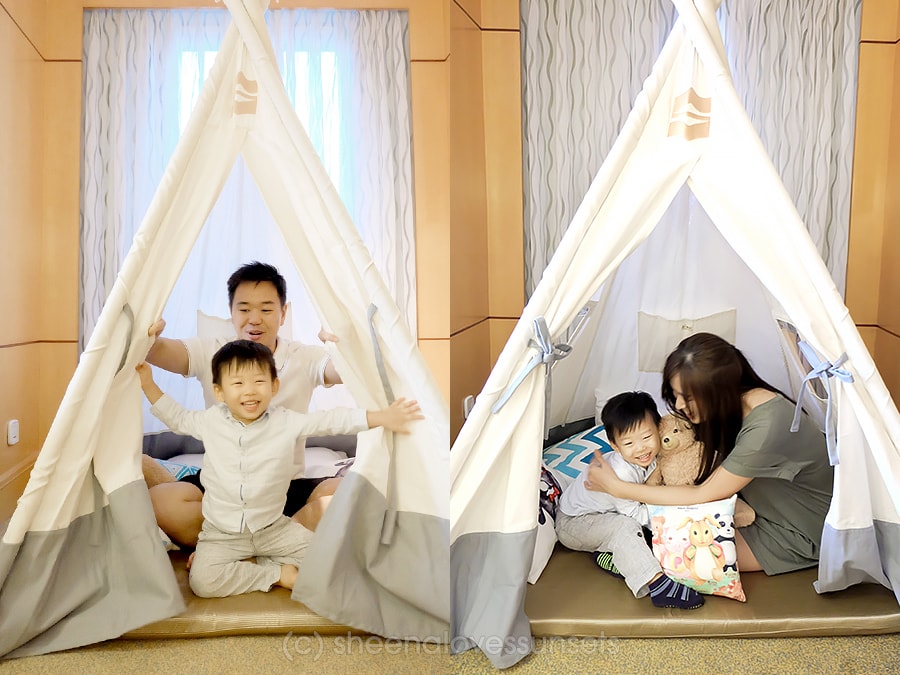 Luke went crazy when he saw the teepee tent and had the time of his life playing peekaboo! He insisted on drinking his milk from inside the tent and would keep asking us to join him inside. He even cried when it was time to check out because he didn't wanna leave his tent! (I have proof of this on video! Haha.)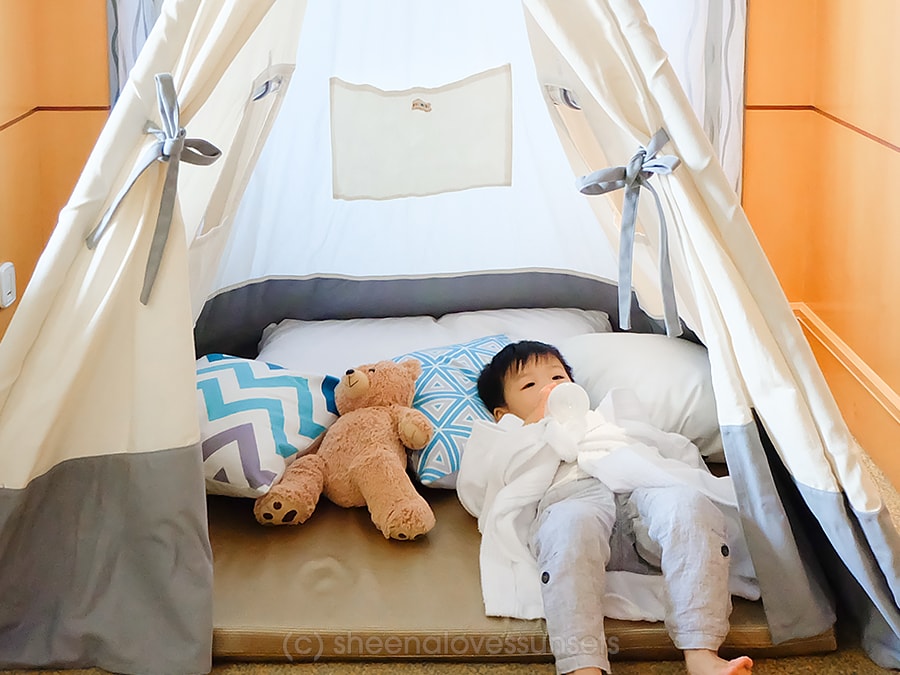 When I posted a photo of this on my Instagram, people asked me if the tent was really included in the package and the answer is YES, it really IS part of the package (you can check out all the details here!)
2. There's a (free!) mini bar for kids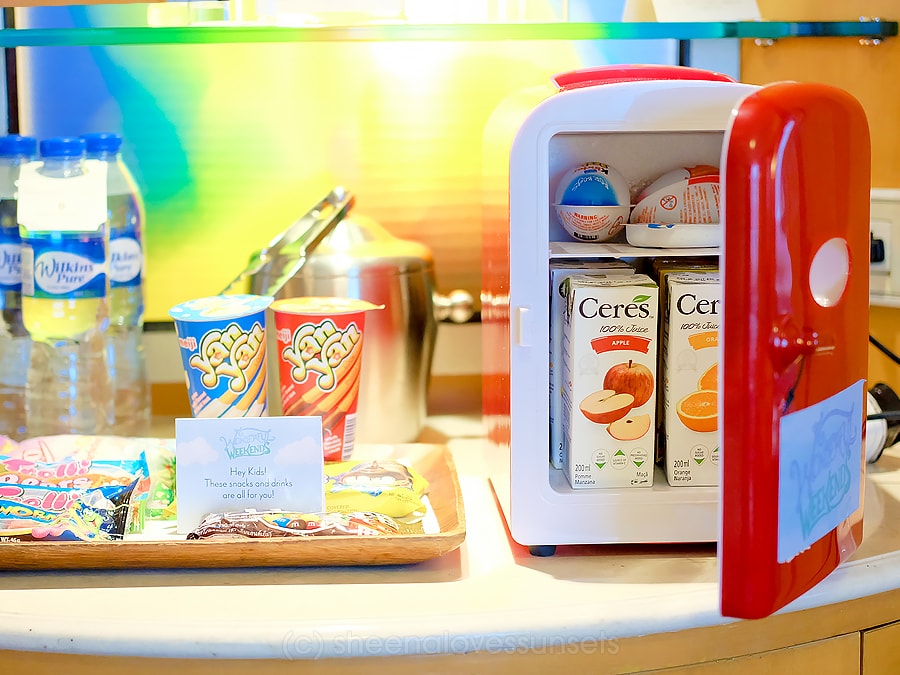 You can't take the mini ref home, okay?! (I knew you were going to ask that!) But you can definitely take all the goodies inside it!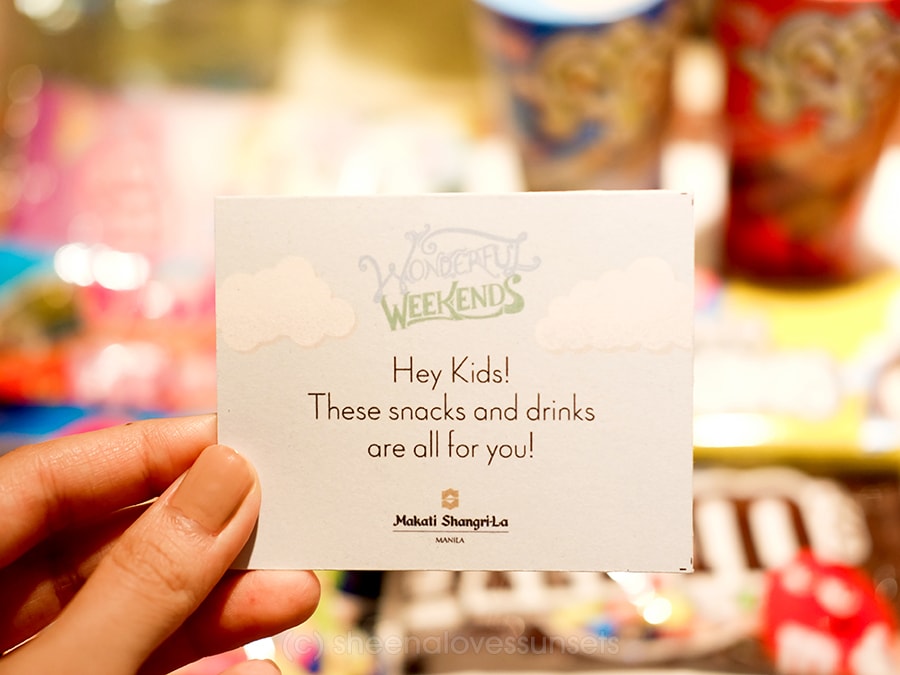 If you have kids below 12, this is included in your staycation package!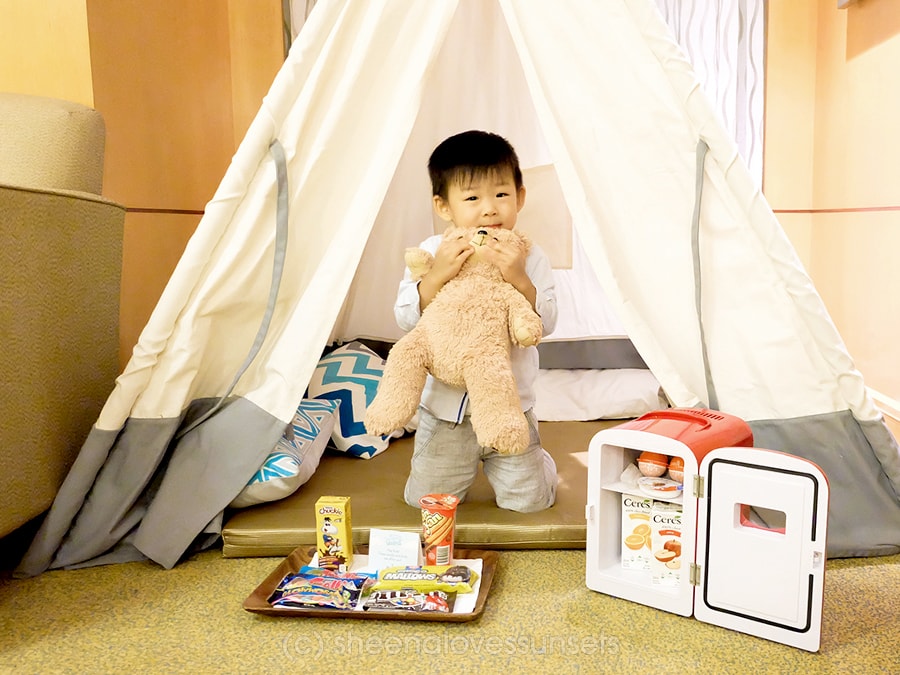 They get gummy bears, chocolates, juices and lots of other snacks! Just make sure they don't get a sugar rush or else you won't be getting any sleep tonight!
3. Kids enjoy special activities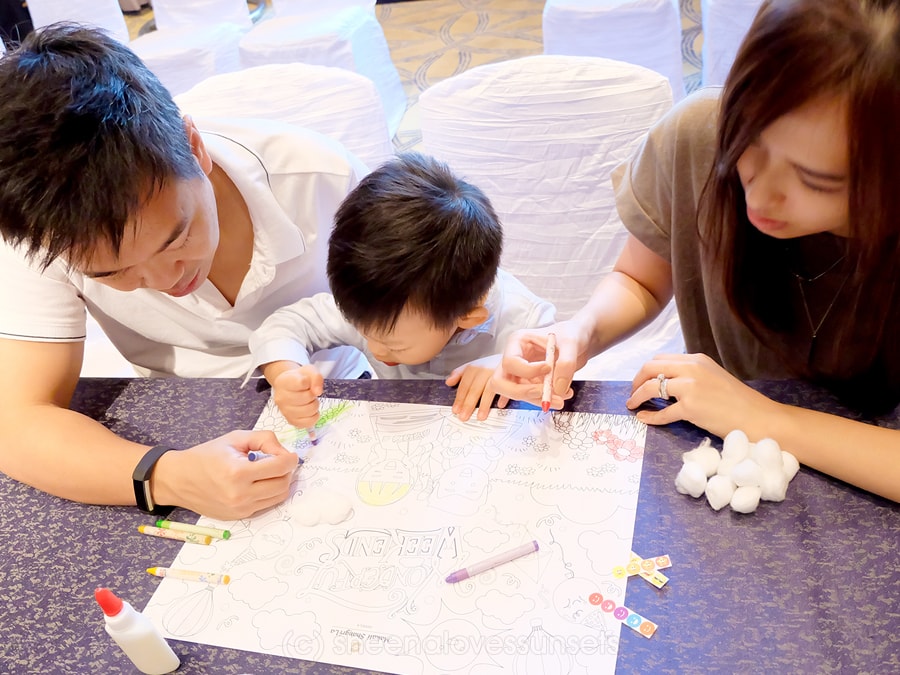 During our stay, there was cookie making at 3pm, arts and crafts at 4pm and cupcake making the next day at 3pm. We missed both the cookie and cupcake making sessions because that's Luke's naptime (huhu) but at least we made it to the arts and crafts one!
Luke kept saying "GLUE!" as he happily glued all the cotton balls on his artwork.
4. Celebrating anything? The staff will take care of that!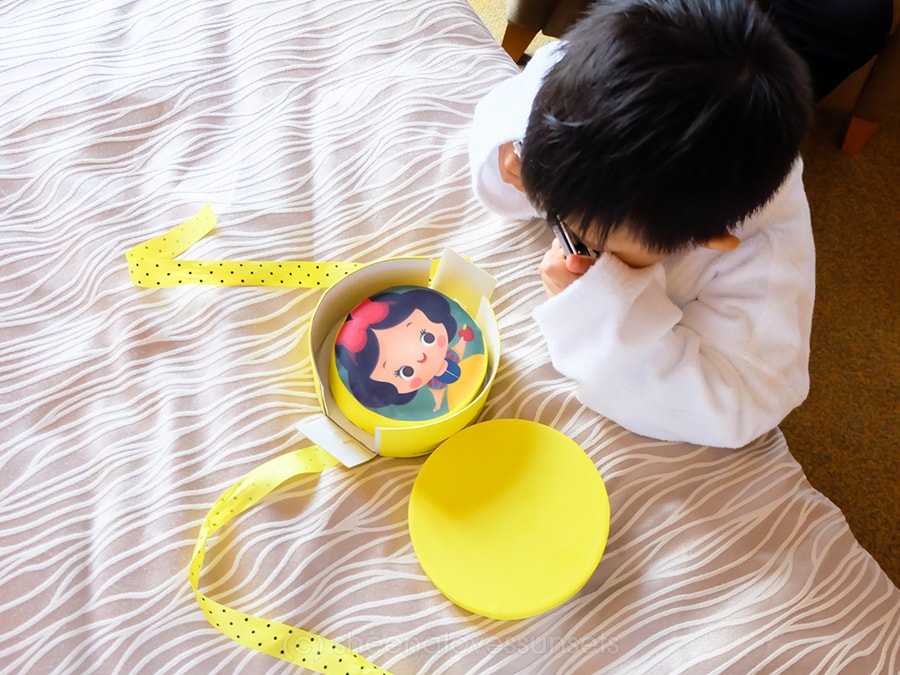 This staycation was my belated birthday celebration. When we first got to our room after check-in there was this SUPER ADORABLE cake waiting for me on the table! I do love my Disney and it's so sweet that they took note of that! Hehe. But that's not all!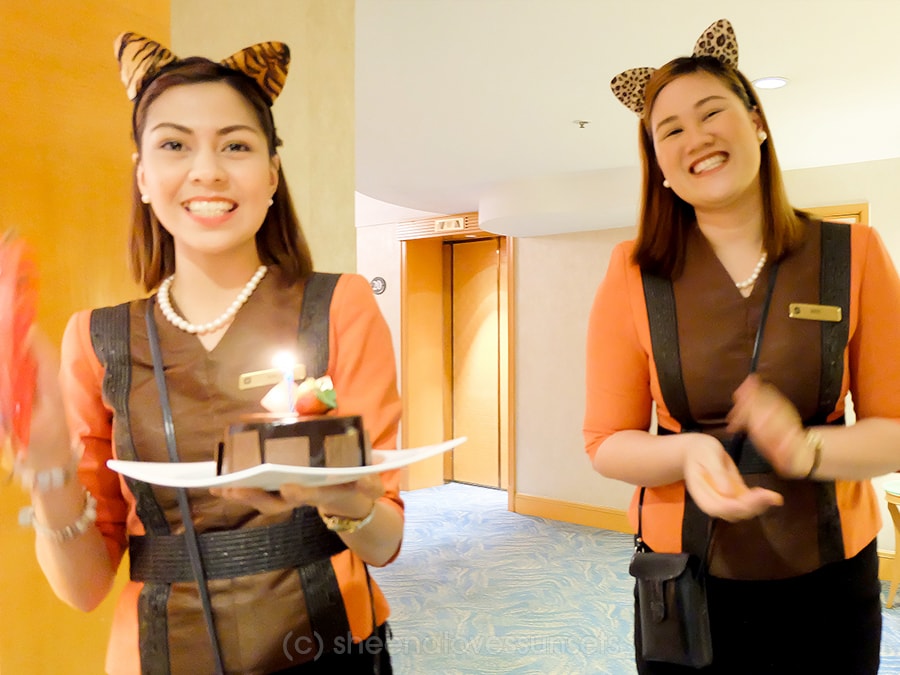 When we got out of the room to go to the arts and crafts station, two staff members were waiting outside and surprised me at the hallway with a cake and song! Cake #2! Haha. (And Luke loved their cat ears too!) But wait, that's still not all…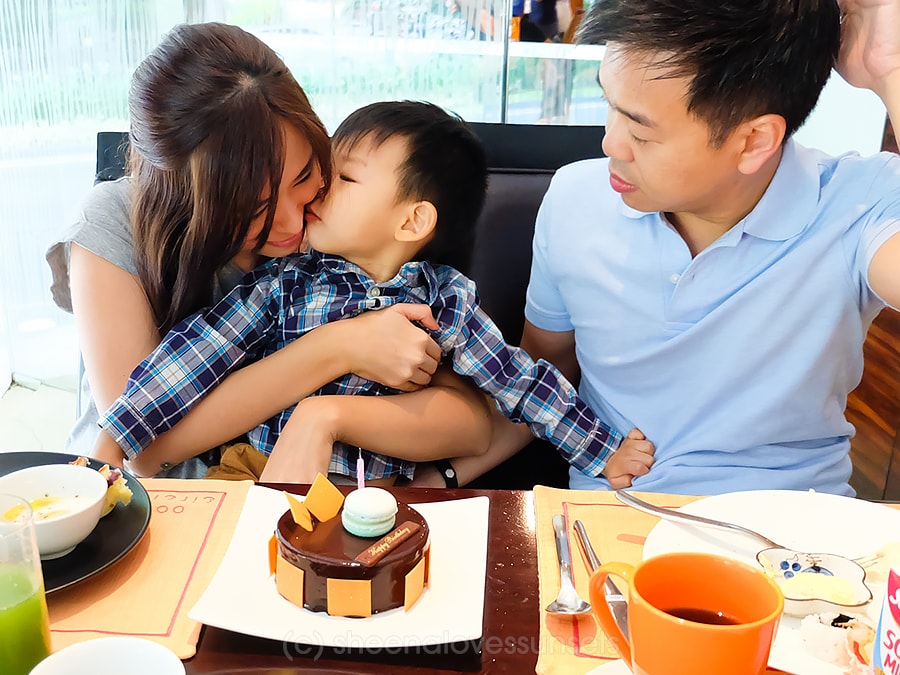 During breakfast, we were surprised with yet another cake! And to think this is a belated birthday celebration. Hmmm, I think these people are trying to get me fat! Heehee. Thank you for the surprises, Makati Shangri-La! So sulit to celebrate special occasions here!
5. Dine like a boss: In-Room Dining's a sure-hit!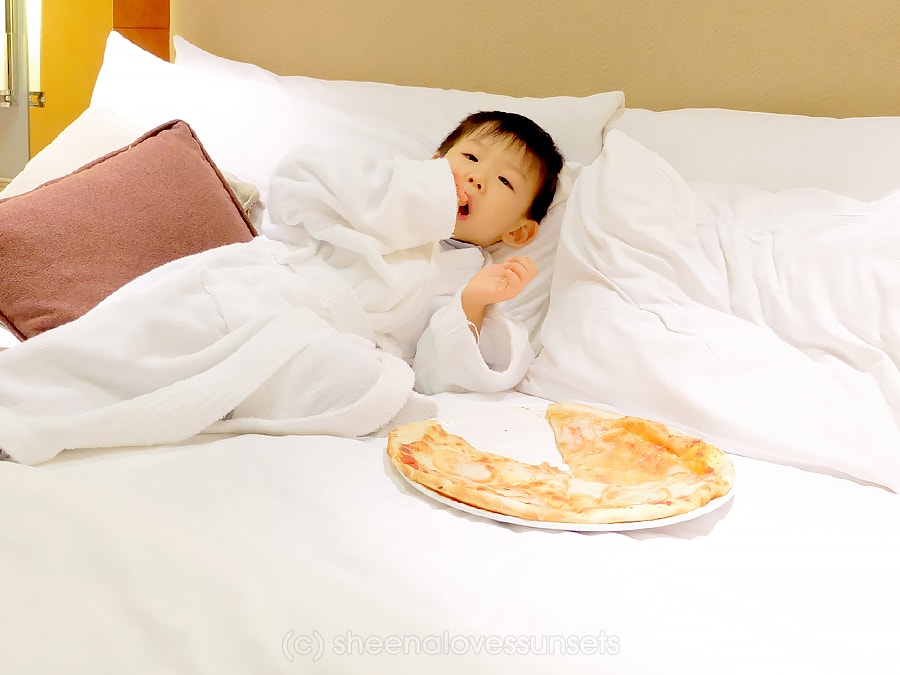 Just look at this boss baby in his luxurious robe, enjoying his fries and pizza on our bed! Haha.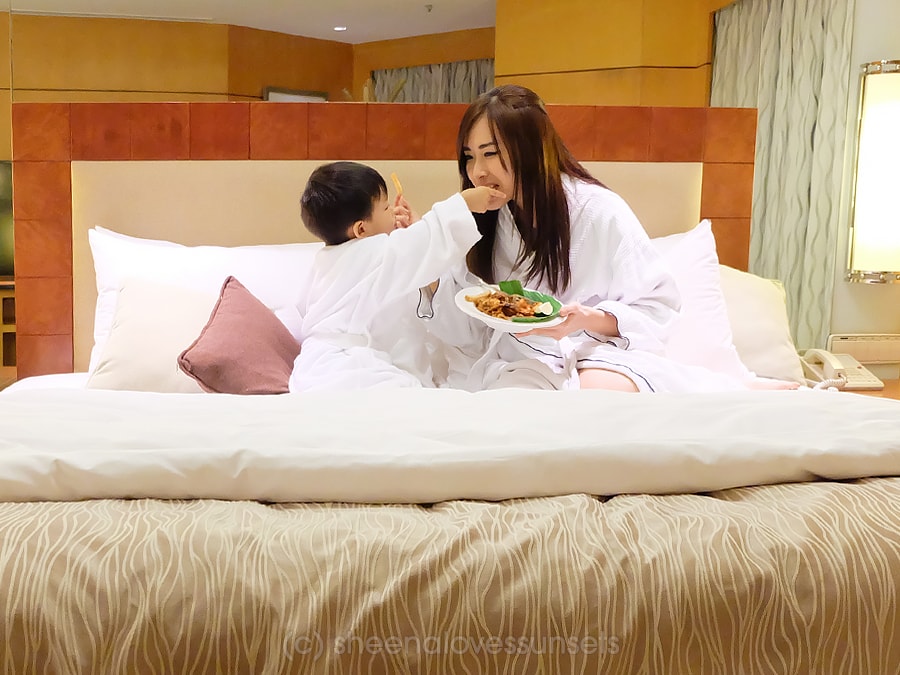 In-room dining is one of the many perks of staycationing because you get to eat in your room, on your bed, guilt-free! Plus, you can do it all in your pajamas (or robe) too!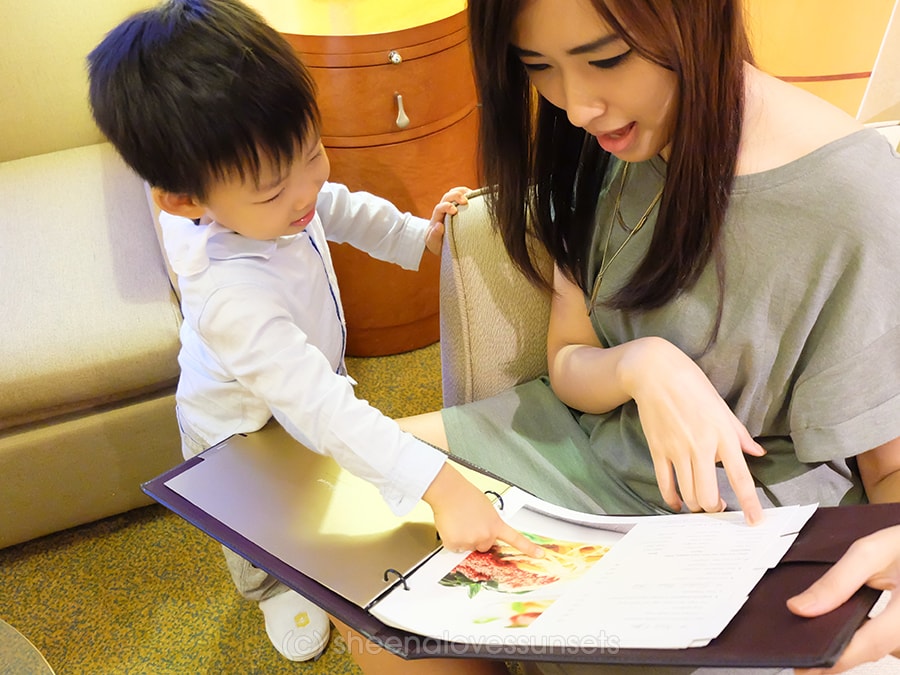 Here's Luke telling me what he likes from the menu! (Check out his baby Shangri-La slippers! Sooo cute!)

Our dinner spread! You HAVE to order the Laksa. It was so good!
6. Kids eat free for breakfast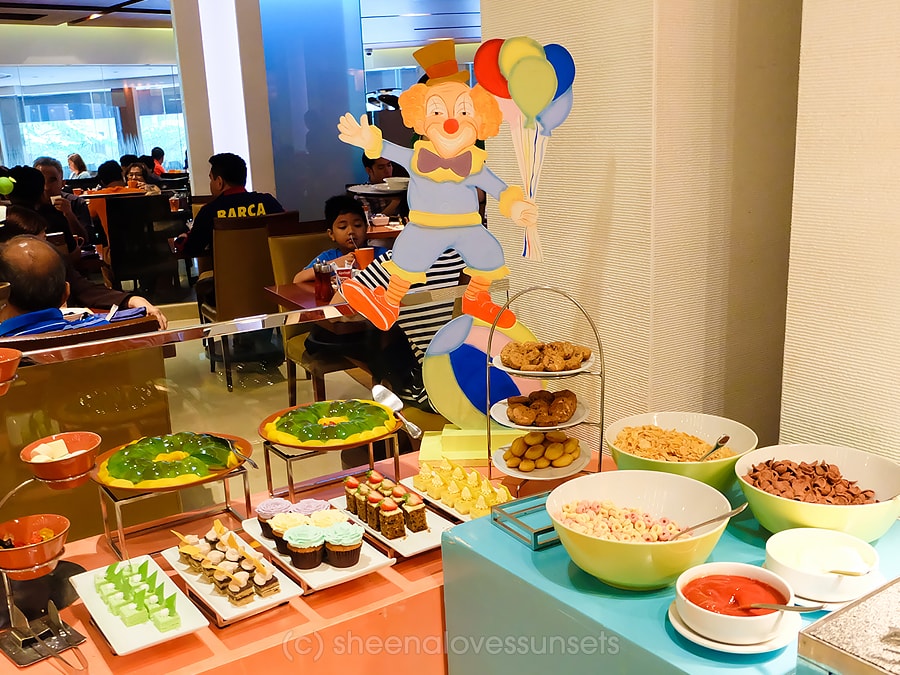 Included in the staycation package with Makati Shangri-La is a complimentary buffet breakfast at Circles for two adults and two children below 12 years old. And just look at their kiddie buffet spread! Don't worry; there's a LOT of food so you'll be spoilt for choices on the other stations too!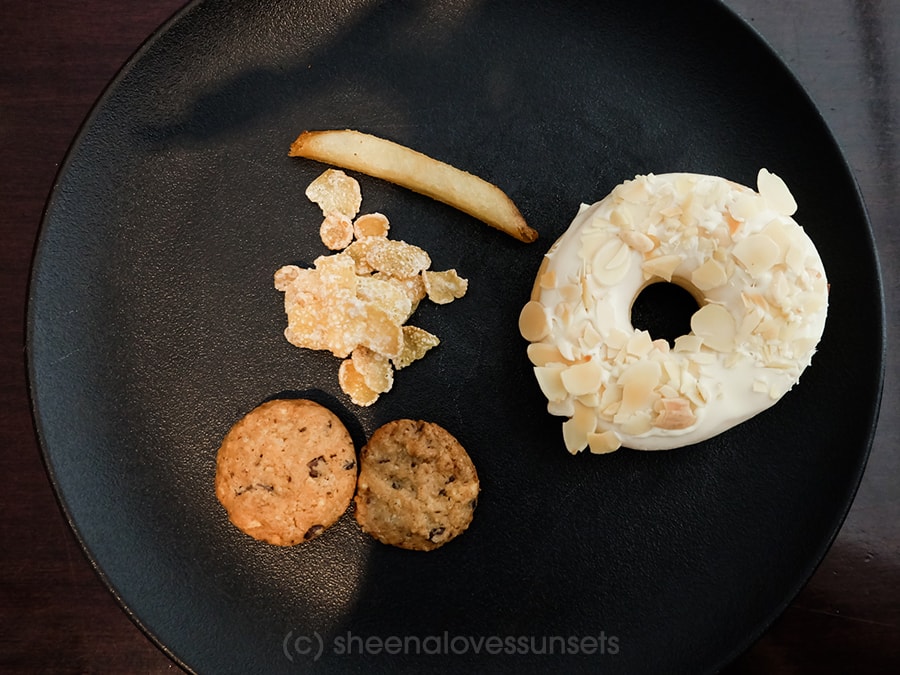 Luke's gourmet breakfast plate. Kidding. He just munched on the cornflakes and cookies (MY FAVE) and I ate the donut. In reality, he had a lot of dimsum and congee (Chinese baby in the house!)
7. Aside from breakfast, you also get dining credits!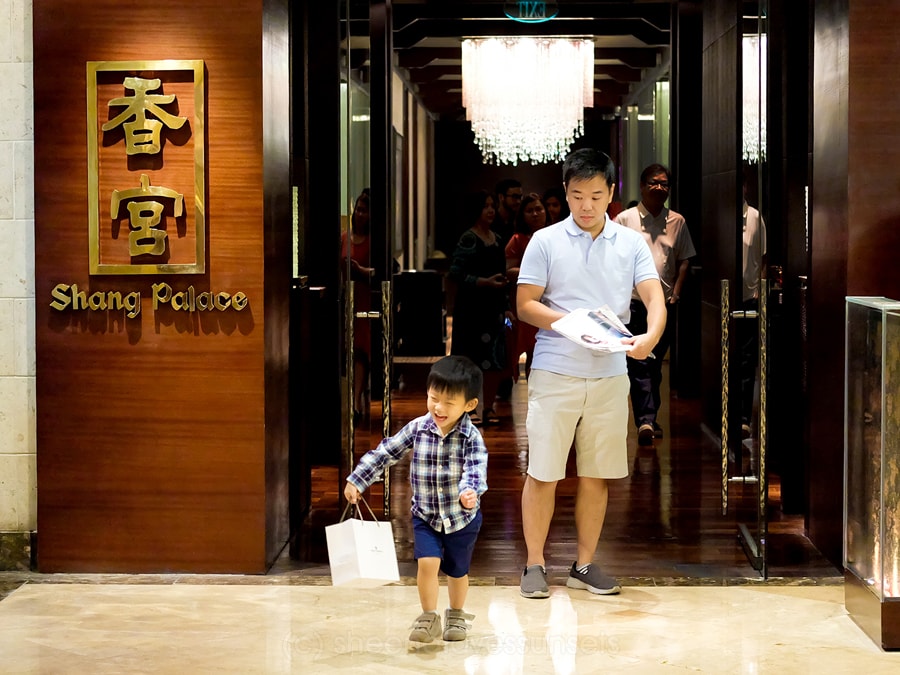 And speaking of being a Chinese baby, this excited Chinese baby is excited to bring home his take-away from Shang Palace! We had lunch here on our second day and enjoyed all the yummy Chinese food.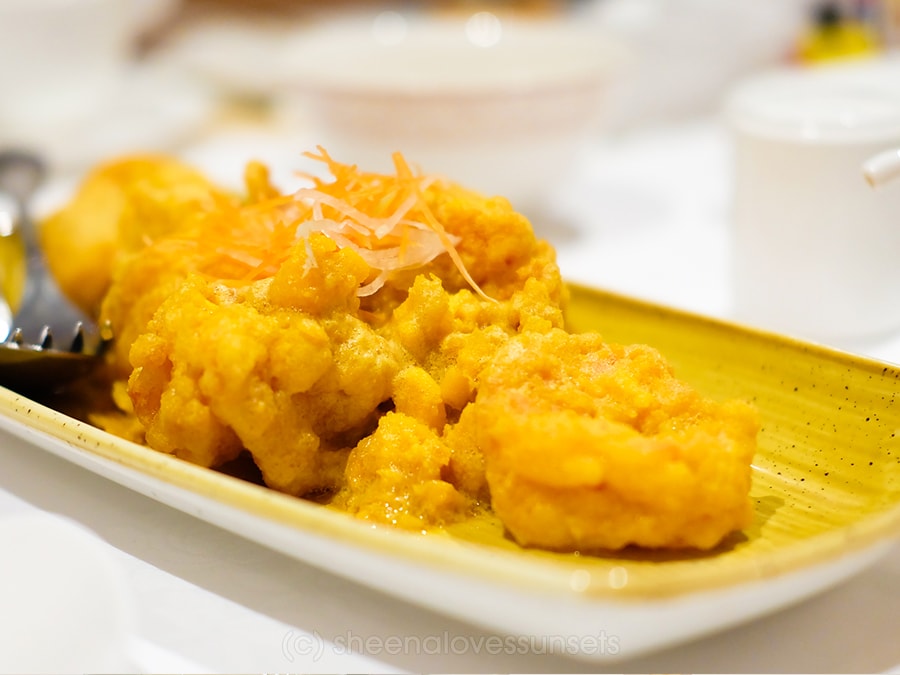 Because you can never go wrong with a hot plate of Salted Egg Prawns. Aaah…
8. Pool Time: Fun under the sun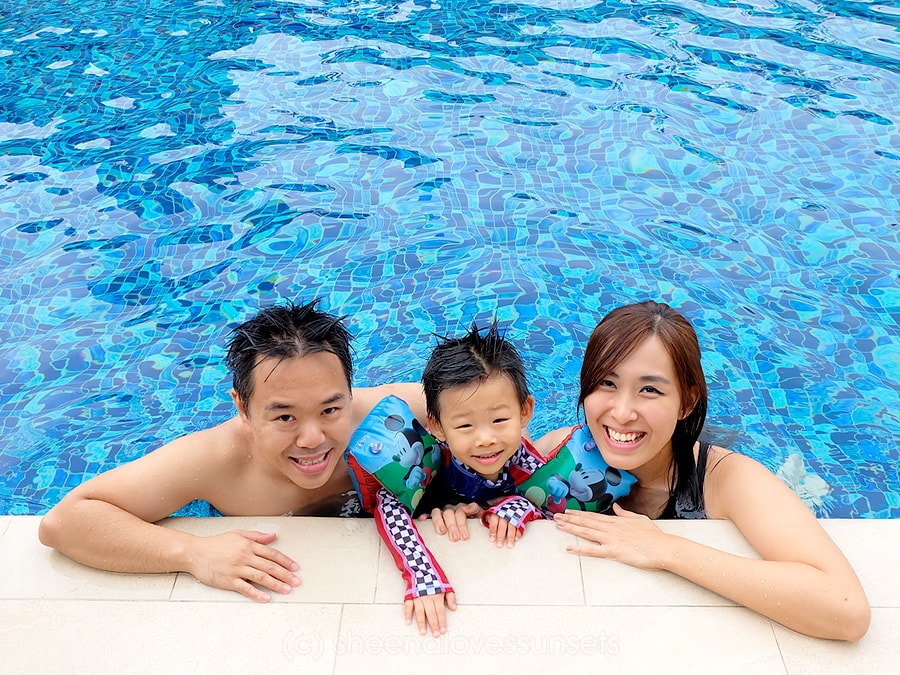 We had no agenda the next morning except to enjoy the outdoor pool! As you know, the pool's a must-visit when staying with kids! Definitely fun family time where everyone can enjoy.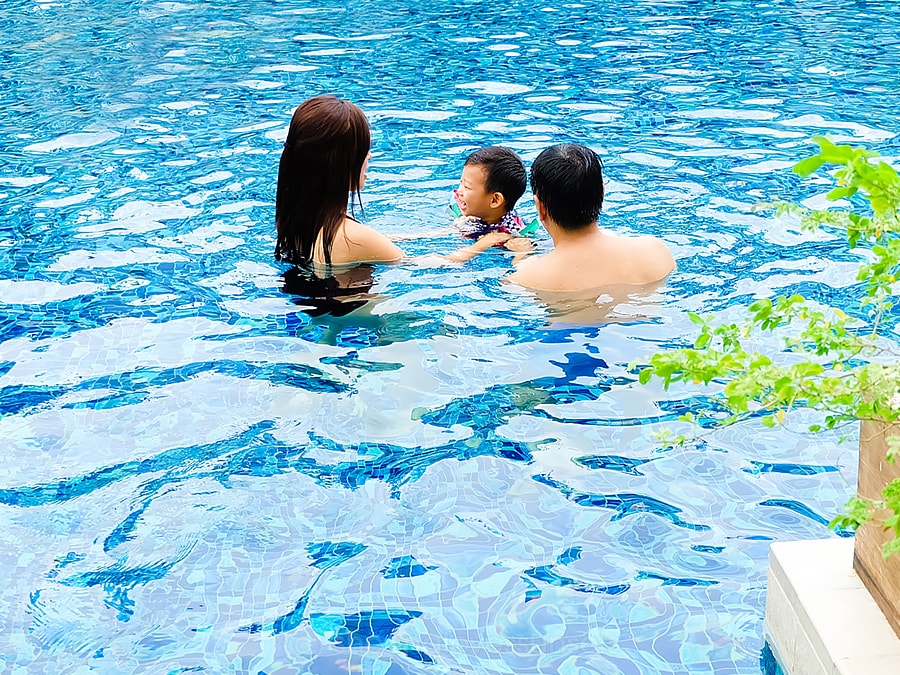 Lately, I've been teaching Luke how to swim on his own with only his floaters and this was the perfect place to practice!
9. They have special pillows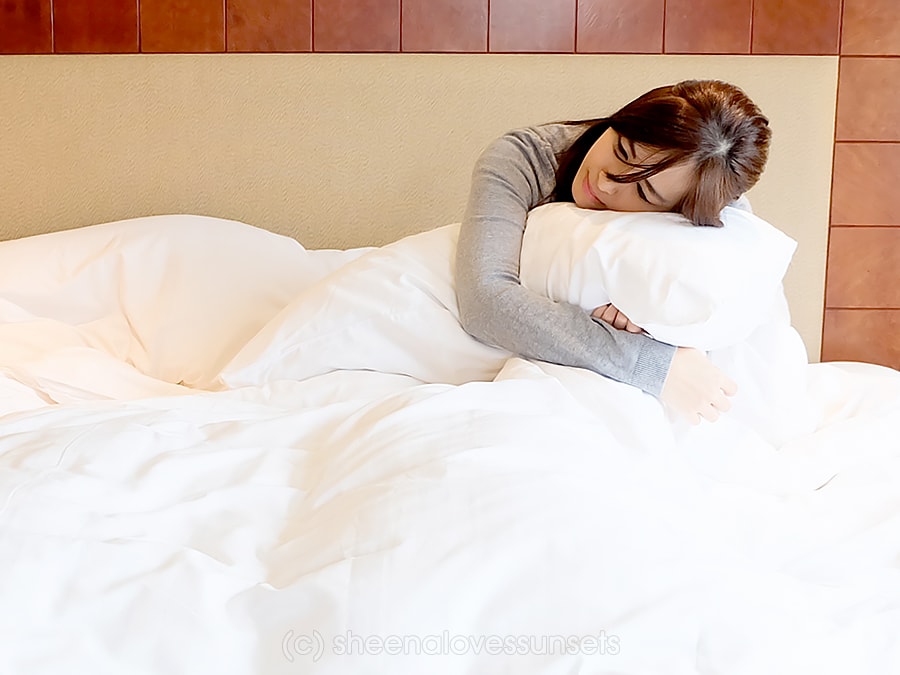 Okay, so this is more for mom and dad, not the kids, but if mom and dad gets a good night's sleep, everyone's happy, right? Hehe. Makati Shangri-La has a great pillow selection. I personally don't like super soft pillows where my head sinks and those really puffed up pillows that strain the neck.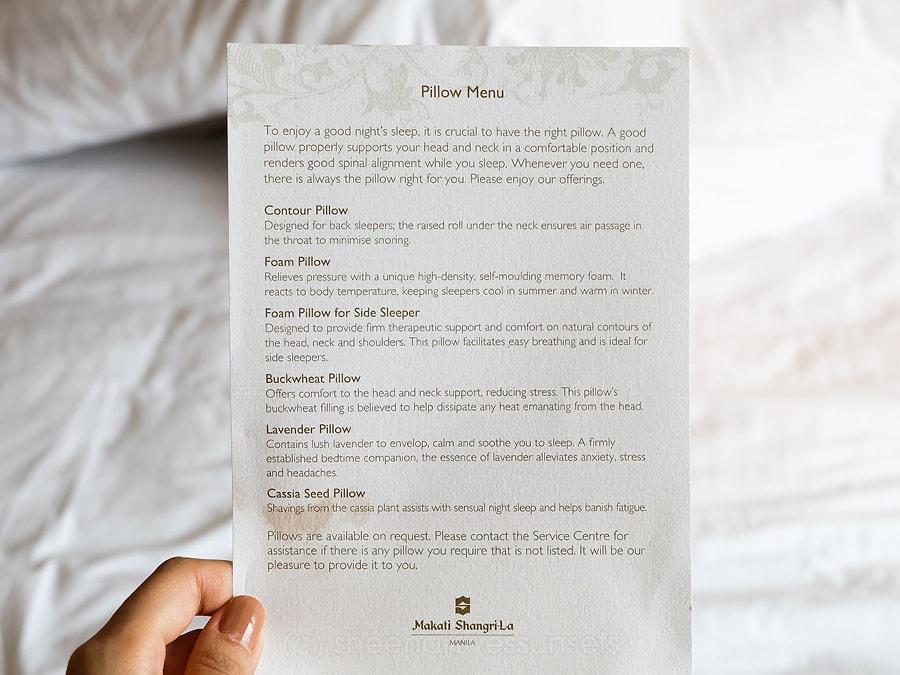 Very pleased with this list! I got the Buckwheat Pillow, which was a little flatter and firmer. Perfect.
10. Enjoy early check-in and late check-out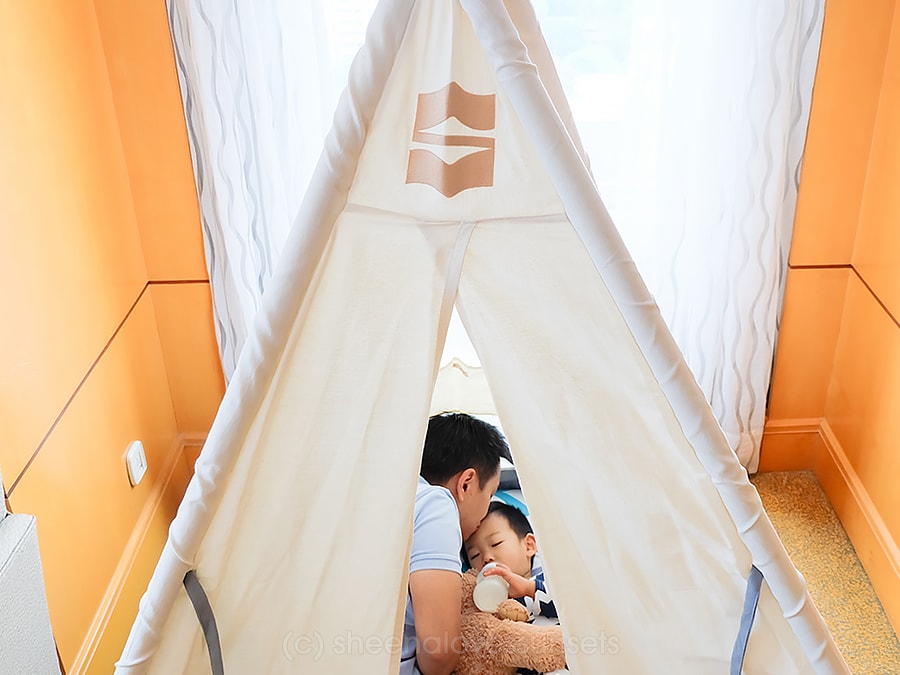 And last but not the least, you can absolutely maximize your Makati Shangri-La staycation and enjoy 2 full days because of early check-in is at 10am and late check-out is at 4pm. We were even able to let Luke nap in the room before we had to finally say goodbye. Definitely a great way to start and end such a wonderful weekend.
Have a Wonderful Wekeend at Makati Shangri-La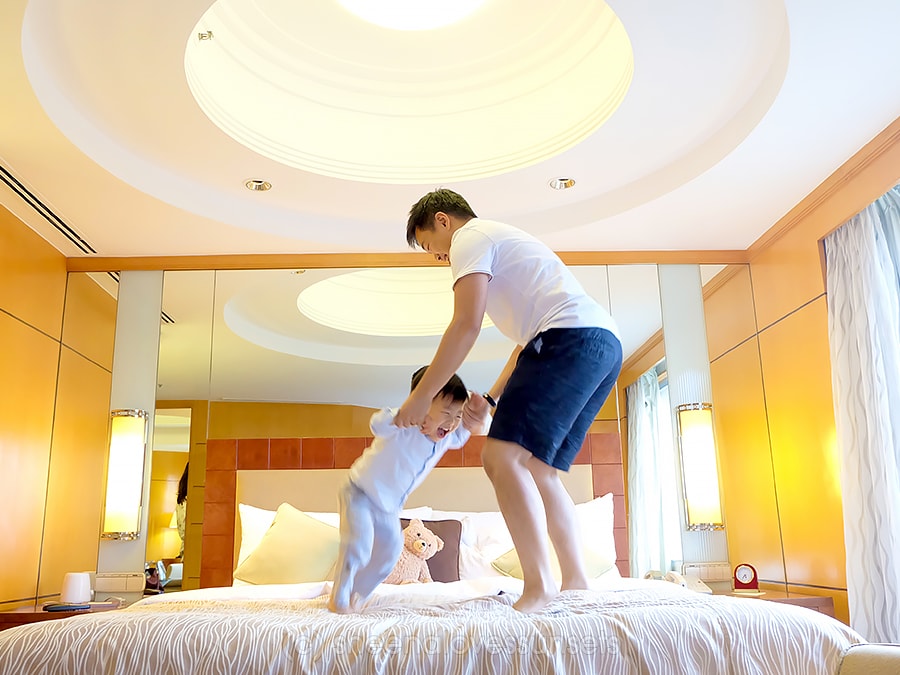 We had such a great time and guess what? You too can have an amazing staycation like this. Check out Wonderful Weekends at Makati Shangri-La to book your own wonderful weekend experience! You can stay on all weekends, holidays and long weekends too, how awesome is that?
(NOTE: THIS POST IS ABOUT OUR EXPERIENCE LAST AUGUST 2017.)