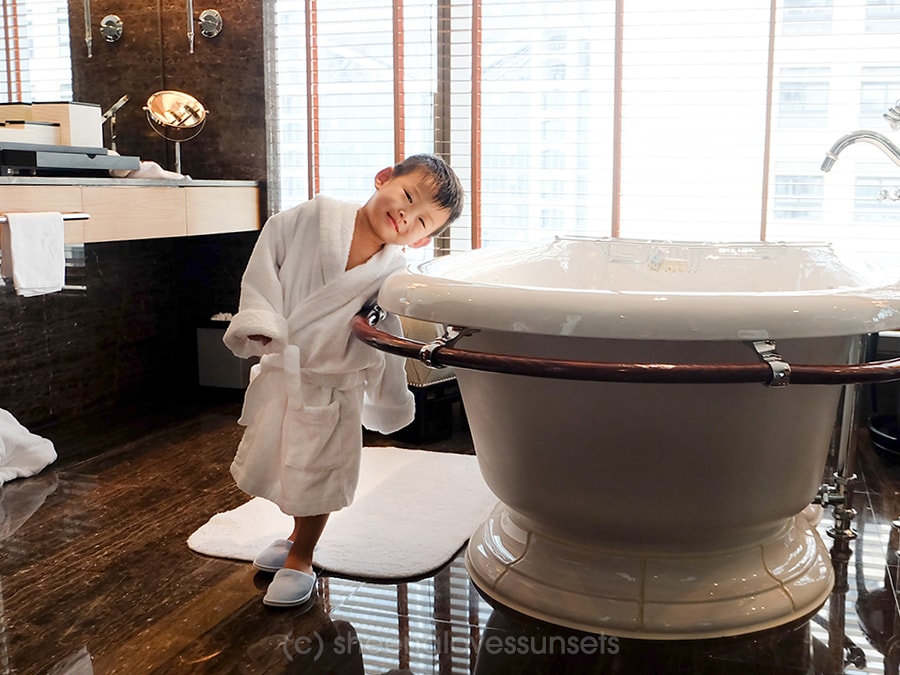 Fluffy robes, comfy little slippers, a special welcome package and a giant stand-alone tub for a luxurious bubble bath in the middle of the bathroom; you better believe it. The Mandarin Oriental Hong Kong knows how to treat their little VIP's!
The Mandarin Oriental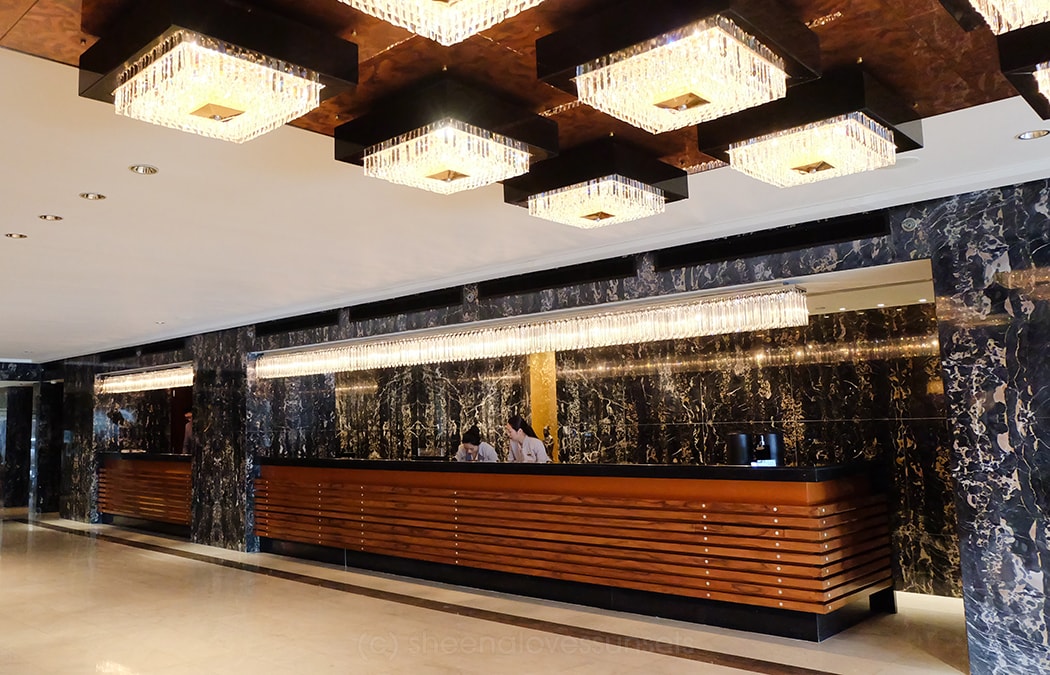 The iconic Mandarin Oriental Hong Kong is rich in history, elegance and grandeur. At the time of its opening back in 1963 (officially as The Mandarin Oriental after the merger, because previously it was simply "The Mandarin,") people gushed about the fast lifts and the fact that it had a bathtub in every room, as this was a first in Asia then.
The Mandarin Oriental underwent a $150M USD renovation in 2006 where it masterfully completely transformed the place, incorporating modern technology while retaining its oriental luxury vibe. 
This is how the Mandarin Oriental Hong Kong is like today.
The Welcome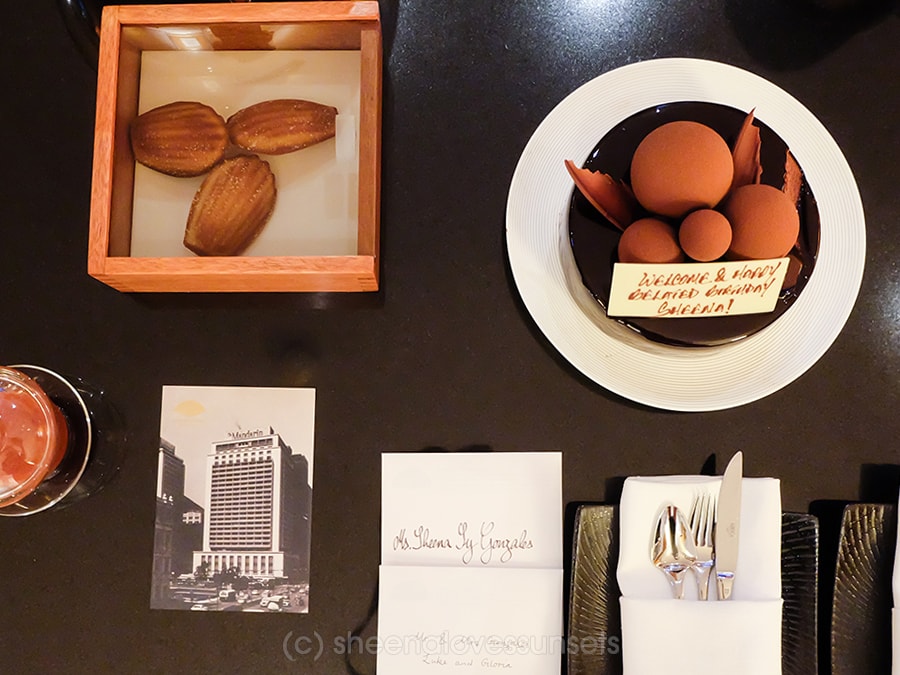 We arrived at night after a long day at Disneyland, so it was such a treat to arrive to this. There was a belated birthday cake for me (because our original trip was supposed to be scheduled for my birthday!) and some madeleines with Mandarin Oriental's signature rose petal jam. (More about that later!)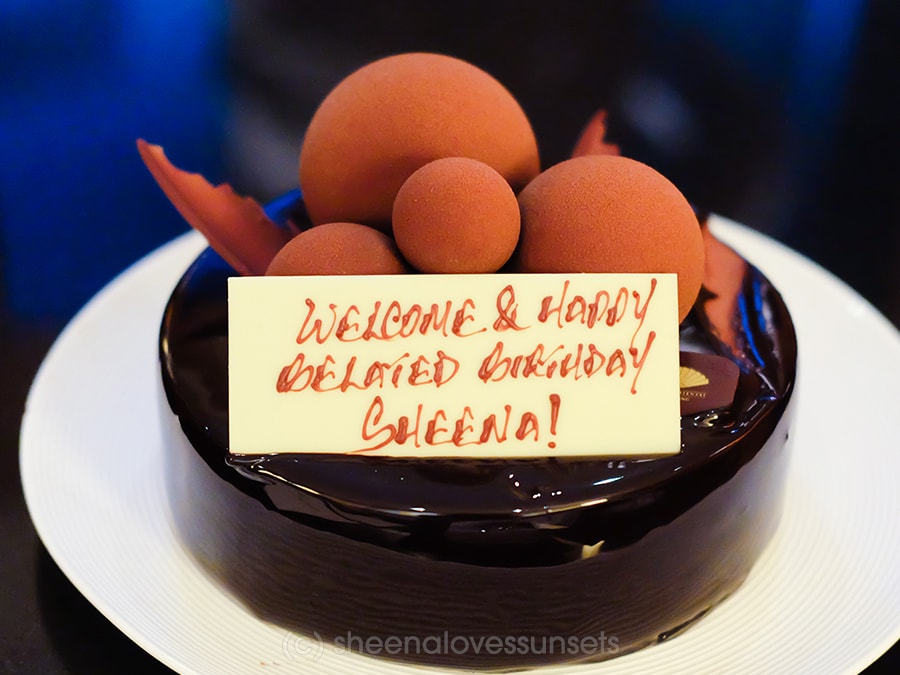 But of course, I wasn't the only one who got a surprise.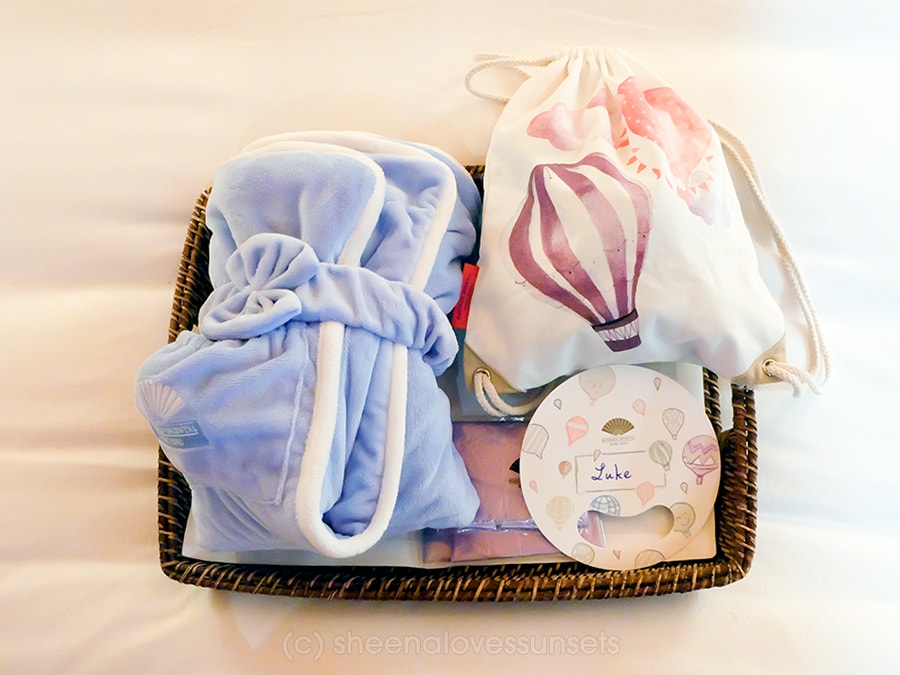 Luke had his own welcome package waiting for him! He received an ultra-soft baby blanket with Mustela products inside, a rubber duckie (see that bulge in the blanket hehe), his own toothbrush set in the bathroom and his newest friend…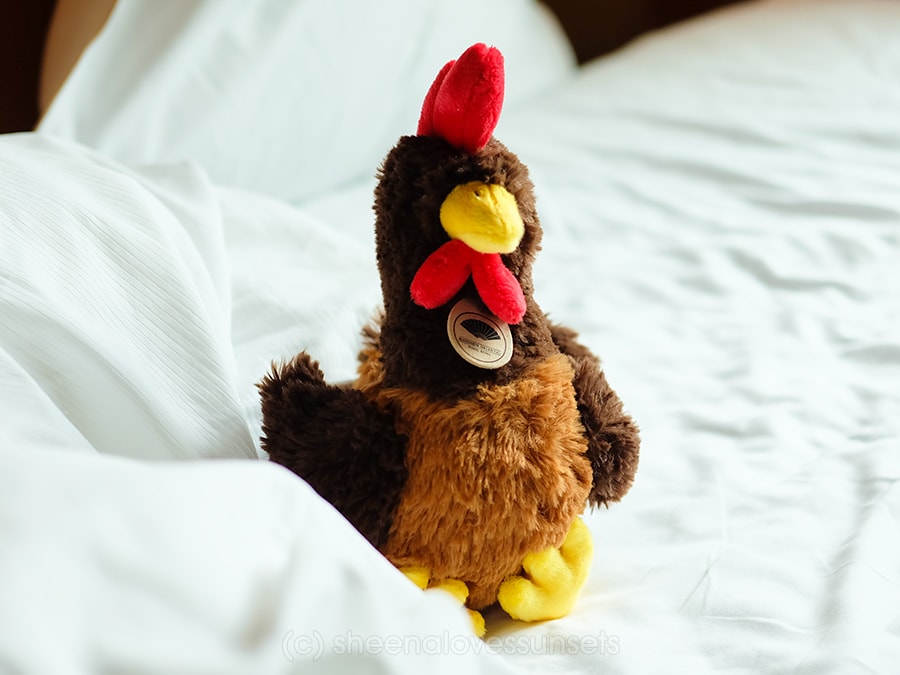 A chicken! Because it's the year of the rooster! We have yet to name him…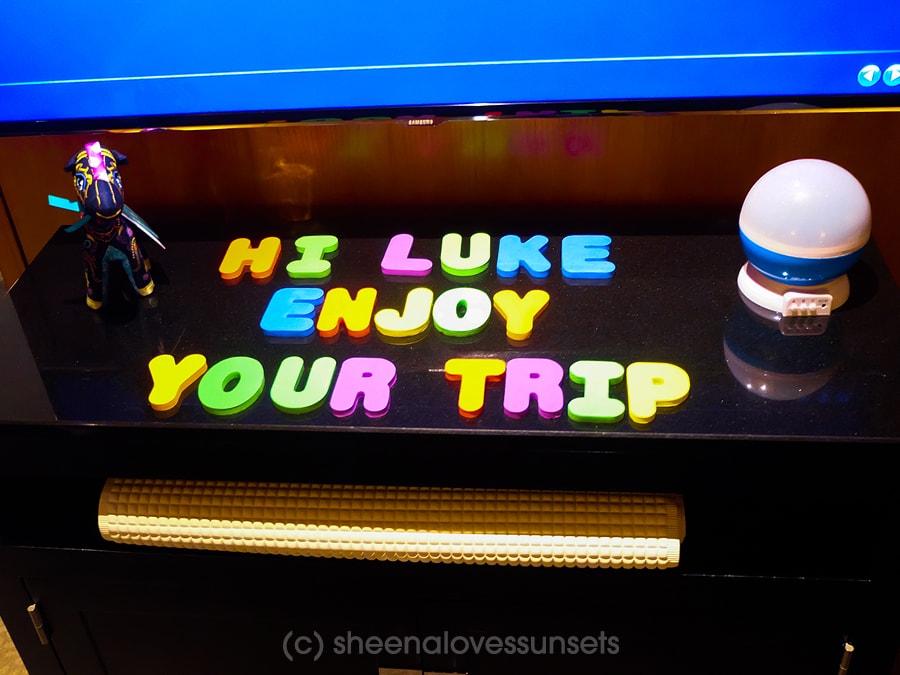 But that's not all! When we turned around, we saw this spelled out for him! They also provided us with a night light that projects stars in the ceiling. How cute is that? Luke definitely felt super special!
Our Room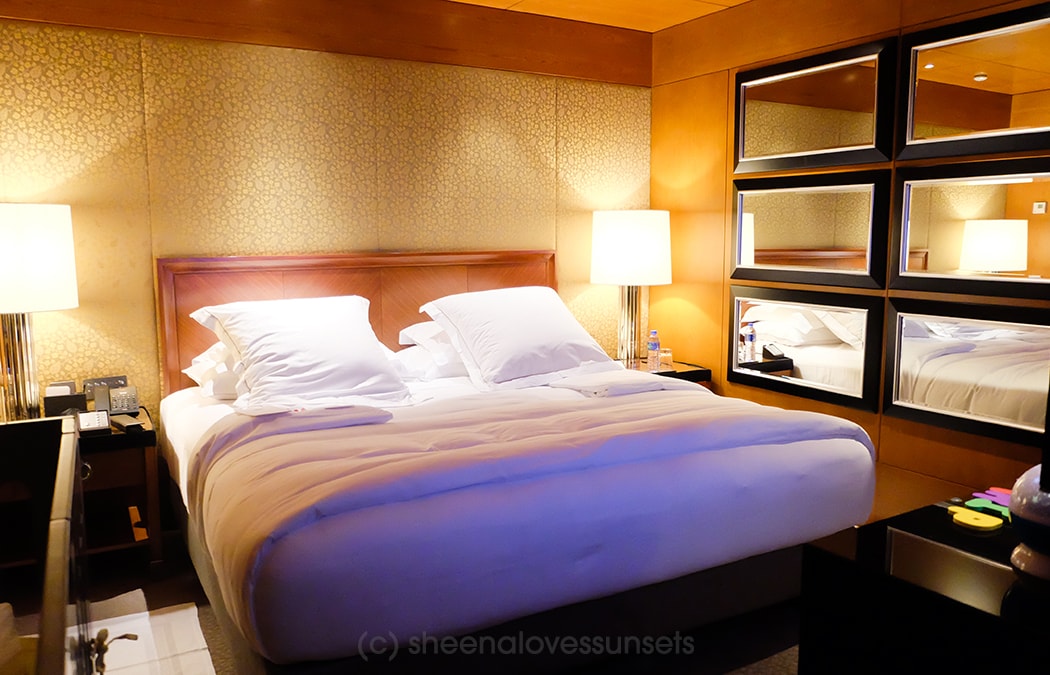 We were provided with the Statue Square View Suite which is a corner suite and it was huge; 72SQM to be exact. This is our bedroom with our king sized bed, separated from the main living room. The suite has a separate guest cloakroom, large walk-in wardrobe and a huge bathroom. 
It is also furnished with Chinese Elm and Jim Thompson silk wall panels.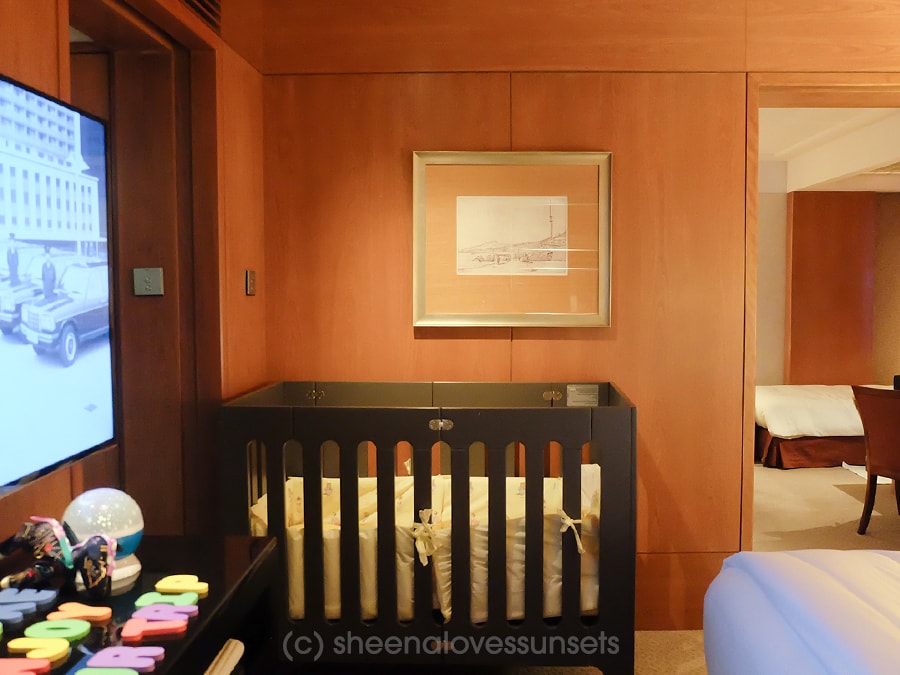 Luke's crib was prepared complete with crib bumpers and his own bedding. Very classy crib if I may say so myself!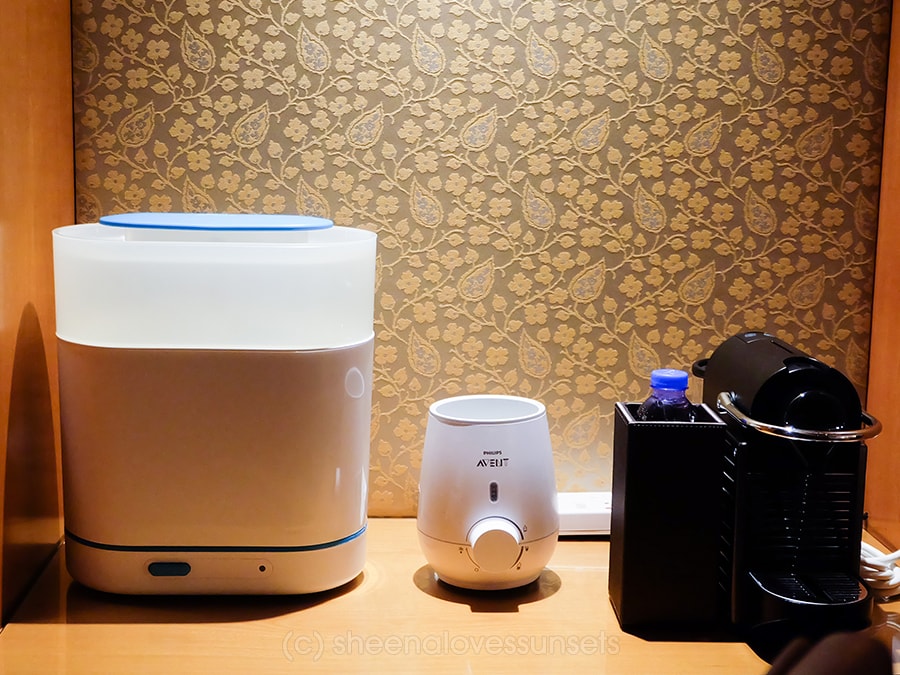 At the Mandarin Oriental website, they mention that the hotel can provide a bottle sterilizer, warmer, cleaning brushes, baby tub and other baby items upon request. So I took advantage of the offer and requested for a sterilizer and warmer beforehand. Here they are ready upon arrival!
The Gorgeous Bathroom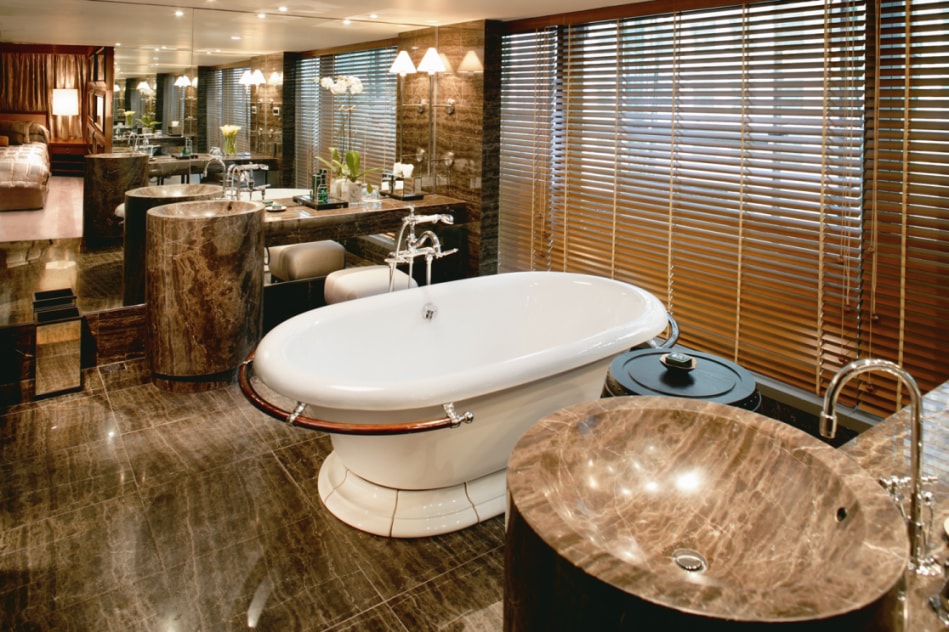 But the real star of our suite was this. I think this just might be the most impressive bathroom I've ever had the pleasure of using. Haha. Later on, you'll see just how much Luke enjoyed this.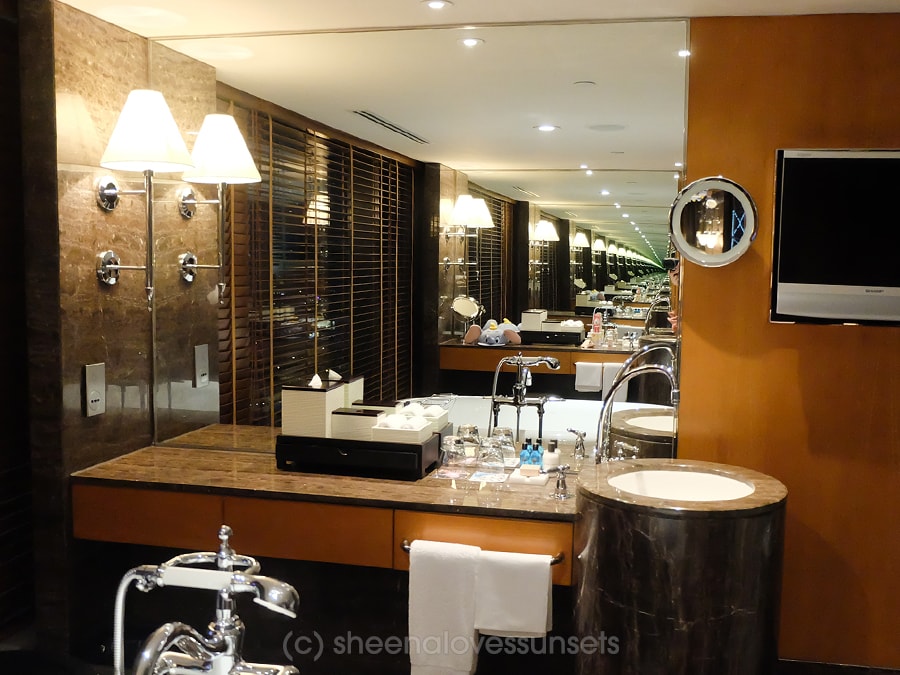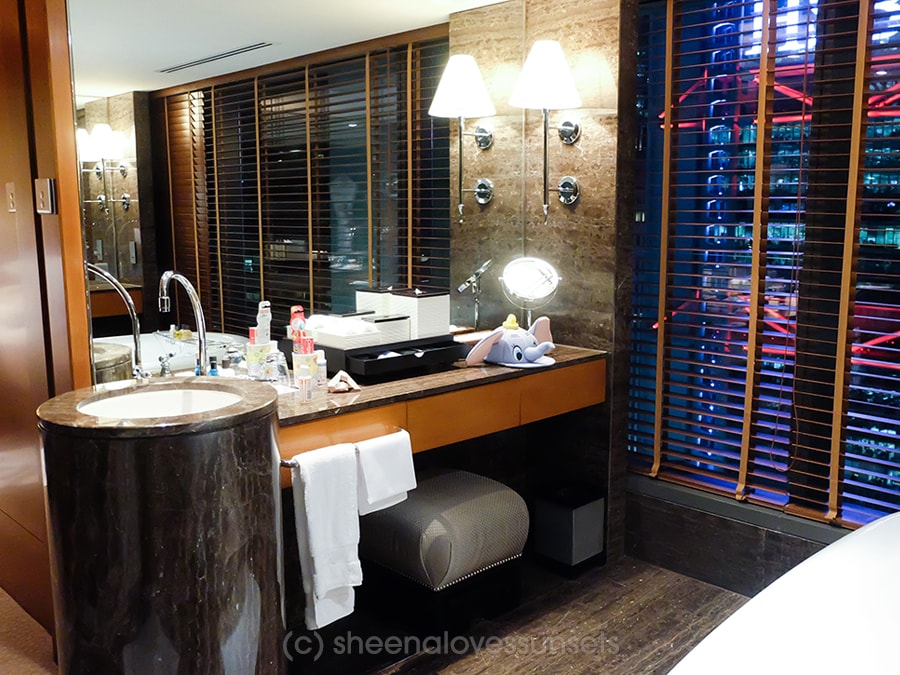 They gave Luke a complimentary kiddie toothbrush set including an adorable Winnie the Pooh cup! (The Dumbo hat is ours though. Sorry, I didn't take it out for the photo, haha!)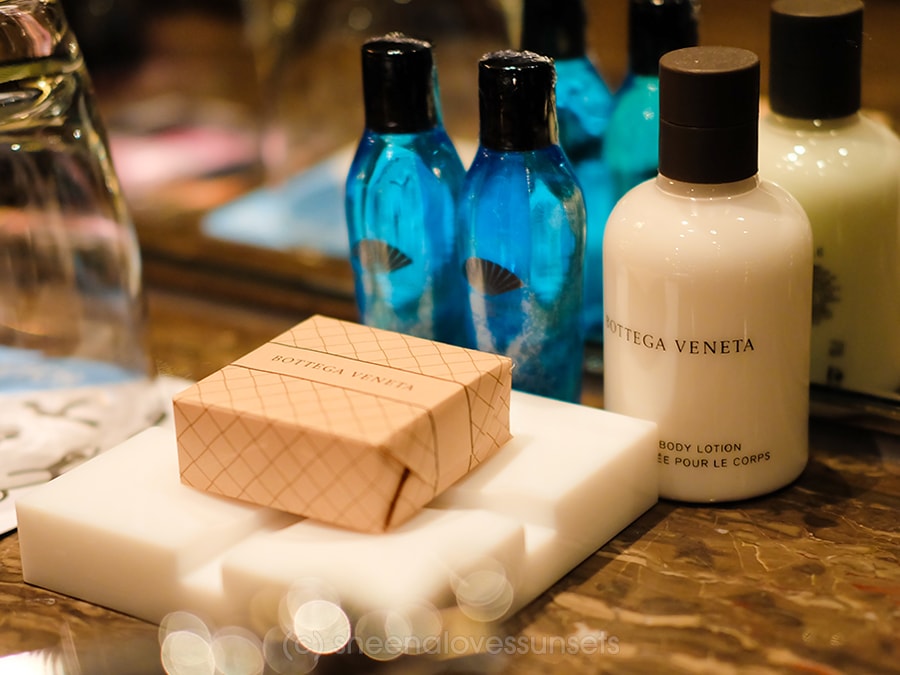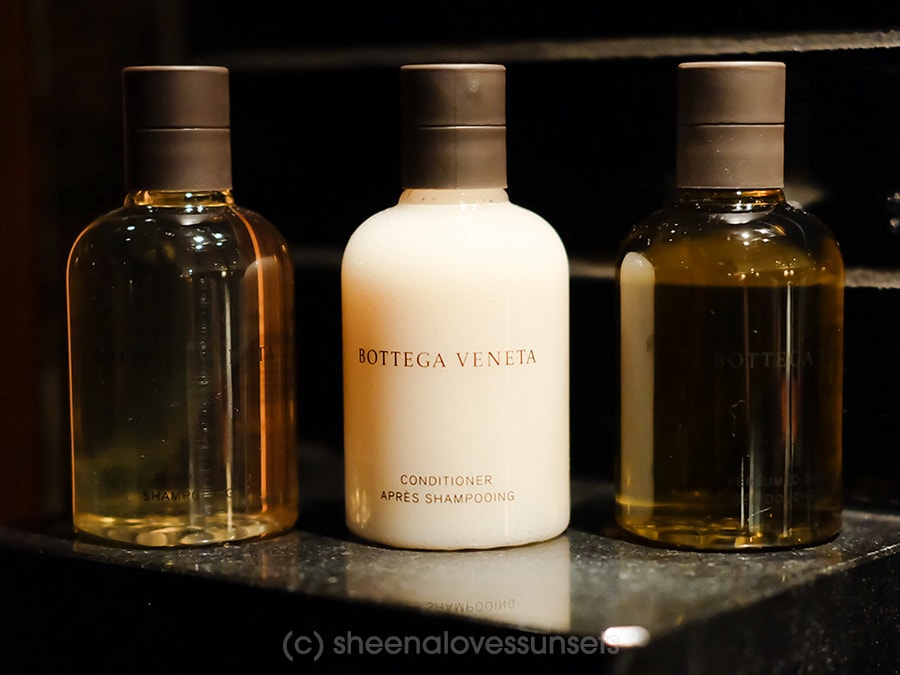 Luxurious Bottega Veneta toiletries. They smell amazing, as you would expect.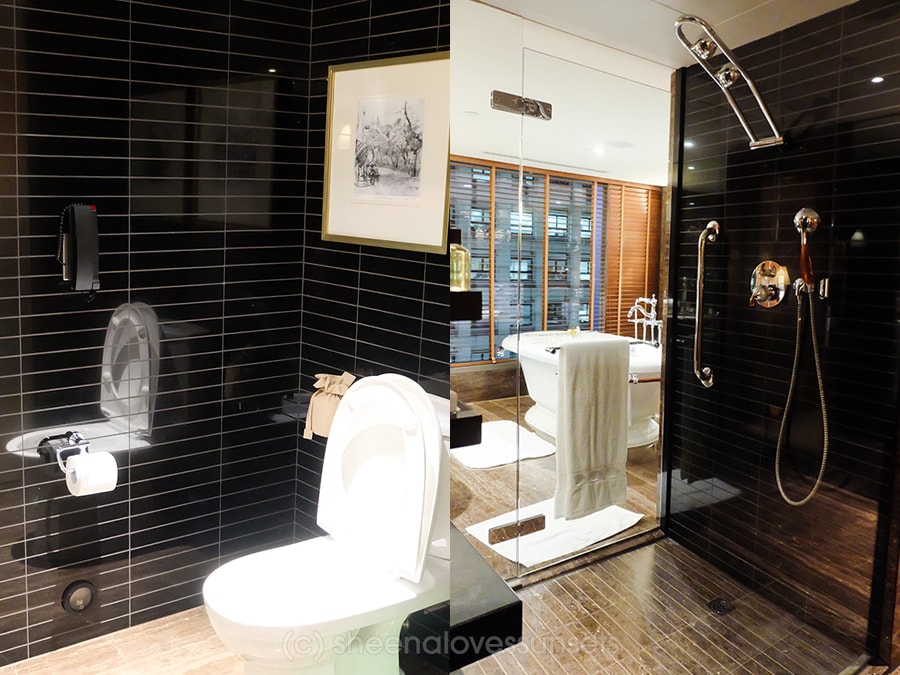 The toilet is separated in an enclosed area. And that is the walk-in shower.
Breakfast at The Clipper Lounge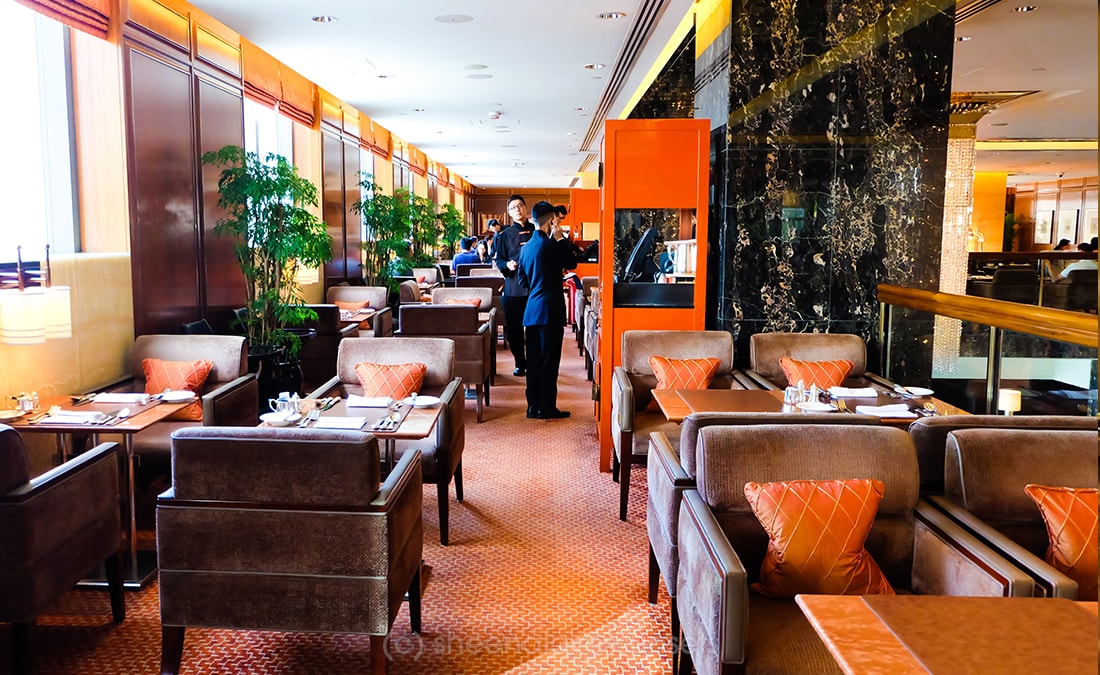 We had breakfast at the Clipper Lounge, which is a long-established rendezvous for social and business meetings in Hong Kong. We were told that it's a favorite among the city's "tai-tais" or "ladies who lunch."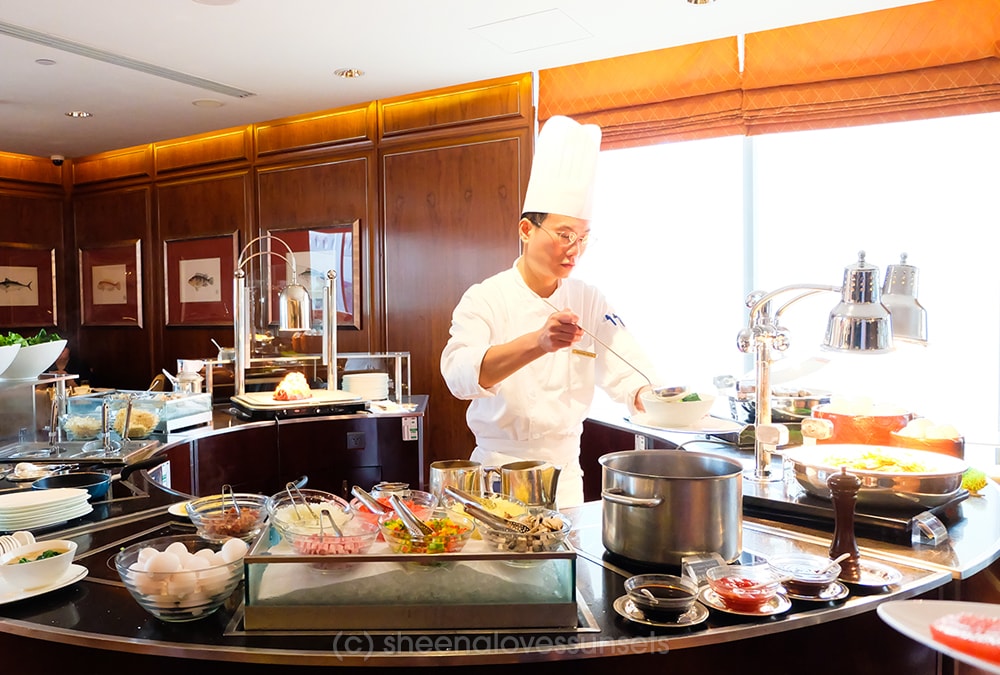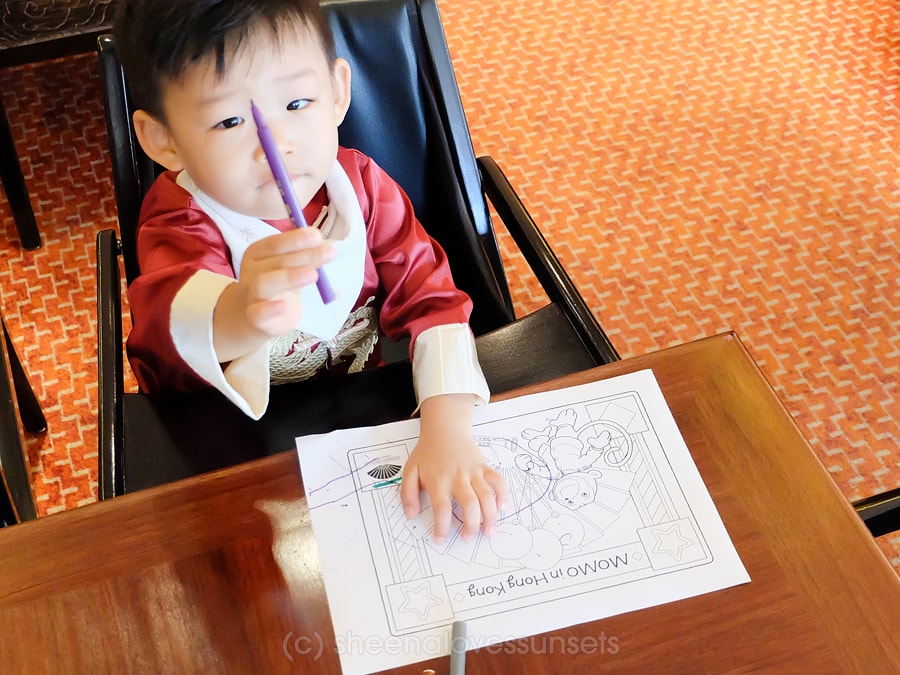 They provided Luke with coloring materials to keep him busy.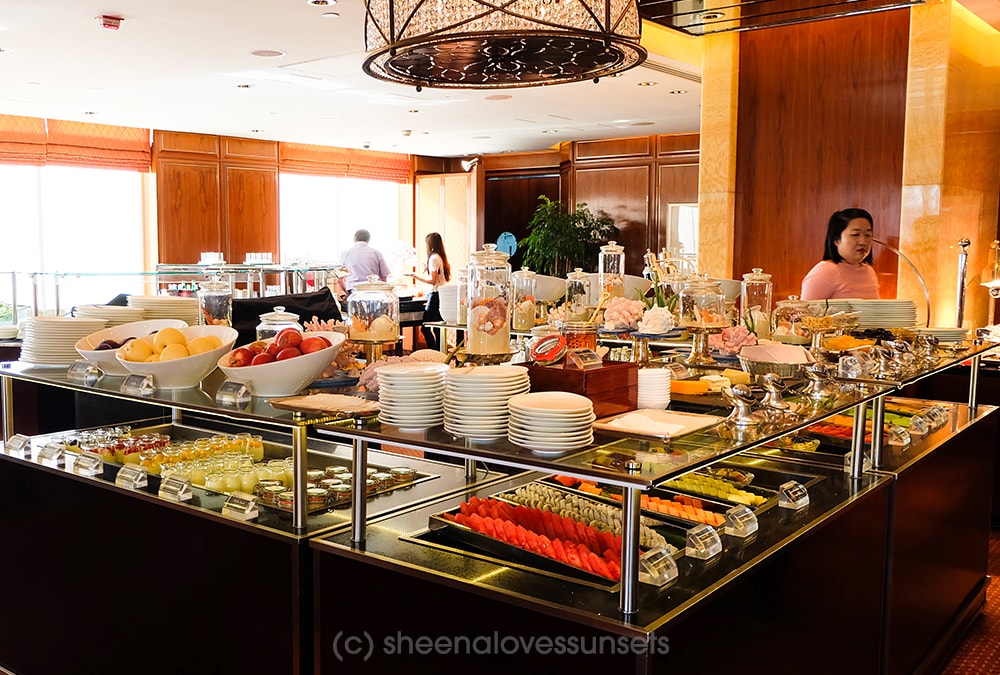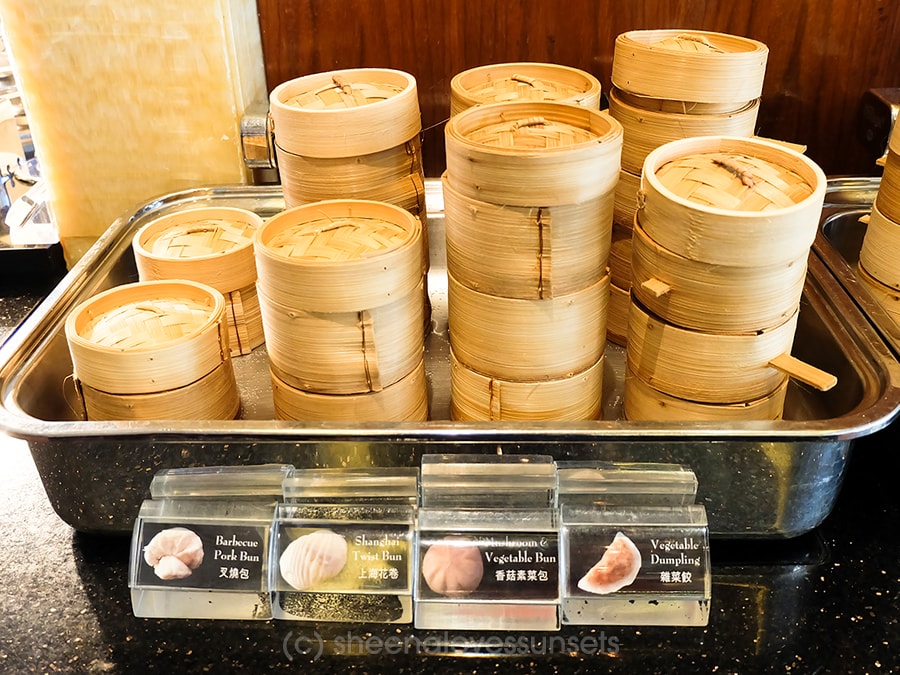 And as I always say, you can never go wrong with a Chinese breakfast!
Exploring The Mandarin Oriental Hong Kong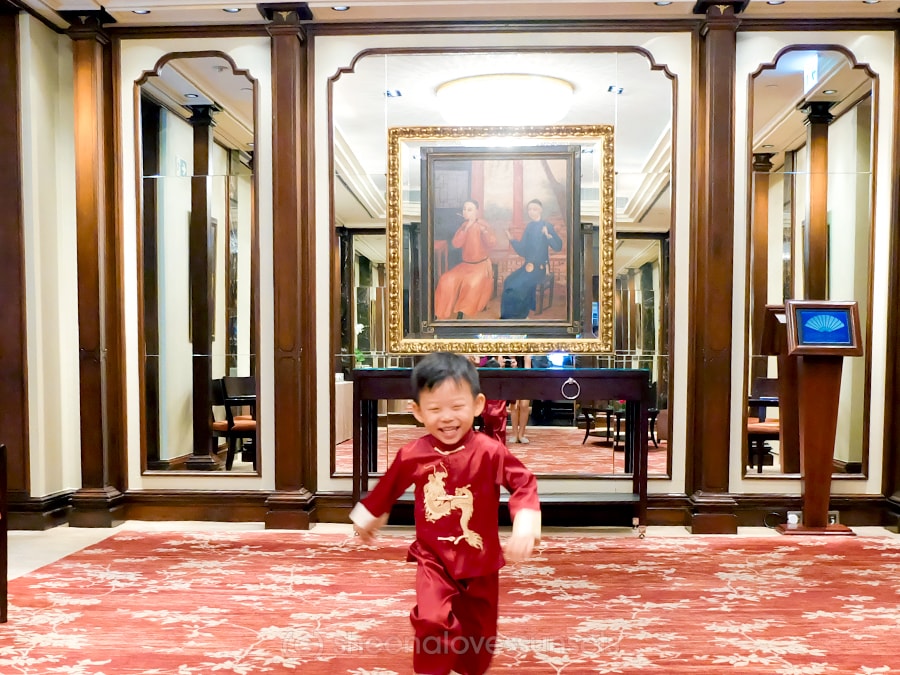 After breakfast, we were given a tour by the management to get to know the hotel better. I made sure Luke was wearing his Chinese outfit to match the theme of the place. Haha.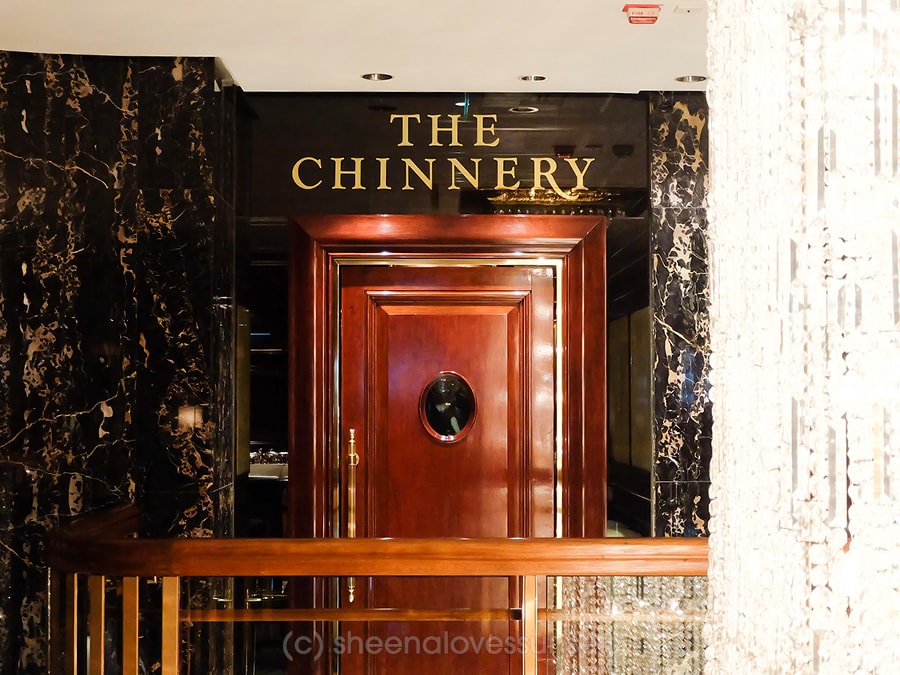 One of the things I really appreciate about The Mandarin Oriental Hong Kong was its old world luxury vibe. I love how it maintained its original character through its design and services.
The Chinnery, for example, is like the quintessential private gentleman's club (though women have been allowed entry since 1990,) complete with deep upholstered armchairs and green leather banquette seating set around mahogany tables.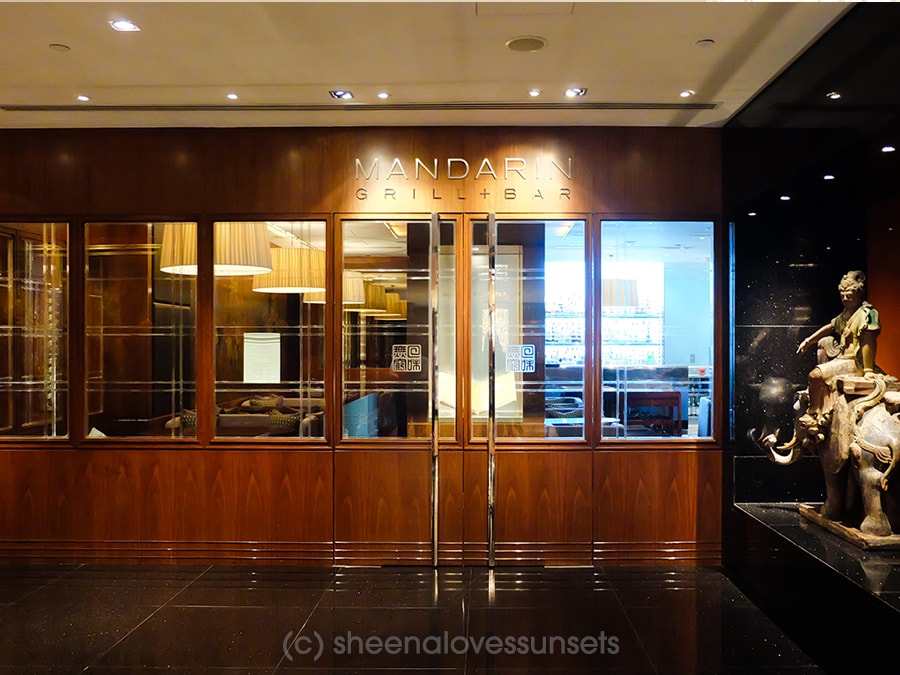 The Mandarin Grill + Bar is one of The Mandarin Oriental's Michelin starred restaurants (yes, "one of" because they have three!) It has retained its Michelin star for 8 consecutive years. Its other Michelin starred restaurants are Man Wah with one star and Pierre with two stars.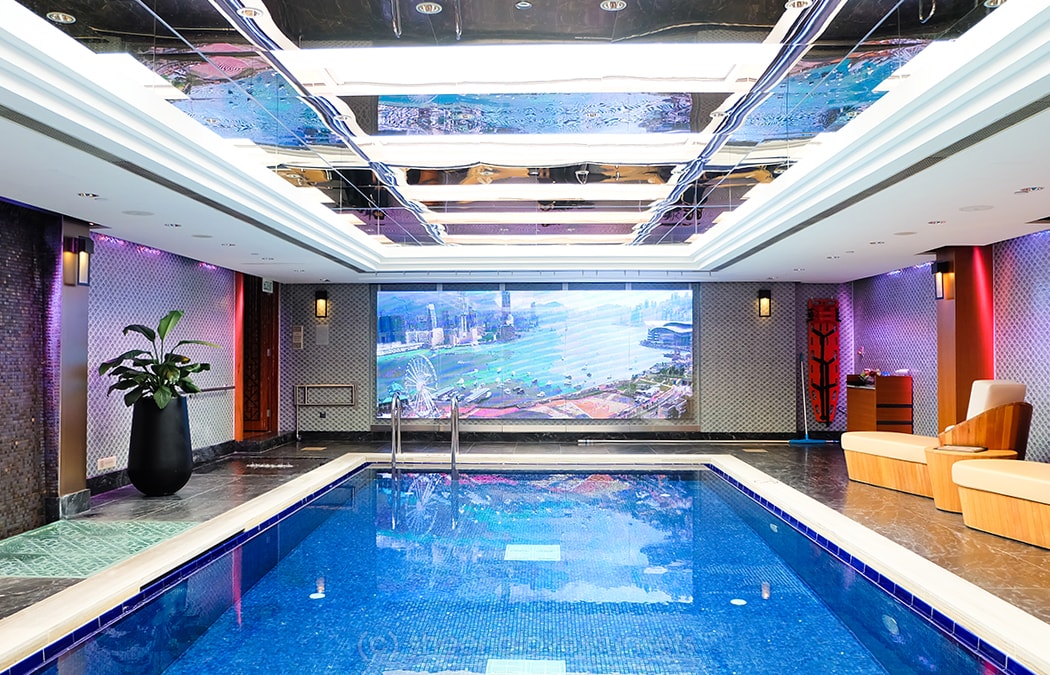 The indoor pool area has a giant TV that, get this, live streams videos of the Victoria Harbour and other scenic settings! And every 3-4pm on weekends, kids can enjoy floaty toys and children's movies being projected on the video wall.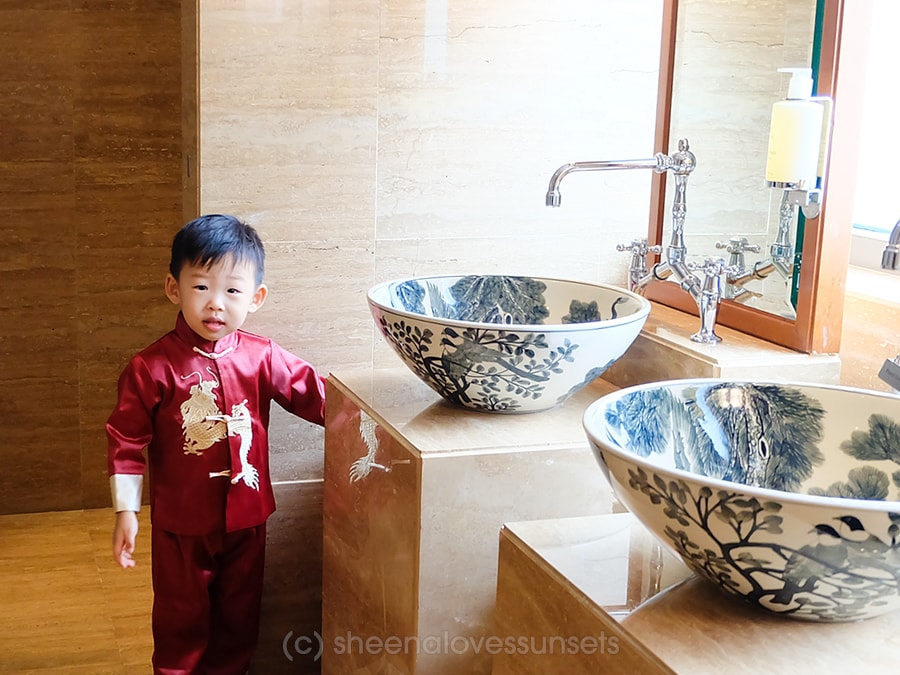 Bathroom break! My little Chinese boy blending in well! Haha.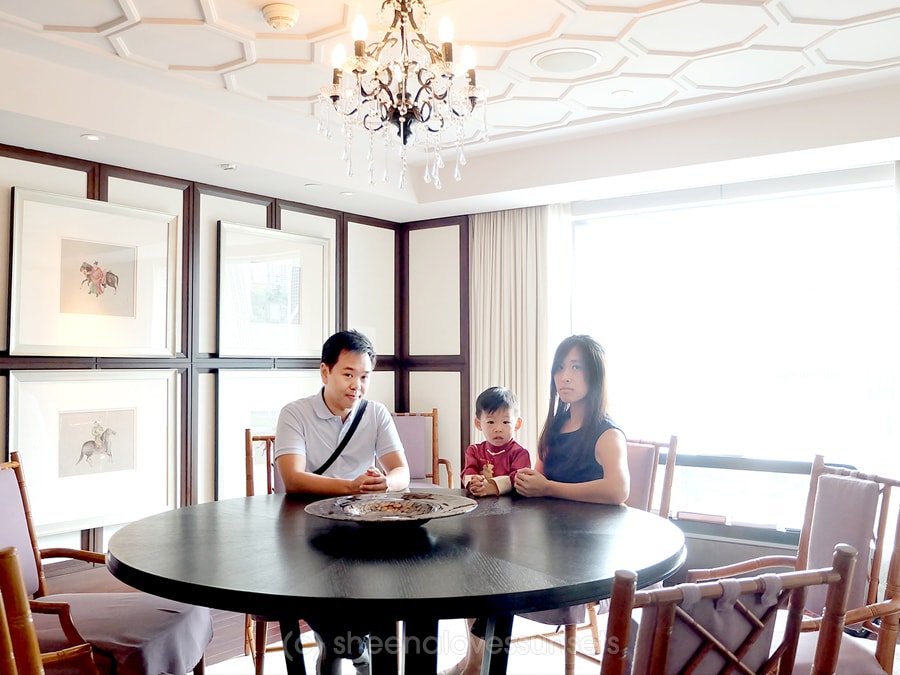 We then took a look at some of their suites. Here we are at the Macau Suite, which boasts of a large bedroom, a walk-in wardrobe, a marble bathroom, a living room AND a separate dining room.
The Mandarin Barber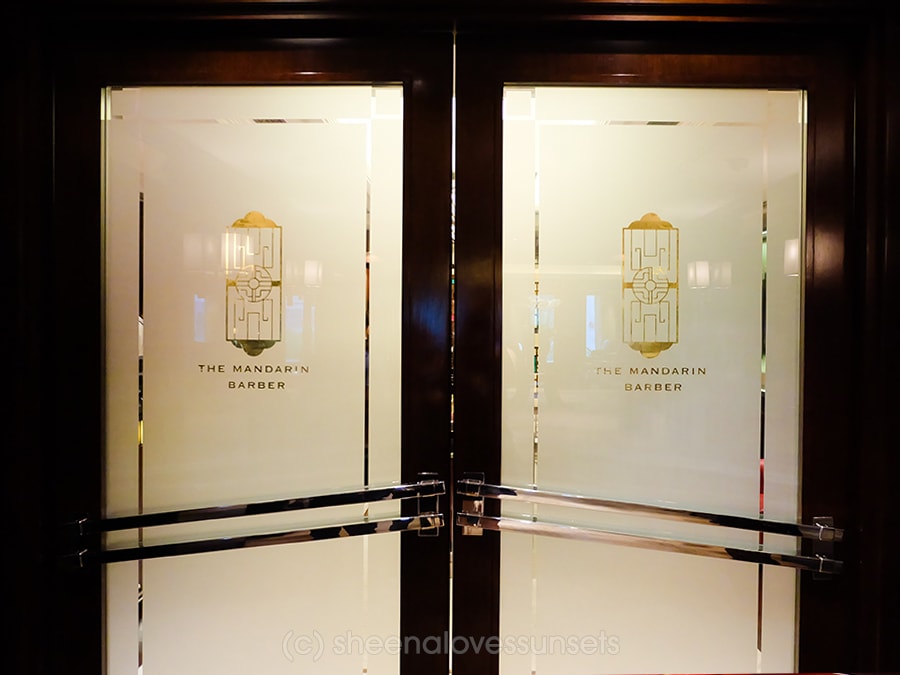 One of my favorite places in this property though is this: The Mandarin Barber. Like the Chinnery, it is reminiscent of a private gentleman's club. It offers traditional shaving and grooming services for men.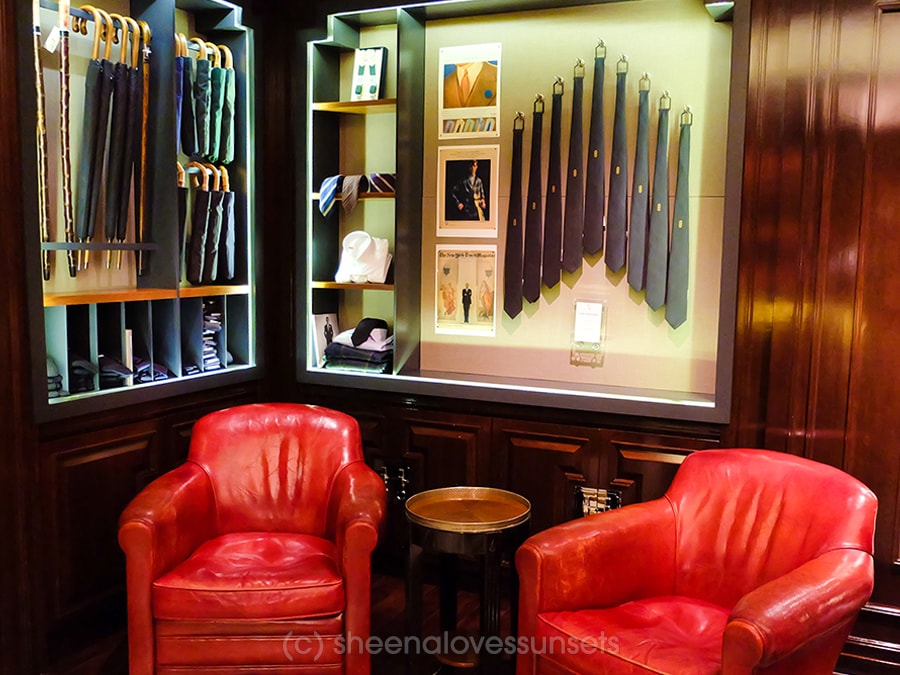 Reminded me so much of "The Kingsmen" movies. The place is inspired by Art Deco chic from 1930's Shanghai. A lot of VIP guests, from government officials to celebrities, come here to avail of the services. They have special VIP rooms as well for those who want a more private experience.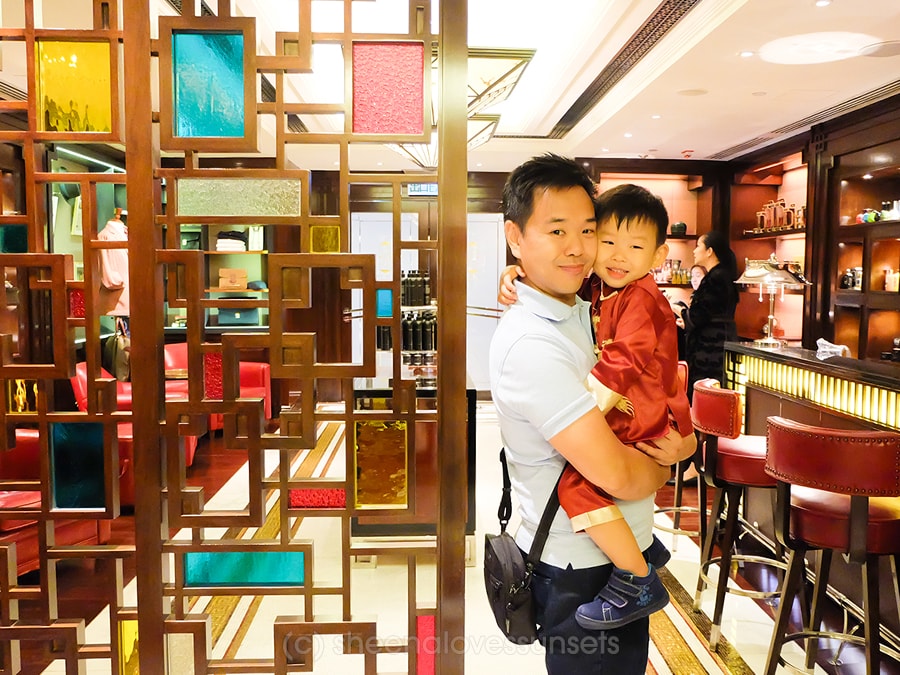 And that is a wrap (for the hotel tour!) Because Luke has been such a trooper and overall great sport the entire duration of the tour, he gets a reward! And like I said, The Mandarin Oriental knows how treat their little VIPs in style!
Madeleines Dipped in Rose Petal Jam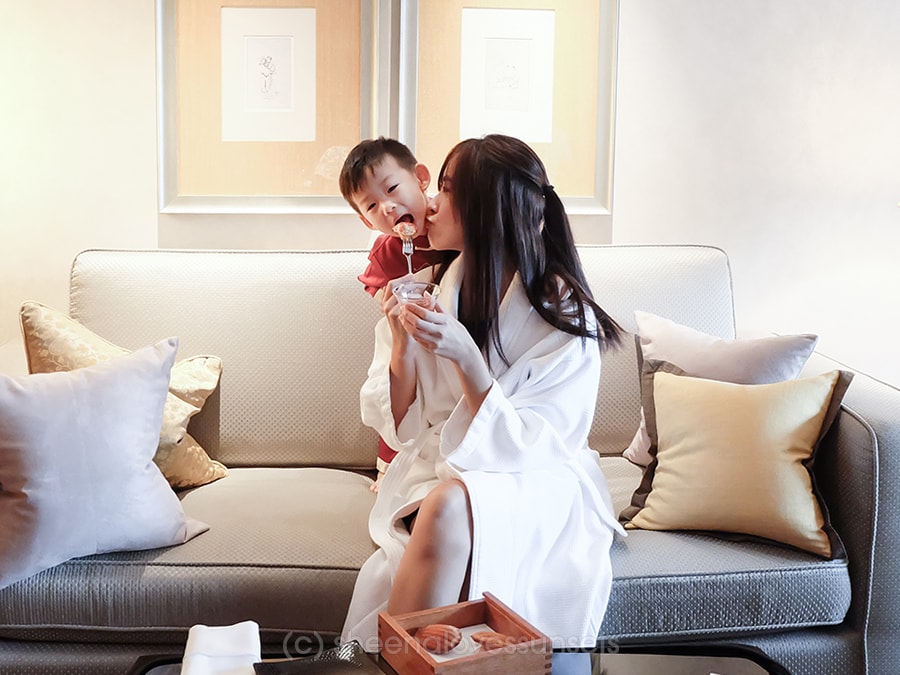 Back in our room, we enjoy the madeleines dipped in rose petal jam as Mor prepares Luke's surprise.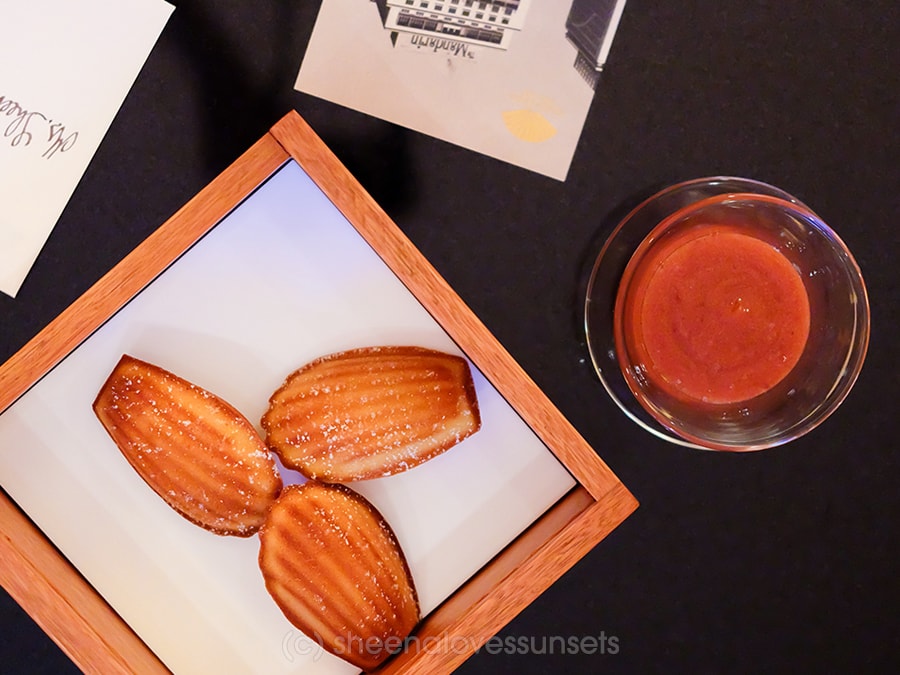 The Mandarin Oriental's signature rose petal jam is one of their best sellers at the famous Mandarin Cake shop. The recipe for this is a closely guarded secret and I can see why! It is absolutely heavenly. I'm not very much into sweets but this was just perfection.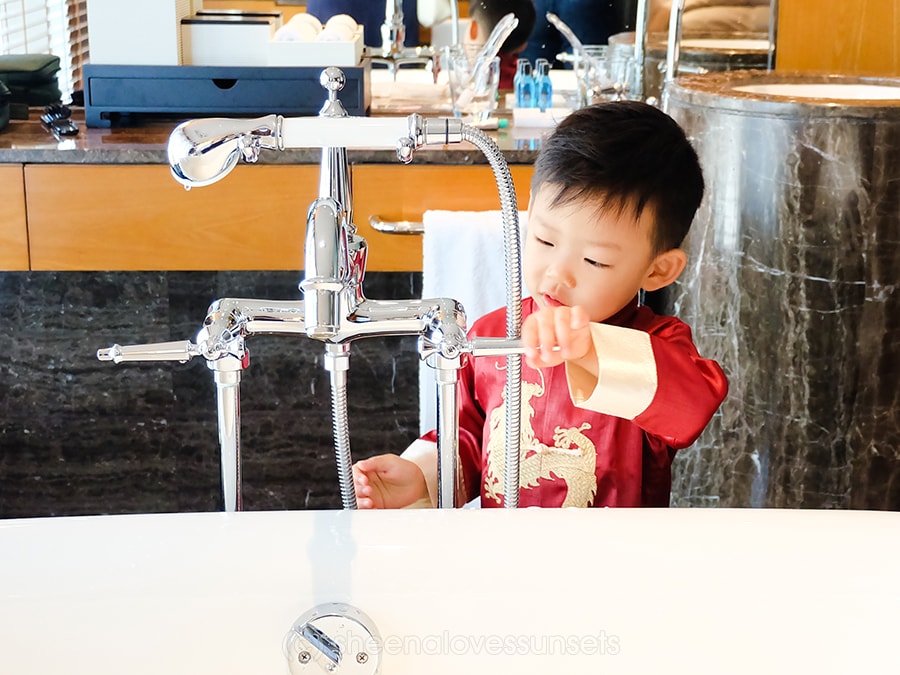 Someone just can't wait for his surprise though! Ok, Luke, let's do this!
Luke's MOST Luxurious Bubble Bath to date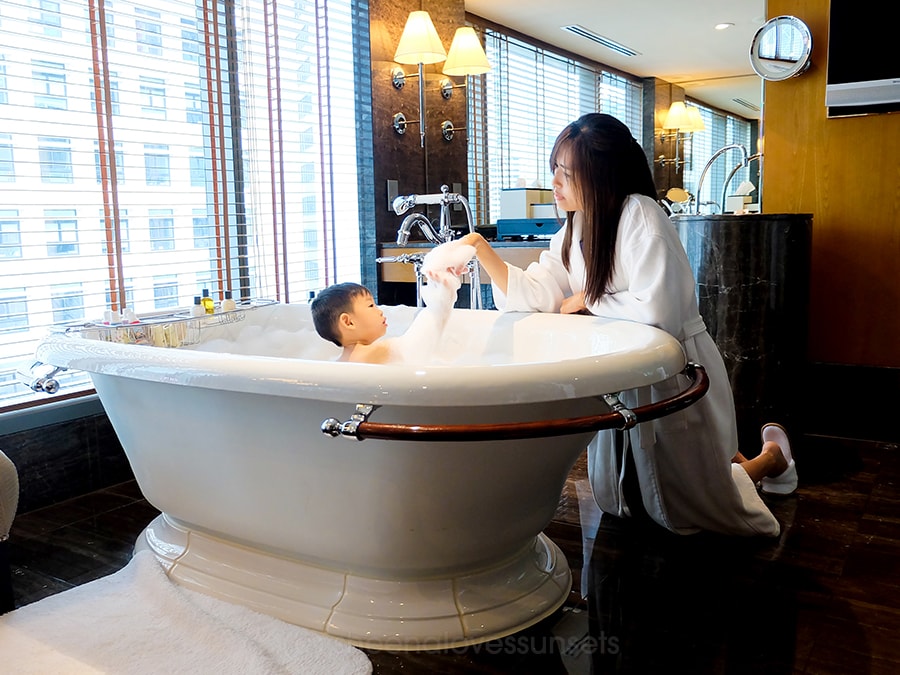 The moment he's been waiting for; having his luxurious bubble bath in the most luxurious bathroom ever!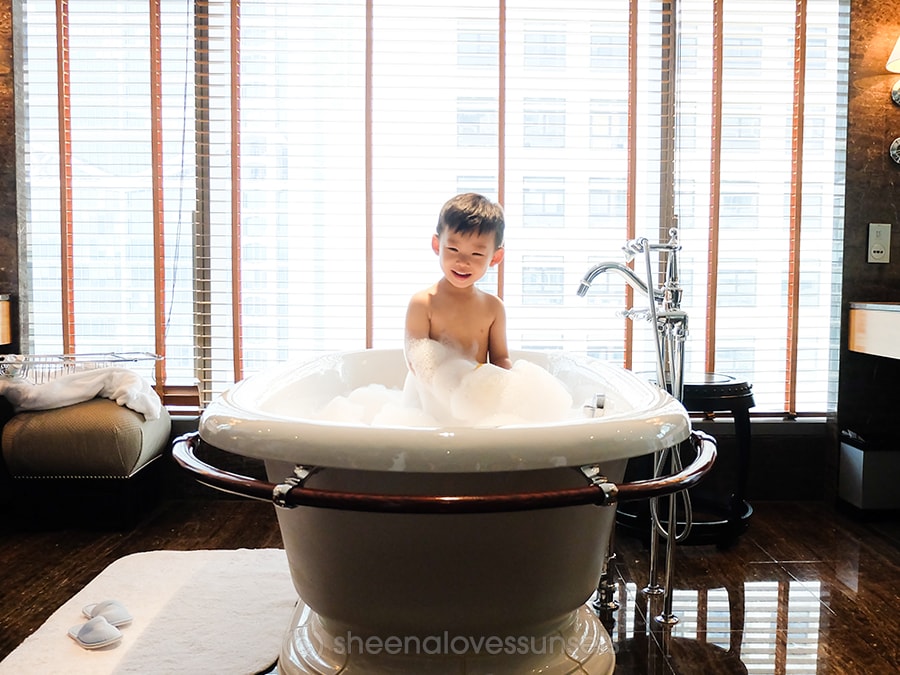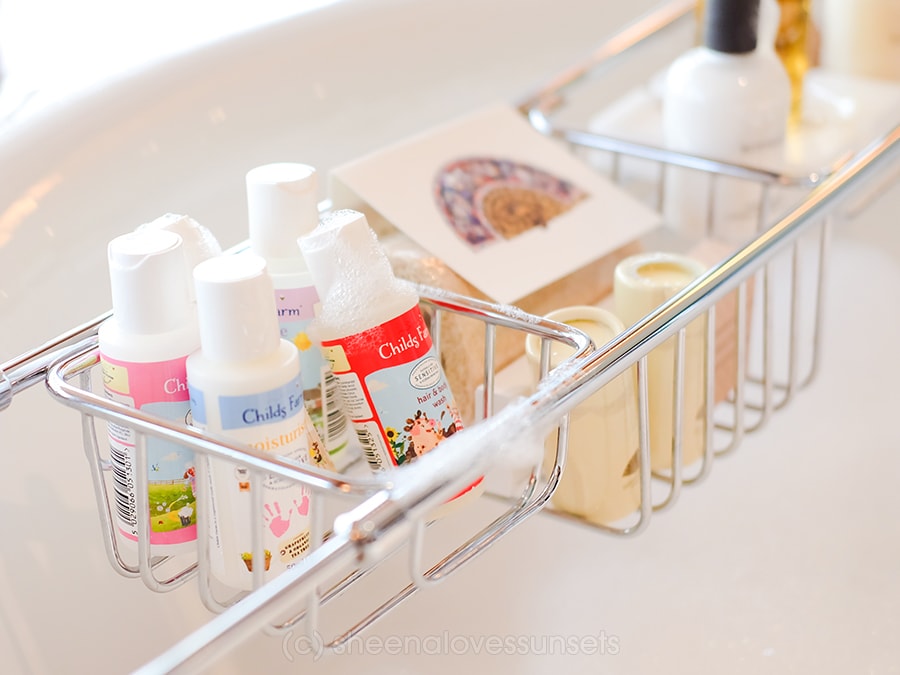 We were provided with these premium children's toiletries for Luke. When we finished up the entire bottle of bubble bath soap for his bath, we poured in a bottle of the Bottega Venetta wash. I wasn't kidding when I said it was a luxurious bath. Haha.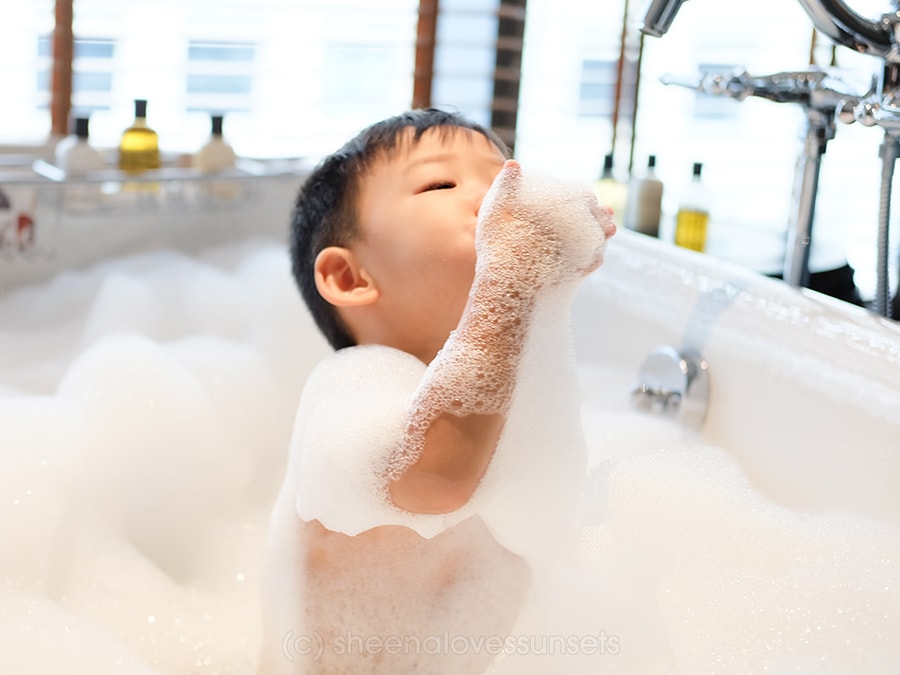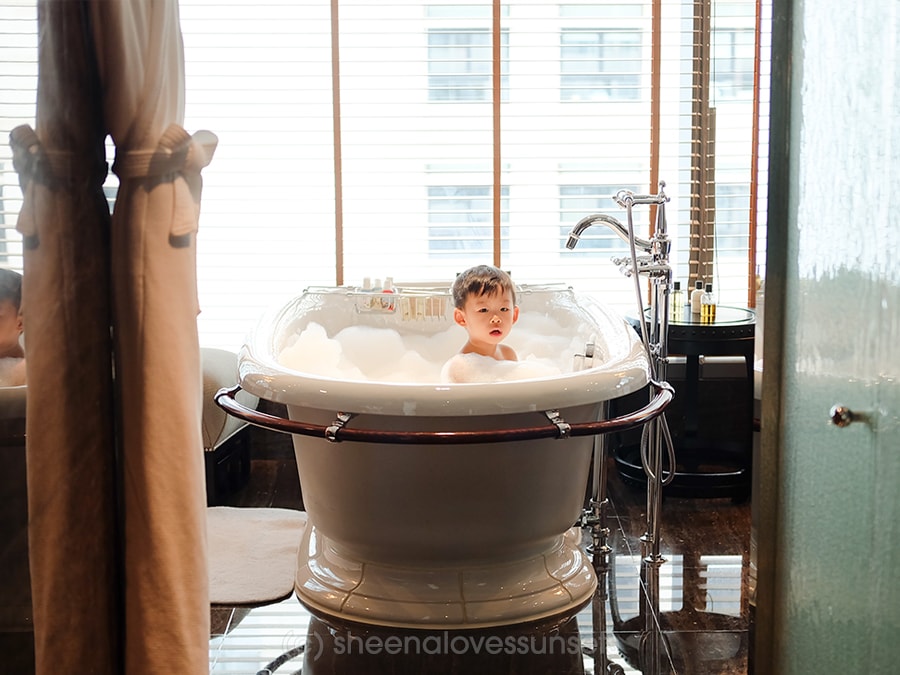 Just look at how foamy that bath is. Without exaggeration, he spent at least an hour in the bath. It was a good time for us to relax too, or at least for Mor. For me, it was a good time to pack our things in peace!
Wonderful Family Friendly Getaway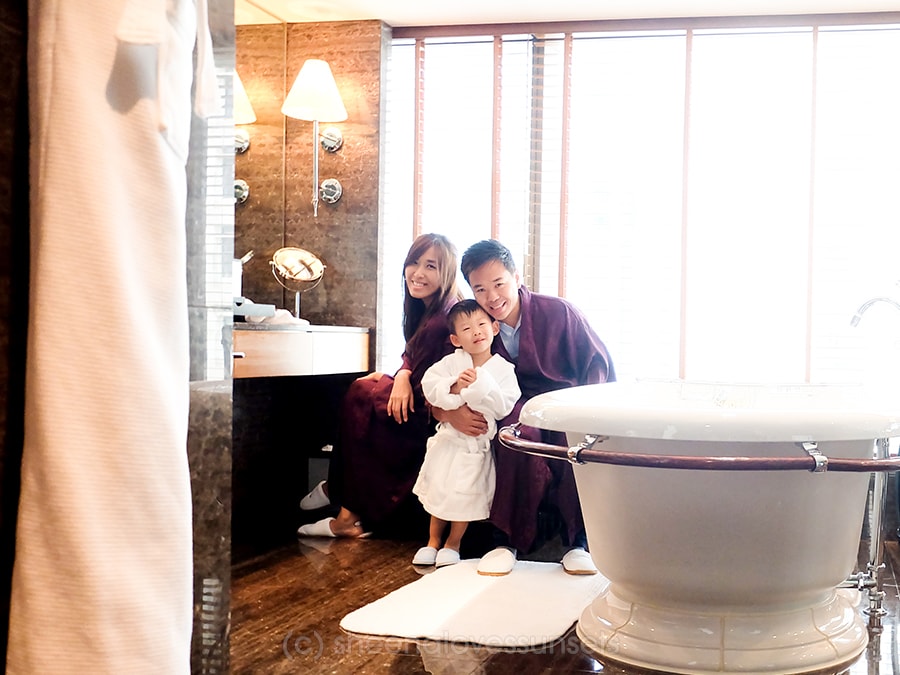 We had a great time at The Mandarin Oriental Hong Kong and they really provided an awesome experience not only for me and Mor but also for Luke. They really made sure that he felt extra-special. If you're looking for a great family-friendly hotel in Hong Kong, stay at The Mandarin Oriental. It really is a good combination of modern luxury and timeless elegance.
(NOTE: THIS POST IS ABOUT OUR EXPERIENCE LAST SEPTEMBER 2017.)