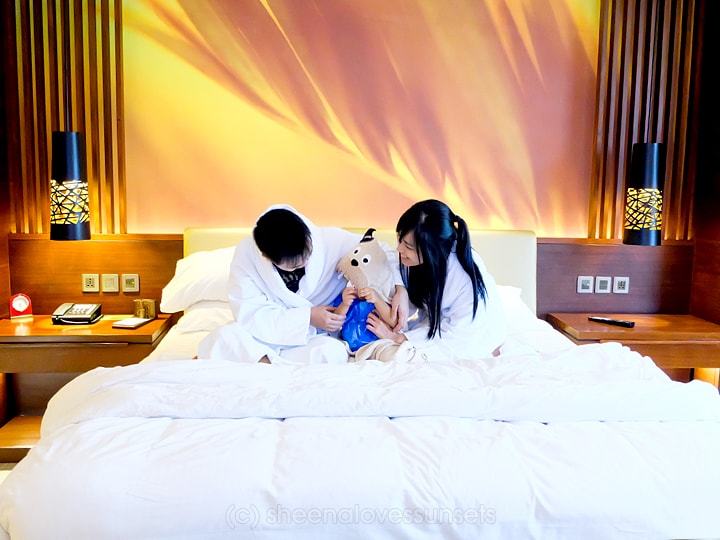 While we're waiting to score cheap plane tickets at this year's travel expo (haha!), we decided to book a staycation for the meantime at Marco Polo Ortigas Manila for a quick vacation and some family fun time!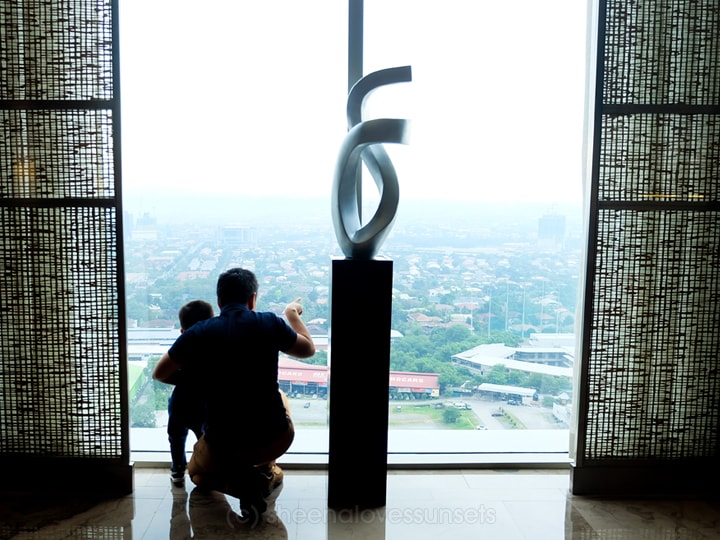 Marco Polo Ortigas Manila is located at the center of the Oritgas commercial business district.
You might wonder how they could fit a 5-star hotel in an already very busy part of the city, but Marco Polo has designed it in such a way that it doesn't feel cramped even though the space is limited.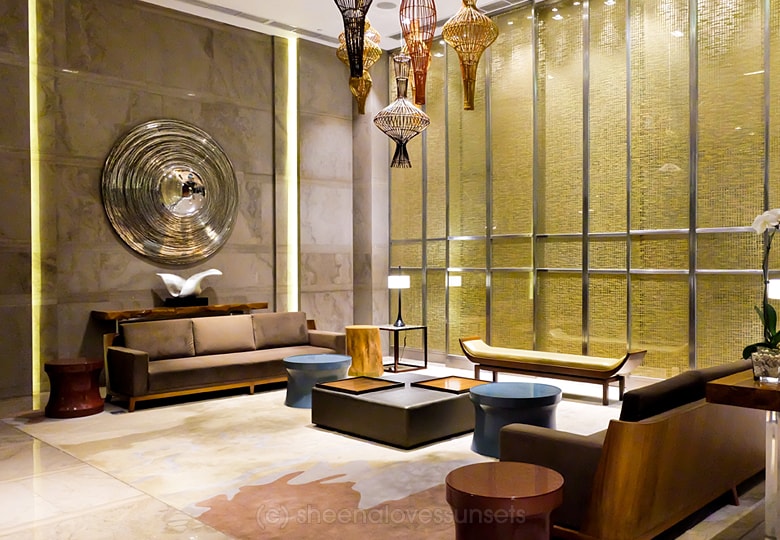 The lobby and the main restaurant, Cucina, are located at the 24th floor and the indoor pool is at the 22nd floor. More on the pool later!
Premier Room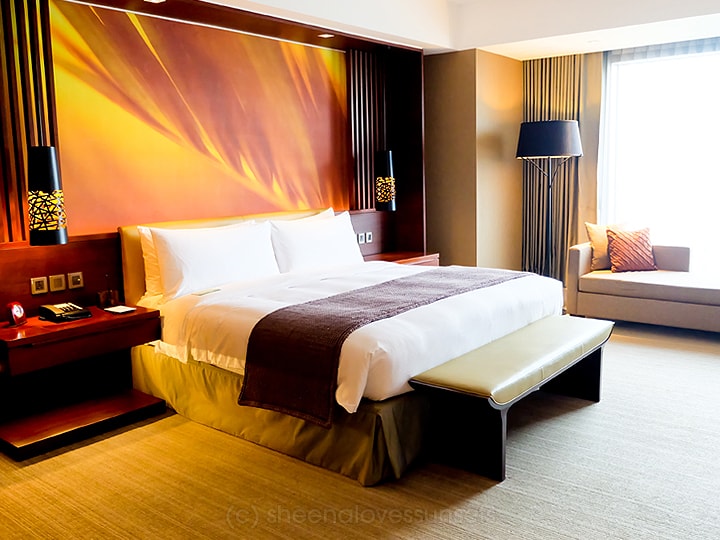 We got a Premier Room that was connected to a Superior Room. This is the Premier Room and it was very spacious!
Mor and I stayed at the Premier Room while Luke and his yaya stayed at the other room.* Two rooms meant that we can enjoy our own private quiet time when Luke was asleep! It also means we get two bathrooms (efficient!) As a bonus, we also got to sleep in a bit more when Luke woke up earlier that usual! Haha.
* We kept the doors open so that we can check up on Luke anytime!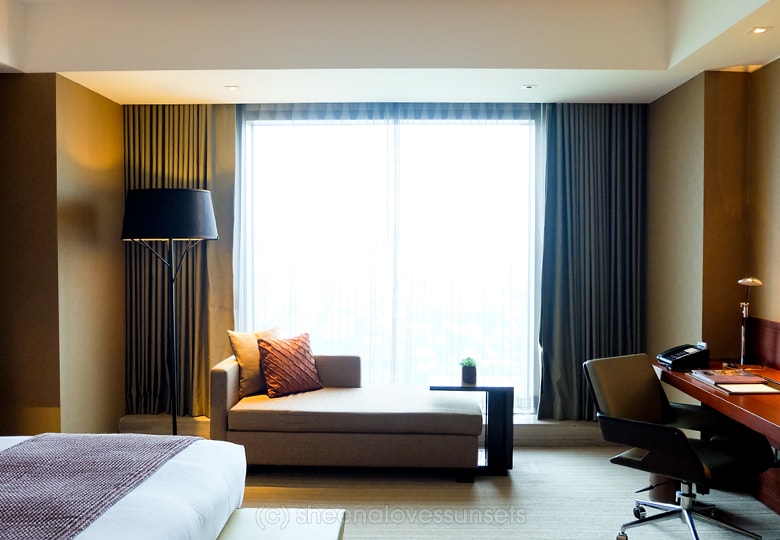 The rooms had a modern design, which I loved! I'm not a fan of overly decorated rooms so this was perfect for me!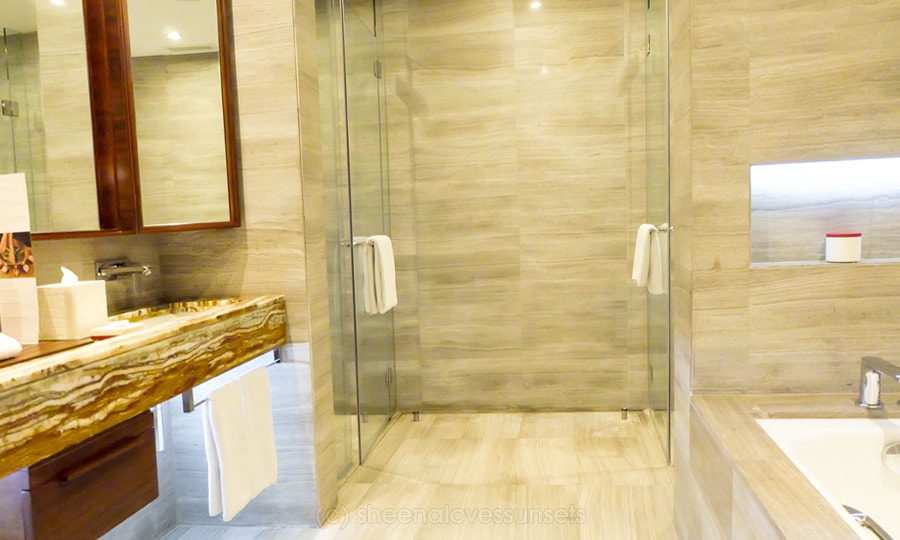 But my favorite part was the bathroom! I wish I had a wide angle lens so I could show you guys how enormous the room is!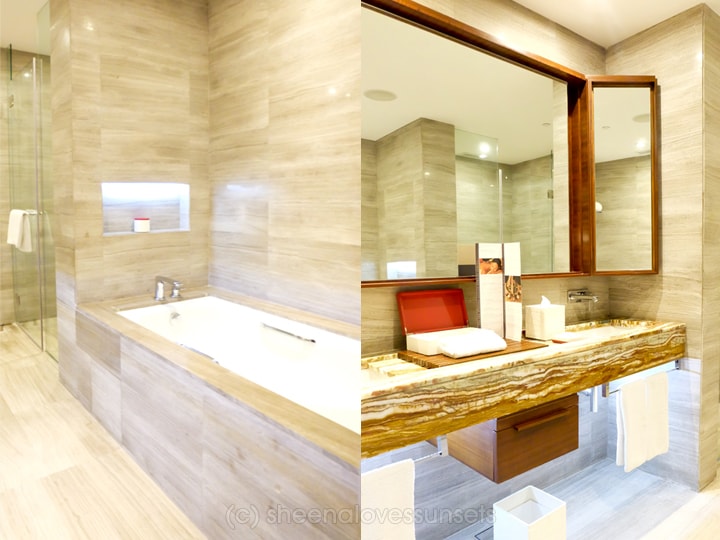 Bathtub and an enclosed space for the toilet on the right side. Then two sinks (!!!) and the shower on the left side.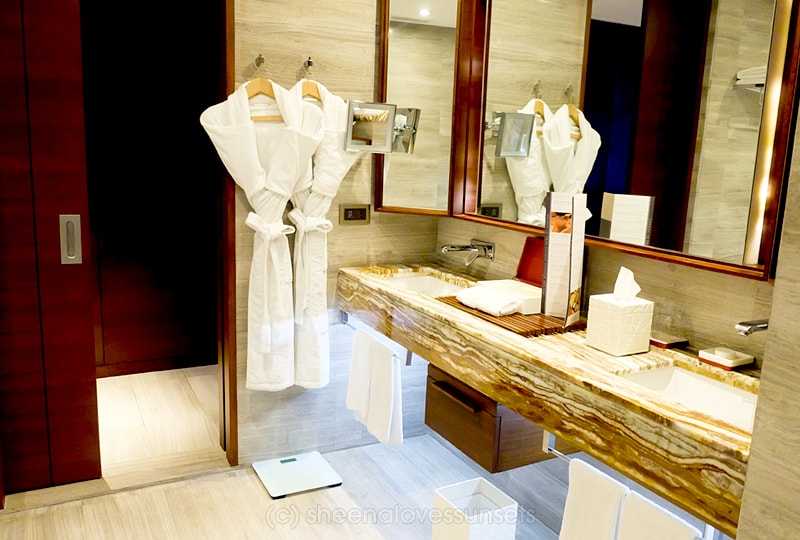 Love having two sinks! Couple problems, solved! Hehe.
Superior Room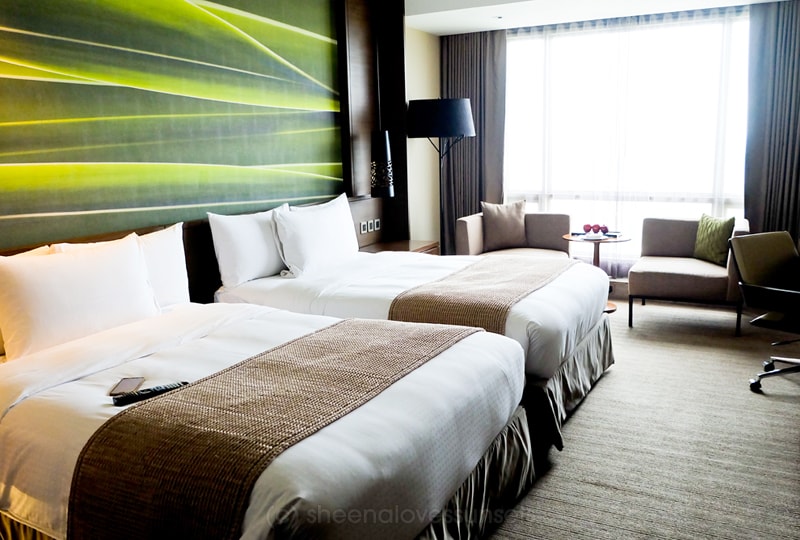 The Superior Room had two double beds. Though smaller than the Premier Room, it still had the same great view!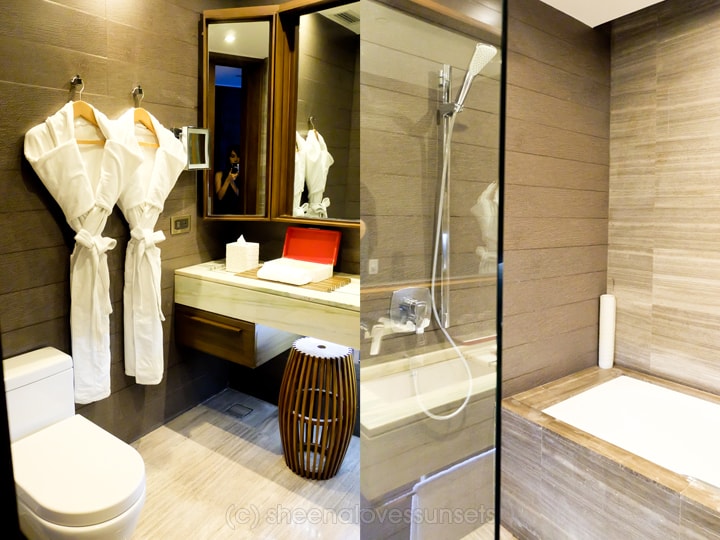 The bathroom in the Superior Room is also significantly smaller than the one at the Premier Room but still beautiful, clean and modern. Plus, not really that small since they were still able to fit a bath tub and a shower! 
Now, enough lounging around in the room! Time to enjoy the facilities!
Piccolo Kids Club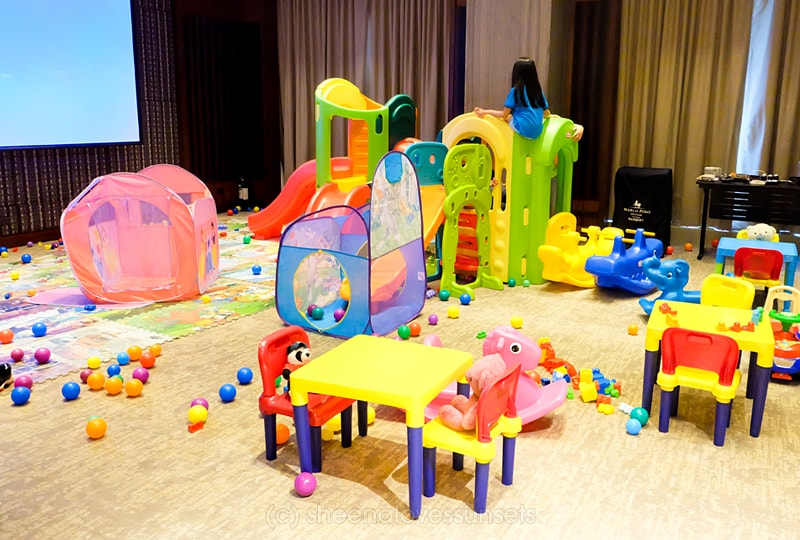 We dropped by the Piccolo Kids Club so Luke can have some kiddie fun first! He was so excited to see all the slides and horsies but he what he was most excited about was seeing "Planes" on the big screen!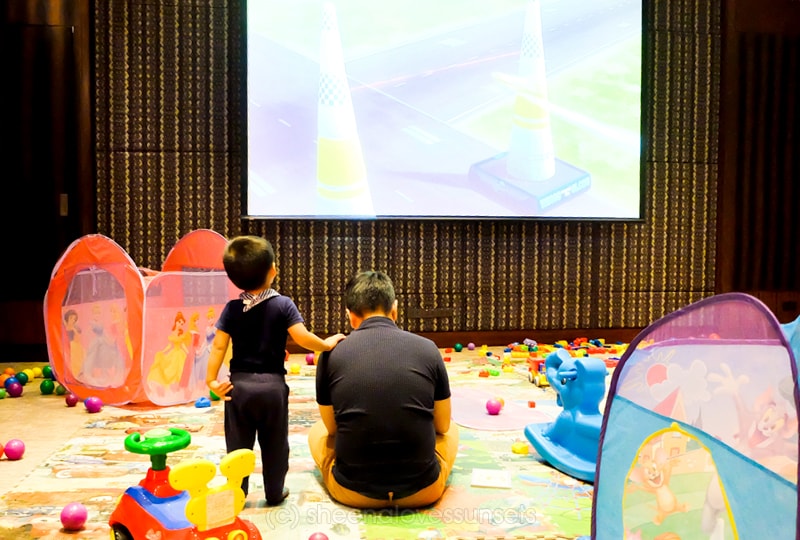 Haha! We don't really let him watch TV or movies yet, so he was instantly hooked when he saw the cartoon on TV.
Anyway, the room was big enough for a couple of kids to enjoy! There's also an area at the back for parents to sit while they wait. Cookies and juices were provided for so I sat and relaxed at the back while Luke took his time exploring!
Back to the room to change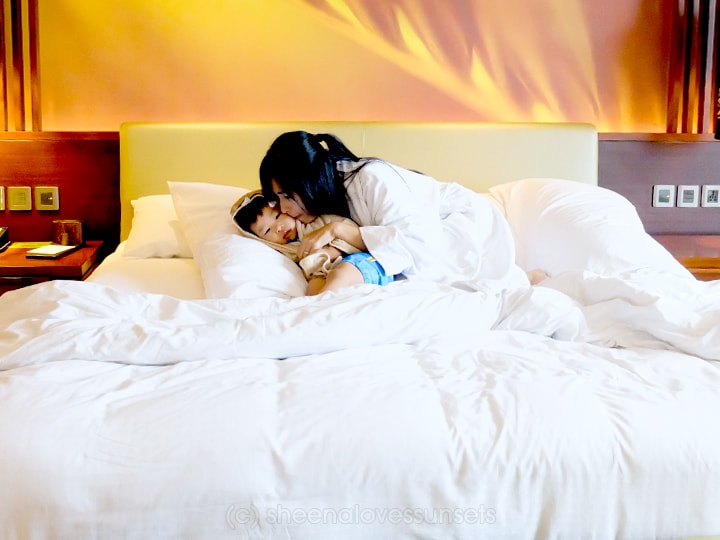 What I was really looking forward to though was the indoor pool! So we went back to the room to change and get our swim stuff ready!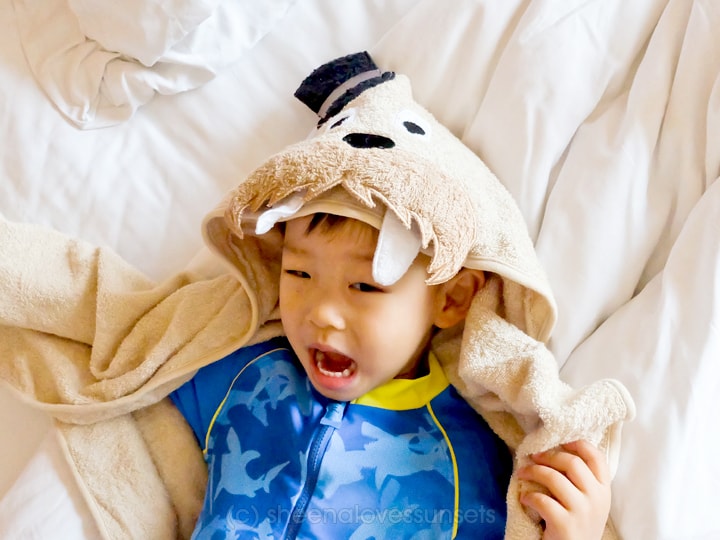 Isn't his Walrus towel just the cutest? (Got it from Babyzone!)
Indoor Pool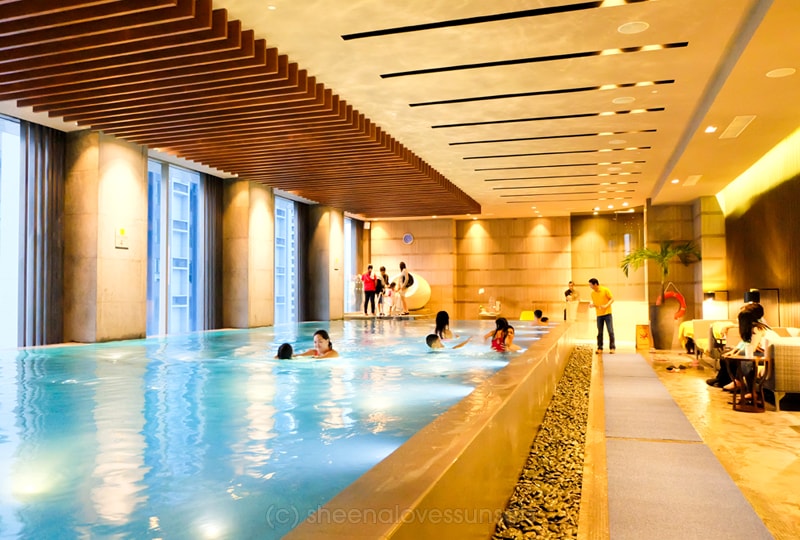 Luke likes swimming but we haven't been able to swim lately because the air has been pretty cool (I love December/January in the Philippines!) When we tried to swim last December, Luke was shaking as he swam so we had to go up after 20 minutes!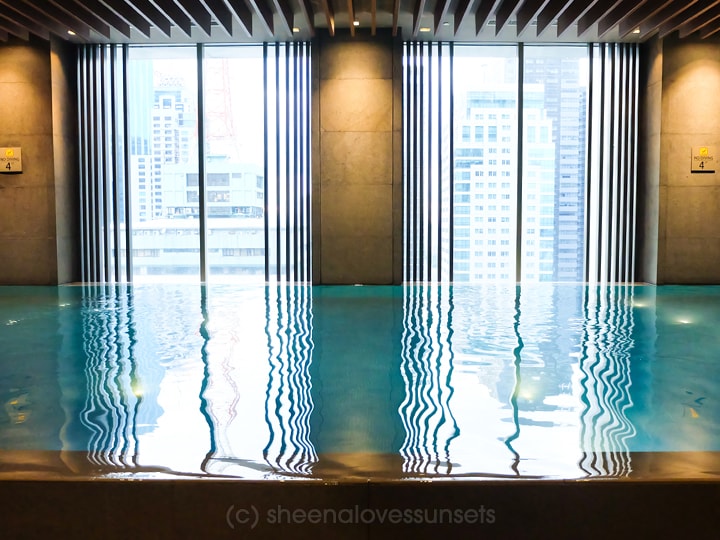 Swimming in a beautiful indoor pool was a welcome change!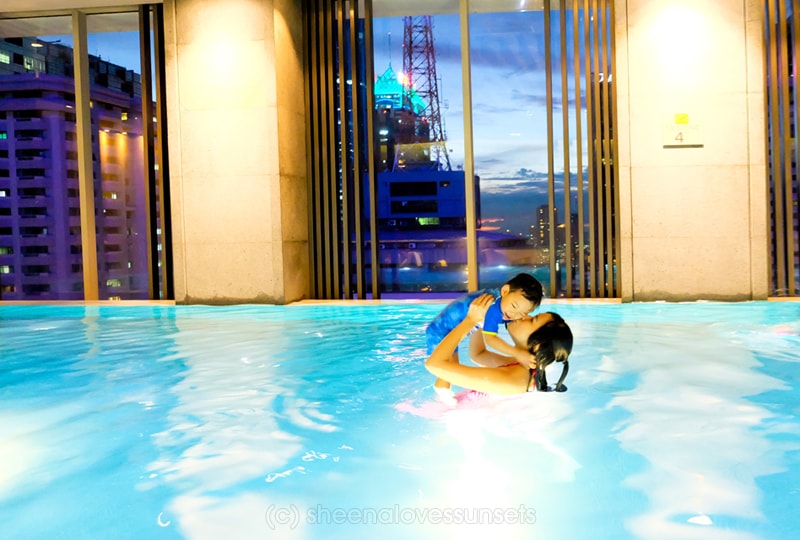 The indoor infinity pool at Marco Polo was perfect. The temperature was not too hot nor too cold and we got a stunning view of the city! Just look at that sunset!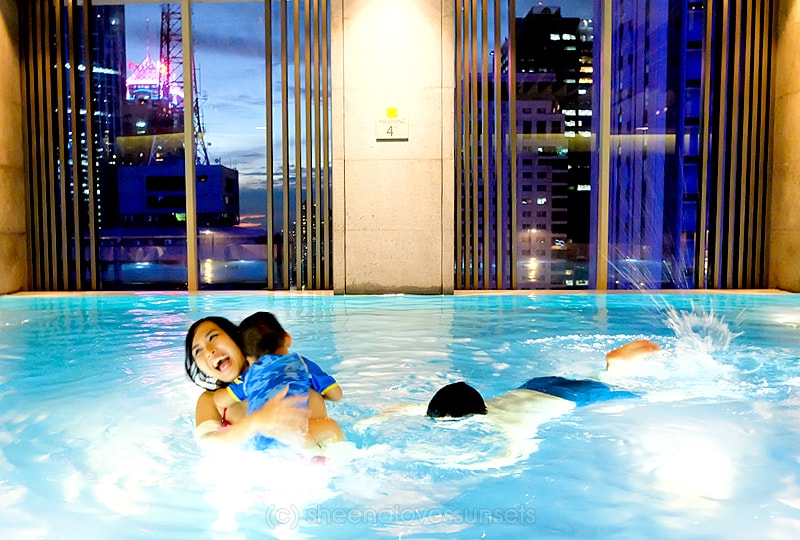 Luke had a lot of fun! He also got super stressed out when Daddy pretended to be a shark. Haha!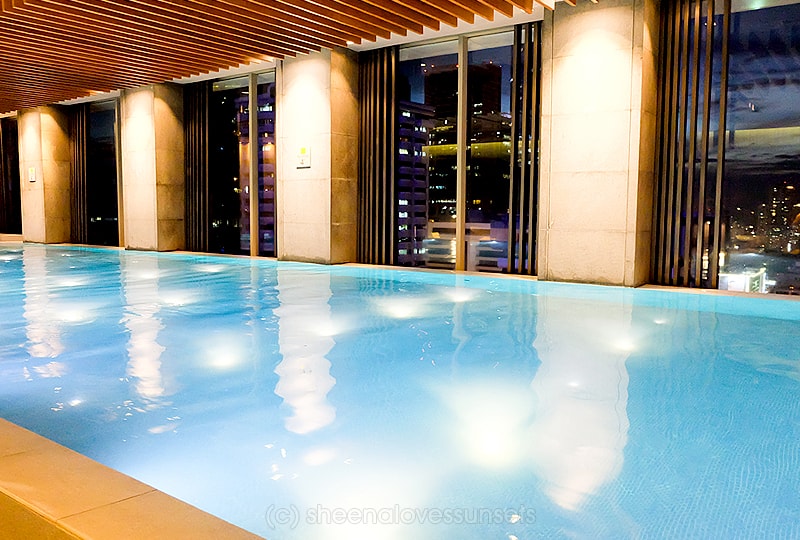 We swam so long that it was already dark by the time we finished. We went back to the room and had a quick shower (having two bathrooms is efficient, I told you!) and we're off for dinner!
Lung Hin: Cantonese Restaurant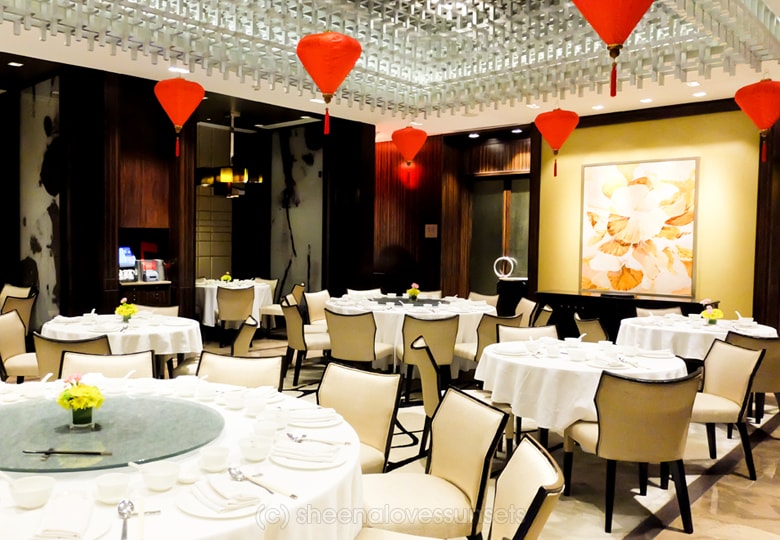 We had a reservation for Lung Hin, the Cantonese restaurant at Marco Polo Ortigas Manila. It had a beautiful ambience. We chose a table with a view because, why not, right?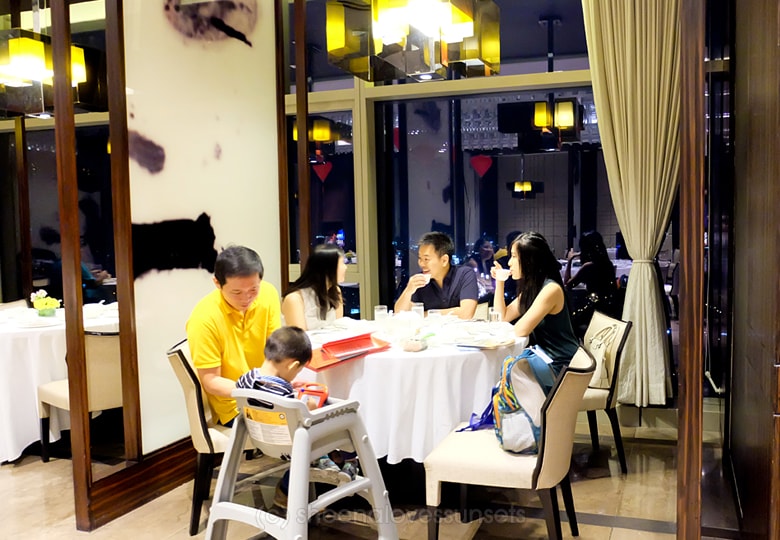 Had some of our good friends join us for dinner.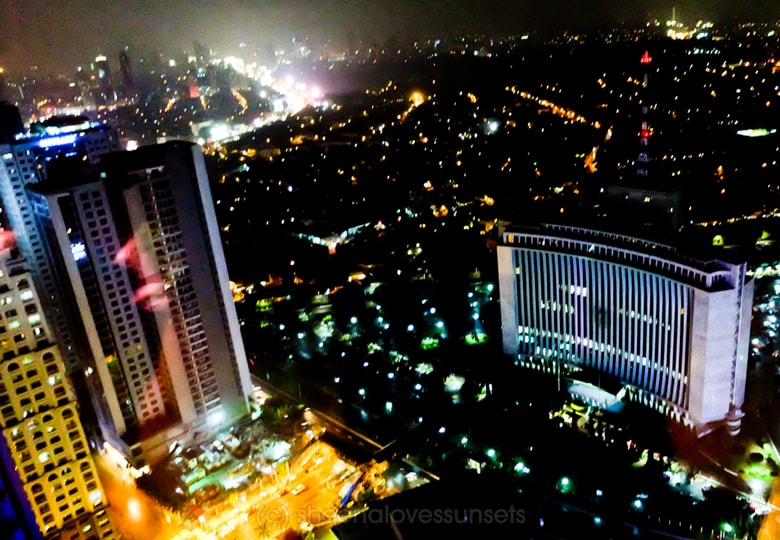 The view from our table. Hello, Manila!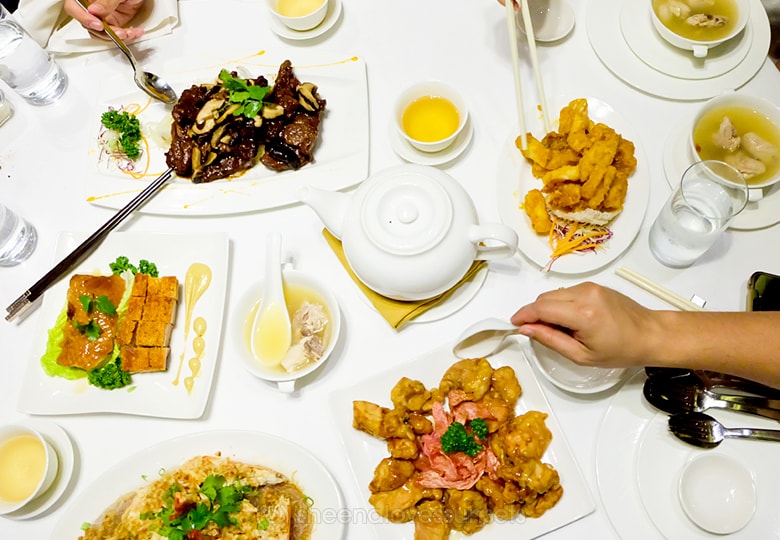 Our food! We had a set meal and ordered additional dishes. Here's what we got:
Combination Platter with Smoked Sliced Duch and Crispy Roasted Pork Belly (LOVED THIS)
Double Boiled Chinese Herbal Chicken Soup
Wok-fried US Beef Rib with Fresh Mushroom in Black Pepper Sauce
Deep fried Chicken with Pickled Ginger Plum Sauce
Steamed Tiger Prawn with Enoki Mushroom Vermicelli in Garlice
Chilled White Fungus Papaya (for dessert)
Salted Egg Squid (Must-try!)
Taro Fried Rice (Luke's favorite! Haha!)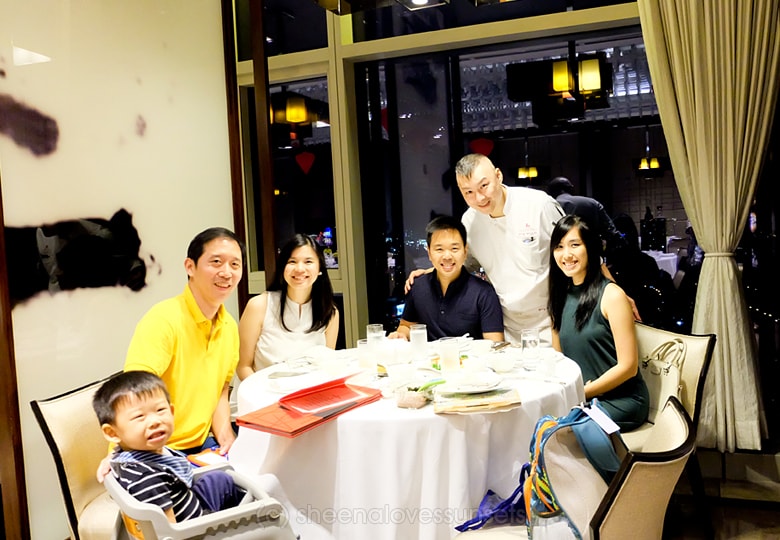 Got to chat a bit with the executive chef of Lung Hin, Chef Raymond Leung.
I'll be honest; the food here is a bit pricey! But it's worth a try when celebrating special occasions! Oh, and it's definitely worth the trip if you visit just to try the salted egg squid!
The view from Vu's 
After dinner, we wanted to check out Vu's, Marco Polo's sky bar and lounge at the 45th floor. Mor and I have been here before but I wanted to show Luke a view of the city at night and here's what we saw that night: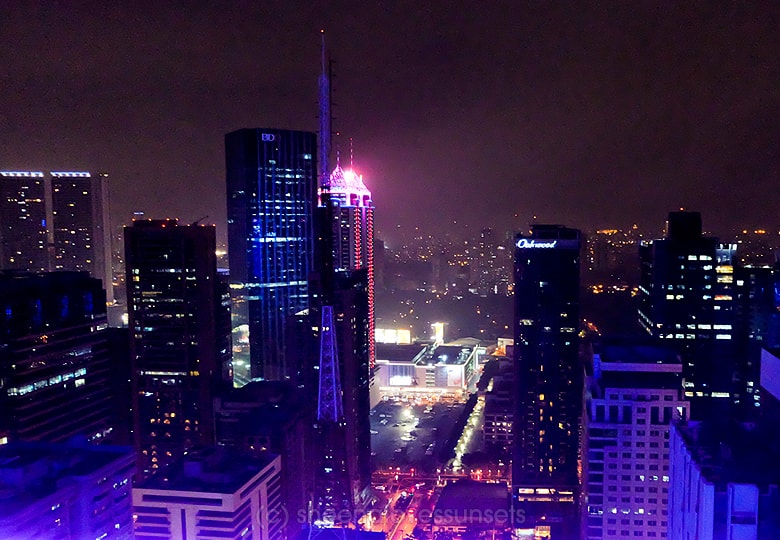 Sometimes, all it takes is to see Manila in a different view to realize how blessed we are to be living in such a vibrant city.
Anyway, by this time, it was already way past Luke's bedtime and he was already so sleepy (although he was fighting hard to stay awake haha) We retired to our room and enjoyed our cozy beds.
Good morning!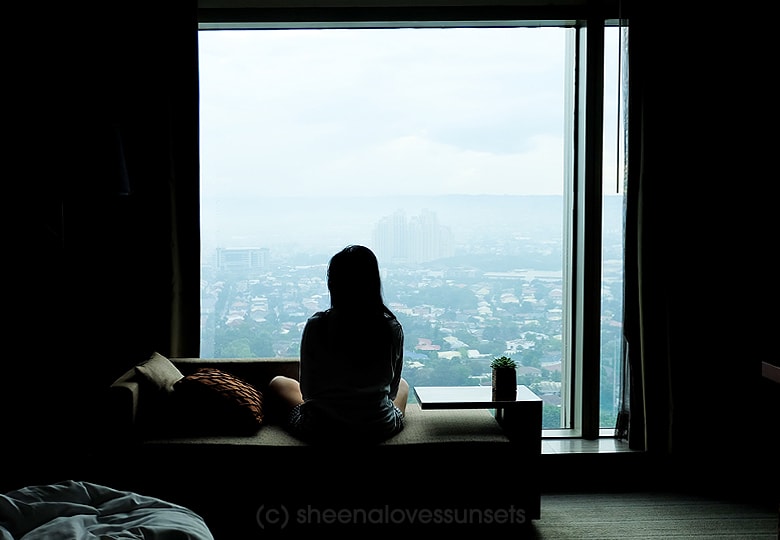 Woke up to a beautiful view and couldn't help but just sit down and spend time with God. The space is very conducive for my quiet time. Haha. (Paparazzi shot c/o my husband)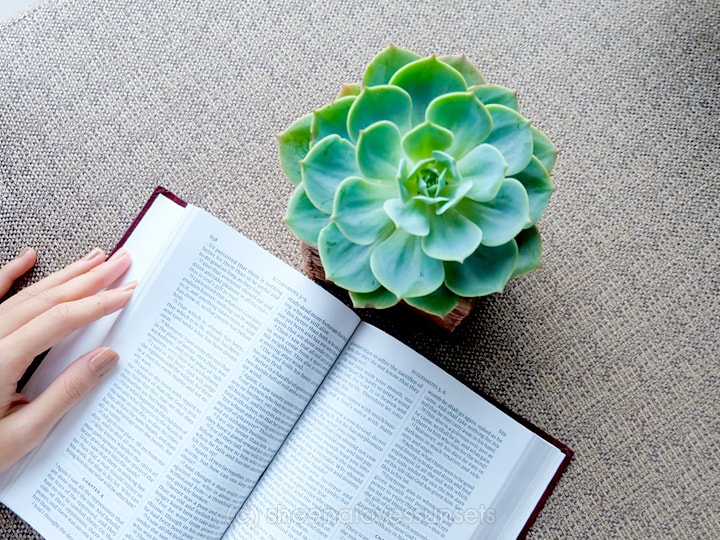 One of the things I love about hotels in the Philippines is that they have a Bible in one of the drawers! I use a big study Bible at home and I never bring it with me when I travel. Instead, I use my phone's Bible app but I don't really like reading through my phone. I still prefer holding a good ol' book in my hands.
Maintaining my Bible reading when I travel is one of my new year's resolutions. Really hoping to finish the year well!
Breakfast at Cucina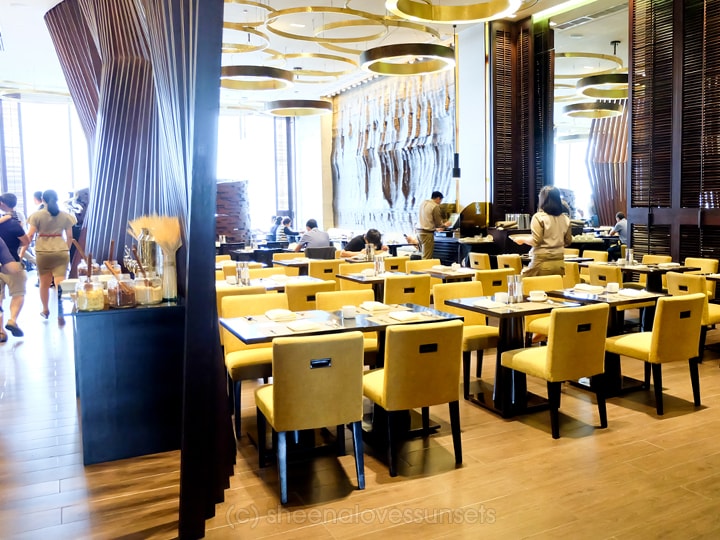 After getting ready, we went down to have breakfast. Woke up a bit later and so we were kindda late already at 9am (but not too late for brunch!)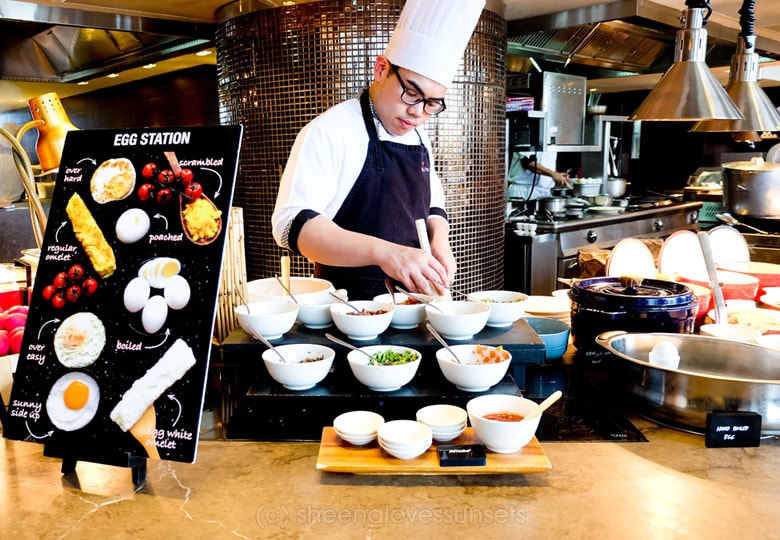 Egg, congee and fried rice for our little Bunny. Hehe. Buffet was only up til' 10am so we kindda hoarded food when the waiter said last call!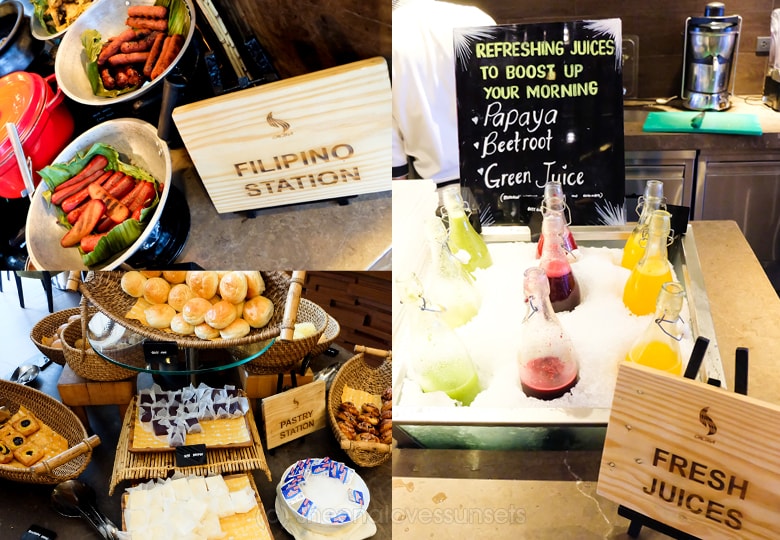 We always drink fresh green juices in the morning so I love that they have that option here! Like maintaing my Bible reading, keeping myself healthy is also one of my new year's resolutions.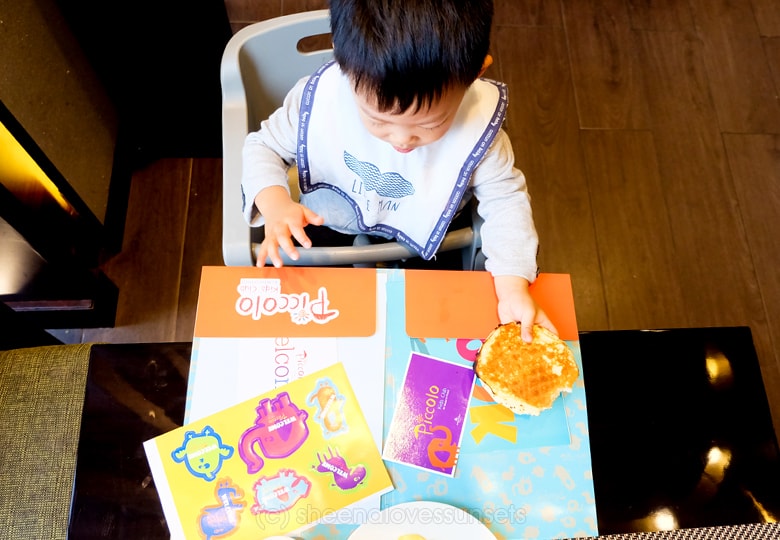 Cute surprise! One of the staff handed Luke a folder full of coloring materials and stickers! This kept him busy and happy for a good hour! Thank you, Marco Polo! A busy baby = a happy mommy! I can eat in peace. Haha.
Luke's Highlight: Bubble Bath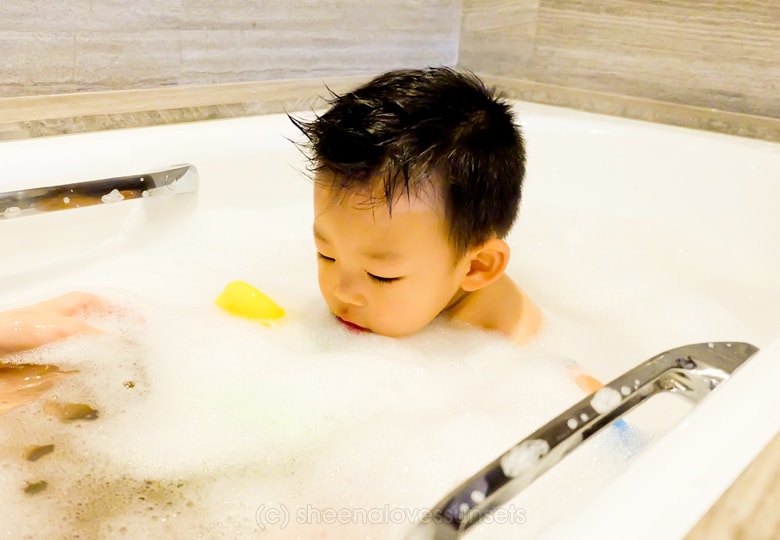 After breakfast and before checking out, we let Luke have a bubble bath! It was his first time to experience a bubble bath because we don't have a tub at home and boy, did he enjoy!!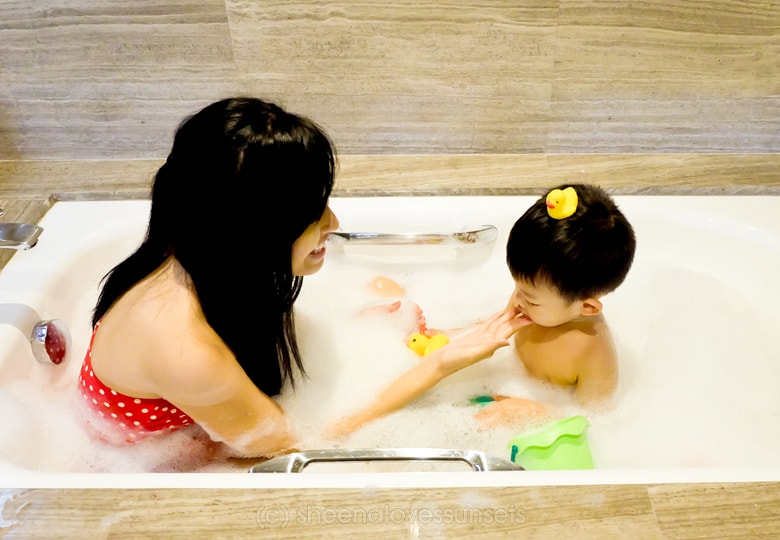 When we got home, he kept saying "bubble bath!" and when people would ask him "How was your hotel stay?" He would say "Bubble bath!" Haha!
And the little things!
When you stay in a hotel, you expect nice, clean rooms, great service and good facilities. But what really makes an impact are those little things that set them apart from each other.
Marco Polo Ortigas certainly didn't disappoint in terms of aesthetics, service and facilities. But here are some of the things that I noticed and loved about our stay: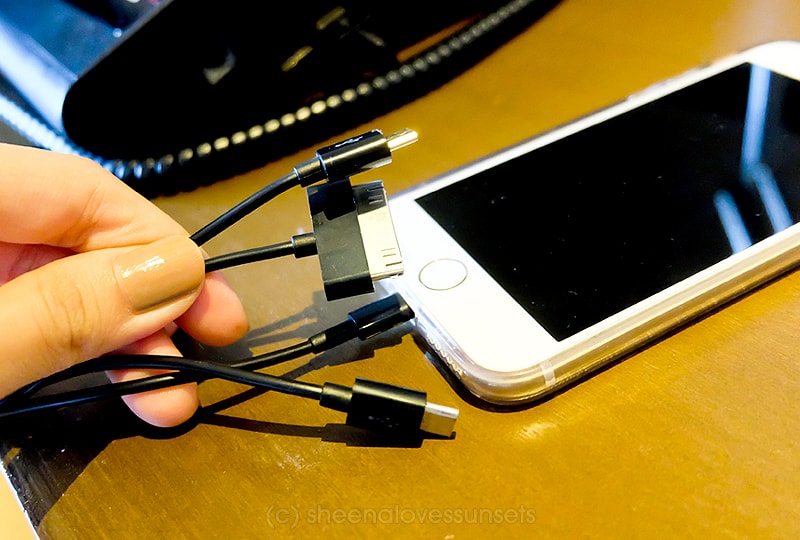 Things I Loved:
They had ready charging cables ready for all types of devices! I didn't even take my charging cables out of my luggage anymore. So convenient (especially if you forgot yours!)
Loving the black room slippers! White is overrated. Haha.
Having two sinks in the bathroom was a great plus!
They had rubber mats ready at the bathroom!!! If you read our last experience at a certain hotel also here in Manila, Luke slipped and no rubber mats came even after we requested from housekeeping.
Overall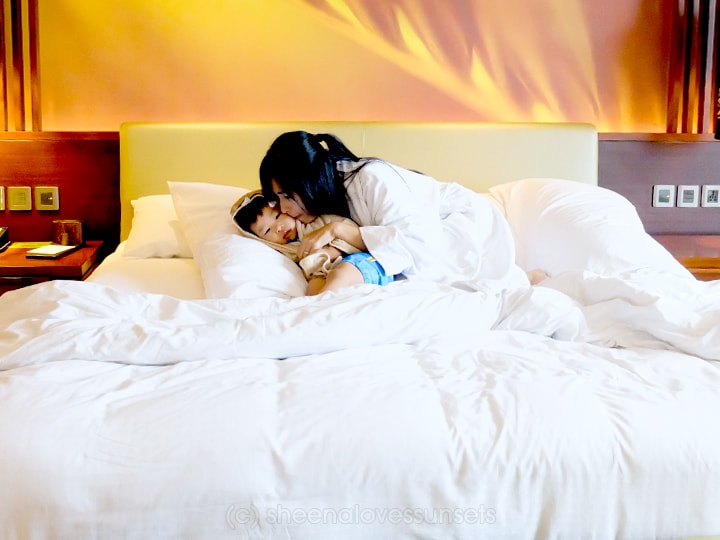 Overall, we had an enjoyable weekend! On our last day, we thought we lost Luke's new Banz swimwear and we all panicked looking around for it. It was his first time to wear the swimwear and I was so sad thinking we lost it because Luke wasn't able to wear it to the beach yet (Banz is a special swimwear that protects kids from UV rays so we got that specifically for the summer!) I even went back to the pool area and asked the staff to search.
We ended up finding it buried in a mountain of towels in the bathroom (haha!)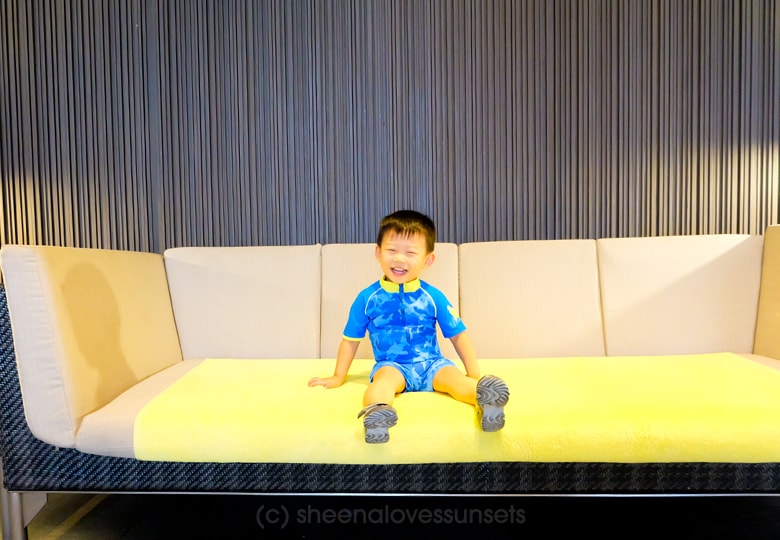 But special mention to all the staff who helped us look for it! Arnold from the pool area and the guy at the reception who attended to my queries about checking to see if we can view the CCTV cameras so we know if we dropped it at the pool area or brought it up to our room. Haha! I'm sorry wasn't able to get his name, but really happy with the kindness and hospitality!
Thanks Marco Polo Ortigas Manila! 
(NOTE: THIS POST IS ABOUT OUR EXPERIENCE LAST JANUARY 2017.)