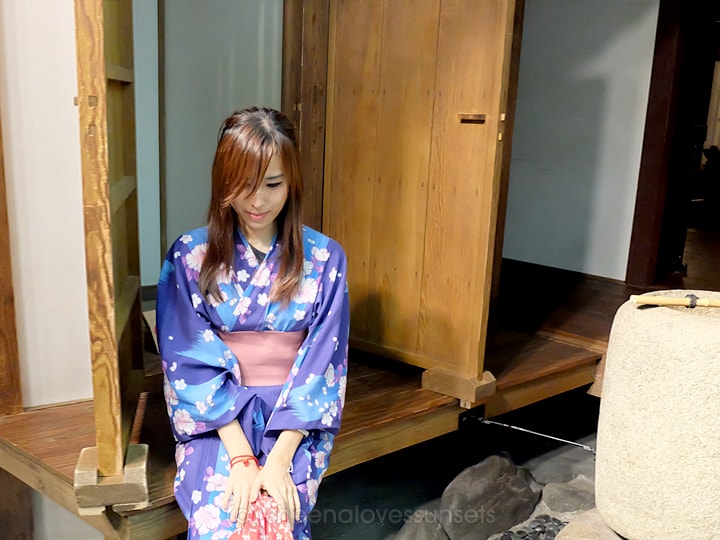 Don't be fooled by its unassuming name! The Osaka Museum of Housing & Living may not be one of those famous tourist spots in Osaka yet, but I'm sure it will soon be because this place is amazing!
Initially, I included this in our itinerary because I thought it would be fun to wear kimonos with my friends (and they were renting them out pretty cheap at just 300 yen for 30 minutes!) but this place turned out to be so much more than that.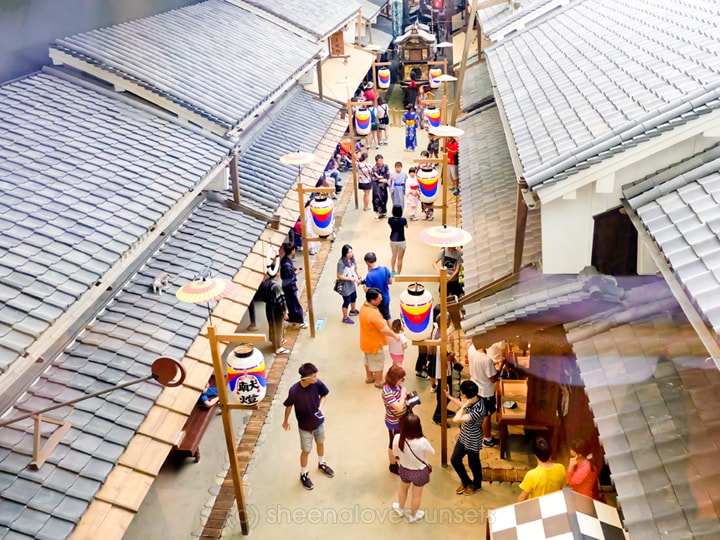 The Osaka Museum of Housing & Living is dedicated to showing guests what life was like during the Edo period in Osaka. But you'll be surprised that instead of just the usual displays, they have an actual life-size recreation of a village so you can experience old Osaka for yourself!
Basing on photos I saw online, I thought this was an outdoor museum and was so surprised to find out that it was in fact, indoors and housed inside a building! This photo was taken from the 10th floor observatory where you can get a bird's eye view of the place. We then proceeded to the 9th floor which is where the recreated village is located.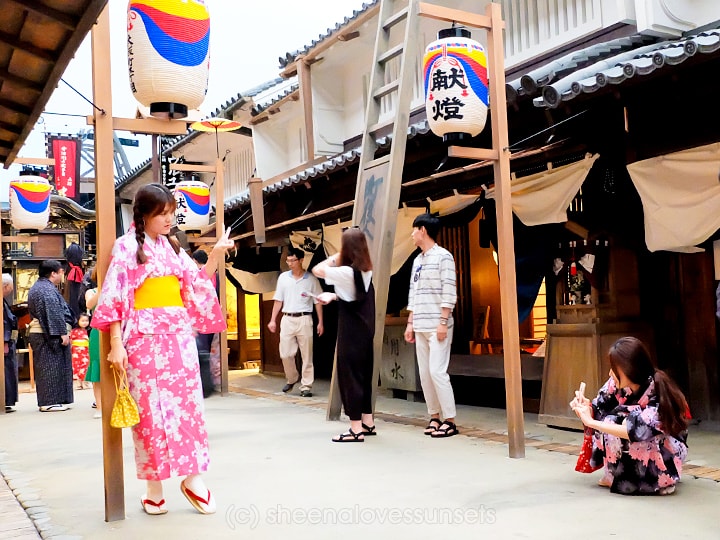 Upon entering the area at around 10:30am, we tried to rent a kimono immediately but was told that the next available slots were already for 1pm! We were hoping to leave this place before noon so this was an unexpected set-back but we decided to stay on and just make the most of our time while waiting.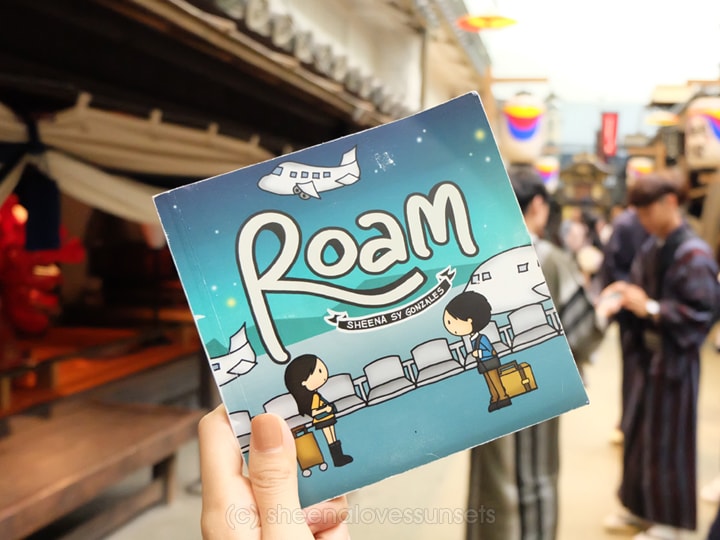 Took a quick photo of my book "Roam" so I now have a #RoamAwayWithMe photo in Japan!
Another surprising tidbit, the light inside changes often so you get to experience both day and night! You can even experience sunset and "fireworks" in the night sky! ! How cool is that?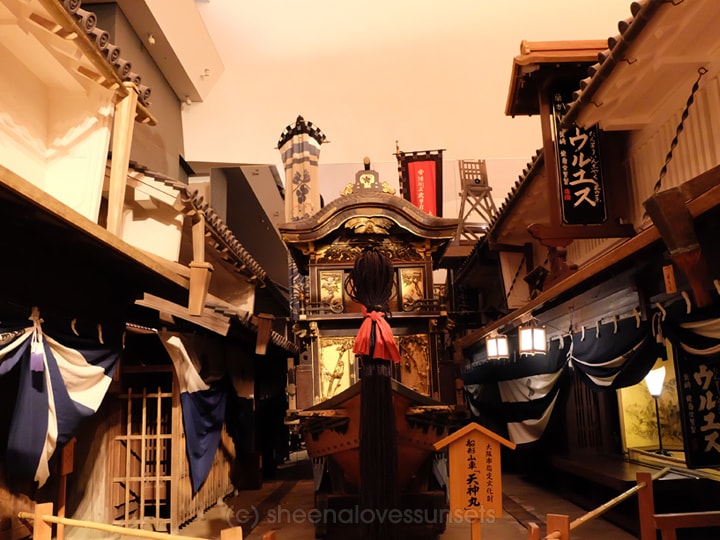 We went around the recreated area and explored each house in detail. We found a "house" where they had a film showing going on where they explained what town life was like during this period. It had English subtitles so, yay, I understood it all! Haha.
I highly recommend that you watch the short film before going around so you understand the context! Apparently, they were recreating festival time during our visit, hence the lanterns. Read online that the displays change regularly to depict other seasons and holidays. Also, watch the film before your kimono session so you don't waste your 30-minutes rental time!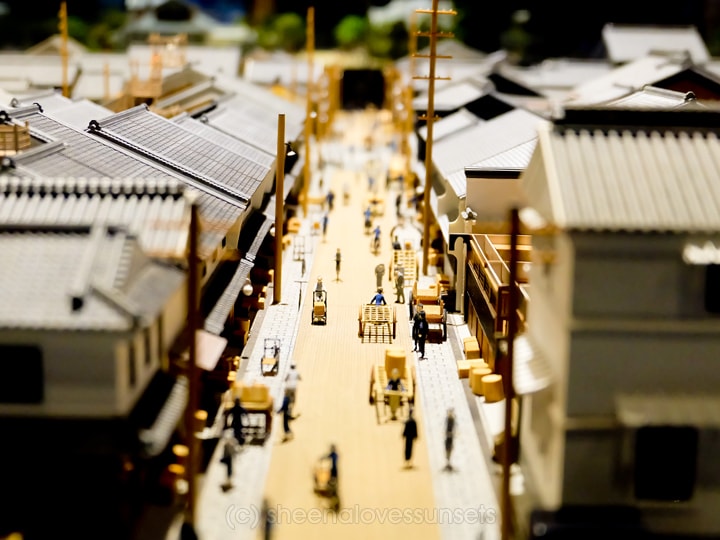 There was still a lot of time to kill before our 1pm slot, so we went down the 8th floor and checked out the miniature displays. The details are so amazing.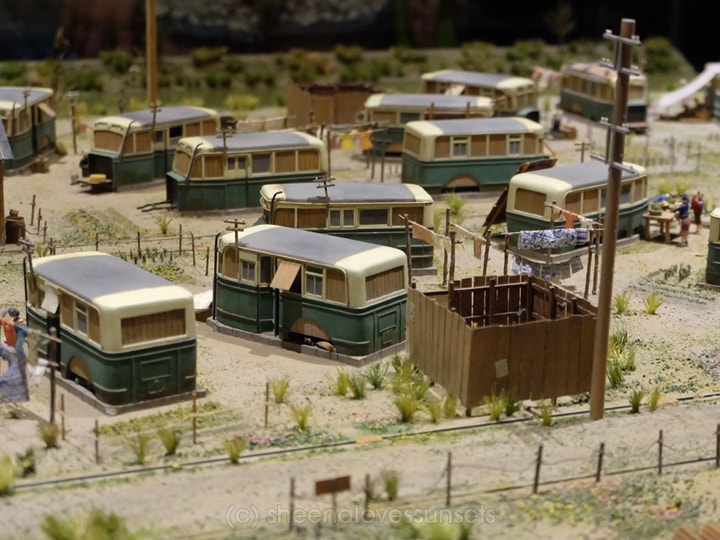 This was a post-war scenario. I had no idea that there were trailer settlements in Osaka before!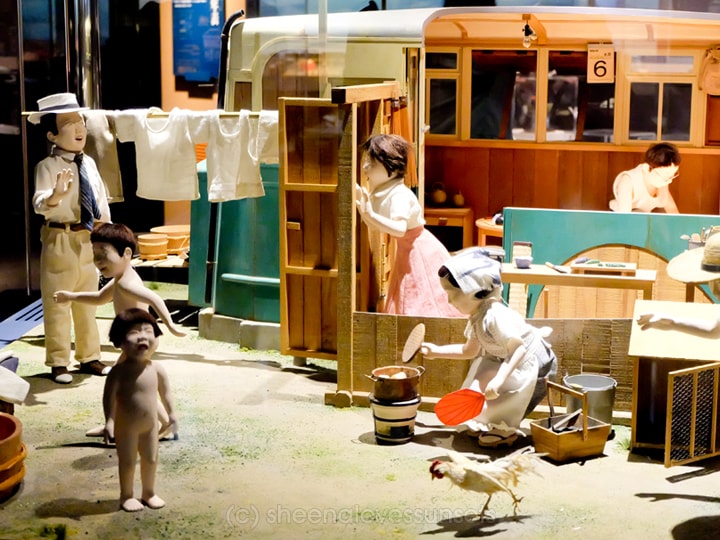 A larger display so you can get a closer look at the people and their way of life. So nicely made.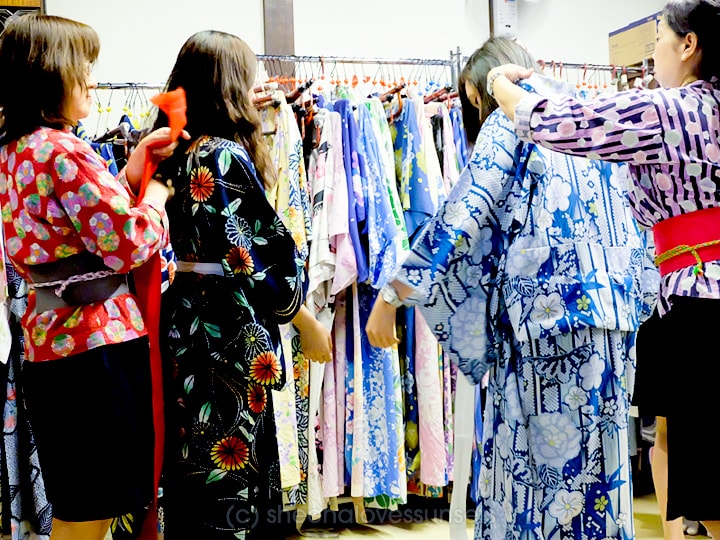 Then finally, 1pm came! Yay! It was our turn to get fitted. They have lockers where you can leave your things and you can borrow one of the small bags to put your other valuables like your phone. The kimonos at The Osaka Museum of Housing & Living come in different colors and sizes. They'll also give you a pair of socks to wear with the slippers that you'll borrow.
I struggled to pick a kimono because you can't really take too long since a lot of people are waiting but of course, you want to make sure you get a nice one! Haha.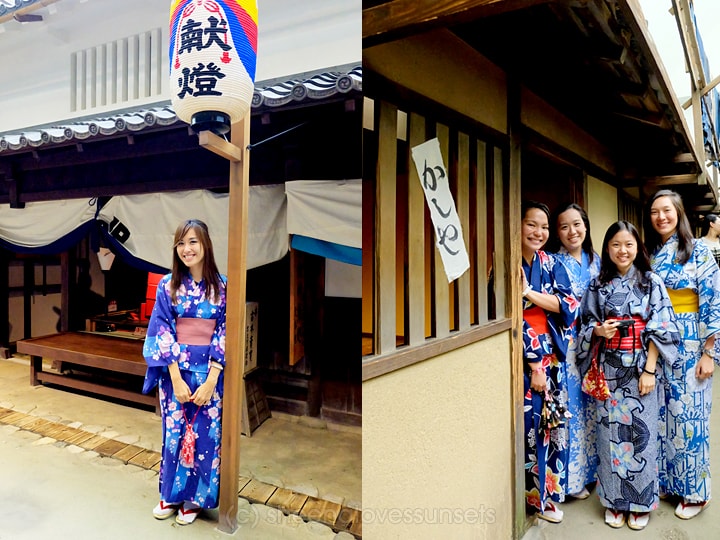 I ended up choosing a blue one with purple and pink details. I love it! And funnily enough, my friends all unintentionally chose blue kimonos too so we were all matchy-matchy! I guess good friends think alike!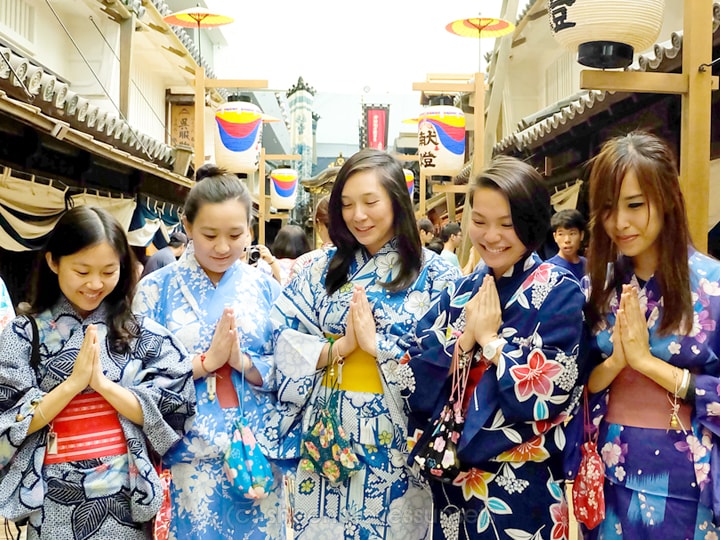 Obligatory tourist group photo!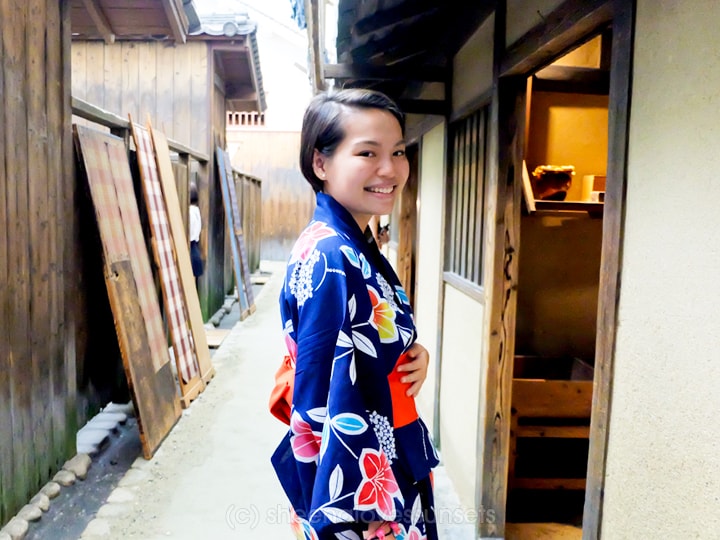 Then we took turns taking our solo photos. Everything here is so picture-perfect here at the Osaka Museum of Housing & Living, especially if you're wearing a kimono. You can stand anywhere and you'll look like you blend in perfectly.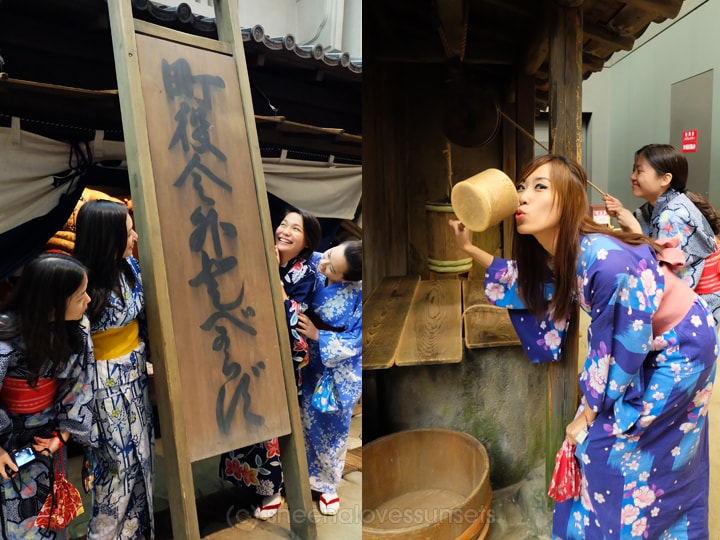 Of course if you travel with friends, you're bound to have silly touristy photos. Haha.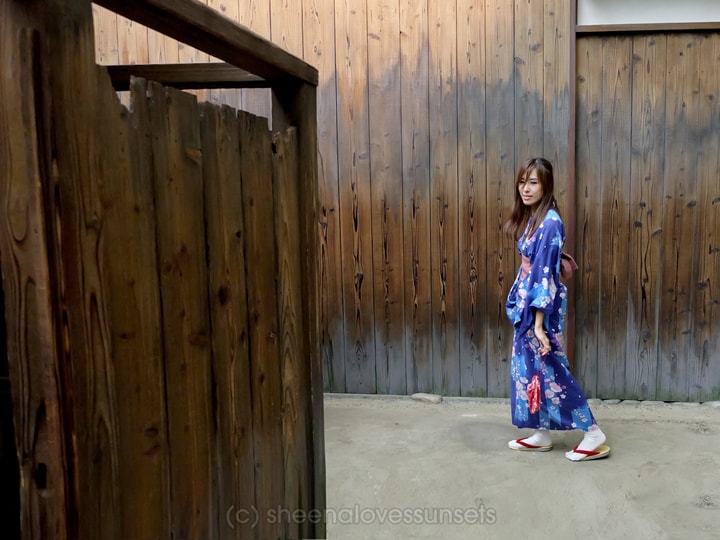 And I had to get an #ootd shot of my kimono look! Hehe, blogger life!
Since you can go through some of the houses, there were places where you can take photos too, like this one here. But we saved all the indoor shots for when it was "nightime" outside. Whenever it's "daytime", we'd maximize taking pictures outside!
There were even recreated animals! These girls can't get enough of them!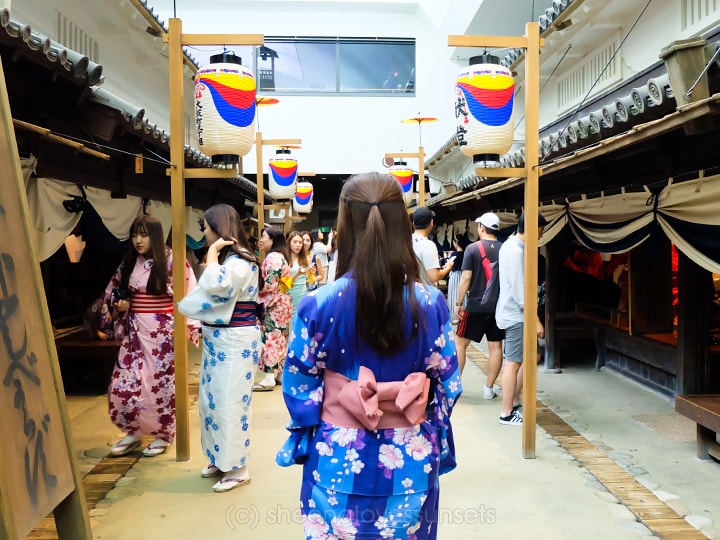 To conclude, I cannot recommend The Osaka Museum of Housing & Living enough! I rated it 5 out of 5 on TripAdvisor because we had so much fun! Here's a list of all my tips (both mentioned previously and not)
Go early! And go straight to the kimono rental section to secure an early slot.
Be prepared to wait, just in case there are a lot of people who also came in early.
Watch the film showing before your 30-minute kimono rental session begins so that you don't waste your 30 minutes.
Go with friends or family! It's so much fun to share this experience with others. And of course, you can take photos of each other too!
Read more about our trip to Osaka here!
(NOTE: THIS POST IS ABOUT OUR EXPERIENCE LAST JULY 2016.)