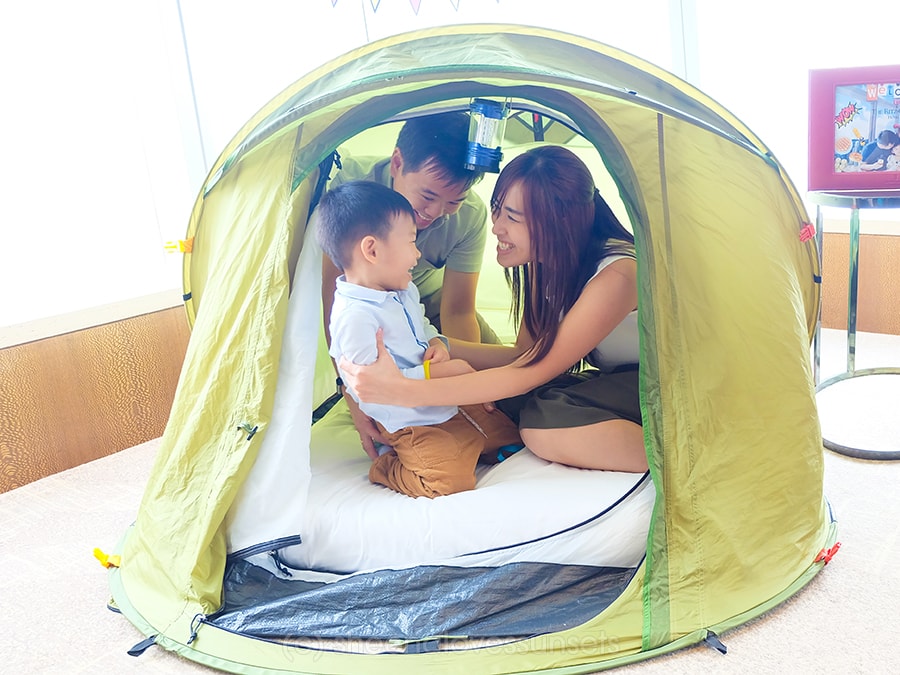 How does having a night safari at the highest hotel in the world sound to you? Well, that's exactly what we did on our latest trip to Hong Kong. We had the privilege of having the ultimate Ritz Kids experience and it was all that you would expect from The Ritz (and more!)
A Ritz Kids Welcome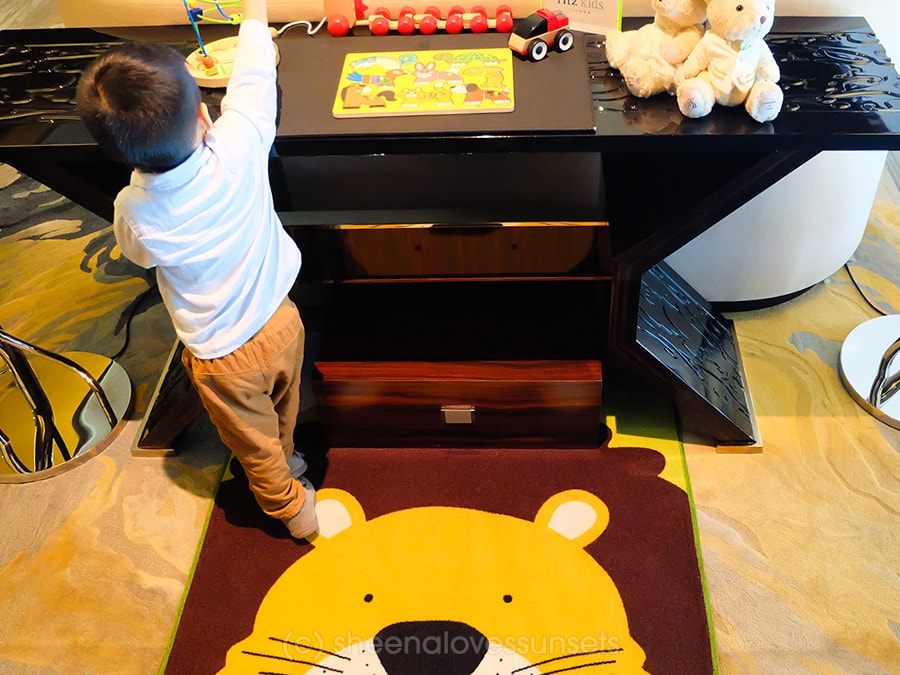 Luke's Ritz Kids experience began at check-in. There was a separate counter complete with toys and puzzles as he waited for us to finish. He's still a little too short but that didn't stop him from reaching for everything!
The Ritz Kids Safari Room Set-Up

But nothing compares to the joy on his face when he saw THIS! Yes, there was a tent setup right inside our amazing suite and it came complete with a comfortable mattress (covered in luxurious hotel linens, of course,) pillows and a cute lantern! Perfect for an indoor campsite adventure!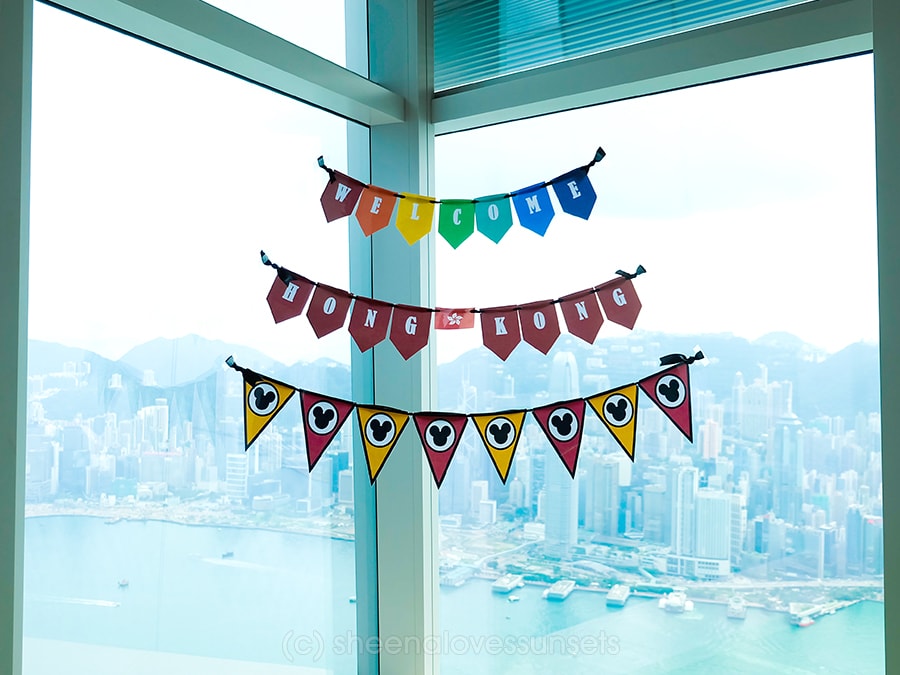 We stayed at the Deluxe Victoria Harbour Suite and enjoyed panoramic views of Hong Kong. Click here for a more detailed review of our Ritz Carlton stay (not just the Ritz Kids experience.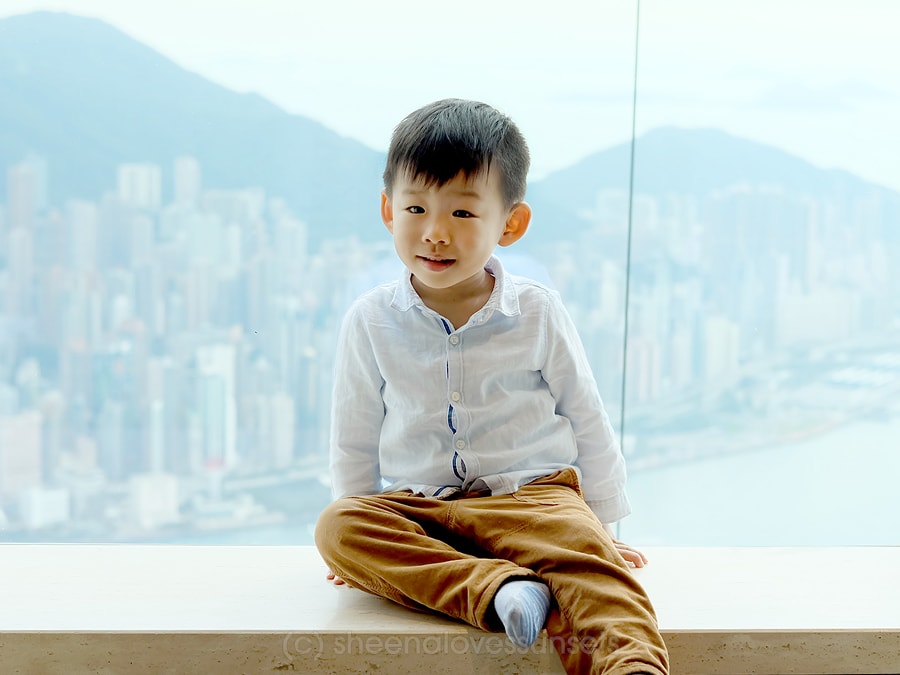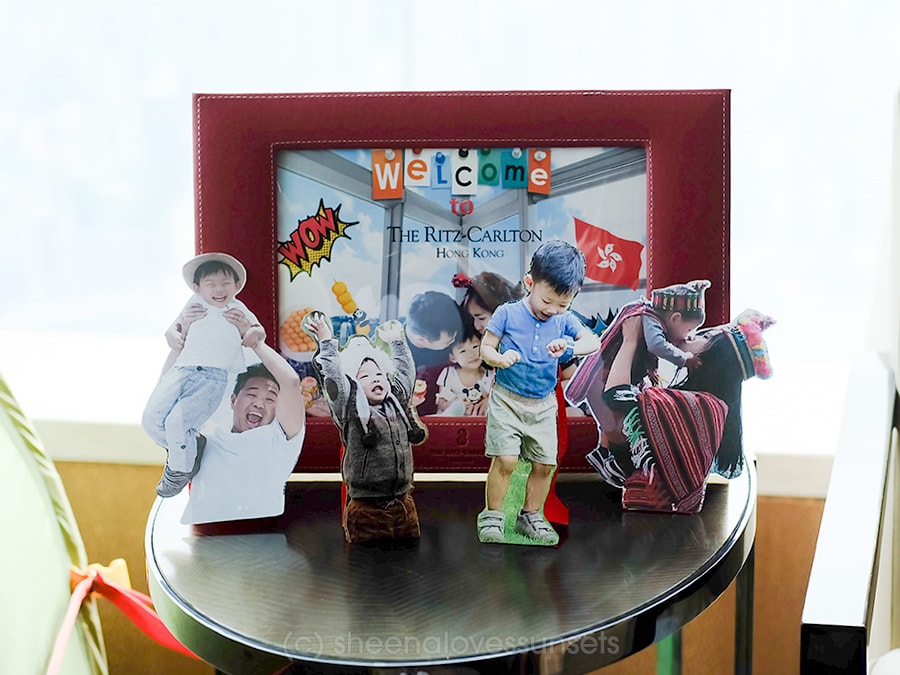 And look at this sweet welcome! Actually, Luke ran straight to this after seeing the tent and was so amused seeing all his pictures! (If you're wondering how they got the photos, these are all from my Instagram account so it was really a surprise!)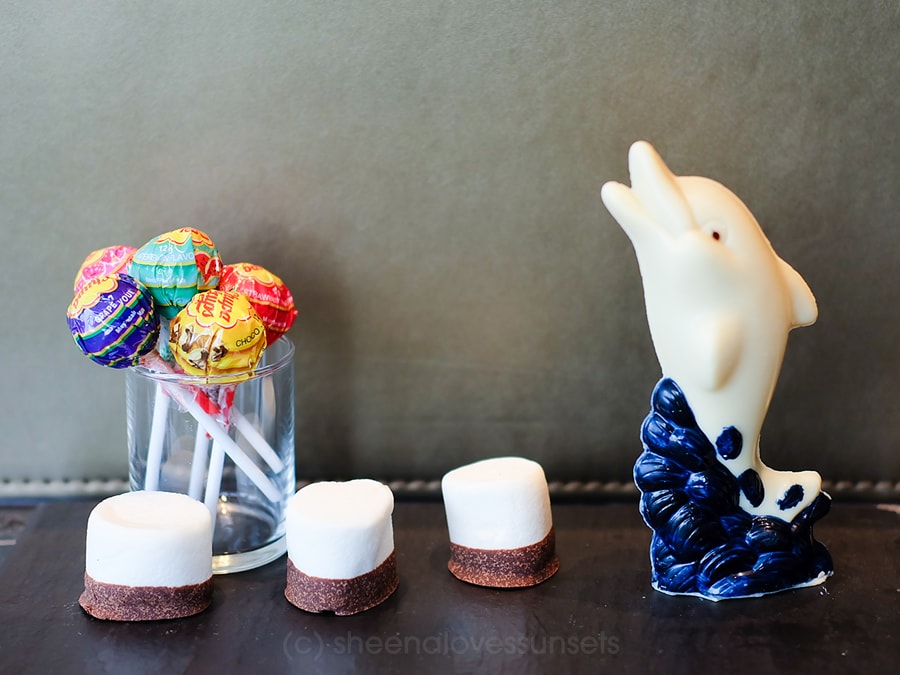 And speaking of "sweet welcomes," there was no shortage of snacks and goodies for our little traveller!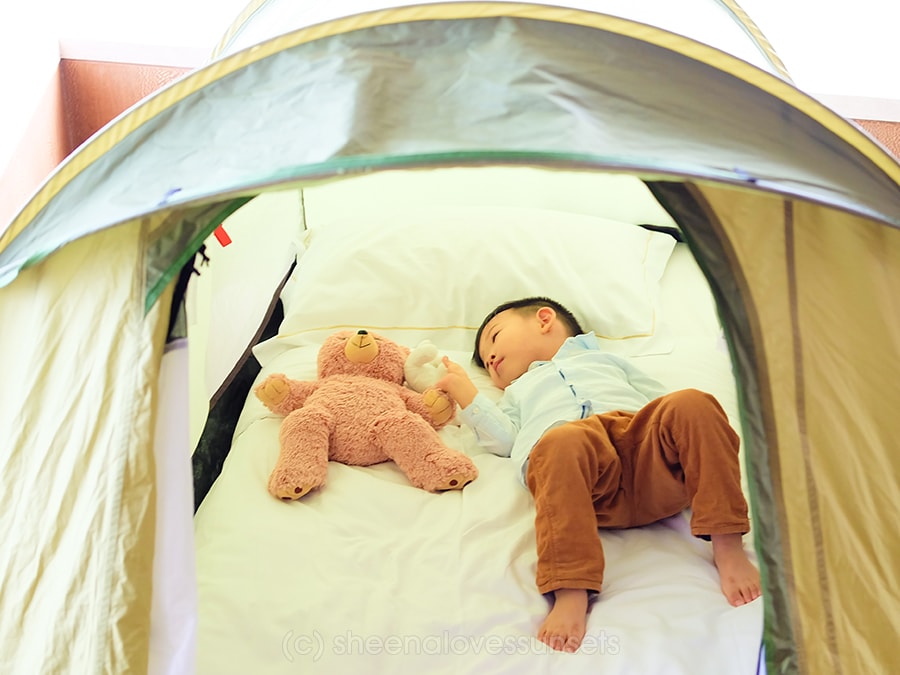 Luke settled in quite nicely with his two friends.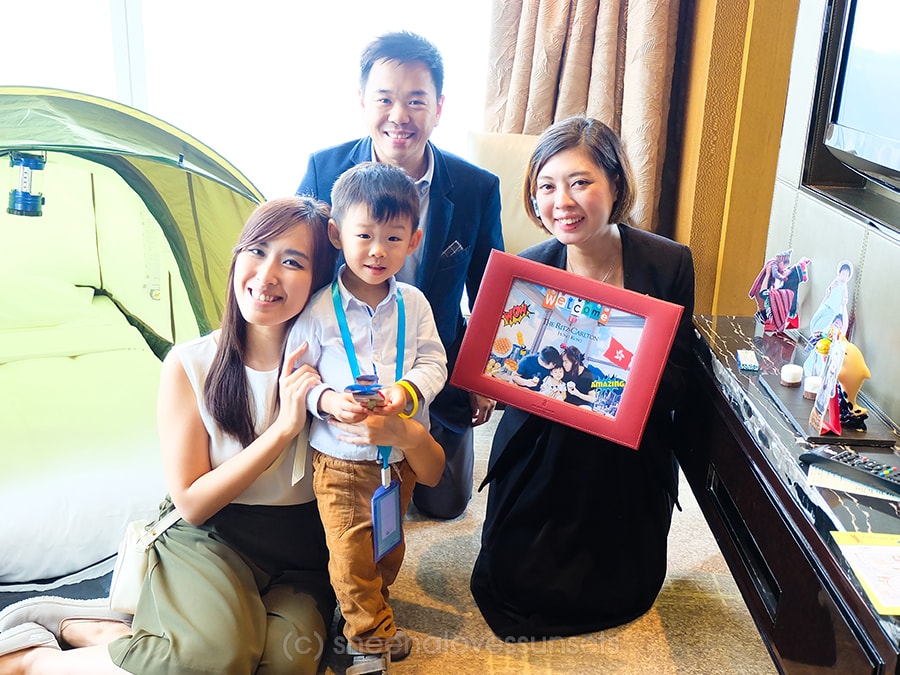 Here we are being given a tour of our room (you know it's gonna be amazing if you need a tour guide to tour you in your own room, right?!)
Safari Passport Adventure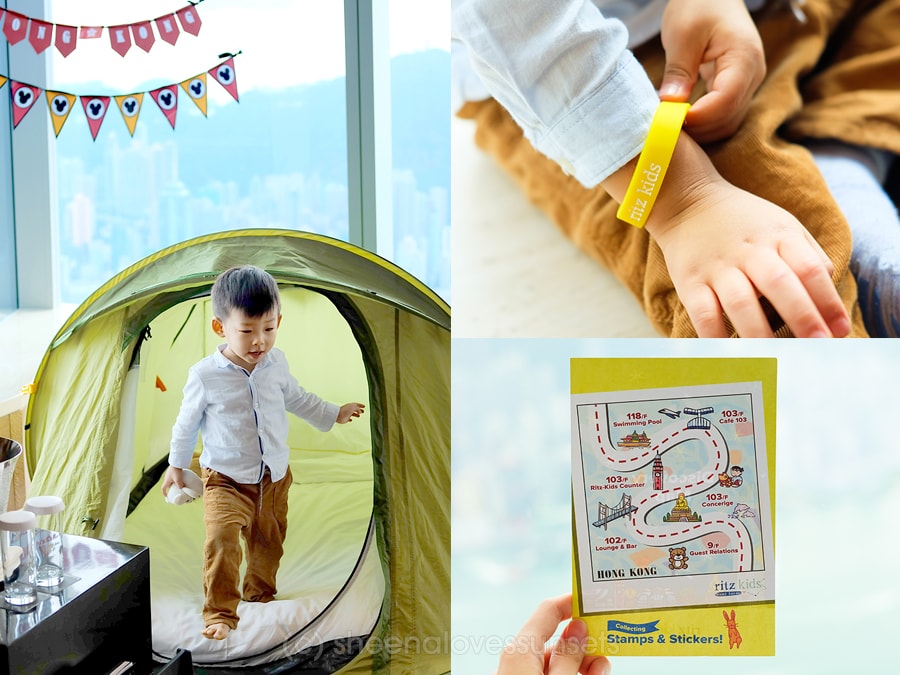 But the safari doesn't end with just the tent. In fact, this is only the beginning of our adventure! Luke was given an "Adventurer Passport" and a Discovery Map where he can collect stamps from different areas around the resort in order to get a prize. He also got a Ritz bracelet, which he can show at the restaurant in exchange for ice cream! Wow!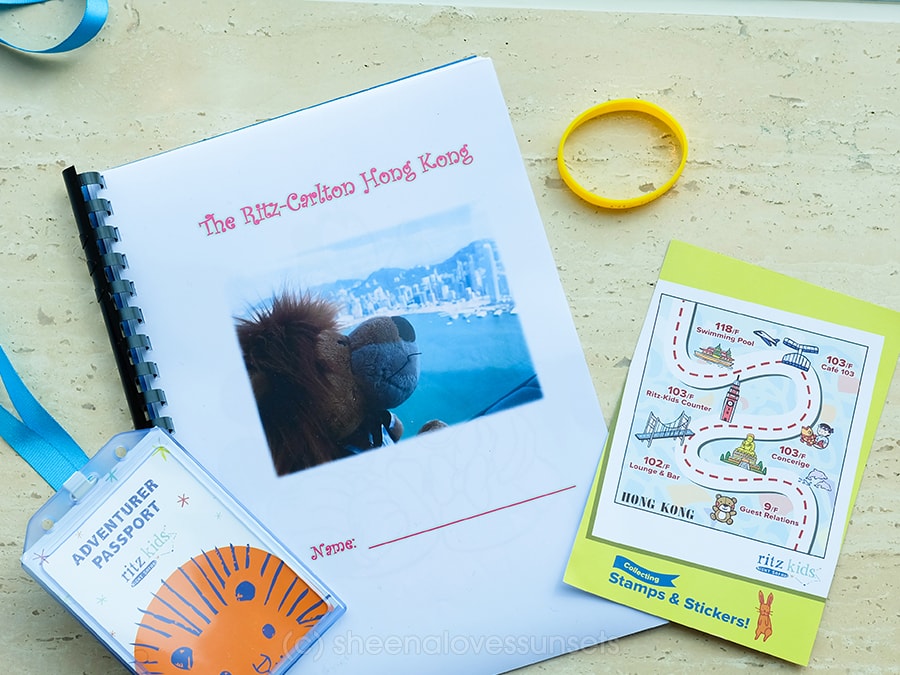 They also gave him a personalized coloring book filled with pictures of his favorite characters! He was so delighted to see Mickey, Minnie and the gang at first. But then he also saw Lightning McQueen and his other car friends and he was the happiest boy in town!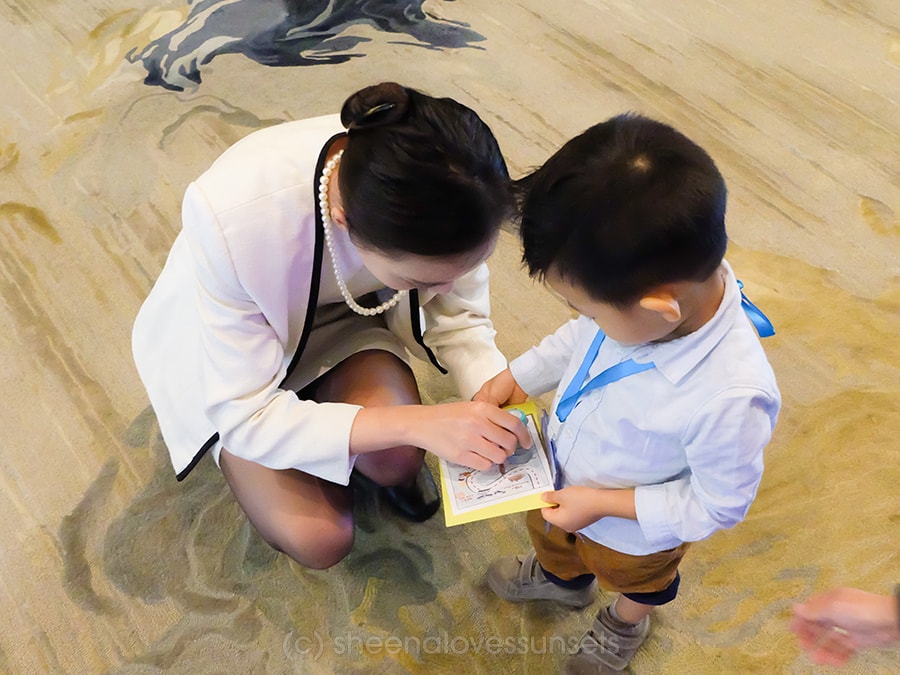 Here he is collecting stamps from the lobby.
Can I just take this opportunity to say that we were so amazed at how everybody seemed to know Luke by name?! We would walk past the lobby, the lounge and even the elevators and they would all say "Hi Luke, how are you doing?" In fact, I'm not sure if Luke was confused as to how everybody knew his name or if he felt like a total celebrity. Haha!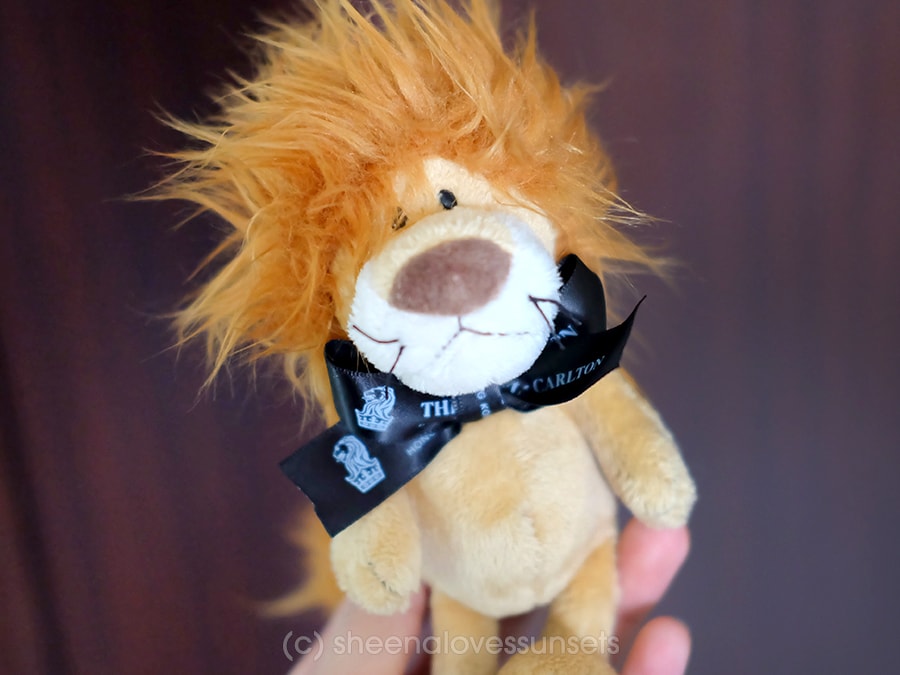 After completing his stamps, he got his reward which was an adorable lion plush!
Enjoying the lounge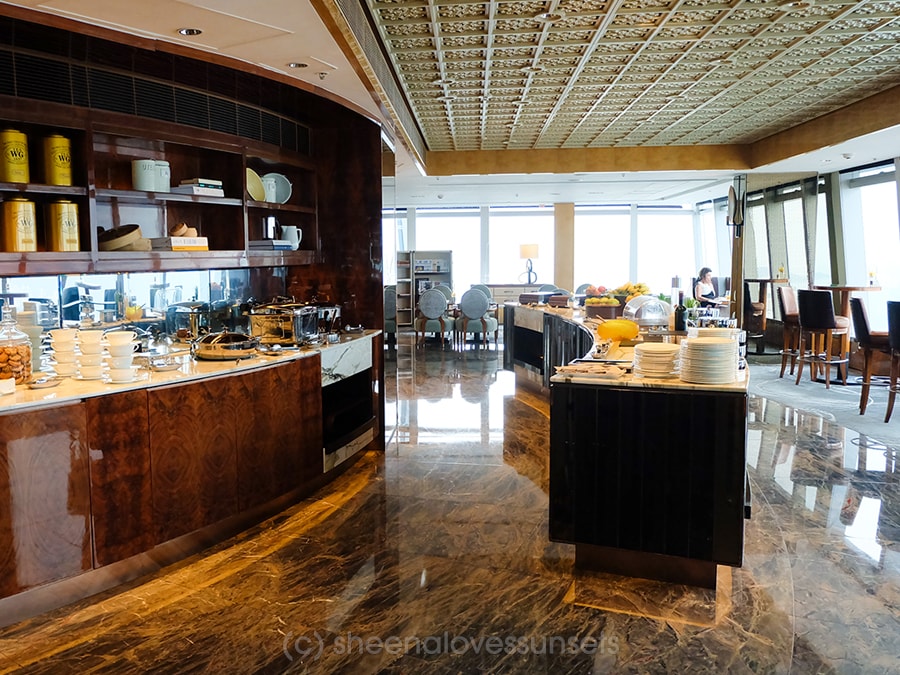 The Ritz Kids Night Safari Experience at The Ritz Carlton Hong Kong comes with 24 hour access to The Ritz-Carlton Club Lounge. In the middle of collecting stamps around the property, we decided to stop by the lounge for a quick break.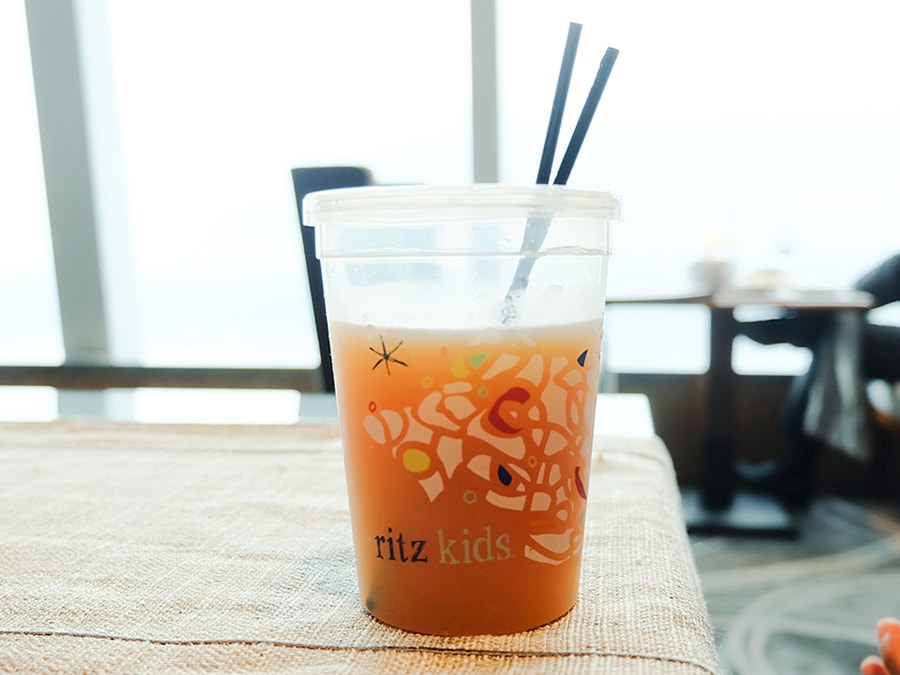 Luke's choice of drink came in this cute cup. We brought it home as a souvenir! 😉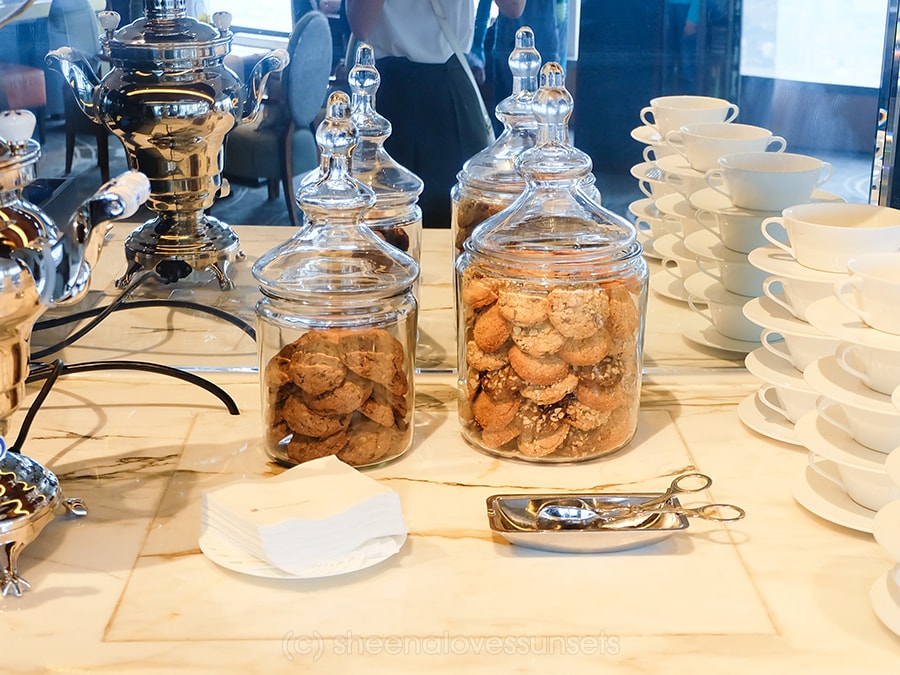 The cookies were delicious. It definitely has Luke's seal of approval. He also enjoyed much of the food offered at the lounge. So we decided to turn our heavy afternoon meal into an early dinner meal instead.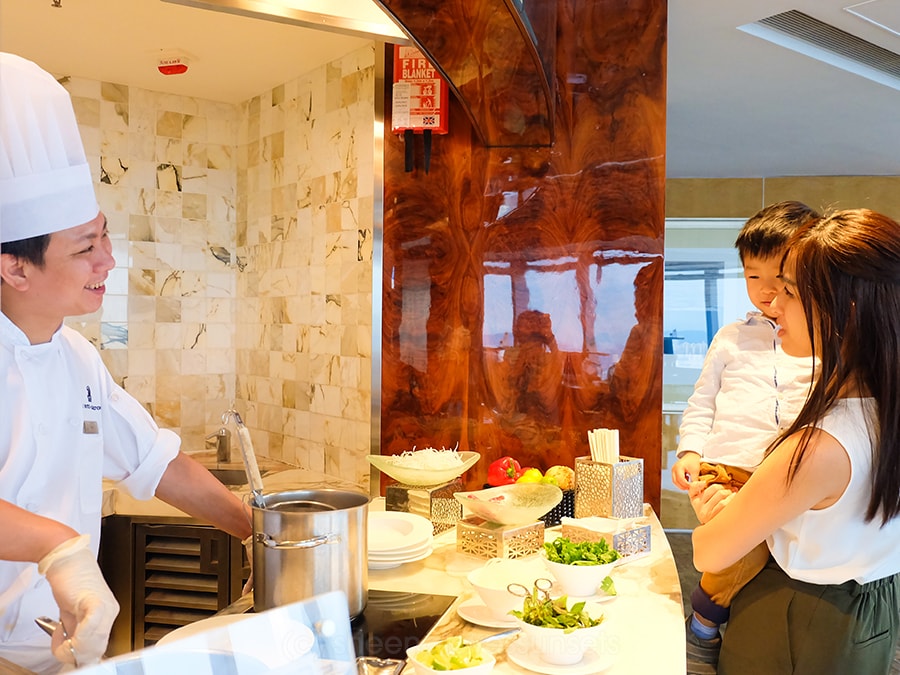 Read more about our club lounge experience here.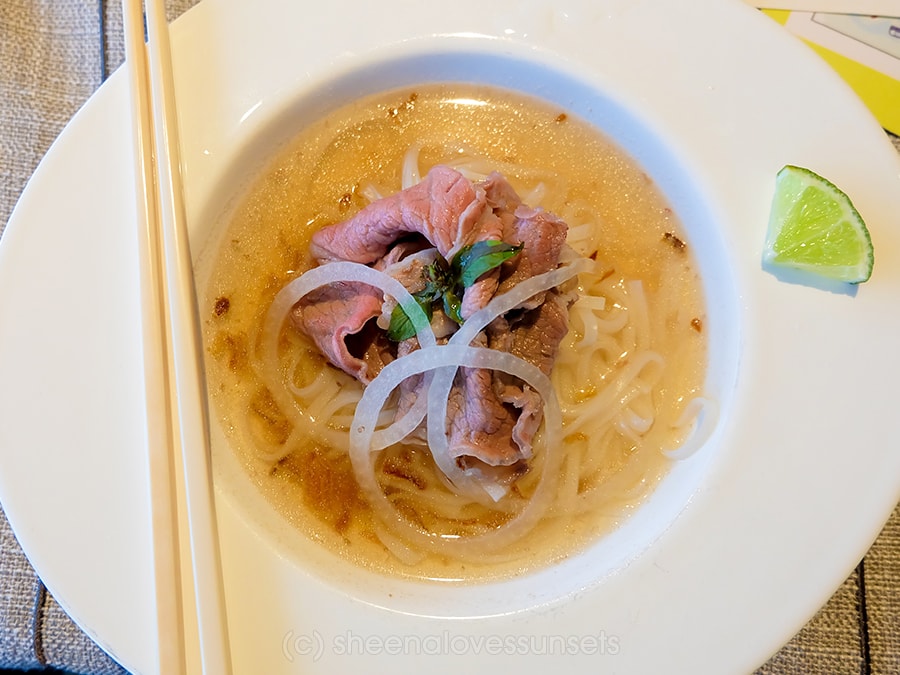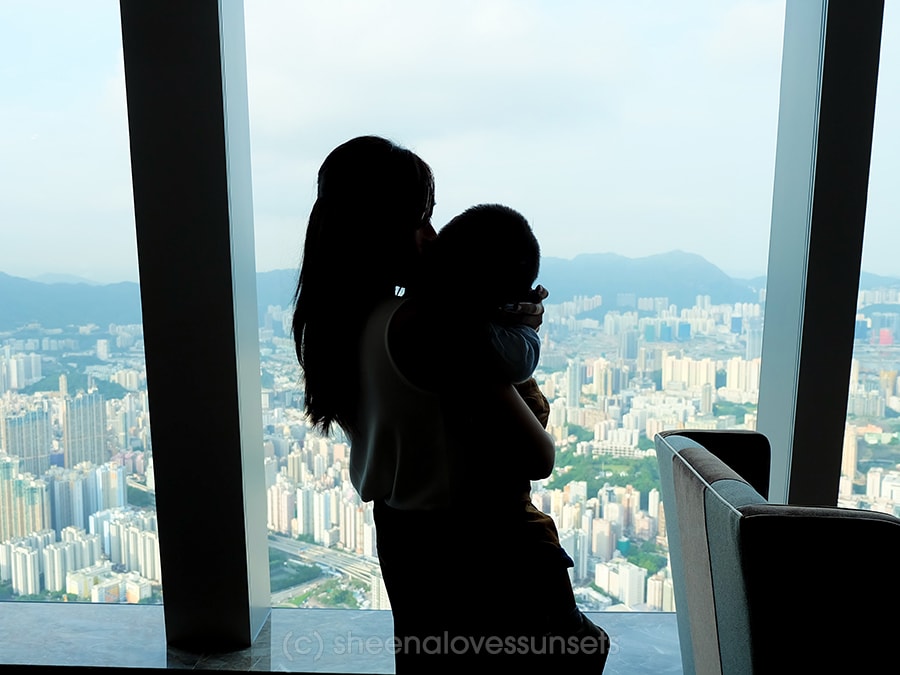 As he was admiring the gorgeous city view, he eventually fell asleep. He's been fighting it off the entire time, but his body finally gave in. So afternoon nap at The Ritz club lounge it is.
Coming back to our rearranged room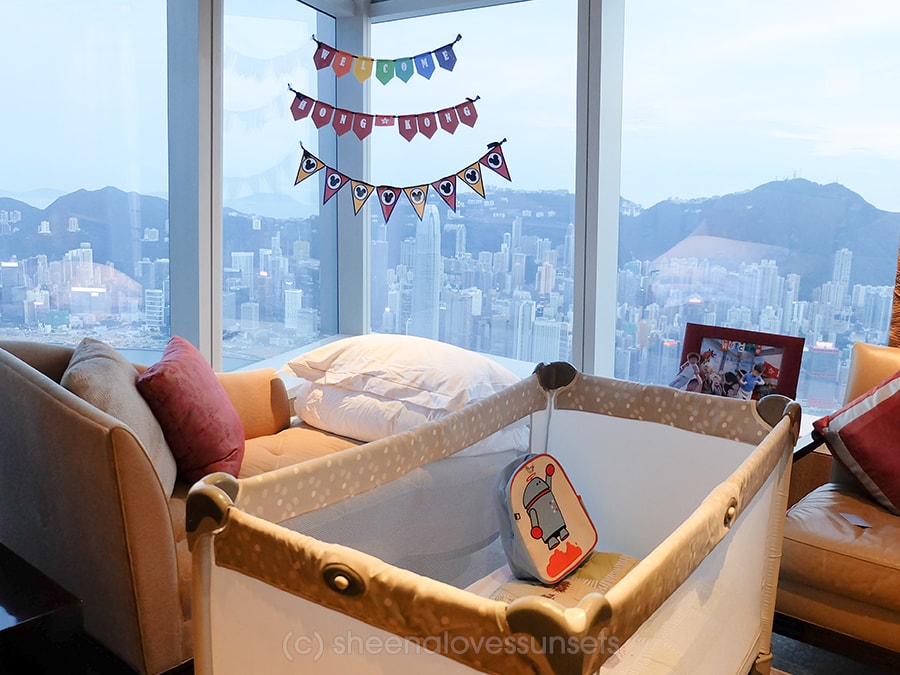 We went back to our room to find the set-up rearranged, as we requested.
No doubt it would have been wonderful to actually spend the night in the tent (and I'm sure Luke would love to do that when he's a little older.) But right now, he just isn't used to not sleeping in a cot like this. So the wonderful ladies and gentlemen of the Ritz made sure to prepare his baby cot just before we retired for the night.
Thanks for the amazing service!
Ritz Kids Bath Ameneties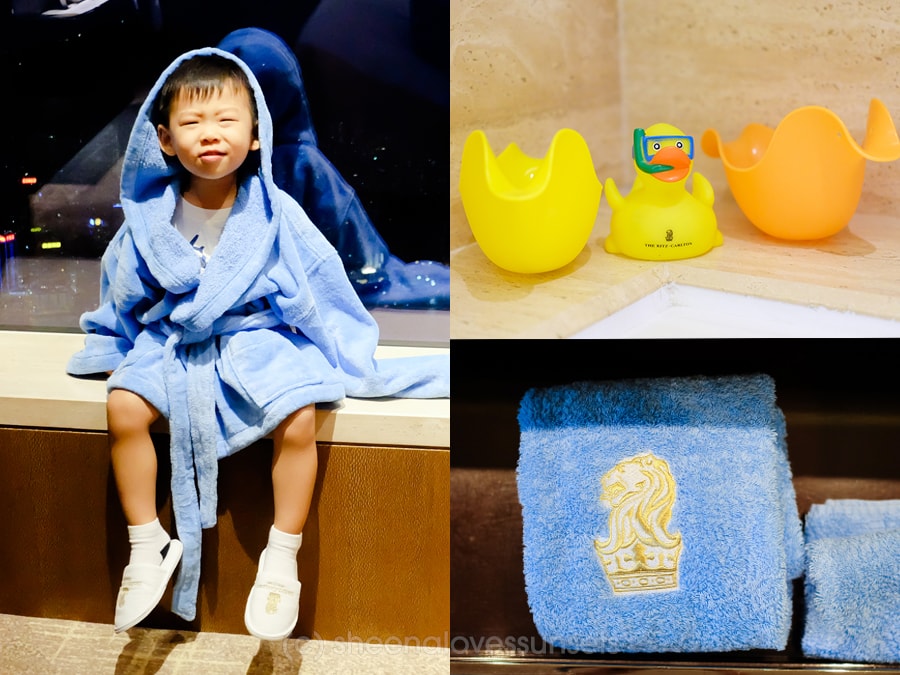 Finally, it was time to wind down and relax. And relaxation isn't just for mom and dad, apparently. This little Ritz Kid is also ready for some pampering, complete with his own Ritz robe, slippers, towels and even a rubber duckie!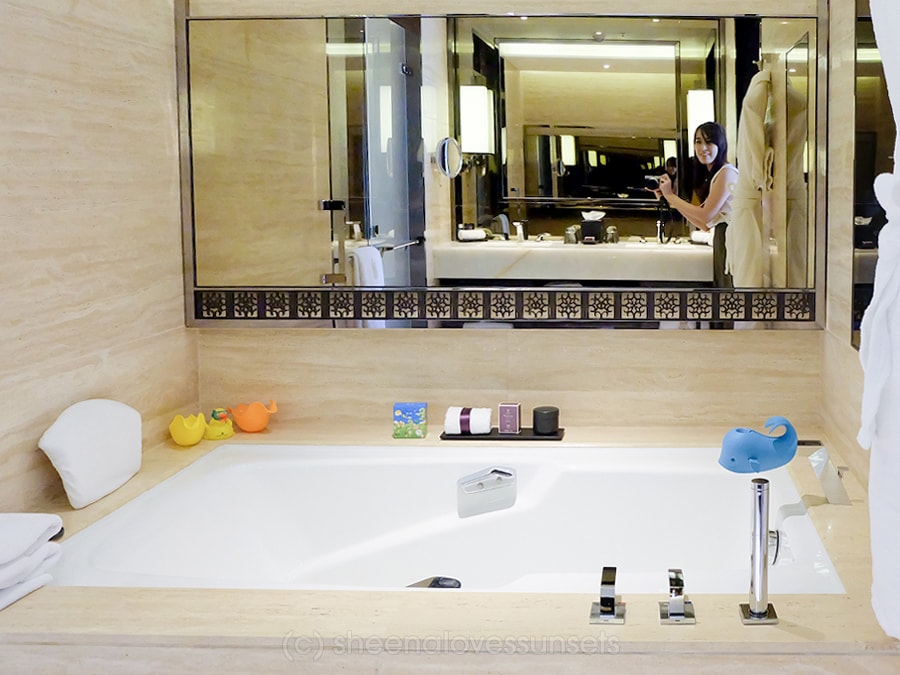 When we entered the bathroom, we were surprised with all the little details. He had his own bath ameneties and accessories. Props to the Ritz team for putting that whale spout cover too! We use that same exact one at home because we're afraid of Luke bumping his head on the spout so, yay for safety!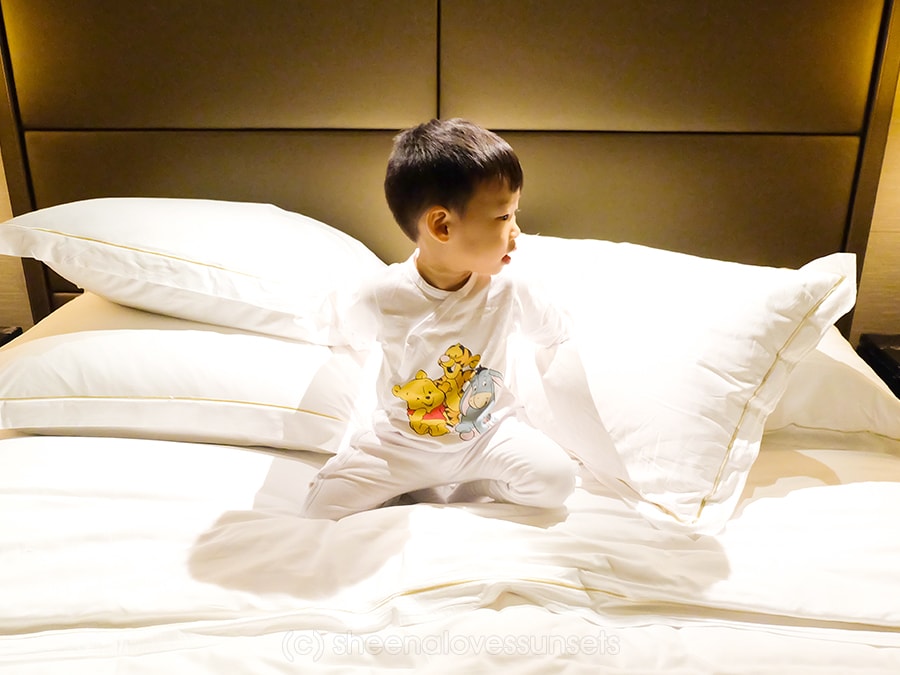 After a good bath, we are ready to retire in our Winnie the Pooh jammies. All set for the next day's adventure to Disneyland!
–
The Ritz Kids Night Safari Program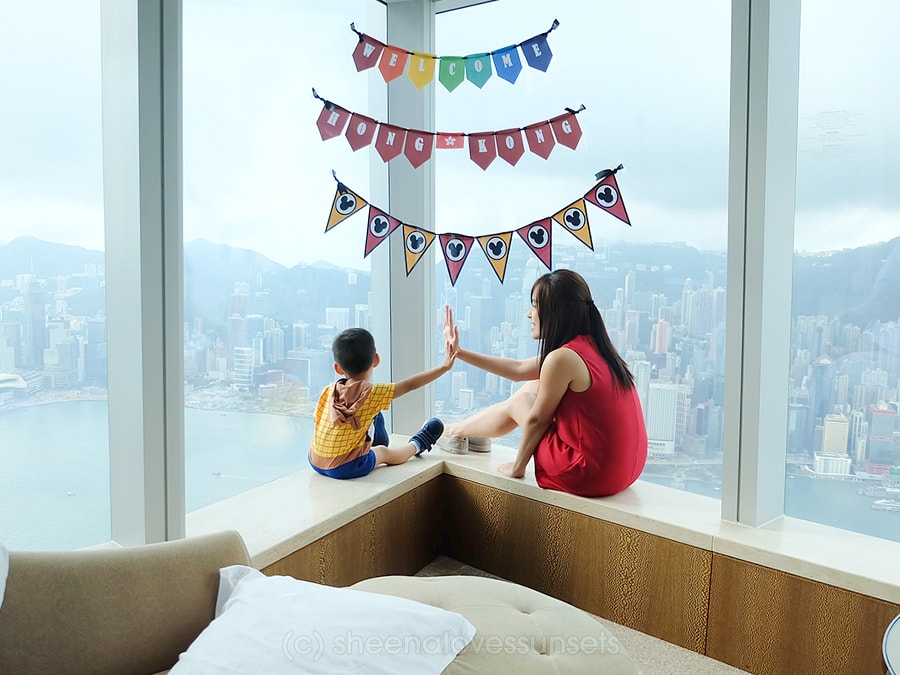 The Ritz-Kids program was designed by world renowned oceanographer Jean-Michel Cousteau and Cousteau's Ocean Futures Society for The Ritz-Carlton in 2013. It is designed to draw on the child's natural passion for the curious. The Ritz Kids program varies per Ritz Carlton property.
Interested in having your own Ritz Kids Safari Adventure here in Hong Kong? You can visit their official website to inquire and learn more about the package. I'm sure you'll have an unforgettable experience, just as we did.
(NOTE: THIS POST IS ABOUT OUR EXPERIENCE LAST SEPTEMBER 2017.)