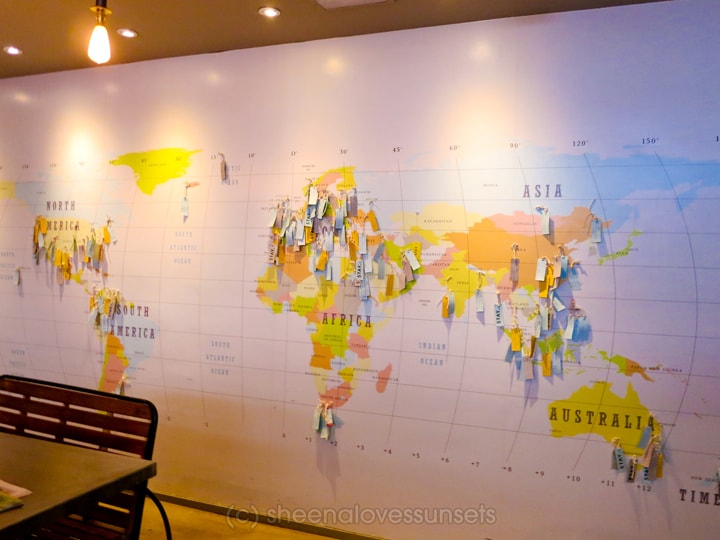 My criteria for booking hotels (the three c's): must be clean, cheap & centrally located. In a nutshell, Stay Central in Edinburgh passed all three and it doesn't hurt that they gave me a little bit more to rave about! By the way, that photo above is of their travel wall at the lobby! Cute huh?
The hotel is small in size, with only a handful of rooms available, but it is full of cutesy details all over and as you might know, I am such a sucker for all things cute! It felt like an Easter egg hunt trying to look for and take pictures of all the different surprises around the place.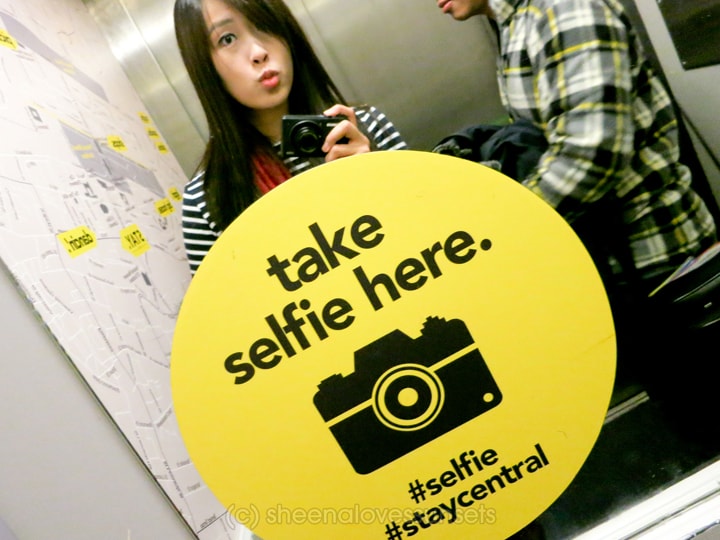 Just take a look at this elevator! Selfie sticker in the mirror plus a cheeky map at the side. I fell for the advertising gimmick and I'm posting this selfie! :p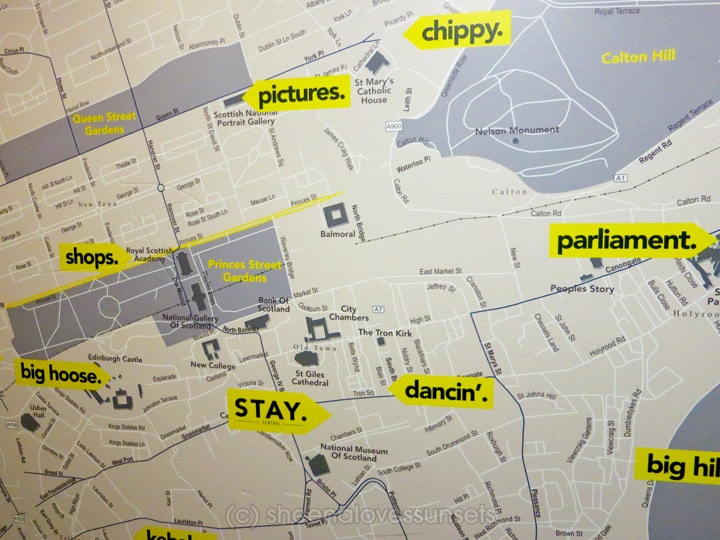 I actually took the time to read this!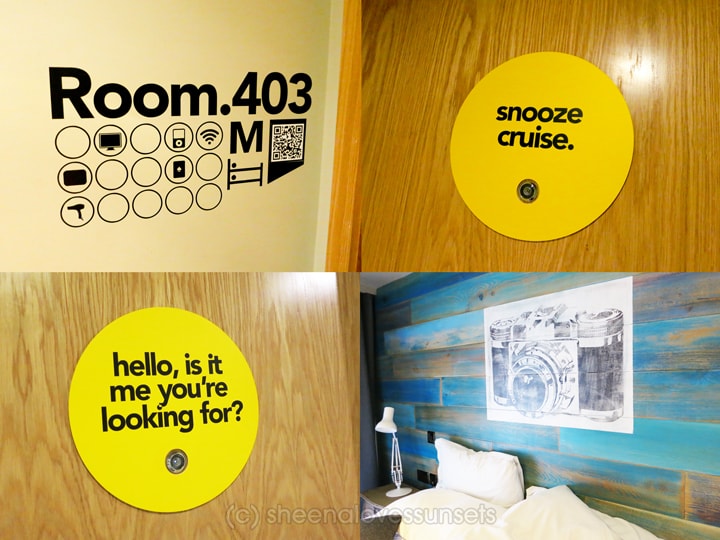 Each room had a different quirky quote at the peephole. We got the one that said "snooze cruise."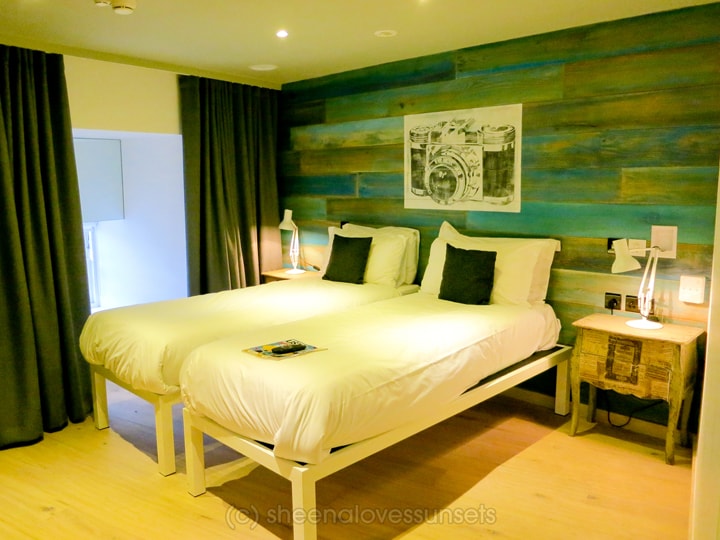 Tandadadaaa! Pretty neat, huh? I have to admit, I was pretty impressed with the room! For the price we paid, which was around $120 for a night, I was surprised to get such a spacious room.
* Side note: Sometimes, Mor and I like to book separate beds when we travel because they're usually bigger than if they give us a queen to share, plus, we don't have to fight over the shared blanket. Haha!
Actually, before I booked Stay Central, I was comparing it with another trendy hotel called Grassmarket Hotel. I finally decided with Stay Central because the rooms were much bigger.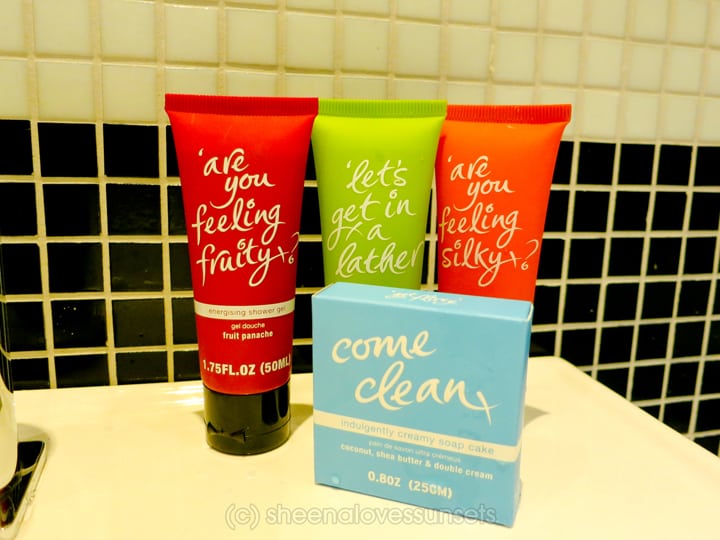 Even the toiletries are adorable!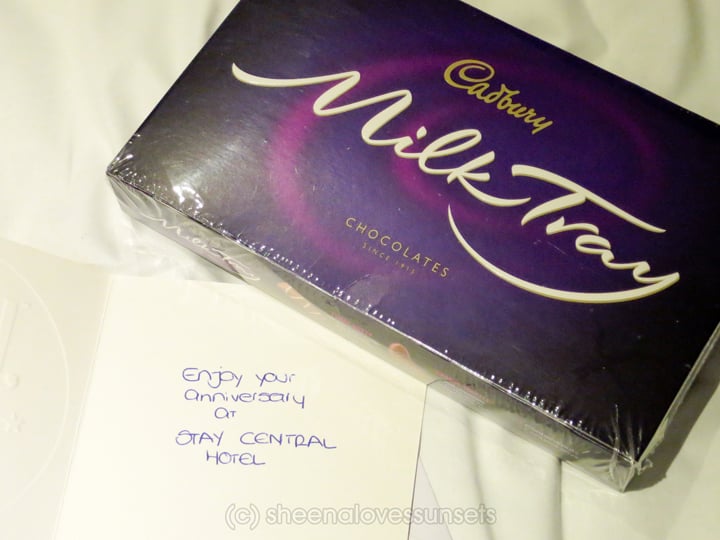 And that's not all! Upon arrival at the hotel, we saw a box of chocolates with this note. Sweet, right?
Upon booking online, they emailed us asking if we were celebrating anything in particular. We celebrate our anniversary on March and the original London trip was on March but because of some unfortunate events, we had to rebook everything to April so technically, this trip was like a very belated anniversary trip for us.
Thanks for the thoughtfulness, Stay Central!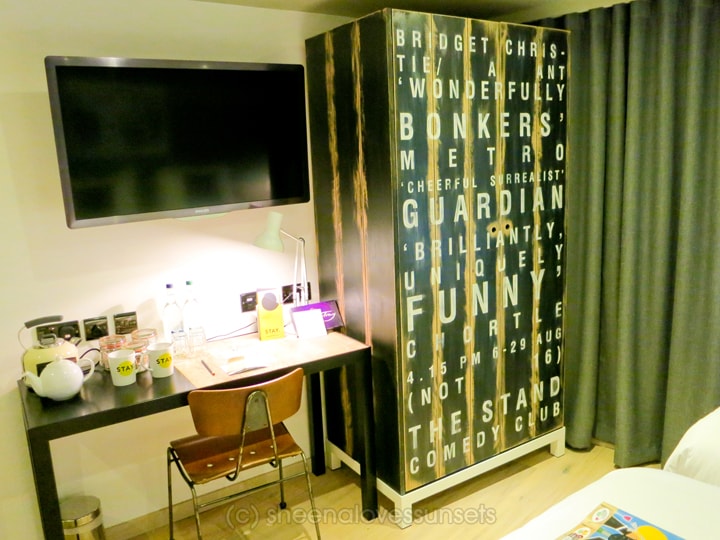 In general, I was very very happy with our stay at this place. But I do have one teeny concern: it's a bit of a walk from the nearest hop-on-hop-off bus stop.
Earlier I mentioned that I was choosing between two hotels; Grassmarket Hotel and Stay Central. I found out too late that Grassmarket Hotel had a much more ideal location. The nearest stop for the hop-on-hop-off busses is right in front of the Grassmarket Hotel.
To reach Stay Central, we had to get off at that stop and walk a couple more blocks. It's not that far, but I'm not much of a walker and combined with Edinburgh's chilly weather, it would have been much more convenient if we didn't have to take an extra 5-10 minute walk with the cold air blowing on my face (Mor hates it when he's cold and so it's no fun walking with a grumpy husband too haha!)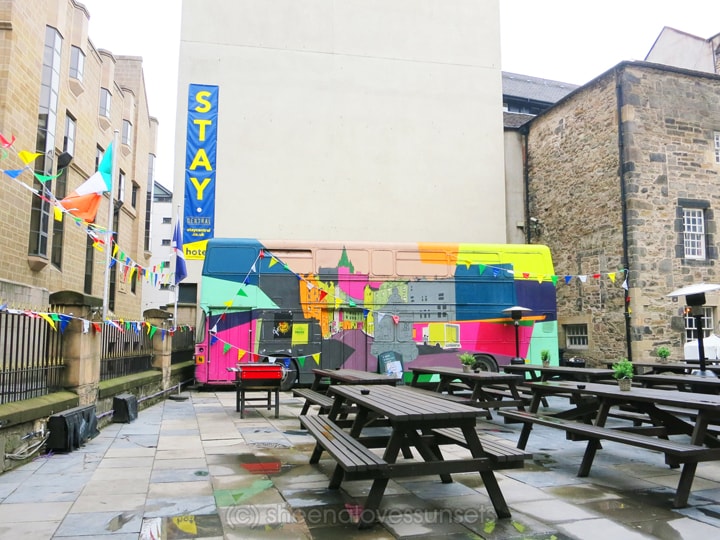 Apart from that little issue (which may not even be an issue for you at all), I would highly recommend Stay Central. We had a wonderful stay, no complaints with regards to the staff and hotel itself.
Plus, staying at such a cute place was in a way, a destination already in itself.I don't usually take this many pictures of our hotel rooms. 😉
(NOTE: THIS POST IS ABOUT OUR EXPERIENCE LAST APRIL 2014.)