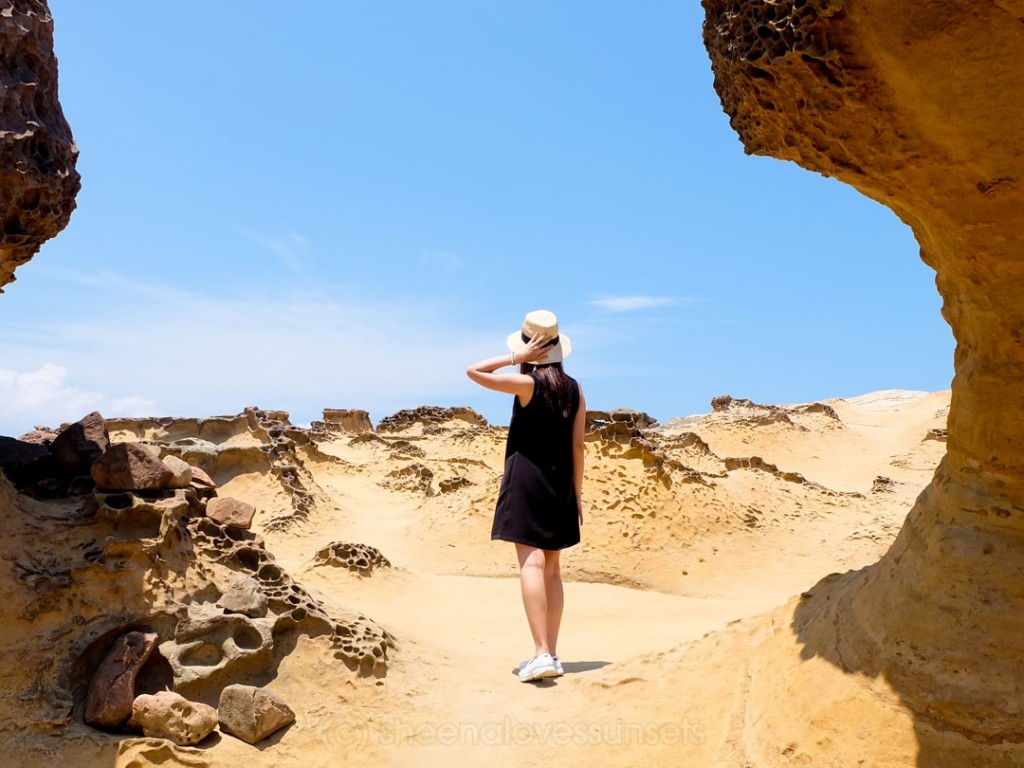 When I told people I wanted to go to Taiwan, a lot of well-meaning friends said there was nothing to do there. But now I'm guessing they probably just didn't know that it was possible to go on a daytrip to places like Yehliu and Jiufen! These gorgeous places are actually not far from Taipei!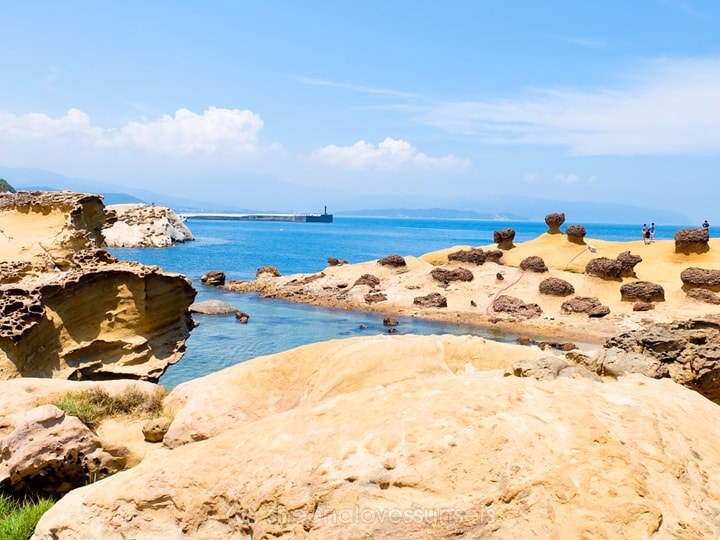 Yehliu Geopark
When I first saw photos of Yehliu from my parents' trip to Taiwan years ago, I knew I definitely wanted to visit this place. So when I was planning for our Taiwan trip, I made sure it was part of our itinerary.
The rock formations on Yehliu were formed through erosion and weathering. It's amazing how these formed naturally; truly an example of God's great handiwork!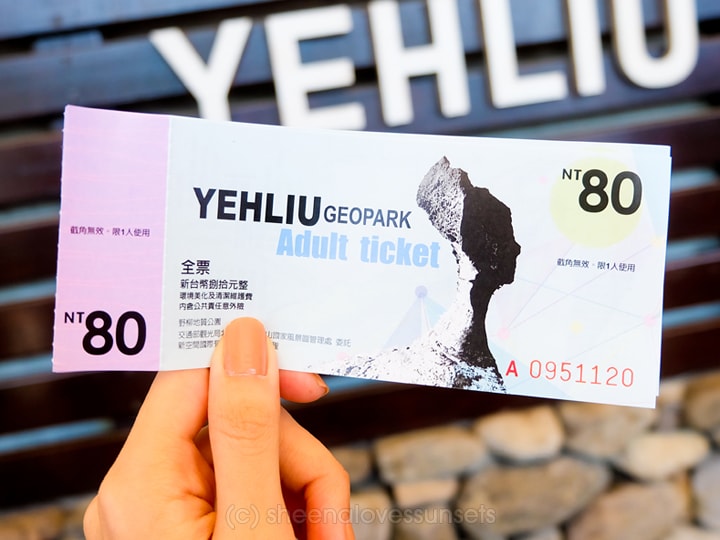 Entrance to the park is $80 NTD.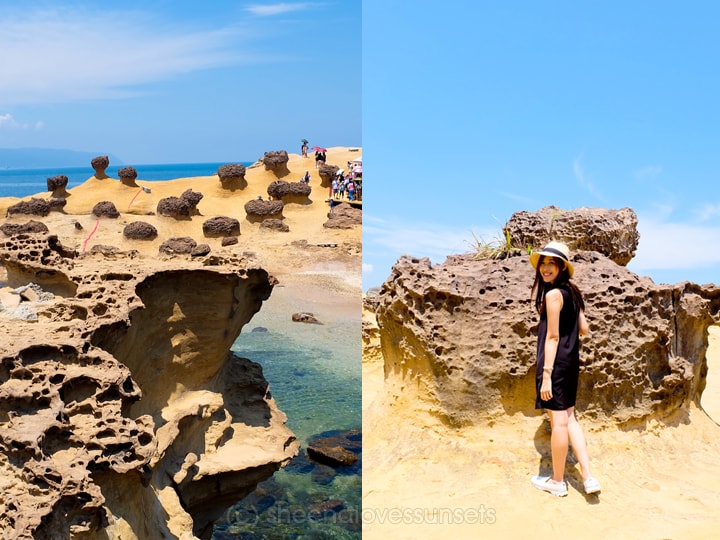 We arrived at the area around 11:00 am so you can just imagine how hot it was! No shaded areas to hide under either! I'm smiling in the photo but sweating inside. Haha!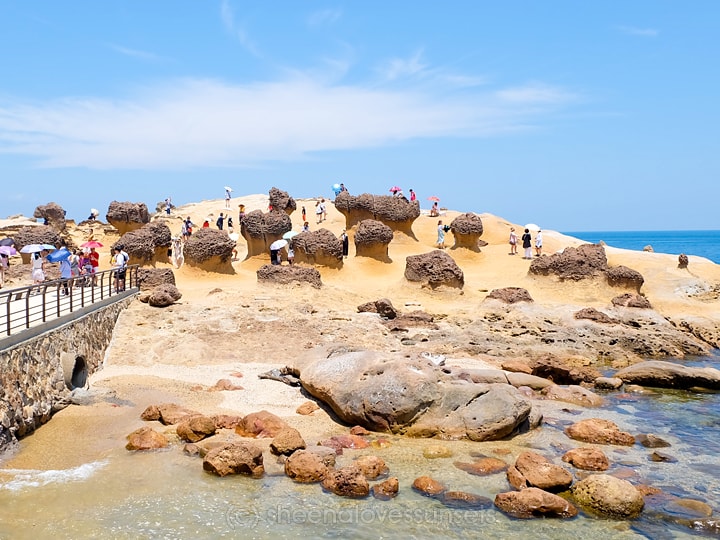 They call these Mushroom rocks because they look like mushrooms! This is my favorite area because it feels like walking inside Alice's Wonderland!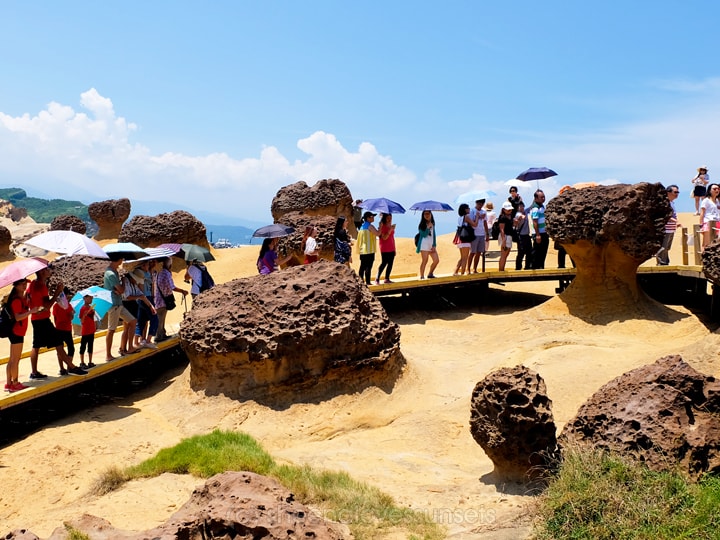 The most iconic and famous spot here in Yehliu is The Queen's Head. However, you had to queue up to take a photo with it. We've been sweating like a pig since we started exploring so we decided to skip this.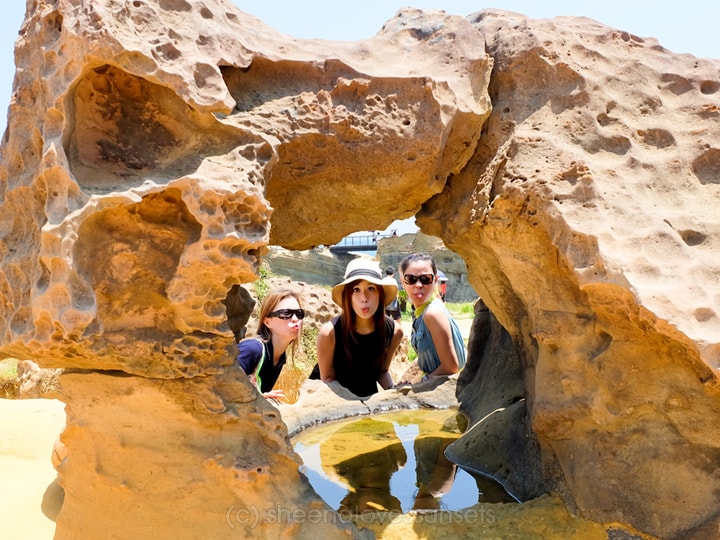 We just took our selfies and tourist photos on other available rocks. Haha.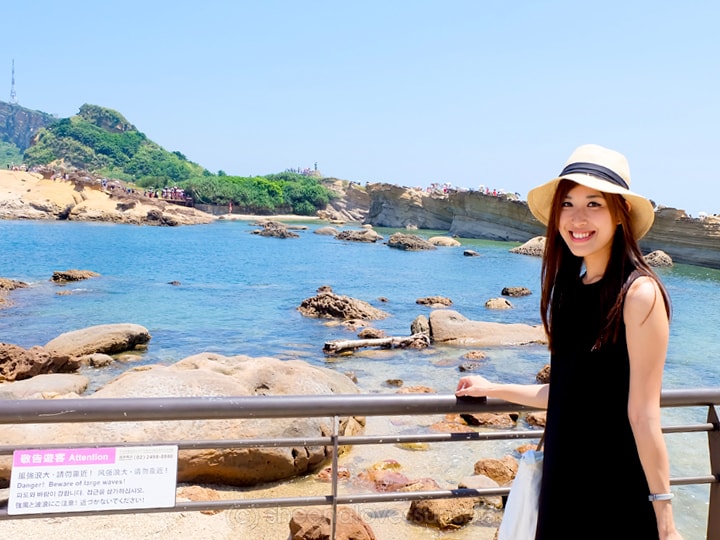 Overall, I really enjoyed seeing these beautiful creations of God up close. If the weather were a bit cooler, I'm pretty sure I would've enjoyed it more. But no complaints! Haha.
Yehliu Tips:
Bring an umbrella and/or a hat
Don't forget to put on sunscreen
Bring a fan (paper, battery operated, whatever!)
Don't go on a hot day. And this is probably the best tip! Haha.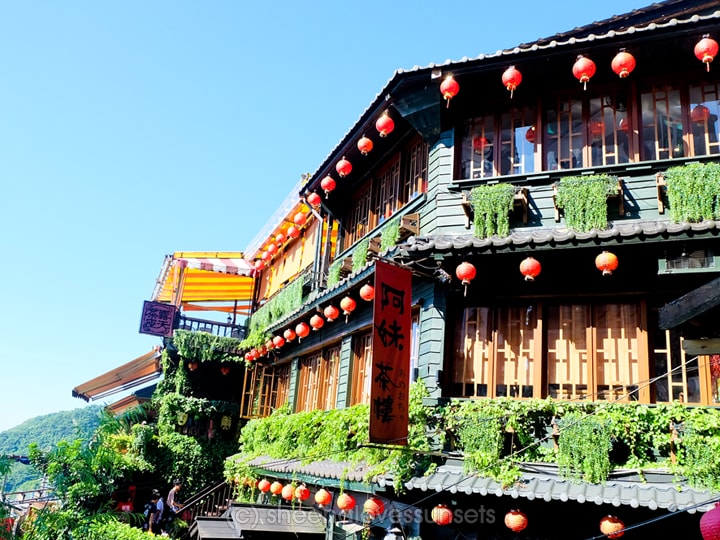 Jiufen Old Street
Jiufen is famous for the beautiful tea house that became Hayao Miyazaki's inspiration for the highly acclaimed, award-winning movie "Spirited Away." I'm usually not a fan of anime (or anime style art) but I really enjoyed that movie!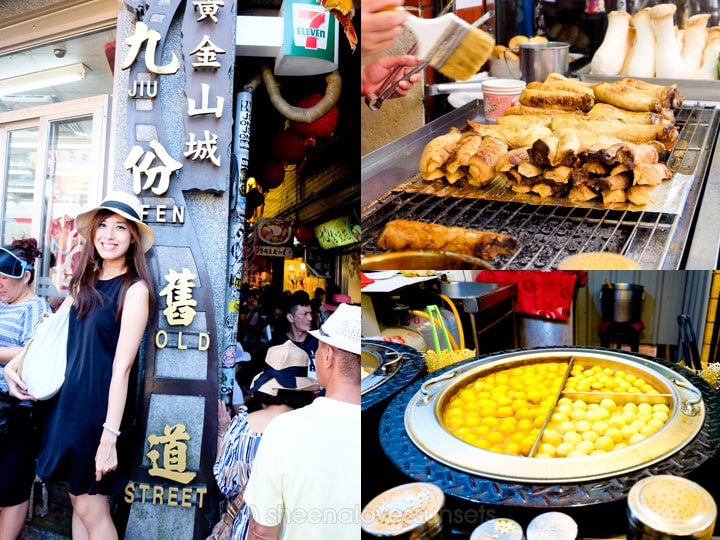 But because we arrived here straight after our morning (well, actually noon) excursion to Yehliu, we were famished! So, food first; scenic view later! (Uh, ironic reference to the movie: hope I don't turn into a pig!)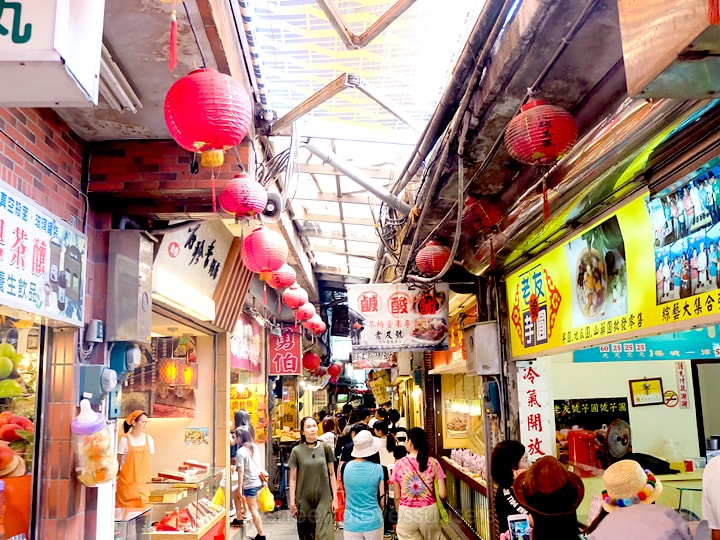 Let us begin our lunch!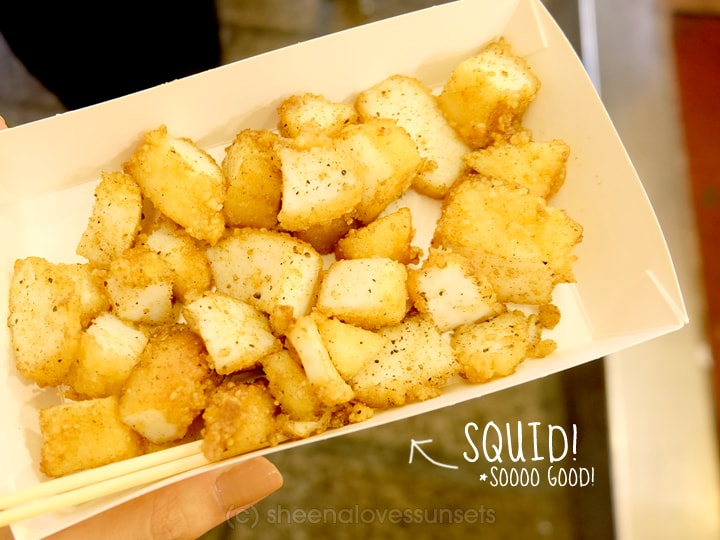 First street food we tried: fried squid. So good that we went back and ordered second helpings after we finished going around. Haha!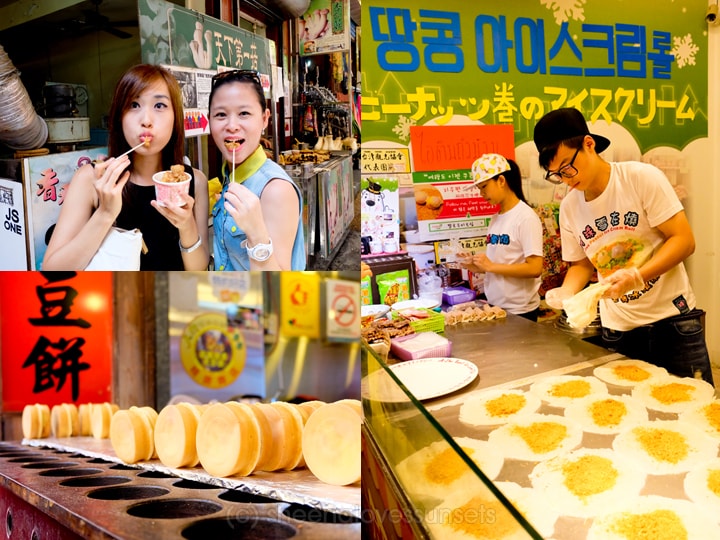 I also really liked the fried mushrooms! But definite must-try is this ice cream peanut wrap (photo on the right). It's sweet, salty and overall heavenly. Yumm…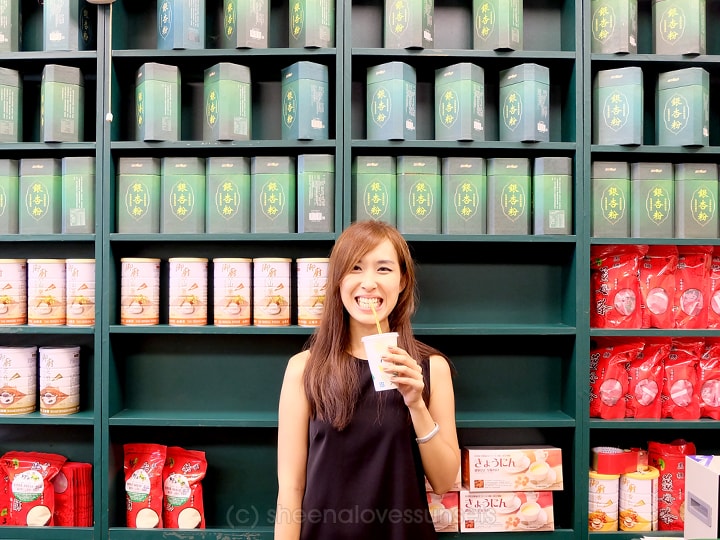 Had a cup of cold almond drink. So good! I bought a can of almond powder to bring home from this store. Chinese people say it's good for cough so, extra plus that it's healthy!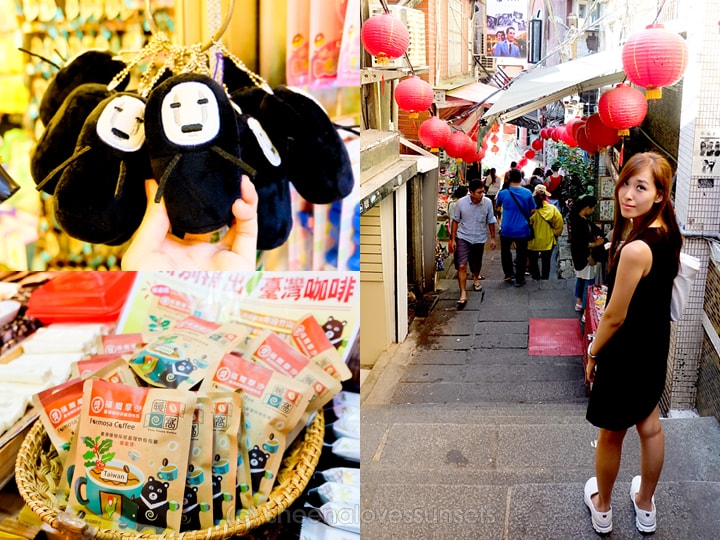 I saw a lot of Spirited Away souvenirs. No Face products everywhere! Other famous goodies being sold: coffee, tea, seeds, nuts and nougat! The place is also full of charming old structures with red lanterns hanging above. Makes you feel like you stepped back in time.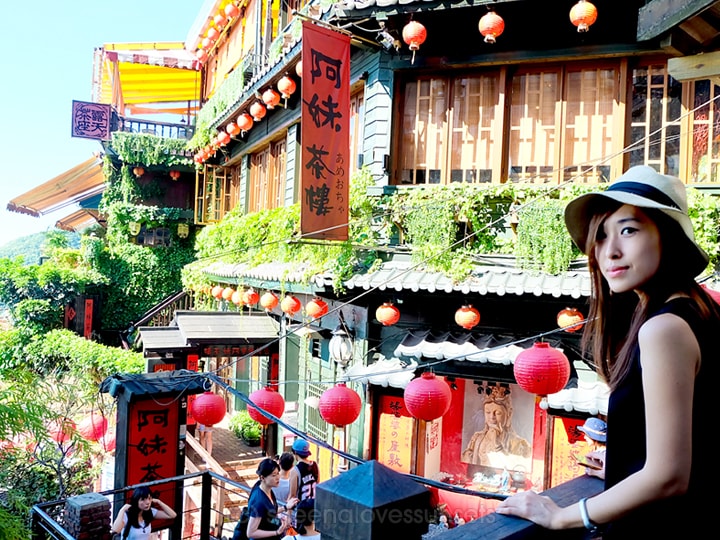 And at last!! We finally munched our way to A Mei's Tea House! Got a little confused at the beginning so it took us a while to find this perfect photo spot. It was beautiful!
I was told that it's even more beautiful to see at night. Maybe next time!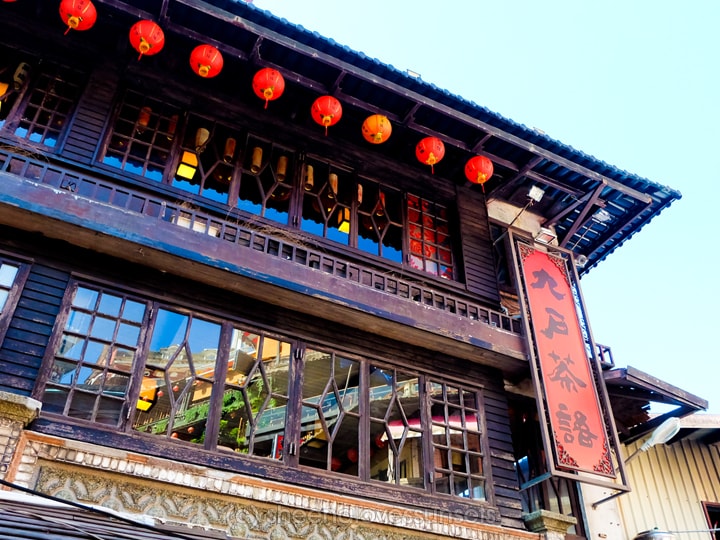 Transportation Details
It's possible to go to Yehliu and Jiufen by bus. Here is a photo that I got from the tourist brochure of Yehliu Geopark detailing how to get to Yehliu by bus.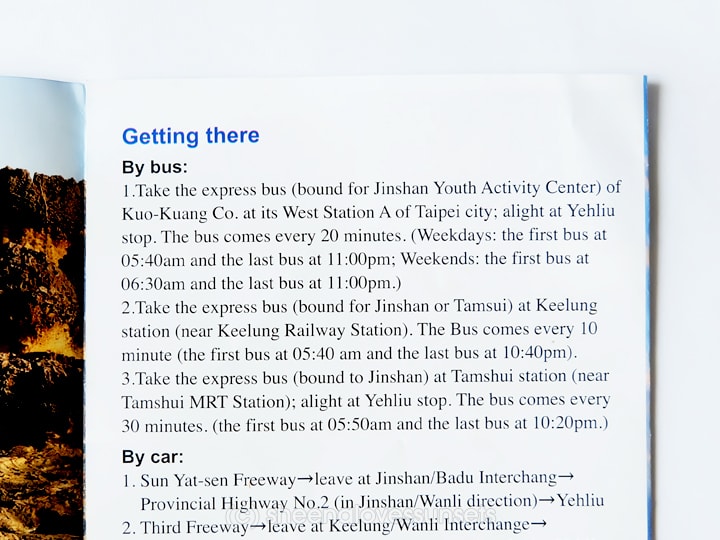 In the end though, we decided to hire a taxi for the day because it's more convenient; we don't have to worry about getting off at the right stop and we can leave our (non-valuable) things inside the car while we're going around.
We booked a taxi service with our hotel, City Inn Hotel Plus at $3000 NTD for 8 hours and just split the cost between the three of us. The hotel said their staff gave us a lower rate by mistake but that they were honoring what they promised. I think $3000 NTD for 8 hours is standard because I inquired with other drivers and they were all charging between $3000-$3500.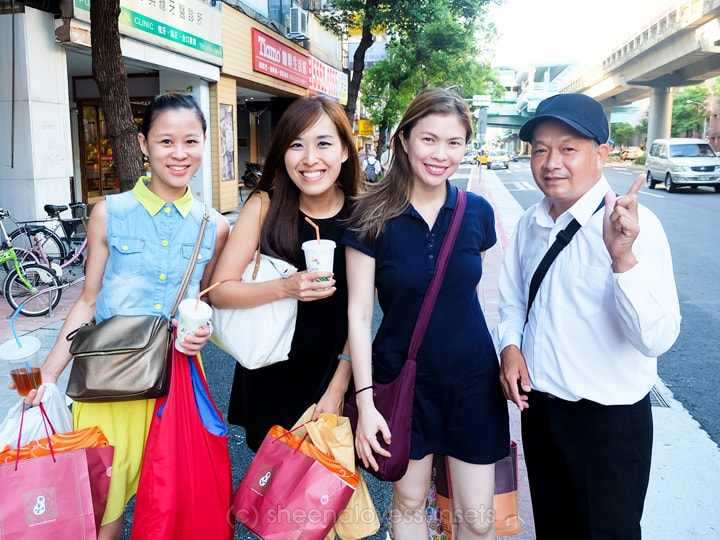 Driver: Mr. Lin
Our driver was Mr. Lin and he was a very nice, soft-spoken man. He can't speak English but we communicated in Mandarin (though our Mandarin was very rusty) and Hokkien (the Chinese dialect we speak at home), which is surprisingly widely spoken in Taiwan. We were also able to call and text each other whenever we needed to find out where he was, via WhatsApp because we had a pocket wifi during our trip.
Mr. Lin is a no-frills driver; totally there just to drive you and not to be your tour guide, photographer or anything else. Haha. Our driver in Taichung was more hands-on and helped us with things (more on that next time!)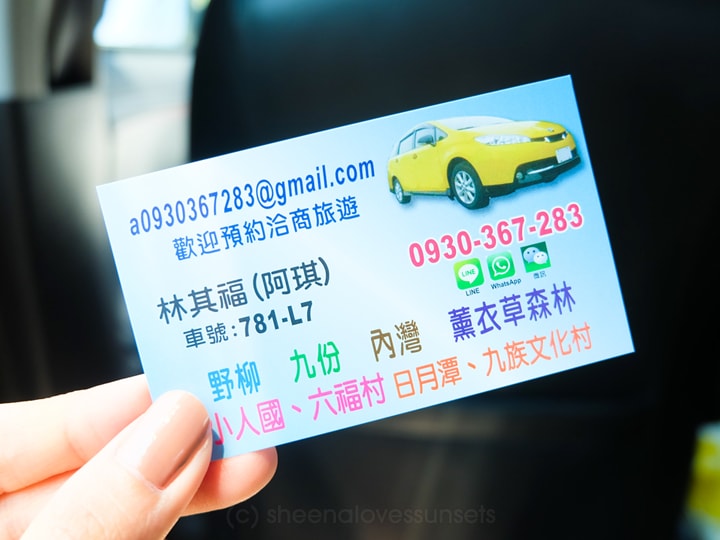 That's the photo of Mr. Lin's name card, in case you would like to hire him. I'm not sure, but he might give you a lower rate if you book directly with him instead of going through the hotel.
I highly recommend getting a private taxi if you plan to visit Yehliu and Jiufen. If you plan your excursion well, you can even add in a few more stops to other places (like Shifen) so you can really get your money's worth!
Read more about our Taiwan trip here!
(NOTE: THIS POST IS ABOUT OUR EXPERIENCE LAST AUGUST 2016.)