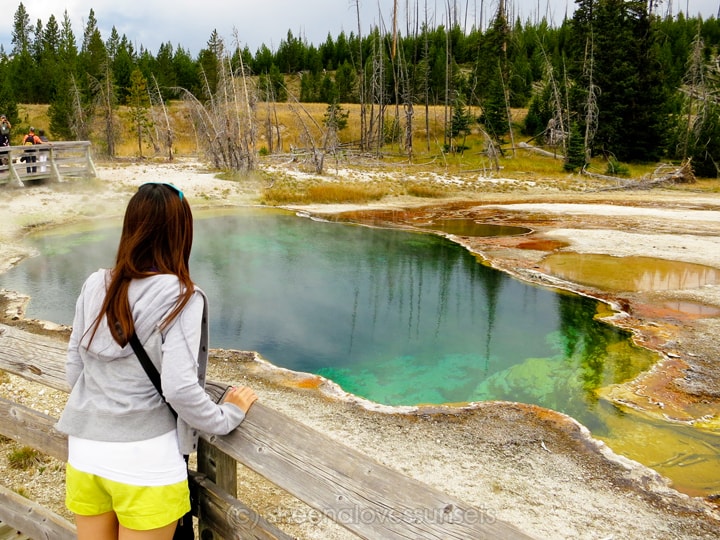 Ever since I read about Yellowstone on a tourism website 3 years ago, it has always been on my list! So imagine my joy when we found tours going to Yellowstone from Vancouver (where we were staying for a month!) And in a surprise twist, by God's grace, I won a contest online held by thebesttravelled.com and the prize was $750 worth of travel tickets!
Hello, Yellowstone! It was meant to be; we meet at last!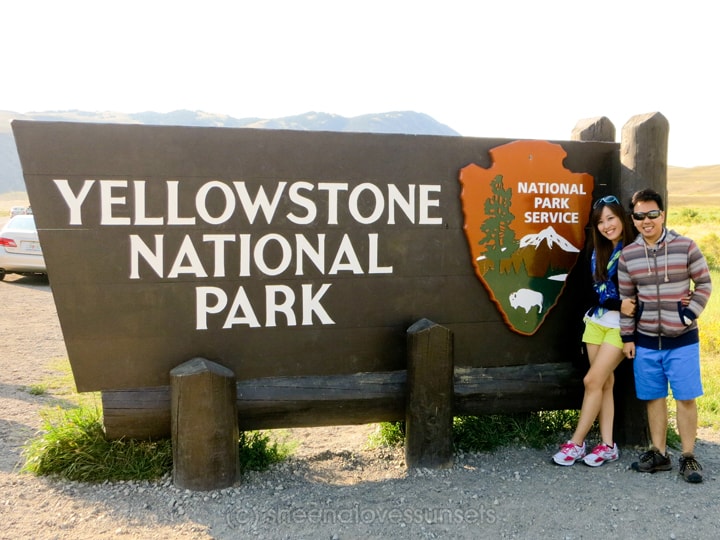 We joined a bus tour from Vancouver all the way to Yellowstone. It was a 5 day trip in total: two days driving to Yellowstone, one whole day at the park, and two days driving back.
It sounds tiring, but we had a number of stops in between (like Spokane in Washington, Couer d'Alene in Idaho and Missoula in Montana,) so it was all good!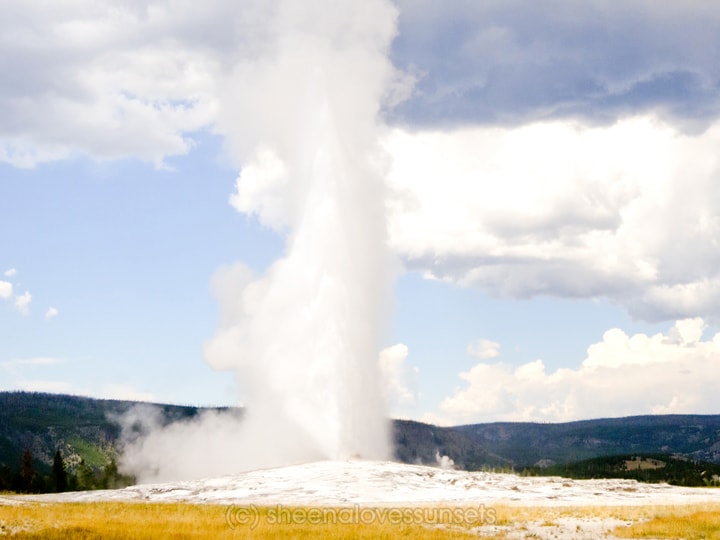 "What's in Yellowstone?!" people would ask me. So to answer simply, I tell them: "Well, to start off, this beauty: The Old Faithful!"
The Old Faithful is a geyser (possibly the most famous geyser in the world) and it erupts every 90 minutes more or less. Ever-reliable, like I said! And as I've never seen geysers before in my life, this was a treat for me! Seeing something new and spectacular is always exciting!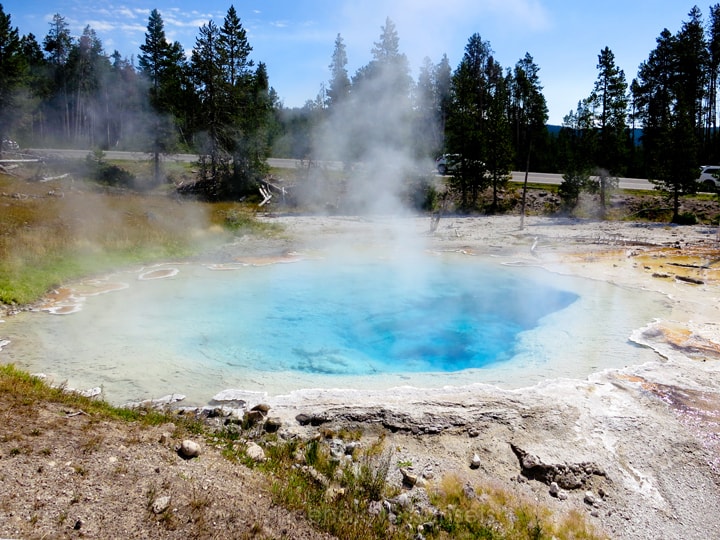 But while the Old Faithful might be Yellowstone's most famous attraction, it was not my favorite sight of all because my favorites (yes, in collective) are all these gorgeous geothermal pools and geysers, or as I like to call them, colorful rainbow pools! Hehe.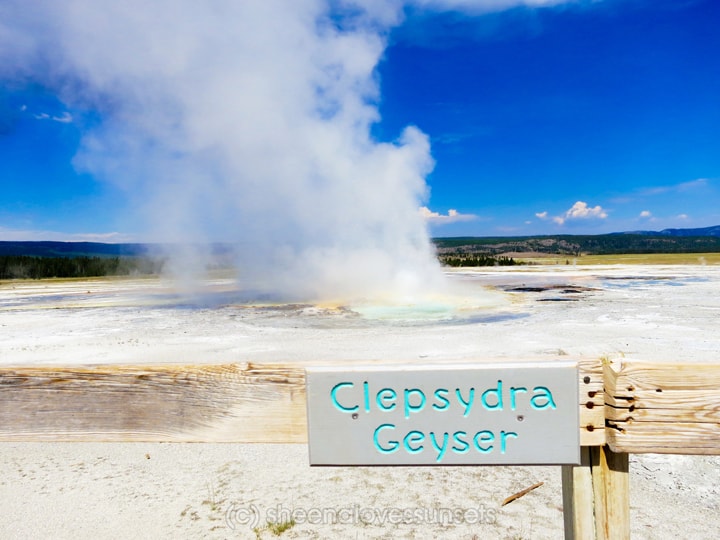 And what is even more amazing is finding out that what causes all these colors are different kinds of bacteria that live in extremely hot temperatures. How crazy is that, right?!
The different geysers and pools around the park are all spread out so it's necessary to have transportation. Like I said, we joined a bus tour so it was convenient for us. They dropped us at a site, gave us around 20-30 minutes (depending on how big the place is) and then we went back to the bus and continued to drive along.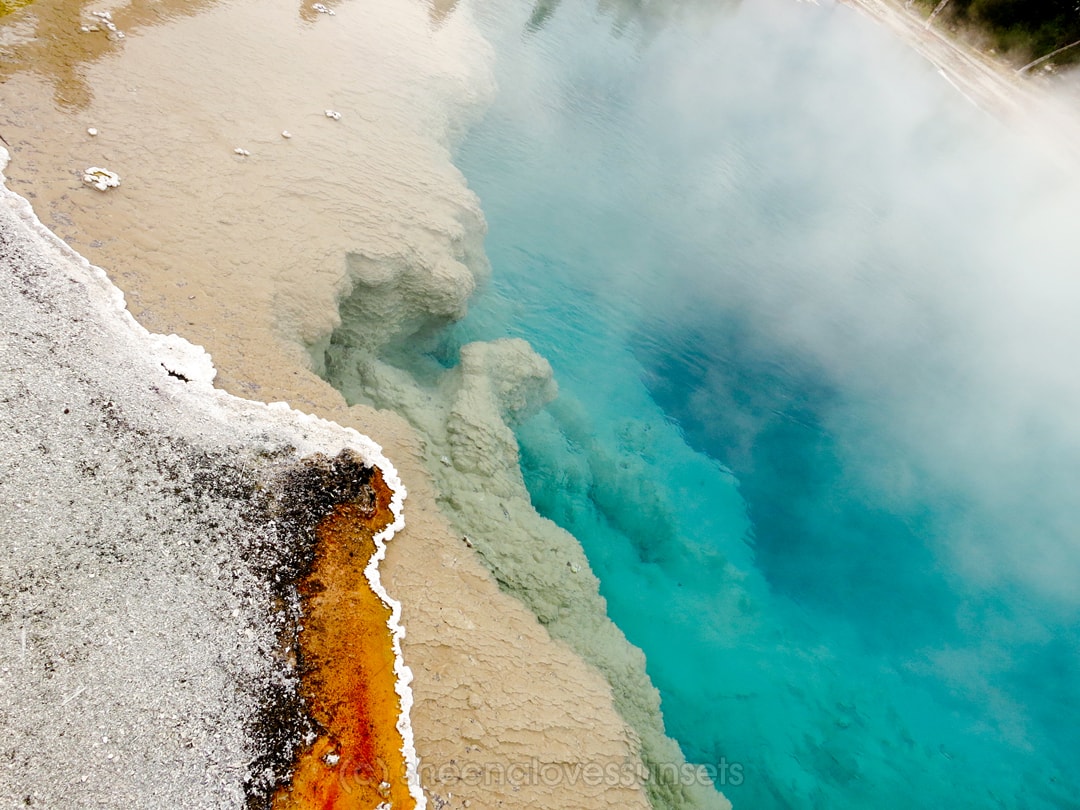 I wish we had more time to spend on the park but as the tour only had one day allotted for the park, we had to be efficient and see as many as we can in a day!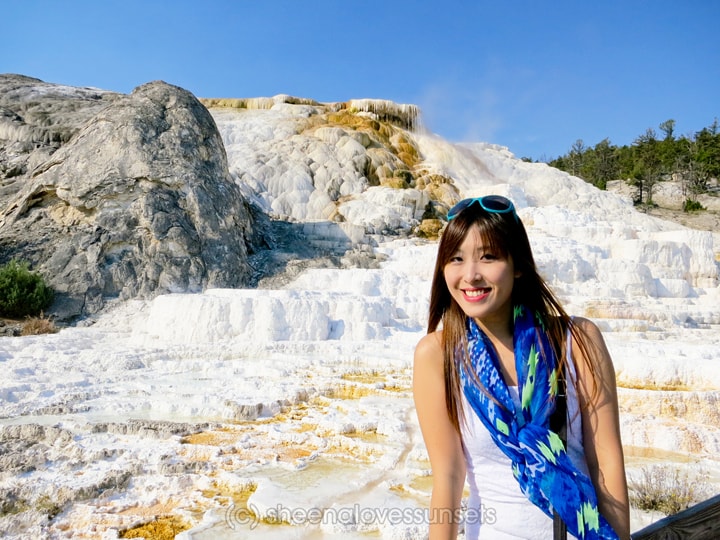 Another wonderful place inside Yellowstone is a place they call Mammoth Hot Springs. It has a different look from all those colorful pools and geysers. Those white things are not snow, you guys! I'm not very good at science (hehe) but if I understood correctly, these are deposited calcium carbonate and travertine. Which explains why I can still wear a cami even though I'm so near it! :p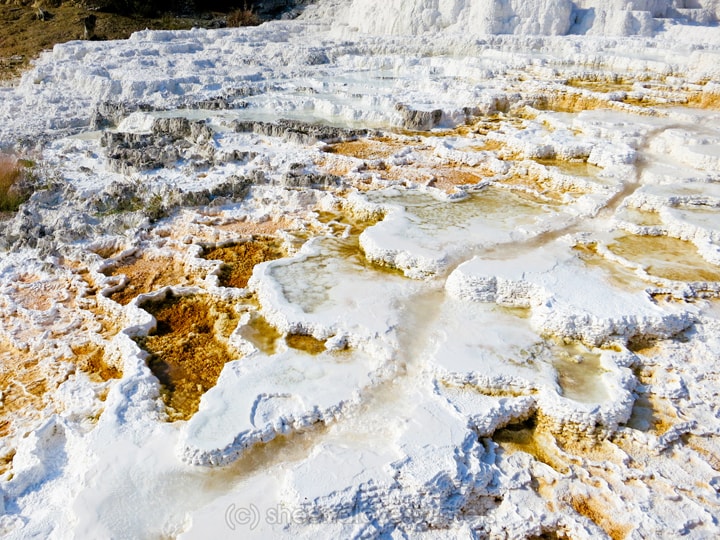 Yellowstone is a place unlike any that I've ever been to so far. Each spot is beautiful beyond compare and it's as though you can never have enough time to explore all the different sites.
Because these are things you don't see everyday, I literally felt like I was standing on a different planet!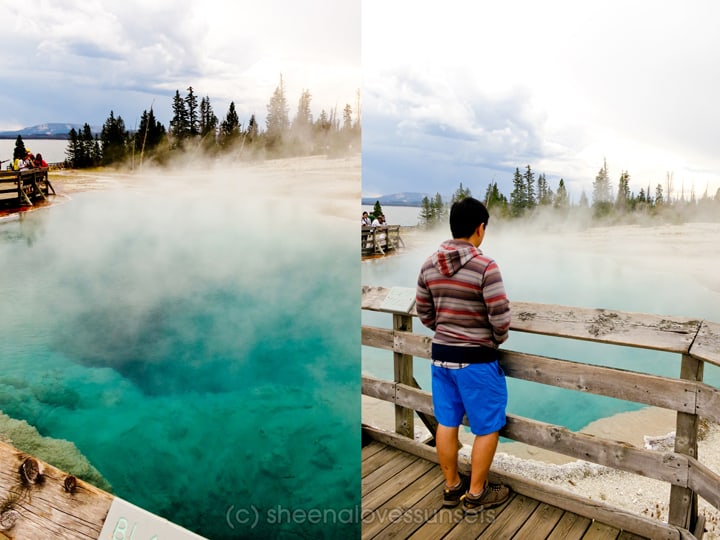 All the colors blending in with one another are just so amazing that they overwhelmed me. All the world's beauty truly comes from Him alone and I feel so blessed to be able to see them one by one. All of creation truly screams His name, don't you think so? How amazing is God, really?

If you get an opportunity to visit Yellowstone, do so! I highly recommend this place because the sights you'll see are surely sights you won't easily forget!
(NOTE: THIS POST IS ABOUT OUR EXPERIENCE LAST AUGUST 2013.)