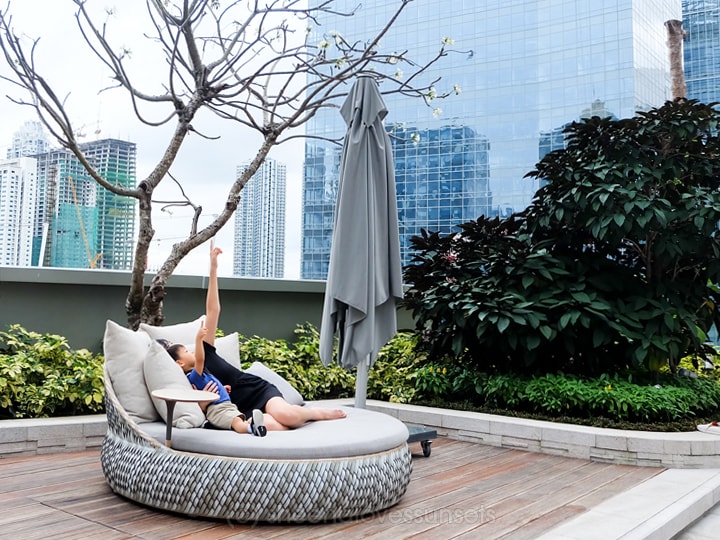 Shangri-La at the Fort is the latest luxury hotel to open in the busy capital of the Philippines. We decided to take Luke on a staycation here one weekend, as an extension of his 2nd birthday celebration!
Shangri-La Hospitality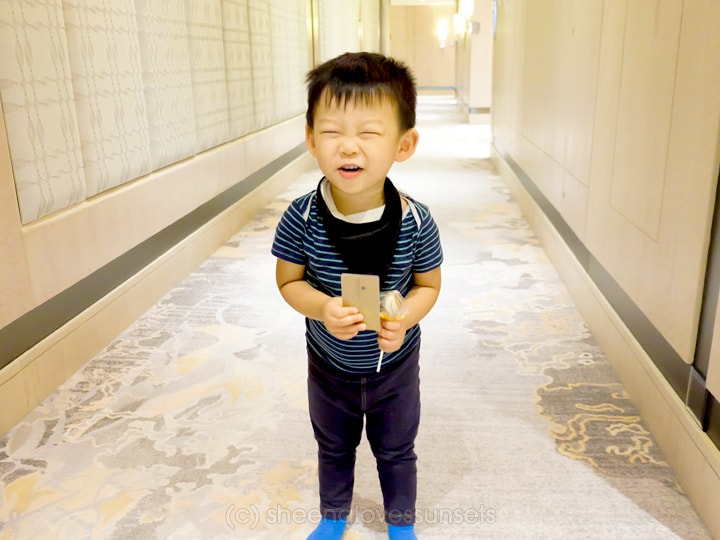 But first, let's talk about the world famous signature Shangri-La hospitality.
It's this little boy's first time to stay with Shangri-La and oh boy, did he get the royal treatment! Haha. When we got out of the elevator to our floor upon checking in, surprise! A staff member was waiting to personally hand Luke a lollipop! Awww! Look how happy that made him!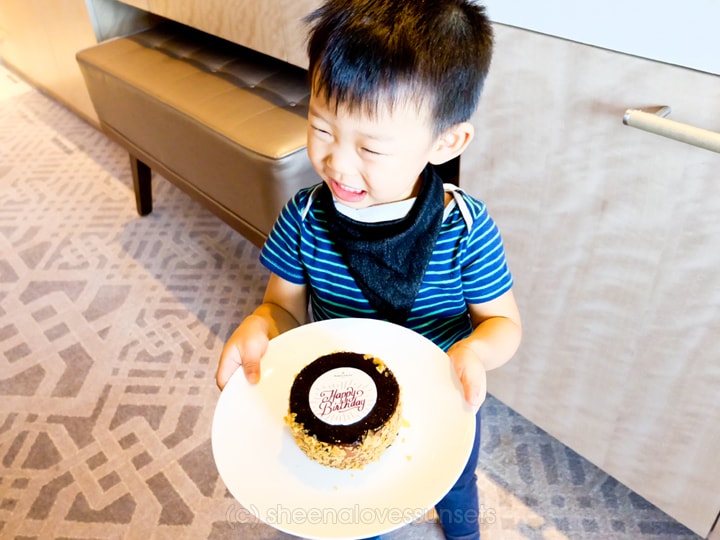 But that's not the end of it! When we entered our room, we saw this birthday cake waiting for him too! Tsk tsk, Shangri-La, you are spoiling my baby! Haha!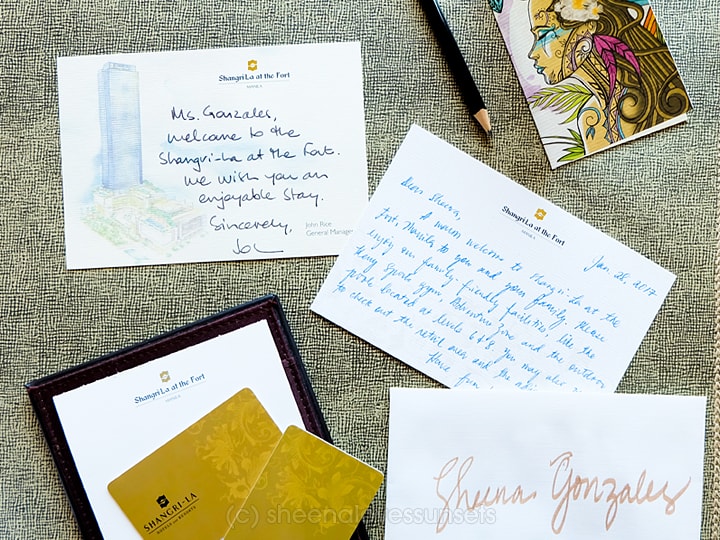 But seriously though, there is nothing quite like Shangri-La hospitality. I've stayed with Shang many times before in different locations (and even had our wedding at Makati Shangri-La, 5 years ago!) and the service has always been consistently very, very impressive!
Great service always makes a big impact!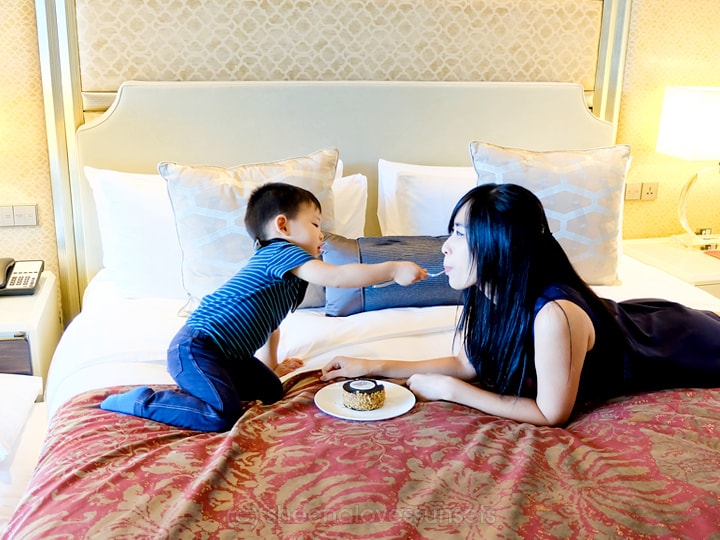 And talk about great service, right? Haha. Thank you for feeding me, babe!
Our Room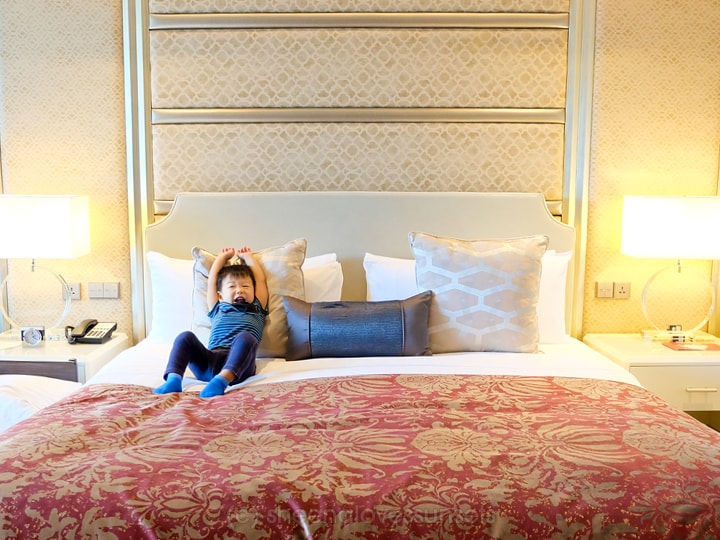 He keeps saying "HO-TEH!!!" He's getting used to staying at hotels. I think I'm in trouble.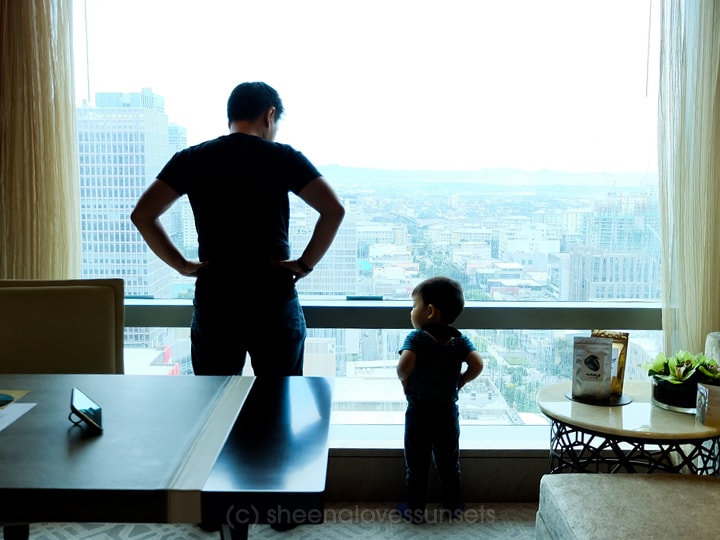 We stayed at a Deluxe High Street View room. Father and son enjoying the view.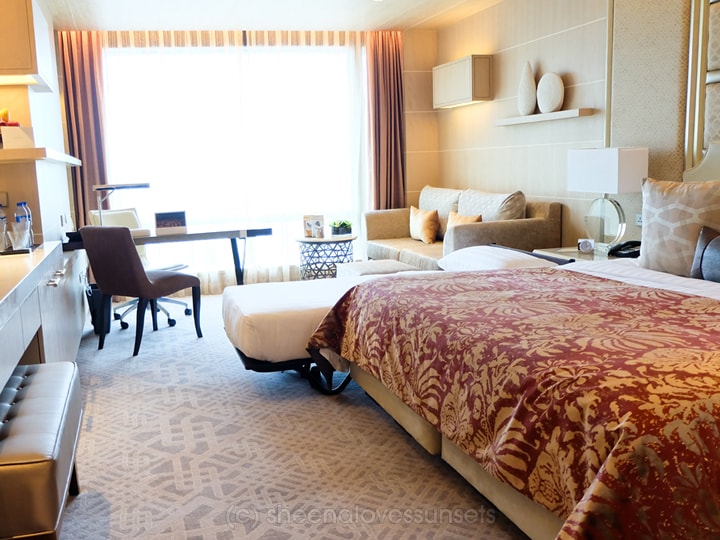 We had a very generous space considering we were three adults (we brought Luke's loving yaya with us, hehe) plus a baby! We requested for an extra bed for yaya and we also had Luke's playard set up and still there was room enough to walk around in and enjoy.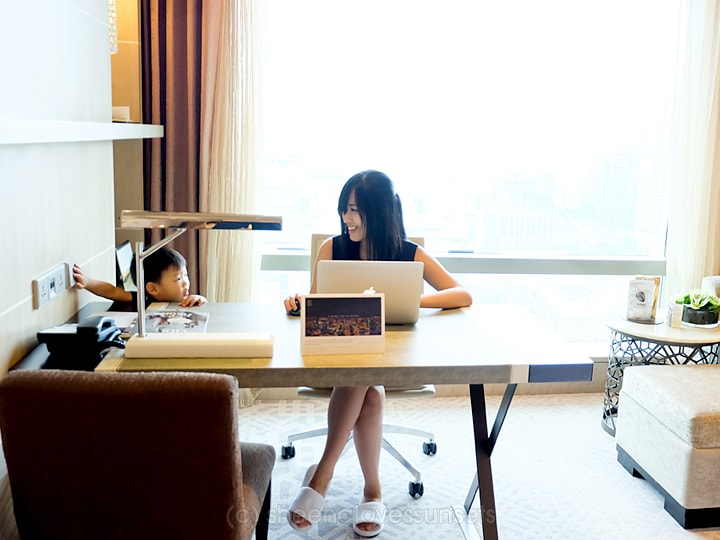 Really love this work space. Unfortunately, this little boy didn't really let me work. When he wasn't playing with the light switches, he was climbing on my back.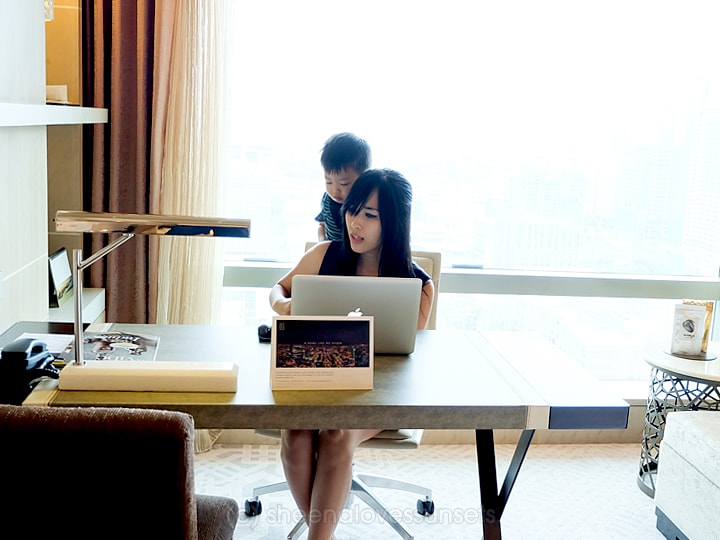 Proof. Ok, I'll leave this area to Mor and see if he can try to enjoy the space.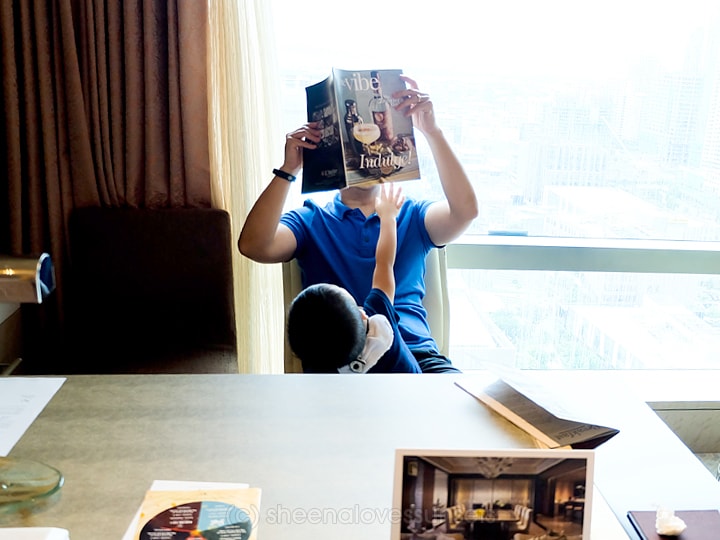 Hmm, guess not. Haha! That's how traveling with a toddler is, I guess!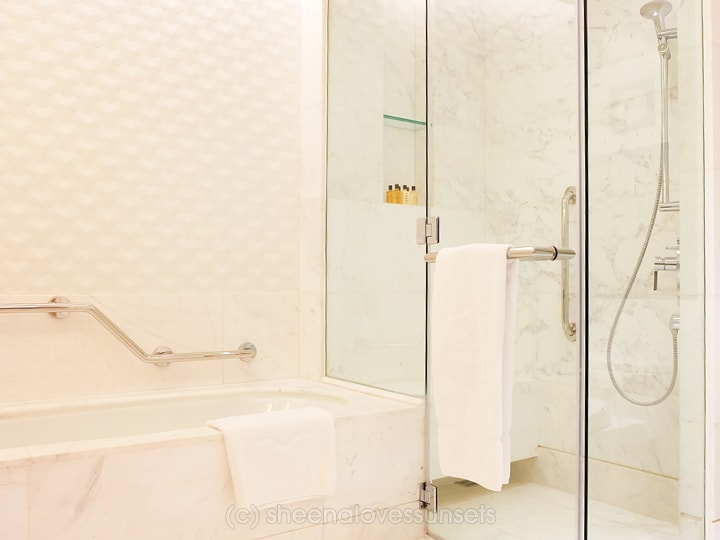 The beautiful bathroom. All you need is a bathtub to win my baby over, though!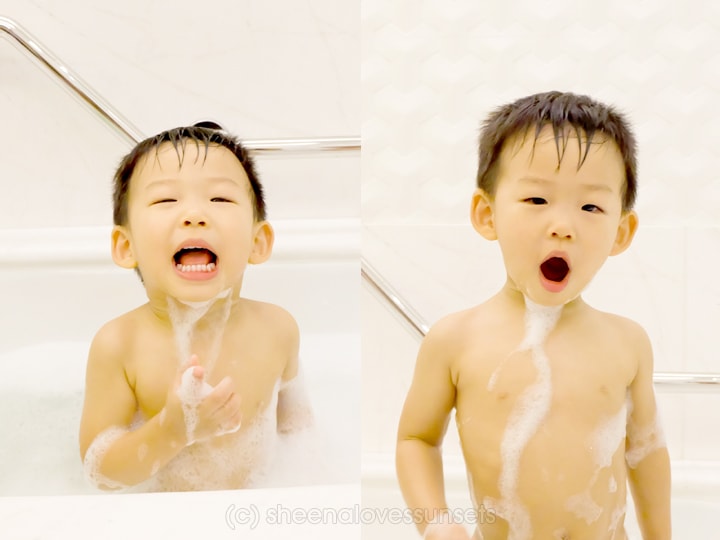 He kept saying that he was Santa Claus. 😐 Haha. Santa Claus look: achieved!
Adventure Zone at Shangri-La at the Fort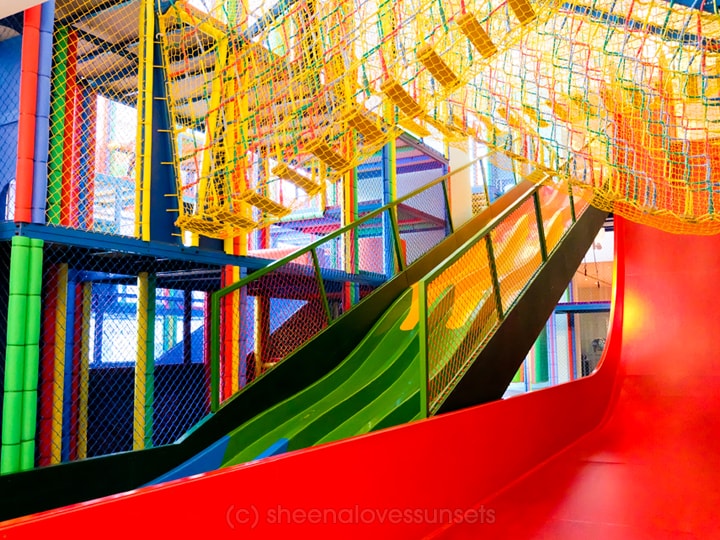 Adventure Zone is one of the things we really looked forward to during our stay. It's an indoor playground right inside the hotel! And what an amazing indoor playground too! There are different drop slides of varying heights. Luke enjoyed the smaller slides but the bigger slides were for bigger kids.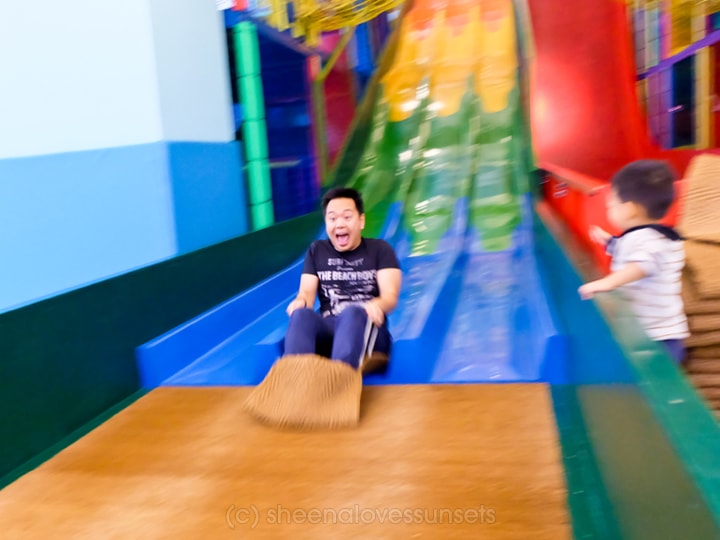 Like this very big kid. Haha.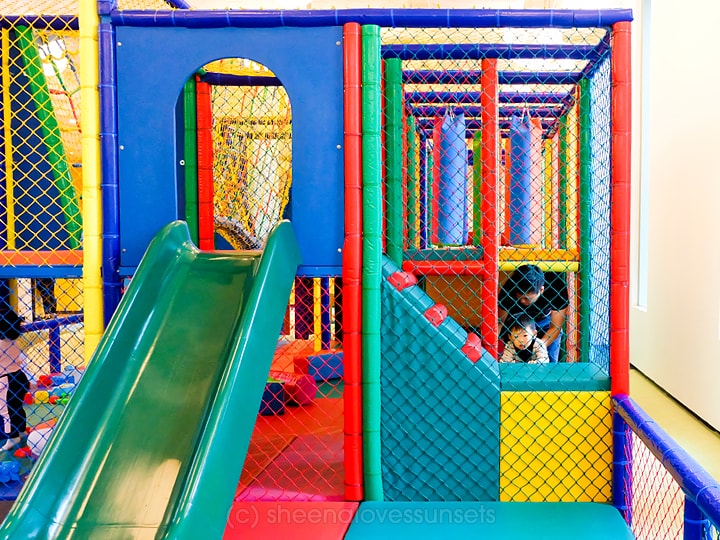 They had a toddler area with soft padded mats and mini slides. We invited him to do the obstacle courses with us but he got intimidated so we went back to the mats and blocks.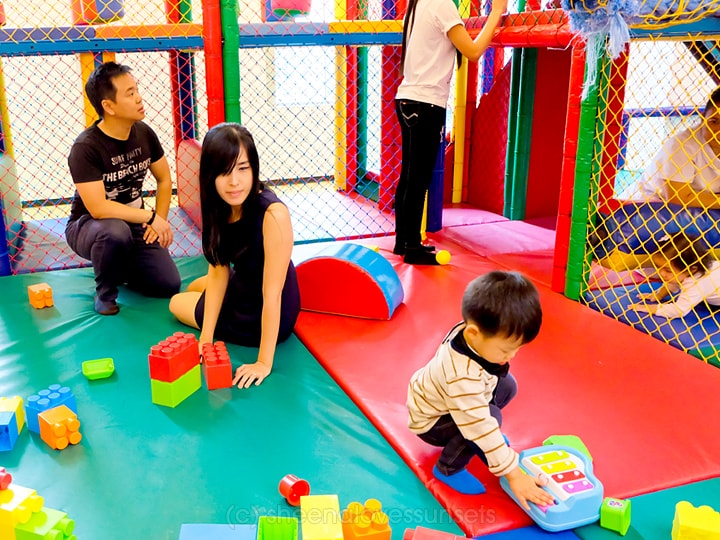 Because of this, I was about to dismiss the area as being a place that would be more fun and "sulit" for older kids, until a staff member showed us the secret way to Role Play Village! (Ok, the way isn't really a secret, but it's pretty hidden!)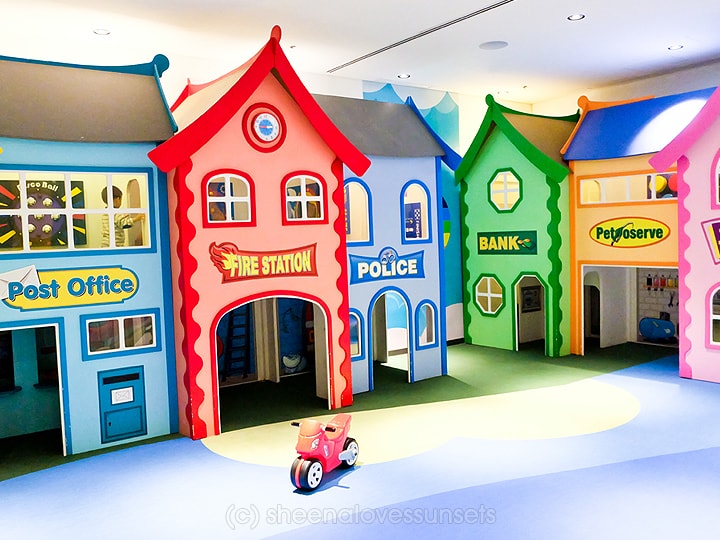 Welcome to Role Play Village! YAAY! It's a town for little people like Luke! Ok, now this he can definitely appreciate! (Spot the hidden Lukey!)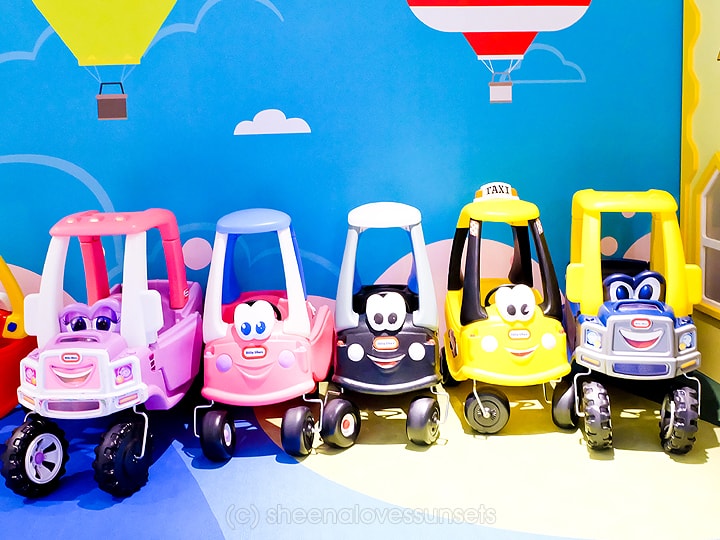 I love the fact that the Cozy Coupes they had were so unique! There are taxis, jeeps and police cars, not just your average cars.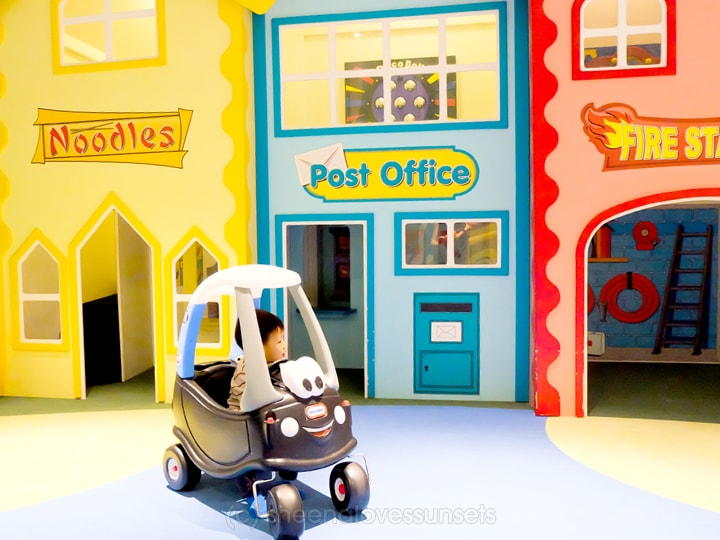 Luke the policeman in his police car, patrolling the town. Make sure you catch all the bad guys by bedtime, ok?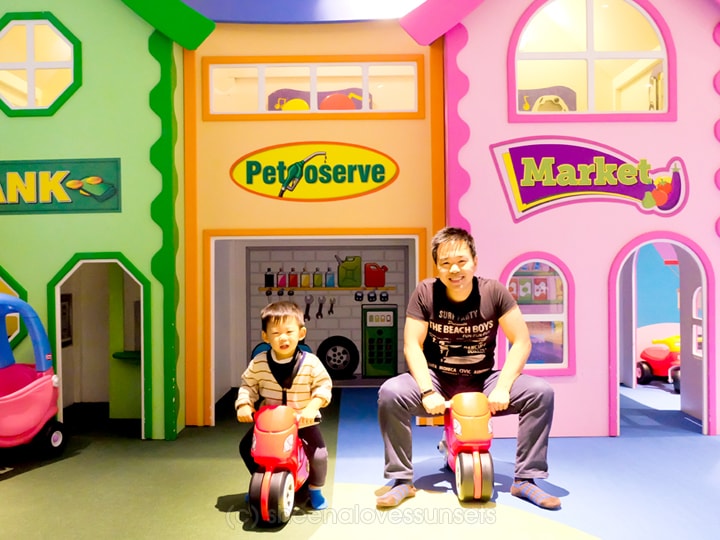 Needless to say, my two little boys had a lot of fun. Haha!
As we were playing, a staff member approached us and said that they were gonna have Wushu Classes in a few minutes and that we could join in! Of course, we would love to join!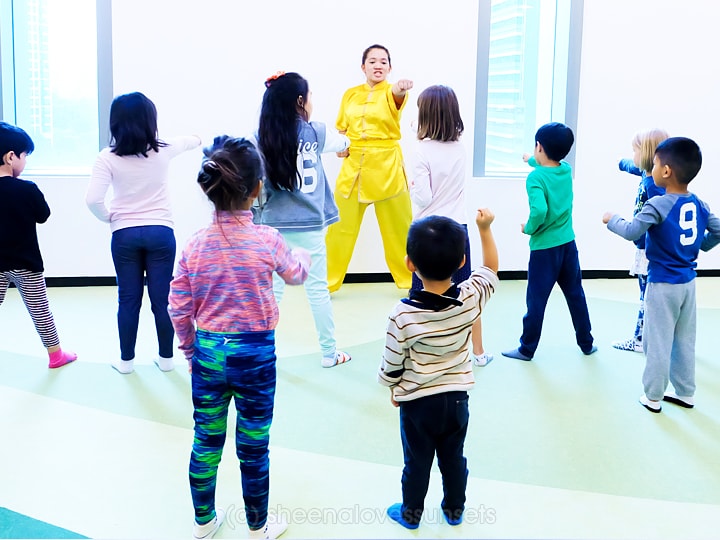 The tiniest wushu student trying his best to follow the instructor. Haha.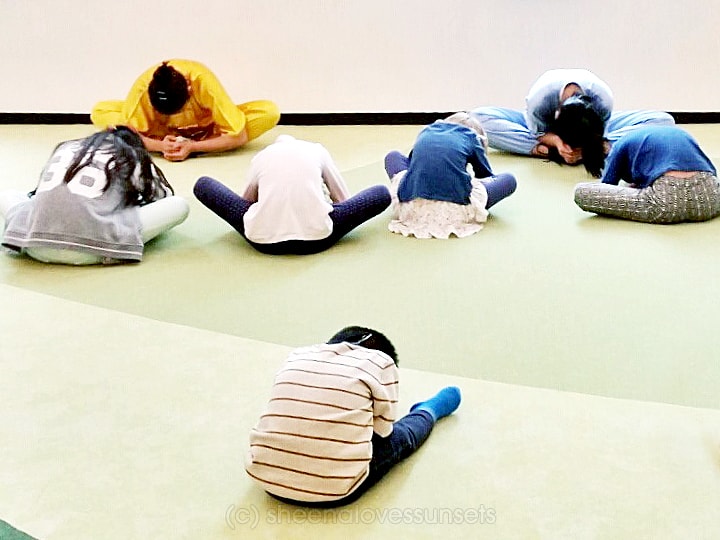 You can tell he's taking this really seriously!
Adventure Zone: Round 2!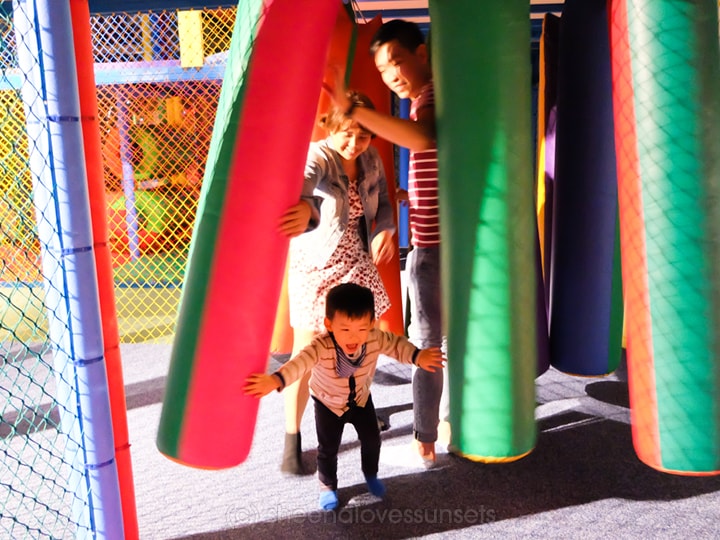 That evening, Mor and I had to attend a dinner event (coincidentally and very conveniently, also held at Shangri-La at the Fort!) so my brother and his girlfriend baby sat Luke for the evening for a few hours. And guess what they did?
They went back to Adventure Zone and played til' 10pm. Oh my! Haha!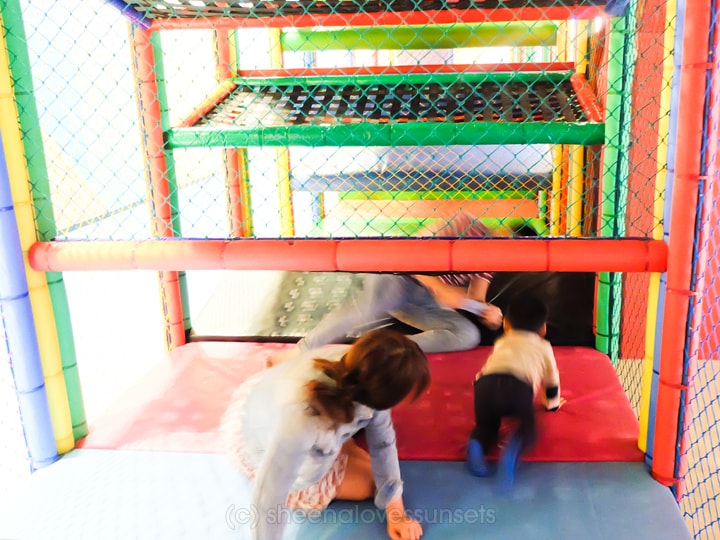 Now he wasn't afraid anymore! Yup, he did all the obstacle courses with them!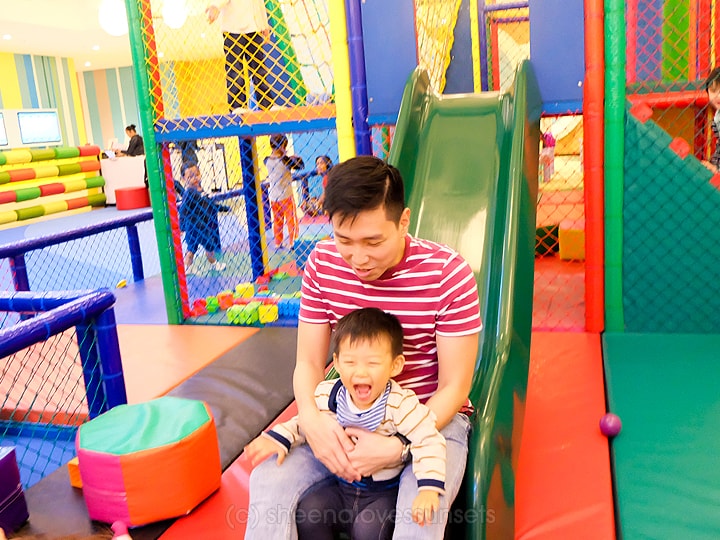 Looks like he had more fun with them than he did with us that afternoon! He was absolutely knocked out when they brought him back to the room and slept all the way til' the morning.
He wanted to sleep longer but we had to wake him up or else we would miss breakfast!
Breakfast at High Street Cafe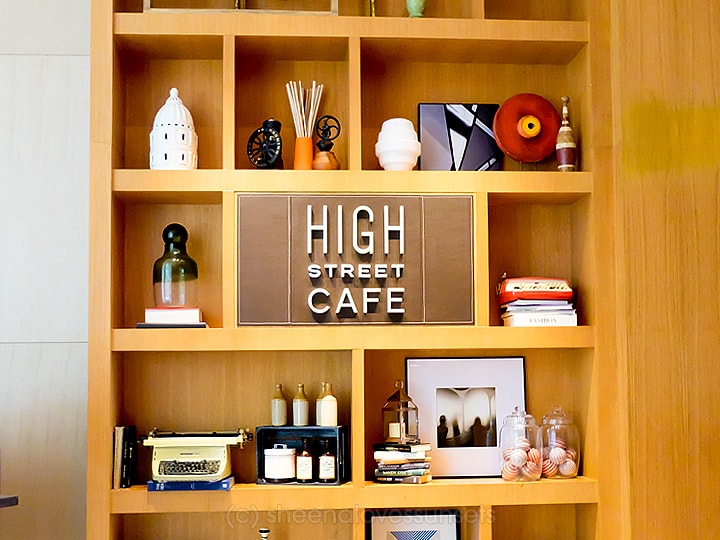 And you wouldn't wanna miss breakfast here! The variety of food at High Street Cafe was unbelievable. There are 9 uniquely designed live kitchens. The cuisines offered range from Continental, Mediterranean, Japanese, Chinese and South East Asian!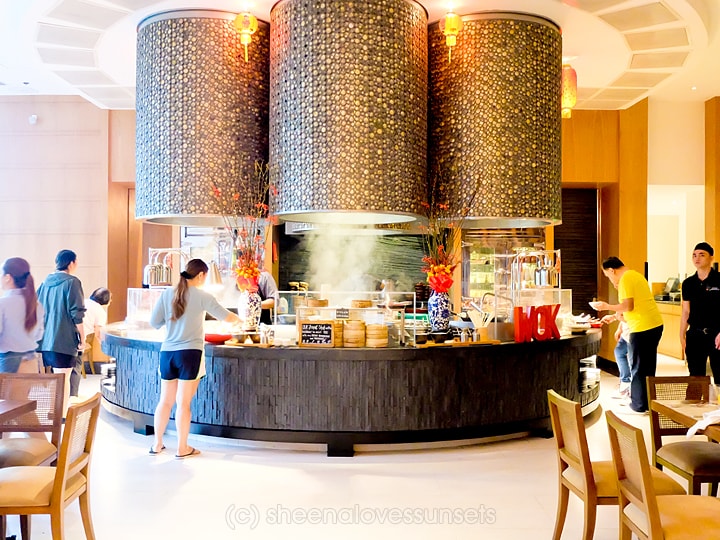 I was so overwhelmed when I arrived. I didn't know where to go first. Added pressure when a staff member said last call was in 30 minutes! Haha!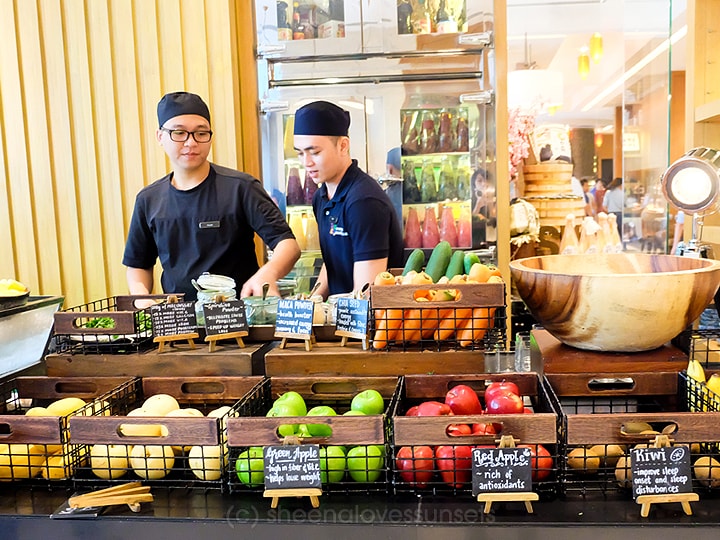 This is one of my favorite sections because it makes me feel less guilty about pigging out. Heehee.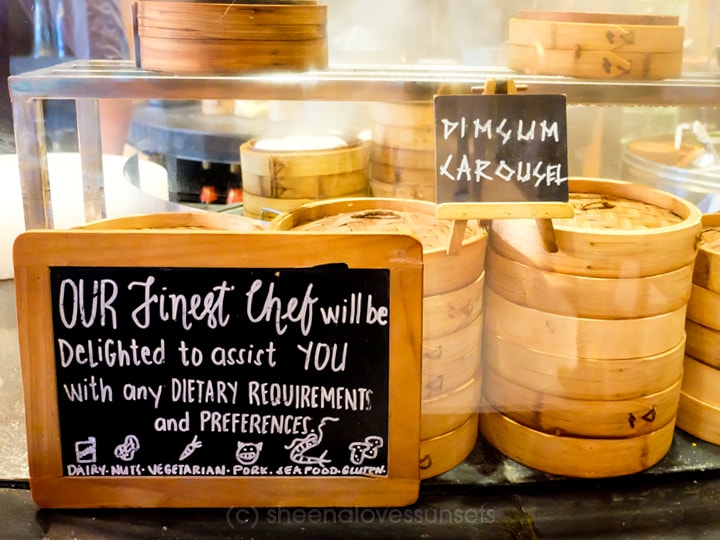 Vegetarian? Vegan? Need your food to be gluten-free? They have everything.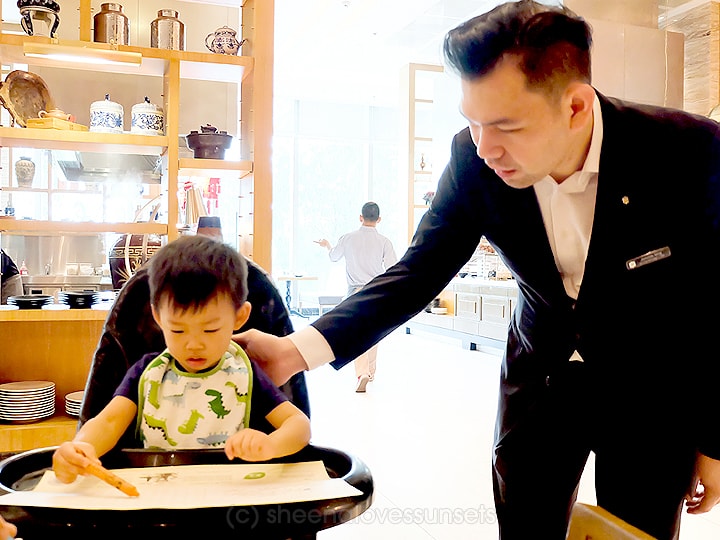 Luke really got the royal treatment here too! Sitting on his black leather high chair, he was personally assisted by the manager who gave him coloring materials. (He got super shy, which is why his face is this way in the photo hehe)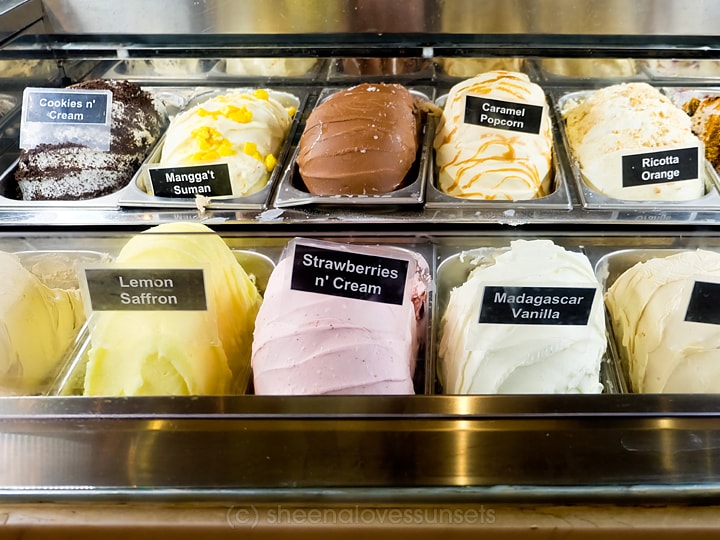 And yes, I had ice cream for breakfast. Three scoops at that, too. Tip: You have to try the Burnt Rice flavor! Ok, we have to stop stuffing our face with food!!
Pool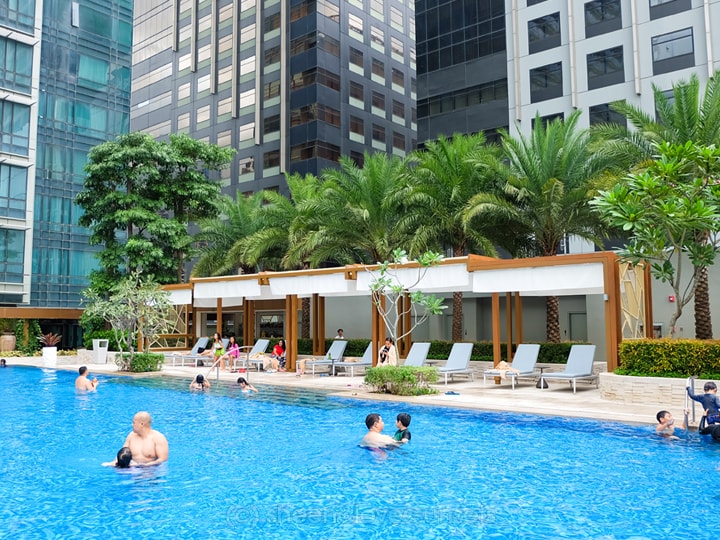 Because we were so busy the day before with Adventure Zone, this morning's agenda was just to enjoy the outdoor air. So we decided to go for a swim before checking out!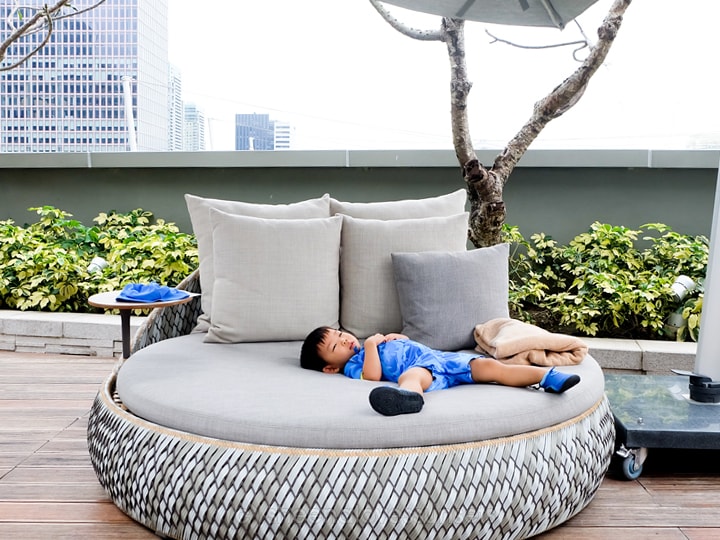 Just chillin' by the poolside. Having the best time!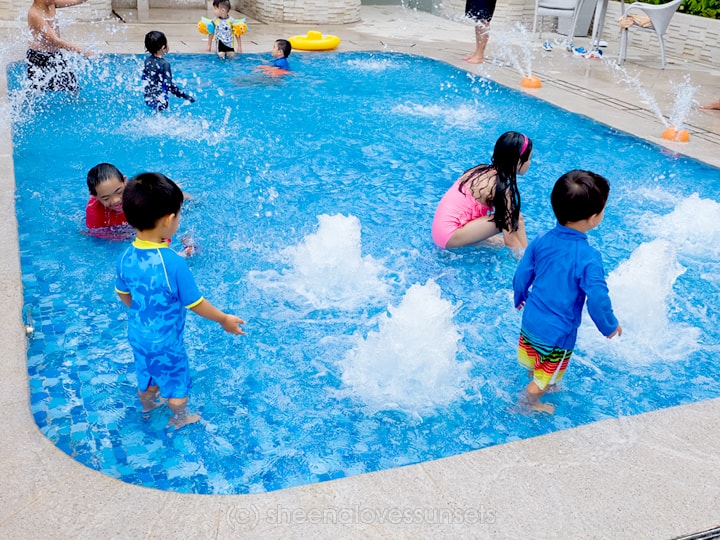 But of course, this active little boy couldn't just lounge around all day. Within minutes, he was up and about, having fun at this wading pool with the other kids!
Samba
By 1pm, we were still so full from our very heavy breakfast but figured that we really had to have lunch already so as not to mess up Luke's body clock. We are back to stuffing our faces with food! Haha.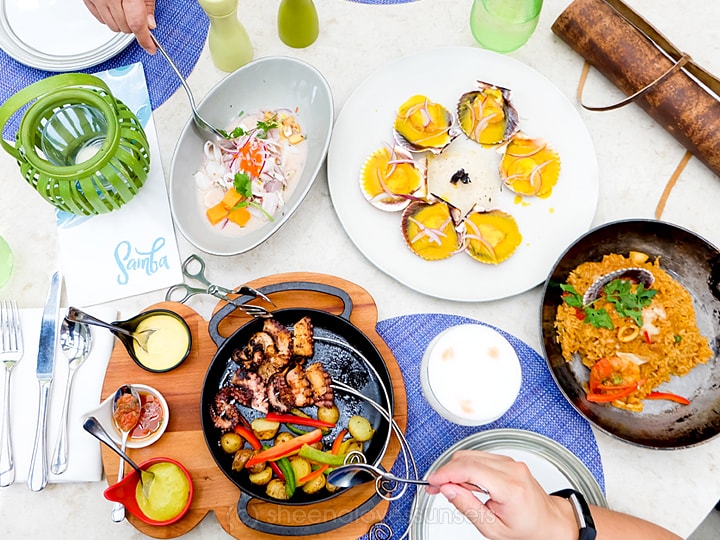 The perfect ending to our staycation was having late lunch at Samba: Shangri-La at the Fort's Peruvian restaurant. I don't always go out of my way to review restaurants unless I absolutely loved it, but I have extensively raved about my experience at Samba here.
Yes, it's that good. So good that it's currently my favorite restaurant in Manila.
Overall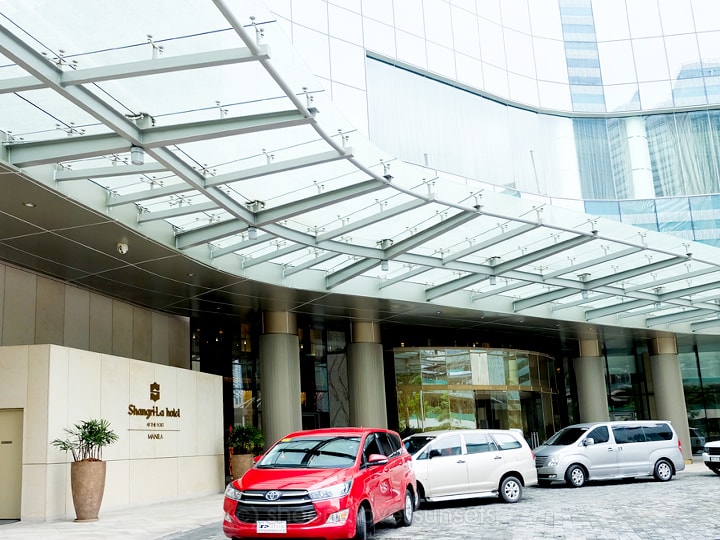 As I mentioned, when you stay in a Shangri-La, you are really spoiled when it comes to service. The people were all extremely helpful (but not overbearing) and the extra little touches are pleasant surprises.
The room was simple but that's okay because the highlight of this hotel is really its facilities.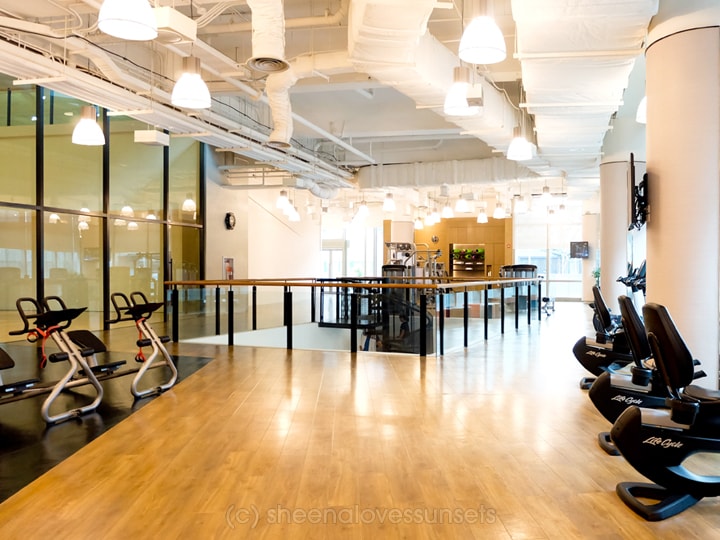 I didn't even touch Kerry Sports in this review because I'm not a fitness buff and we hardly spent time there (we just passed through the gym, hehe!) But this, the pool, Adventure Zone, the restaurants and everything else combined, make Shangri-La Fort a destination in itself. 
Highly recommended for a family staycation especially if you have young kids!
(NOTE: THIS POST IS ABOUT OUR EXPERIENCE LAST JANUARY 2017)