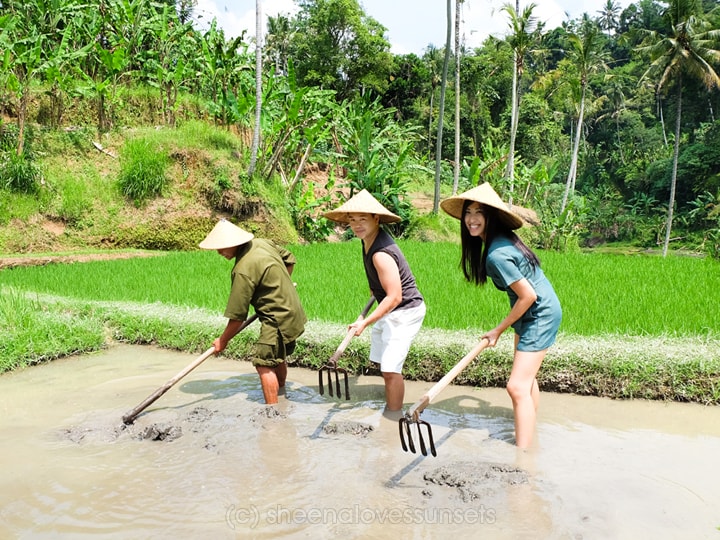 We were spoiled crazy on our trip to Bali. (More on that soon!) But on one particular morning, we decided to "rough it up" by joining an excursion prepared for us by The Four Seasons Resort Bali at Sayan where we got to experience life as a Balinese farmer.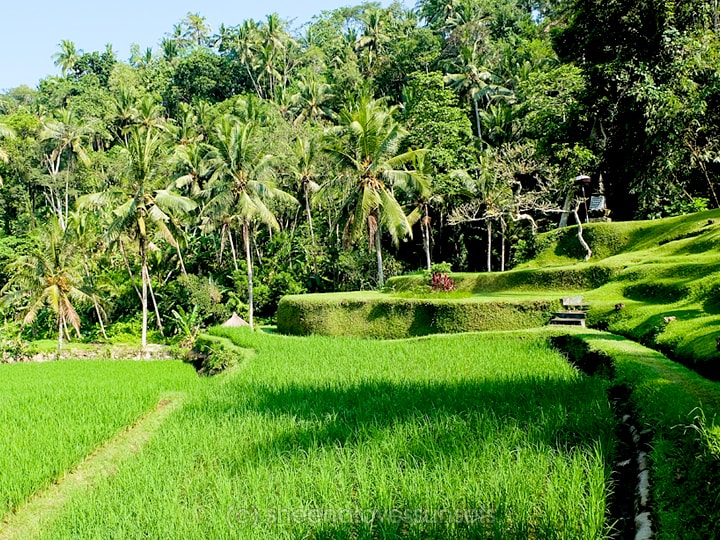 There are rice fields and lush forests right inside The Four Seasons property and so it really was the perfect setting! You can choose from a half-day or a full-day activity. We got the half-day one.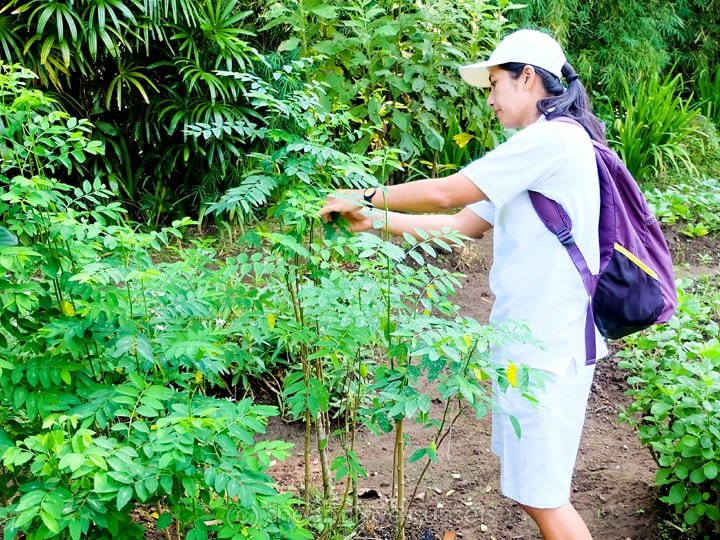 We were met by our guide Sari who, upon seeing us in our sneakers, offered to let us borrow hiking shoes. Oops. I thought the "trek" in our itinerary was just a simple walk but apparently, we were up for a real trek! Haha!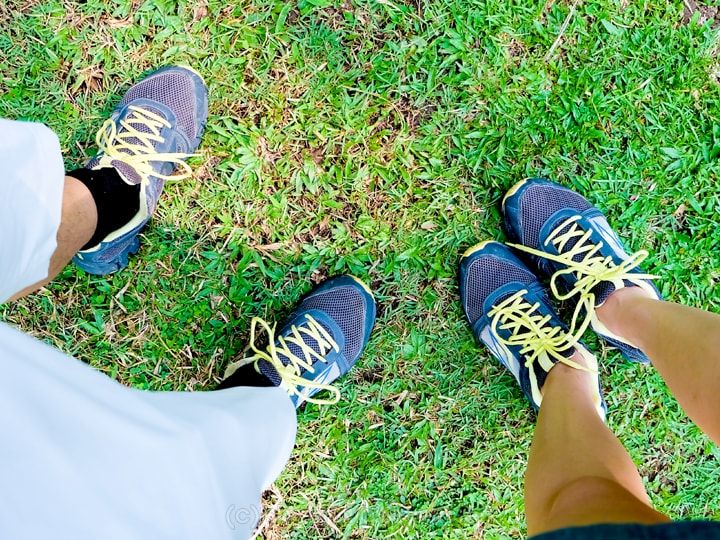 What a very thoughtful surprise that they had extra shoes for us to use and that they had it in our sizes! (We had matching pairs too!)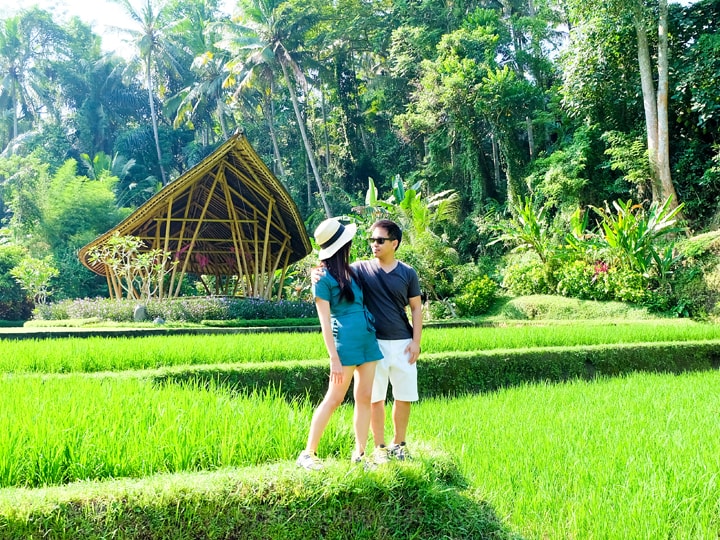 We pass through the rice fields, snapped a few shots (thanks, Sari!) and off we went!
Trekking in the Jungle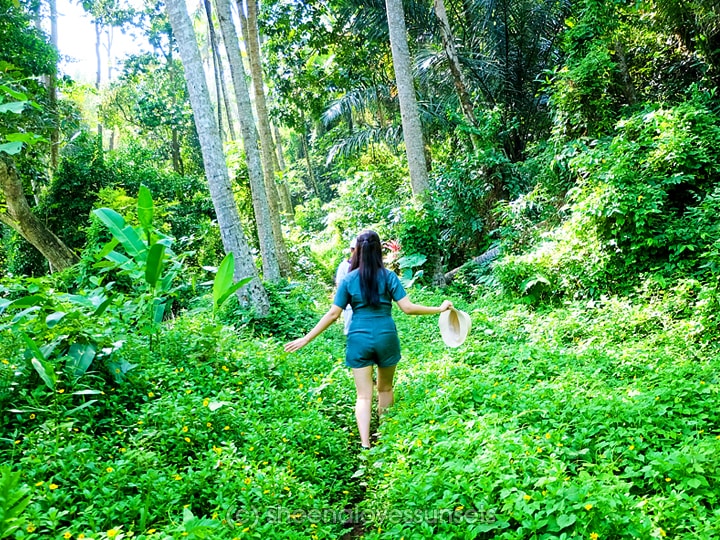 Our activity began with a trek around the forest. Our guide said that just as the farmers had to walk a long way from their homes to the rice fields, so we too also had to do the same!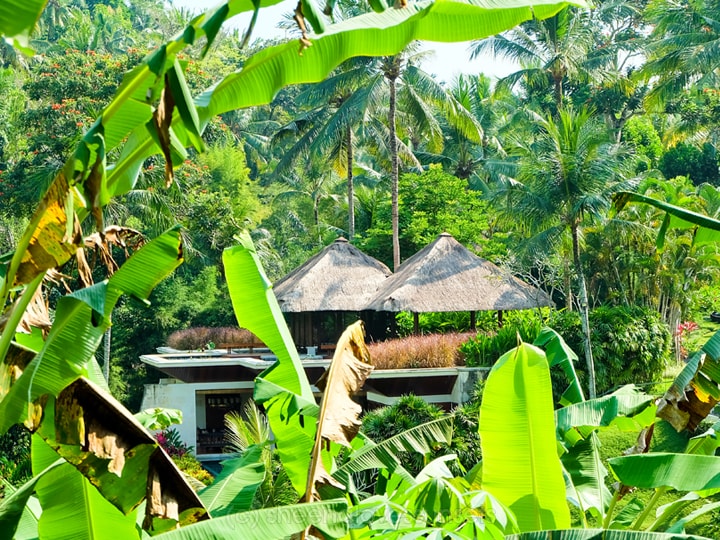 We started walking along the gardens, learning about the different plants and herbs they grow in-house. Later on, we slowly hiked up the forest areas surrounding the resort. Before we knew it, we were out of The Four Seasons property and were already passing through a local village in Sayan.
Visiting Local Village Houses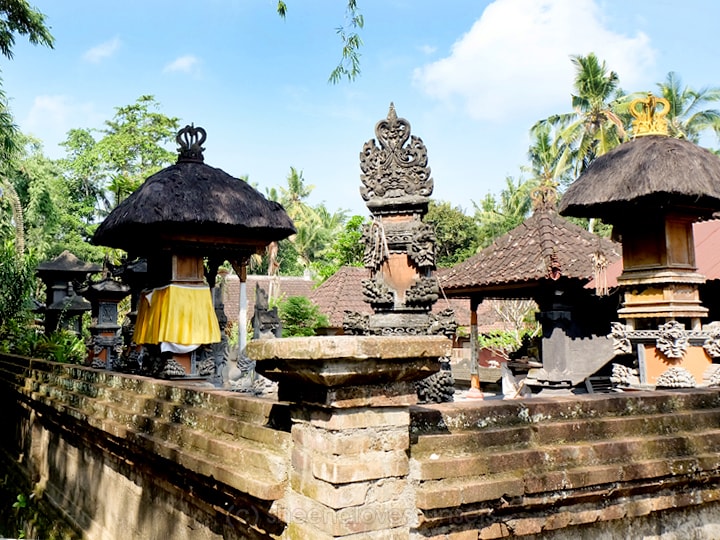 Sari took us around the local village and let us in on some of the family compounds. A lot of the families here live together and share common areas and responsibilities.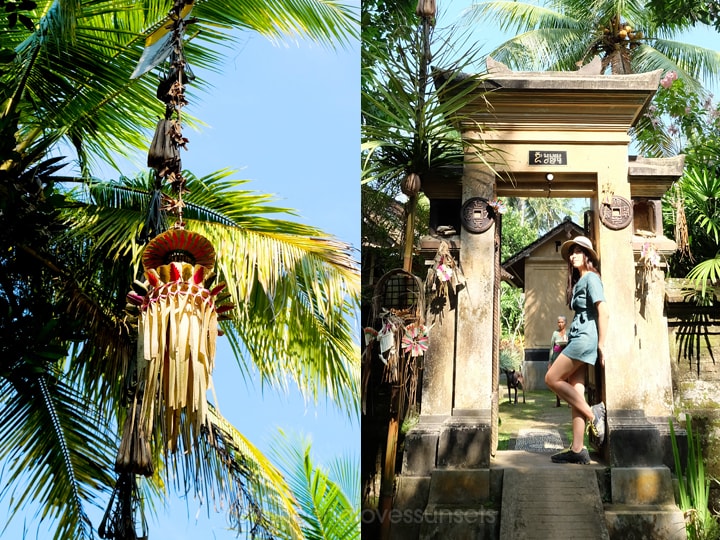 I was posing by the entrance of their door not realizing that grandma was just behind me. Haha.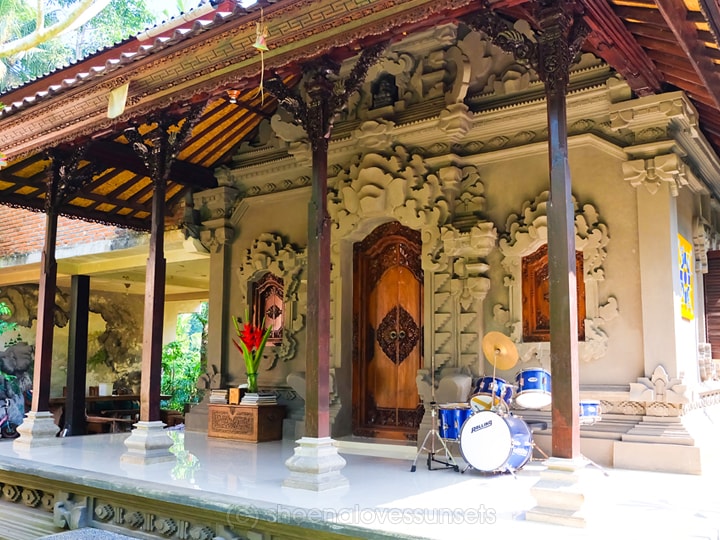 It's so amazing to learn that these are actual homes of real families! The exterior of their houses have such intricate designs, you'd think they were traditional royal houses.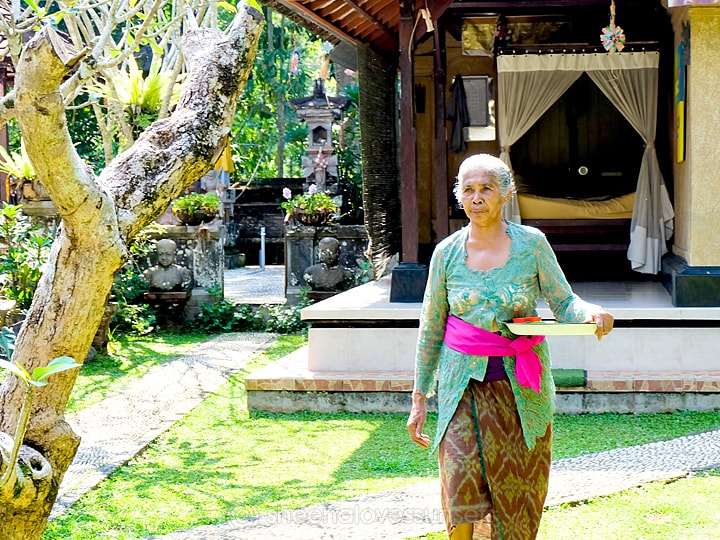 We were able to meet grandma, who is fondly called Dadong. One of her sons works at The Four Seasons Sayan!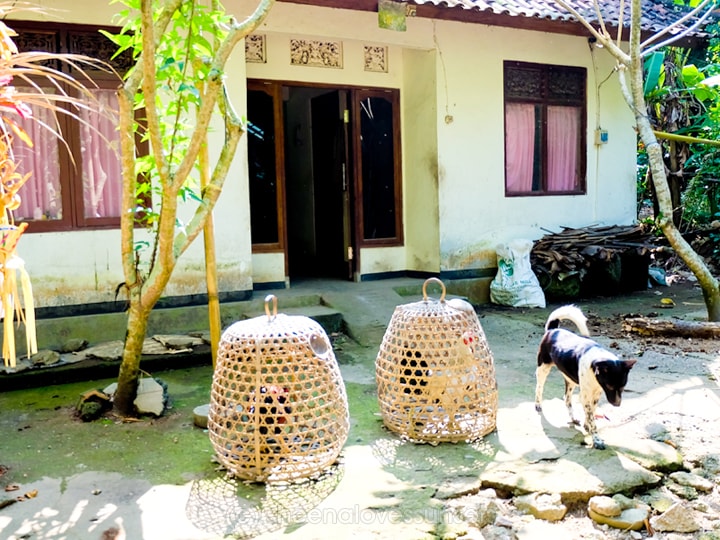 We pass by a few more houses and ended up meeting a lot of barking dogs that freaked me out a little. Also on the picture are roosters that they keep for cockfighting. Reminds me of the Philippines!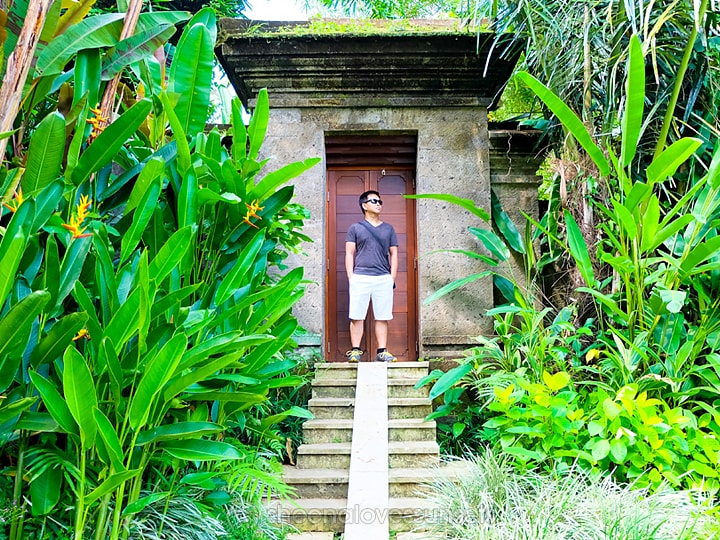 After a while, we passed through the gates of Narnia (haha) and eventually made our way back to the resort.
Breakfast by the River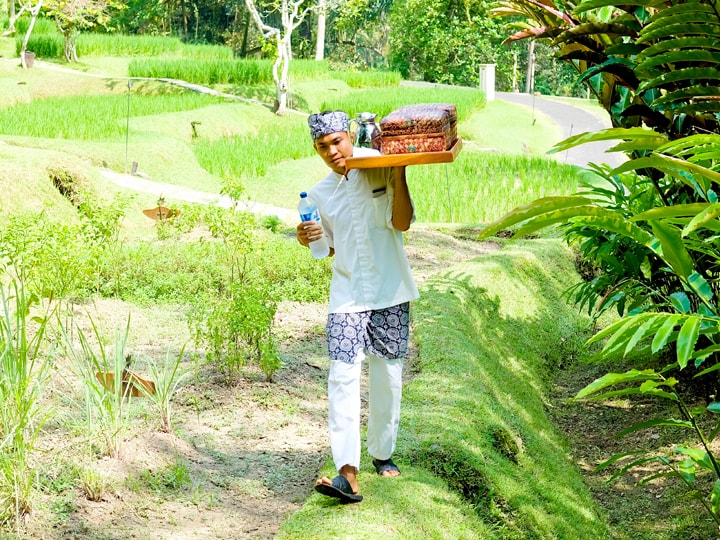 After all the walking, we were famished. It was time to have breakfast. But it wasn't just any breakfast…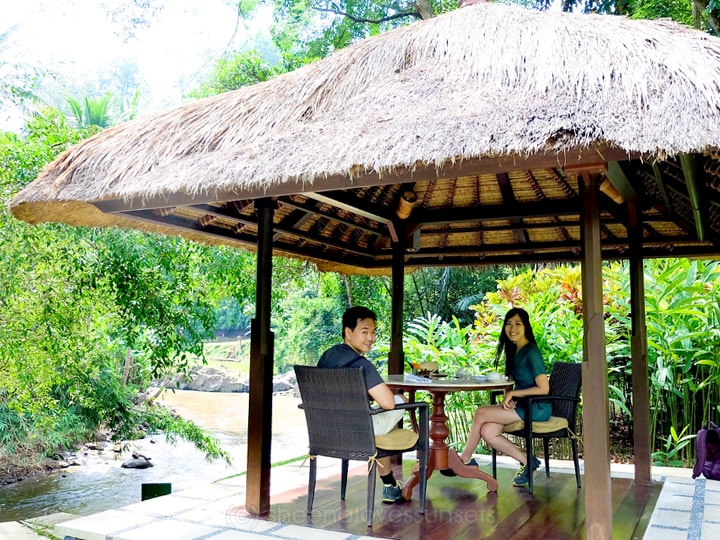 We were treated to a private bale by the riverside overlooking the Ayung River.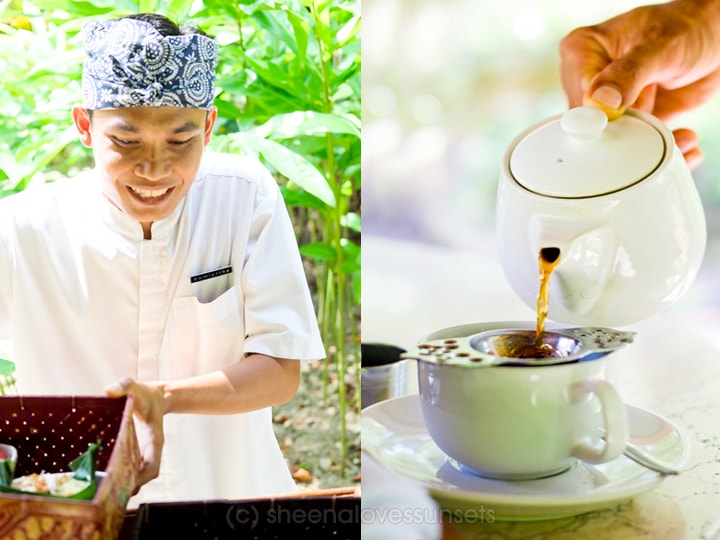 Our server carefully prepared the set up, complete with fruit juices and of course, coffee and tea.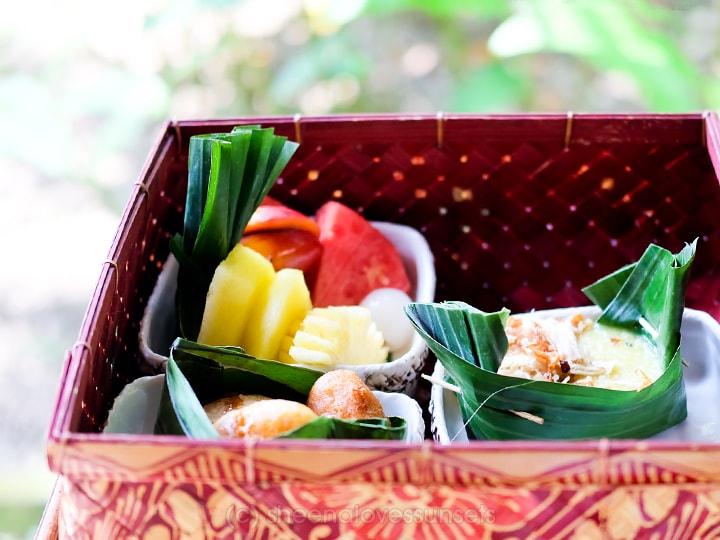 We had a traditional breakfast of Nasi Campur, a typical Balinese farmer's meal, which is a mix of a variety of dishes in small portions. We had fresh fruits, Indonesian rice porridge and crispy fried bananas with cinnamon scented palm sugar syrup. Yum!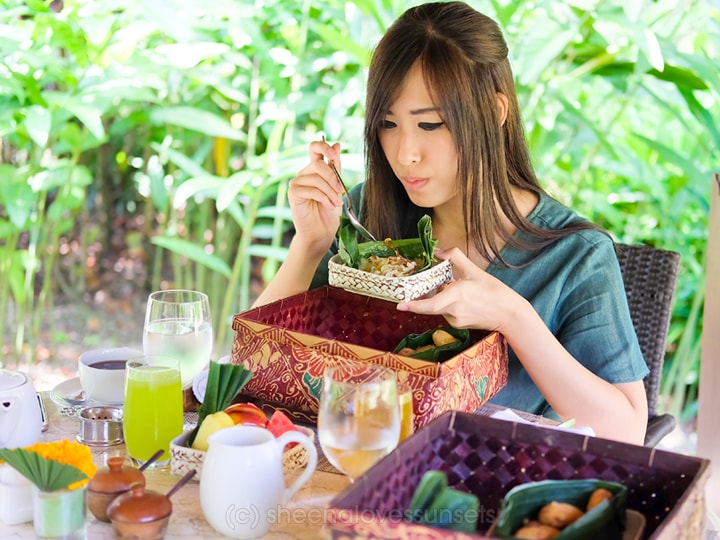 The rice porridge was my favorite! It's made with shredded fish, crispy shallots, spring onion, vegetables and tofu!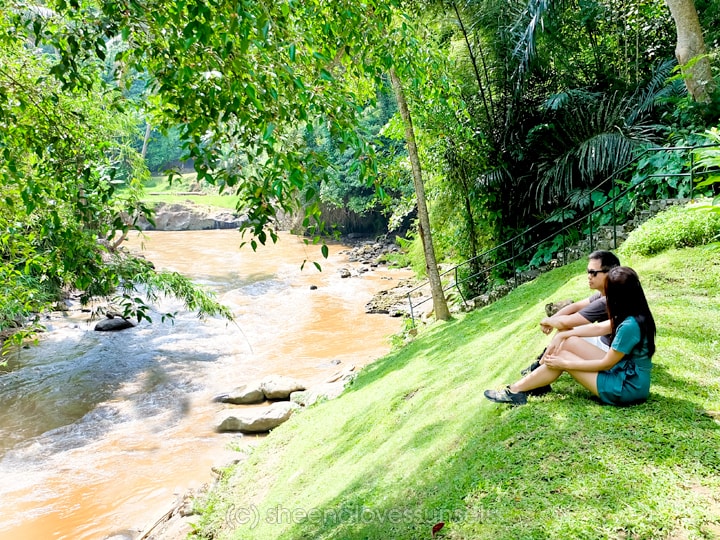 We sat down and enjoyed our beautiful view of the Ayung River as we waited for Sari to come back and pick us up.
Let the Rice Planting Begin!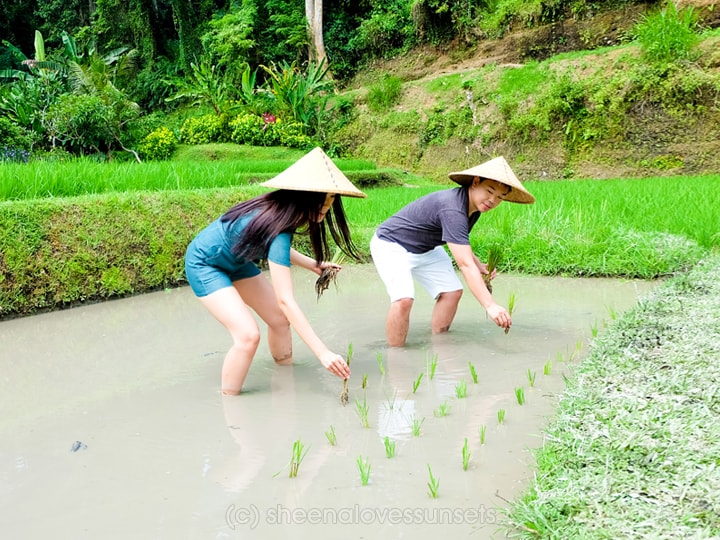 Okay, so we've trekked, toured and eaten. I think it's about time we start being real farmers, right?! So let's get to work!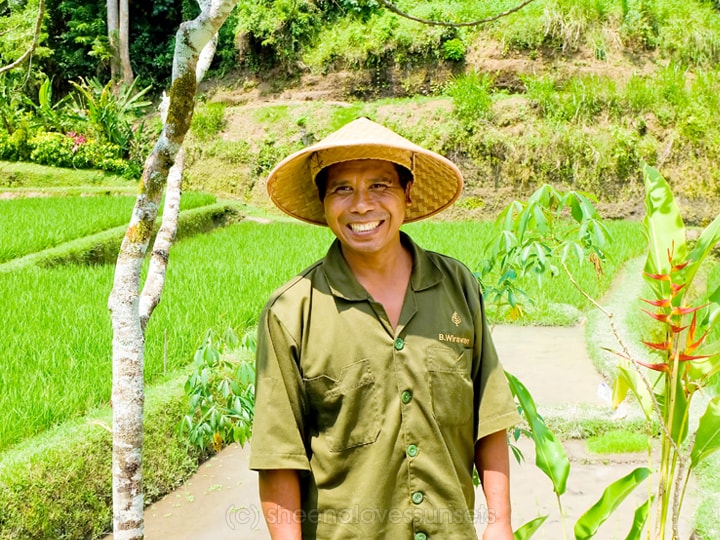 Meet our very cheerful farmer, Mr. Wirawan! I love his happy smile and very positive attitude!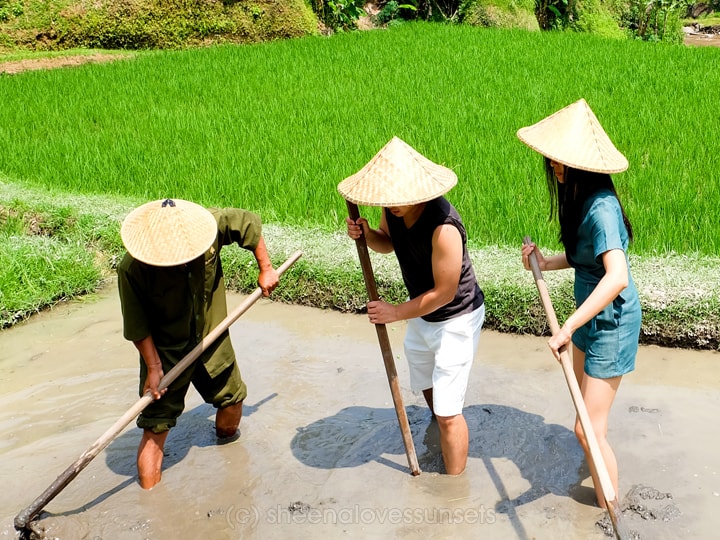 Time to get our hands, and most especially our feet, dirty. Plunging into the warm muddy waters, Mr. Wirawan taught us how to use the different tools to cultivate the land and prepare it well enough for planting.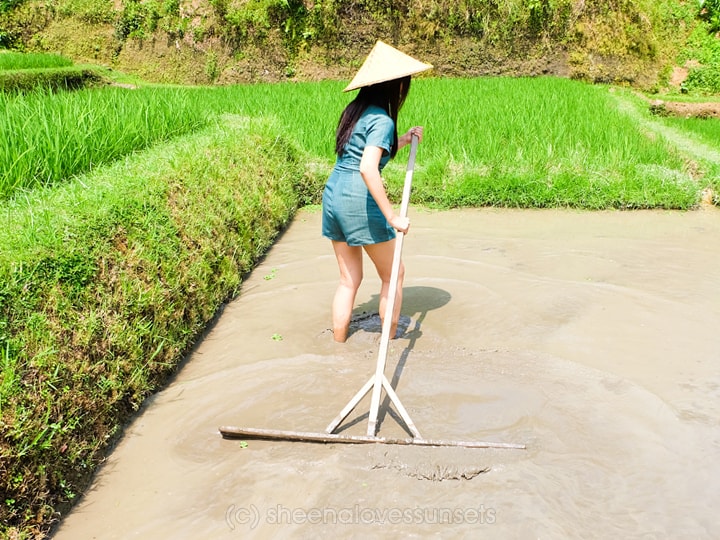 He really made me work! Haha! It's not that easy, but I can't complain! We're only doing this for a small piece of land (and for only an hour or so) whereas real farmers had to do this to acres of land each day!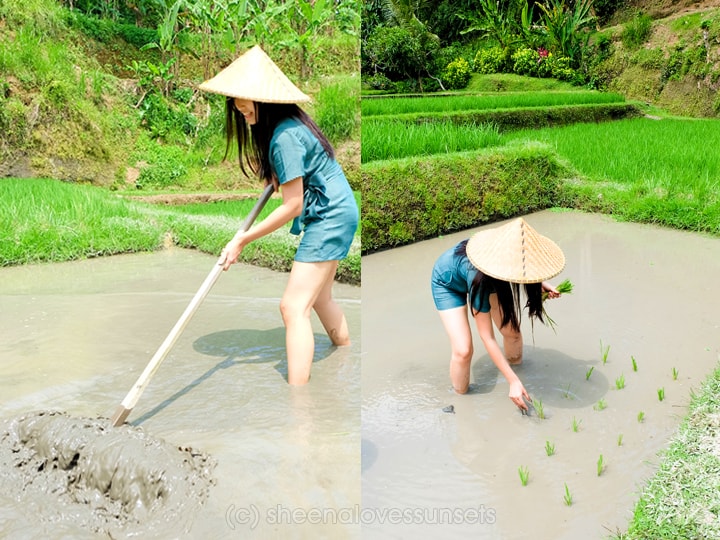 The scorching sun was intense but this city girl is definitely enjoying being a farmer for a day! This activity gave me a glimpse of the hard work that goes into our food. Newfound respect for farmers!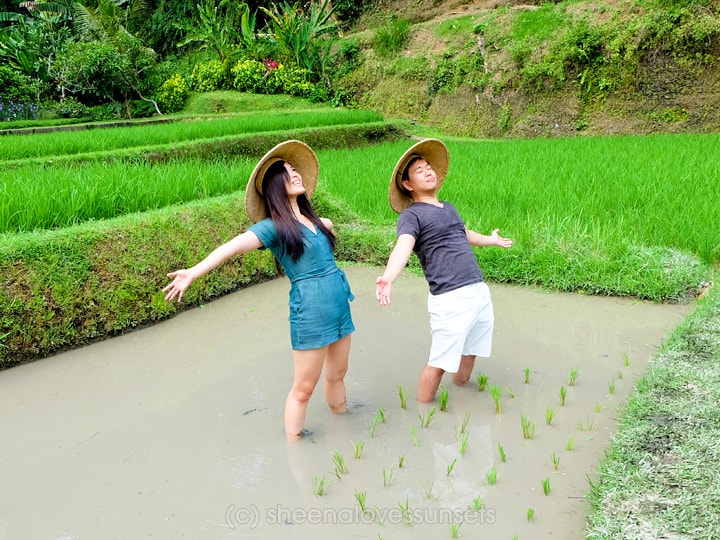 We did it! Now it's time to pray to God for a good harvest! Hehe.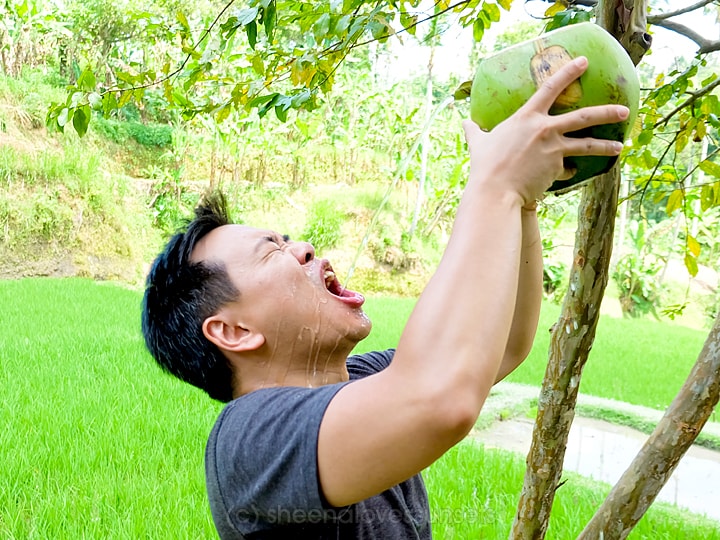 Just as farmers usually reward themselves with a refreshing drink from a coconut, we also did the same! Mr. Wirawan said that this was the way to drink coconut juice, so we followed suit! We were just laughing at each other the entire time! (Don't worry, I have permission from my husband to post this photo hahaha!)
Now it's time to relax!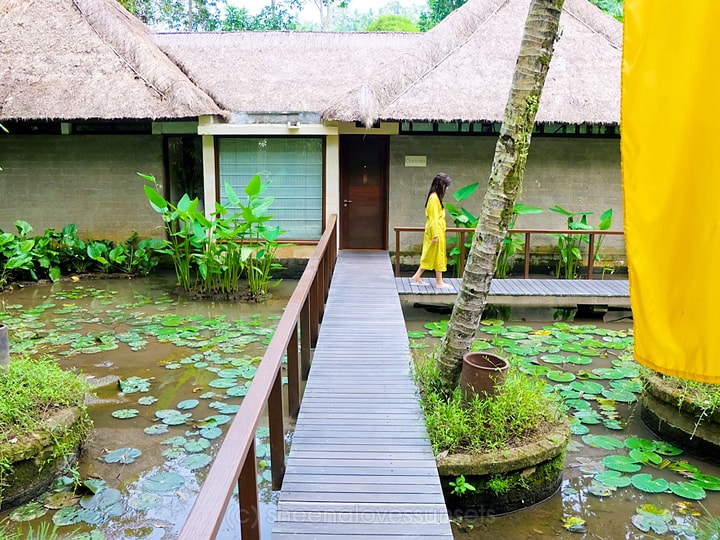 After a hard day's work, it was time to relax. Okay, so farmers don't really have spa treatments at The Sacred River Spa everyday after work but we're spoiled, make-believe farmers anyway so… there. Haha.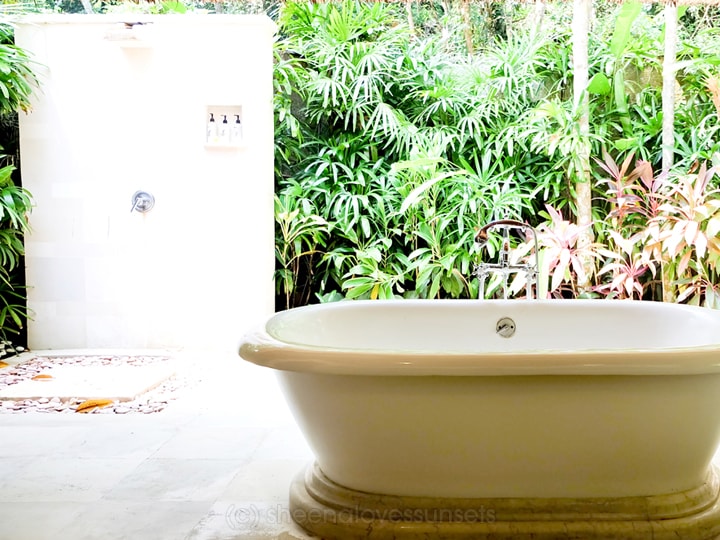 Mor and I both had a traditional Balinese massage. To be honest, I don't really get massages because I'm super ticklish (a massage session can be torture for me haha!) but I was so curious about this one so I didn't back out from it! And I'm glad I didn't!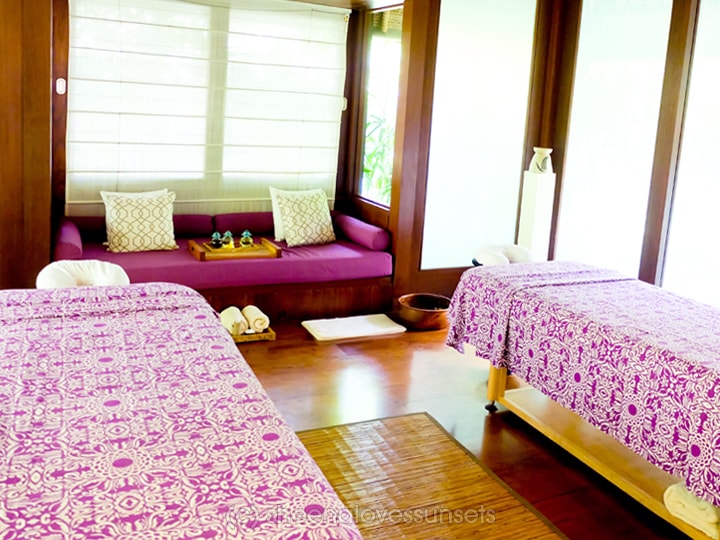 We were given the massage inside one of the gorgeous spa villas. Aaaah…
Final surprise!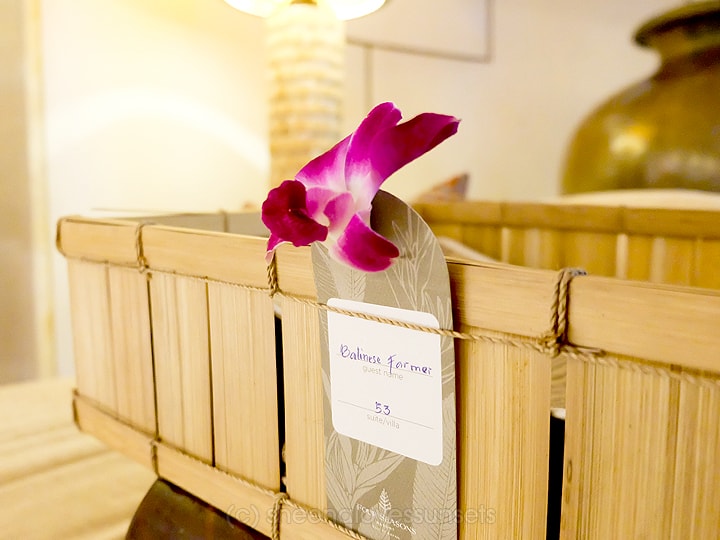 Before we had our spa treatment, the staff asked us to put all our dirty clothes from the morning's activities into a laundry bag. After our treatment, we were surprised with a box of our clothes already cleaned and pressed! How awesome is that?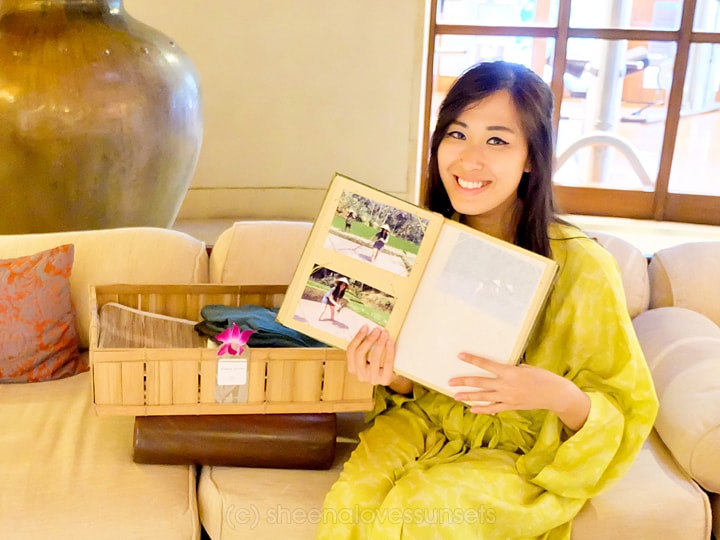 They also gave us a book of our photos taken during the farming activity and a certificate that says we are now certified Balinese farmers! Haha! So cute, right? The little touches are so thoughtful. Thank you, Four Seasons for such a memorable experience!
—
Will be writing more about out Bali trip soon, including a review of our stay at The Four Seasons Resort Bali at Sayan (which is undoubtedly one of the best resorts we've ever stayed in so far!) so keep an eye out!
(NOTE: THIS POST IS ABOUT OUR EXPERIENCE LAST APRIL 2017.)