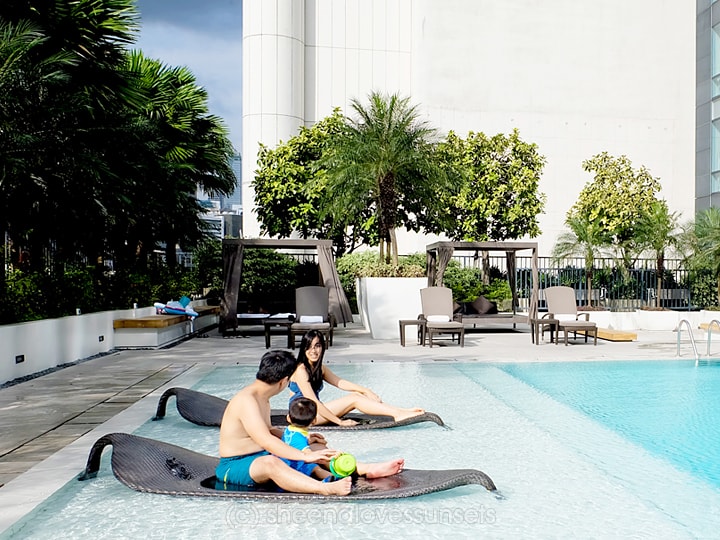 As you can probably tell by now, we're pretty obsessed with staycations. If you ask Luke, he'd tell you that he absolutely loves hotels; or as he would say, "HO-TEH!"
We spent a weekend over at Fairmont Makati and took this opportunity to also explore the city.
Fairmont Makati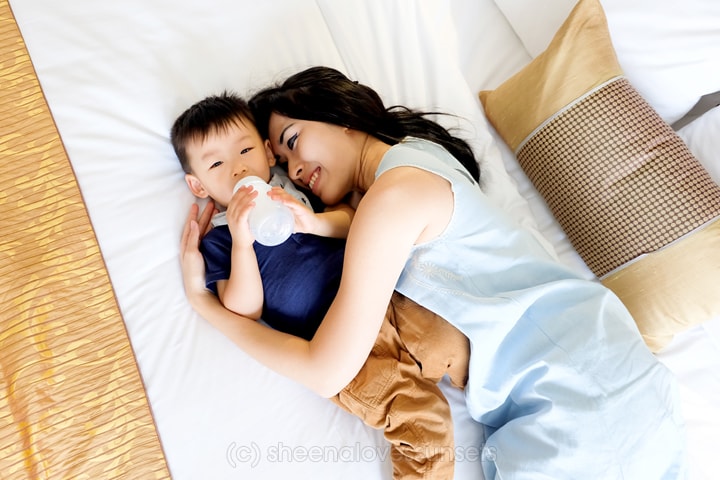 Hello, big and fluffy bed; perfect for cuddling! The room we stayed at was called a Fairmont King NS, which was pretty spacious and had a great view.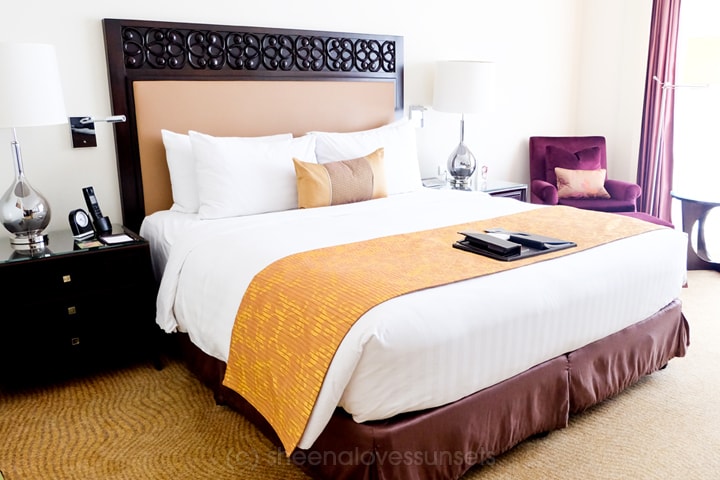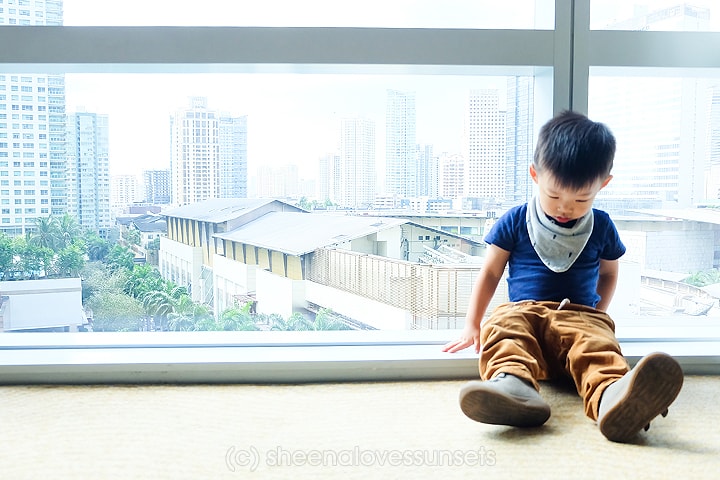 But the main reason why Luke loves hotels is because this is his only chance to have bubble baths! So definitely, the first order of business was to check out the tub. Haha.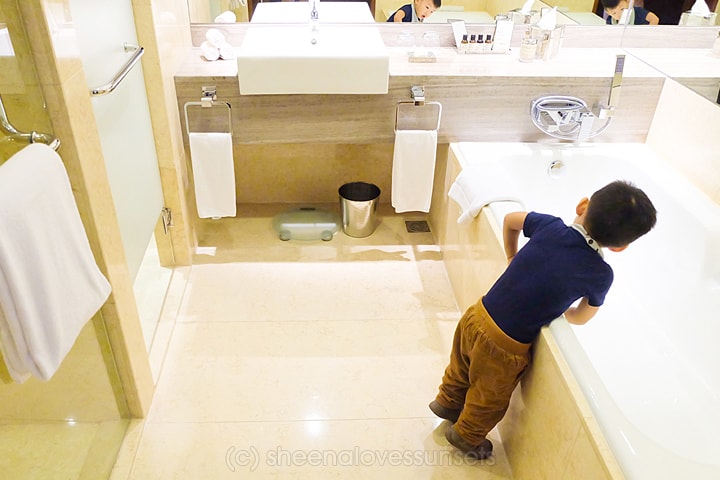 If you saw my Instagram stories during that day, you'll see Luke running inside shouting "BUBBLE BATH!" upon entering the room!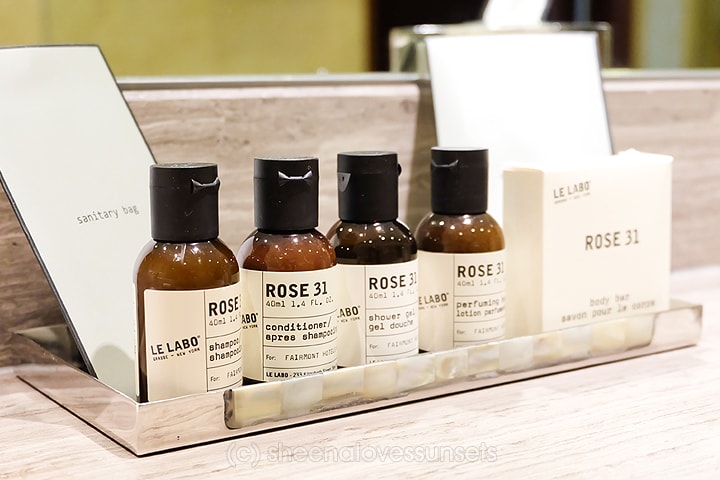 As for me, one of my simple joys is seeing beautifully designed hotel amenities. Haha. #designerlife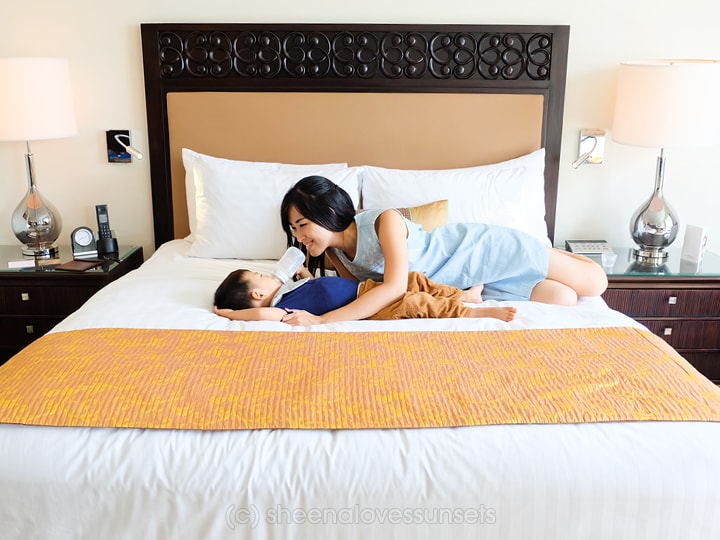 Ok, back to the room. I love the simple decor with warm accents. It felt very homey and we loved it! Luke felt right at home, as you can see!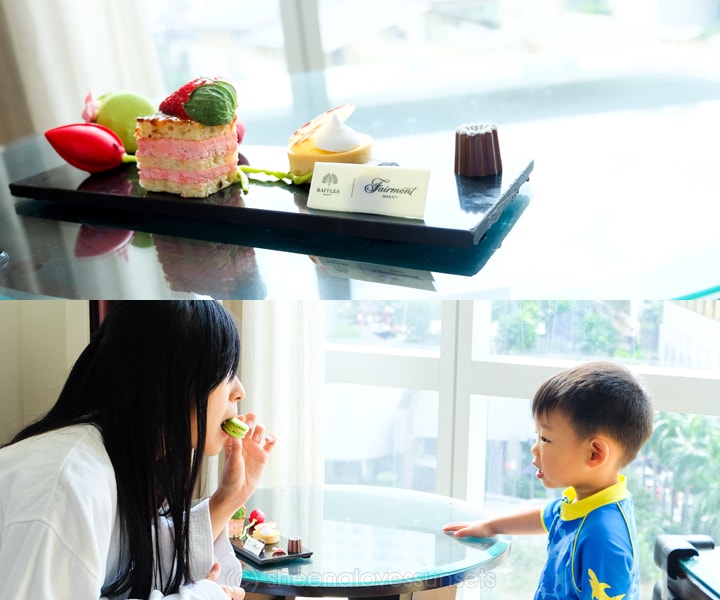 A few minutes later, we received a sweet surprise! Thank you to the Fairmont staff for these yummy treats! We decided to munch on them before heading to the pool!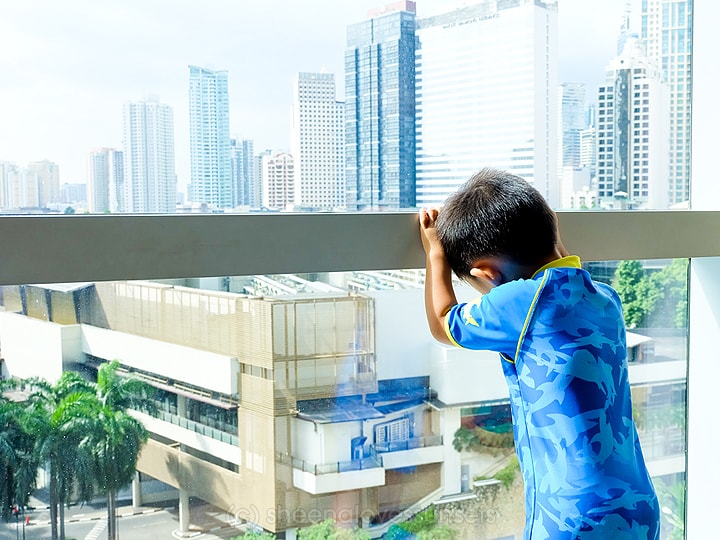 Mommy, please I just want to swim. Stop taking photos already. Hahaha. Ok bunny.
Pool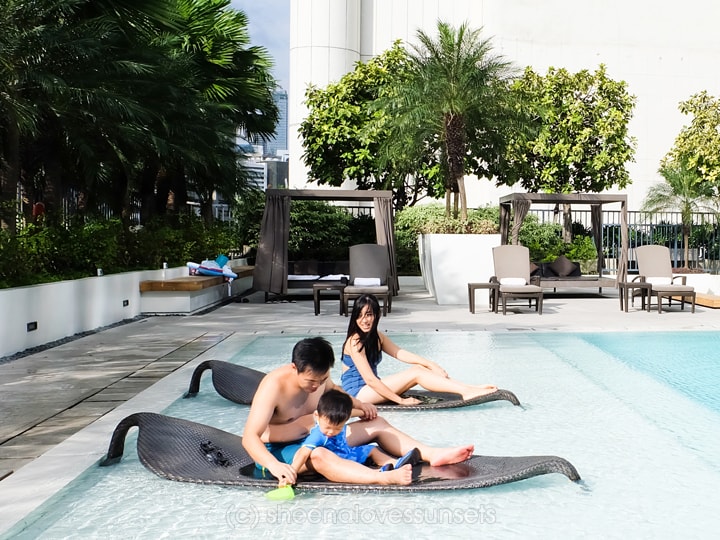 When you're traveling with kids, you know the pool is a must-visit so this was definitely top priority!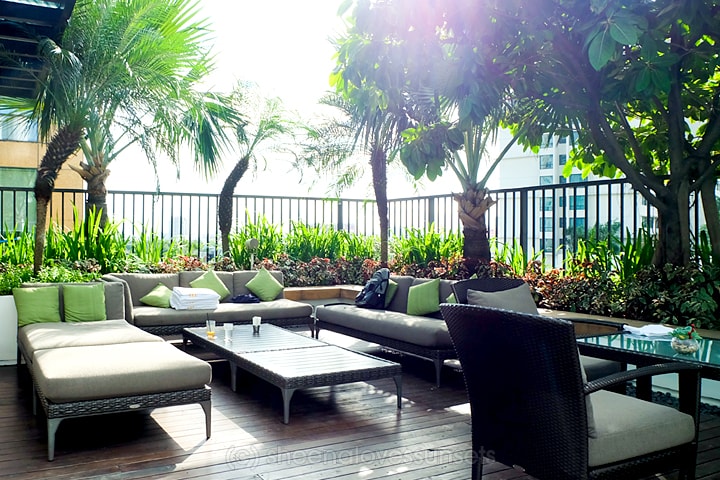 I couldn't decide where to sit at first because there were so many beautiful areas to lounge in. Like this one at the corner!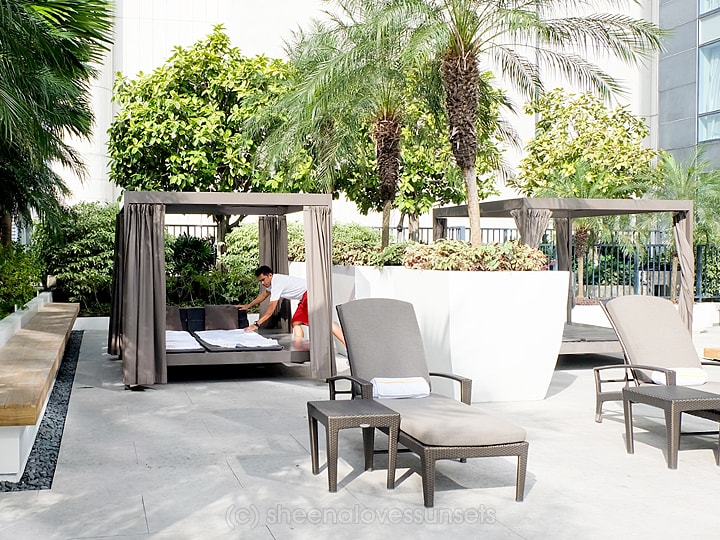 Eventually settled for this cabana because, well, look at it!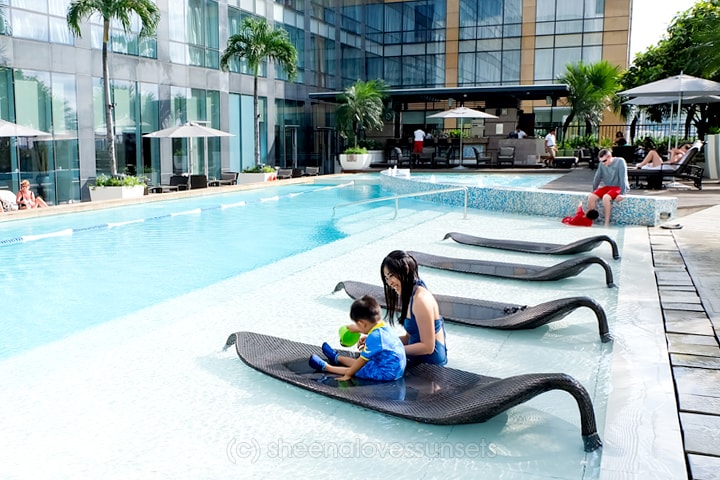 Luke loved these leaf-shaped chairs. He called it his "row row boat" and pretended to paddle.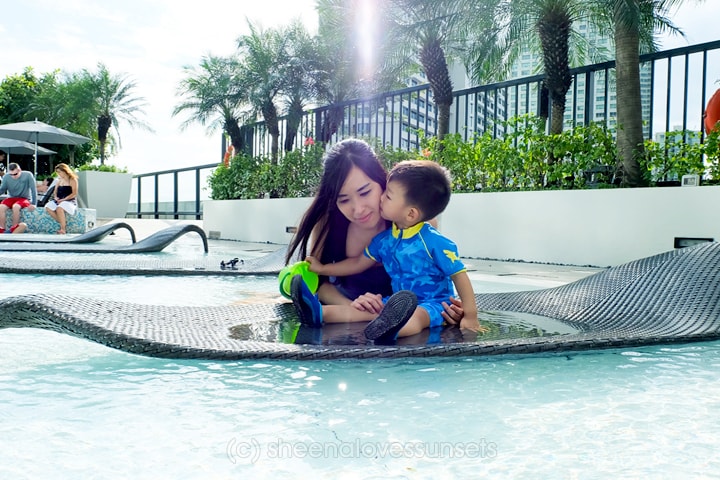 He was so happy, he kept giving me kisses (very unusual for him) and I was happy to take advantage! Hee.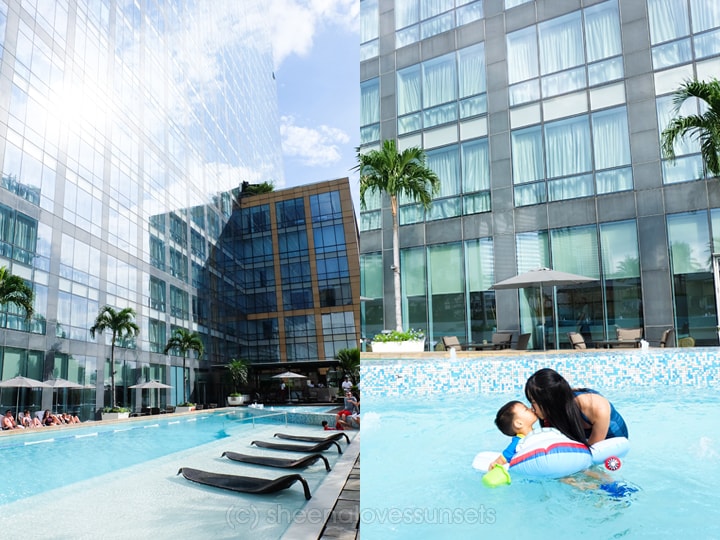 Love how the glass windows reflect the sky. So beautiful!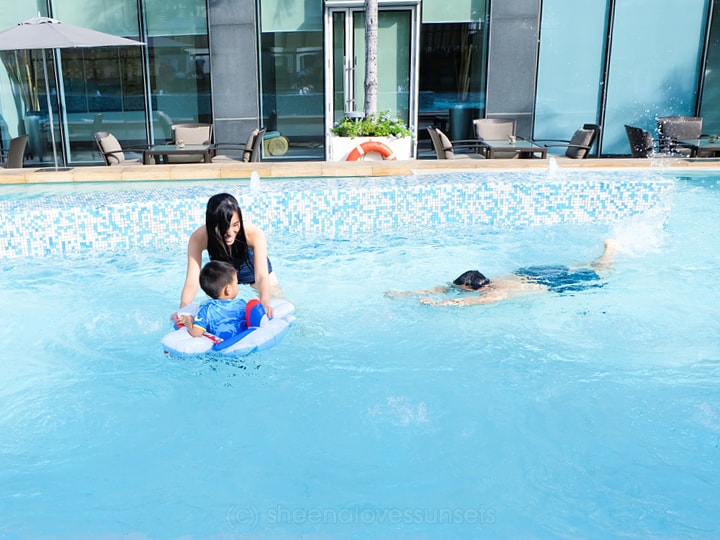 Our favorite pool game where Mor pretends to be a shark. NOT Luke's favorite though; he gets super stressed. Look at his worried glance. Hahaha.
After a good swim, it's chill time. This little boss sure knows how to relax.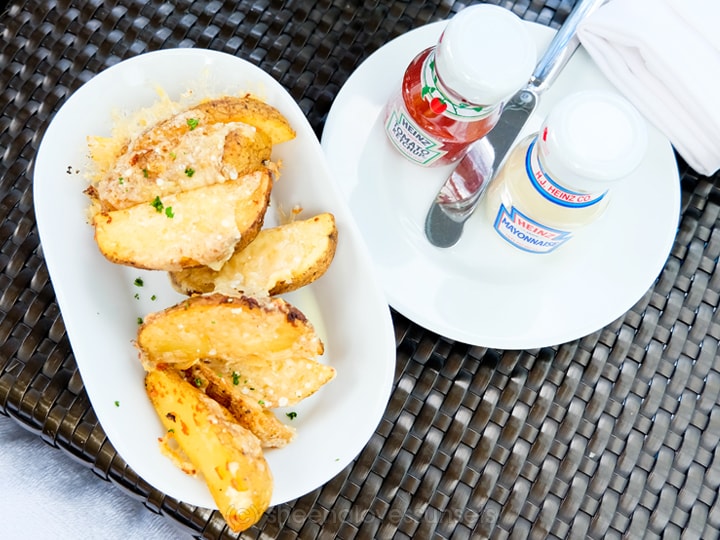 Ordered garlic parmesan potato wedges (I'm a potato person)
After a while, I brought Luke up to the room to rinse and fix up. Mor wanted to stay by the pool so he did. It was only when Luke and I peeked outside our window that we realized we can see Mor from where he was sitting!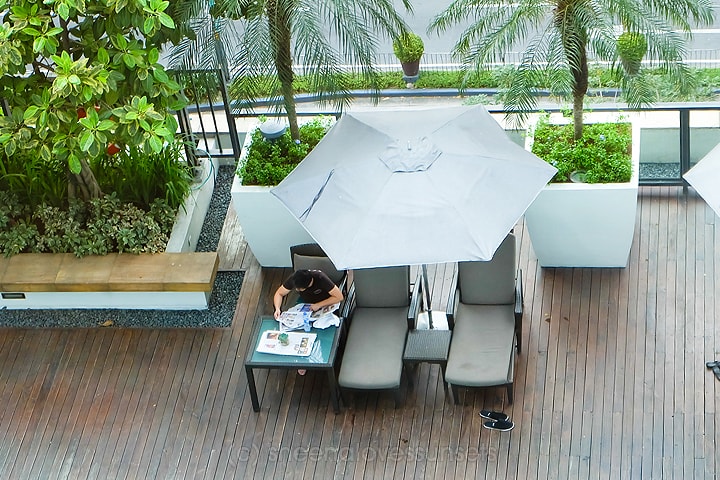 Hello! (He's obviously, super concentrating and enjoying his alone time)
Gym before breakfast?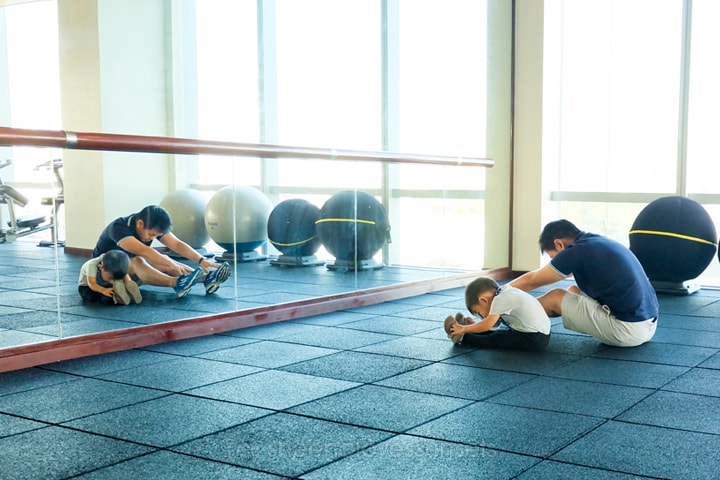 Start em' early; literally! On the way to breakfast, we passed by the gym to check out the place and Luke was so hyped up when he heard the lively music playing. Mor taught him some stretches and dance moves. Haha.
Breakfast at Spectrum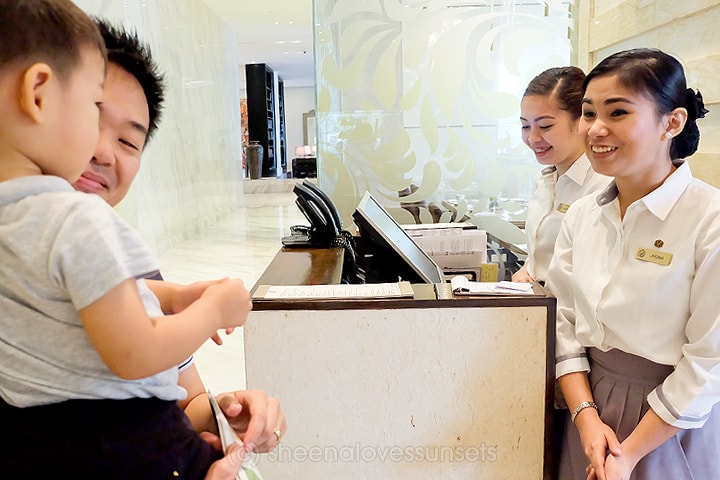 Without biases, Spectrum is one of my favorite buffet restaurants. I've been here a couple of times for dinner but it's my first time to try breakfast.
The staff members were so friendly with Luke! Thank you!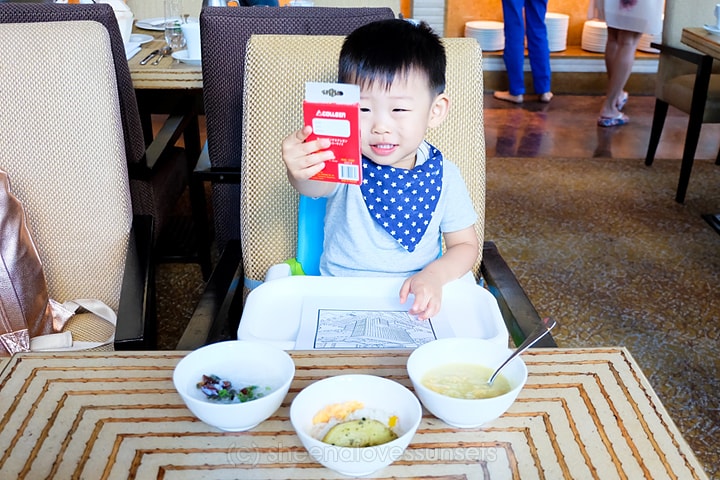 They also gave him coloring materials! Yay! And here he is with some of his favorite food: congee, soup and eggs! Haha.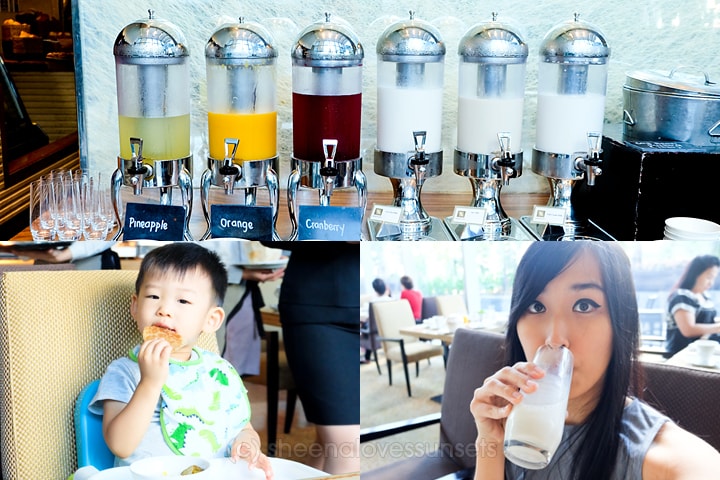 As for me, I absolutely loved the almond milk!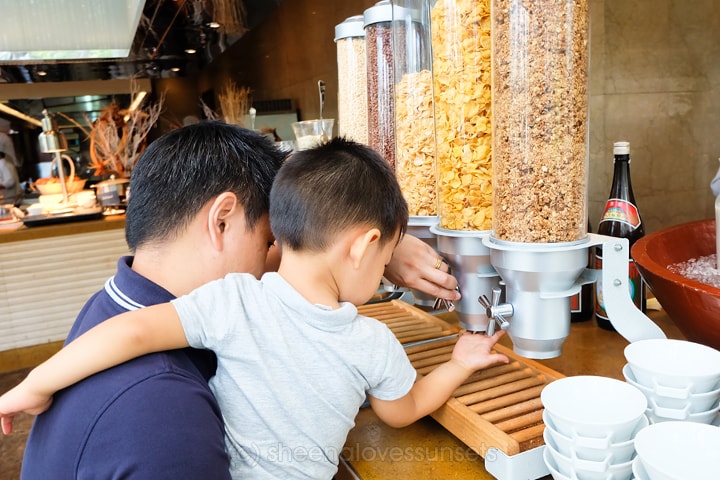 A-ha! Trying to sneak out a few cornflakes! Tsk tsk!
Morning Bubble Bath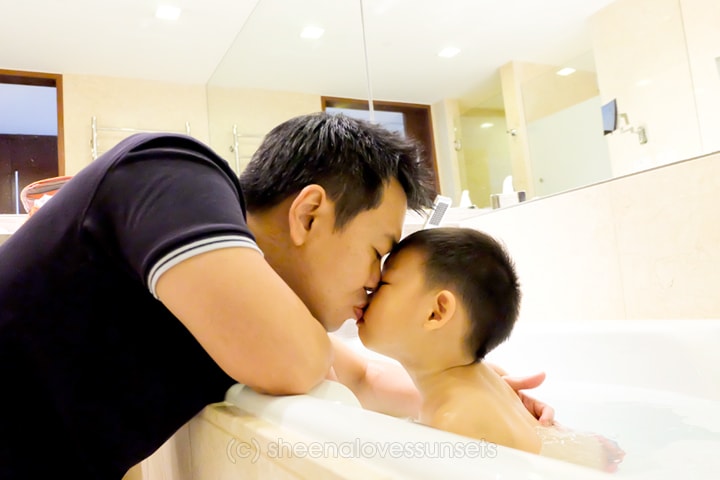 After a very yummy breakfast, it's back to the room we go! We promised a bubble bath so he's getting a bubble bath! He's been looking forward to this since the day before!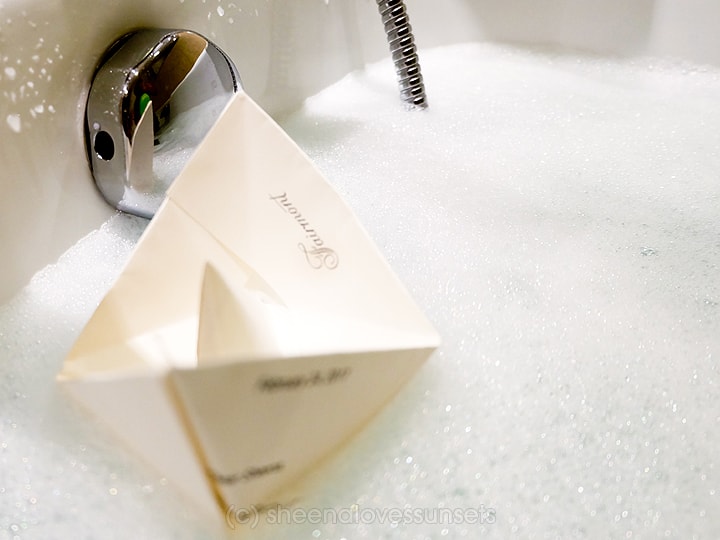 My creative husband used one of those hotel stationery sheets to fold this paper boat. We have a Fairmont paper boat! Hehe.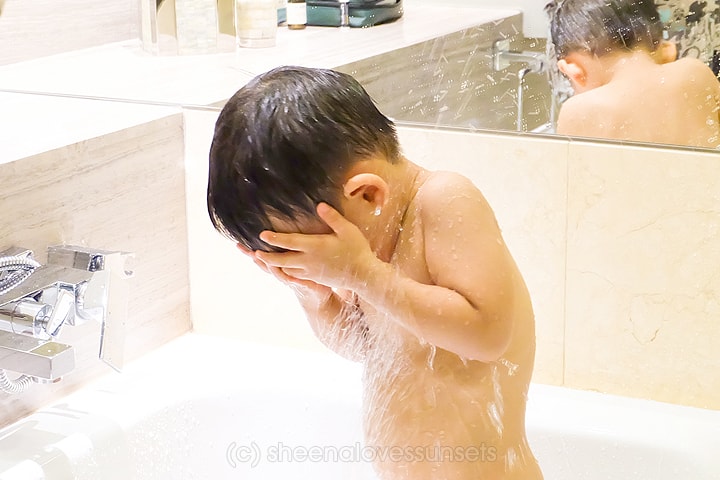 Luke kept on tinkering and turning the knobs on the tub! His yaya calls him "explorer boy!" This is what happened that one time he pushed a wrong button. Haha!
One of the best things about Fairmont: LOCATION!
Fairmont Makati was amazing but if there's one thing I really love about it is its location! It's located just a walk away from some of the best malls in Makati. I love Makati but we live around an hour away so we don't get to go often! This was a treat!
Salcedo Saturday Market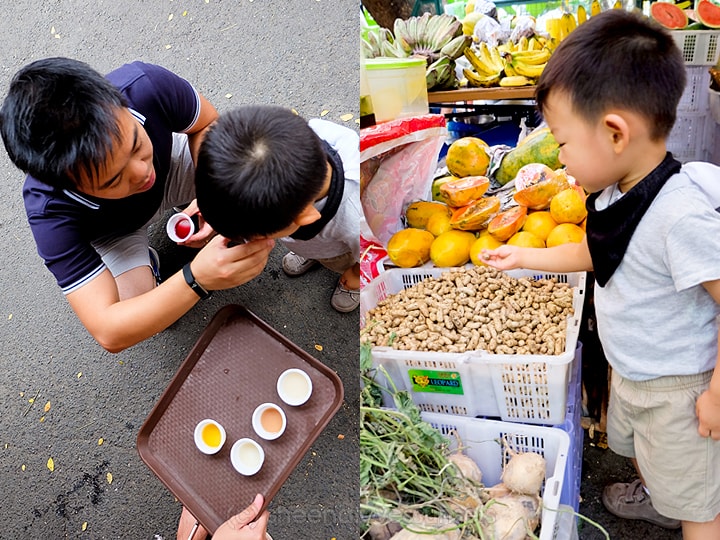 When traffic wasn't as bad yet in Metro Manila (around 5 years ago? Haha!) Mor and I loved going to different markets like this one. So I was so excited to finally go again! It only took us around 5 minutes to get to the market! Amazing!
After a while, Luke got so tired and sleepy so we hurriedly bought food and went back to the hotel so we can put him to bed for his nap. Then we ate our take-away lunches in the dark. Such is parenthood. Haha.
The Great British Festival at BGC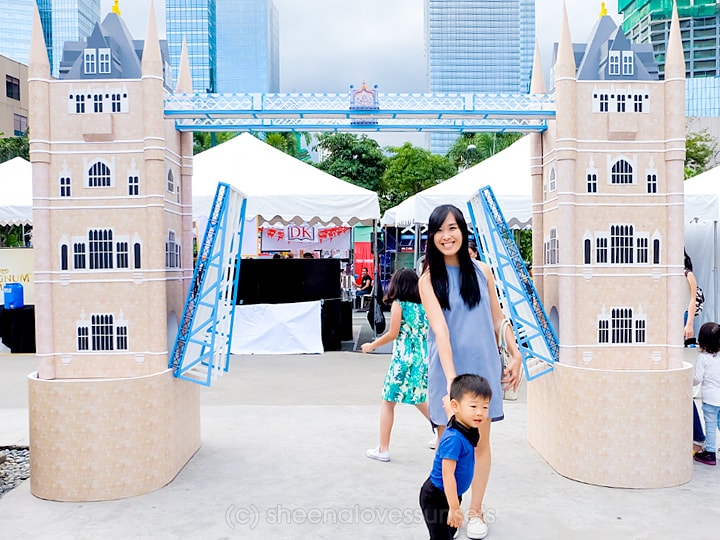 After a late check-out (thank you Fairmont!), we dropped by The Great British Festival happening that weekend at BGC.
If you know me or have been following the blog, you'll know that London is my favorite city in the whole world (I call it my second home even though I've only been there twice! Haha!) Another story for another day!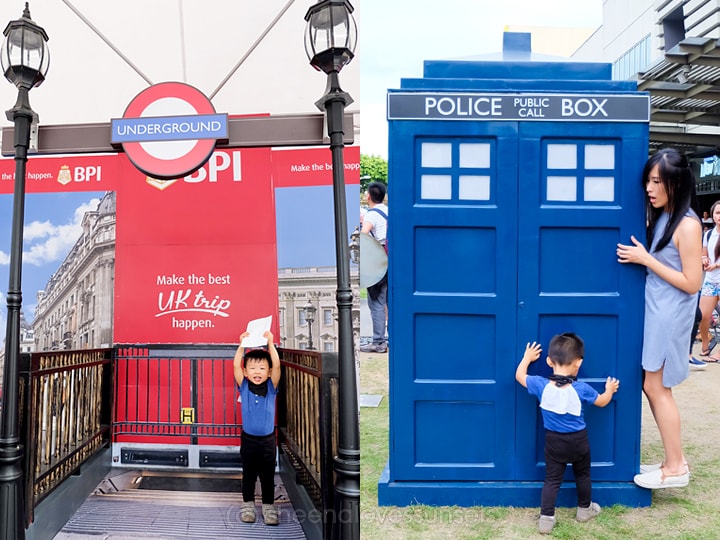 So because BGC was not far from Fairmont, it was just a short car ride away and we enjoyed all the fun booths and displays. Photo on the left: Luke won a scholarship at a school in London (KIDDING). Photo on the right: Instructing Luke what to do when he sees the Tardis for real (You have to call mommy and take me with you and the Doctor ok?)
Overall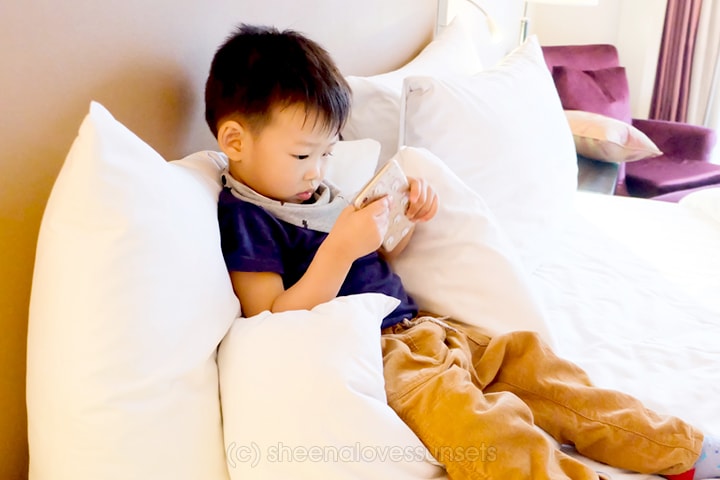 We loved our stay at Fairmont. The pool was nice and our room was simple but also wonderful. But what I loved most about our stay was that it was in Makati because it allowed us to visit places we don't usually frequent.
(NOTE: THIS POST IS ABOUT OUR EXPERIENCE LAST FEBRUARY 2017)