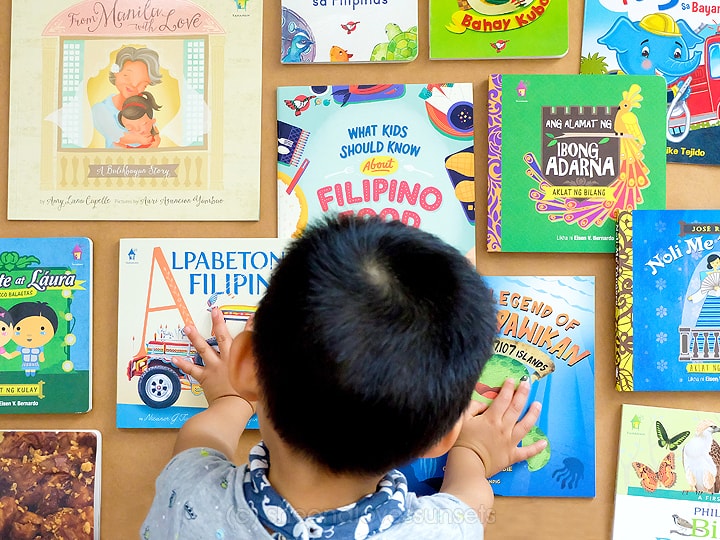 I grew up with foreign books and English songs. To be honest, I never really appreciated my own country when I was younger. But I don't want this to be the case for my kids.
As much as I want them to love the different cultures and places around the world, I want them to love the Philippines too! So today, I want to share some of my favorite local books that introduce our rich culture and heritage to kids. 
Primer Books: BuliLIT Series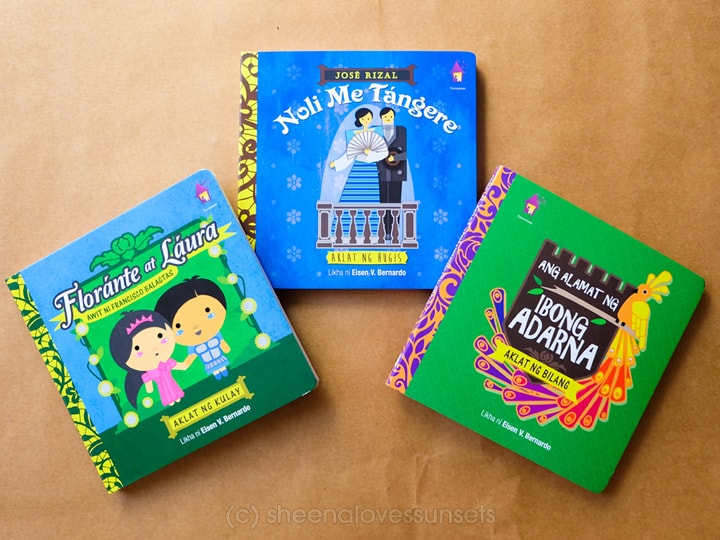 If you're familiar with the BabyLIT books abroad, you'll love these local counterparts! The BuliLIT books by Tahanan Books introduce kids to the world of Filipino classic literature. So far, they have "Ibong Adarna", "Florante at Laura" and "Noli Me Tangere" in the lineup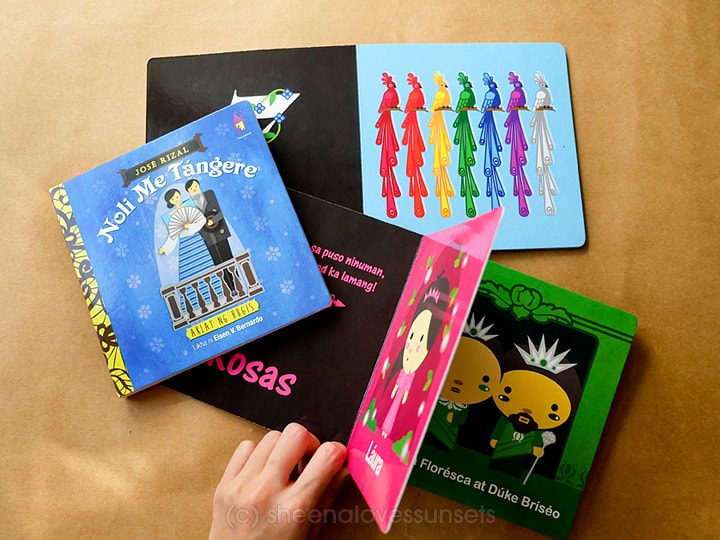 They are books about shapes, colors and numbers that feature characters from the famous stories. They're also written in Filipino! I had to brush up on my Filipino as I was reading this to Luke! Haha.
Learn about Filipino animals, vegetables, etc.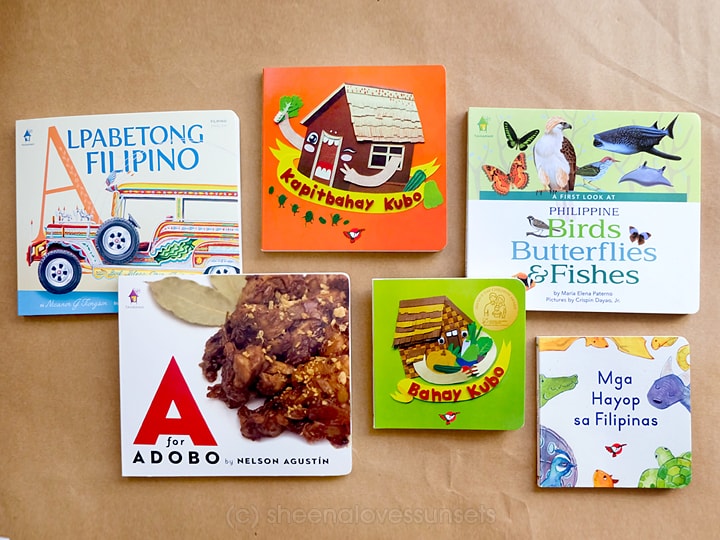 These books introduce kids to our local cuisine and animals! All these books are board books with large pictures and very little text. In other words, they are perfect for babies and toddlers!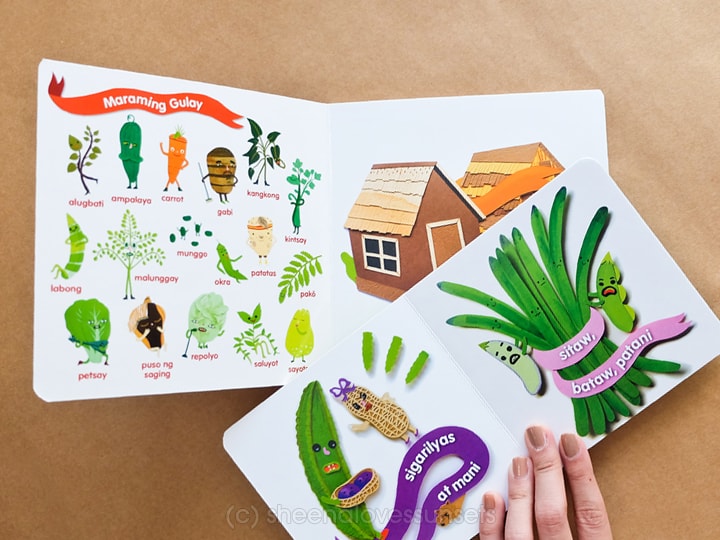 I love these books called "Bahay Kubo" and "Kapitbahay Kubo", based on the traditional Filipino song. The illustrations are so adorable and I love that the vegetables mentioned are the ones we really eat at home! Luke had fun seeing malunggay, alugbati and okra!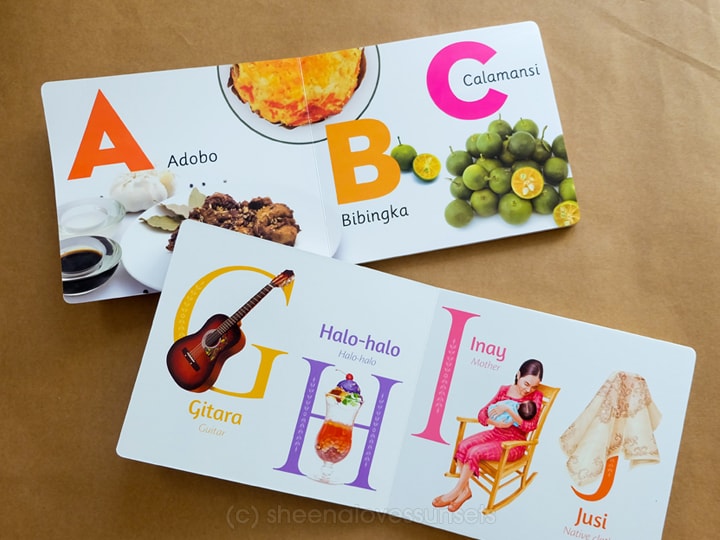 These two alphabet books, "Alpabetong Pilipino" and "A for Adobo" are also great introductions to Filipino words and food. I wish I can let you guys hear Luke say "adobo, kare-kare, halo-halo!" (Well, more like: kawe-kawe, hawo-hawo!)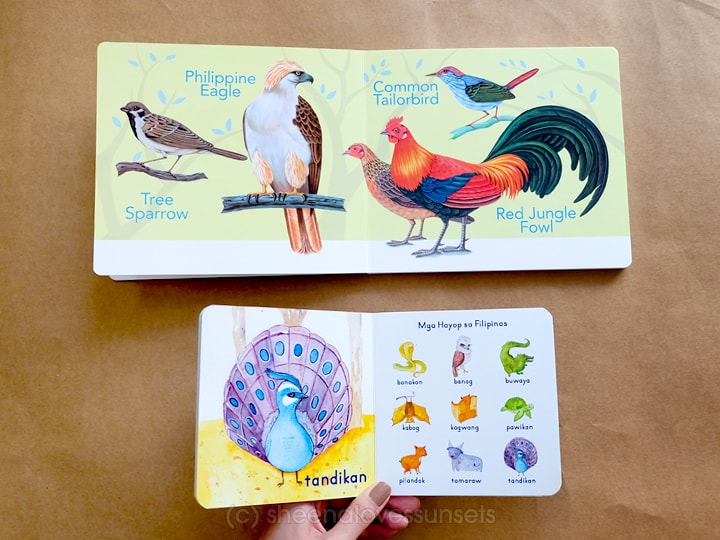 I'm sure your kids know foxes, penguins and even raccoons, but do they know our local animals?
"Mga Hayop sa Filipinas" and "A First Look at Philippine Birds, Butterflies and Fishes" are beautifully illustrated books that introduces kids to a wide variety of animals found in the Philippines.
Storybooks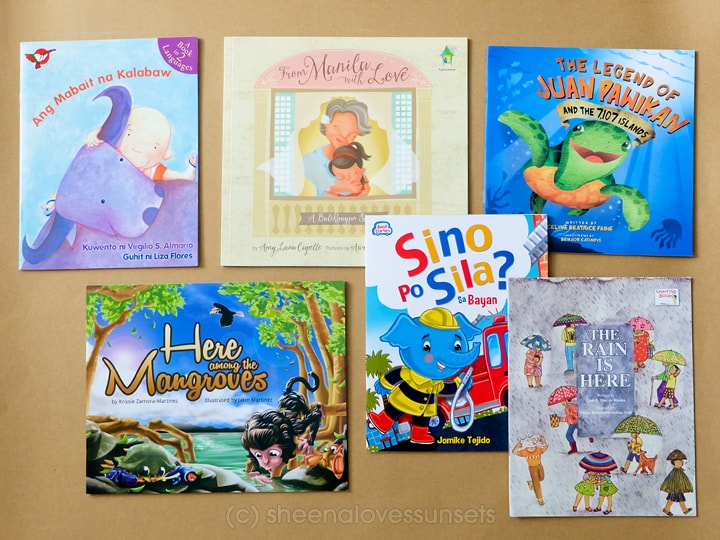 I love teaching Luke through stories because he retains so much information from them. Sometimes, it's the best way to teach kids about concepts; they're more relatable to them that way.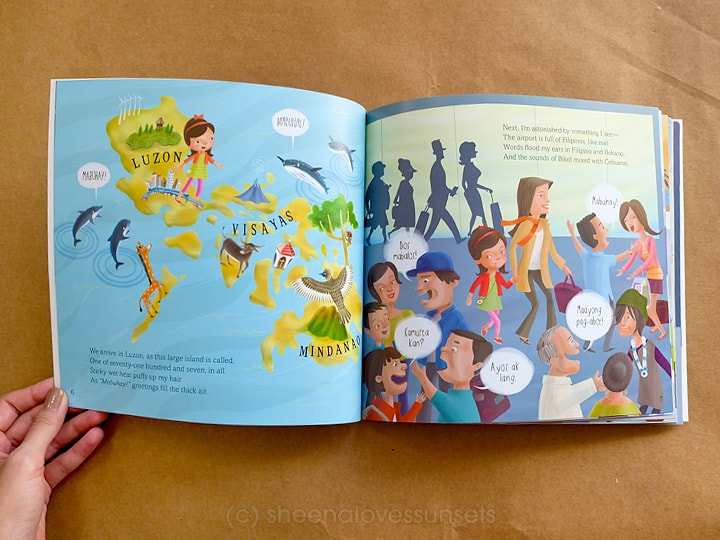 This book called "From Manila with Love" highlights the wonderful things about The Philippines and the Filipino culture. It's about a balikbayan girl coming to Manila for the first time. Needless to say, it's perfect for balikbayan kids.
But even if your child isn't one, I still highly recommend the book for Filipinos because you get to see and appreciate your city from another point of view.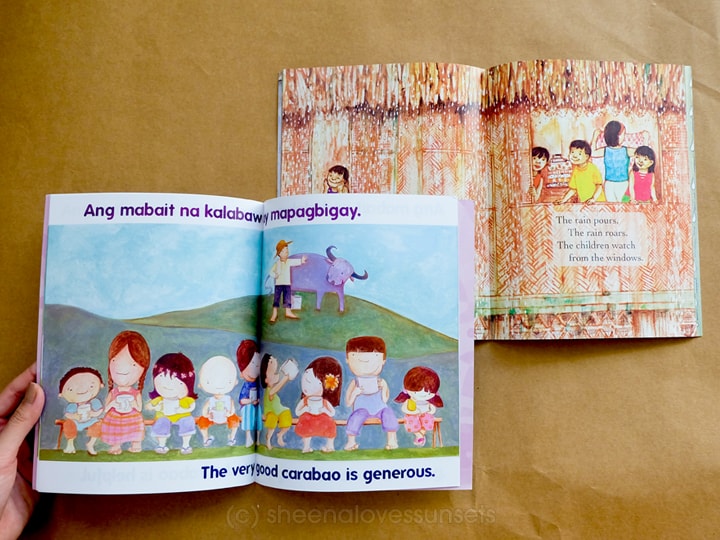 "Ang Mabait na Kalabaw" is a simple, bilingual book that's great for teaching Filipino. "The Rain is Here" is a cute short story about how kids in the province enjoy the rain.
The stories of these two books are set in the provinces where kids enjoy the simple life. It's a different life from the life my little city boy is used to and that's exactly why I love them.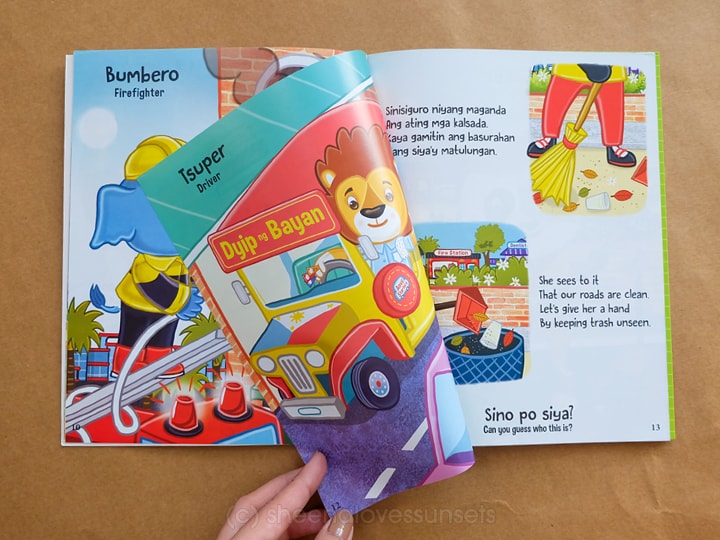 "Sino Po Sila" is a series of books. This particular one is entitled "Sino Po Sila sa Bayan" and it shows different people in town like a jeepney driver, firefighter and a city sweeper. It's also a bilingual book.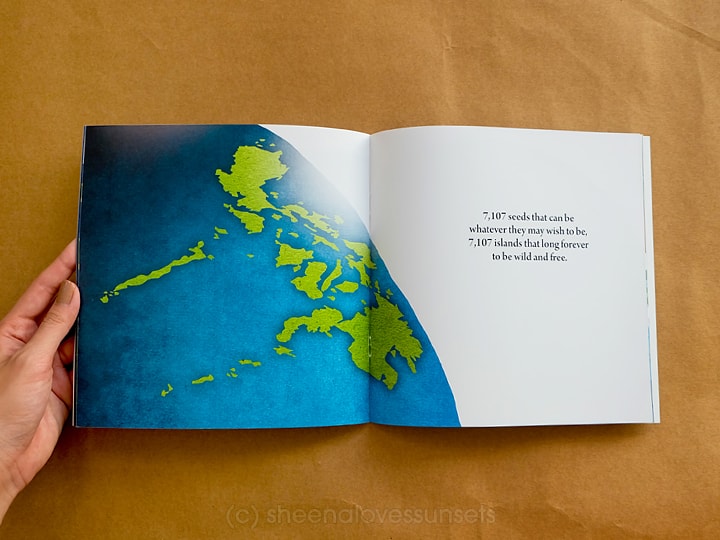 Then, there's this very unique book called "The Legend of Juan Pawikan and the 7107 Islands." It's a legend about the 7,107 islands in the Philippines. Toddlers will like this because of the artwork but older kids will appreciate it because of the story.
As a bonus, I love how it also teaches kids to be more aware about the environment.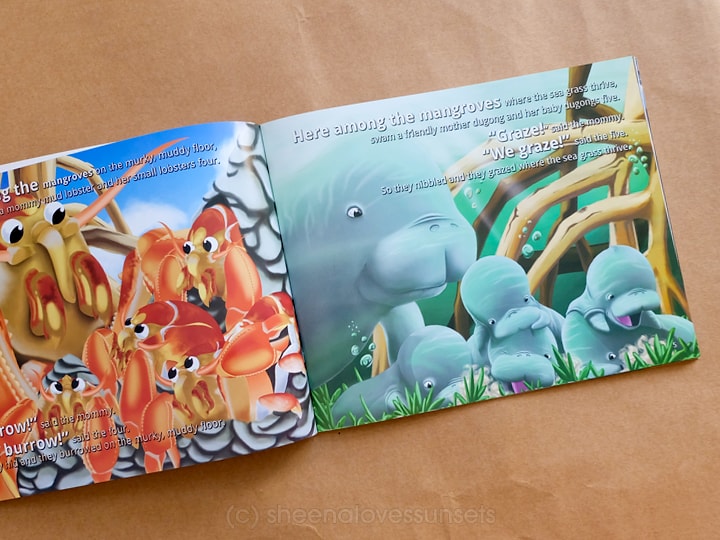 And lastly, "Here Among the Mangroves" is a cute rhyming story book with adorable animal illustrations. All the animals featured can be found in the Philippines. Some are even endemic! Even I learned new things as I was reading this book.
Where to get these books: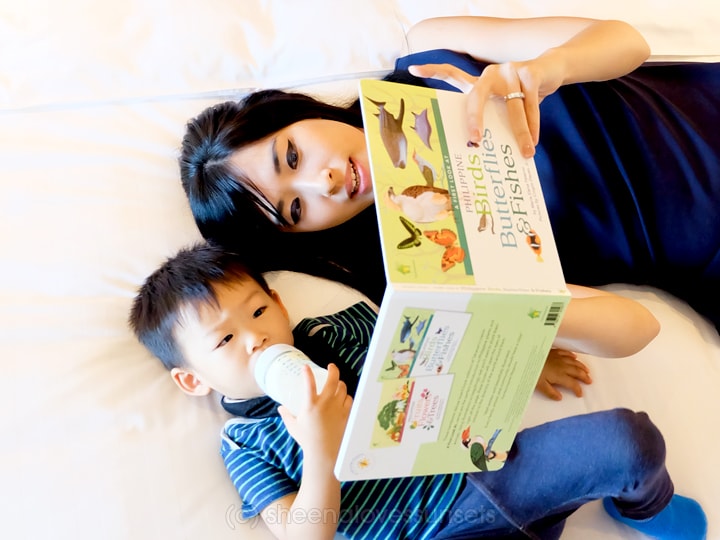 All these books are available at this wonderful online bookstore called Pumplepie.
Pumplepie is an online shop that has a specially curated selection of books and toys, all proudly made in the Philippines.
One of their goals is to raise children who love their country and I wholeheartedly agree. I know a lot of parents who feel that teaching kids how to speak in Filipino or even to appreciate Filipino culture is "not classy" (for lack of a better term) but our attitude should be FAR from this.
The Philippines is such a beautiful country. I would be so proud if Luke grew up loving it!
–
If you have suggestions or book recommendations, feel free to leave them in the comments below!