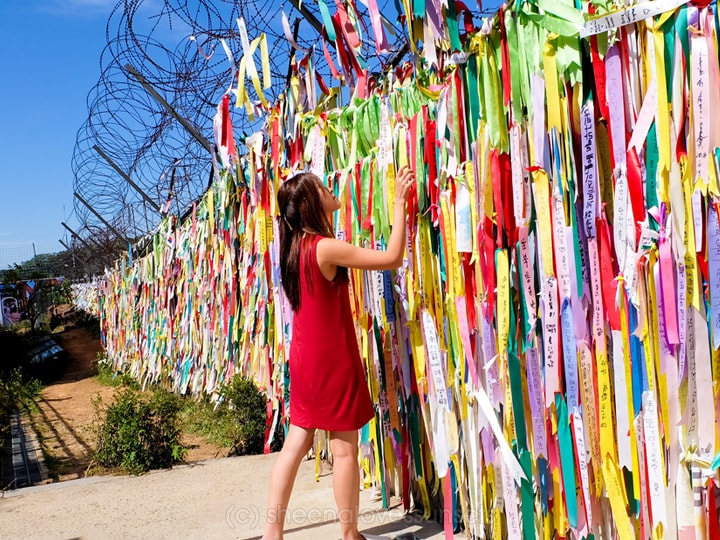 North Korea has always fascinated me and remains at the top of my bucket list. 
During our 4-day Signature Korea tour, we visited places that were near the border that literally gave me glimpses of the "Hermit Kingdom." And until the day that I convince my husband to let me visit North Korea (he will always roll his eyes when I mention it, haha!) I will settle for all the glimpses I can get… for now.
Odusan Unification Observatory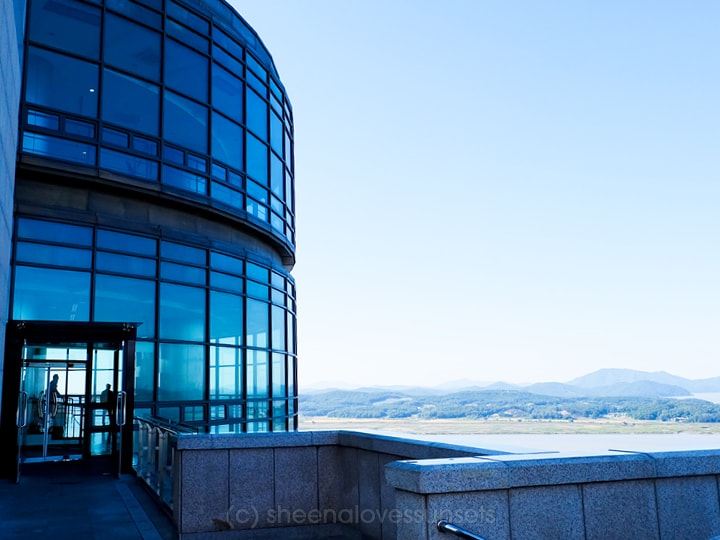 The Odusan Unification Observatory was built to console people who were separated from their homes and families because of the Korean War. They also promote the unification of the North and South.
It is also where the nearest points from North Korea and South Korea are separated only by around 2km!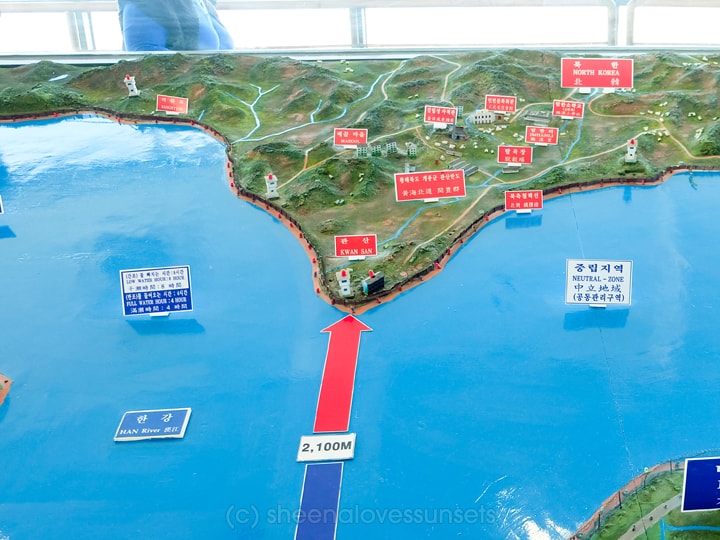 We began our visit with a short documentary explaining what we can expect to see from the observation deck. Apparently, it is a North Korean Propaganda Village built to "impress" people from the other side. 
Observation Deck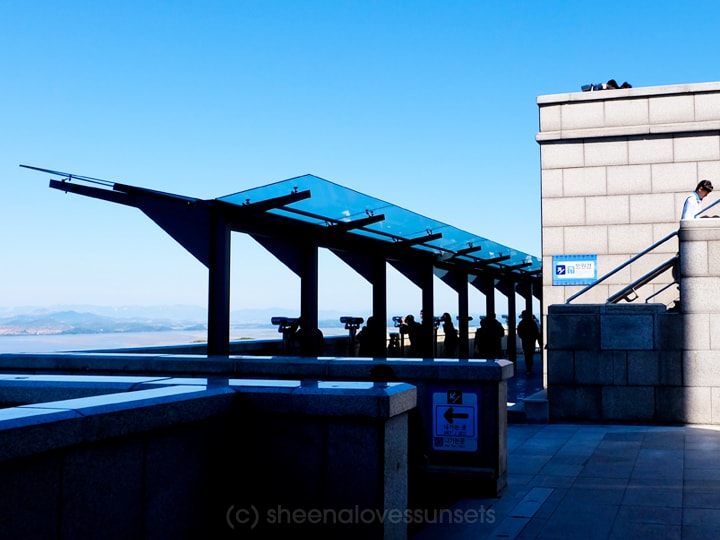 After the short film, I was excited to see North Korea up close with my own eyes so we headed straight for the observation deck. Using the binoculars is free.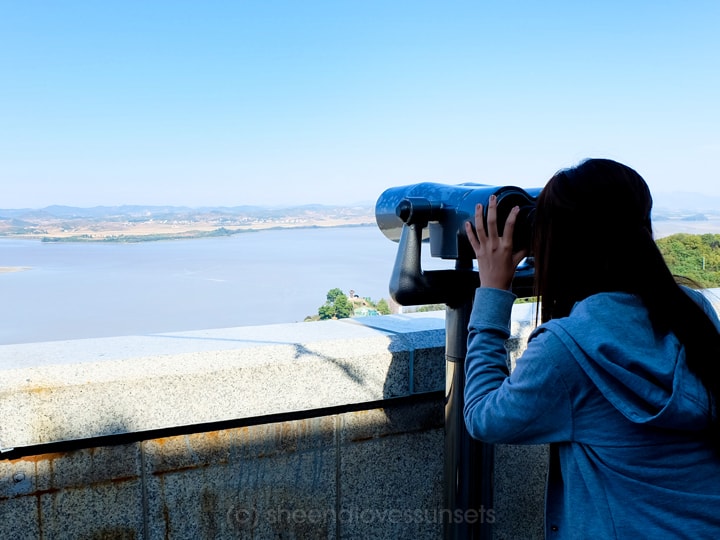 North Korea always brings about conflicting feelings in me. I've watched and read countless documentaries, books and articles about the place because I've always found it so interesting. But at the same time, I always end up feeling extremely sad.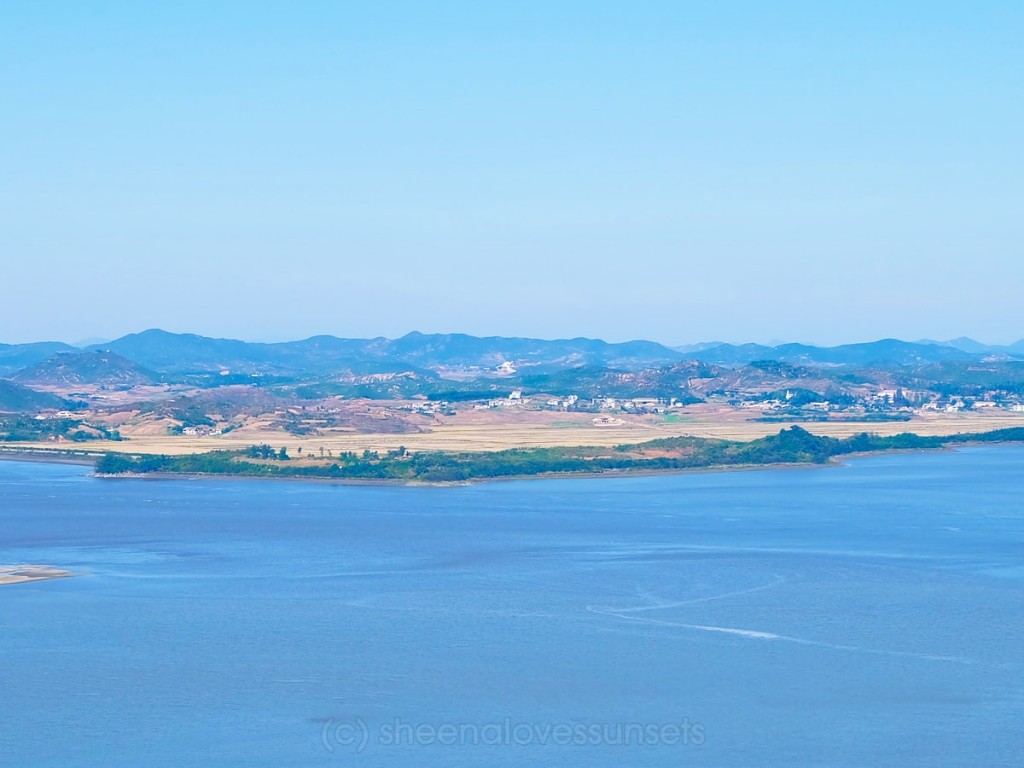 North Korea as seen with the naked eye. We were told that there were hardly any trees because they had to cut down most for oil and construction. It looks like a barren wasteland.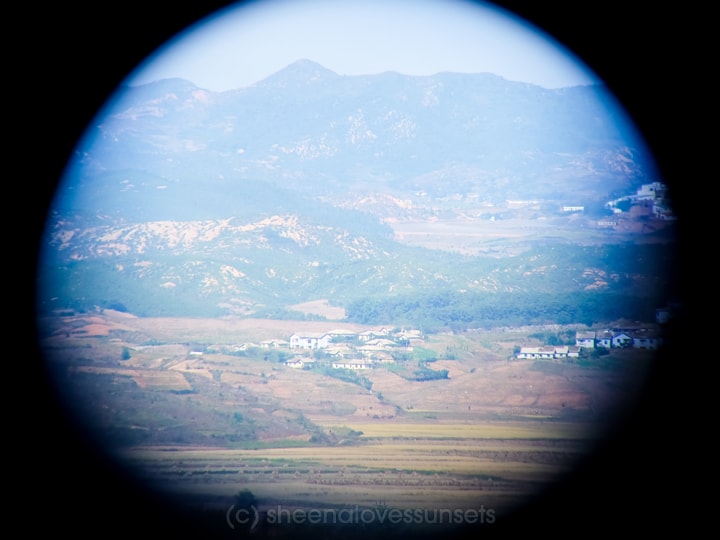 A closer look at North Korean houses at the Propaganda Village, using the binoculars. Most of these houses are not finished and some don't even have roofs!
The official statement of the North is that this is an actual village with houses, schools and a hospital. But upon closer inspection, you can see that the structures really only look like outer shells. There are hardly any people walking around the village.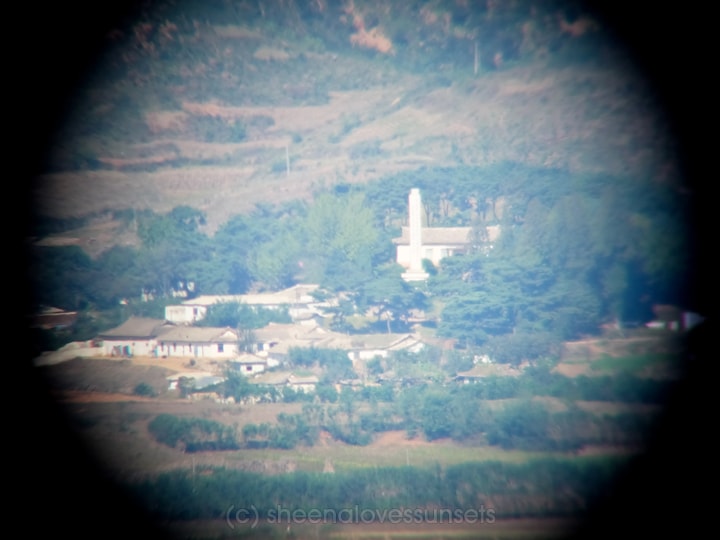 From this angle, you can even see a monument.
I wanted to stay longer but it was a particularly windy day and I was not prepared. Almost freezing, I rushed back in to view the indoor exhibits.
Indoor Exhibits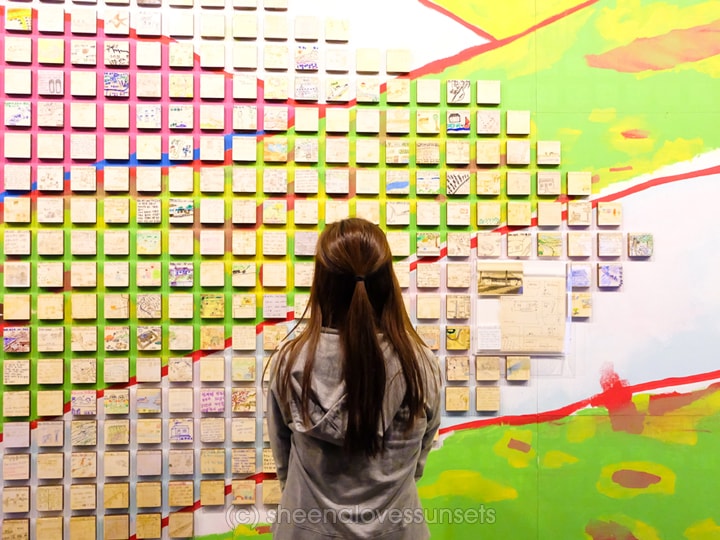 There are various exhibits chronicling the different aspects of the war and the hopes of many for a unified Korea. I found out (after our visit) that there were apparently so many exhibits that I missed! Ugh. I will be back.
I highly recommend that you take a look at the official website before your visit so that you know what exhibits they have to offer.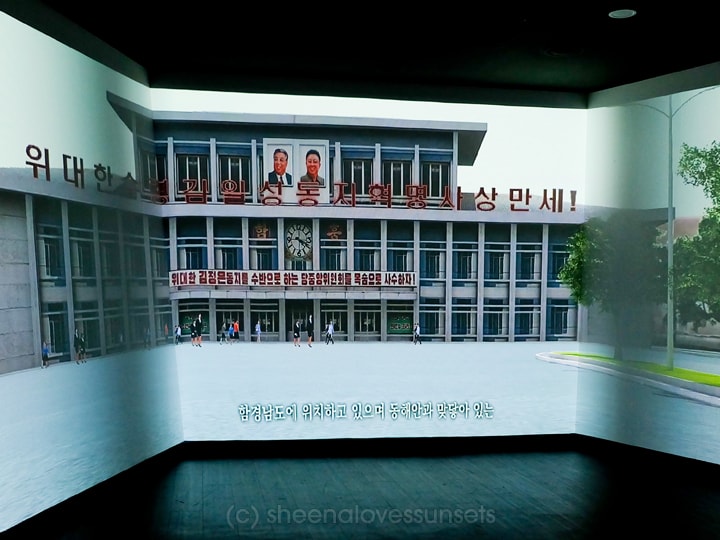 This is one of my favorite sections. It's a room where you can experience North Korea in virtual reality. You stand in the center and you'll be surrounded by a video of 3D renderings of structures and places in North Korea. It's the closest thing that I can get to a tour of North Korea, for now!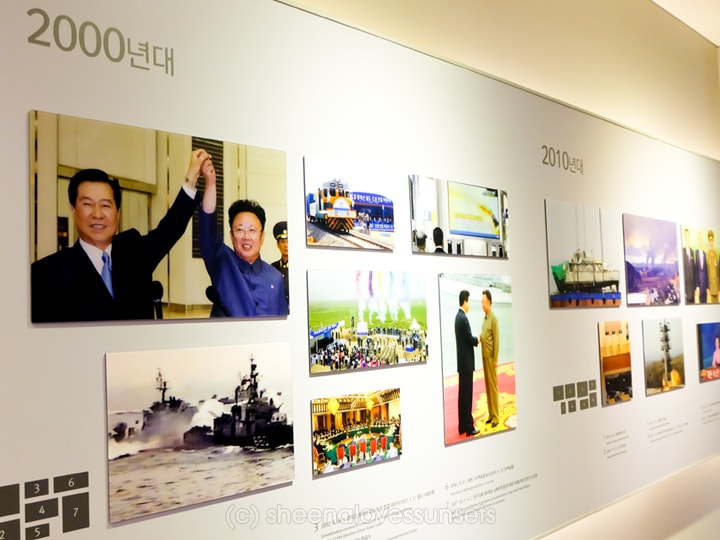 There's also a timeline of the history between the North and the South.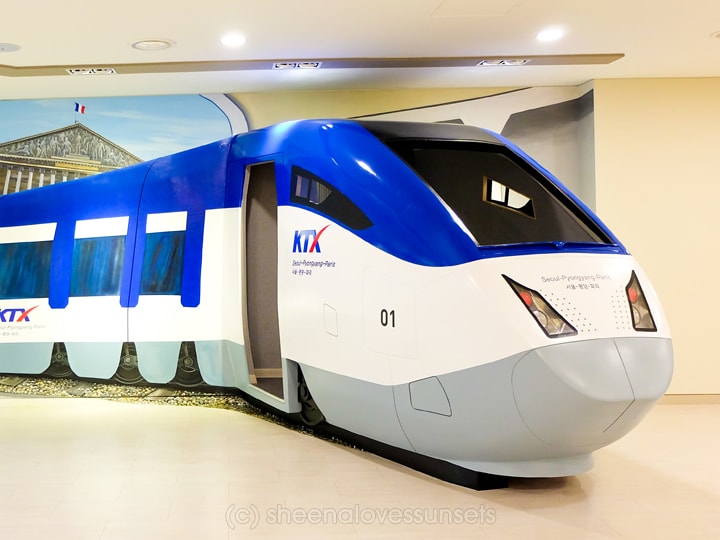 And exhibits that highlighting the benefits and potential opportunities of a unified Korea. Here's one they call "Unification Train"; a train that travels from Seoul to Pyongyang and Paris! I would love to ride this in the future!
Most of the writings however are not translated in English, which was a real pity because I really wanted to read them. We were also pressed for time because we had to go to our next stop, which was Imjingak.
Imjingak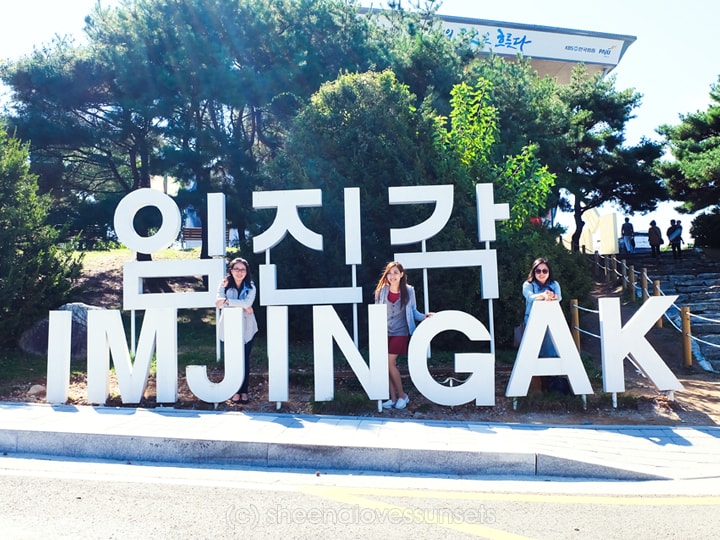 Like the Odusan Observatory, Imjingak is a place built to console people who have been separated from their families because of the division of Korea. Again, it's also a place where people express their hopes for a unification, which seems to be the common sentiment of people here.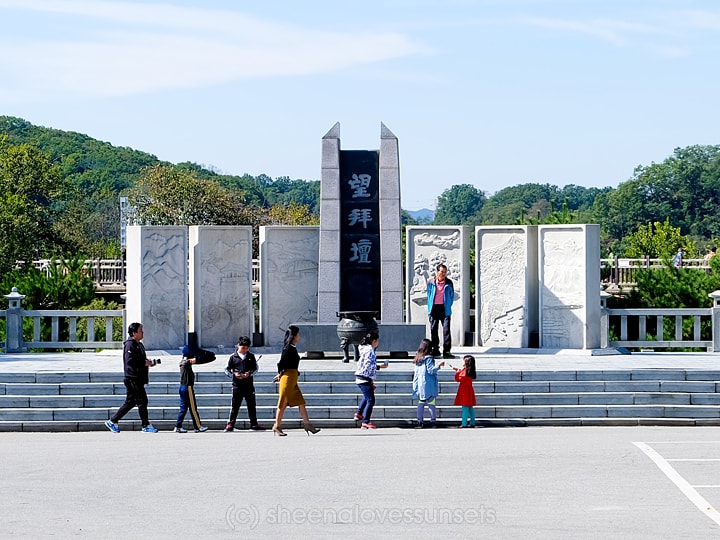 This is called the Mangbaedan Altar where relatives can pay their respects from afar to their ancestors who are in North Korea.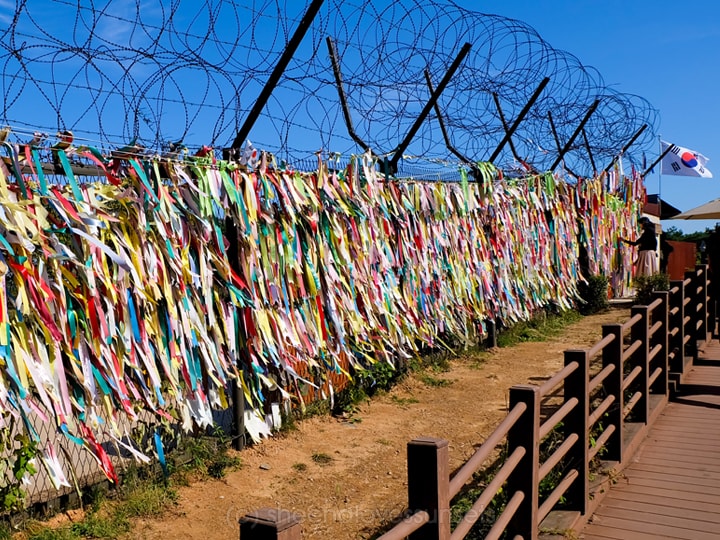 Ribbons for Unification
This wall is filled with ribbons of messages written by South Koreans to their relatives and friends on the other side. Thousands of families have been apart and have had no contact with each other since the war.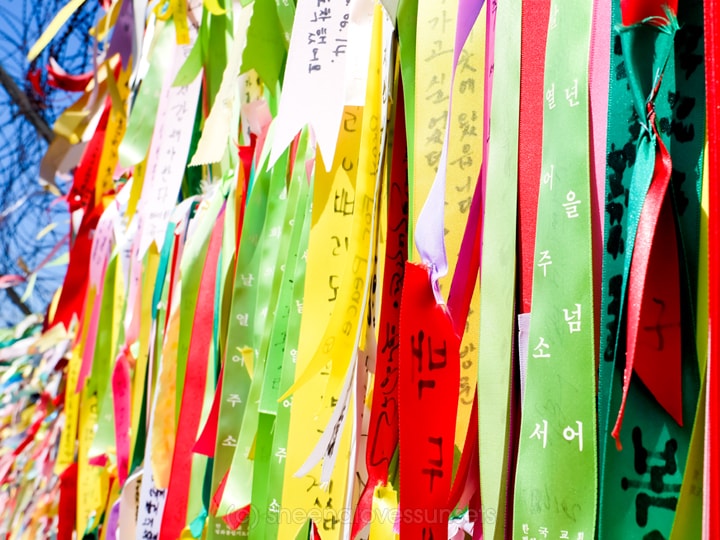 There have only been few, very rare instances where a reunion between family members of the North and South were allowed. And even those instances were brief and temporary. (Read more about that here.)  Warning, it is heartbreaking.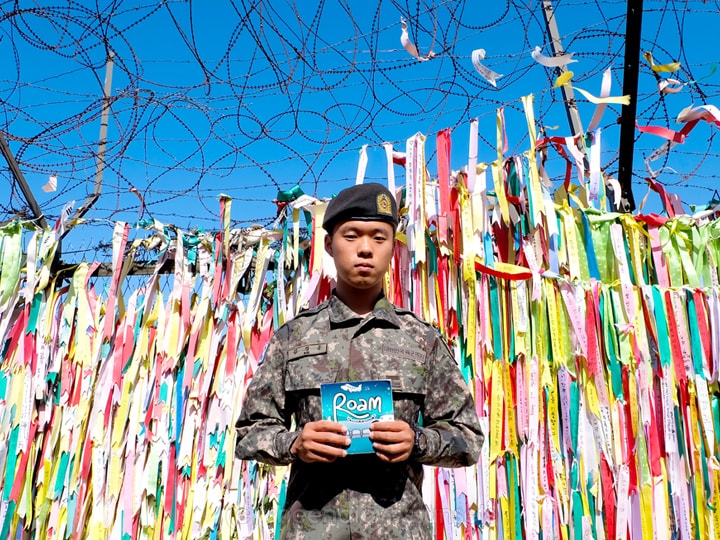 We saw a young man in military wear and asked him to hold my book "Roam" (You can see photos of the book traveling all around the world here.)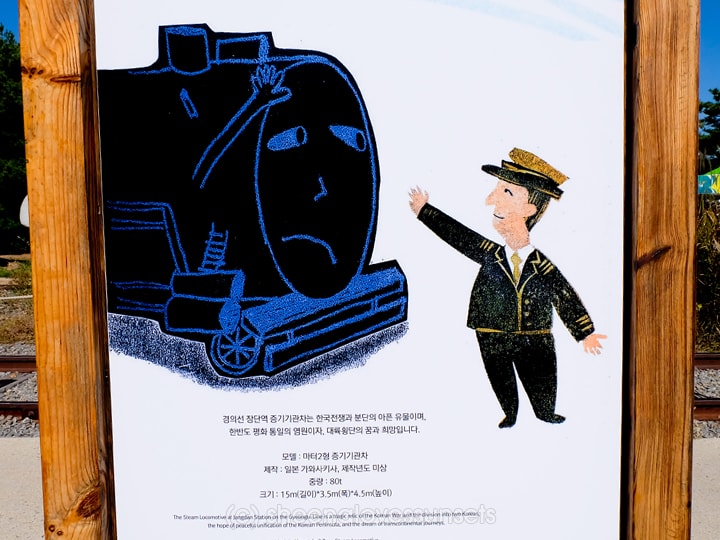 Railroad Track
Here in Imjingak, there's a steam locomotive on display. This train got derailed by bombs during the Korean War and is now a symbol of that tragic time in history. It is covered by around 1,020 bullet holes.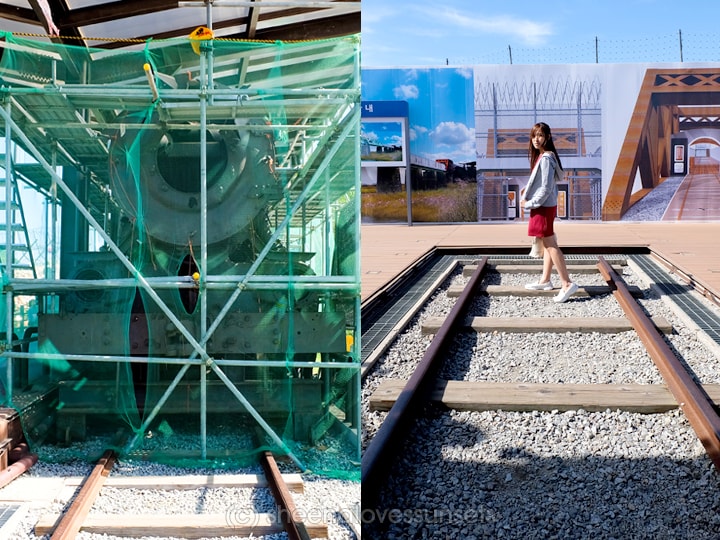 It is their hope that someday, this track can once again be used when Korea is unified.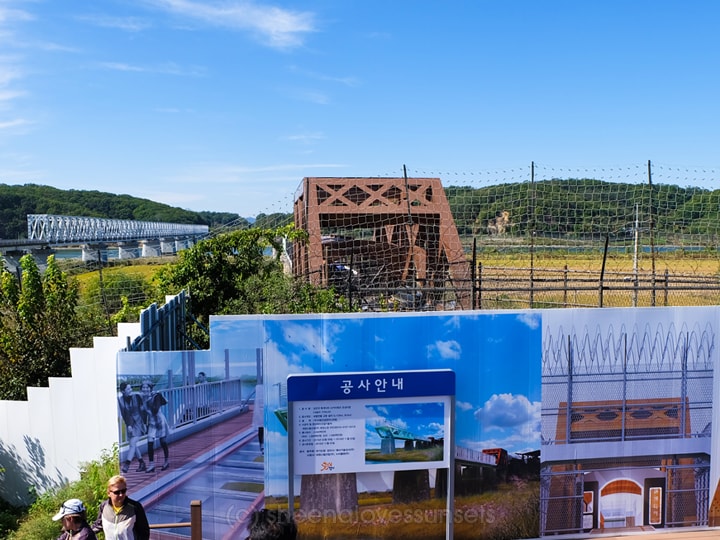 At the end of the tracks, you can go up an observation deck. From here, you can see the bridge that connects both North and South Korea.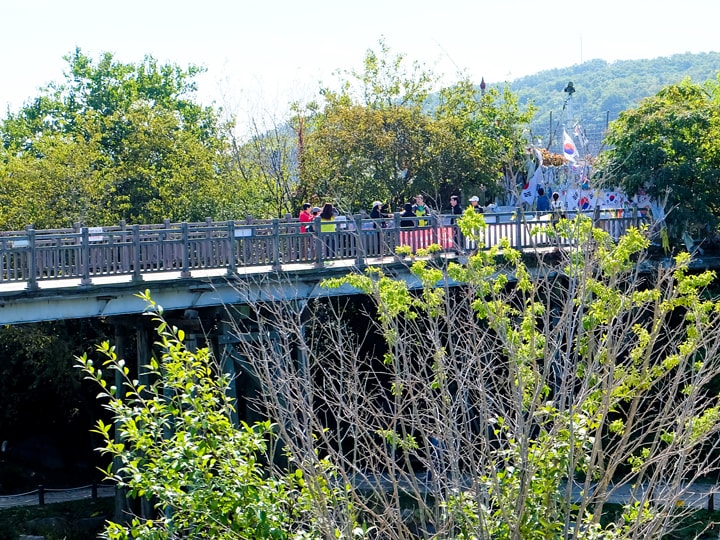 Freedom Bridge
On the other side of the park is a bridge they call The Freedom Bridge. This is where South Koreans and Allied POW's crossed from the North to come home after the war ended in an armistice.
The plight of North Koreans feels like a world away from people like us. We live in such modern, dynamic cities and we sometimes end up being desensitized. But the struggle is very real.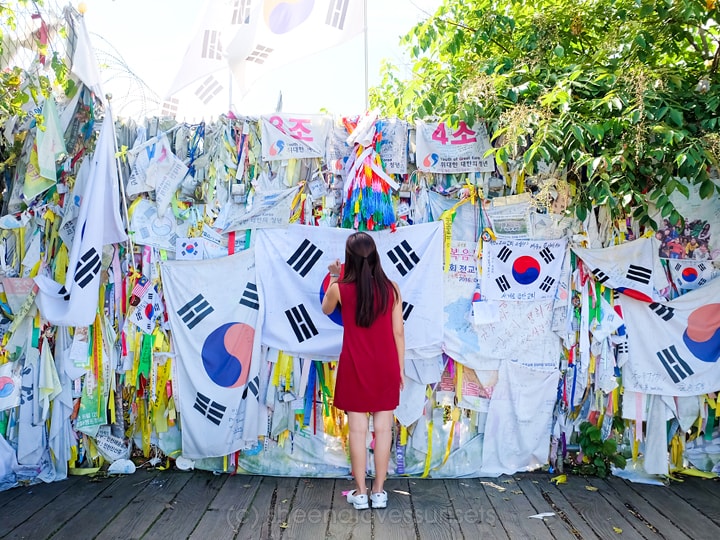 Right now, I'm sitting at home, typing away on my Macbook, waiting for my toddler to wake up from his comfortable bed in his airconditioned room. Miles away, in North Korea, there's probably a mom who's around my same age, with a baby who's the same age as mine. And yet, they have no access to (or maybe even no idea about) the comforts we take for granted everyday.
This is why it's important to learn about history; so that we know the struggles of people from the past, learn from mistakes and be encouraged to work our way towards a better world for everyone. Like most Koreans, I'm also praying that someday, hopefully in our lifetime, there will be peace and that we get to witness the unification of Korea.
Maybe then my husband will finally let me visit Pyongyang. Maybe…
–
For this trip, I joined a Signature Korea tour which I booked through International Journeys, but is also available through most Philippine travel agents. Read more about my Signature Korea experience here. More articles to follow!
(NOTE: THIS POST IS ABOUT OUR EXPERIENCE LAST OCTOBER 2016.)