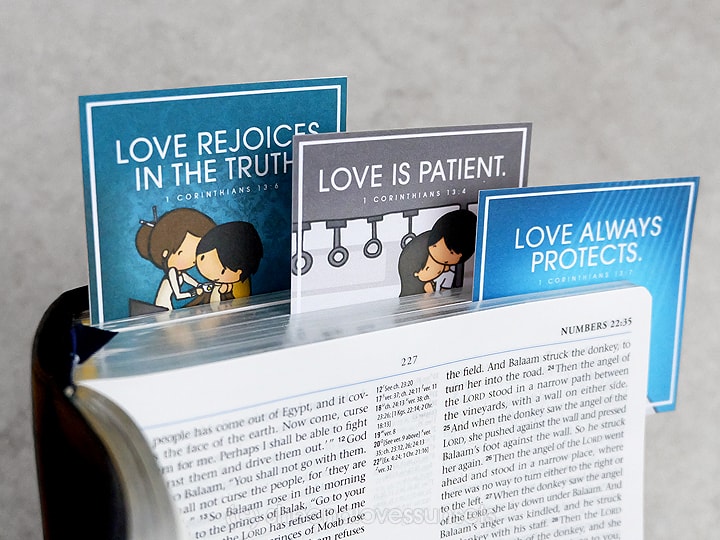 What a great thing it is to love and be loved, don't you agree? But what is real love? The Bible gives a perfect picture of what true love looks like and you can find it in 1 Corinthians 13. Today, I want to share with you these verses and I hope that you will be blessed by them.
To all those who have been asking me on Facebook to make more Bible verse artworks, I've heard your requests! Haha. The artworks on this entry consist of some new and some old works that have been re-edited for this post. Hope you like it!
(Please read the disclaimer at the end of the post before you download any of the artworks!)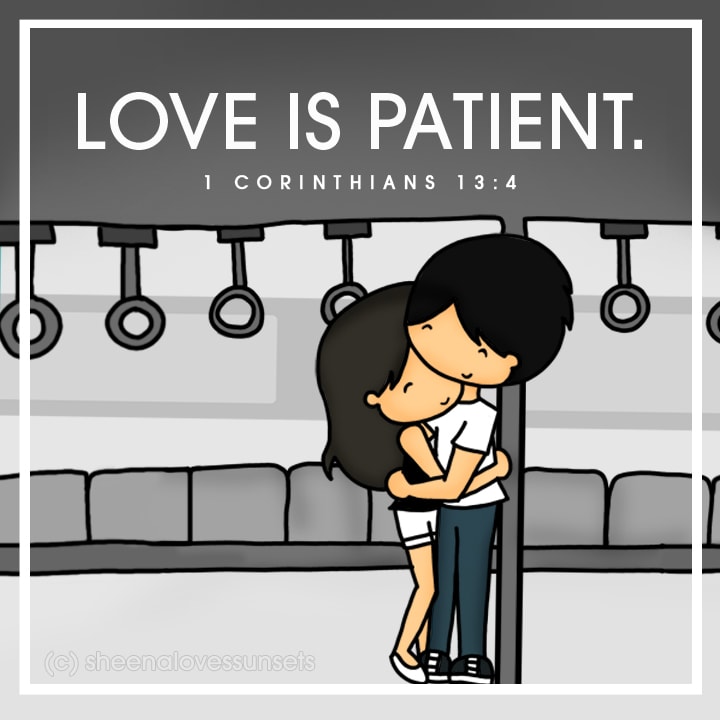 "Love is patient, love is kind. Love is not jealous or boastful or proud,"
(1 Corinthians 13:4)
Just as Jesus has been patient with us despite our disobedience, we can practice love for others when we are patient with them when they disappoint us. Love is also showing acts of kindness even when we don't feel like it.
Loving others is being genuinely happy for others when they succeed. Real love also finds no need to brag nor to parade itself. It is also not thinking that you are better than other people but instead, accepting that everybody is equal in the eyes of the Lord.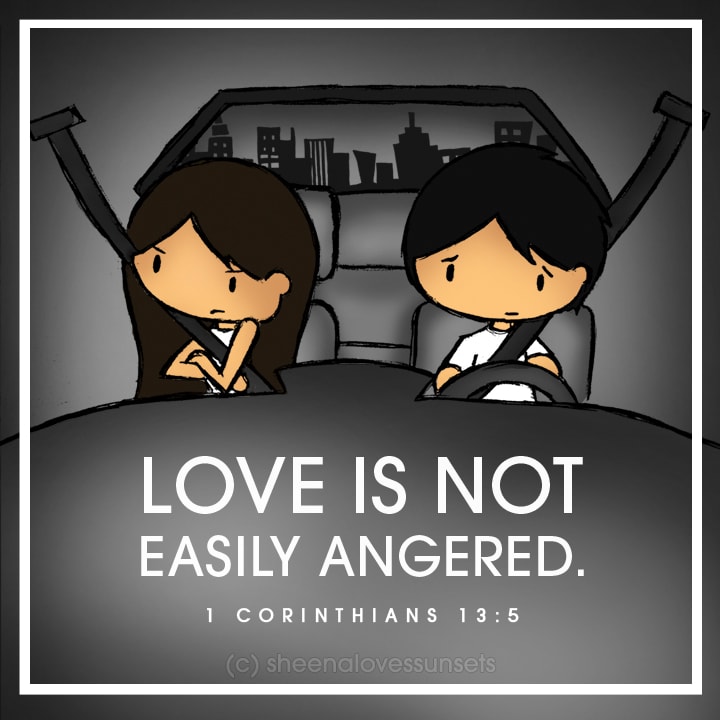 "… or rude. It does not insist on its own way; it is not easily angered, it keeps no record of wrongs."
(1 Corinthians 13:5)
Loving others is being respectful and considerate. It is also looking out for the interests of others instead of just focusing on yourself. Love is being slow to anger and quick to forgive; always believing the best in other people. It's not dwelling on the past but instead, it's giving each other second chances just as Jesus has given us a new life in Him despite our past.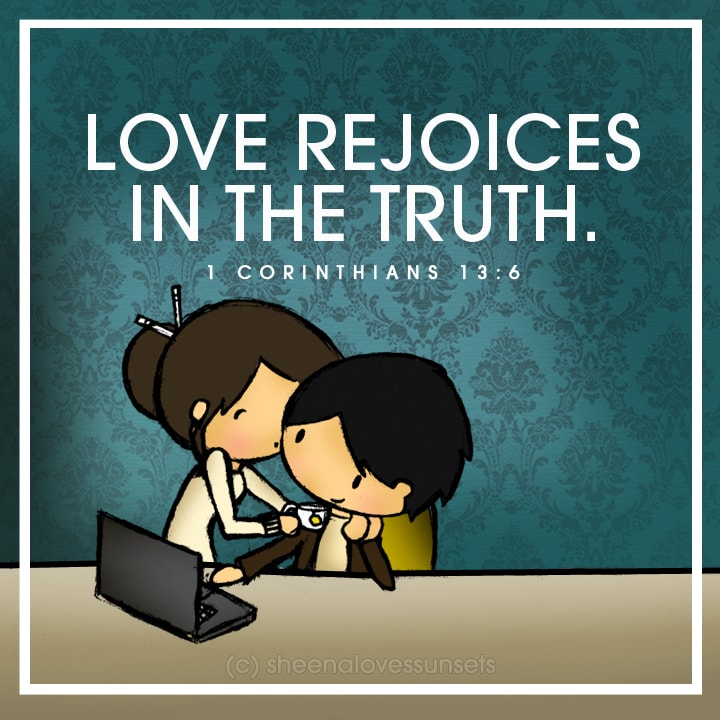 "Love does not delight in evil, but rejoices in the truth."
(1 Corinthians 13:6)
Love is not gloating when someone falls. It's not finding pleasure at the mistakes of others. Instead, it is showing true compassion and helping each other back to God. Real love also desires for the truth because after all, in God, there is no darkness and no shifting shadows; only consistent light and truth revealed.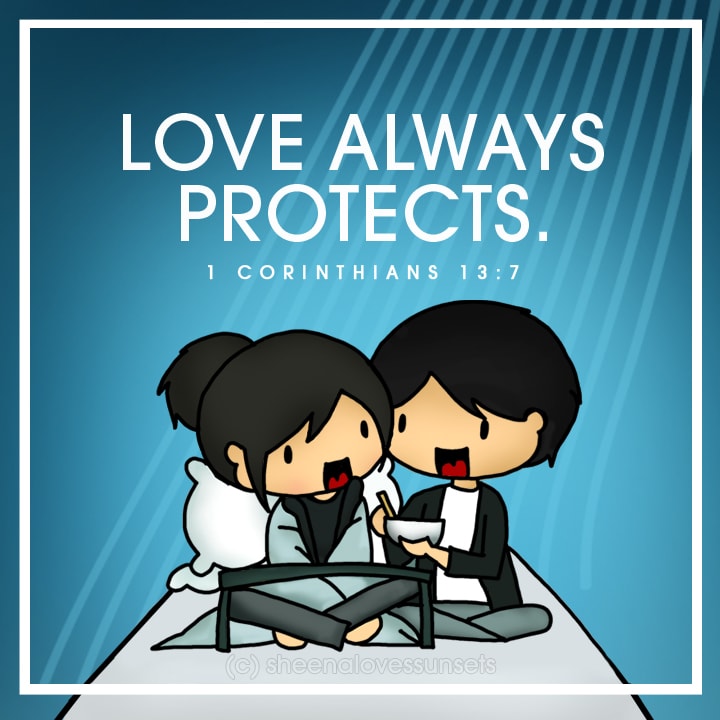 "It always protects, always trusts, always hopes, always perseveres."
(1 Corinthians 13:7)
In other versions, this verse is quoted as this: "Love bears all things, believes all things, hopes all things, endures all things." It is always hoping for the best and doesn't give up when tested. True love can withstand the storms in life because true love is anchored not just on feelings nor on circumstances but is instead anchored in the love of the giver of love Himself, Jesus Christ.
—
Important Disclaimer: 
All artworks are protected and CANNOT be used for commercial purposes. This means that you cannot make money out of them, for example, by printing the artworks on items and selling them (even if it's for a fundraiser!) You also cannot claim this as your own either or repost it anywhere else without credit.
You are however, allowed to download it for personal use, like if you want to print and display it in your room, or use it as a phone wallpaper, but you cannot make any merchandise out of the artworks without permission. Thank you for respecting my rights as an artist.