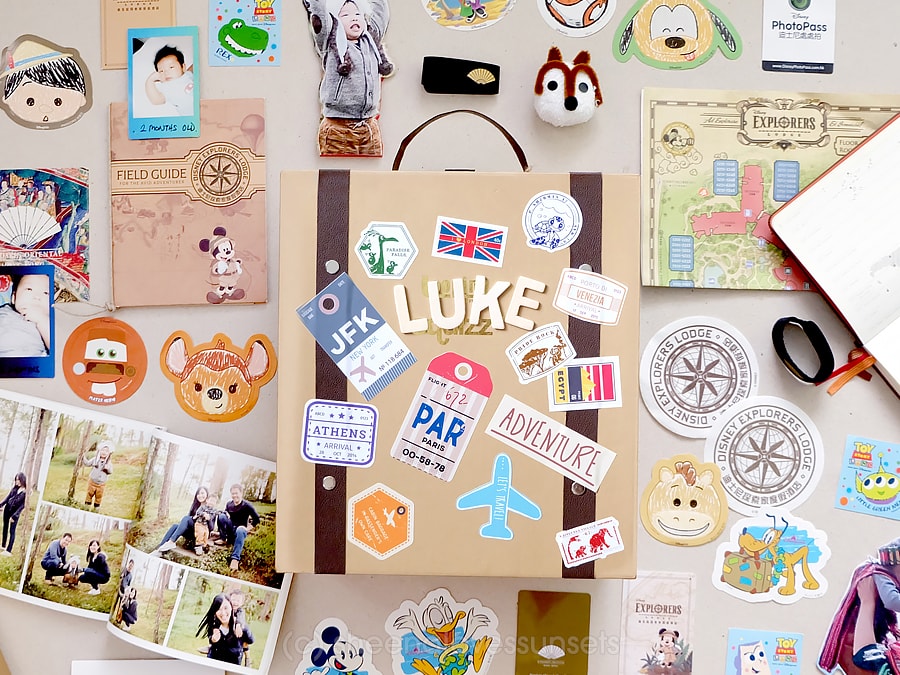 If you're anything like me, you probably keep more than just the digital photos to remember all those trips by. Don't tell me: all those ticket stubs, postcards and maps you've collected from your trips are stuffed away in a box or drawer somewhere, am I right?
Well, it's time to put them to good use (and about time you get your desk organized, too!) by creating travel keepsake boxes for your kids. 
Step 1: Get a box and decorate!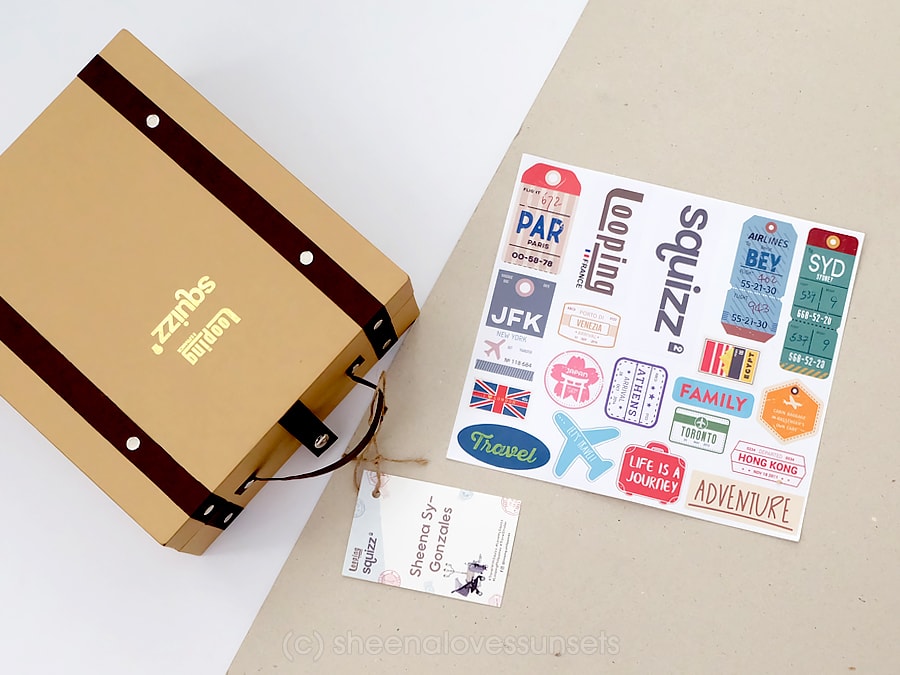 I'm not gonna lie; I didn't have anything to do with creating this box. We were blessed to receive this suitcase-shaped box ready-made already. It was part of the media event invite that I got from Looping (the stroller brand we use and love!)
If you have a cute box like this, by all means, use that! But if not, you can easily make your own suitcase shaped box! Here's a quick step-by-step:
Purchase a brow craft box from the bookstore
Glue brown strips of art paper for the luggage straps on the face of the box
Print travel-themed stickers (just Google free travel/luggage sticker printables!)
Snazz it up with other accessories like washi tapes, ribbons, pictures or wooden letters, like what we did!
Feeling extra-crafty? Buy locks and straps as handles from hardware or thrift shops and attach them to the box.
Looping provided us with travel-themed stickers for the box. Then, we also included the Disney Explorer's Lodge stickers that Luke got from our last trip (spot his "Pride Rock" and "Paradise Falls" stickers!) We plan to put stickers from different destinations he will be visiting in the future too!
Final touches were made by putting his name using wooden letters from his toys (haha!)
Step 2: Decide what to include in the box: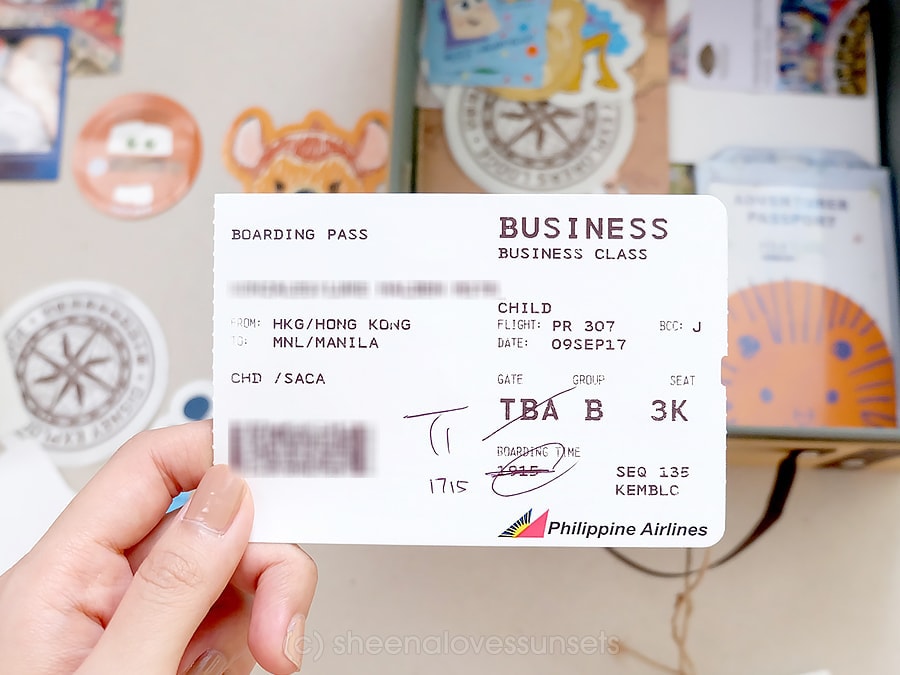 I started going minimalist and #KonMari-ing our house this year so I'm not here to tell you to stuff all your mementos in this box. Especially if you're frequent travelers, you would most likely accumulate a ton of travel memorabilia over the years. It's therefore important to keep only small (preferably flat) keepsakes inside the box to keep it from filling up too fast.
As Marie Kondo would say, only things that #SparkJoy!
Some ideas of things you can put inside:
Boarding passes and tickets (like this from when we got upgraded!)
Hotel key cards, coasters, a sheet from the notepad (ask them to doodle on it!)
Theme park wrist bands, maps, stickers, character autographs
Polaroid prints, photobooth snaps or just print your favorite photo
Pins and patches (National Parks in the US have great ones!)
Foreign coins or small bills
Postcards: Write a short anecdote at the back, like a memory from that day. Don't forget to write the date!
More tips on creating your own keepsake box: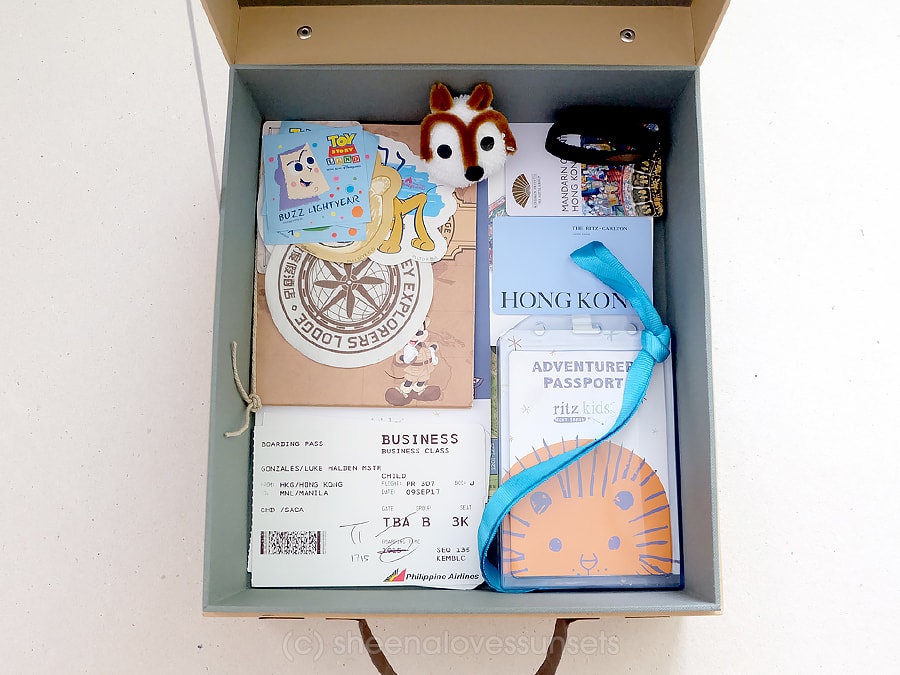 Pick a box that's spacious enough to hold items that are irregularly shaped. Here are other tips:
Resist the urge to stuff everything inside: Like I said, I'm all for keeping the house clutter-free so I really don't advocate keeping every single travel memorabilia. Instead, choose only special mementos. It also makes the box more special if you put only the best of the best inside.
Store the box in a cool, dry place: Chances are, most of the tickets are printed on thermal paper which fade over time. Lengthen the life of those special tickets by storing your box in a cool dry place.
Keep kids in mind: What are the things they found amusing during the trip? What did they enjoy the most? Try your best to put those memories in the box. No need to put the tickets from that museum where they just slept their way through.
Any additional tips and suggestions? Would love to hear if you've also done the same project and what you've included in your own box!