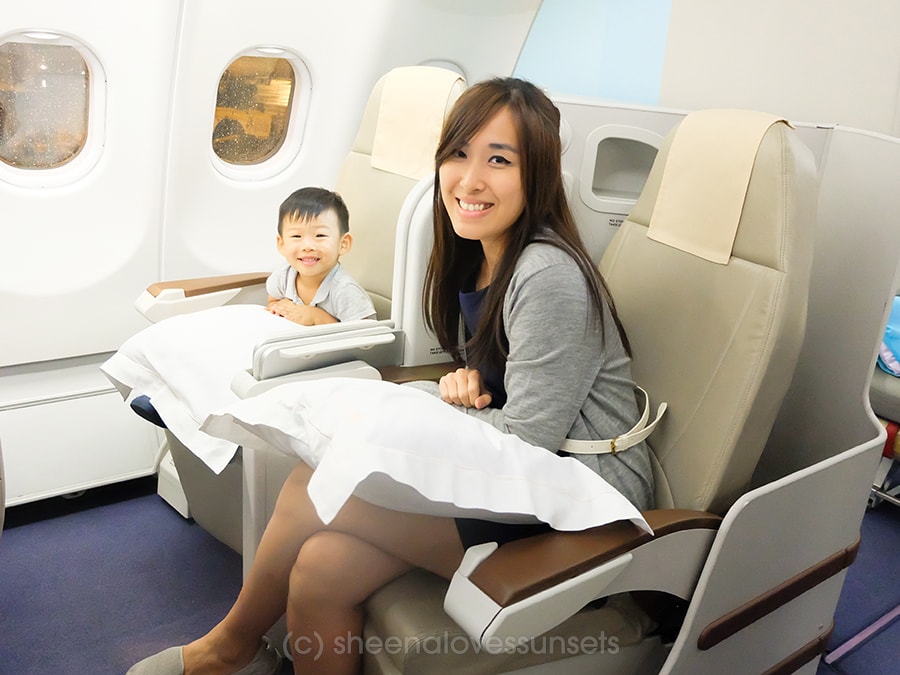 On our flight home from Hong Kong, Philippine Airlines upgraded us to business class! Let this future jet-setter show you how to have a great time. Here are all the little details we loved about our flight.
1. Before the flight, wait it out at the lounge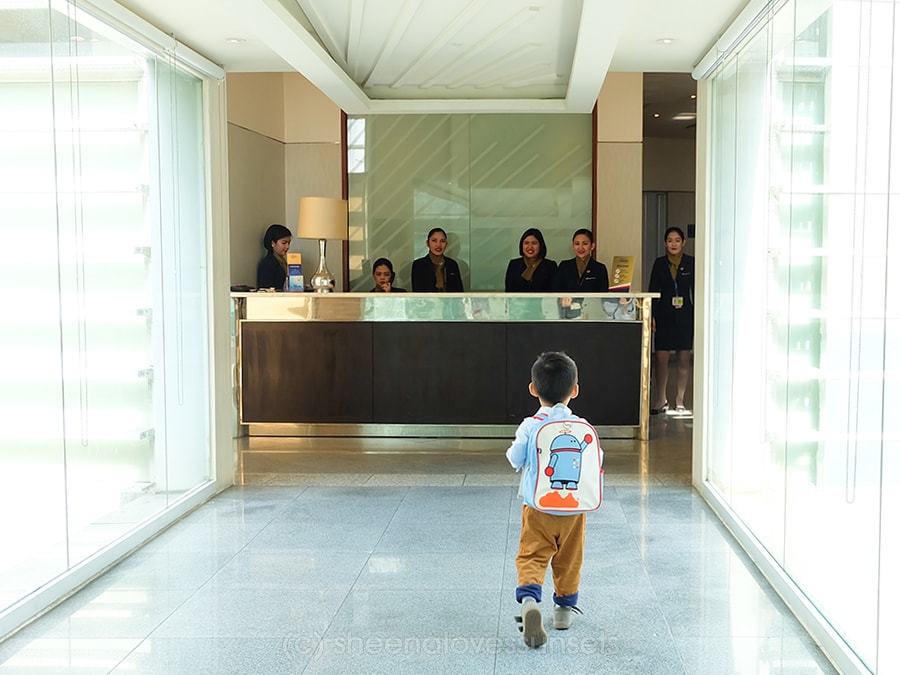 If you're taking your business class flight from Manila, start your trip with a visit to the Mabuhay Lounge. It's always such a great way to start a trip because they serve the best arroz caldo. This is Luke's first time at the Mabuhay Lounge and he was warmly welcomed by the staff (as you can see!)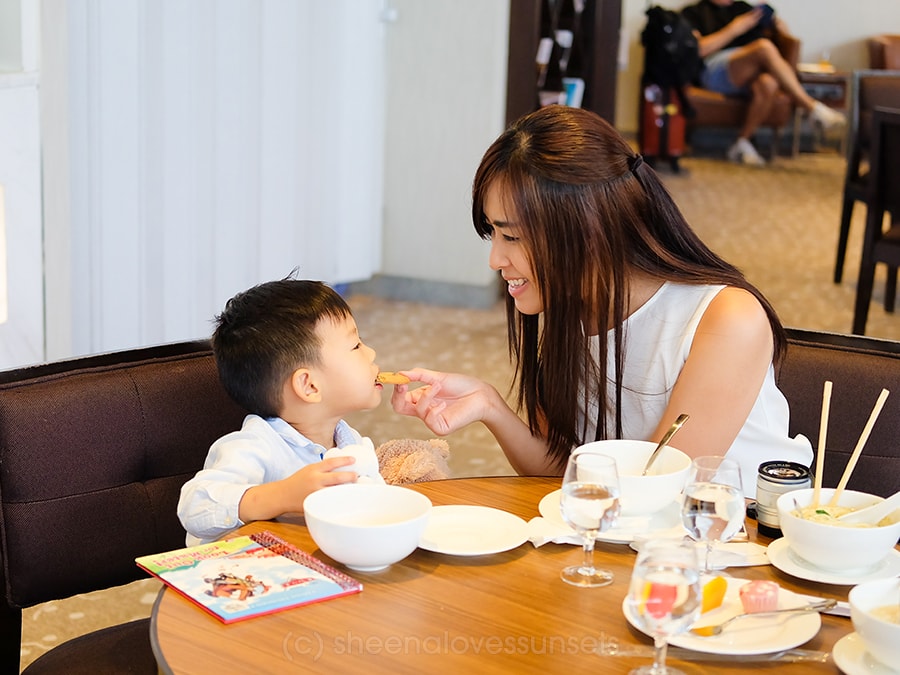 You can also enjoy a great selection of pastries, cookies, sandwiches and even a delicious bowl of noodles. Luke loved the cookies, cornflakes and koko krunch!
2. Enjoy the hot towel, warm bread and nuts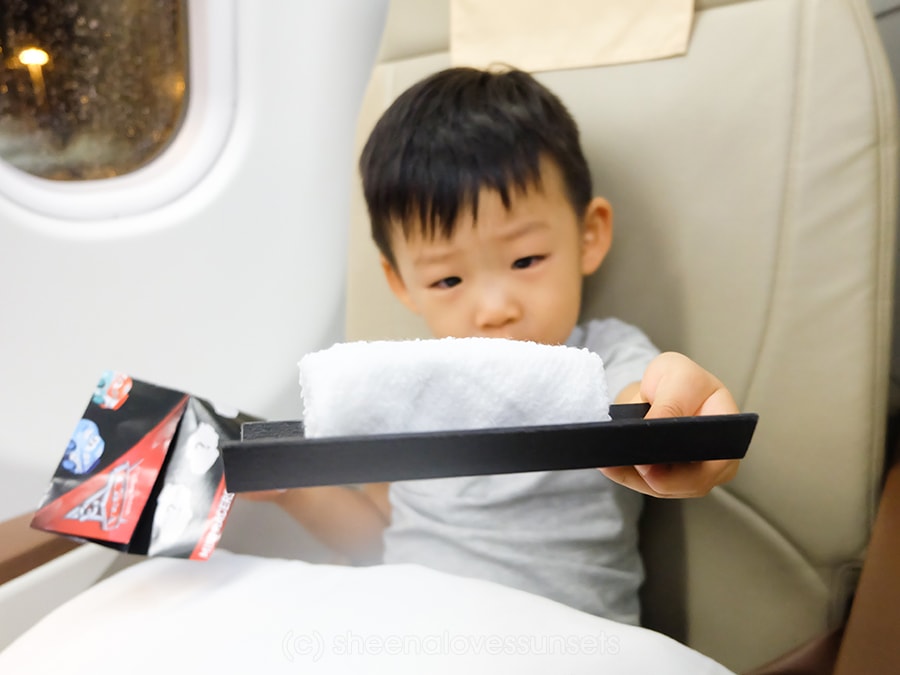 As you wait on board for the flight to take-off, the crew hands each passenger a warm towel. It's always nice to relax and wind down before you fly.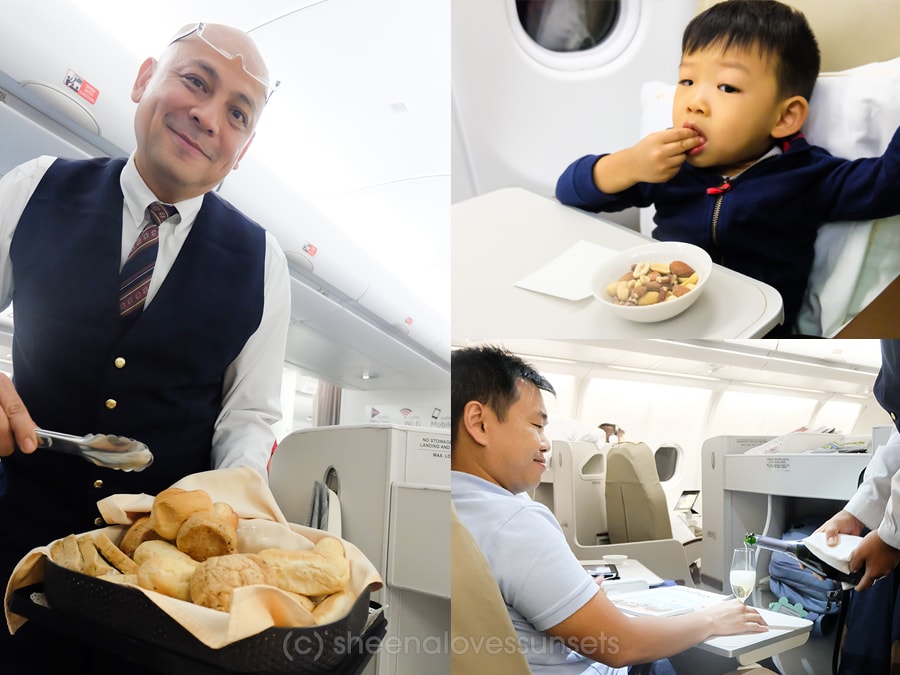 Before the meal, you are also served bread (my favorite!), nuts (Luke's favorite) and your choice of drinks. Look at Mor's happy face. Haha.
3. Have a toast and drink (water, of course!) to your heart's content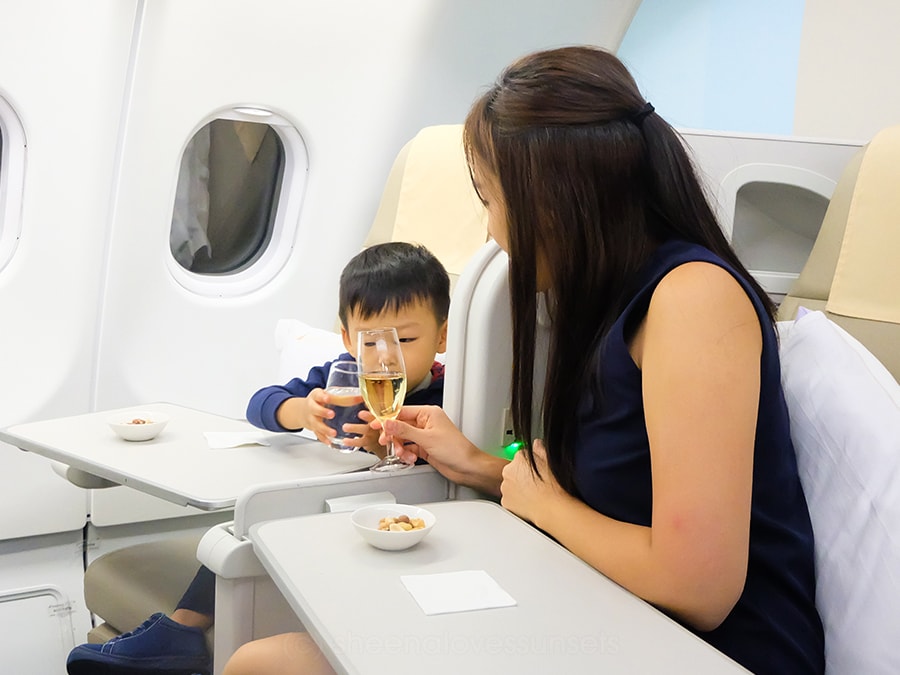 Speaking of drinks, let's have a toast! Luke just got water because he has never been much of a juice person but there's definitely no shortage of options for you!
4. Take advantage of the space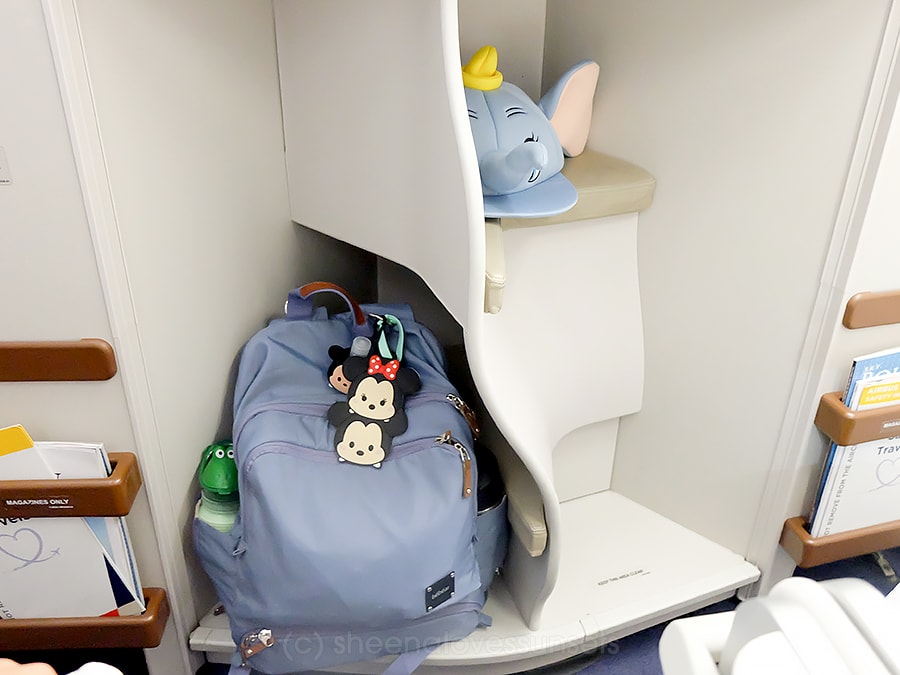 The wonderful thing about riding in business class is having lots of legroom AND storage! Luke's huge diaper bag (which doesn't really have diapers, but is in fact filled with toys, extra clothes and other essentials,) fits snuggly in this compartment. I was able to get all that I needed for Luke in an instant, without having to rummage through it in a tight space.
5. Press the button that makes your chair lie flat. Then push the one that makes it sit up straight. Repeat 50x.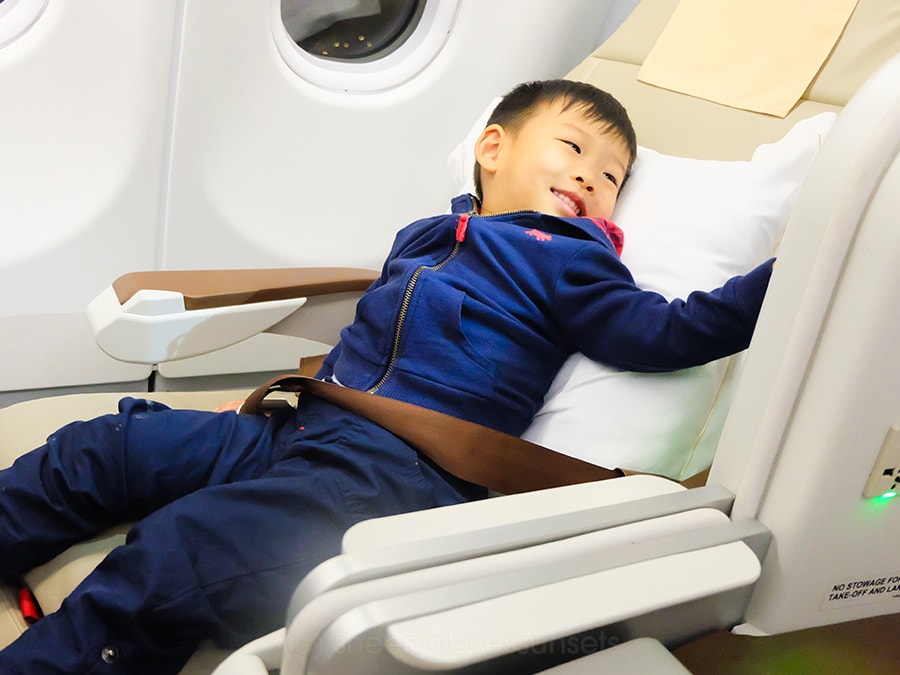 Probably Luke's favorite feature as he was riding PAL's Business Class. Once I showed him how the seat buttons worked, he was pressing them like a pro. It's like an extension of Disneyland for him!
6. Do #5 again, this time, with mom's chair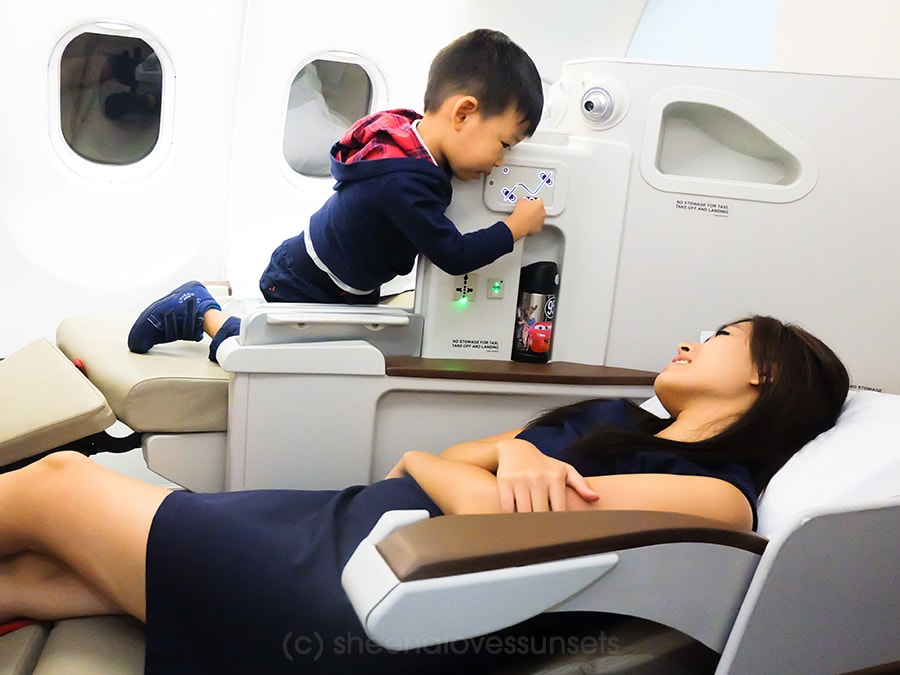 And of course, he had to let me in on the fun! He kept saying "Mommy, SLEEP!" as he pressed one button. And after 5 seconds "Mommy, WAKE UP!" as he pressed the other button.
7. Use the different compartments in your chair as a garage for your toy cars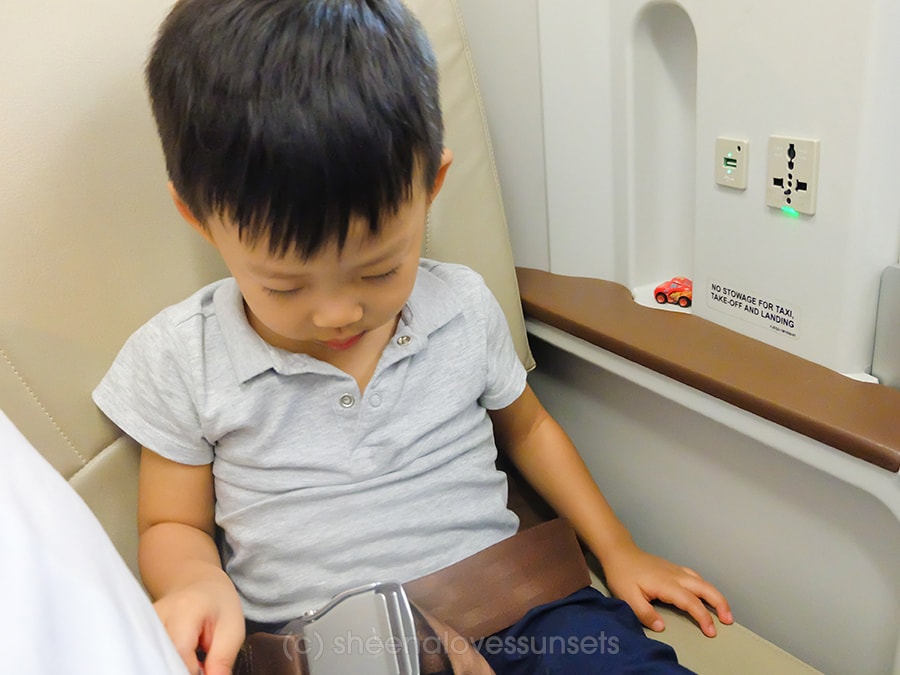 Because that's what the compartments really are for anyway, right? (Bonus: You can charge your gadgets on board too!)
8. Enjoy the in-flight entertainment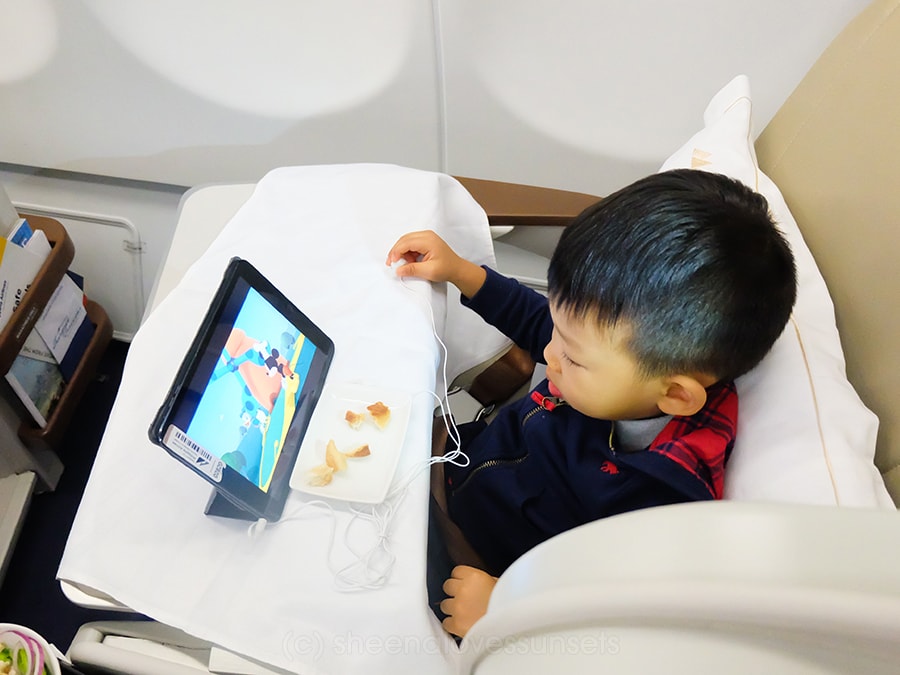 Each business class passenger at this Philippine Airlines flight was given an iPad where we can watch movies and TV shows using the myPAL player app. We don't usually let Luke watch on iPads but we're on vacation anyway so I'll let it pass this time! 😉
Of course, he chose to watch Mickey Mouse Clubhouse! The earplugs were still too big for his tiny ears so they kept falling (haha!) In the end, he just decided to watch without sound.
9. Order a fancy meal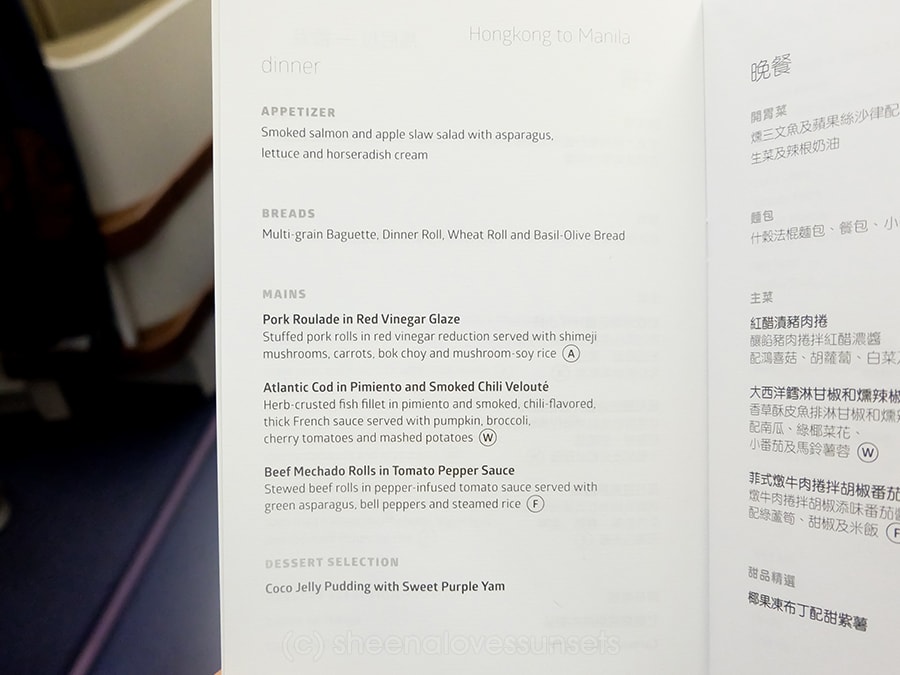 One of the highlights (if not THE highlight) of our flight was the dinner. No need for a kid's meal for this little traveler because he basically eats anything (with the exception of cake as he does NOT like cake!)
I ordered the Pork Roulade in Red Vinegar Glaze for me and the Atlantic Cod in Pimiento and Smoked Chili Veloute for Luke.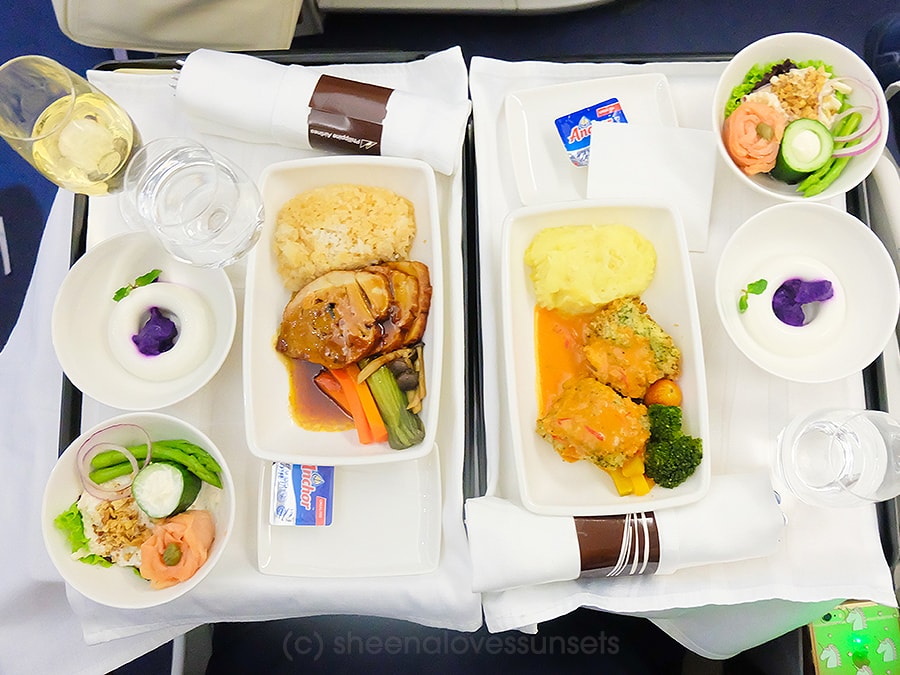 This is how mom's table looked like. Haha. I didn't dare put his meal on his table because he'll probably just make a mess if I did. We shared everything and I loved both but I personally liked the Pork Roulade the best!
10. Charm the crew: They might give you a surprise!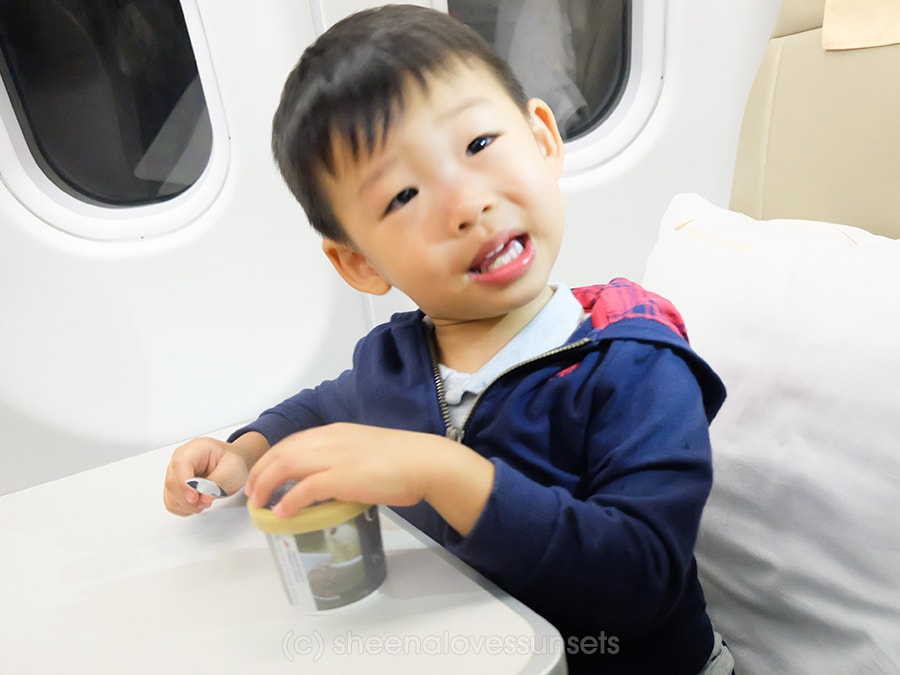 Through out the flight, all the crew members who passed by us were so kind to Luke! Sometimes, they would stay for a while to chat with him and they would occasionally ask us if we needed anything. Then in the middle of the flight, one of the flight attendants asked if Luke would like ice cream because they still had 1 left from the earlier flight and of course, he said yes!
Special thanks to the sweet PAL crew members. We really experienced the #HeartOfTheFilipino on our flight! Can't wait to fly again soon!
–
FOOTNOTE:
In case you were wondering how this toddler did on the flight, well, he was generally pretty behaved! As you can see, there were a lot of things that kept him occupied the entire 2 hours (including wait time on-board) of our flight He had a quick cry before landing because his ears wouldn't pop and I think he semi-panicked inside. But all-in-all, he was such a great flyer!
I thank God for His grace and all praises to Him alone! Here's to more flights with the kids!

(NOTE: THIS POST IS ABOUT OUR EXPERIENCE LAST SEPTEMBER 2017.)