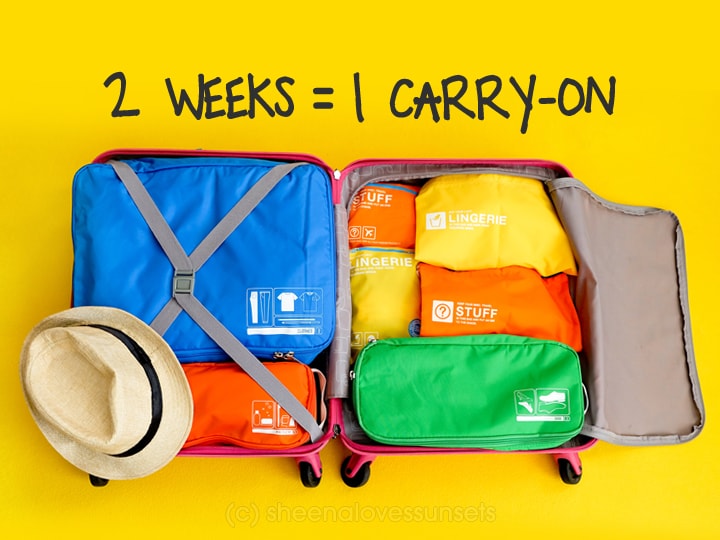 Today, I will show you how to pack for 2 weeks in just 1 carry on! Think it's impossible? Not if you have the right materials!
Benefits to bringing only a carry-on
You don't have to wait at the baggage claim, which will surprisingly save you a lot of time.
You don't have to worry about your luggage getting lost in transit (has happened to me many times, unfortunately!)
You can save on baggage fees if flying low-cost. And lastly, you don't have to lug around big suitcases when you commute from the airport to your hotel, and back.
Tip #1: Use packing cubes for clothes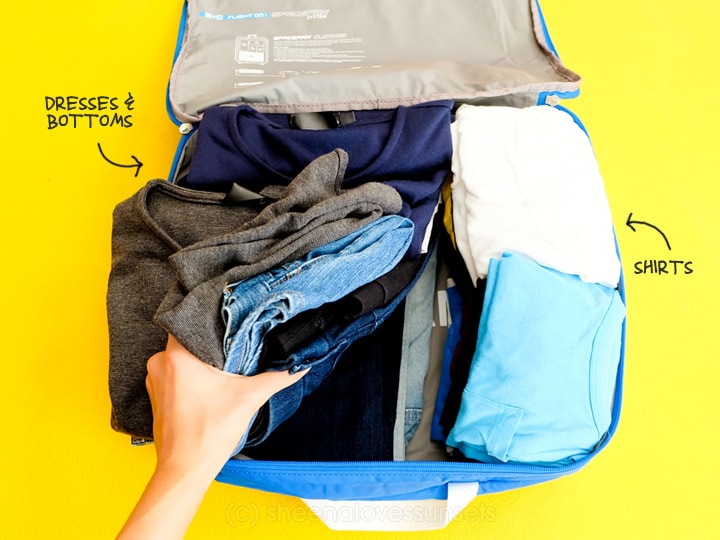 Pack Flat & Compress!
Packing cubes are seriously magical inventions; they keep your clothes organized and compressed! I used to roll my clothes when I pack but I learned recently that actually, packing them flat in a packing cube allows for more compression.
I personally use these Spacepak cubes from Flight001. Unlike other cubes, these have compression vents on the side so you can push out all the air after! Yay for more clothes!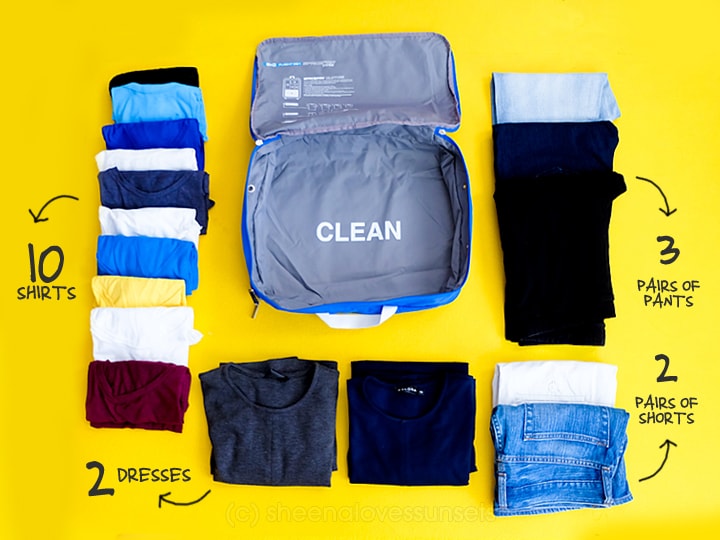 Yes, believe it or not, I was able to fit all of these in my Spacepak! Add up the set that I'll be wearing already on my first day, and I officially have two weeks worth of clothes, without sacrificing variety. Of course I need different outfits everyday (#travelbloggerproblems…Haha!)
Color Coordinate
One good tip when packing for a long trip with limited space is to choose outfits with neutral tones or ones that fall on the same color palette so it's easier to mix and match. Like for this set, except for the red and yellow shirt, all my other clothes are either blue, grey, white or black.
Tip #2: Organize and Categorize!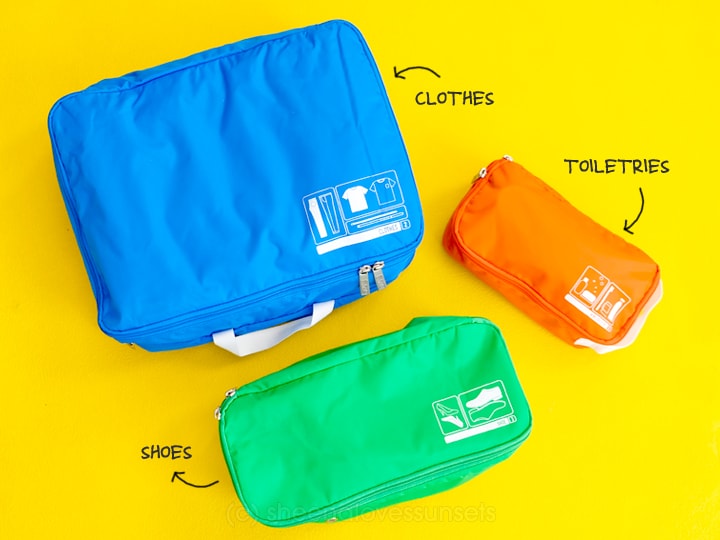 Easy Access
Keeping the contents of your luggage properly organized and labeled is important. It takes a lot of effort to pack a lot in a small suitcase and that means it's not easy to unpack and repack either. It's important that you can easily access what you need, without messing up your luggage. Otherwise, you'll have to keep on fixing every time you rummage through your pile just to get that hairbrush!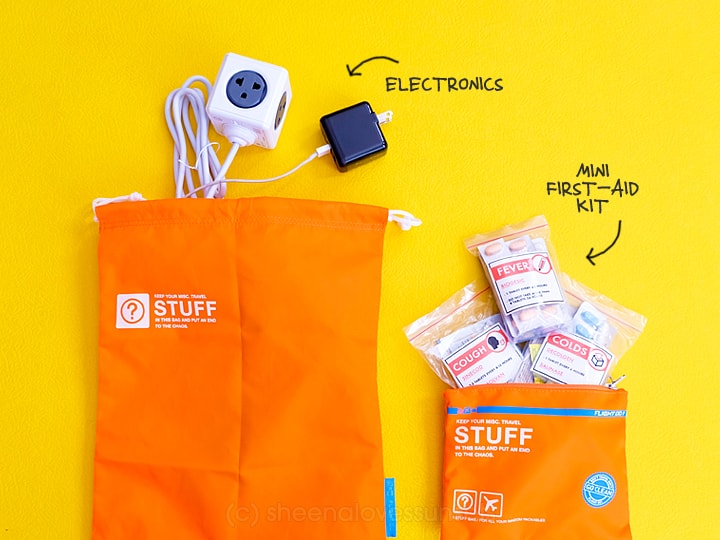 I also use these GoClean Bags, also from Flight 001, to separate my other essentials. Each GoClean Bag comes with its own pouch but since I wanted to maximize them, I also used the pouches for packing. Here, you can see that I used the drawstring "Stuff" bag for my electronics and the pouch as a mini first-aid kit.
I love these bags because not only do they look good but the design is also very practical. Its big, bold and neat font makes it easy to identify. That's good design; they look great and they serve their purpose well.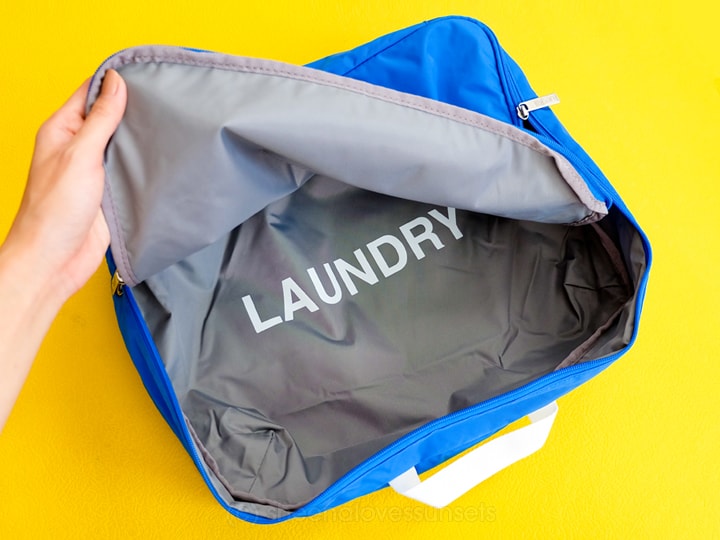 Separate Clean from Dirty
It's also important to keep your clean clothes fresh and away from your dirty laundry! You don't wanna mix sweaty shirts with your clean ones. My Spacepak clothes cubes have dual front and back zippered compartments that are really made for separating! Pretty neat (pun intended), huh?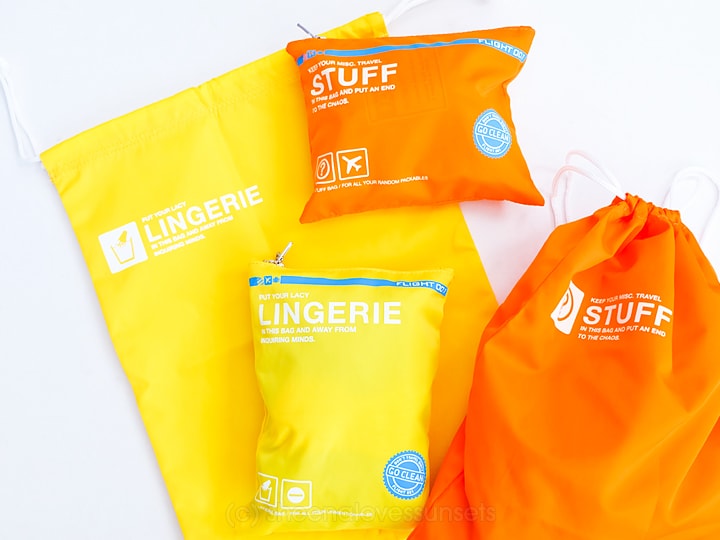 I also use these GoClean Lingerie Bags to separate my clean and used unmentionables! Like what I did with my GoClean Stuff Bag, I used both the drawstring bag and the pouch; the clean ones are on the bag and the dirty ones on the pouch.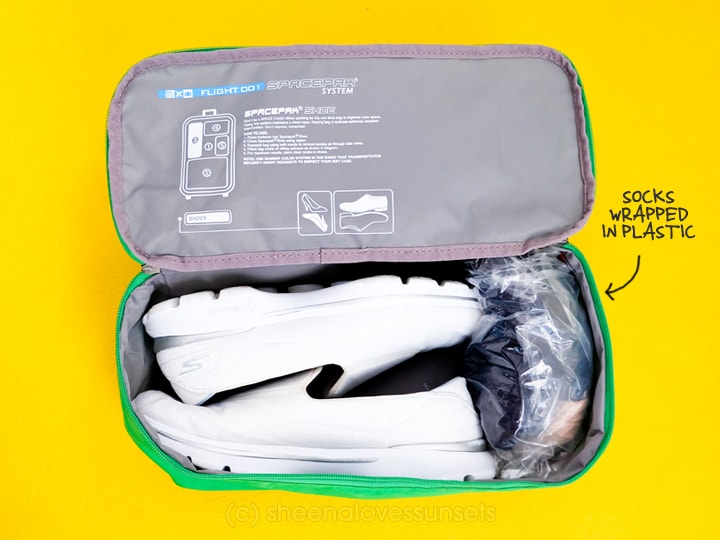 Don't Forget Those Dirty Shoes!
As much as possible, I bring an extra pair of shoes when I travel because I don't wanna spend vacation time looking for another pair if I accidentally ruin the one I'm wearing or if I encounter any other shoe problems. But shoes can be a hassle (and so dirty) to pack so it's important to separate them.
I put in mine in my Spacepak shoe bag cube. Then, I put my clean socks in a Ziploc bag and put them inside the shoe cube as well.
Tip #3: Travel-size everything!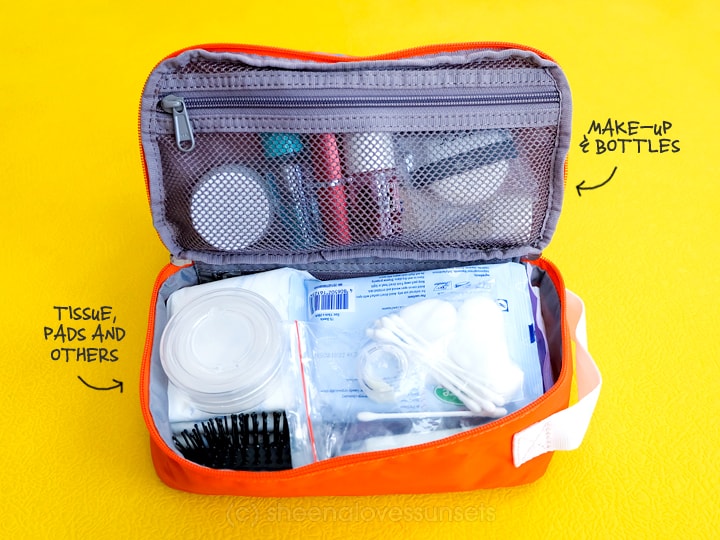 Put all your make-up, lotions and toiletries in small bottles, or bring sachets. You're not gonna finish entire bottles anyway so bring only what you need. Also, don't forget that if you're bringing this with you on board, you can only bring limited quantities of liquid! So double check.
This Spacepak mini toiletry bag is just the perfect size. It fits all my make-up, dental kit, tissue, pads, a collapsible cup and even my mini hairbrush! I place all my small items, like make-up and other bottles, on the zippered area so that they don't jumble together with my other things.
The principle of travel-sizing doesn't only apply to toiletries but to other things as well, like for my first aid kit. I usually bring a larger first-aid kit for travel so this is my handy version. It's only enough for real emergencies and quick fixes.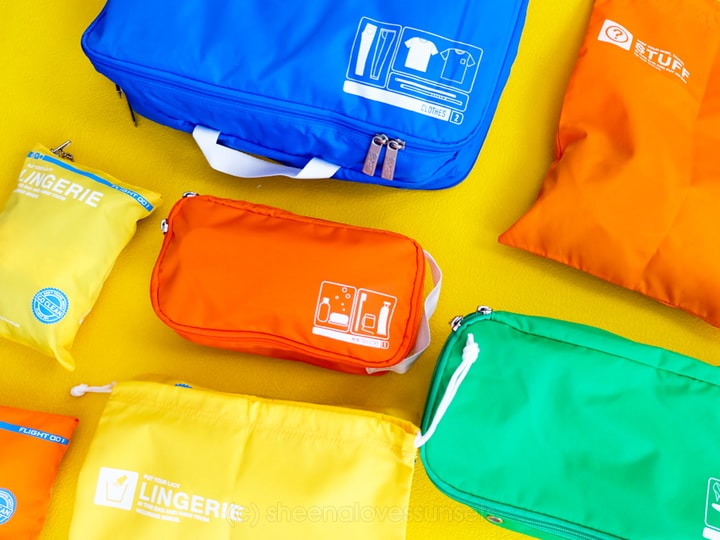 Additional Packing Tips:
Bring a foldable bag that can be expanded in case you need extra space going home (for all the things you bought!) You can check-in your luggage then and just bring the foldable bag as carry-on.
Wear big and bulky things with you to the plane: such as your boots (or your heavier pair of shoes), jacket or even your floppy hat, so they don't take up space in your luggage anymore.
Don't forget to weigh your bag! You might have been able to stuff everything but if they exceed the allowable carry-on limit, you're pretty screwed.
When buying packing essentials, think of them as investments. Don't make the same mistake as I did before when I bought cheap packing cubes; the zippers broke even before I left for the trip. Quality should come first when you're choosing since you're gonna be using it for all your future trips!
Do you have other tips you wanna add? Share them below so we can all learn from each other on how to pack lighter and travel smarter!
Spacepaks and GoCleans are available in The Philippines at Flight001 Stores nationwide. Spacepak 3-pc Set (P5290), GoClean Lingerie Bag (P1190), GoClean Stuff Bag (P990).  Check out their Facebook page for a complete list of branches.