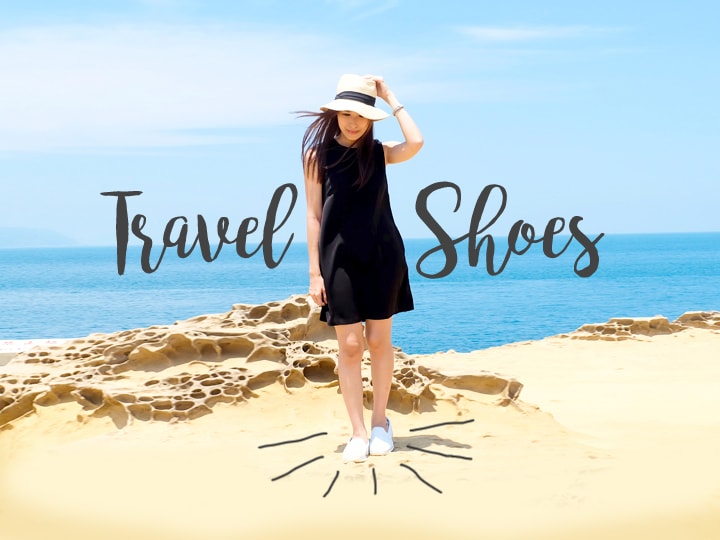 According to my fitness tracker, I walk around 18-20k steps a day when I travel! That's 5x more than my count when I'm at home (designer life!) and so it's a real must to wear only the comfiest shoes for travel.
After a really long search (and trust me, I really searched!) here are the two best pairs I've ever used! These are my all-time favorite travel shoes and I swear by these! When you try them for yourself you'll understand why I rave about them!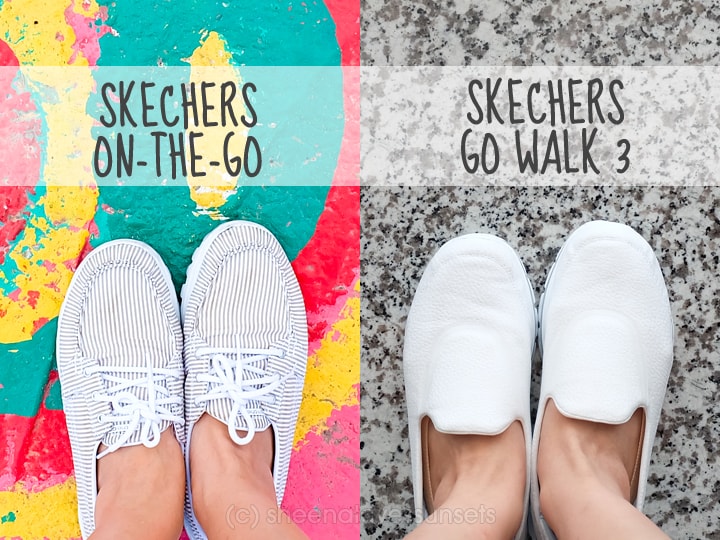 My favorite travel shoes are two Skechers pairs: Skechers On-The-Go and Skechers Go Walk 3. I've had the On-The-Go for a year now and the Go Walk for a month (in time for my Taiwan trip)
Aside from being the most comfortable shoes I've ever tried (not even exaggerating here), they are also both surprisingly extremely light! I used to bring only one pair when I travel but on my last two trips, I brought both pairs because they hardly weigh anything!

Skechers On-The-Go
Comfort:
I know I've said comfy a hundred times already but I don't know how else to describe it in different words! They are just really, really comfortable! No-fuss, simple and lightweight.
Style:
They look like boat shoes, right? Which makes it perfect when you're wearing shorts, although I've worn it multiple times with a dress. Because they look so low-key, I wear these even on regular days here in Manila (especially when I'm doing mom-errands!)
Cleaning:
Since its main body is made of canvas, once it gets dirty, you have to wash it. But during trips, I don't really clean it anymore because dirt seems to just camouflage since the design has thin light brown stripes.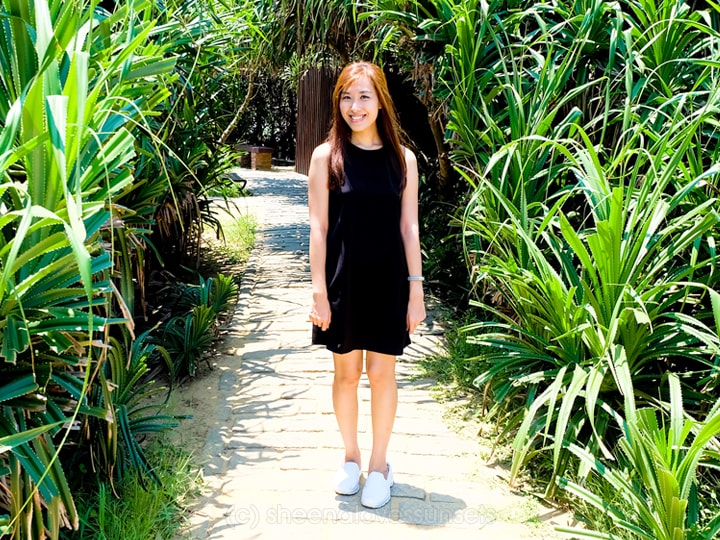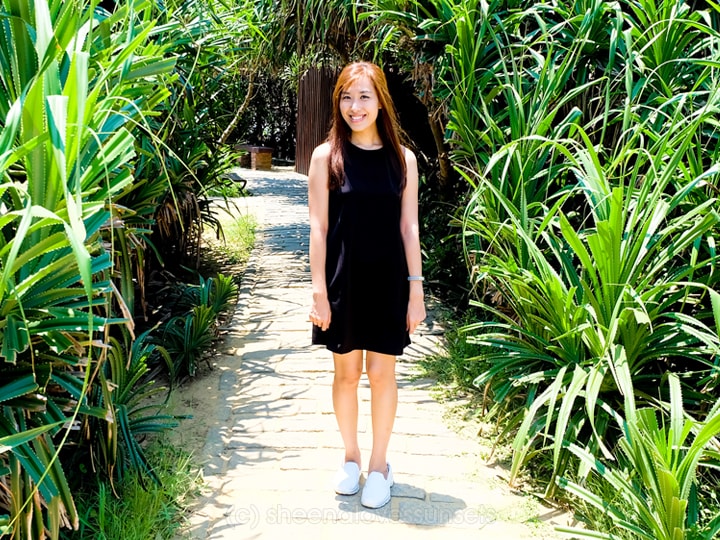 Skechers Go Walk 3
Comfort:
Compared to my On-The-Go, the cushioning on these are way better (which is why I mentioned on my Instagram that it felt like I was walking on clouds!) And no wonder, because according to the product description online, they boast about its "GOga Mat Technology with high-rebound cushioning"
At the time of writing this article, I've worn it in Taiwan and Hong Kong and it was perfect all the way; no blisters, no band-aids and that's considering we walked around 18,000 steps per day! Also, I've worn it both with and without socks and I've had no problems at all.
Style:
They look chunkier than my On-The-Go's but it's a cute kind of chunky that I like! They still match great with my short dresses, which is perfect because I love wearing dresses!
Cleaning:
The first time Mor saw this pair, his first comment was "You got it in white? How are you gonna clean that?!" So I showed him the tag which says that it's Scotchguard protected! Yay! I still got a bit worried though after it got really dirty in Taiwan (since I wore it to Yehliu, where it was sandy and dusty) but no kidding, it looked good as new after I cleaned it when I got home!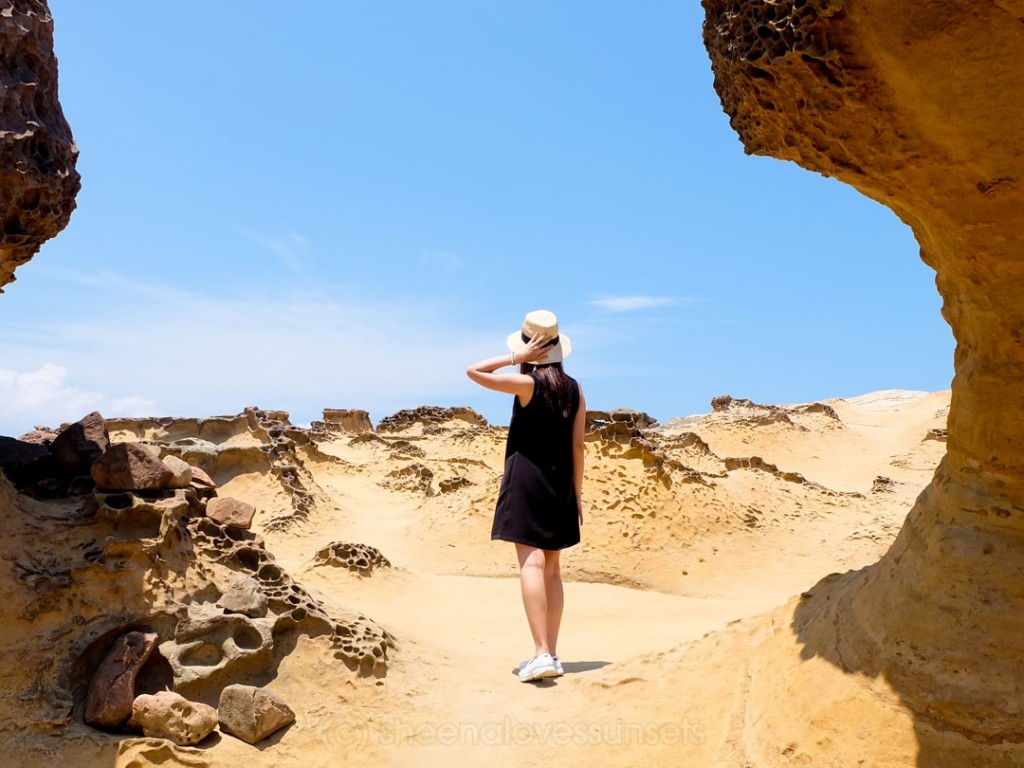 Ever since I discovered these, I'm like a crazy Skechers fanatic that I've recommended it to my friends (seriously, ask all the friends I've traveled with!), my husband and even my mom-in-law! Look, I'm even writing an entire blog post about it just to express my love! Haha.
Suffice to say, I highly recommend getting a pair of Skechers for travel. I'm actually thinking of getting another one in a different style. Now if only they had boots for winter. I'm still on the look out for the perfect pair of travel boots!
–
If you wanna see more of my favorite travel items, check out my travel must-haves!