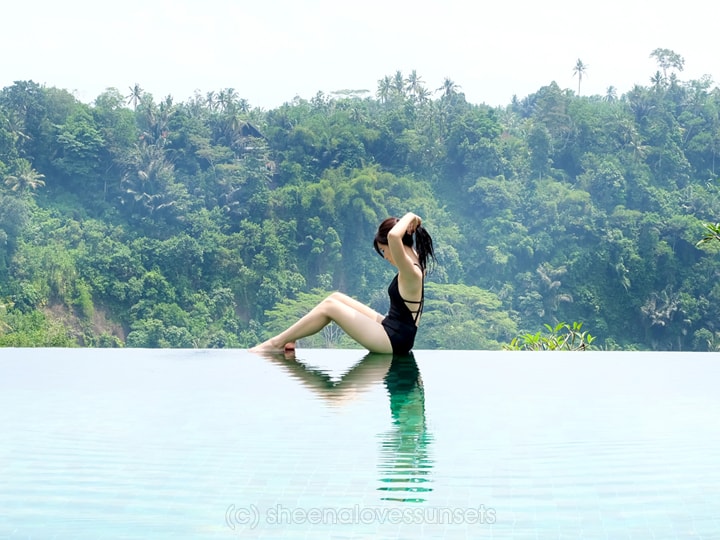 Aman resorts have always been known for their impeccably designed properties, exotic locations and excellent service. Staying at an Aman has been on my bucket list for a while now.
So you can just imagine my excitement when we were finally able to tick that off our list on our recent trip to Bali. We stayed at the Amandari and I have to say, I'm converted; I am officially an #AmanJunkie.
Amandari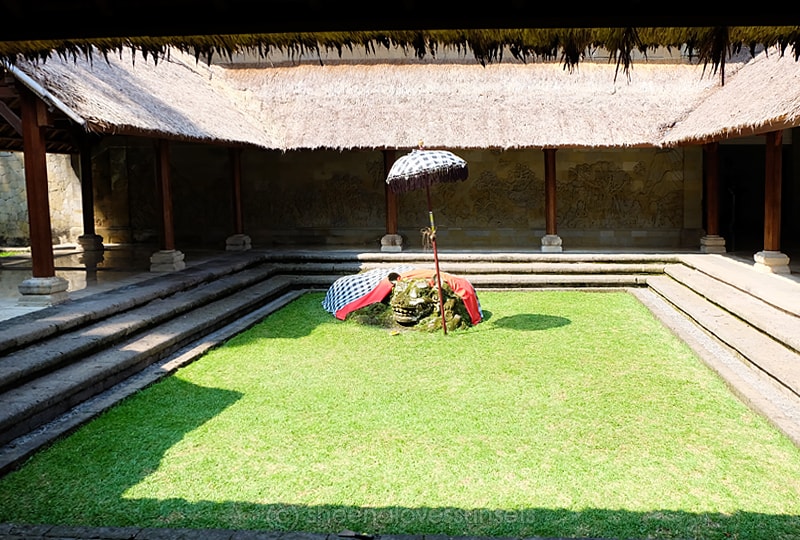 Each Aman property is known to be meticulously designed to fit the surroundings and Amandari is no exception. Amandari took its inspiration from a traditional Balinese village and the place blends in seamlessly with the lush tropical landscape of Kedewatan village, where it is situated.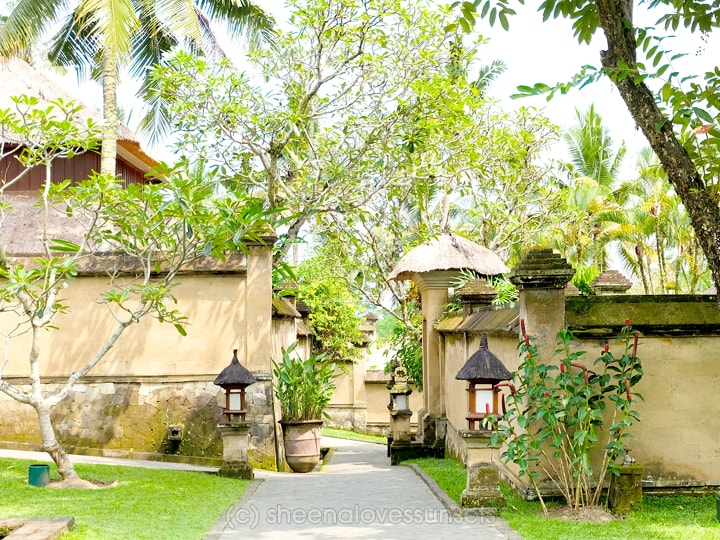 It is by far the most photogenic place I have ever been to. You could be standing at the doorway or just walking through the path and the backdrop is unbelievable.
And so, consider that as a disclaimer: expect this entry to be a very photo heavy blog review about our stay at Amandari. Trust me, I had to stop myself from putting in too much photos!
Arrival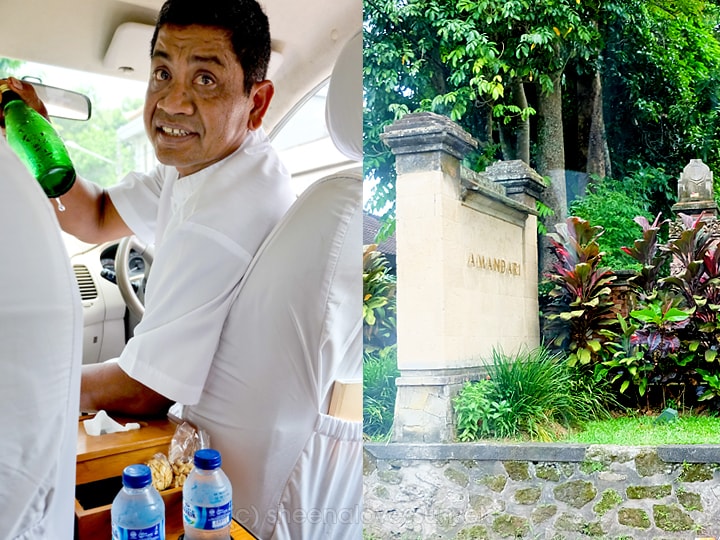 Before Amandari, we stayed at The Elephant Safari Park & Lodge in Taro. But we had lunch at The Rice Terrace Cafe after check out so that's where our driver from Amandari picked us up. Our friendly driver offered us snacks and refreshments along the way (sparkling water, anyone?)
During the ride, I immersed myself in the Aman coffee table book conveniently located at the back seat and prepared myself for my own upcoming Aman experience!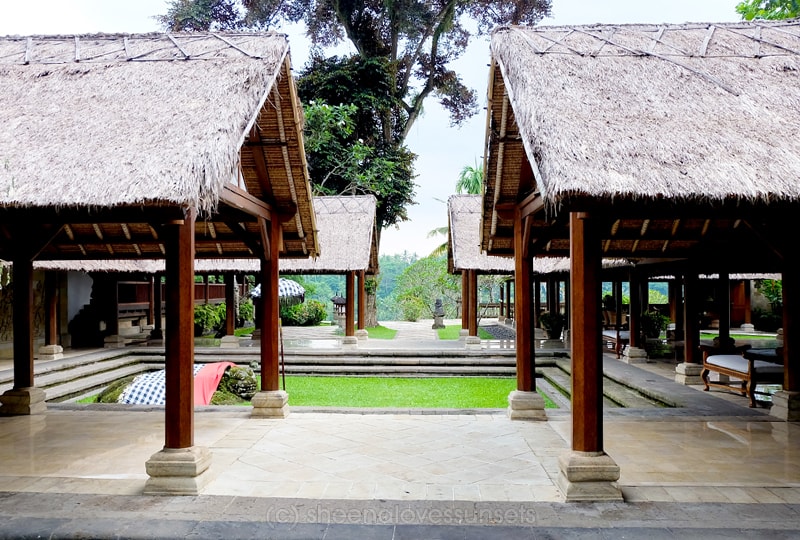 Upon arriving, we were welcomed by the staff and taken on a brief tour around the property. The place was beautiful. I'm getting a good feeling about this…
Our Pool Suite Villa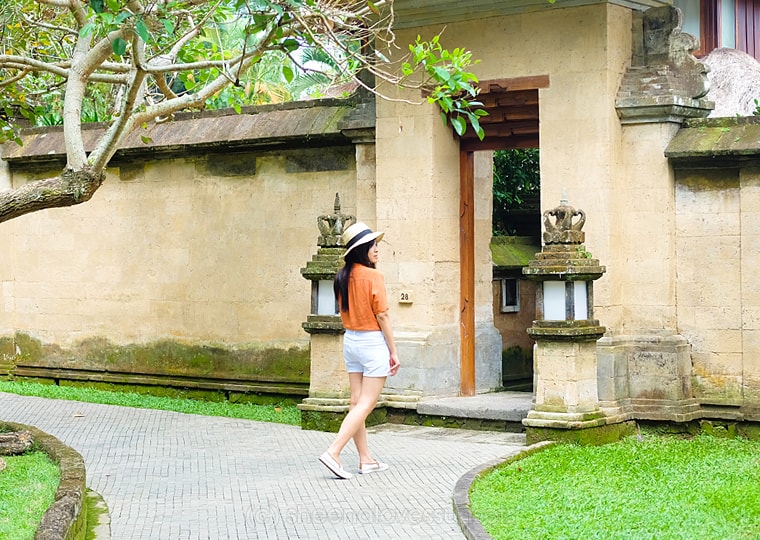 After the quick tour, we were then led to our villa. We pass through a magnificent stone gateway and enter our duplex suite.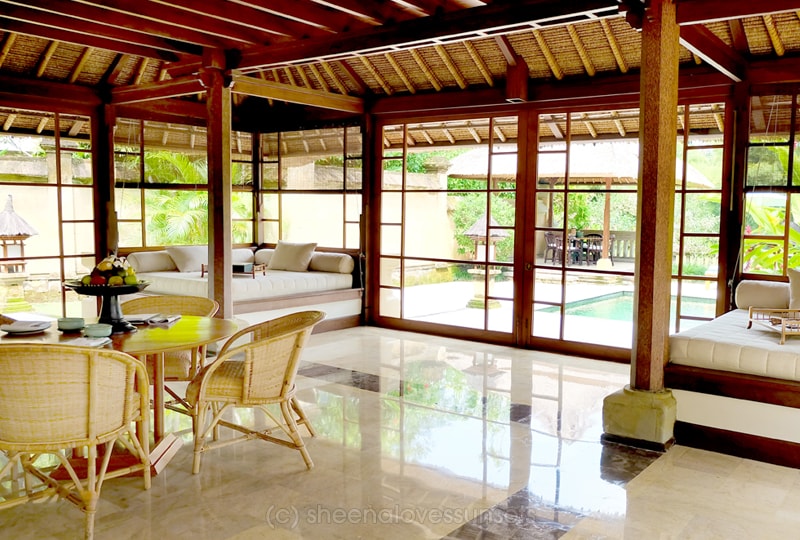 And what a suite it was. I fell in love immediately! Elegantly decorated in teak and wood, the room was incredible and unlike anywhere I have been to before. To say it was huge would be an understatement.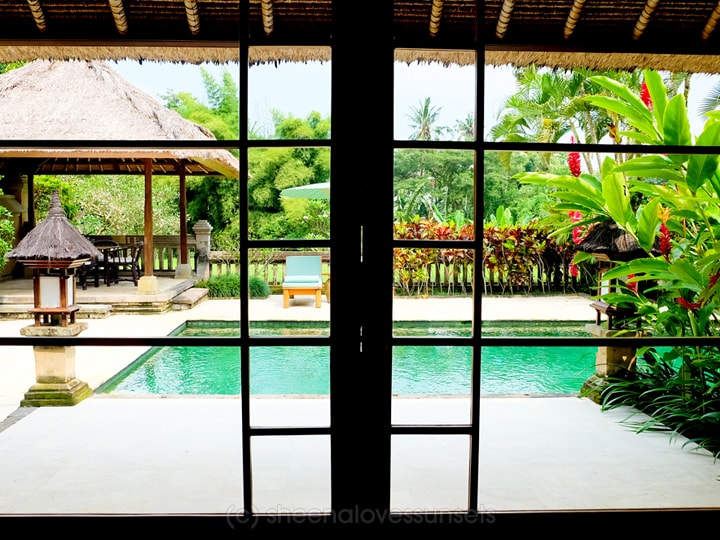 We had a private pool, an outdoor dining bale and our own courtyard gardens.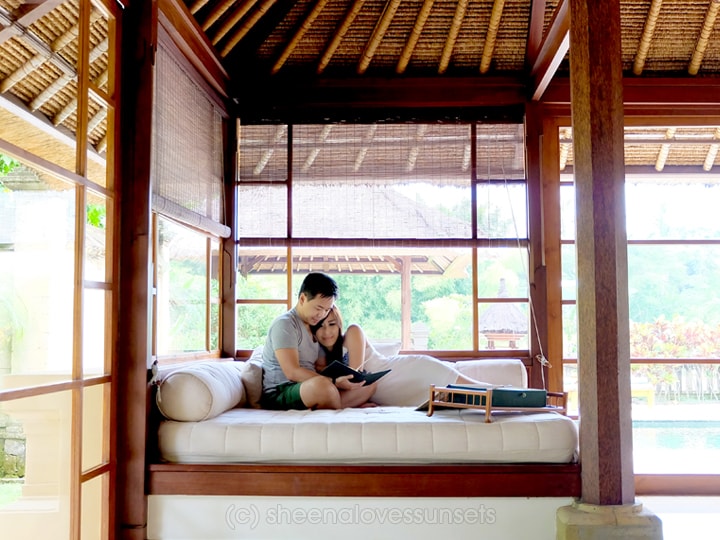 I can stay here forever! … but wait! I haven't even scratched the surface yet!
The Bathroom & Outdoor Tub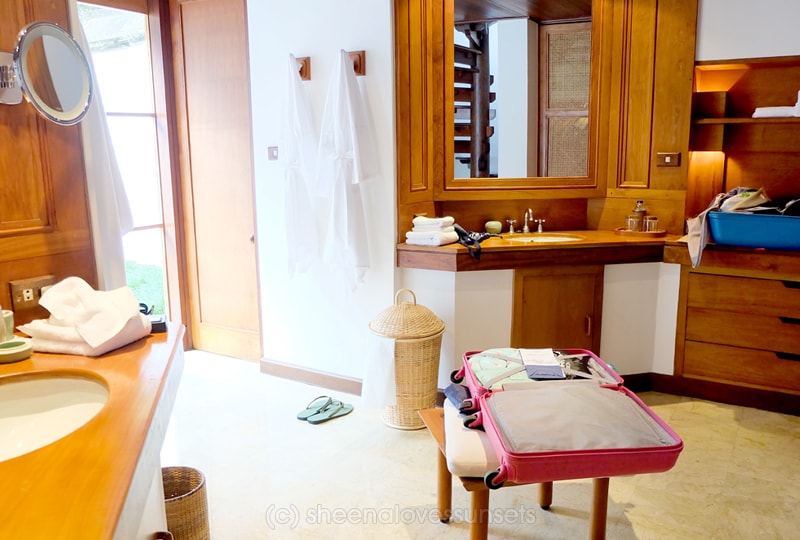 Also on the first level is our huge bathroom. We quickly settled in so I wasn't able to get a clean photo without all our things, but I hope you get a picture of how gorgeous it looks like.
One of our personal favorite feature? Having two sinks at the opposite end of each other! Mor and I don't have to wait for each other to finish! Yay! Haha. (It's really the little things that matter, am I right?)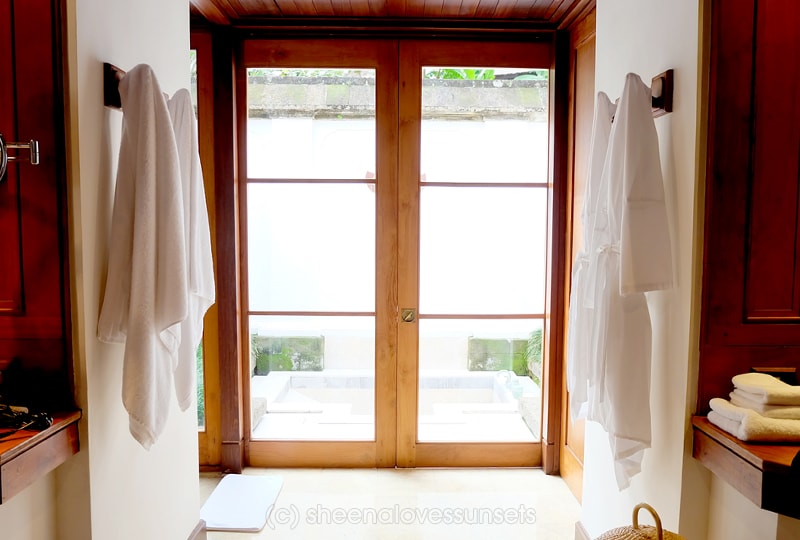 The glass door leading to our outdoor tub. Yup, you heard that right. And who can resist an outdoor tub? Definitely not us. You'll know what I mean later!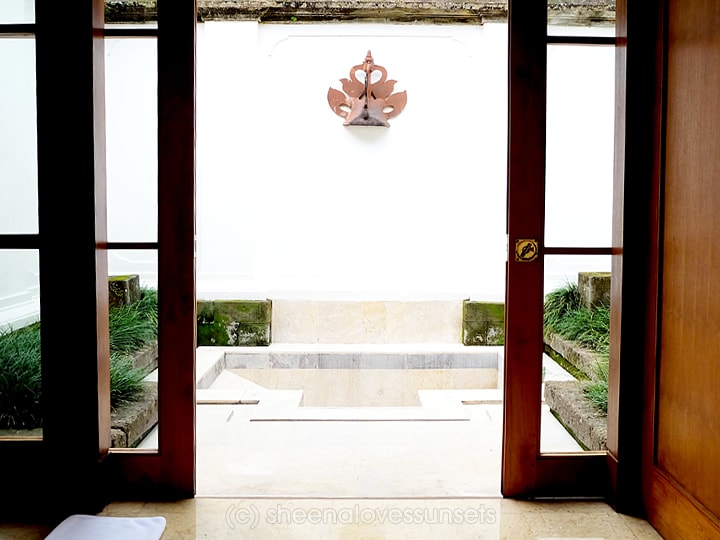 Another shot of our outdoor sunken bathtub.
The Second Floor Bedroom

As if that wasn't enough, we go upstairs (remember, it's a two storey villa!) and find our bedroom with an amazing view. I couldn't get a perfect shot because I didn't have the right lenses with me so I'm grabbing this photo from the Amandari website. This is exactly how our room looked like!
And to think, I was ready to sleep on the indoor bale at the living room downstairs! (Just kidding, haha!)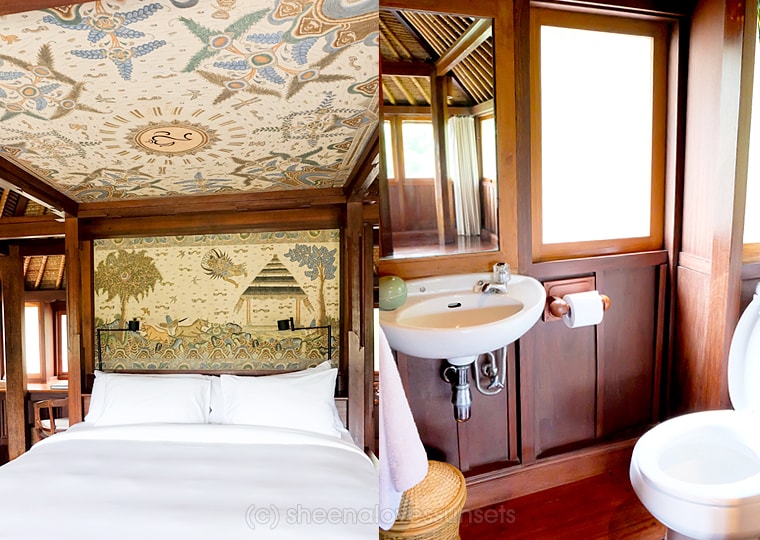 The second storey of course wasn't as spacious as the first level but it was big enough and definitely cozy!
Tokens & Little Touches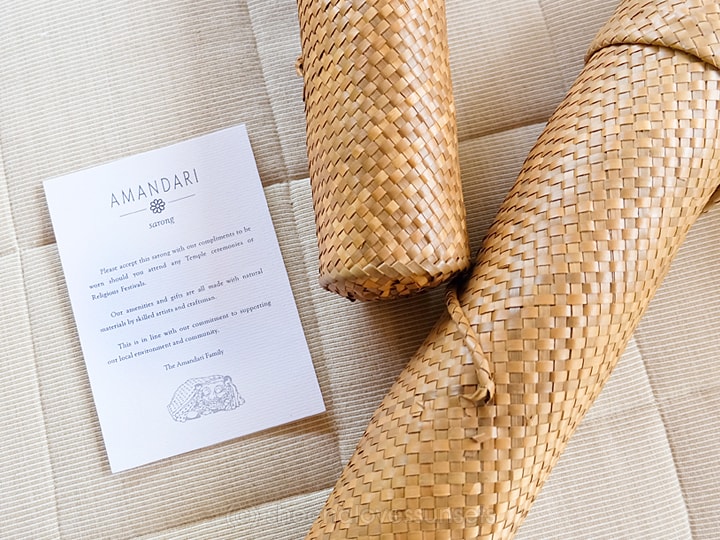 We were surprised to find that there were a lot of little gifts waiting for us around our villa! We were told to take all these home as souvenirs from our stay. What I love even more is the fact that all these gifts they provide guests with were made by local artisans as part of Amandari's commitment to supporting the local community.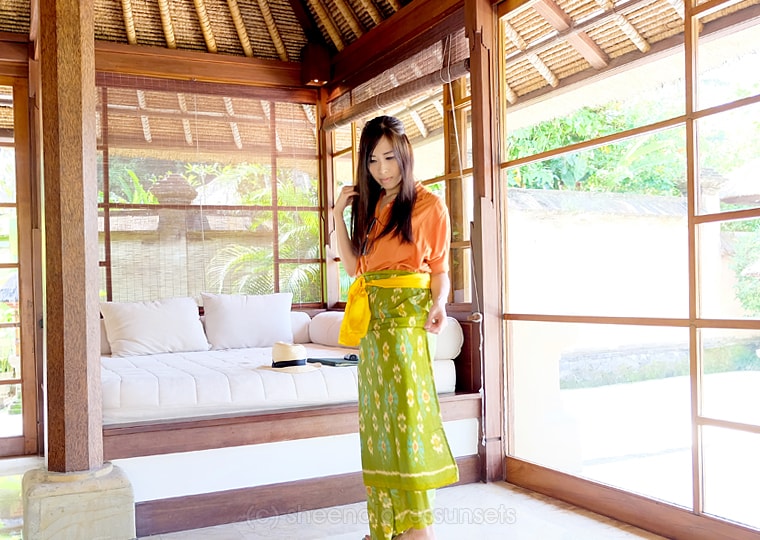 To start with, they gave us two sarongs for our use should we decide to visit religious sites in Bali. We didn't though, so I just tried it on inside our villa. Keeping it for my next trips! Hehe.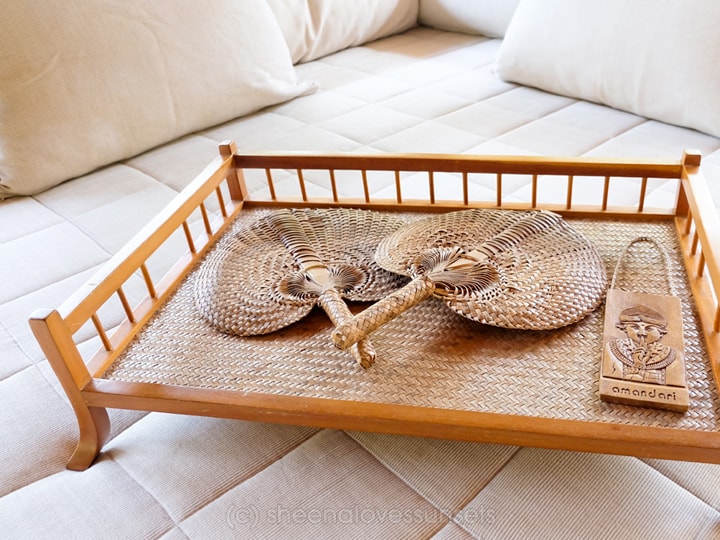 They also gave us these traditional fans and a woven bag (not in the photo.) We forgot to bring home our woven bag. Shucks.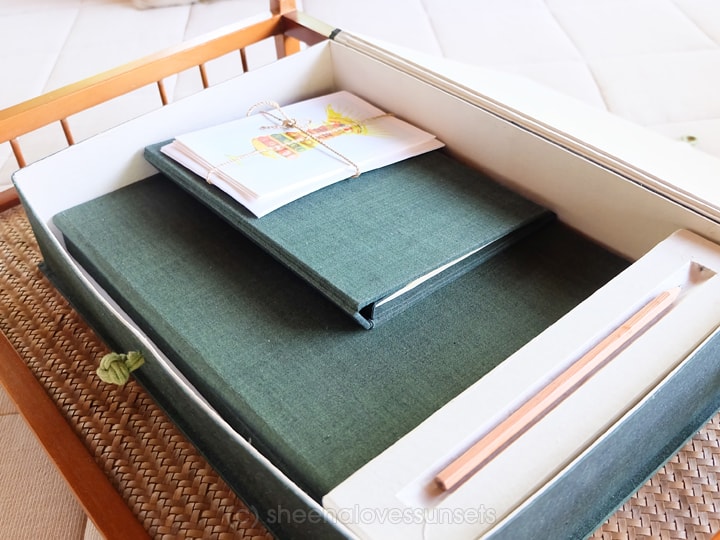 …And also a bunch of postcards and stationery. Some of the postcards were made by children from the local orphanage.
Balinese Afternoon Tea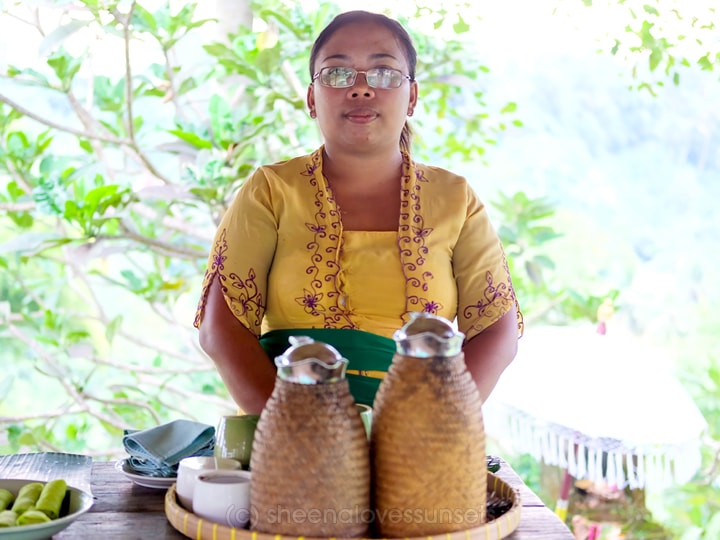 After settling in, we decided to drop by the pool area for afternoon tea. Two local women from the village come by everyday from 4-5pm in the afternoon with a selection of Balinese sweets and traditional tea or coffee for the guests.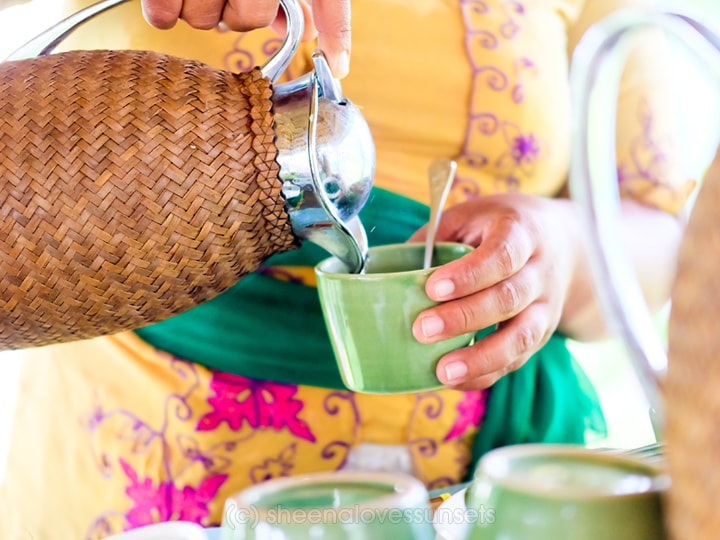 I really love having afternoon tea and so I made sure we didn't miss this.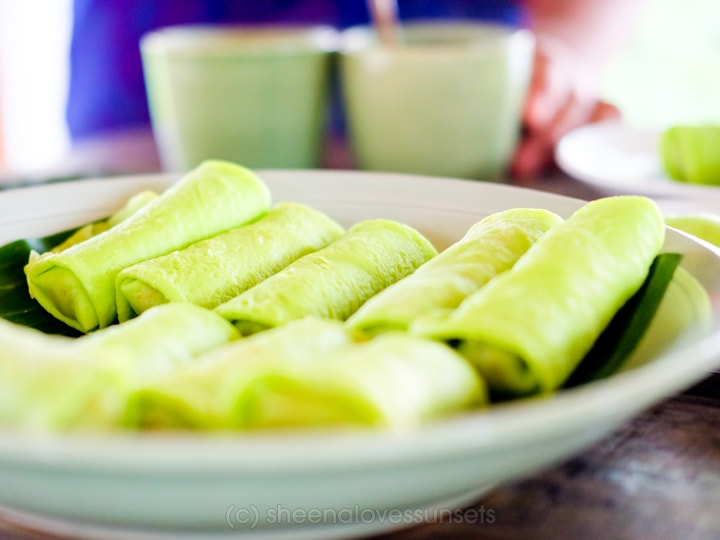 It was my first time to try this but I loved it at once. It's called Dadar Gulung, which is often described as a coconut pancake. I just kept on eating and I think I finished half the plate. I only stopped because Mor was looking at me like I was crazy already.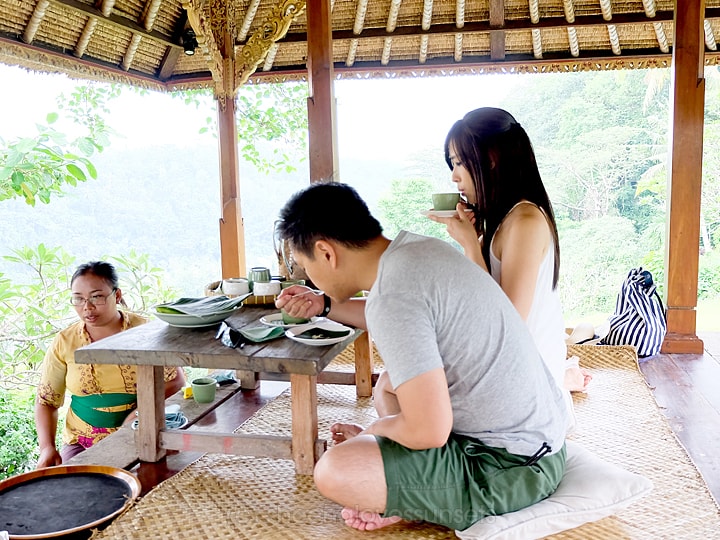 We sat down at the pavilion by the pool area and that afternoon, it was literally just the two of us there. I figured it might be because it was drizzling a little and perhaps the other guests decided to stay inside their villas.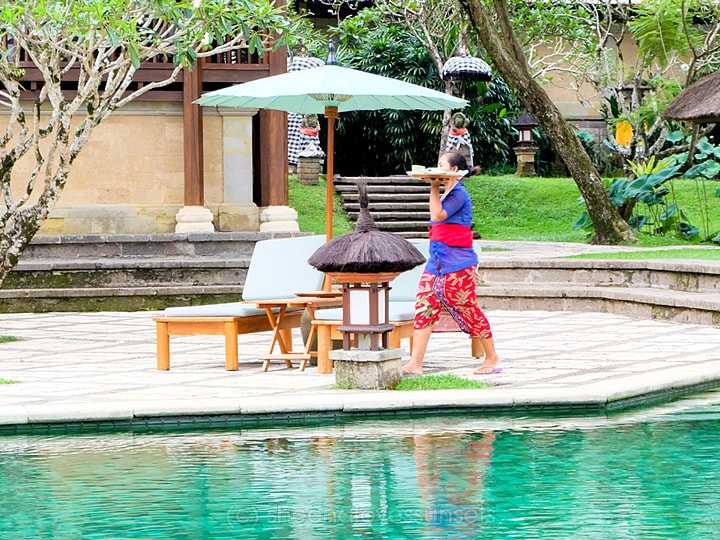 There was just another couple in the area but they were lounging by the pool, so the ladies brought the tea and pastries straight to them. Love that.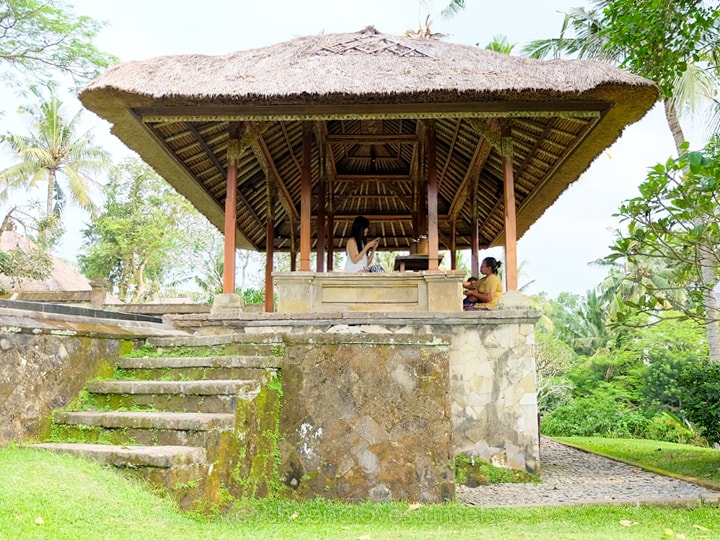 That's me doing my travel blogger duties (updating my Instagram, haha!) while enjoying my pastries.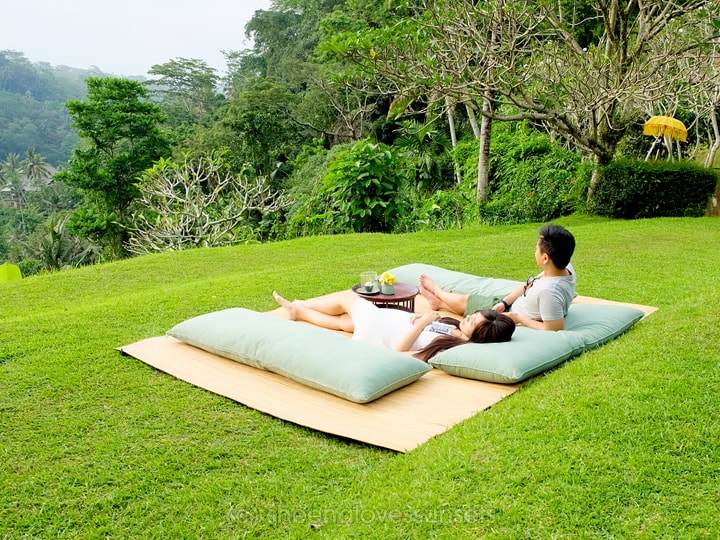 Then, by God's grace, what little rain we had stopped and the Amandari staff set up mats and pillows on the grass. Lying down under the sun with a light breeze blowing on our faces as we took in beautiful views of the jungle; it was unbelievable. Not to mention I was with my favorite person in the world. 😉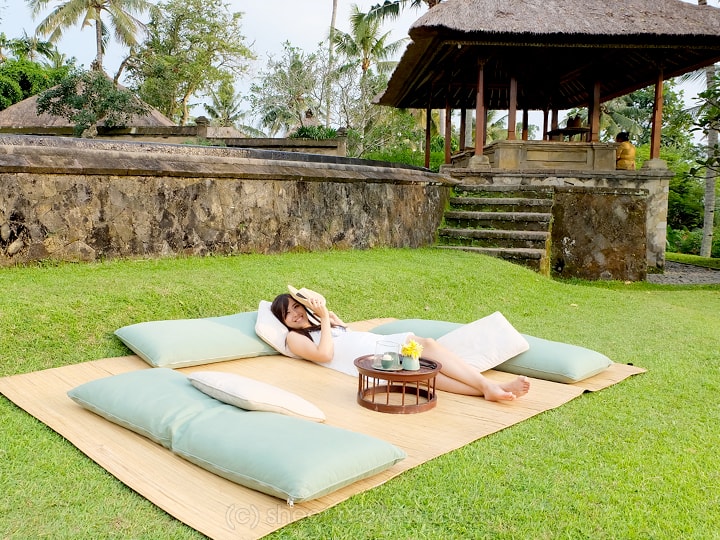 This was hands down my favorite experience during our entire stay in Amandari.
Dinner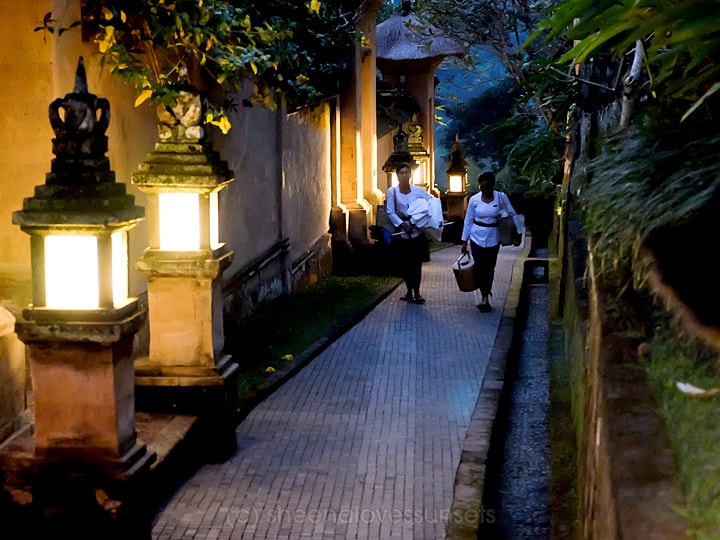 After our afternoon tea, we went back to the room where Mor had a relaxing bubble bath in our outdoor tub. He doesn't want me to post the photos so no photos of that one. Haha.
As night fell, it was time to eat again. We make our way to the main restaurant.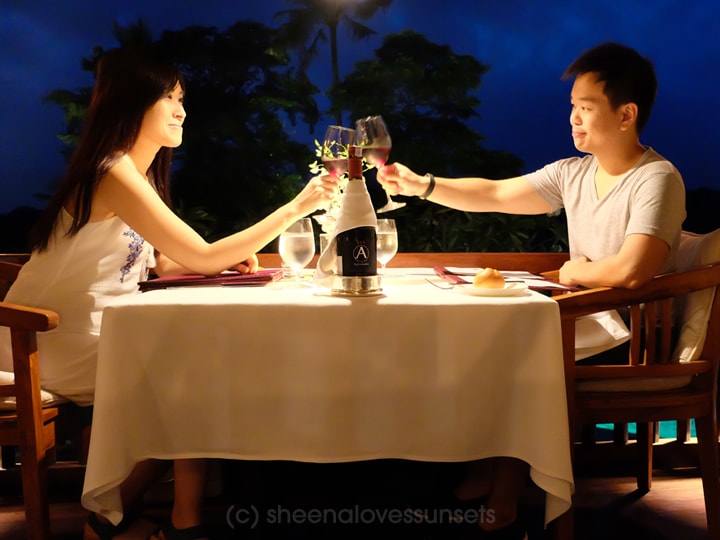 The Amandari has only one restaurant. It's open aired, overlooking the beautiful pool. People ask me if it's hot in Bali but here in Ubud, since it's located on a higher altitude, we enjoyed cool mountain breezes.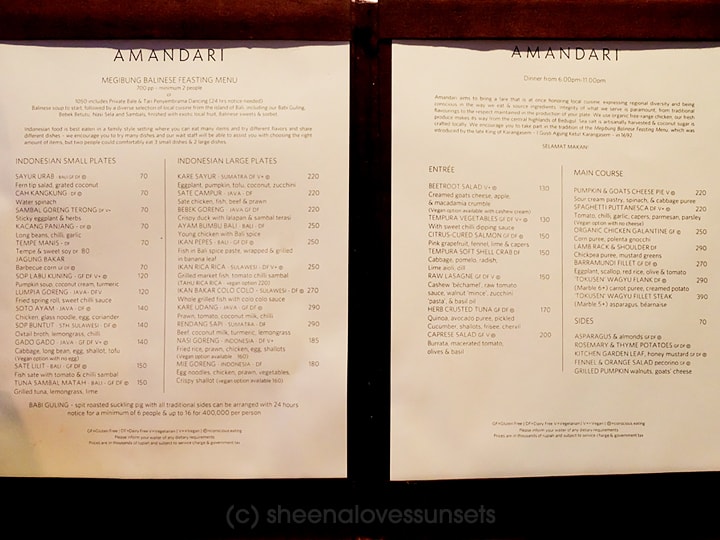 The restaurant offers both traditional Indonesian and Western dishes. We ordered a few from both sets.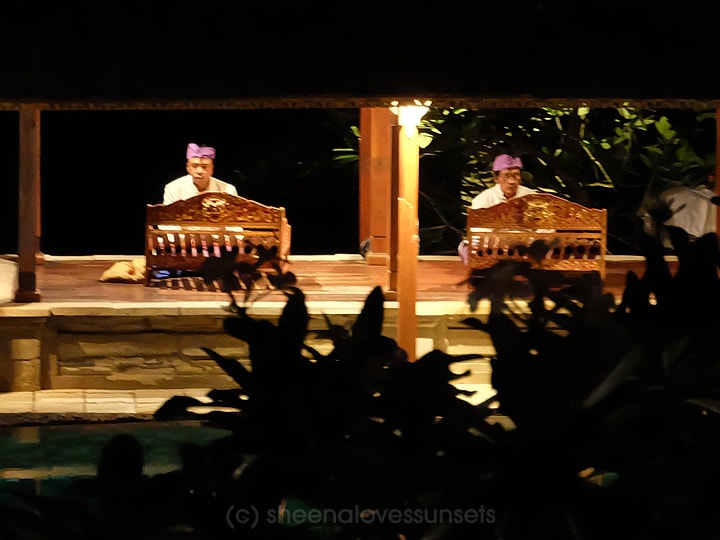 There were traditional gamelan performers playing all throughout dinner at the music pavillon. It was the same spot where we had our afternoon tea in!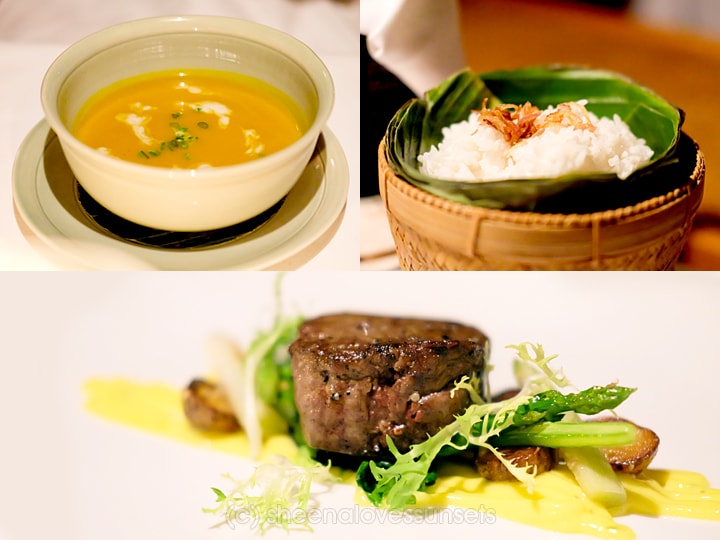 We ordered: Sop Kabu Kuning (pumpkin soup, coconut cream, turmeric), Ikan Bakar Colo Colo (whole grilled fish in colo colo sauce with rice, not in photo), Tokusen Wagyu Fillet Steak (Marble 5+, Asparagus, Bearnaise) and Tempura Soft Shell Crab (photo below)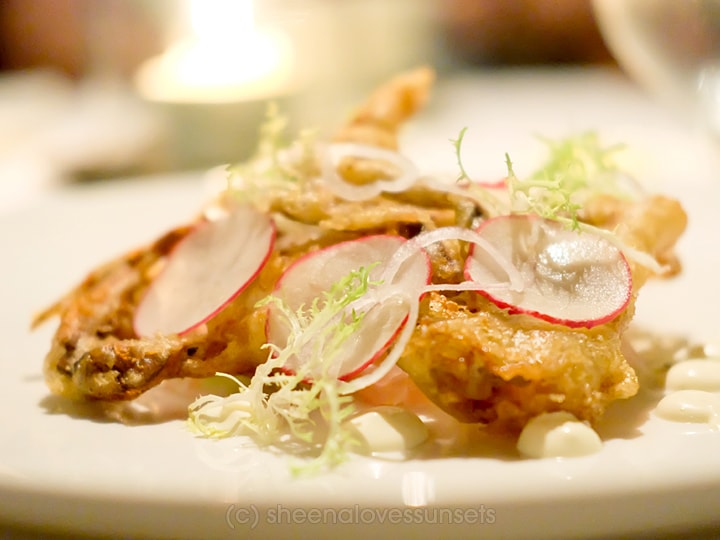 The Tempura Soft Shell Crab was really good.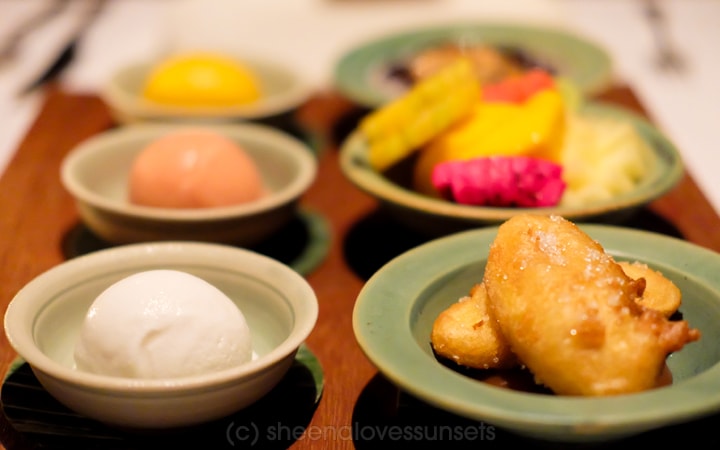 Then for dessert we couldn't decide so we decided to get the Tasting Plate which included Pisang Goreng (friend banana in salted palm sugar caramel with coconut sorbet), Bubur Injin (black rice porridge with mango sorbet) and Buah Exotis (fruits and guava sorbet).
The guava sorbet was the best! Hehe.
At Night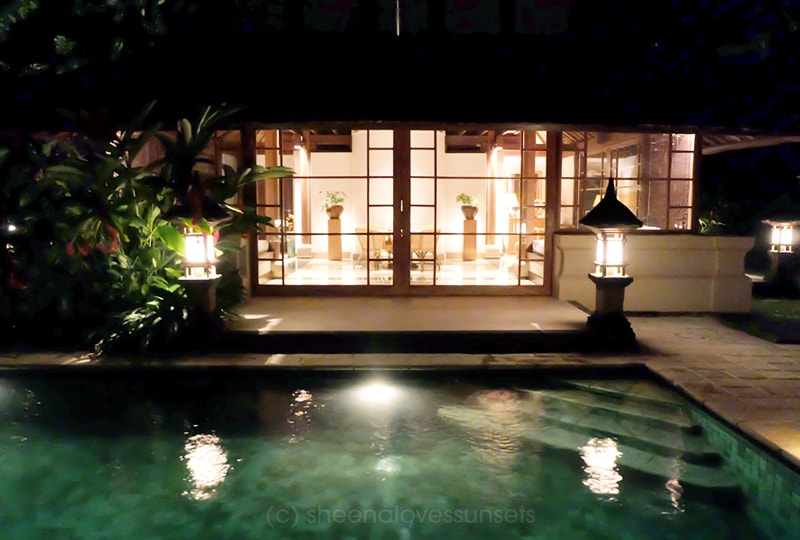 We got back to our villa and the lights were beautiful. Mor and I stayed outside and spent some time looking up at the stars. I wish we could do this back home.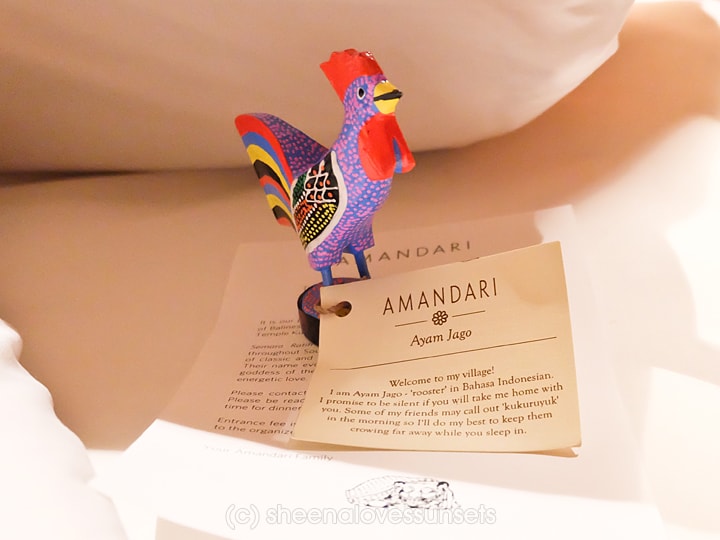 A surprise was waiting for us again when we went up to our bedroom; this little rooster! He became our present for Luke when we got home. Hehe.
Good Morning

The note on the little rooster warned us of possible crowing sounds in the morning but I hardly heard them from our room. I woke up peacefully and refreshed. Then, I woke Mor up so we can have breakfast together (haha!) We called room service shortly.
Breakfast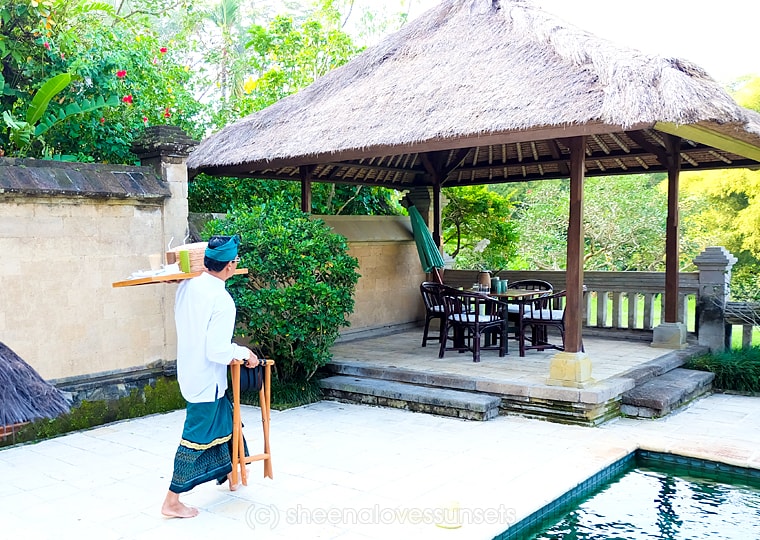 Because if you have a private outdoor dining bale, you better make sure you don't put it to waste!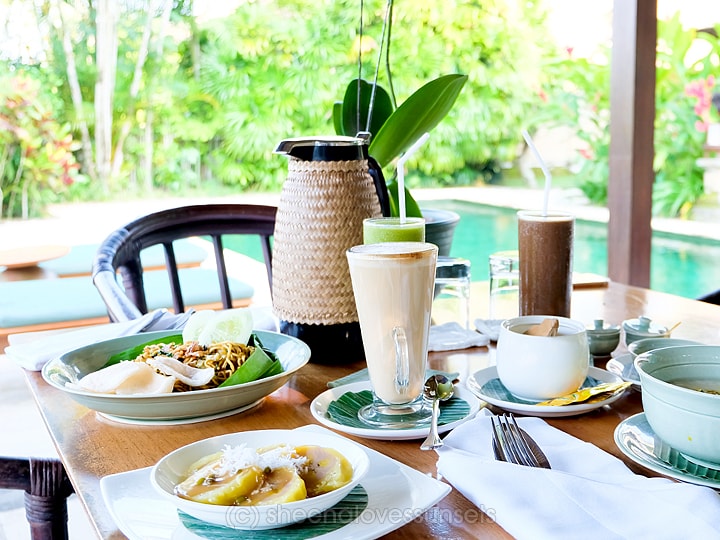 Our beautiful breakfast spread. Ordered a couple of traditional dishes, our usual morning vegetable smoothies, coffee and even dessert.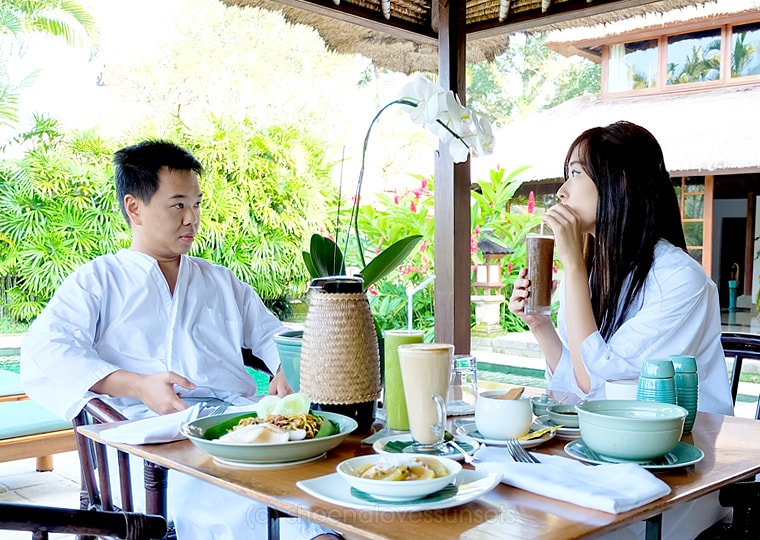 Eating breakfast in our white robes, feeling pretty good. Haha.
Quick Dip!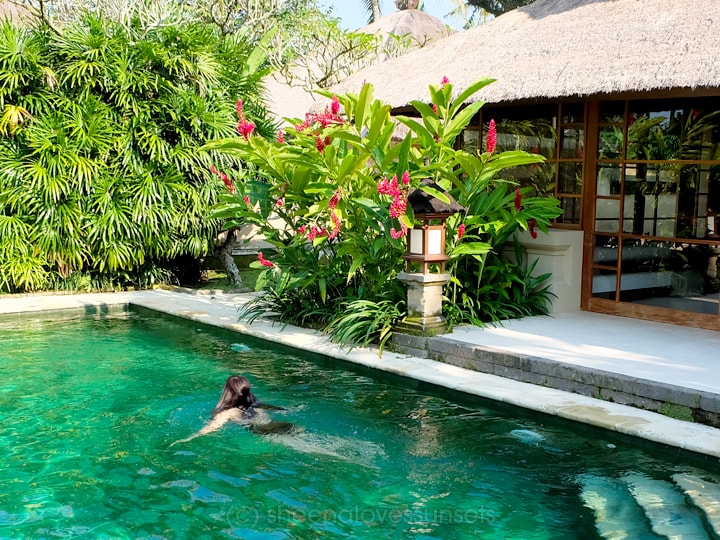 I know they say you're not supposed to go swimming after eating but I couldn't resist. Of course, we couldn't leave without going in our private pool!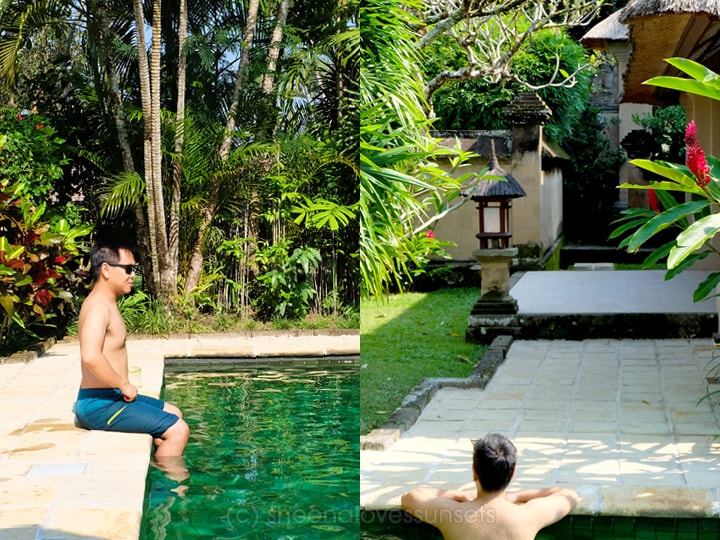 Apparently, Mor couldn't either. He would've stayed longer too, if only he didn't have a spa appointment. And he couldn't miss that (he wouldn't want to miss that!)
Spa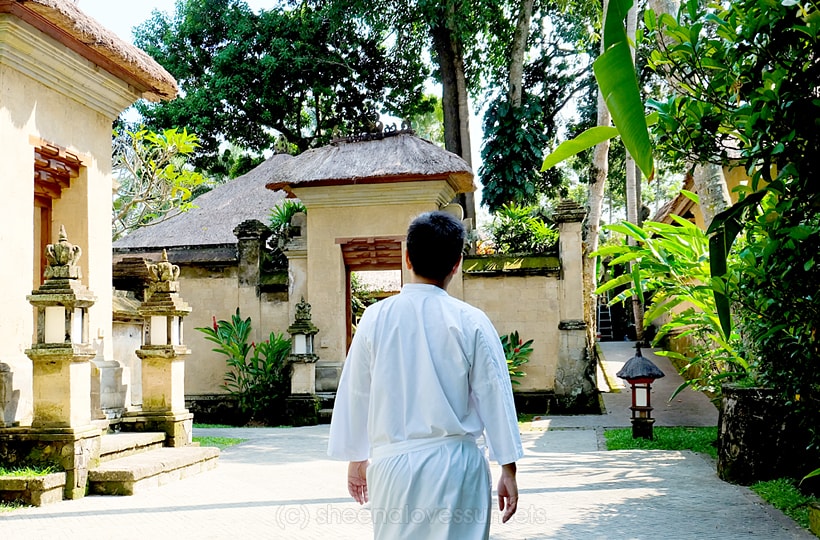 Mor on the way to his spa treatment. The spa has two open-air bales and Mor had his treatment in one of them.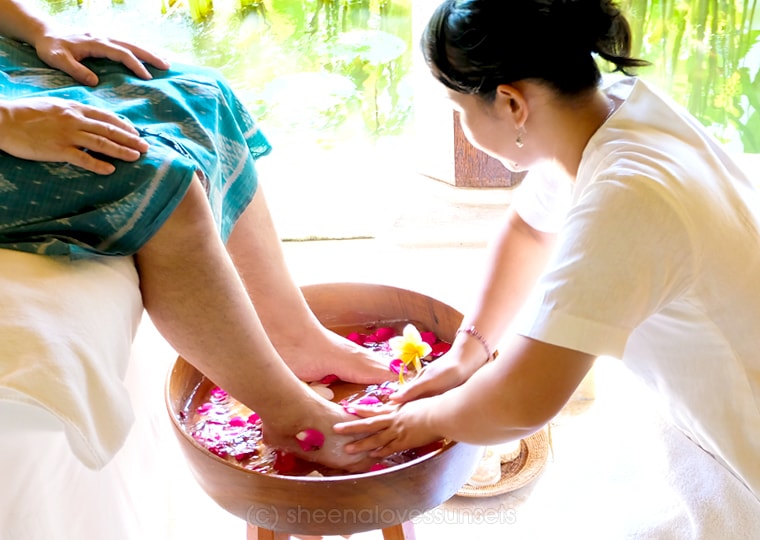 Mor had the Amandari massage, which is a fusion of Balinese techniques, acupressure and Swedish massage. I asked Mor how he would describe his experience and all he said to me was "bliss." You get the picture.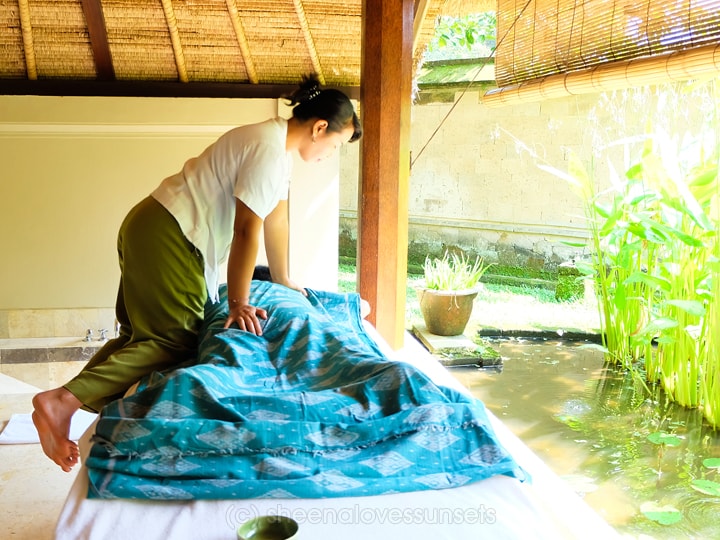 One thing that really made the spa experience unique though was its ambience, as it is beside a beautiful lotus pond where you can hear the calming sound of trickling water.
Exploring the Grounds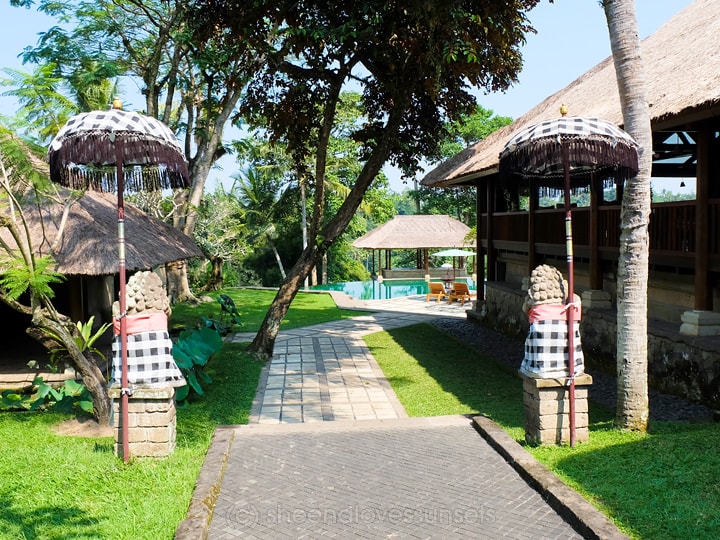 As I'm not too much of a spa person (I'm very ticklish), I ventured out and explored the grounds. It was almost check-out time and I wanted to see the different areas around the property.

Right by the spa is the gym, also overlooking the lotus pond.

Then I passed by the library where an outdoor bale was available for use. If I had time to spare, I would really like to sit down here and enjoy a good book over tea.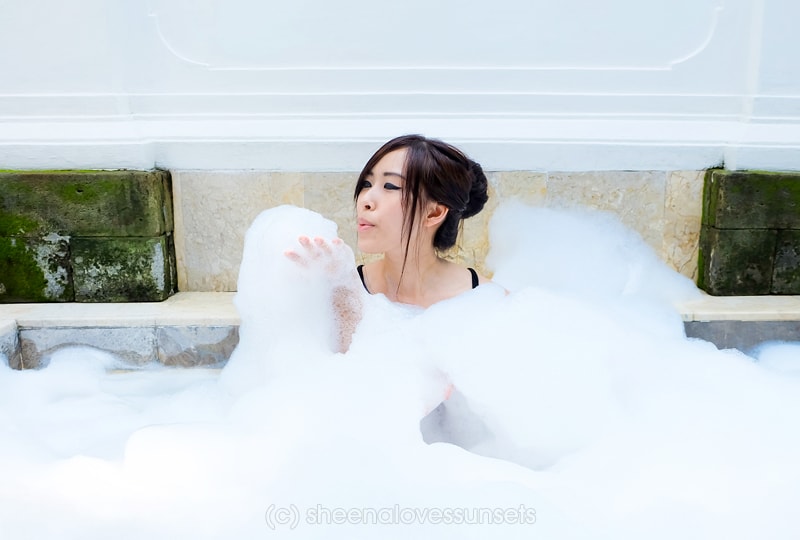 After a while, I went back to our room and well, now it's my turn to enjoy my outdoor bubble bath!
Infinity Pool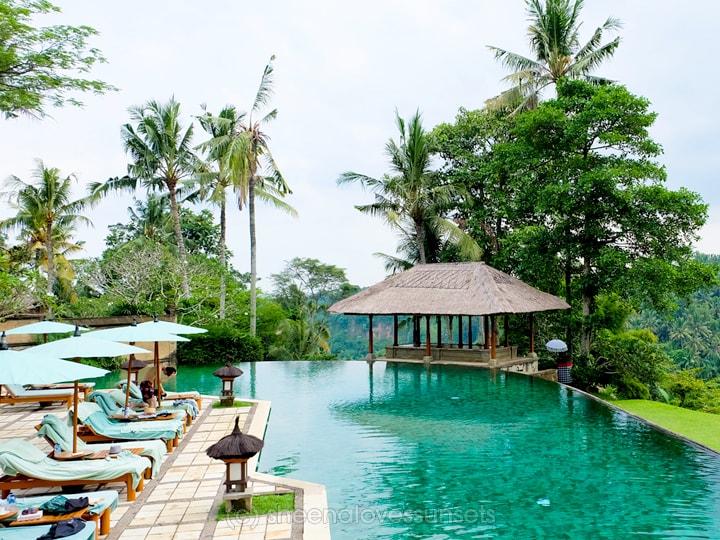 Mor got back to the room really excited saying that I just had to go with him to the infinity pool because it was so beautiful and that there was no one there! At first, I said "But I just took a bath! I'll have to take another one after we swim, if I go!" (Haha!)
But he insisted and so we went and I'm so glad I listened!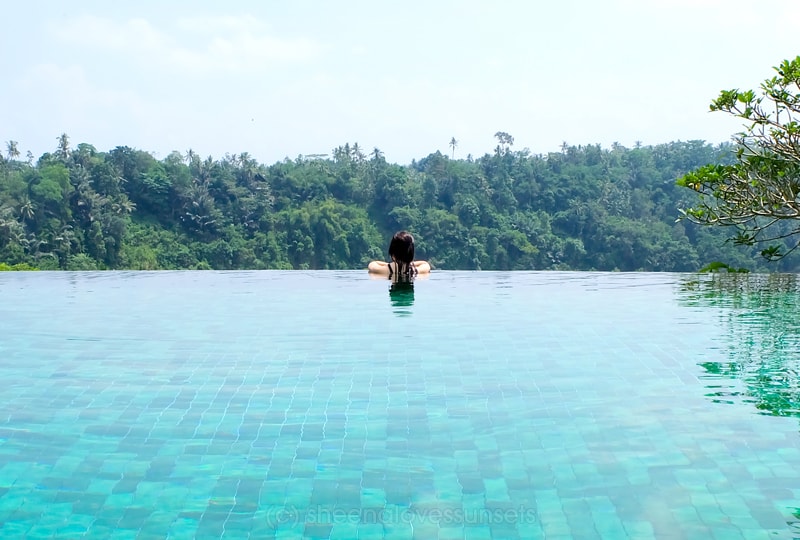 The pool lies close to the edge of the gorge so you get a pretty amazing view of the jungle and the rice terrace. Can't get any better than this.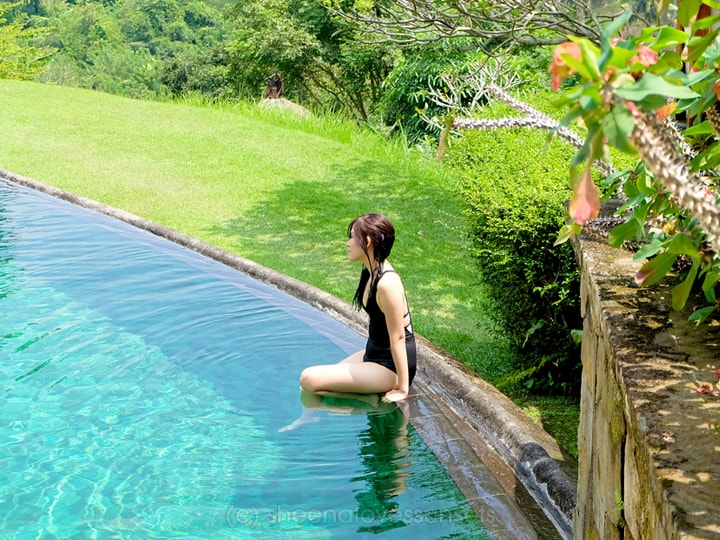 One thing I really loved about our Aman experience was how I felt that our privacy was of utmost importance to the staff. Although I appreciate really good service, I feel uncomfortable when people keep asking me if I'm ok and if there's anything they can do for me. There's NONE of that here in Amandari.
They seem to know exactly when to give you space and know when you need them to attend to your needs.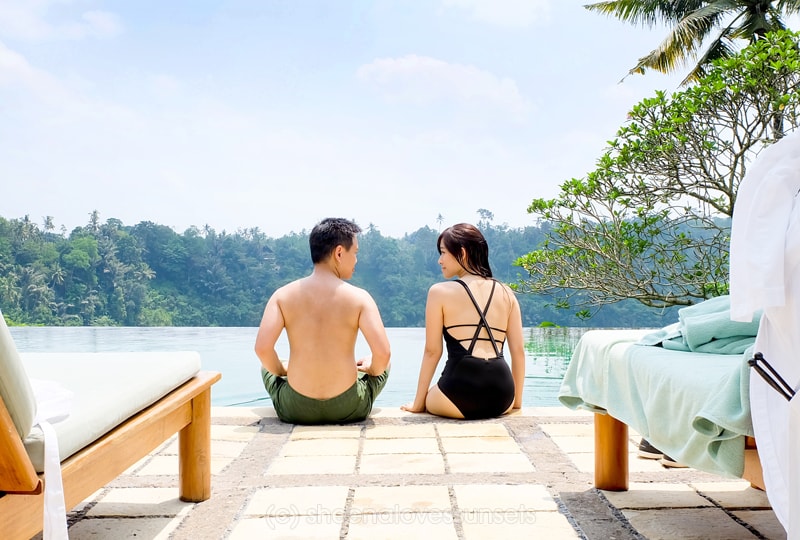 I highly recommend Amandari for honeymooners or couples who want to just relax (this goes for parents too, like us, who just need a break! Haha!) It's a great place to unwind and detach yourself from the crazy city life.
Final Words About Our Aman Experience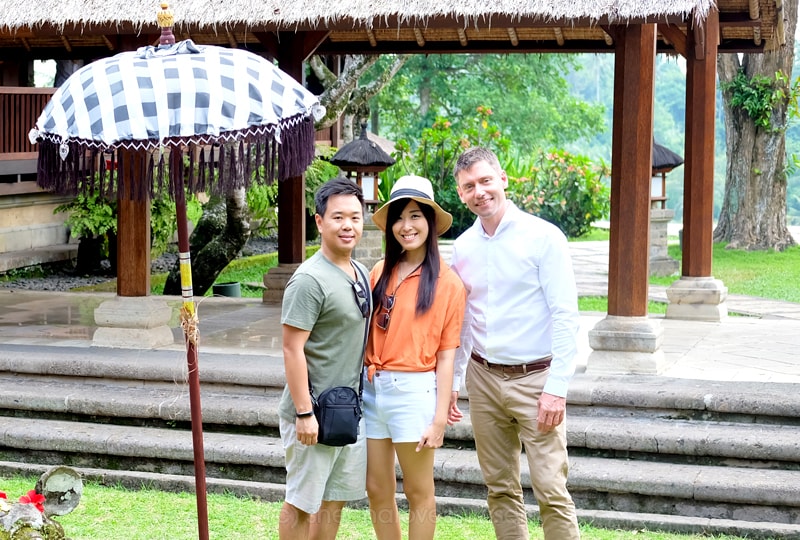 If I had to describe our stay in three words, I would say that it was relaxing, peaceful and quiet. It always felt as though we had the place all to ourselves and it was a wonderful feeling (as you can tell, it's the introvert in me speaking!)
Thank you Mr. Jann Hess and the rest of the staff for a great time at Amandari. What makes a great resort isn't just the beauty of the place but also the kindness and hospitality of its people, so thank you!
PS. The brownies you sent us home with were out of this world! Truly the best ending to an unforgettable stay!
—
(NOTE: THIS POST IS ABOUT OUR EXPERIENCE LAST APRIL 2017.)