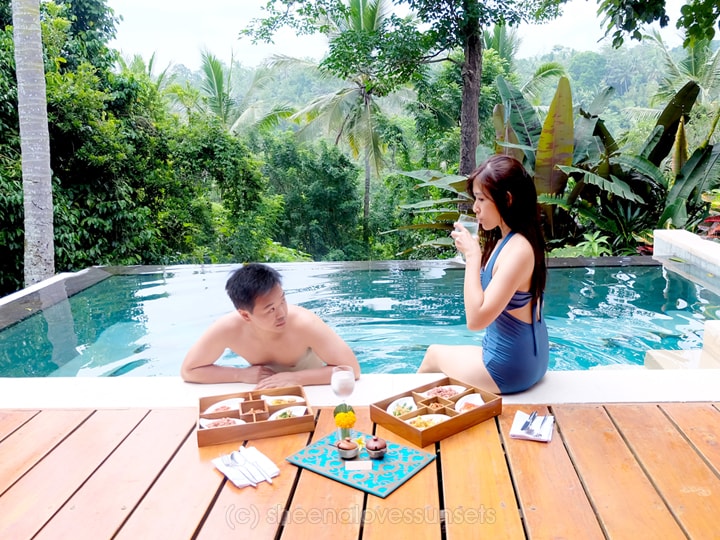 If you are looking for a place in Bali where you can have once-in-a-lifetime experiences and at the same time enjoy the comforts of luxury, then you have to stay at The Four Seasons Resort Bali at Sayan.
The Four Seasons Resort Bali at Sayan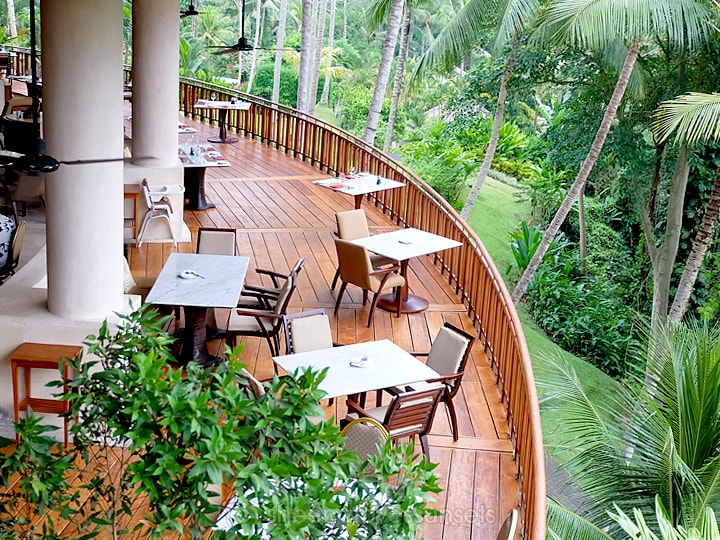 The Four Seasons Resort Bali at Sayan has been recognized as one of the world's best resorts by Conde Nast Traveler and it's not hard to see why. Settled in a lush forest beside the Ayung River, the property boasts not only of beautiful views but also their own amazing landscapes.
The Welcome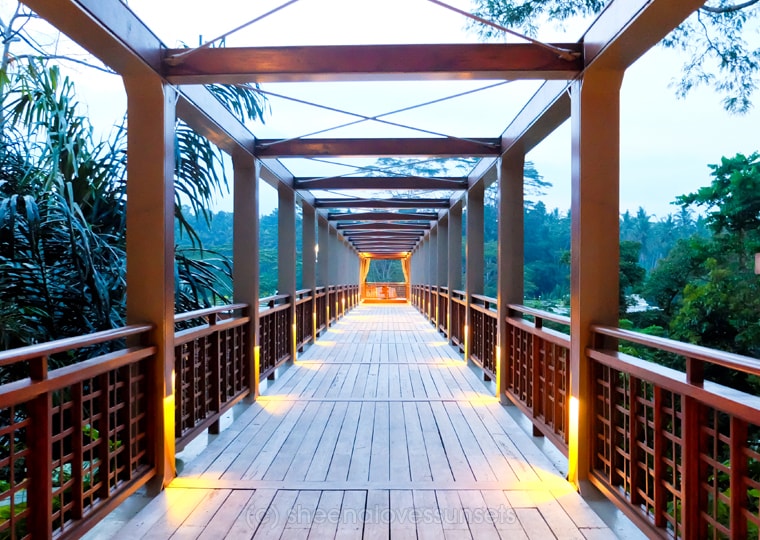 We entered The Four Seasons at Sayan through a dramatic rooftop bridge enveloped by a beautiful lotus pond. A grand entrance, to say the least!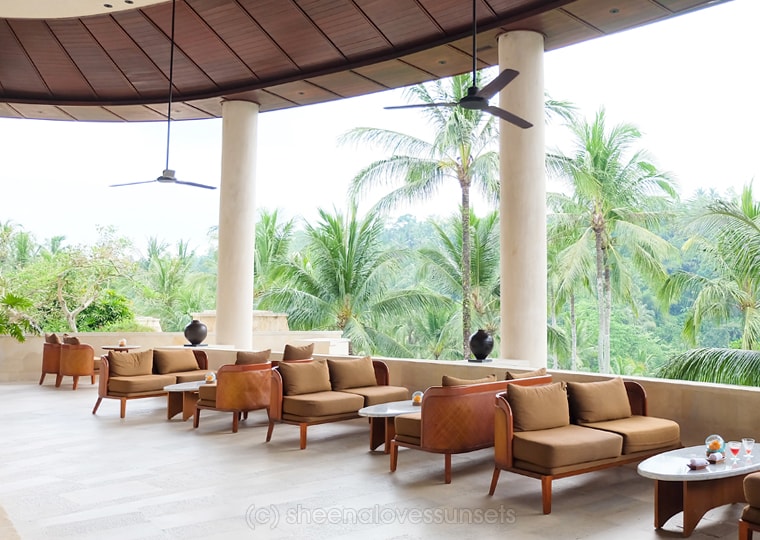 Upon arrival, we knew at once that this wasn't like your average hotel. We were welcomed with drinks and asked to wait here as they processed our papers.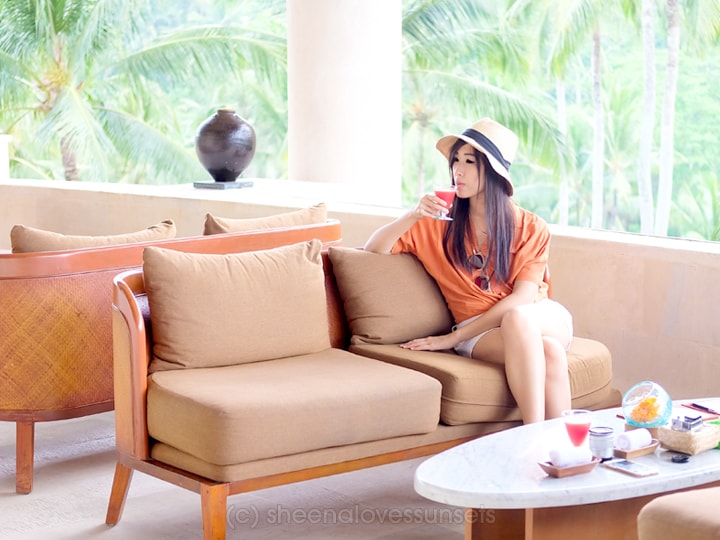 Drinks with a view? Don't mind if I do!
River Front One Bedroom Villa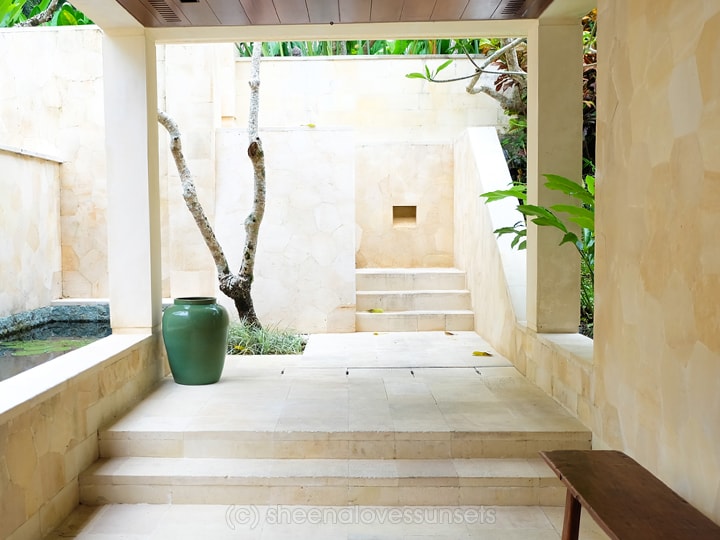 We were booked at a one bedroom villa with a riverfront view. This is the entrance we came down from. I think this already gives you an idea of how huge our place is, right?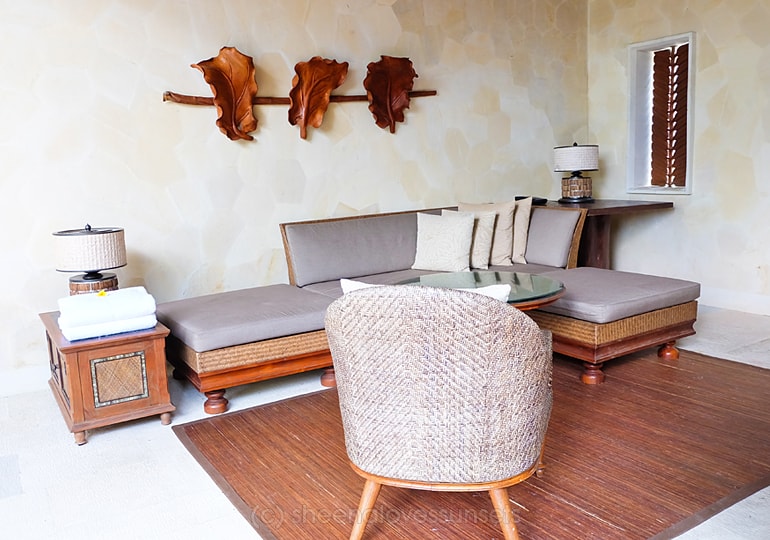 Outdoor living area. Note: we haven't entered the actual room yet. Haha! Told you it was huge!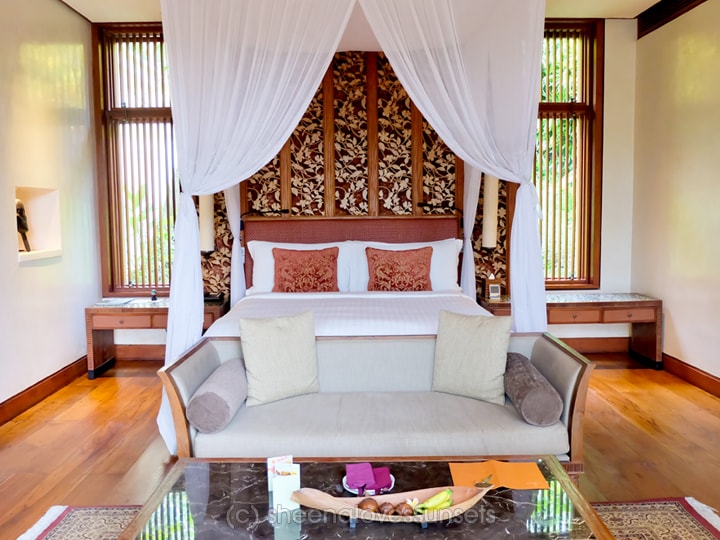 Aaand this is the room! I'm taking photos of the room bit by bit because it was just so big!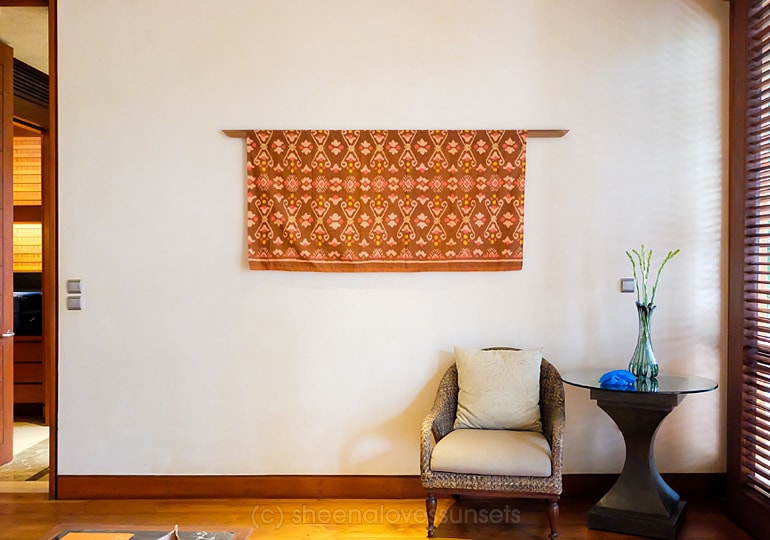 The interiors are a mix of contemporary and traditional Balinese decor. I love how it looks modern without losing its Balinese charm.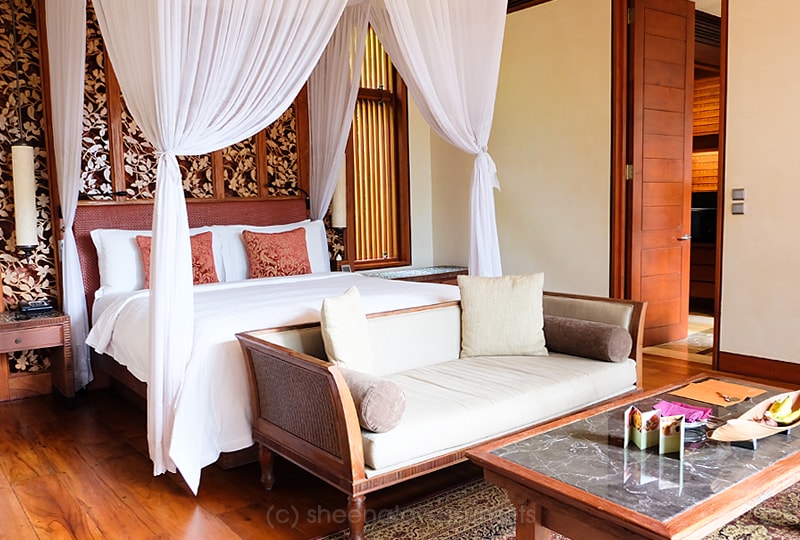 Another angle so you can see the door leading up to the bathroom and walk-in closet.
Welcome to our bathroom; this is the walk-in closet. I wish I had something like this at home. Haha! Look at the super cute robes too!!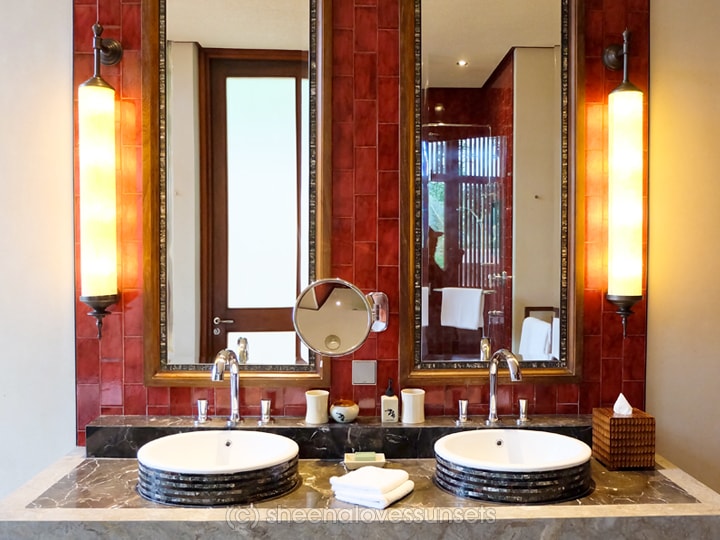 The beautiful double vanity in our bathroom.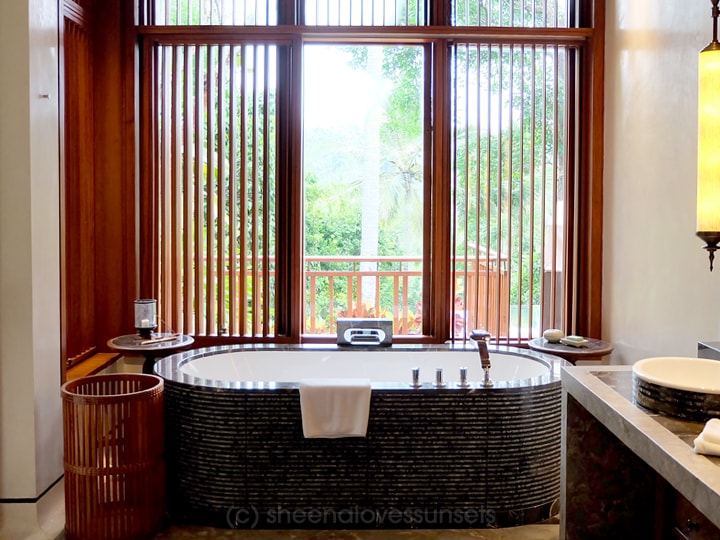 And my personal favorite, our tub overlooking views of the jungle!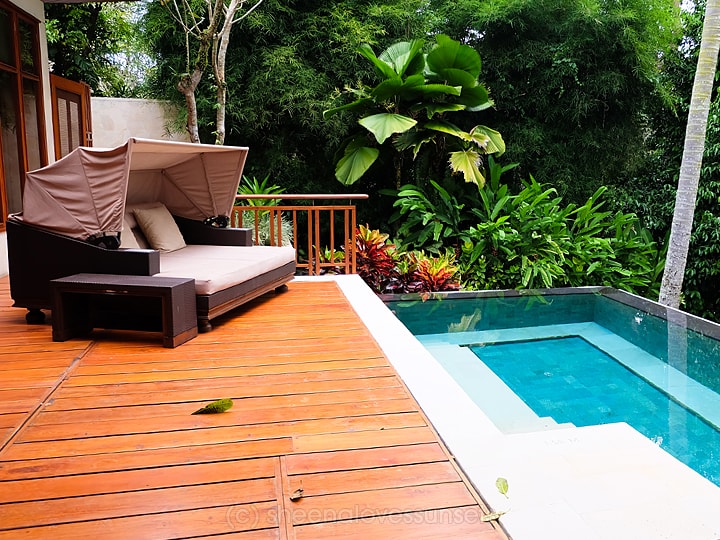 Let's move outside. This is our own private poolside area. There's also an outdoor shower available.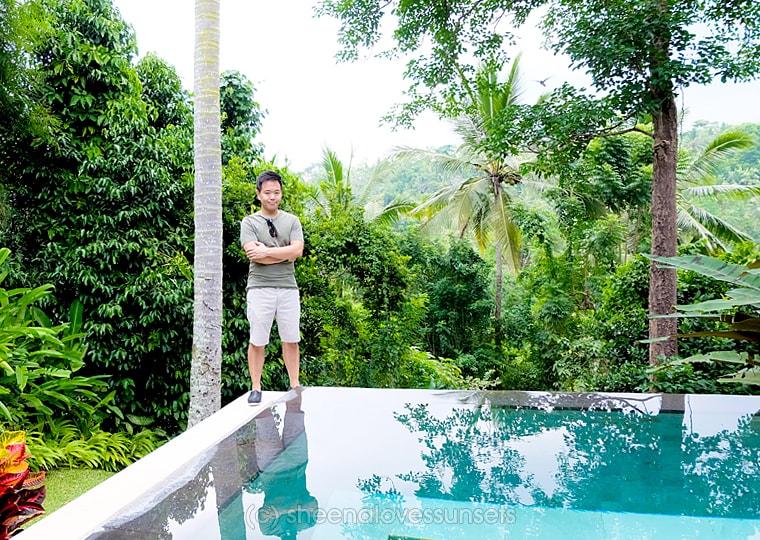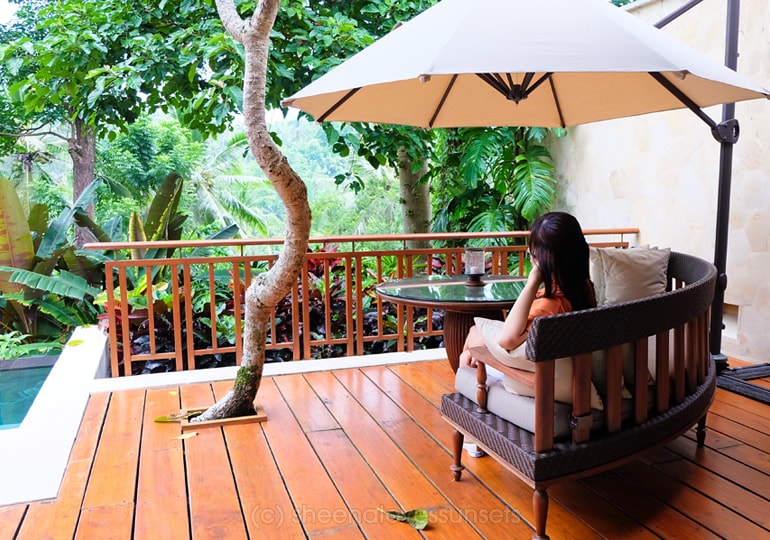 Ahh… If you have a room this gorgeous, how can you leave, right? But we had to, because we were called in for a resort tour and I am so excited to see the rest of The Four Seasons!
Rice Paddies & the Yoga Bale

As mentioned, the resort property is huge and you need to take a buggy to get around. One of our first stops was the yoga bale overlooking the rice paddies.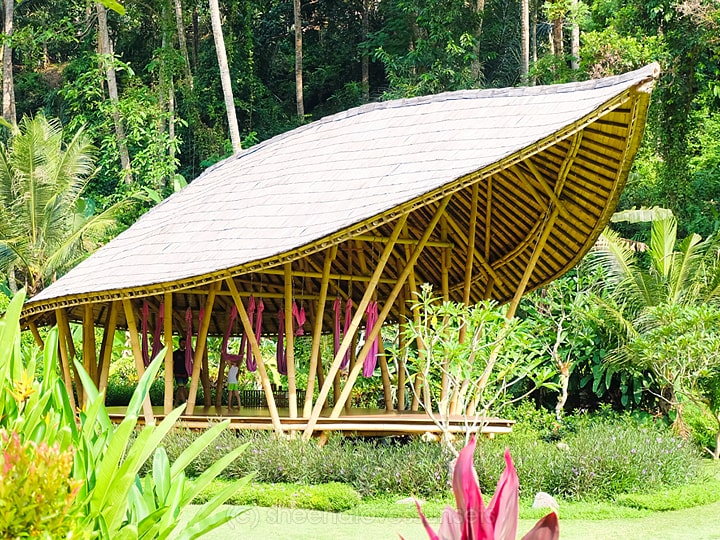 This is the gorgeous Dharma Shanti Yoga Bale where you can try your hand at anti-gravity yoga! It is constructed entirely out of sustainable bamboo and provides enough shelter while keeping its open design.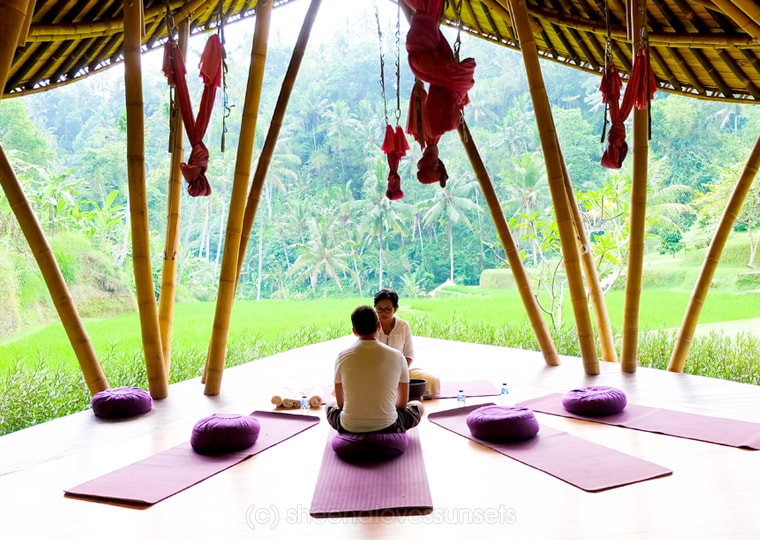 This is the view from inside. Great view right? I imagine it would be a great place to get some motivation to do some yoga exercises! Too bad there weren't any scheduled during the time that we were there. Hehe.
Pici Pici Kids Club

When I told you that the resort has everything for everyone, I meant it. And everyone definitely includes the little members of your clan! The Pici Pici Kids Club is where kids 4-12 can have fun while their parents get some downtime (and we, parents, definitely need this right?!)

They have an extremely adorable treehouse where kids can lounge in! There's also an airconditioned room just beside the treehouse. Now, mom and dad can enjoy some R&R!
Sacred River Spa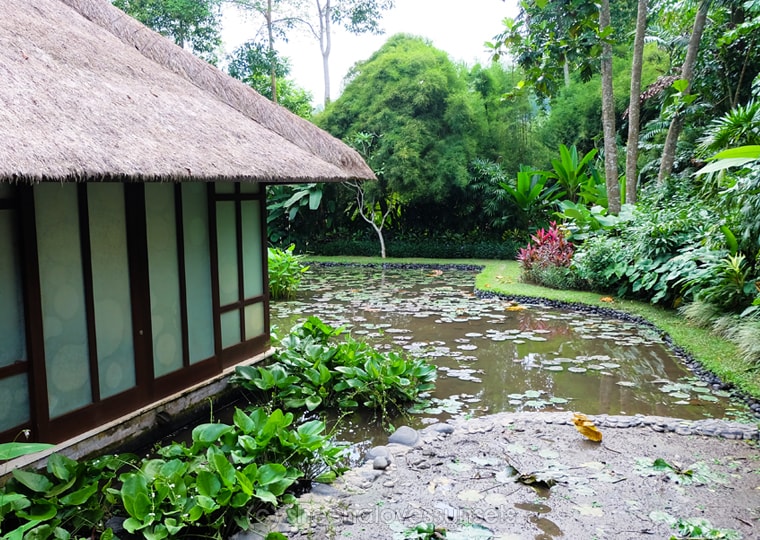 And here's the place where mom and dad will get their R&R: The Sacred River Spa! We dropped by to get a preview of the place where we will be having our upcoming treatment for the next day. And I have to say, I'm not even really a spa person but I'm getting super excited! Hehe.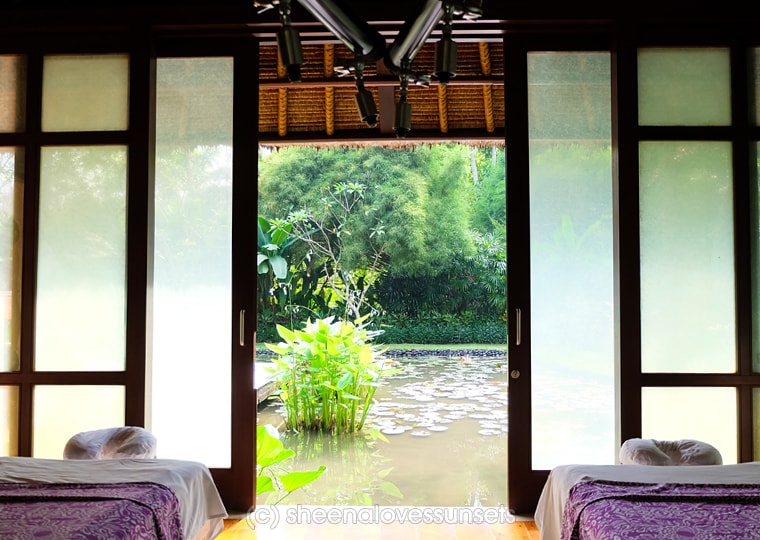 You can have your spa treatment at the treatment rooms or at any of the spa villas.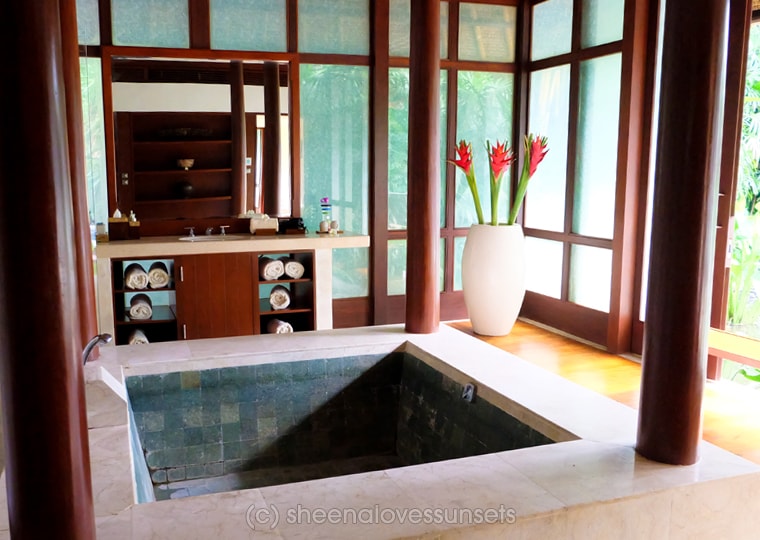 They have 2 double sized spa villas and 1 royal spa villa. This one is the royal spa villa.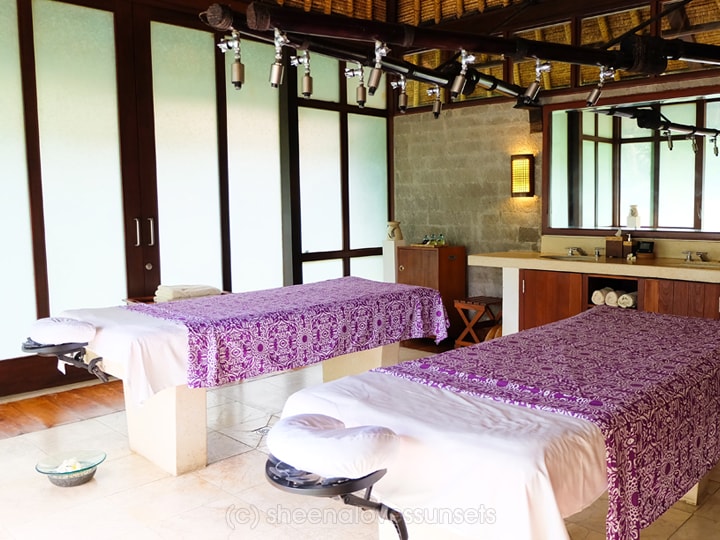 One of the more unique features of this villa is that it has a Vichy shower! How amazing is that?! I have yet to experience a treatment like that but I'm sure it's very relaxing!
Jati Bar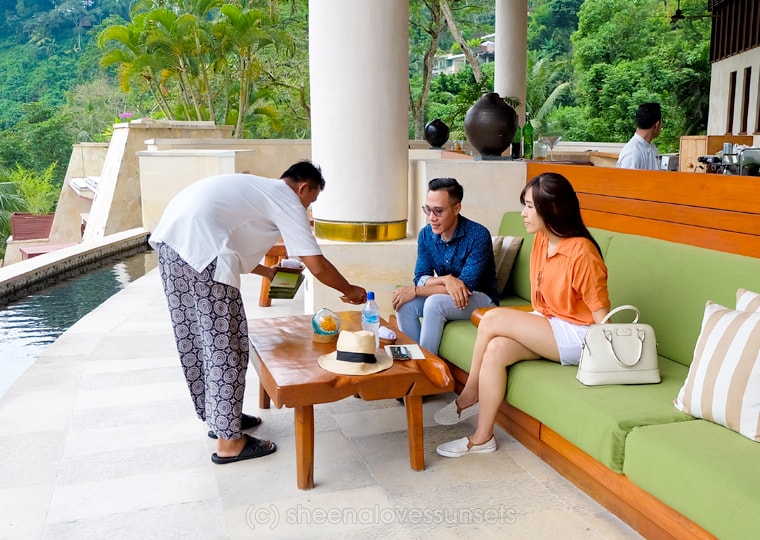 After our tour, we decided to chill at The Jati Bar over some snacks and refreshments. That's me with Ringga, who's with the Four Seasons team. It's always nice to meet new friends when you travel!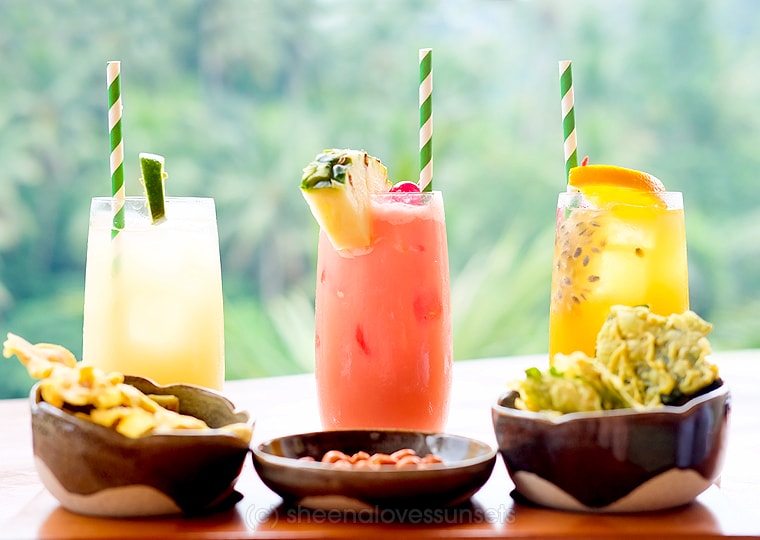 We highly recommend the drink called "Paradise", which is a mix of pineapple juice, lime juice and coconut cream. Mor ordered that here and I loved it so much I ordered it again during dinner that night. Haha.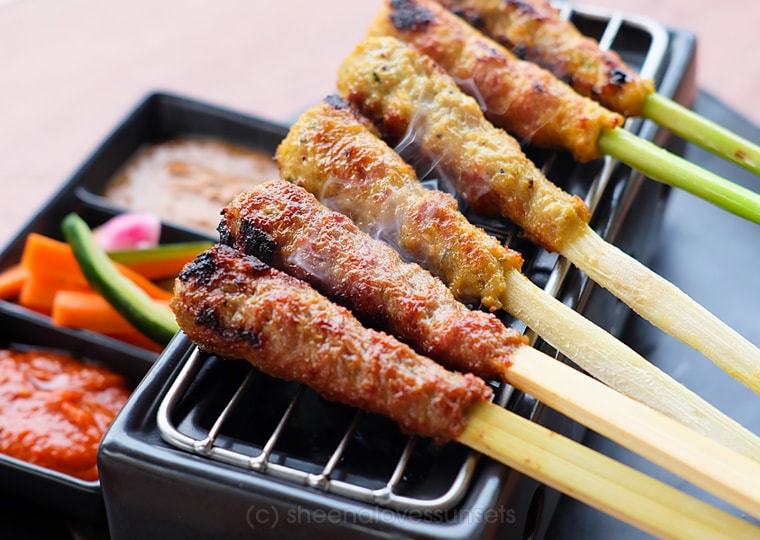 We tried different kinds of Satay which I absolutely loved.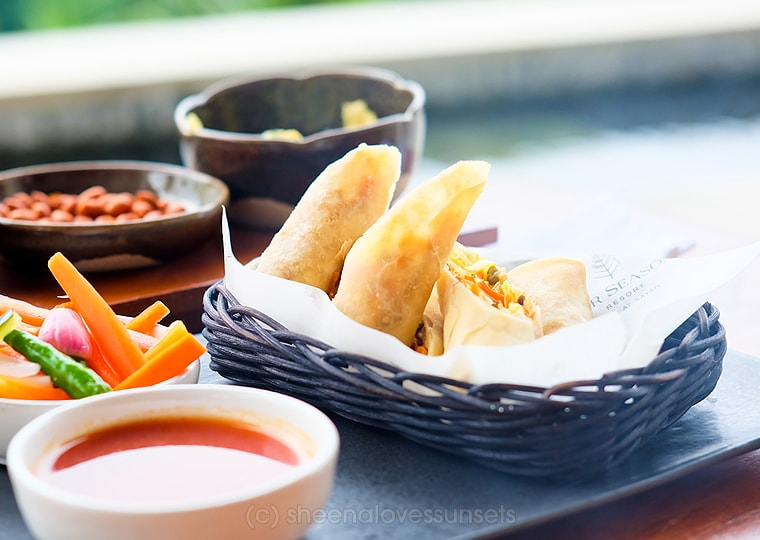 And a few spring rolls (vegetable lumpia), which are a perfect match with the drinks.
A Little Surprise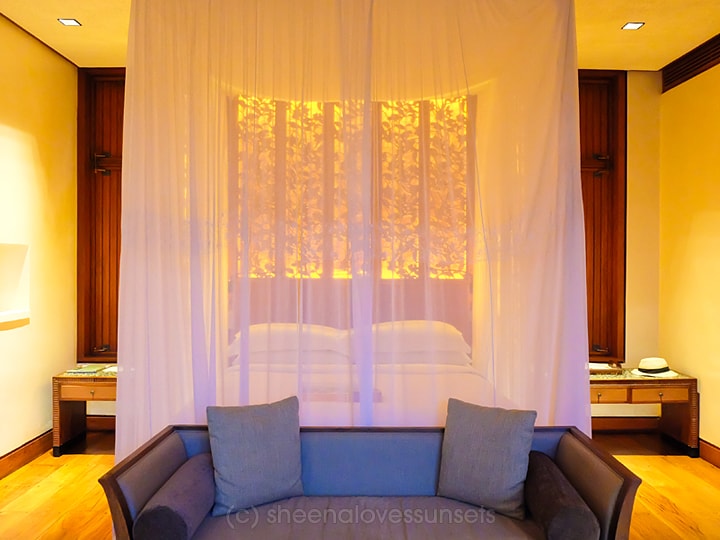 When we got back to our room, we find our bed fixed up this way. Very nice! But that's not all!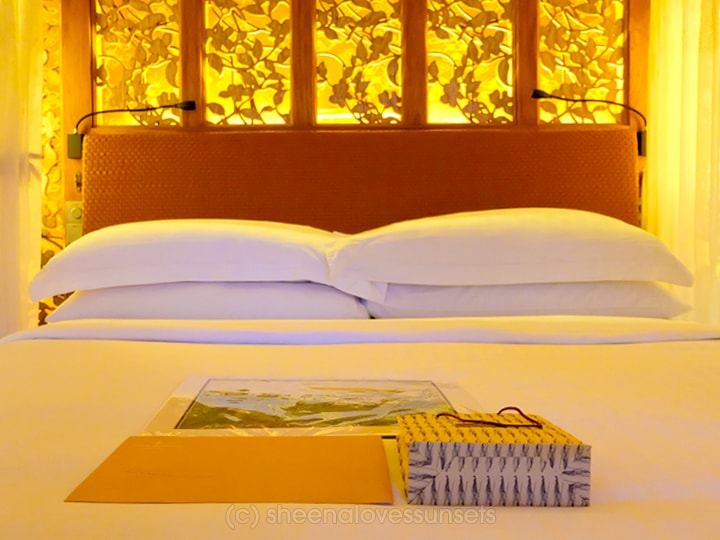 There were a few surprises waiting for us on the bed! Awww! Leave it to The Four Seasons staff for making the guests feel so special!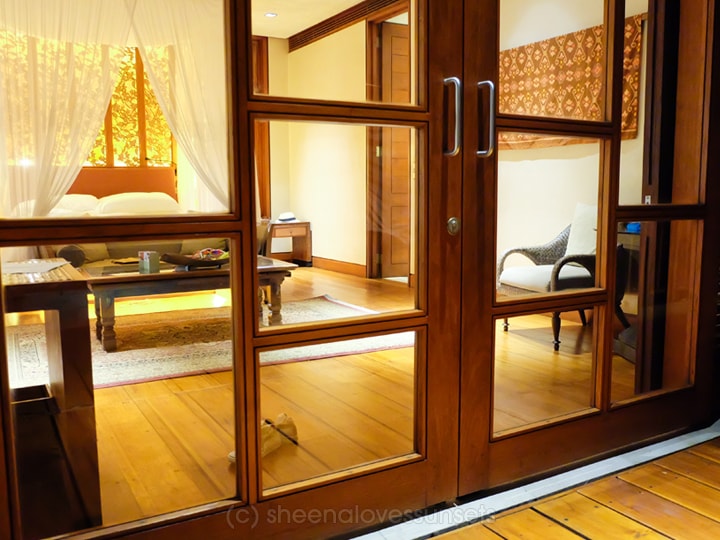 The villa looks just as beautiful in the evening as it does in the morning!
Dinner at Riverside Cafe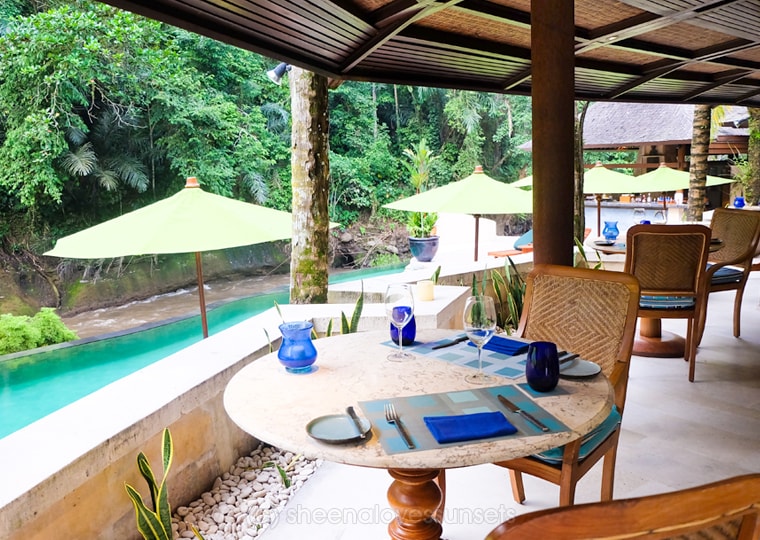 Before we knew it, it was time to eat again! But who's complaining? We got a table at The Riverside Cafe and the place was unbelievable. The restaurant is literally right beside the Ayung River. Here's a photo of it in the daytime so you can see how it looks like clearly.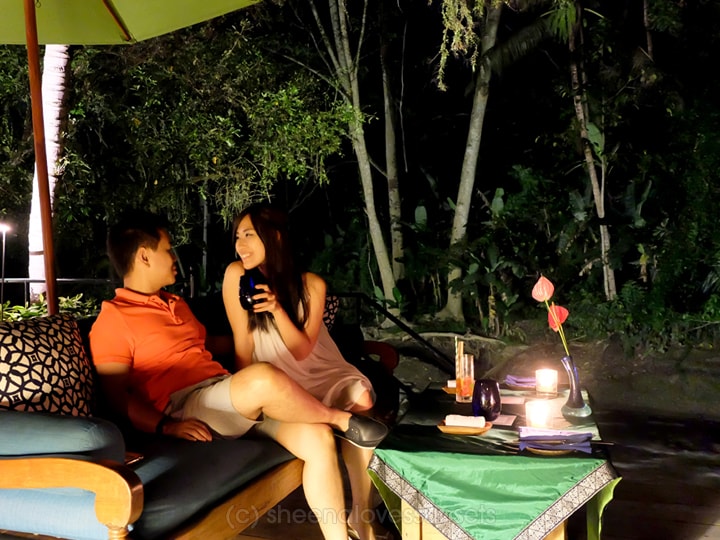 We got a table indoors for our dinner and transferred outside for dessert. (The photo above is where we sat for dessert!)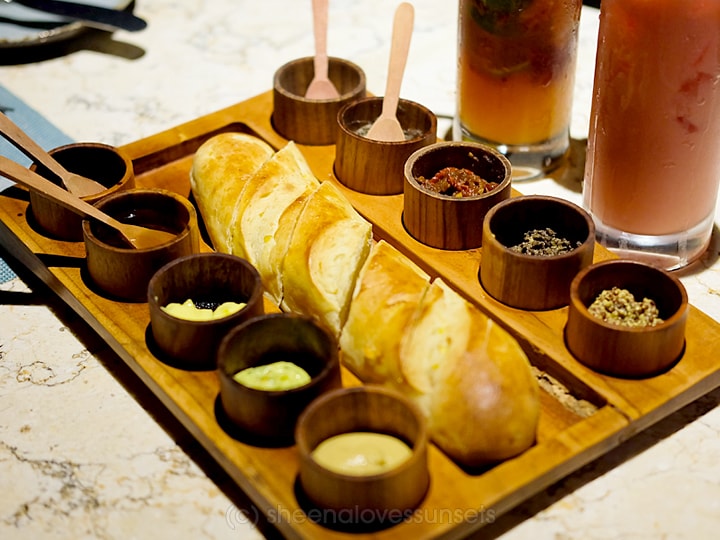 I enjoyed our dining experience at The Riverside Cafe so much that I plan on writing an entire article about it. (So keep an eye out for that article!)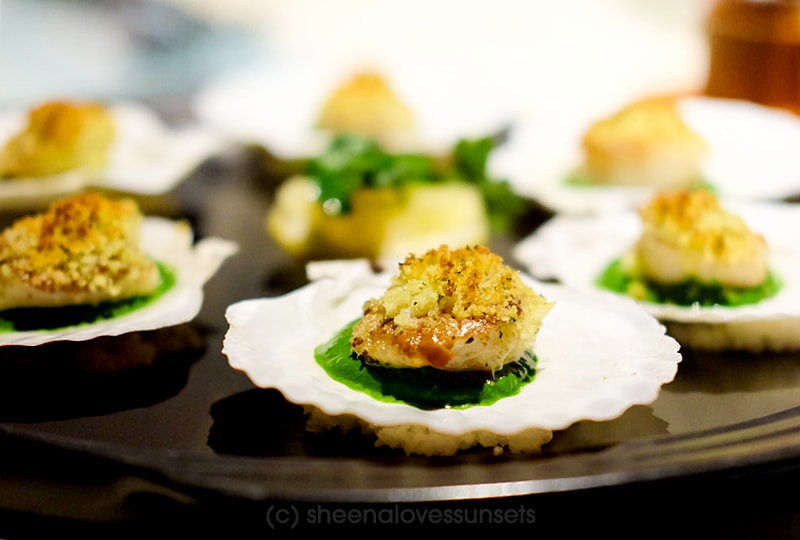 Needless to say, the food was spectacular.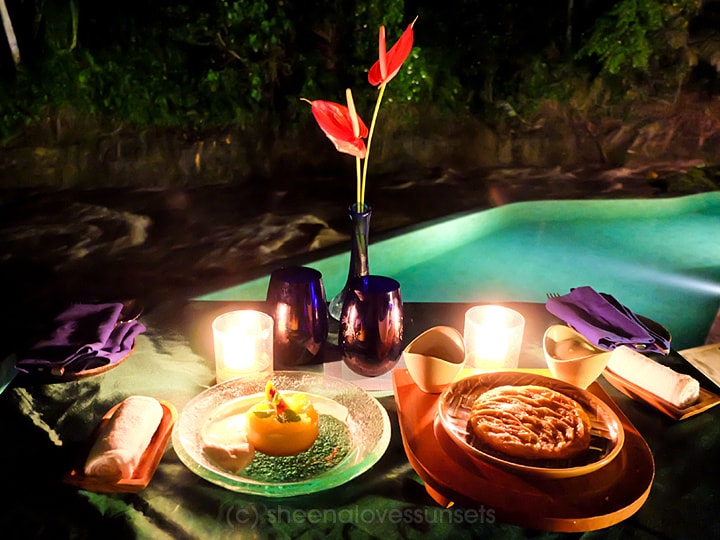 We had our dessert outside to get a better view of the river (and as a bonus, the pool too!) What a sweet ending to a wonderful dinner.
A Day in the Life of a Balinese Farmer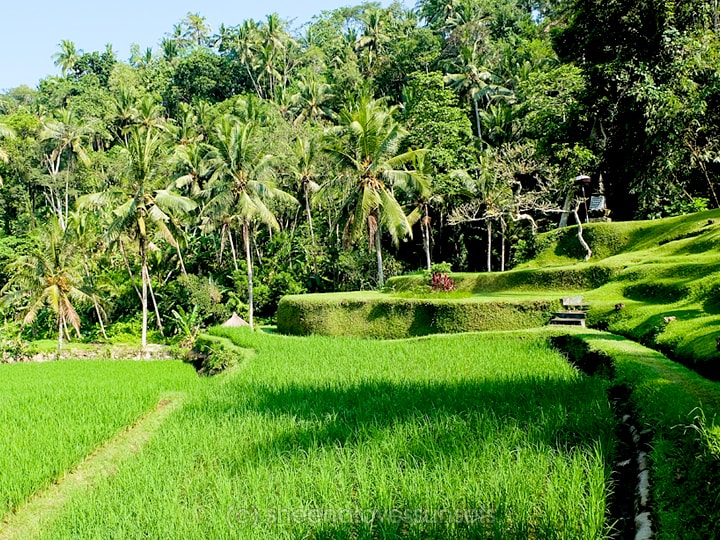 We began the next with an activity prepared for us by the resort: one of their signature experiences called "A Day in the Life of a Balinese Farmer." I've already written about it extensively and you can read all about it here.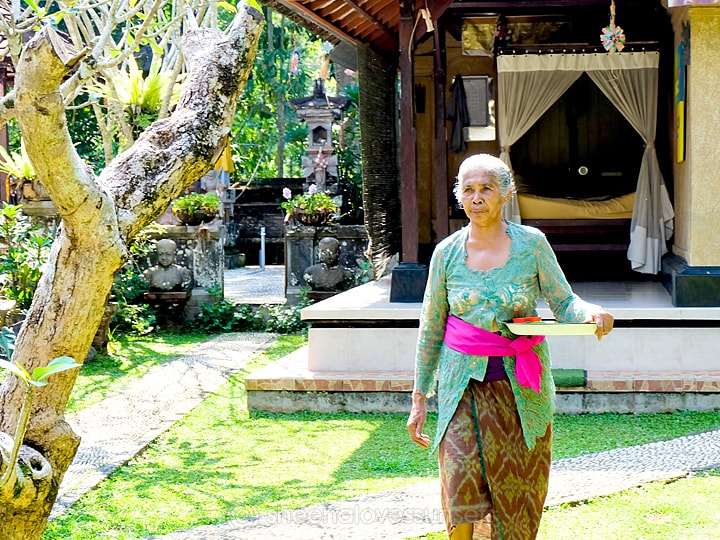 Before rice planting, we trekked and visited local village houses.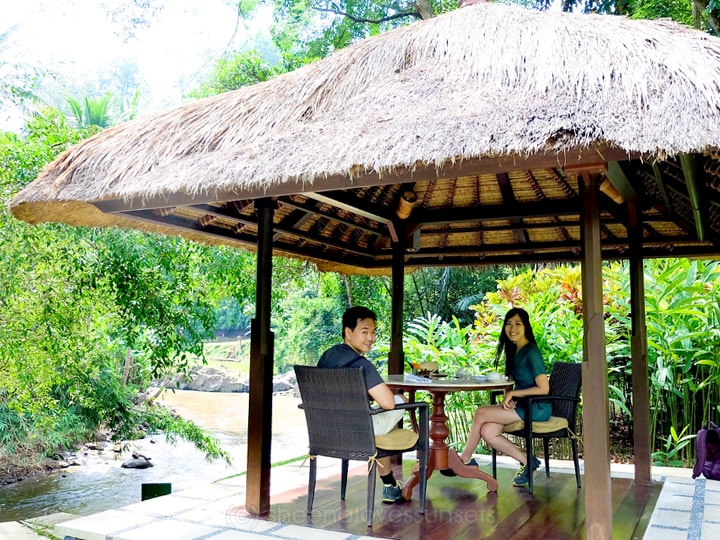 Then we had a Nasi Campur breakfast in a bale overlooking the Ayung River. After that, it was time to get our hands dirty!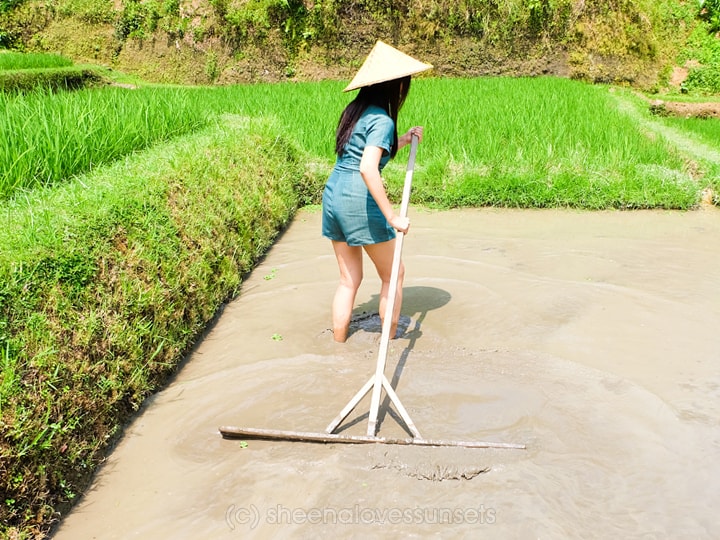 Plunging into the warm muddy waters, Mr. Wirawan taught us how to use the different tools to cultivate the land and prepare it well enough for planting. I'm not kidding, he really made us work! Haha.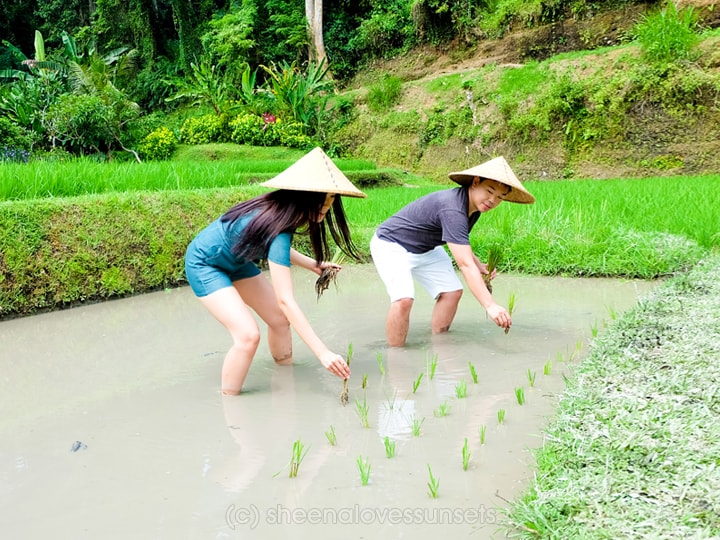 The scorching sun was intense but this city girl is definitely enjoying being a farmer for a day! This activity gave me a glimpse of the hard work that goes into our food. Newfound respect for farmers! Check out the detailed article about the entire experience here.
Spa Experience at the Sacred River Spa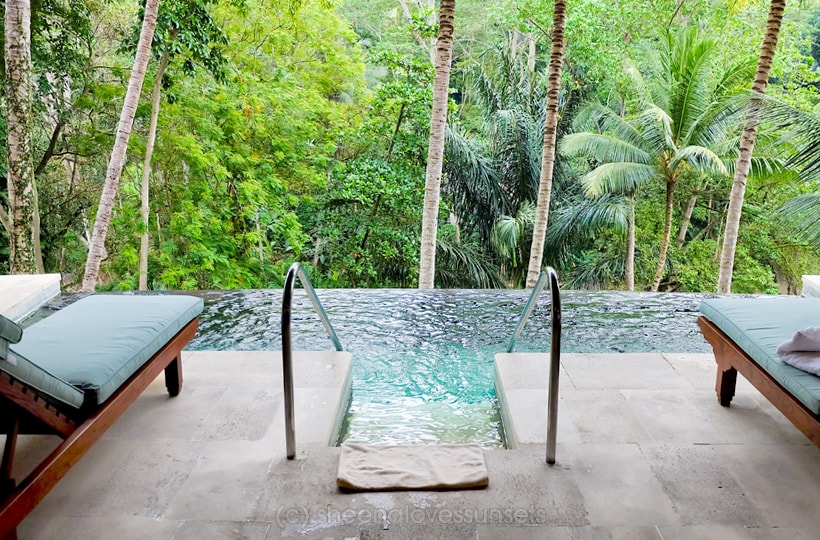 After a hard day's work, it was time to relax! We were asked to enjoy the steam rooms and the jacuzzi before our spa treatment.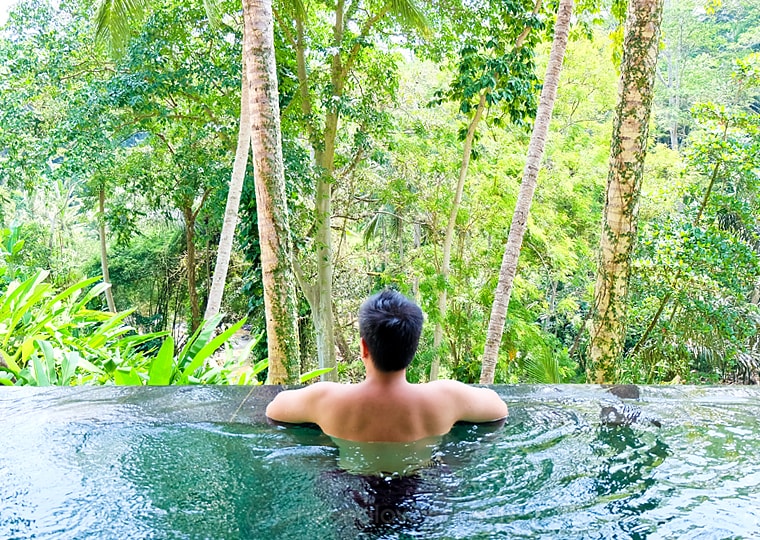 So enjoy we did. Hehe.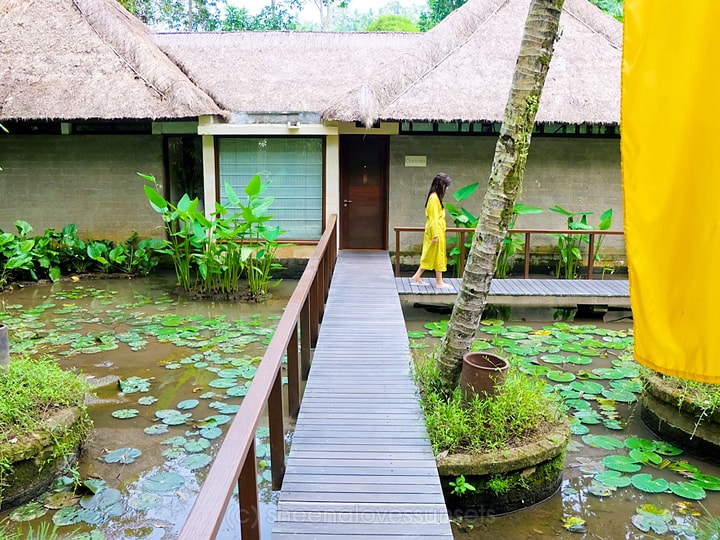 Now it's time to go to our spa villa!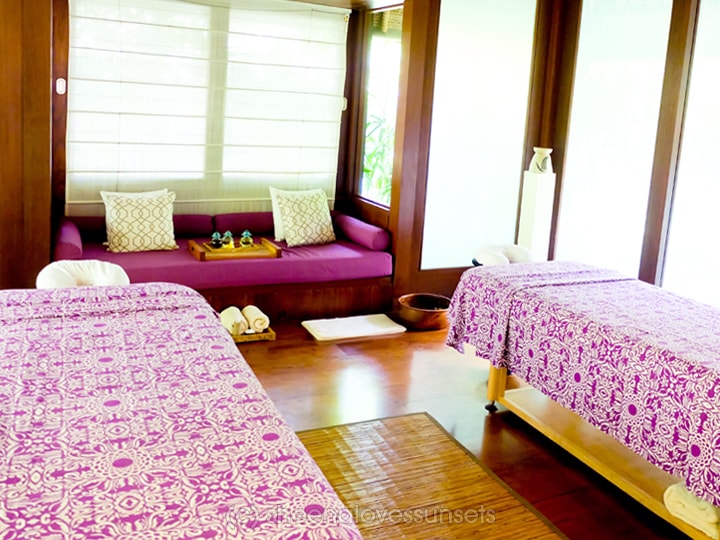 Mor and I both had the traditional Balinese massage at The Sacred River Spa and we loved it.
Finally, lunch!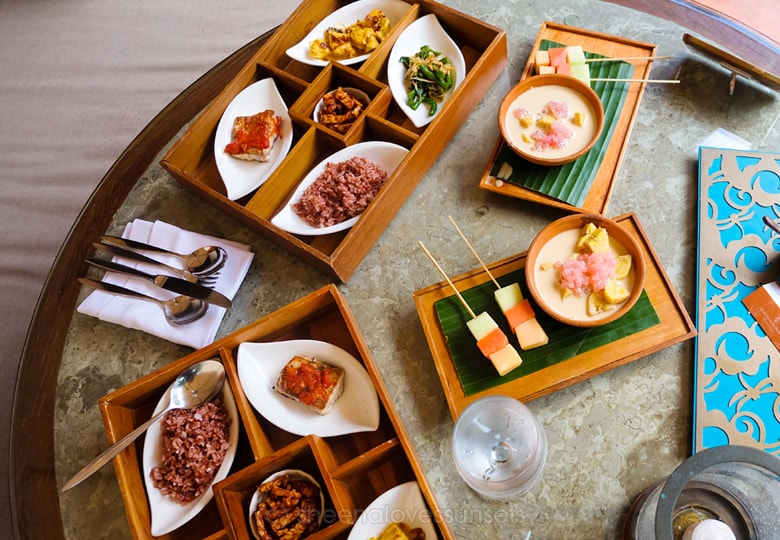 By this time it was already way past our usual lunch hour. But that's okay because we were stuffed from breakfast!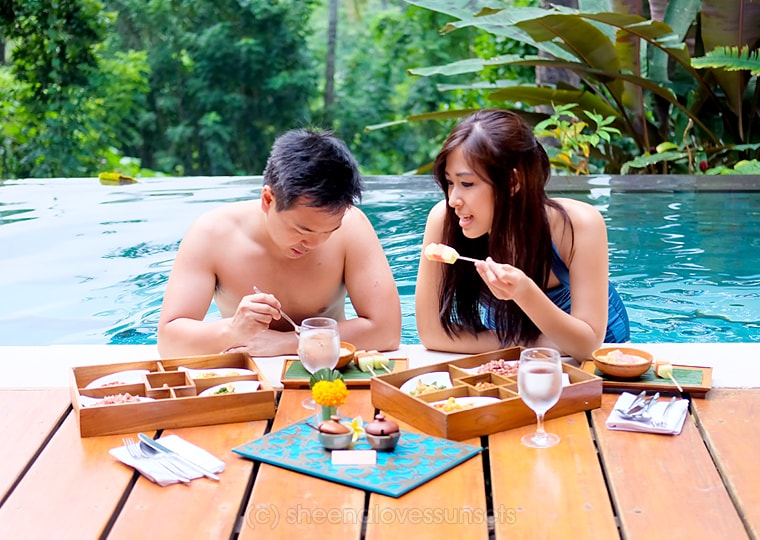 We asked for room service because we realized that we had yet to enjoy our private pool! So we decided to hit two birds with one stone by having lunch at the pool.
Infinity Pool (with a river view!)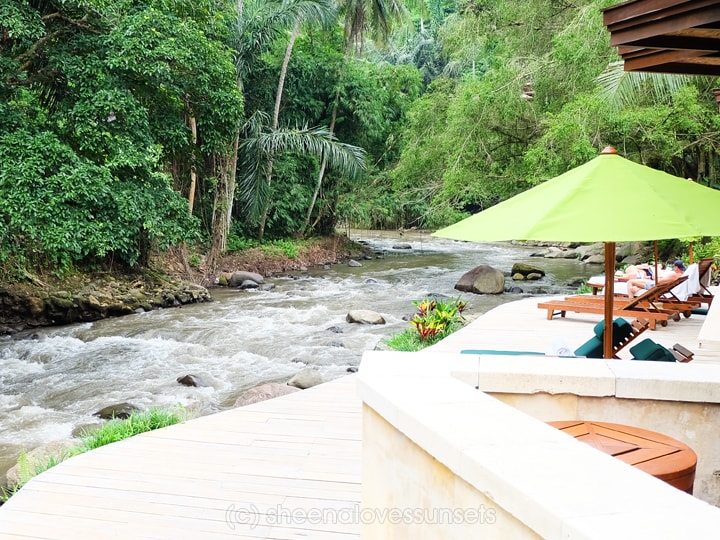 And even though we already swam in our own pool, I can't leave The Four Seasons without taking a dip in their double infinity pool!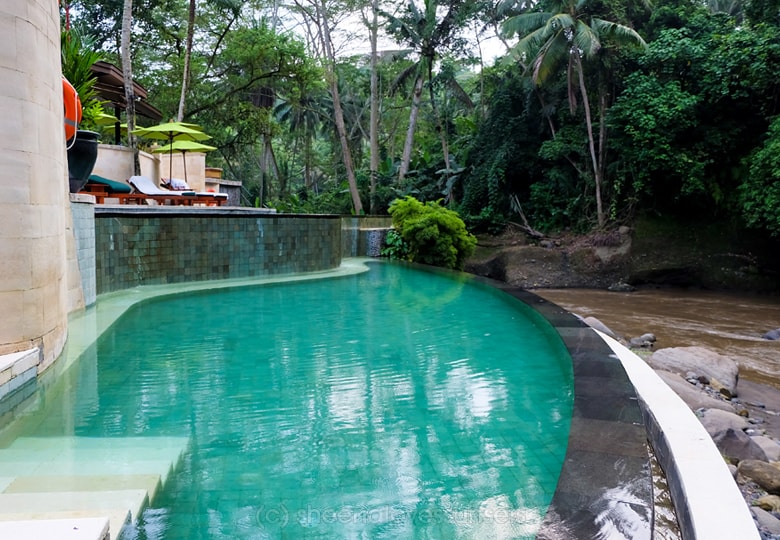 We were actually supposed to join a biking tour but it started drizzling so we decided to just lounge instead.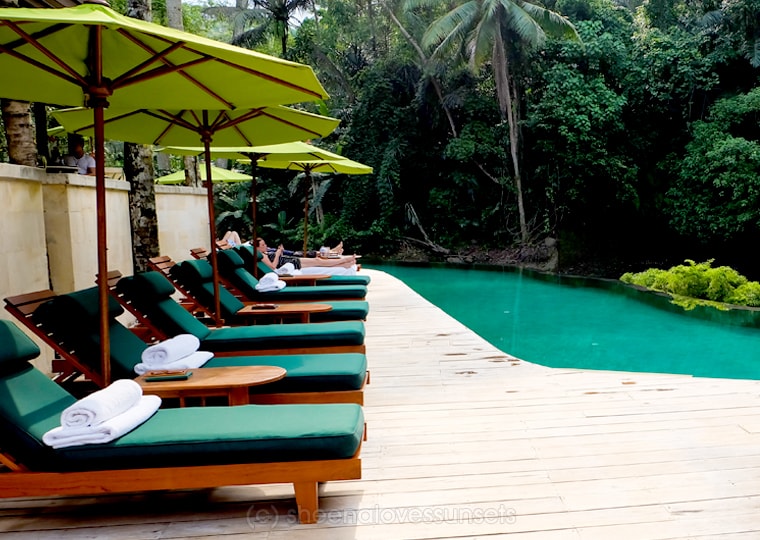 Waited for the rain to stop and then off I went to swim!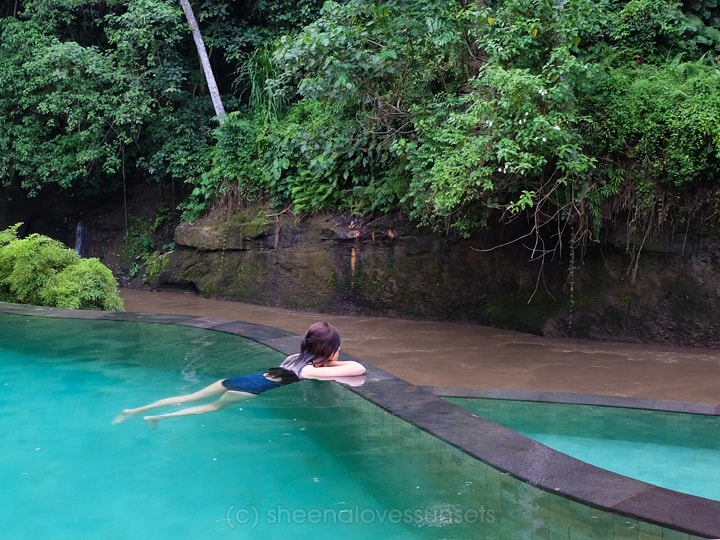 You can still see the little droplets of rain hehe, but it was an awesome experience to watch the river flowing as I swam.
Evening Performance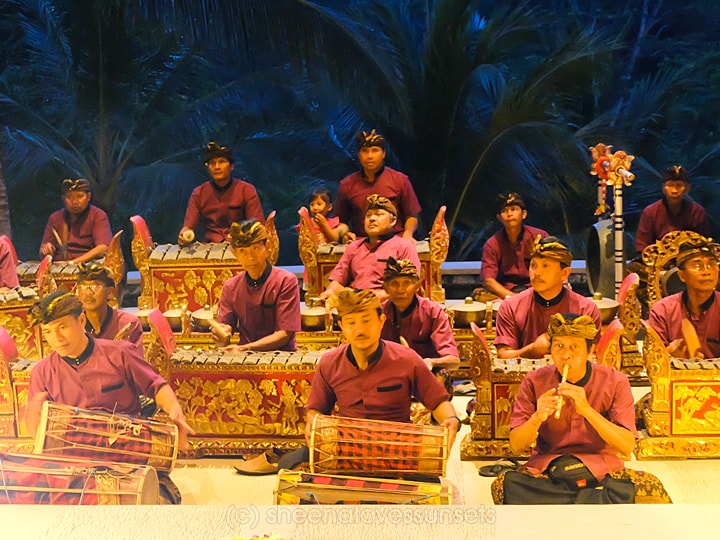 At 6:30 that evening, there was a Balinese Dance Performance at the Jati Bar by the lobby. We watched gamelan musicians play beautiful traditional music just before we checked out of the hotel.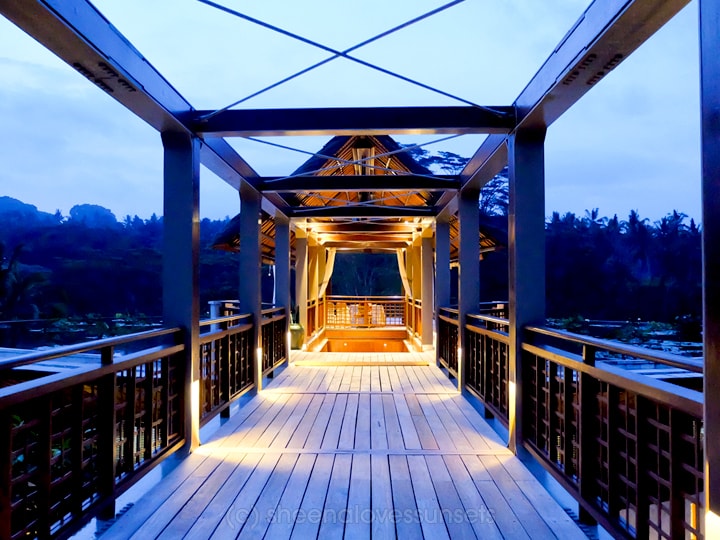 By around 8pm, it was time to leave for the airport. We had beautiful time at the resort and we'll definitely be coming back to Bali again next time!
BUT WAIT: Let's talk about the SERVICE!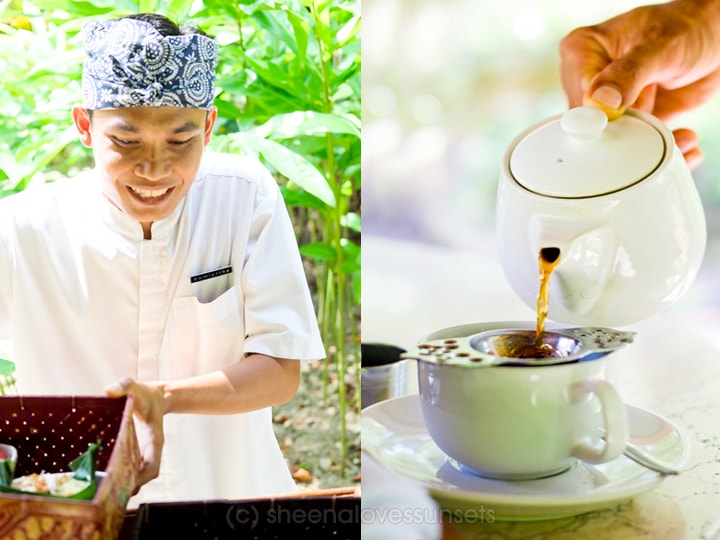 The service we experienced at The Four Seasons Sayan was unparalleled. Seriously, the best I've ever experienced in my life; it's #1 on my list!
When we didn't have hiking shoes for the trek, they lent us two pairs on our exact sizes! Then after the Balinese Farmer activity, almost all the staff we met asked us if we had a great time at our excursion. How did everyone know?! I'm impressed that they even made it a point to know!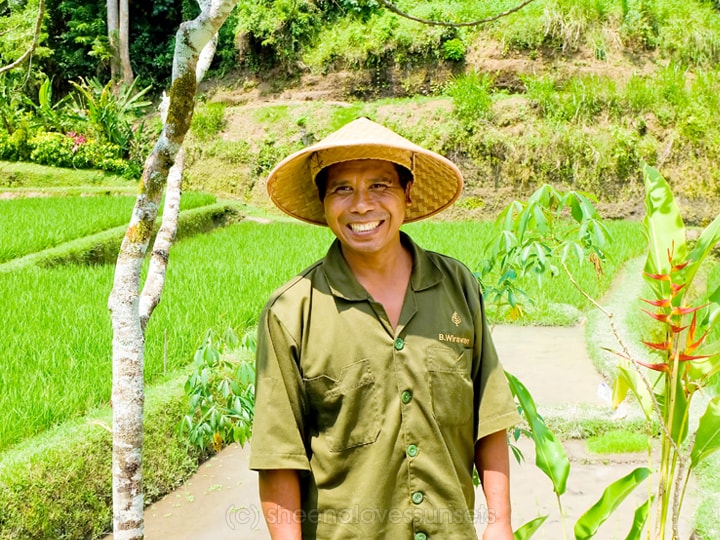 Everyone was always giving genuine smiles and people really seemed to go out of the way for us. When they found out that our flight home was not until midnight, they gave us a very late checkout extension up to 8pm! That's the first time I've ever had a hotel extend me for that long and I really appreciate that!
… Plus the little surprises!
And let me tell you about the little surprises! I've mentioned the surprise gifts when we got to the room, right? Here's another one!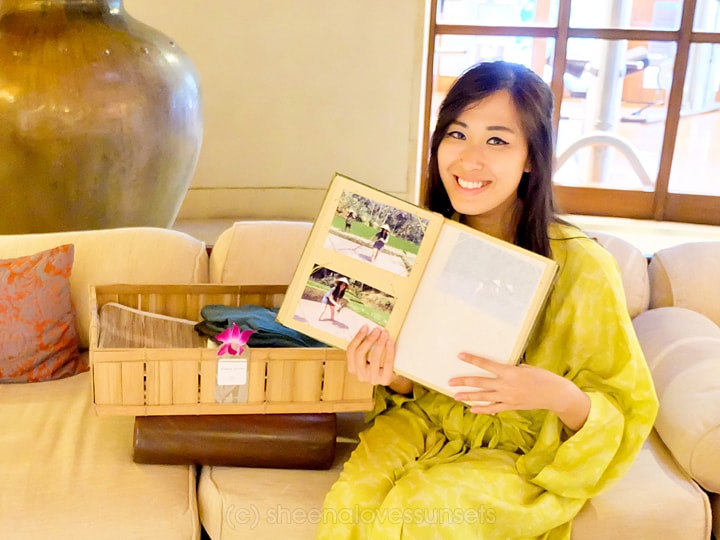 After our spa session at the end of our Balinese Farmer experience, we received an album full of our photos from the activity! But not only that, the clothes we were wearing early in the morning were now washed and pressed! 
Sometimes, it's those little things that make a stay special and The Four Seasons at Sayan were very good at making sure they touched on those little things. Wow.

Recommendations:
The Four Seasons Sayan is a great place if you're going as a family. Nevertheless, it's still just as good if you want to spend time as a couple! It has a great balance to it.
Try the different dining options so you get different experiences, like we did! Request for in-room dining and make a special request to dine by the riverside!
I highly recommend this resort when going to Bali. It's a bit of a splurge but the experiences are unforgettable.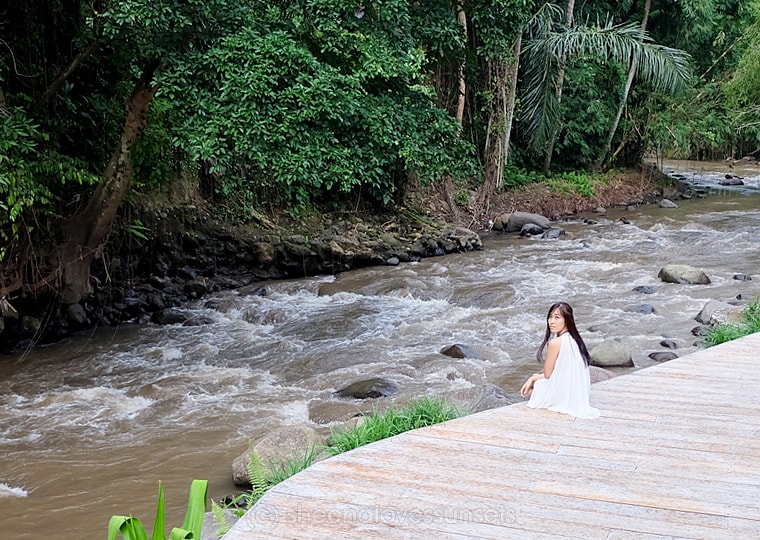 (NOTE: THIS POST IS ABOUT OUR EXPERIENCE LAST APRIL 2017.)