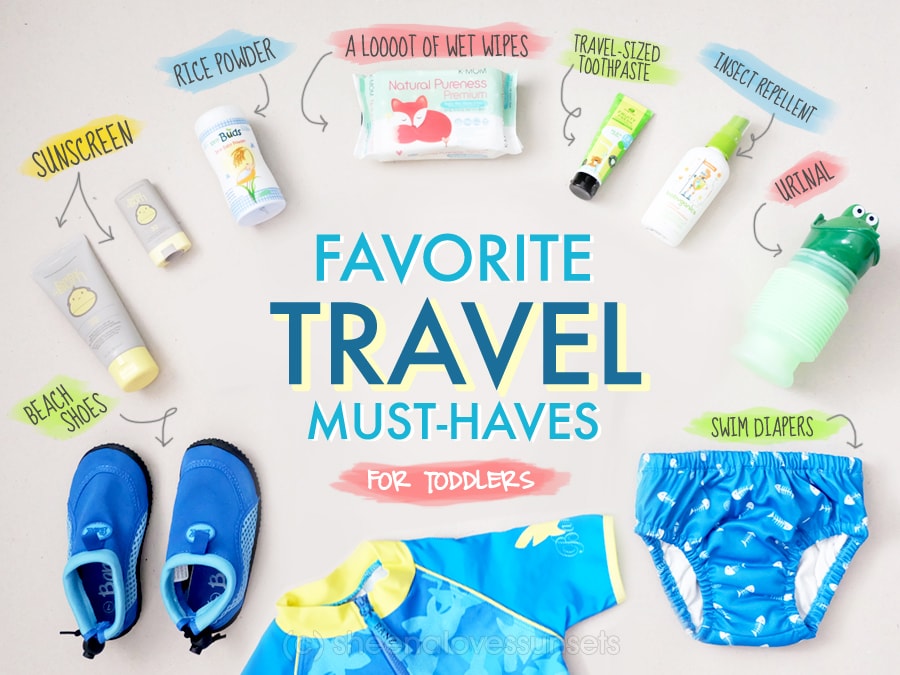 I really, really love to pack. I love packing for myself, my husband and my son. If I can pack for you, I most probably will. Haha. A lot of people think I'm crazy but that's just how God made me, I guess!
So today, I'd like to share my favorite travel must-haves for toddlers! A disclaimer though, before we begin: Most of the products mentioned here were given to me, but not all, as some of them were items we purchased ourselves. I am mentioning all the brands, regardless of how I got them, for transparency and reference. All opinions are honest and my own.

Summer Essentials
1. Baby Bum Face Stick and Sunblock
We personally use Sun Bum's sunscreen line and Baby Bum is the counterpart made specifically for babies. It's free from harmful chemicals but it's SPF 30 and water resistant for 80 minutes. Love the face stick in particular which makes it easy to apply and mess-free.
2. Banz Swimsuit with UV Protection
Before I became I mom, I had no idea UV protecting swimwear existed (lol) But now I can't bring myself to let Luke wear otherwise. Banz swimwear is clinically proven and has a rating of UPF 50+.
3. Banz Beach Shoes
We love using this with Luke because it protects his feet and gives him a good grip at the same time! He wears it even when we're just out swimming at the pool. I also make him wear it when he goes to those wading pools where he can walk because you never know when there's a broken tile, right?
4. Charlie Banana Swim Diapers
I let Luke wear these swim diapers underneath his Banz swimsuit just for extra protection in case he decides to do his business! Haha.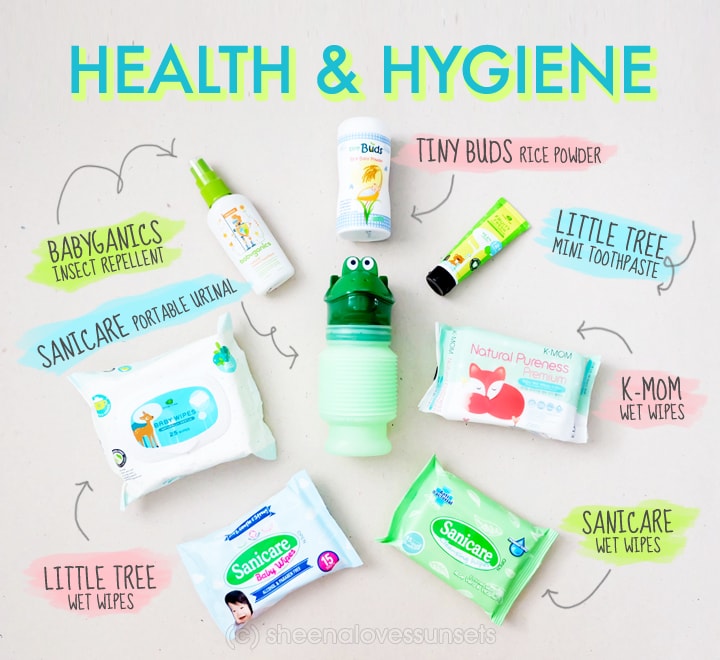 Health & Hygiene
1. Sanicare Portable Urinal
It's pretty self-explanatory! I love this crocodile urinal so much though because it's so handy, it stretches out if you need more space and it has a super cute design, which makes it easier for me to get Luke to cooperate. Haha.
2. Tiny Buds Rice Powder
A staple in both our changing area at home and our diaper bag ever since Luke was a newborn. Love this because it's made of rice, not talc! Powder is essential for sweaty and sticky kids especially when traveling to hot places (so basically, everywhere in the Philippines!)
3. A loooot of Wet Wipes
I always bring them in small packs, usually in sets of 10's. I put one in my bag, one in Luke's bag and one in my make-up kit.
Honestly, we use different brands of wet wipes. I like Little Tree's Hand and Mouth, although they're a bit more premium. I also like using K-Mom's Wipes (they're especially good for removing make-up too, hehe!) For wiping high chairs, things and other items, we use Sanicare, which is more affordable.
4. Little Tree Mini Toothpaste
At home, Luke uses a different kind of toothpaste. But when we travel, I pack Little Tree's because it's travel-sized!
5. Babyganics Insect Repellant
I've used so many natural insect repellants but to be honest, none of them really work unless you use the ones with DEET. Mor and I brought this with us in Bali (test-using it before letting Luke try heehee!) without much expectations but we were so surprised that it actually works!
It says it's infused with essential oils, which explains why it really feels oil-based when you spray it on, unlike most repellent sprays. At first we didn't like that it felt that way, but because it works, we can let that small detail pass!

Gear
1. Ergo Carrier
I've been using Ergo with Luke since he was just a few months old and I've always loved it. I prefer carriers over strollers because it allows me to move faster (I walk pretty fast!) and I don't have to worry about going up the escalators. I love my Ergo carrier because it's not bulky and super easy to stuff away.
2. i-Angel Hipseat
When Luke turned 2, I discovered iAngel Hipseat Carriers and how I wish I had this earlier! I cannot give a proper review of its carrier yet because Luke doesn't like sitting on carriers as much anymore (he's a big boy already, huhu)
BUT he does like the hipseat itself, which you can detach. The hipseat is awesome because it's easier for me when I'm carrying him. He also likes it because he has a "chair!"
3. Graco Pack N' Play
We bring our own playard when we go on a roadtrip or when we have staycations. It gives me peace of mind that Luke sleeps in his own crib instead of an adult bed where he can potentially fall. I love my Graco Pack N' Play because it really is so easy to pack.
Note: We haven't traveled internationally with Luke yet but I'm 100% sure I won't be packing this when we do. A lot of hotels have cots you can borrow anyway. If not, I imagine I'll just be making a floor bed.
(PS. Not included in the photo above because it's too big to put in a flatlay. Haha! But if you're interested to see how it looks like, click here)
4. Pack It Freezable Picnic Bag
We use this for road trips, daytrips and staycations. What I love about it is that it's mess free (no water that's melted from the ice and no 'sweat' from condensation either) I also love that it's super roomy. Note: We got the picnic bag, not the regular lunch bag, so that we can put not just Luke's milk stash, but also food, dessert and other drinks. (We got it from BabyMama.ph)
—
Do you travel with kids? What are your favorite travel items? Share it below; I would love to learn more as well!