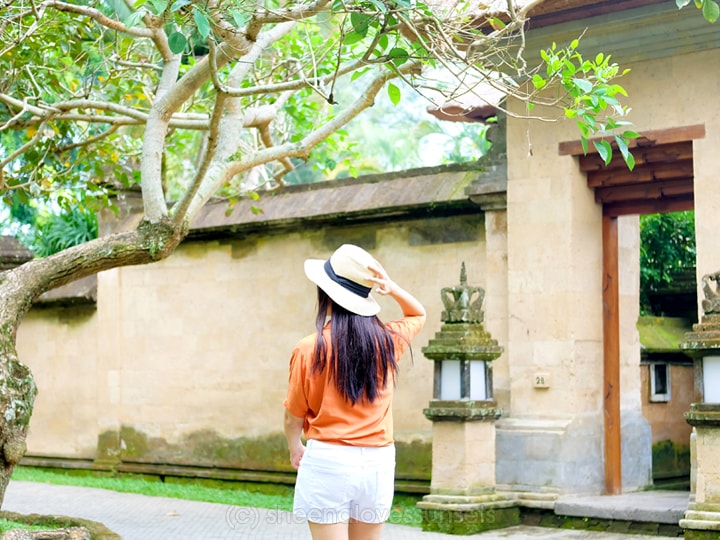 I love matching my outfits with the theme of the place. Sometimes, even with the color scheme of the landscape (more on that next time!) So for Bali, I made sure to bring clothes that really complemented the feel of Bali's rich culture.
Packing for 3 Days and 3 Nights in Bali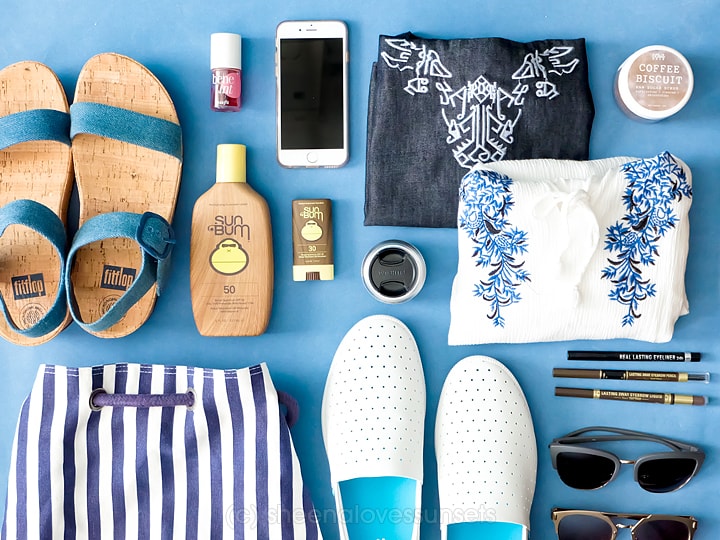 We only had 3 days and 3 nights to spend in Bali and that means, we had tons of luggage space. So instead of packing light, I decided to take this opportunity to bring as much clothes as I wanted. After all, I need those perfect OOTD shots! Haha, just kidding… sort of.
In total, I packed:
9 sets of clothes
6 pairs of footwear (including 2 slippers)
4 pairs of sunglasses
3 sets of swimwear
1 yoga outfit
Spoiler: I ended up wearing everything except for 1 set of clothes and 1 set of swimwear.
Preparing My Outfit Guide
I always plan my outfits for trips ahead of time. It's something that I've been doing for years and I highly recommend it because it saves a lot of time and thinking during the trip itself.
What I do is, I take bathroom selfies of my outfits and put them together in one photo, as you can see above. I arrange them by date (on when I plan to wear them.) Then, I put a copy on my phone so that I have a guide.
Now, let's talk about the outfits.
Look #1: Bathing Elephants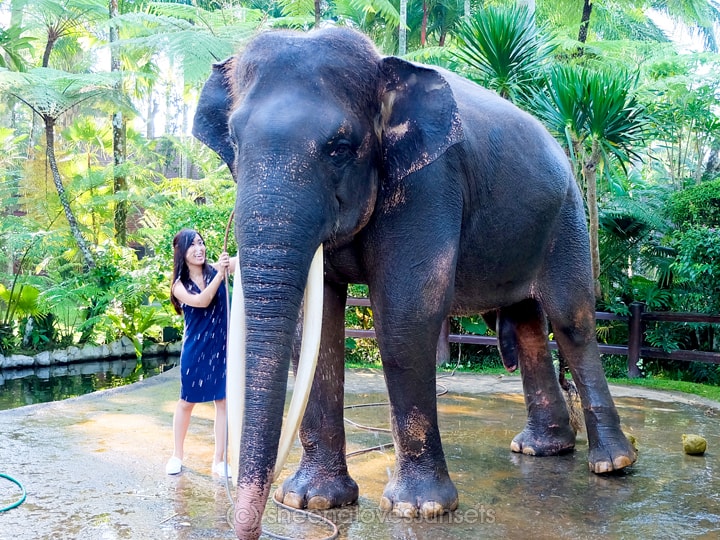 Bathing the elephants was the first activity on our itinerary and we were going straight to swimming with them afterwards. So I had to wear my swimwear underneath. I decided to wear an easy slip-on dress and my Native shoes, which are waterproof. 
Look #2: Swimming with the Elephants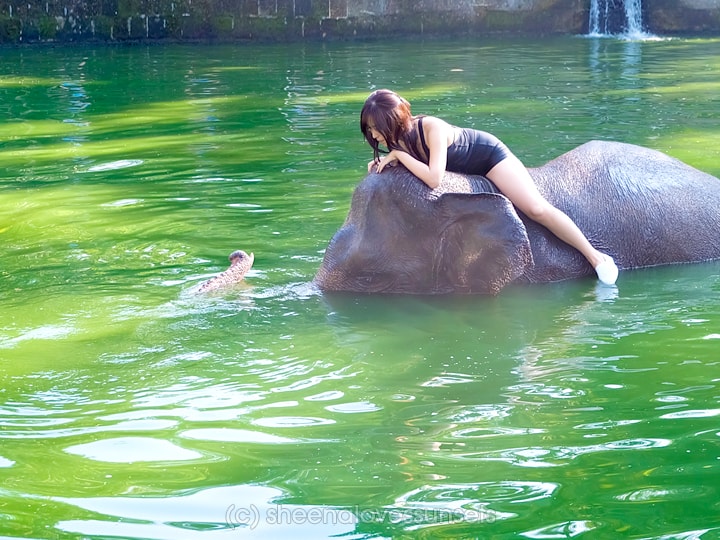 I really wanted to swim with the elephants wearing black swimwear. But I'm so shy (and a little conservative haha) that I ended up wearing a pair of black swim shorts on top of it.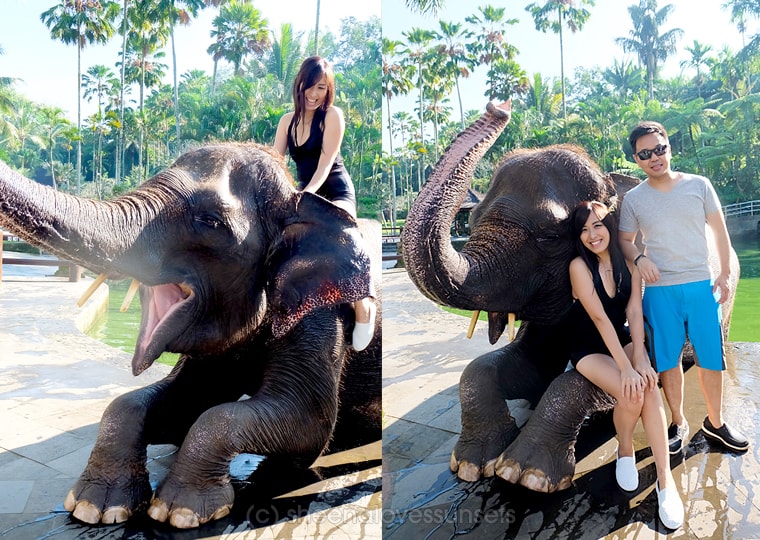 I also wore my Native shoes inside the water, just to be sure I don't step on anything I don't want to step on with my barefeet. Hehe.
Look #3: Playing with Elephants + Rice Terraces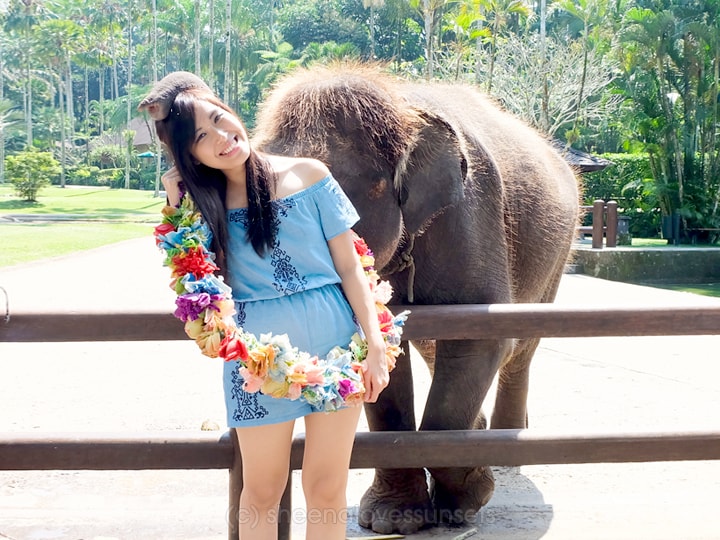 We were scheduled to have some fun time with the elephants before we checked out of the Elephant Safari Park Lodge so I chose an outfit that was easy to move around in. Wore a blue romper with embroidered details that I felt was very "Bali" and my favorite pair of FitFlop sandals.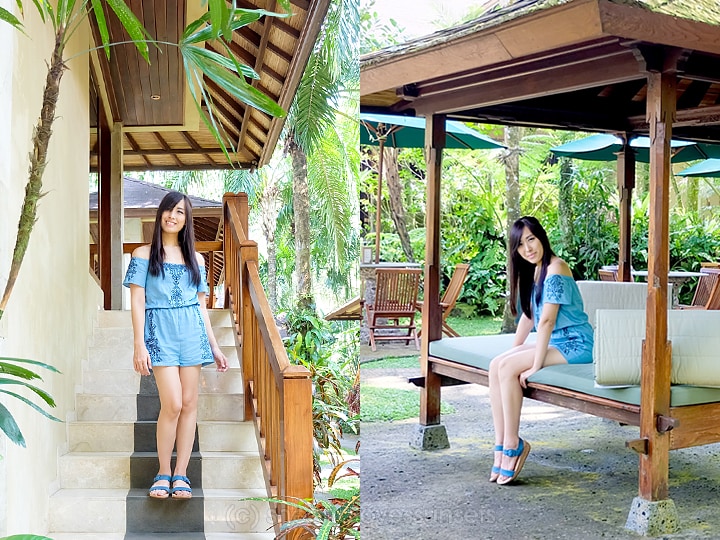 I'm usually a white sneakers kind of girl and I hardly wear sandals but I made an exception this time because these FitFlop sandals were extremely comfortable. They make me look more adult-y too and less kiddie, in a good way!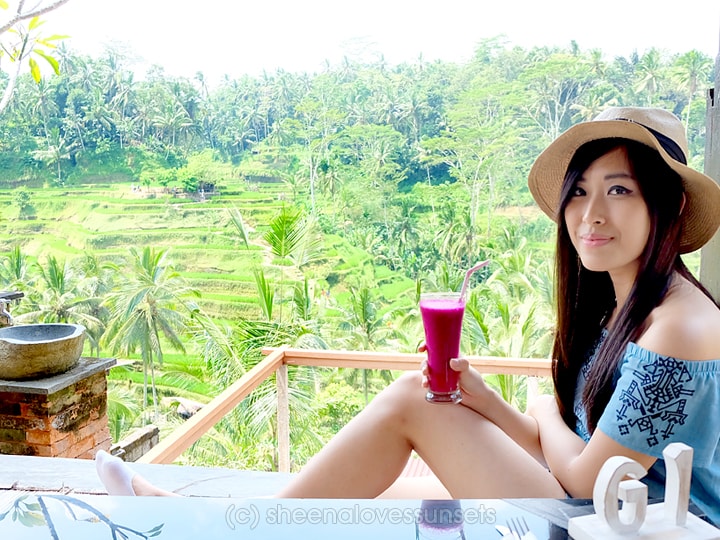 Wore this all the way til' lunch time at The Rice Terrace Cafe. I actually planned to wear it for when we climb the Tegallalang Rice Terrace but we ended up not going anymore because of lack of time.
Look #4: Amandari Resort v.1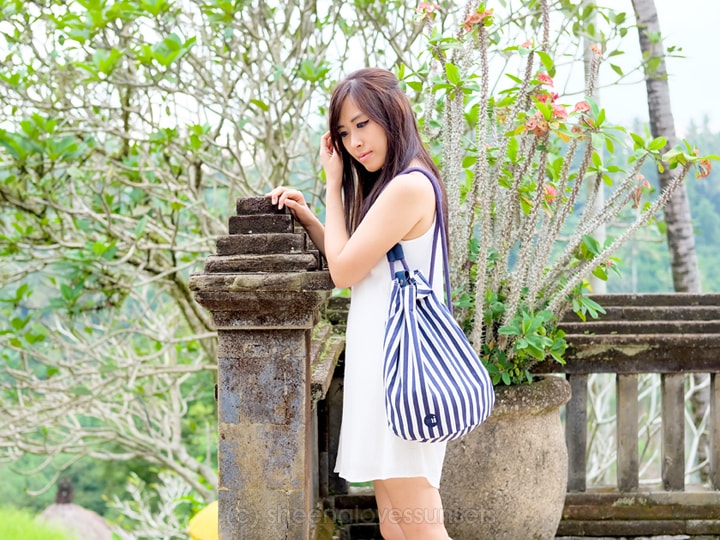 After checking in, I decided to change outfits again to match the feel of Amandari. It was so peaceful and quiet and I felt that a flowy white dress really complemented the mood of the resort.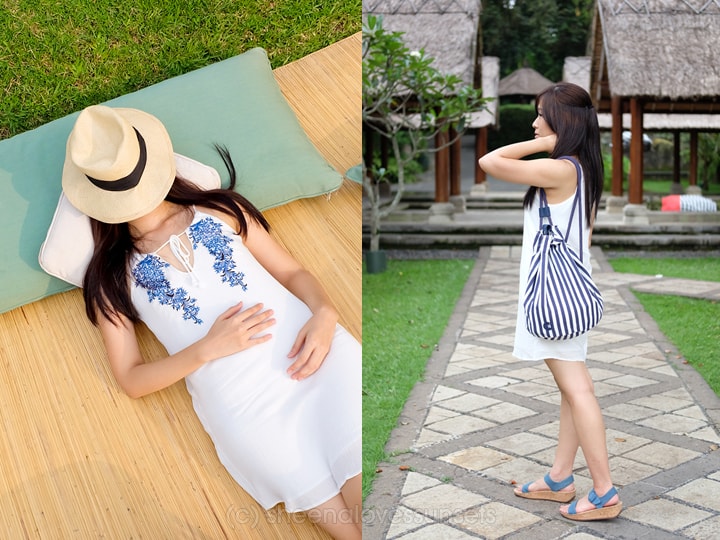 Embroidered details once again on the dress, the same pair of shoes from earlier that day and used my striped MiPac swing bag.
Look #5: Amandari Resort v.2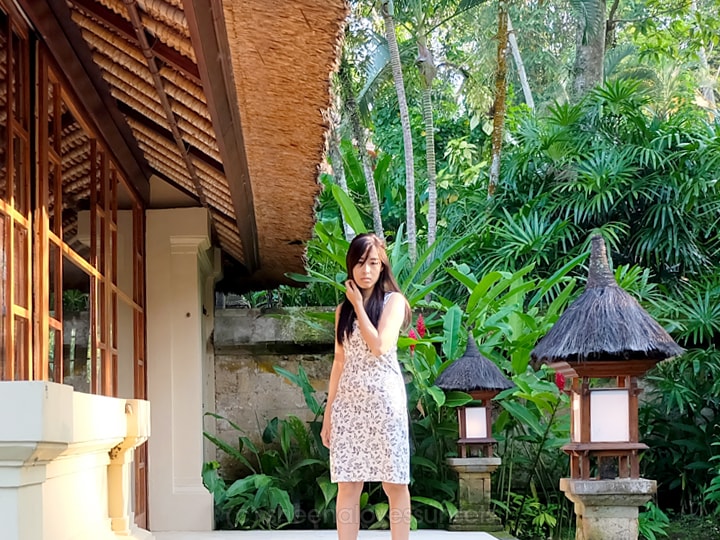 My morning lounge outfit for the next day is this very comfortable shirt dress from Uniqlo. Wore this as we enjoyed our in-room breakfast and a quiet morning inside our private villa. (More of that here!)
Look #6: Morning Swim 
Wore this black one piece swimwear from Cesa PH. I love it because it provides enough coverage. Plus, it's simple, classy and looks great from the back!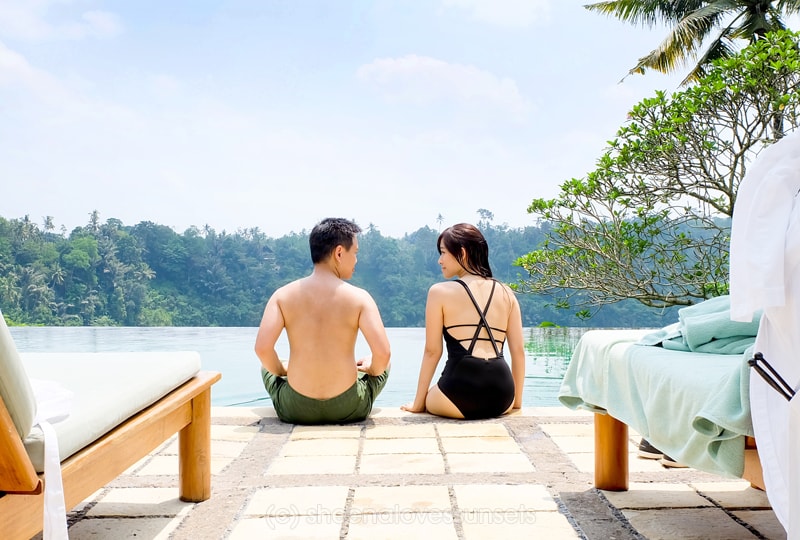 Black is very good for covering tummy fats too. Haha!
Look #7: Aman + The Four Seasons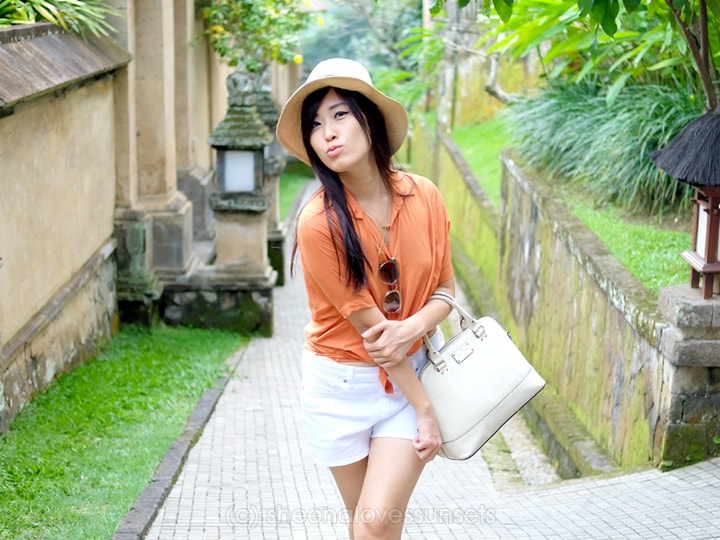 Excuse the annoying duck face but this is the only photo I have that showcases all the pieces of my outfit. Orange buttoned-down top I got from my late mom, a pair of Fly Shades, white shorts and my favorite Kate Spade bag (one of my travel #ootd staples!)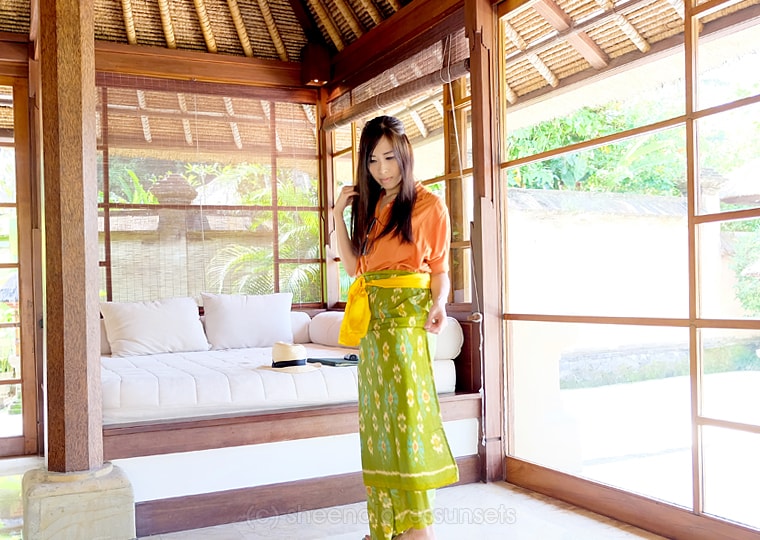 They gave us complementary sarongs at Amandari so I tried it on and it matched my top well enough.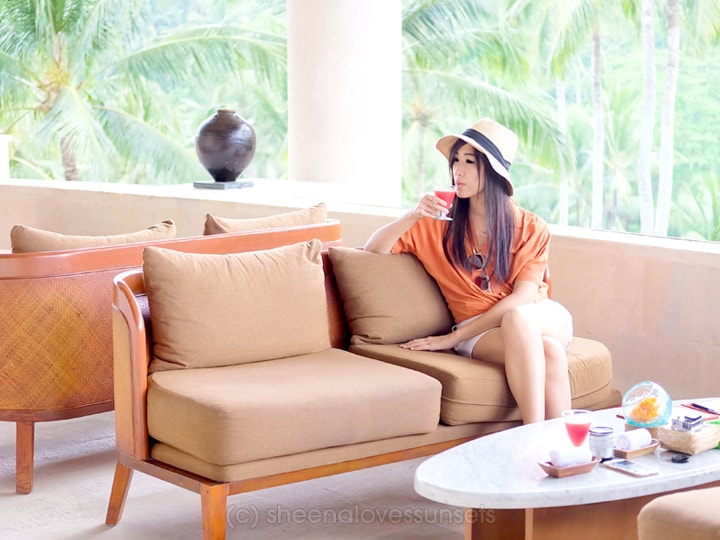 Wore it til' we checked in at The Four Seasons at Sayan. Love that I blended in so well with the color scheme of the resort. Hehe.
Look #8: Dinner at The Riverside Cafe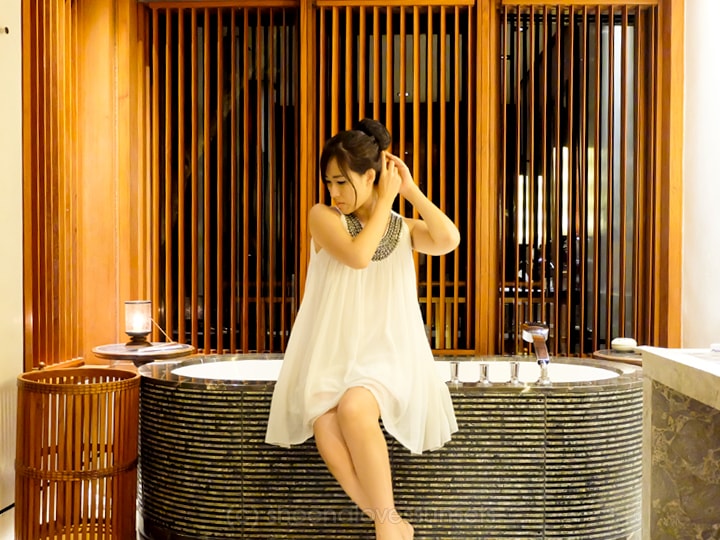 Had this dress since we got married 5 years ago and I've always wanted to wear it but have never found the right time to do so. However, dinner at The Riverside Cafe inside The Four Seasons resort seemed like the perfect opportunity to wear it. So I did!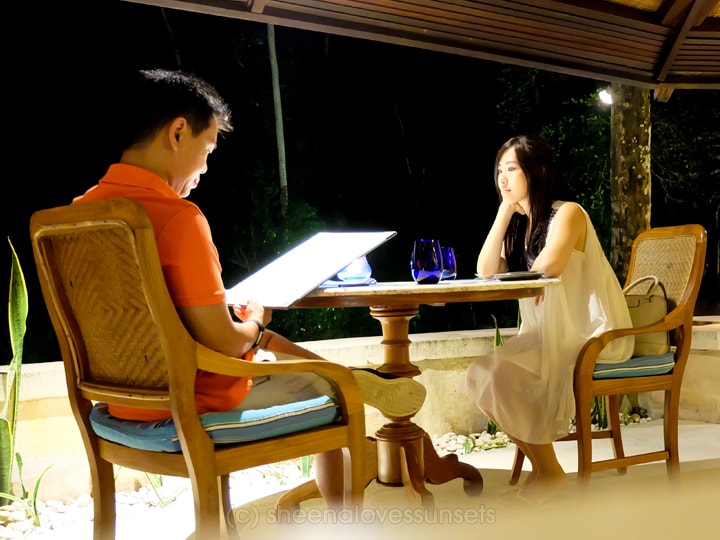 A photo of us at at The Riverside Cafe just so you can see the dress in action. Haha.
Look #9: Balinese Farmer Experience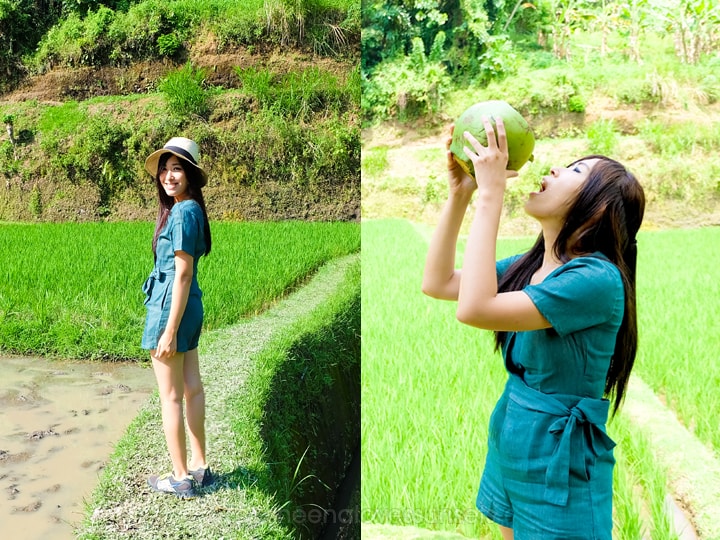 My favorite look during this trip is this. Bought this green romper specifically for our Farmer experience. I felt that it looked perfect against the rice fields and had the right amount of playfulness with its ribbon belt. As for the shoes, they resort lent me that because the shoes I had on wasn't for hiking. (Oops!)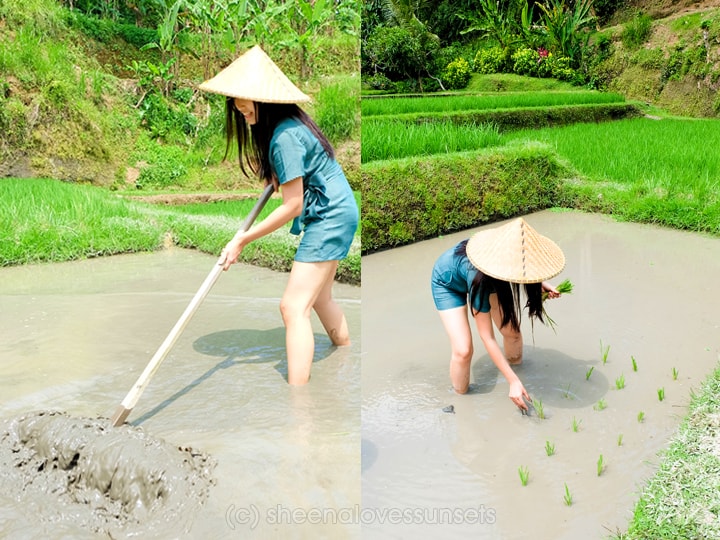 The Four Seasons team lent us traditional hats during the experience, which was the perfect accessory to complete that farmer look.
Look #10: Last dip before leaving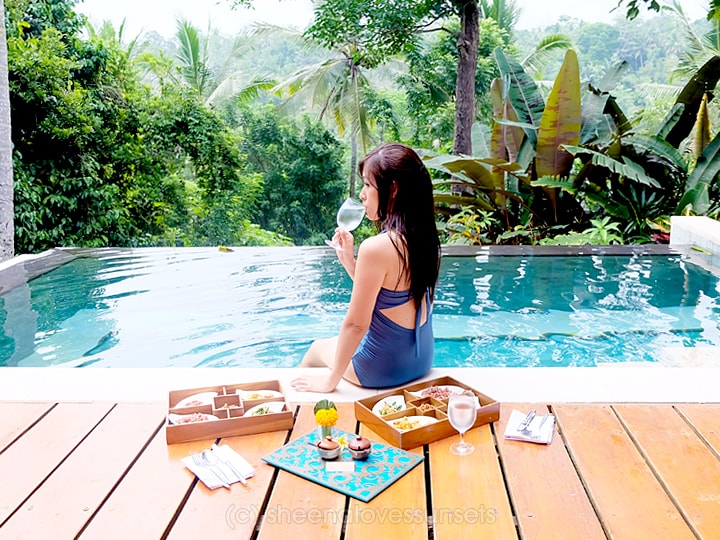 One last dip before we fly back home to Manila. I had to multi-task (by that I mean have lunch while swimming) because we were pressed for time. Haha! Wore one of my all-time favorite swimwear from Nudo. This is their Ibiza Boyleg design, which I have two pairs of. As you can tell, I love my one-piece swimsuits!
Bali Outfit Tips: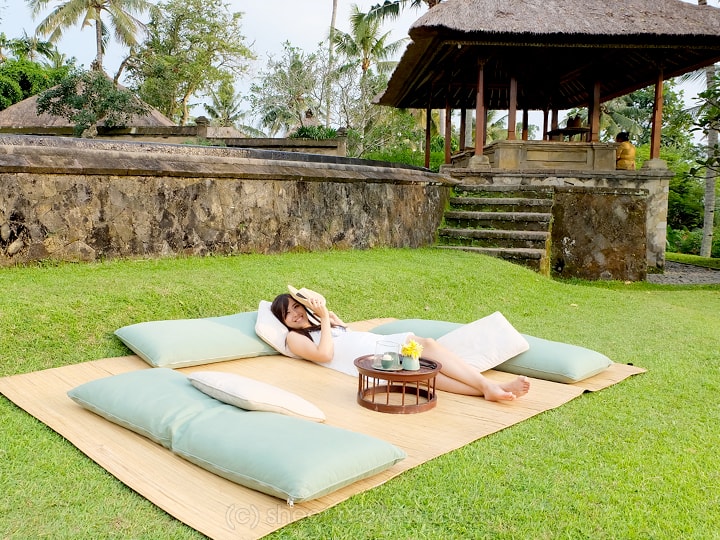 Here are some tips if you're planning your wardrobe for an upcoming trip to Bali:
Choose light, airy clothing: The weather can get hot and humid.
Plan a color palette and stick to it: I made sure to avoid reds, purples and pinks and decided to wear clothes that were white, green, orange and blue. But the color palette is really up to you. I saw a girl wearing a red dress and it looked perfect against the rice fields.
Choose comfortable, functional pieces: There's so much to do in Bali and you don't want to be held back by your outfit choices. Wear shoes that are comfortable and clothes that are easy to move in!
Research on the places you're visiting: Be aware of clothing restrictions or dress codes. At the same time, it's good to have an idea of where you're going so you can match your outfits to the destination.
—
(NOTE: THIS POST IS ABOUT OUR EXPERIENCE LAST APRIL 2017.)