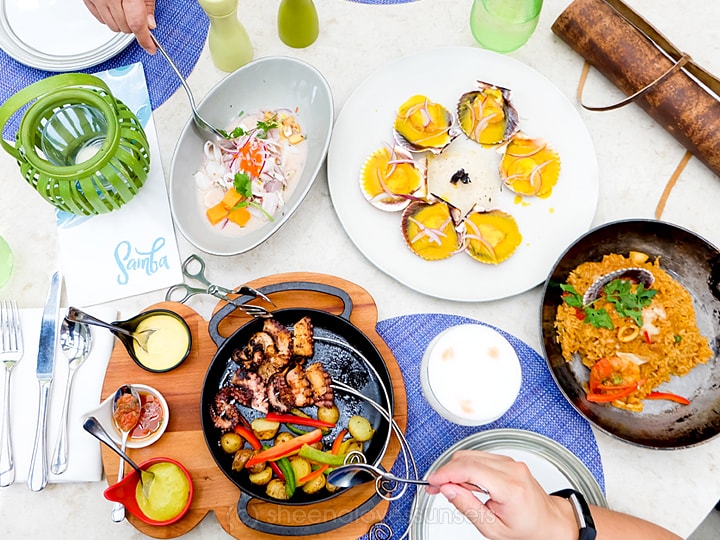 It was my first time to try Peruvian cuisine at Samba and it was love at first bite! I never knew Peruvian cuisine was this good; all the more reason to travel to Peru soon, right?
So as I'm saving money for my South American Adventure (haha), allow me to give you a taste of Peru through Samba, the Peruvian restaurant at Shangri-La at the Fort.
Samba: Shangri-La at the Fort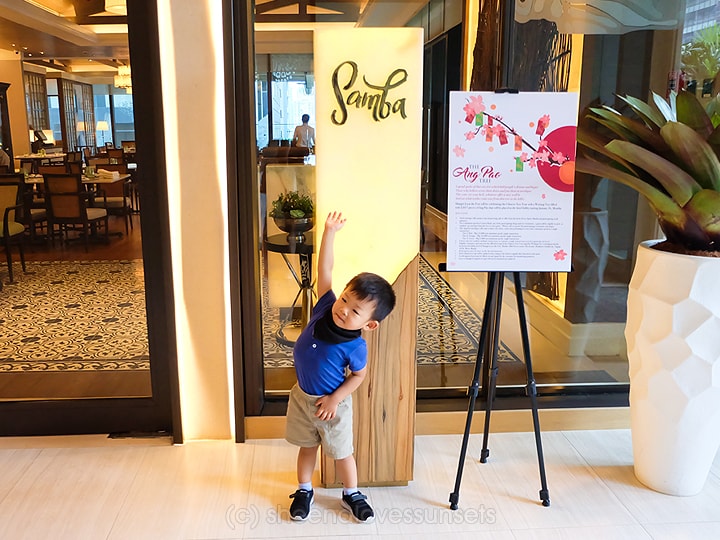 Welcome to Samba! Luke doing his best samba pose, which he might have mixed up for flamenco. Haha!
Ambience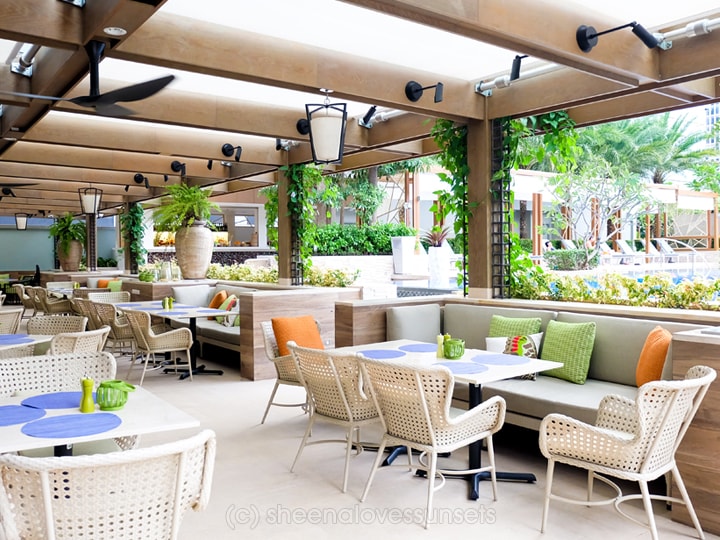 Colorful accents, lively samba beats in the background and a great view of the pool. It's easy to forget you're not actually at a resort but at a hotel in the middle of a busy city!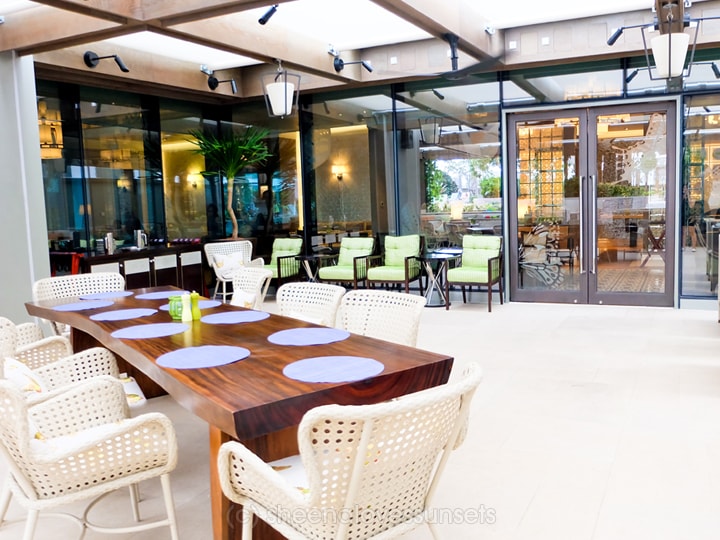 Samba is located at the 8th floor of Shangri-La at the Fort. It's at the same floor as the swimming pool and they have both an indoor and outdoor dining area. I highly recommend going al fresco, if the weather isn't too hot.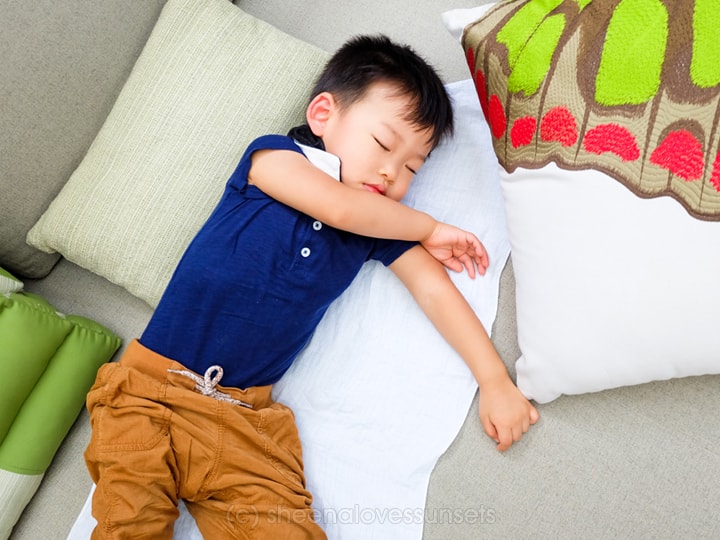 This little boy agrees that al fresco is the way to go. Fluffy pillows, samba music and the cool breeze blowing? Instant recipe for an afternoon siesta!
Chef Carlo Huerta Echegaray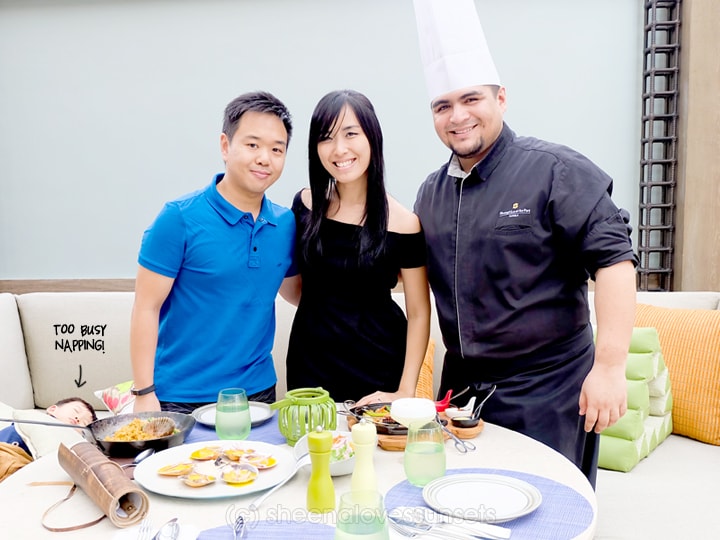 Before I introduce the food, let me introduce the chef! Chef Carlo Huerta Echegaray is a native of Peru. A master in South American Cuisine, Chef Carlo artfully blends local ingredients into his Peruvian dishes. 
When you talk to him, you can really feel his passion for the food. In fact, after taking a photo together, he immediately guides us on how to eat each dish; which to eat first and which dish fits well with each other!
Food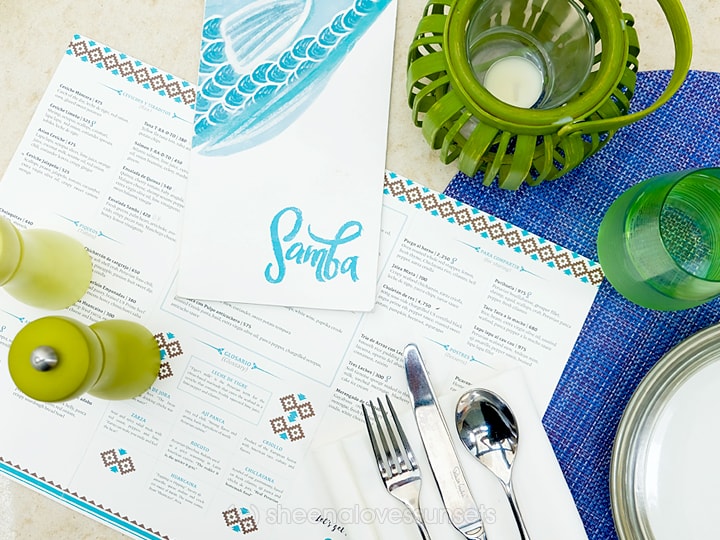 As it was our first time to try Peruvian Cuisine, a mix of Spanish, African, Chinese and Japanese influences with native Peruvian culture. We asked our server for her recommendations. Here's everything that we got: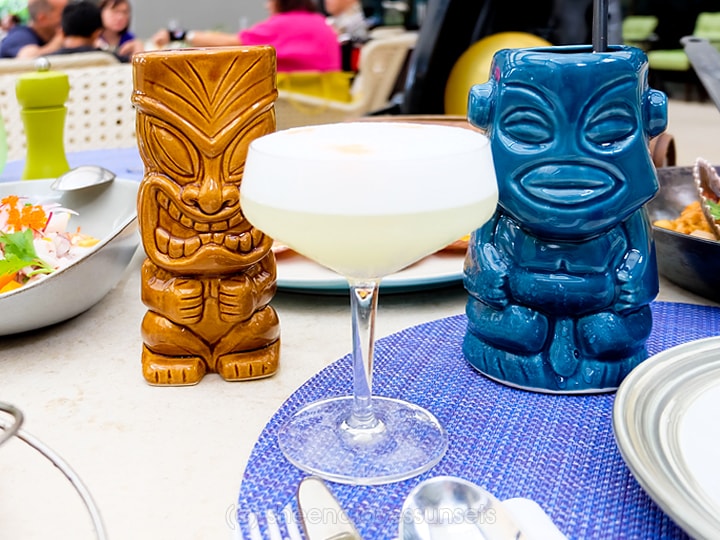 Pisco Sour is a classic South American drink. It's an alcoholic cocktail with Peruvian origin and contains liquor as base, key lime or lemon juice and syrup.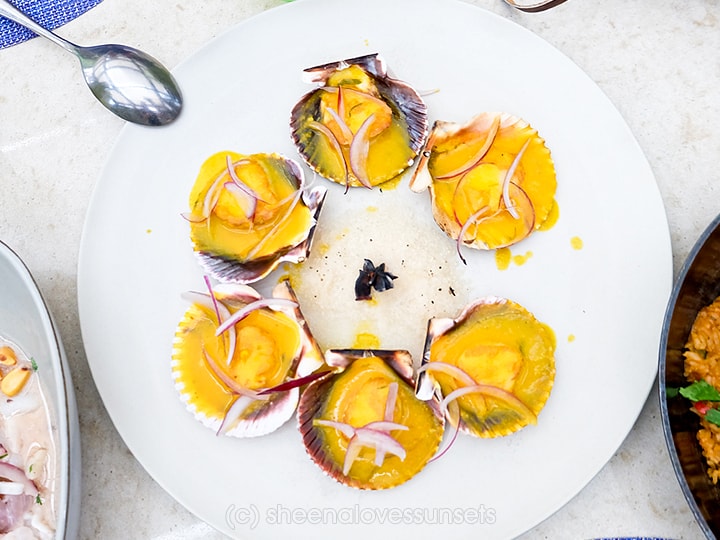 Conchas al Carbon: Chargrilled scallops, aji amarillo ceviche, cilantro leaves, red onion.
It was served flaming but I wasn't able to take a photo because it came at the time when we were putting Luke down for his siesta. Shucks.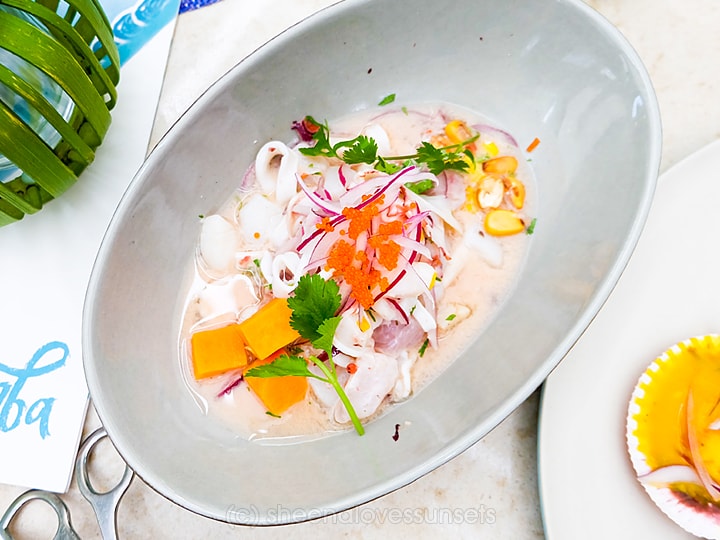 Ceviche Limeño: Shrimp, octopus, scallops, calamari, lapu-lapu, red onion, coriander sprouts, tobiko, leche de tigre. This is my favorite, highly recommended.
Leche de Tigre or "Tiger's Milk" is the Peruvian term for the citrus-based marinade that cures the seafood in a ceviche (raw) It contains freshly squeezed lime juice, limo pepper and cilantro.
Chef Carlo said that you have to eat this really with the sauce, leche de tigre, because without it, it's like you didn't eat ceviche at all! He also recommended that we eat it with the Arroz con Mariscos. Great combination.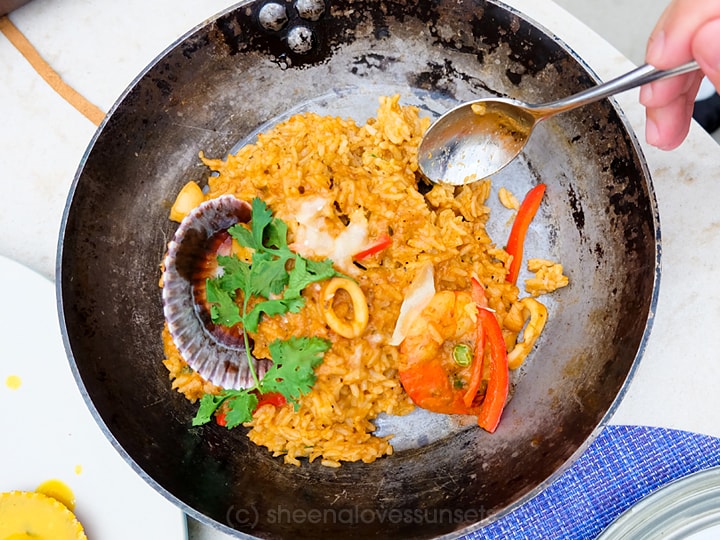 Arroz con Mariscos: Peruvian seafood rice, calamari, octopus, shrimps, scallops, white wine, paprika creole seasoning, parmesan cheese, coral butter.
The dish is similar to paella, which explains why Luke devoured it upon waking up from his siesta. We joke that he's such an asian boy because he definitely loves his rice!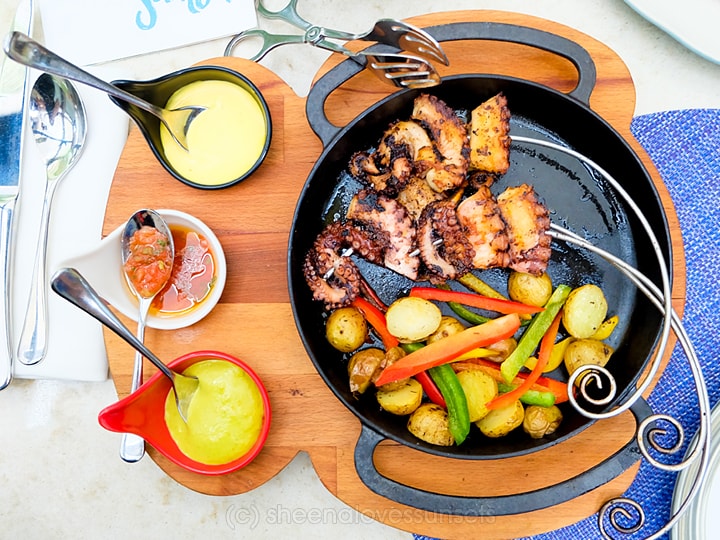 Anticucho de Pulpo: Chargrilled octopus, panca pepper, roasted potatoes, ocopa sauce, rocoto carretillero. Rocoto is used as a spicy seasoning in Latin American cuisine.
The chargrilled octopus was really soft and tender and it didn't feel rubbery at all. It came with three sauces and we followed Chef Carlo's recommendation: the red sauce for the octopus and the other two for the potatoes.
An Introduction to Peruvian Cuisine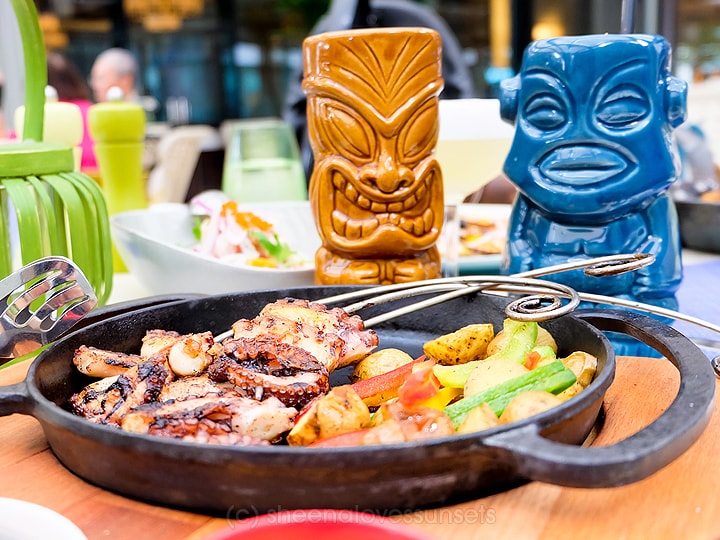 Samba introduced me to Peruvian cuisine. It was my first time be acquainted with leche de tigre and cerviches and what a world it has opened up for me. The fresh seafood and citrusy tastes are so memorable that I'm raving about our experience weeks after our visit.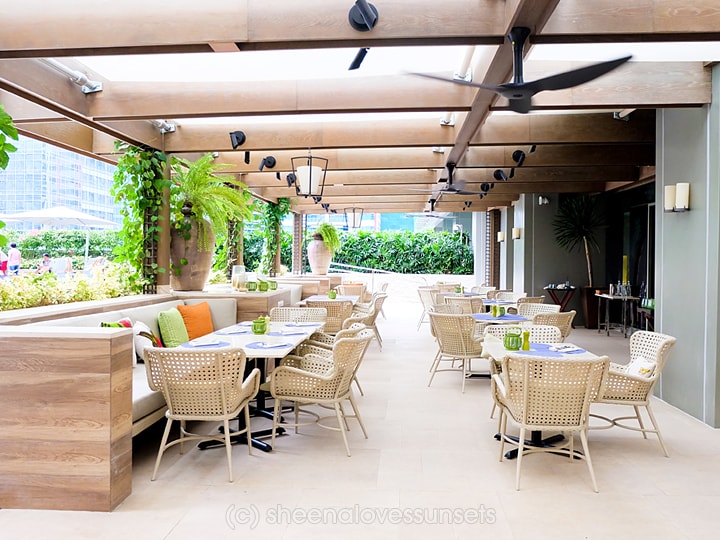 I am not very particular with food so unless there's something really memorable about the dish or the restaurant, I easily forget about it. Samba at Shangri-La at the Fort is hardly forgettable and definitely merits a distinction as one of the best new restaurants in Manila.
And as it is now high up on my favorites list, I'll be back soon, for sure!
(NOTE: THIS POST IS ABOUT OUR EXPERIENCE LAST JANUARY 2017.)